TikTok has become more than a place to waste time watching fun or entertaining videos. It's become a powerful marketing tool capable of driving new business to your (metaphorical or actual) door. In fact, 81% of users look to TikTok to discover new products and brands.

Every social media platform is unique, and TikTok is no exception. More than any other platform, authenticity is highly valued on the popular, short-form video app. So the key to connecting with your audience is to deliver engaging content that leverages TikTok's unique features (e.g., trends, audio, effects) while remaining true to your brand voice.
This strategy especially applies when you tap into advertising campaigns for your small business TikTok account since users are often skeptical of intrusive, inauthentic advertising. To rise above the noise, your ad campaigns should hit the right tone to resonate with your customers and prospects.
In this post, we'll share some of the best TikTok ad examples and why they work to inspire your campaigns. Plus, we'll cover the benefits of TikTok ads, the basics of setting up your TikTok ad account, and the creative ad formats available.
Why run TikTok ads
Before we cover how to set up TikTok ads and some effective TikTok ad examples, let's talk about why you would want to run TikTok ads in the first place.
It drives action
Advertising on social media platforms is a great way to build awareness for your business, but it can also help you get more customers. TikTok ads, especially, have been found to drive action and new leads. In fact 92% take action after watching a TikTok video.

It complements organic efforts
Building an organic presence on TikTok can be difficult. You're competing against other creators, businesses, and regular users for attention. And unless you have a robust organic TikTok strategy that includes posting regularly, you may have a hard time growing on the app. Running a paid plus organic strategy on TikTok can help you grow your audience and see more success on this important channel.
It's targeted
One of the biggest benefits of TikTok ads is that it allows you to target users who are most likely to become your customers. This allows you to harness the power of TikTok to drive action and new leads.
You can target users based on:
Location
Demographics
Interests
Device
Retargeting
Behavior
How to set up TikTok ads
TikTok offers a variety of creative ad formats, including:
In-Feed Ads (+ Spark Ads)
Brand Takeover
TopView
Branded Hashtag Challenge
Branded Effects
In-feed ads are typically the most effective for small businesses. They appear on the For You Page (FYP), the algorithm-driven TikTok feed users see first when they log in to the app.
To set up in-feed ads for your small business:
Set up a TikTok ad account
Wait for TikTok to review and approve your application
Log in to the TikTok Ads Manager
Click on the "Campaign" button and then the "Create" button
Select the advertising objective for your campaign (e.g., lead generation, app installs, etc.)
Enter your campaign name and budget and choose interest- or behavioral-based audience targeting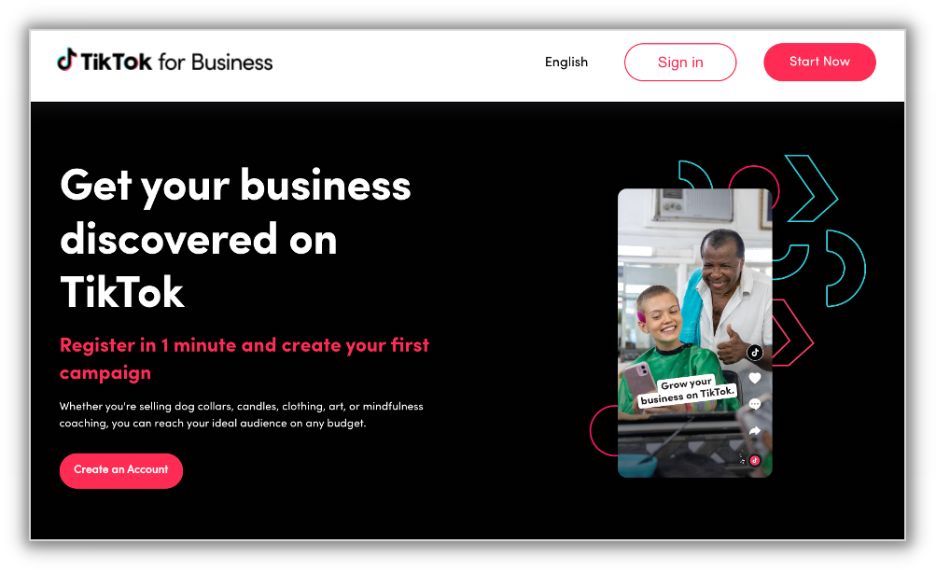 If you run into issues creating your account or ads, the TikTok Business Help Center is a great place to look for assistance in the creation process.
Related: Get the low-down on TikTok marketing for your small business.
5 effective TikTok Ad examples and why they work
In addition to utilizing organic content and implementing a hashtag strategy, ad campaigns are another way to increase your small business's discoverability on the app. We've rounded up a list of compelling TikTok ad examples to inspire your future campaigns.
1. Baby Brezza
Featuring their popular Formula Pro bottle maker, this Baby Brezza TikTok ad example hits all the right notes:
Short video: TikTok users will quickly scroll to the next video if your content is not immediately compelling. Coming in at around six seconds, the length of this video is perfect for holding people's attention.
Clear message: The visuals, on-screen text, and caption clearly show the product and how it will benefit new parents.
Realistic: A parent laying in bed, leaning over, and making their baby's bottle with the push of a button gives a glimpse into how the product would be used in real-life. The video quality is good but not too formal or professional, so it feels authentic.
On-trend audio: Using a trending audio clip in the video shows that the brand is going the extra step to stay relevant and resonate with its audience on TikTok.
2. Rare Beauty
Rare Beauty, a makeup brand by Selena Gomez, has been able to connect with its audience on TikTok in a unique way. Instead of creating traditional advertisements, the brand has embraced user-generated content to highlight how real customers use their products.
This strategy has proven to be very effective because it enables the brand to create an authentic connection with its audience and create a sense of community around its products. It's similar to a traditional customer testimonial: Hearing a product works well from your best friend holds more influence than if you were to hear about the product from a sales-y advertisement from the brand.
Viewers of the ad get a first-hand look at the product being used and learn some application tips in the process. This TikTok ad example, in particular, also uses the trendy TikTok text-to-speech voice-over narration and provides on-screen text captions to be inclusive of various viewing methods.
Overall, this ad strikes a nice balance by providing valuable content to the viewer while incorporating subtle product promotion.
(Looking to grow your following like Rare Beauty has? Check out these 20 methods to help you get more TikTok followers!)
3. Tyson
This Tyson TikTok ad example is closest to a traditional ad due to its professionally-produced video quality, but it works well on TikTok for several important reasons.
First, it addresses a relatable pain point (cooking takes too long) by showcasing how easy it is to make its air-fried chicken with visuals and sound effects of the straightforward, three-step process. Second, it is short (six seconds), making it consumable to scrolling viewers. Finally, it keeps the message brief, only focusing on two key benefits of choosing their product, and doesn't include a pushy call to action. Even the caption is a short, easy-to-read tagline (six words!).
This TikTok ad is a great reminder that sometimes the simplest message can impact the right audience the most.
4. Starbucks
One of the most recognizable brands, Starbucks, found a creative way to introduce its new pistachio-based coffee drink by showcasing an artist carving out an ice sculpture in the shape of the famous Starbucks cup. Why does this work?
Here are a few reasons:
It captures viewers' attention by piquing their curiosity about what the artist is making. Let's face it, we all like to know how a story ends, so many people will be glued to their screens to see the finished product.
It uses trendy audio and features. The use of background lo-fi music is strategic in that it is known to help listeners focus more intently, and the sound effects from the carving of the ice add to the engaging nature of the visuals. The ad also uses a popular TikTok transition of snapping fingers before the new drink appears in the final frames.
It's entertaining! TikTok users are on the app for many reasons, with entertainment being one driving factor. By adding an element of fun to its TikTok ad, Starbucks can delight its audience while promoting its new offering.
5. T.J. Maxx
This T.J. Maxx ad does a solid job of showcasing the first-person experience of shopping in its store. It feels pretty organic due to its vlog-like style, so users are more apt to follow along and less likely to scroll past it.
The first few clips elicit the emotional feeling of walking in and perusing their extensive merchandise. The step-by-step, voice-over narration provides an even flow to the video.
Since the creator uses her home to display her new purchases, it gives users a realistic view of incorporating new items into their home decor.
Notably, the ad does not include a solid call to action and instead focuses on imbuing the joyful experience of shopping for new things.
Start your first TikTok ad campaign today
TikTok ads can be a powerful tool for your small business to increase brand awareness, reach new customers, and generate more revenue. Plus, starting your first ad campaign is quick, straightforward, and cost-effective.
As with many social media advertising platforms, experimentation is the best way to discover what will work best for your unique business. So, plan your TikTok ad strategy, start creating your content, track your return on investment, and optimize for future campaigns. You've got this!