TikTok isn't what it used to be. It's so much more.
Once a platform for pre-teen dance challenges and high-school pranks, the social media juggernaut is now the place where multiple generations go to learn, connect—and here's the important part—find their next real estate agent or fancy pair of boots.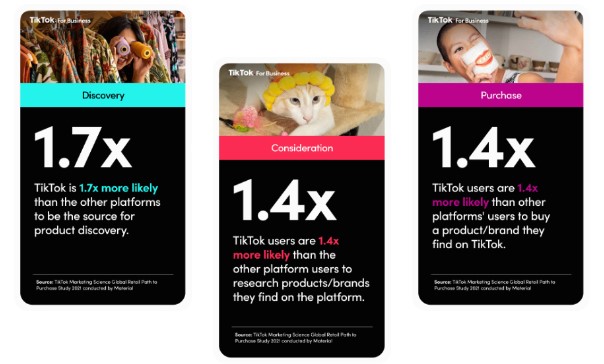 The key to tapping into this eager audience of potential purchasers is knowing how to get more followers on TikTok.
When your follower count goes up, your videos get more views and engagement. That signals TikTok to show your videos to more people in more ways. That gets you more followers, and so on.
Whether you're a TikTok novice or a pro looking to break through a plateau, consider this your 28-point playbook for TikTok growth.
How to get more TikTok followers fast
How quickly do you need to boost your TikTok following?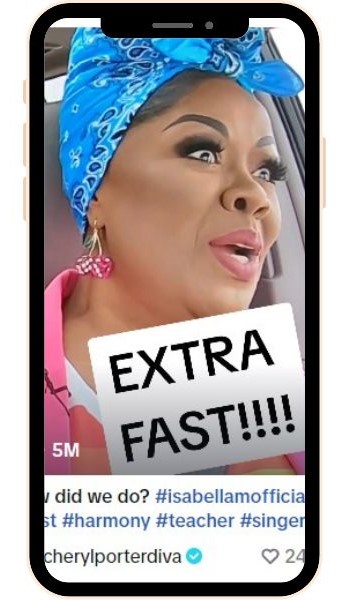 That's what we thought. These 28 tips will have you gaining new fans on TikTok faster than you can say hashtag dance challenge.
1. Define your target audience on TikTok
It can be tempting to try to create videos:
With a broad appeal in hopes of attracting more followers faster
On the topics you find most interesting
That require the least amount of time, energy, and other resources to produce
But, if you're going to use TikTok as a business marketing channel, you can't do any of the above. You must create content with your audience in mind. After all, your goal isn't just to get TikTok followers. It's to get followers you can effectively guide through your social media funnel from awareness to advocacy.
So, as you would with any other channel, research which portion of your target audience uses TikTok. Identify their pains, goals, interests, preferences for video content, and so on. Then, use that information to tailor your TikTok strategy.
2. Review your competition
People are already following TikTok accounts in your industry. Peep what those successful brands do to grow your own TikTok following.
It's easy peasy to spy on your competition. Just enter a term in the search bar your customers are interested in, find accounts posting about that term, and see what other content they share.
Let's say you're a personal trainer and know that running form is a common concern for your clients.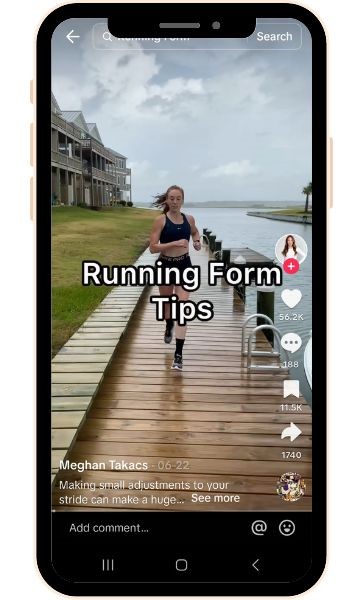 What other topics is that creator posting about? What's the aesthetic of their videos? What hashtags do they use?
Every existing post is a set of data points you can use to guide your TikTok posts.
3. Follow trends to gain TikTok followers
Speaking of following, one way to get exposure to a lot of TikTok users—and hopefully turn them into followers—is by riding the wave of existing trends.
A trend is something—a dance, a challenge, a video style—that lots of people watch and imitate. When you join in and tag your trend videos with the right hashtag (more on that soon), users who have never heard of your brand will see your posts.
To find a trend worth trying, head to TikTok's trending page.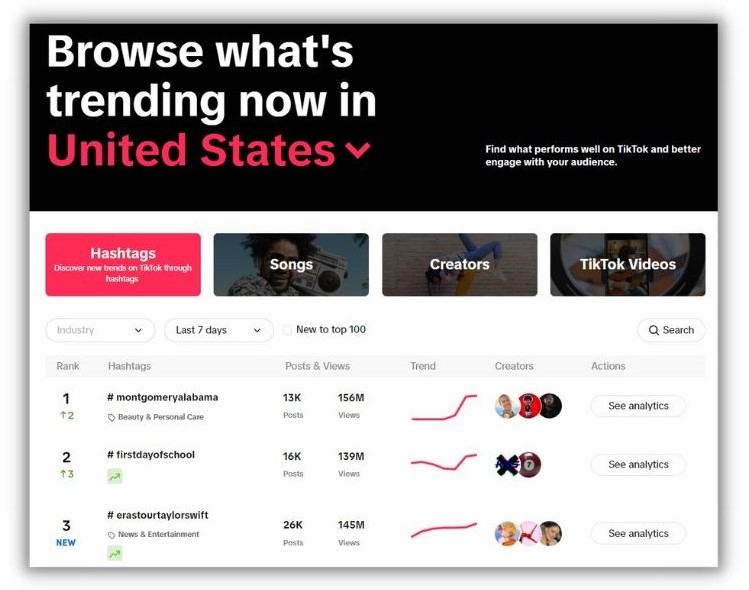 Click on any trend and you'll get more analytics about it plus some popular examples you can emulate.
Joining a trend can make your brand feel more like an authentic part of the community, which is a trait TikTokers look for in accounts they follow.
4. Educate to grow your TikTok audience
TikTok isn't just all fun, games, and dancing videos. More and more creators are embracing its potential for education, and audiences respond well to it! Finance TikTok alone, which covers everything from generating passive income to investing in cryptocurrency, grew by 255% in 2021.
Investor's Business Daily (@ibdinvestors) is a good example of the massive potential of educational content on TikTok. A single IBD video amassed over 94,000 views and garnered numerous positive comments. No doubt, it resulted in many new followers too. And this is not a one-off occurrence or an experience specific to Finance TikTok.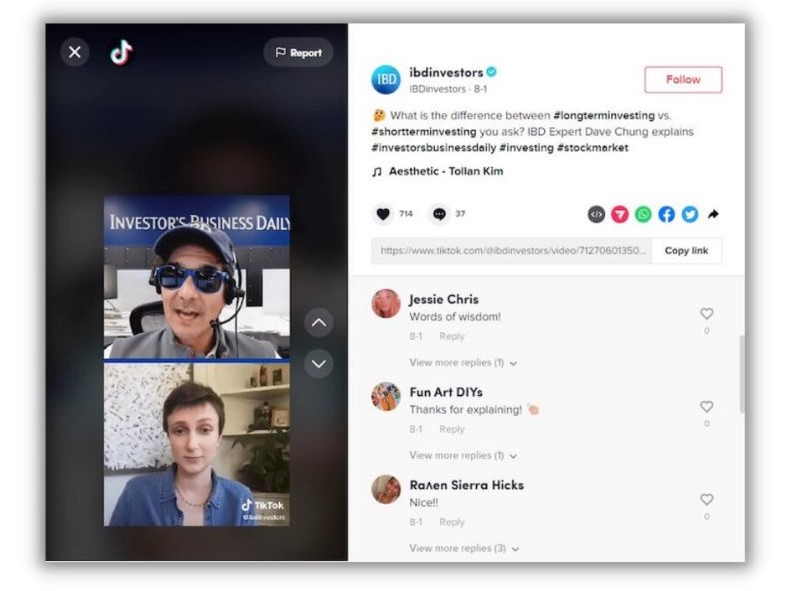 Consider some topics your audience wants to know about (or would be surprised by). These could be practical tips, step-by-step breakdowns of complex topics, or even insider industry info. In any case, if your videos are genuinely helpful and informative, you'll be able to attract more followers.
5. Participate in TikTok challenges
Challenges are a particular kind of trend on TikTok. They're a little like the dare side of truth or dare where you ask followers to do something like prank their friends, try a new food, or do a dance.
A challenge can be just about anything, like this hip mobility challenge that would be great at attracting new followers to your physical therapy practice.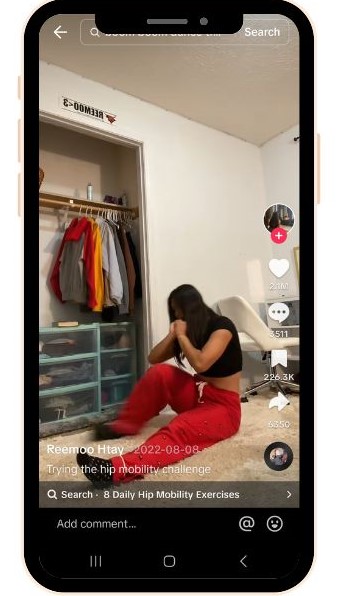 6. Create a branded challenge
You don't have to just follow existing challenges, you can create them, too.
For example, if you regularly educate your audience, you could challenge them to apply the lessons you teach and share their results in TikTok videos. Not only would this engage them, but it would bring more attention to your account and likely grow your following.
Orahex (@orahexph) has had great success with this. The oral health brand has created two challenges—#ORAHEXFaceDance and #OrahexGetBackOut. Both have resulted in over 30 million views total, countless engagements, many challenge participants, and a good chunk of the brand's 24,000 followers.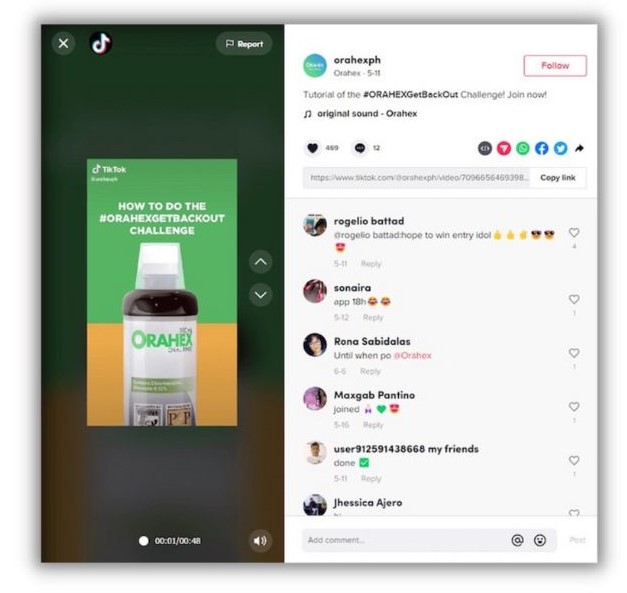 7. Use stitch and duet videos for fast follower growth
Here's a low-lift way to gain TikTok followers fast. Use two of the app's features to riff off of other creators' videos.
A duet is when you create a video and play it side-by-side with an existing video.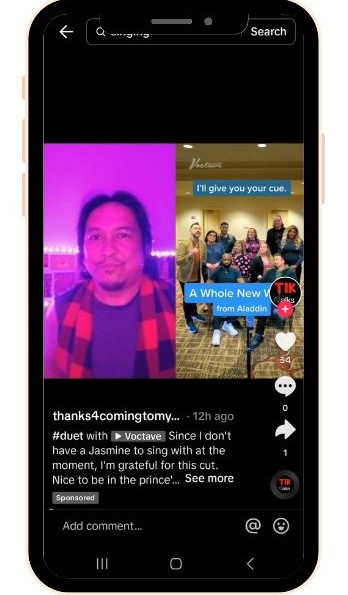 A stitch is when you play part of an existing video, usually from another creator, and add your own video at the end. This hilarious stitch shows what happens when an amateur tries to get the same results as a seasoned pro.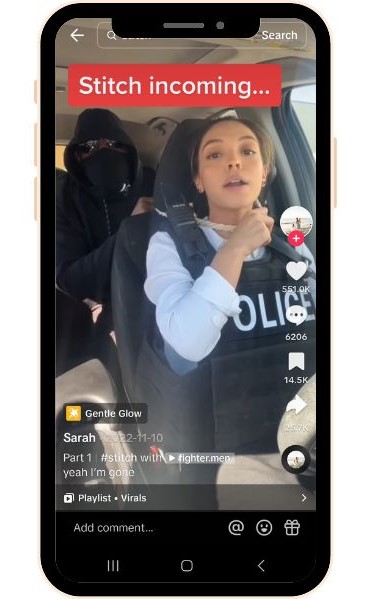 With stitch and duet posts, the bulk of the work done for you. So you can use them to post more content faster. Plus, they feature an already popular video, so there's a good chance people perusing your page will like them and follow to see more.
8. Make the most of user-generated content
Sharing user-generated content (UGC) can accelerate your follower growth in a few ways.
First, you get fresh content created for you. No fuss, no ideation, just more posts for new followers to find.
Second, the creator may get a thrill out of you sharing their content, enticing them to share it with their audience. That's a whole new group of people that may become your followers.
And third, content created by your customers—especially if you didn't pay them to create it— is usually seen as authentic.
To get more UGC, ask your customers to share testimonials, do Q&A sessions, or tag your brand in videos of them using your products.
9. Consider longer videos for higher follower count
If you want to grow your audience, you may want to try some longer videos. That's because on TikTok, the more followers an account has, the longer their videos tend to be.
Now, we're not talking about only posting three-minute mini-movies. That would stress out some of your audience. But for some topics, you may be able to do 60 or 90-second clips.
How do you know what length to make your videos? Use tip #2 and spy on your competitors. If their posts about summertime home maintenance are a minute long, yours should be too.
10. Engage with people on TikTok
Research shows that, compared to other platforms, 73% of users feel deeper connections to brands they interact with on TikTok. The key word there is "interact."
Posting regularly is important. But so is engaging with your audience. It earns you more fans who consistently engage with your videos and share them with friends (AKA potential followers).
Plus, people are more likely to comment if they know they may get a response from you, especially as your account grows in popularity. More comments can earn you the favor of TikTok's algorithm, getting your content in front of more people. If you use the various other tips we're covering here, that could easily translate into more high-quality followers.
Glacier Window Tinting (@glacierwindowtinting), which has over 717,000 followers, has mastered this. Not only are many of its videos replies to commenters, but the company also consistently replies to dozens of comments per video.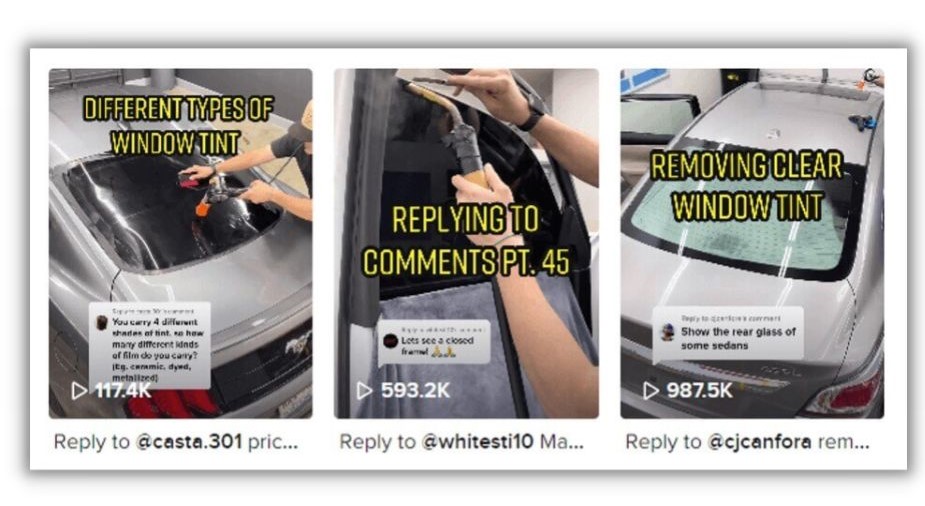 11. Add a variety of backgrounds with the green screen effect
Say you've attracted a new potential follower to your page. They scan and see a sea of sameness. Then on they go looking for something more interesting.
Break your wall's visual monotony by using TikTok's green screen effect. This TikToker uses the green screen effect to teach you how to use the green screen effect.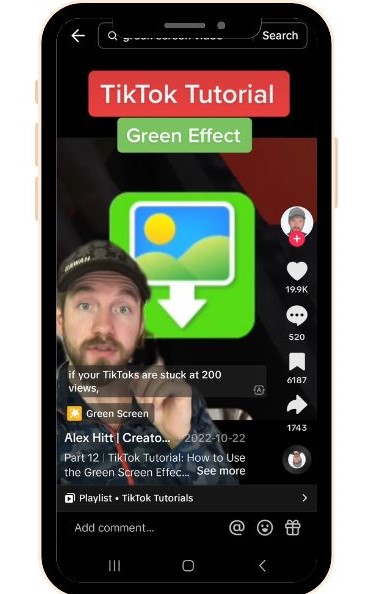 Essentially, the green screen works like a Zoom background, but you can use a video behind you instead of just a static picture. Use the green screen for fun reaction videos, or to look like a news reporter on the scene.
12. Get ideas new followers will love from desktop topics
Here's a fun little hack to get more TikTok followers. On the desktop version of TikTok, there's a bar across the top with a list of general topics.
Click a topic that relates to your brand, and you'll see what's trending. Use those posts for inspiration, competitor research, or to find people you might want to react to or collaborate with.
13. Double down on successful TikToks
Every video you post is a chance to learn what grows your account. Pay attention to which videos have the most effect and create new posts with similar characteristics.
While views and likes are important, we're most interested in getting you a lot of followers on TikTok. So track the jumps in follower count that coincide with each new post. And watch what happens to your account when one of your videos gets lots of views. If you don't get new followers from it, it may not be as successful as you thought.
14. Attract followers with TikTok Live
Going live on TikTok gives people an opportunity to interact with you in real-time. It adds a more personal element to your relationship with your audience that can:
Reel in new followers who happen to stumble across your lives
Encourage people familiar with you who haven't followed yet to finally hit the follow button
Prompt people to mention your account to others who may be interested in following you
15. Strategically time your posts
Relevant posts and high-quality videos are most important when you're building your TikTok following. But posting at the right time can give your videos a little boost of early engagement, which then places them in front of more people.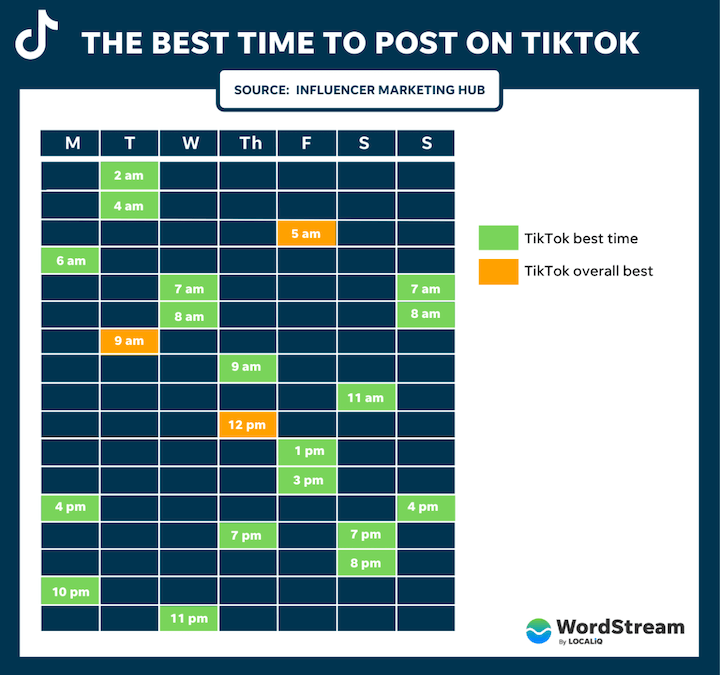 If you want to know when to push out your next killer video, this guide breaks down the best time to post on TikTok.
16. Post as frequently as possible (especially in the beginning)
What happens if you hit a home run with your very first post and thousands of people view it? They go to your page, don't see any other content, and don't even think of following you.
In the early days, try to get as much content as possible posted (prioritizing quality, of course).
Once you have some videos to entice visitors to become followers, you can level off into whatever schedule fits your ability to create great content. Ideally aim for at least a few posts a week, though.
17. Set expectations in your TikTok bio
A good TikTok bio states what you do and what followers can expect from your TikTok videos.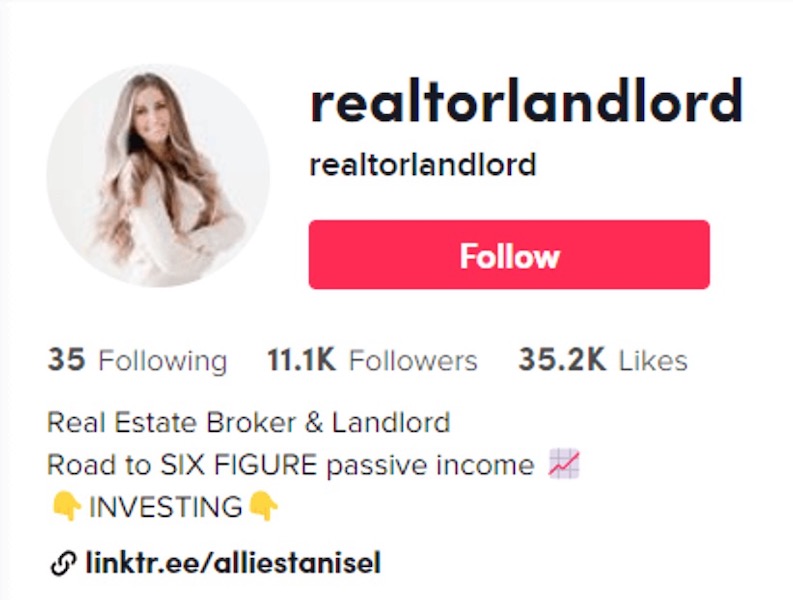 This approach confirms to soon-to-be followers that you have:
Information or content they're interested in
Expertise in the topics you're creating videos on
It sets expectations and builds trust, both of which make earning new followers easier.
Related: Find out how to write a business description you can use across all your social channels.
18. Pin your best content
In addition to setting clear expectations in your bio, you can reinforce them by pinning your most popular TikToks to the top of your profile. Show off the content that already gets people to follow you (instead of hoping people will scroll far enough down your page to find it).
Robert M. Berger (@robertmberger) does this, knowing that the most viewed videos will do a better job of hooking potential followers than those that are less popular.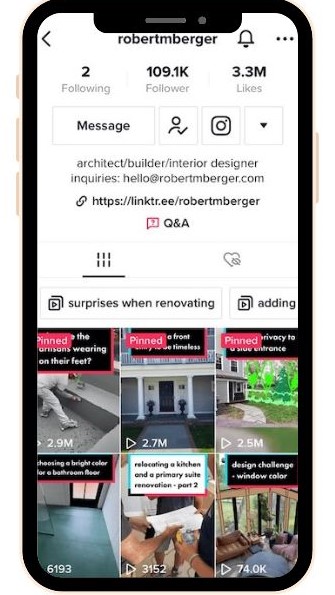 Did you get a lot of likes or positive comments on a video? Did you notice a big spike in followers after posting one? Those are good candidates for pinned videos.
19. Prioritize high-quality video
Clear audio and video are a must if you want people to stick around and watch your content, let alone follow you for more.
You don't need to spend thousands on equipment, especially before you've proven that TikTok is a viable marketing channel for your business. But you do need to have a decent microphone and camera.
A few basics to think about:
Have good lighting
Be mindful of your surroundings
Cut longer videos into shorter segments
Keep echos out of the audio
We get into the best ways and ideas for how to edit TikTok videos here.
20. Upgrade to Pro Account
Opening a Pro Account doesn't cost anything, so it's one of the best ways to get more TikTok followers for free.
When you upgrade from a regular TikTok account, you get access to analytics that help you find the best time to post. You'll also see which videos get the most views, how people find your account, and how popular your page is. All of that helps you create videos people will love and get more followers in the process.
21. Keep a consistent tone to keep new subscribers engaged
Stick mainly to what you've primed people to expect from your business's TikTok social media content. That, of course, includes sticking mainly to business-related topics. But it could also include the style of your content.
For example, say your best-performing content puts humorous spins on industry-related topics. Historically, that approach earns you lots of engagement and followers. But…you're unpredictable. Sometimes—out of nowhere—your content is dry and super serious. This could easily scare off people who've seen several of your videos on their For You Page but haven't yet followed you.
Newton Nissan South (@imwithnewton) is a good example of consistency. The account has racked up over 64,000 followers largely by interviewing auto salespeople, techs, and car enthusiasts. That's what it's known for, what excites its audience, and what it sticks to.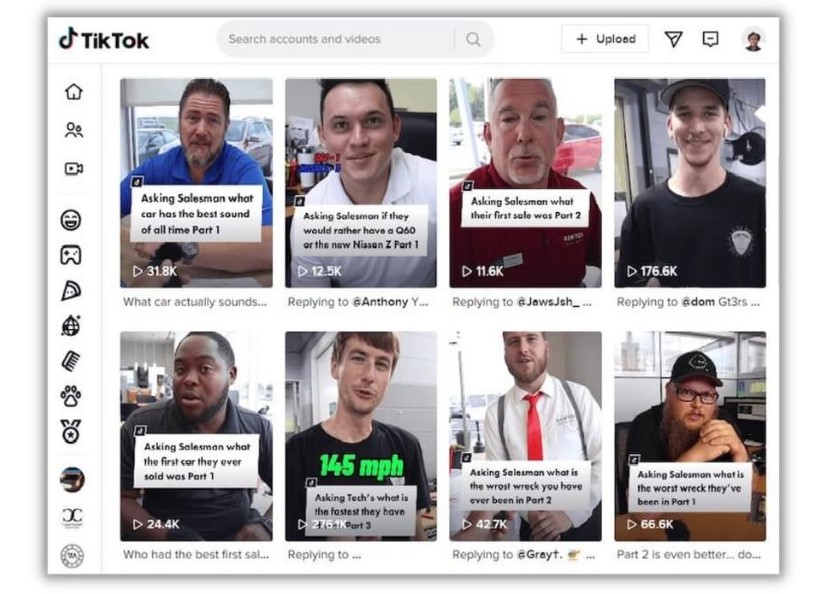 22. Pick your hashtags strategically to gain new followers
Hashtags help push your content into the hands of people interested in the topics you talk about. What a great way to attract new, active followers to your account!
Ideally, your hashtags should use a mix of:
Popular, general hashtags (e.g. #fyp, #foryou, #foryoupage, or #viral)
Broad but relevant hashtags (e.g. #funny and #meme for comedic content)
Niche or topic-specific hashtags (e.g. #healthcare, #carsales, #homeservice, etc.)
Broad hashtags get you more exposure with a bigger audience. More niche hashtags introduce your brand to a smaller, but more focused, audience.
For example, a lot of people search #foryoupage. If you show up in their search, you could get a lot of views which helps with the TikTok algorithm even if most don't end up following you. Only a handful of people will look for #cleanswimmingpool, but the ones that do will probably follow you for your pool-cleaning content. That's why a mix of hashtags is important.
23. Create branded hashtags to increase follower count
Using existing hashtags gets you in front of a new audience. Branded hashtags—hashtags that include something specific to your company—take advantage of TikTok's network effect to gain you new followers.
Guess's #inmydenim is one of the earliest examples of a viral branded hashtag campaign on TikTok.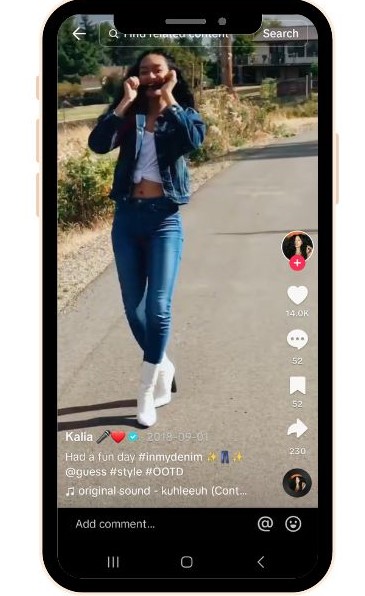 In the campaign, people tagged videos showing how they felt wearing Guess denim. And even after five years, it's still going strong.
Try using branded hashtags for branded challenges, getting user-generated content, or sharing product reviews.
24. Choose the right keywords
If you want to get followers on TikTok, you need to make your content discoverable. One of the ways to do that is by choosing popular keywords to place in your captions.
With the right keywords, TikTok's algorithm will know that your post is relevant to people searching for that topic.
Again, TikTok is here to help. Go to Keyword Insights and type a general topic, like beauty.
You'll get a list of related keywords. Click the "Details" button and TikTok will show you example sentences using your keyword and posts that rank for it.
That will fuel your caption creation and get your posts in the hands of people searching for brands like yours.
25. Use trending songs and sounds to connect with future followers
Music works like an audible hashtag on TikTok. Pick the right tune and you could get connected with a huge pool of potential new followers.
When a user hears a tune they like, they can click the song title and be taken to a page of other posts featuring that melody.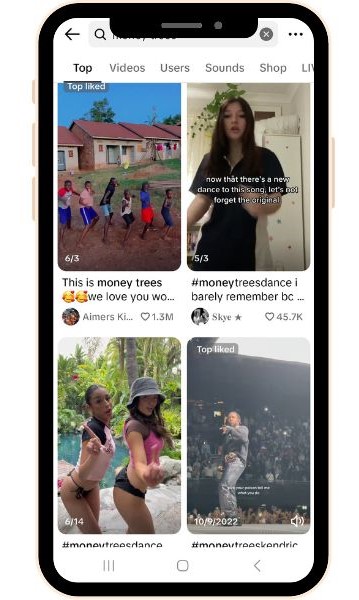 Tokboard shows you the most popular music on TikTok so you can choose something that not only fits the vibe of your video but that'll also be seen by the most people.
26. Use TikTok ads
So far we've shown you how to get TikTok followers for free. If you have the budget for it, TikTok ads let you get on your audience's radar faster.
Since 72% of users feel TikTok ads are inspiring and 70% say they're enjoyable, they're an effective way to make people want to follow you. (Even better, they can make people want to buy. In one study, 67% of respondents said TikTok inspired them to shop when they weren't planning to. So, well-done TikTok ads can also produce near-immediate returns on investment).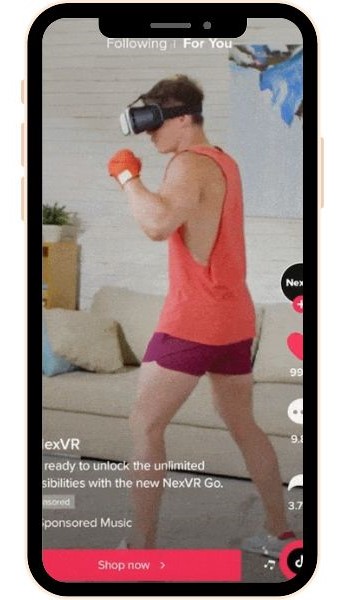 27. Include a benefit-focused call to action
TikTok is designed to keep users scrolling from video to video. So, it can be tricky to drive potential followers to your profile (where the follow button is most prominent).
A call to action (CTA) is a smart way to get someone to take an action like following your page. You can add stickers to your videos, use verbal calls to action, or invite people to follow you in the comments.
Just be sure to highlight why they should and what value or enjoyment they can expect in return. Instead of saying "follow me for more financial videos," say "follow me to grow your investments."
28. Get on the For You Page
The FYP is the front page of TikTok. It's where users see new content, chosen based on their previous actions, from creators they've never heard of.
As a brand trying to increase follower count, that's exactly where you want to be.
It's not always easy to do, but this guide will help you get your videos on the TikTok FYP.
How many TikTok followers do you need?
We've covered how to get more TikTok followers for your business. But that leaves the question, "How many followers should you be aiming for?" While it's smart to set a specific (and realistic) goal to measure your progress against, remember one thing. Having thousands of followers is useless if relatively few have the potential to become customers or otherwise support your business.
You want a following that contributes to the achievement of your marketing and business goals. And that's not an unrealistic expectation. Compared to the previous year, in 2022, there was a 700% increase in the number of marketers who believed that TikTok is an effective channel. So, plan your TikTok strategy with a focus on proving return on investment!
Here are the 28 ways to get more TikTok followers:
Define your target audience
Review your competition
Follow Tiktok trends
Educate your followers
Participate in TikTok challenges
Create a brand challenge
Use stitch and duet videos
Make the most of UGC
Consider longer videos
Engage with people on TikTok
Add a variety of backgrounds
Get ideas from desktop topics
Double down on successful TikToks
Attract followers with TikTok Live
Strategically time your posts
Post as frequently as possible
Set expectations in your bio
Pin your best content
Prioritize high-quality video
Upgrade to pro account
Keep a consistent tone
Pick your hashtags strategically
Create branded hashtags
Choose the right keywords
Use trending songs and sounds
Use TikTok ads
 Include a benefits-focused call to action
Get on the For You Page