It's no secret that having a presence on Facebook is important for your business, but what's the most important part of your business's page? The part that sticks out front and center, of course! Your Facebook bio.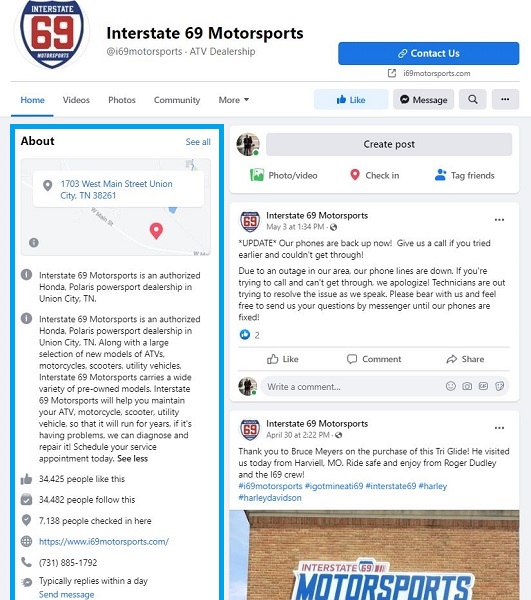 An example of a small business Facebook bio.
Facebook bios allow your business to make a lasting impression on new and returning page visitors. We'll walk through ways to make your Facebook bio count by covering:
Why your Facebook business page needs a bio.
What a small business Facebook bio should include.
Facebook bio examples and tips to use as inspiration.
Don't let your Facebook bio turn into an afterthought. Be sure to bookmark this post for later to have at the ready whenever your business needs a Facebook bio refresh.
Why your business needs a Facebook bio
Your Facebook bio is a particularly important aspect of your social media marketing because it sums up everything your page visitors need to know about your business.
Facebook also provides numerous prompts to complete, which vary based on your industry, making it easy to answer the essential questions a customer may be asking. So, filling out your Facebook bio is a no-brainer when building your Facebook business page.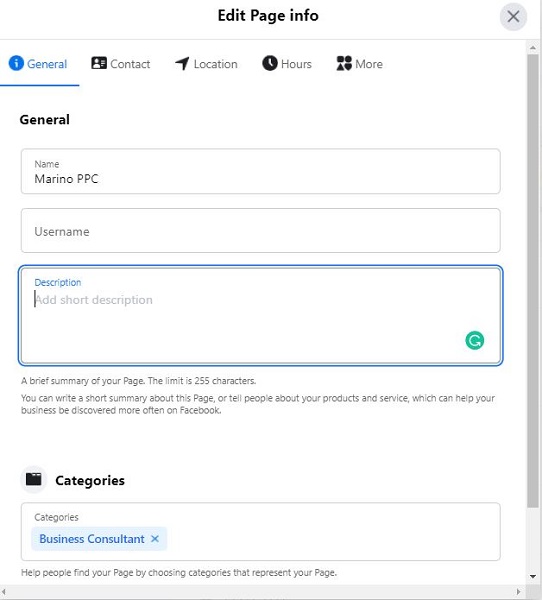 What editing your Facebook bio looks like.
Quick Facebook bio tips
Before we dig into our complete list of Facebook bio examples, let's first review some best practices. Here are six Facebook bio tips that can turn any bio from good to great:
1. Have a goal in mind
You'll want your Facebook bio to match your business's key goals and objectives. For example, if you're looking to appeal to your audience in a way that would make them feel a certain emotion, you'll want to apply that to your Facebook bio.
If there's an ultimate takeaway or action you want to push your audience to complete, try to make that clear in your bio. Be sure your bio answers this question: "What's the number one thing I want my audience to know about my business when reading this?" It could be that they can call you at any time, that you just built new locations nearby, or more. Take the "about" section from Tony C's Sports Bar and Grill, for example:
Tony C's is the place to be for sports fans of all ages! With a delicious menu of home-made foods and over 90 HD TV's it's the ultimate experience!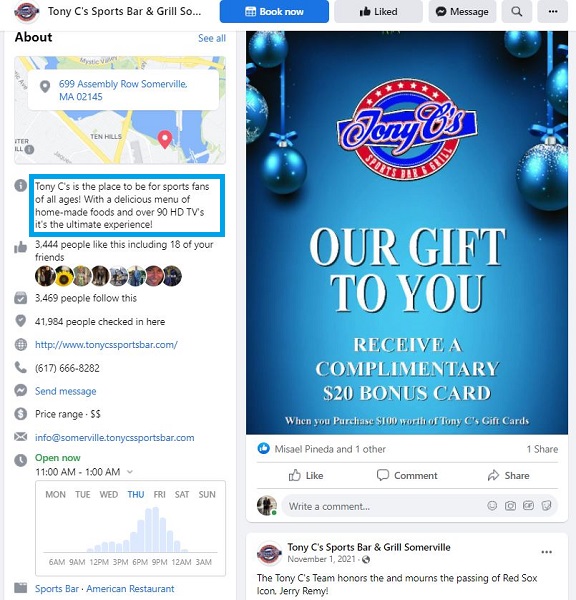 This example of a Facebook bio is clear in its intent to draw in sports fans and families.
2. Keep it clear and concise
While you want to be able to convey the main points of your business, you'll also want your audience to read it in its entirety—which necessitates staying concise. Facebook reinforces this best practice in some areas. For example, you're allowed up to 255 characters in your bio's description section.
A best practice that can help maintain clarity when writing your bio is to draft it a couple of times in a separate document first. Each time you read through, go sentence by sentence to identify ways you can cut out words or phrases you may not totally need.
For example, this instrument dealer keeps their "about" section short and sweet, but expands on it in their "additional information" section:
New England's premier piano dealer and exclusive Steinway & Sons representative.

Additional information

Since 1860, our philosophy has been simple: We seek to introduce our customers to the joys of playing piano. Whether you are young or old, professional musician or play for personal enjoyment, we have the instruments to meets your needs. Backed by our commitment to 100% customer satisfaction. We get to know you, discover your needs and provide the guidance and information you need to make the right decisions about your purchase.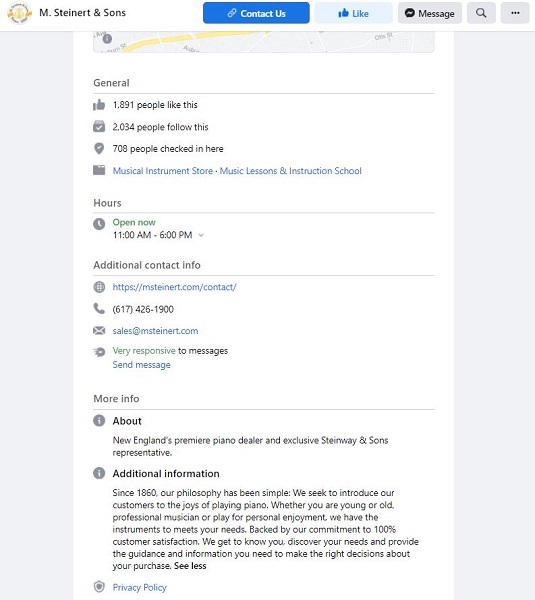 This business gets the best of both worlds by keeping the "about" section of its Facebook bio short but giving viewers the option to learn more in the "additional information" section.
3. Catch your audience's eye
Try including a strong "hook" when writing the first sentence of your Facebook bio to entice viewers to read on. Use trigger words to make your Facebook bio as impactful as possible. You could even try marketing with emotion by using phrases that could evoke a feeling of joy, humor, and more to hit the hearts of your target audience. Local restaurant Mystic Station does a great job of this:
Pub food made from scratch, the way it should be. Amazing craft drinks made from fresh ingredients. 26 craft beers on tap, both local and around the world.
This Facebook bio example relates to its audience by addressing its unique, "made from scratch" food. However, we can also learn from this example as its misspelling of "ingredients" acts as a reminder to always proofread before saving!
4. Don't forget need-to-know information
At the end of the day, you want your Facebook bio to be effective. Be sure to include key business information in your Facebook bio. If you're unsure of what important information you should or should not include, try mirroring your most recent business description or the information you already have on your business listings. BASE language school ensures not one detail is missing from their Facebook bio's "about" section:
We are pleased to present to you Boston Area Spanish Exchange, BASE, on your road to Spanish language acquisition. We aim to bridge cultural and linguistic gaps in the Boston area and beyond. BASE is a teacher-founded and teacher-run Spanish school. We are bilinguals, linguists and experienced Spanish teachers passionate about languages, teaching and learning. Boston is an exciting place, particularly culturally and linguistically. ¡Hasta pronto!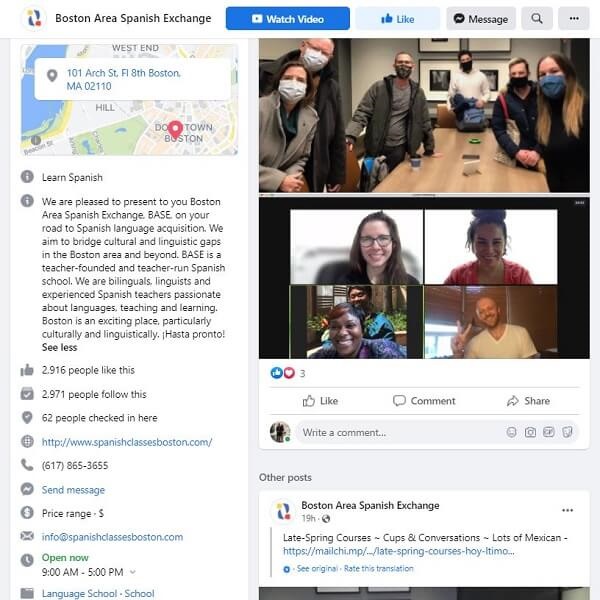 This Facebook bio example is thoroughly filled out with all the business's need-to-know information.
5. Stay on brand
When writing your Facebook bio, you'll want to keep in mind your brand's voice and personality. You may want to reference any style guidelines you have in order to maintain brand consistency throughout your bio.
You'll want to come off as authentic as possible to your Facebook page visitors. If your bio sounds like it was written by an industry expert, but your posts sound like they came from a friend, that tone mismatch could confuse visitors. To avoid this, try reflecting any content your business already has—whether that be your mission statement, blog posts, or other assets to help you stay true to your brand.
Dr. Squatch, a small soap seller, angles their products to men. This is clear in their quick "about" section:
Natural, invigorating, manly soap for men who live the Squatch lifestyle.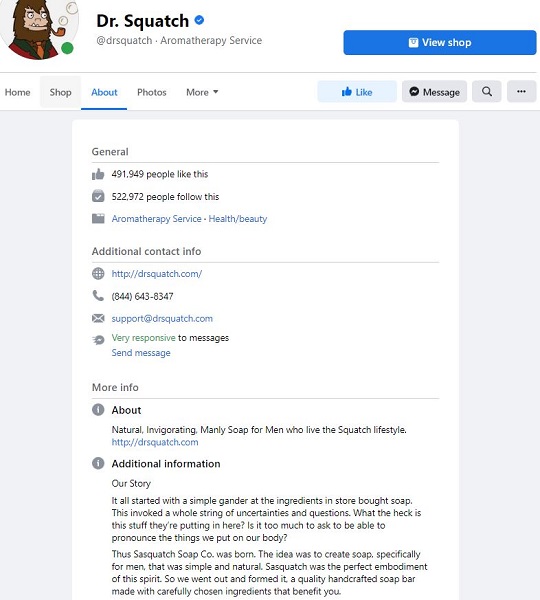 This business's brand voice and style is clear through the casual language used in its Facebook bio.
6. Link to your website
We saved the most important Facebook bio tip for last: always link to your business's website. If you don't already have a website, your business needs one to maximize your success across social media marketing channels. In fact, Facebook even gives you a designated spot to link to your website directly in your bio. If you want to drive even more traffic to your website, you could also include your website in the business description portions of your Facebook bio.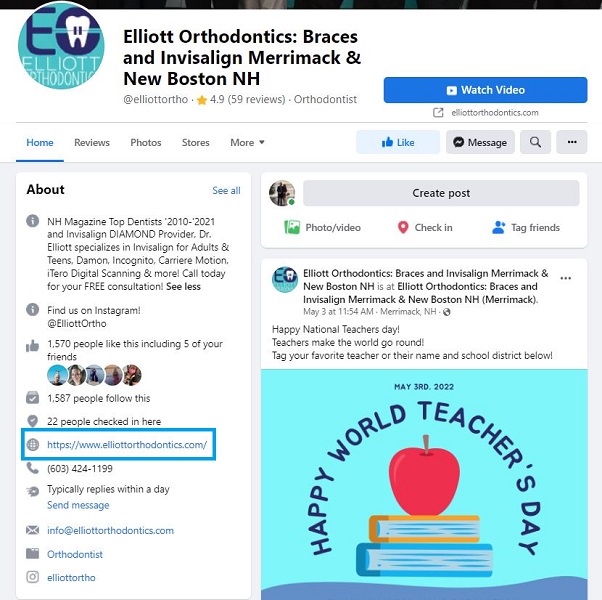 Related: Is your website ready for increased traffic from your Facebook bio? Find out with our free, instant website grader.
Examples of effective Facebook bios
Let's put our tips into practice by reviewing some small business Facebook bio examples:
1. Sleek Style Salon
Completing all areas of your Facebook "about" section will help potential customers see the full spectrum of products and services you offer. Sleek Style Salon is doing an excellent job of making sure their services, mission, and values are openly displayed for all potential customers to see.
By also providing numerous ways to contact the salon, such as an email address, phone number, and website, potential customers are likely to reach out and book an appointment sooner because the contact information is so readily available.
Malden's best hair salon is owned and operated by Keri Halloran DiPietro.

Additional information

Sleek Stylists and designers provide professional hair services such as :

Hair Design & Style

Men/Women's Cut

Blow Dry

Updos

Permanent

Straightening

Extensions

Keri specializes in helping clients deal with trichotillomania and hair loss. Keri has helped hundreds of clients with hair replacement, design and hair extensions.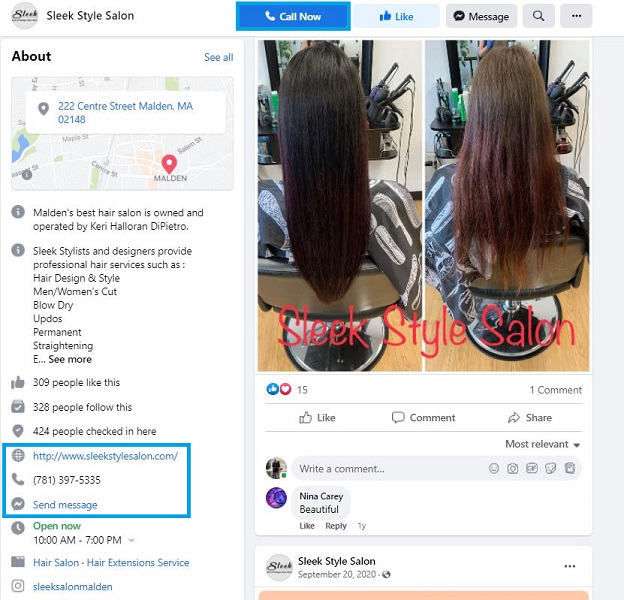 2. Cabot's Ice Cream
When completing your Facebook bio, it's important to not only specify in your description what you offer but also under "services," such as what Cabot's has done. Calling out specific features they have, such as being family-friendly, makes for a positive user experience for the potential customer and eliminates a possible source of confusion. Additionally, their about section fits the mood of their offering:
At Cabot's it's all about taking life one scoop at a time! A Newton tradition since 1969, there's too many choices for you to have only one favorite!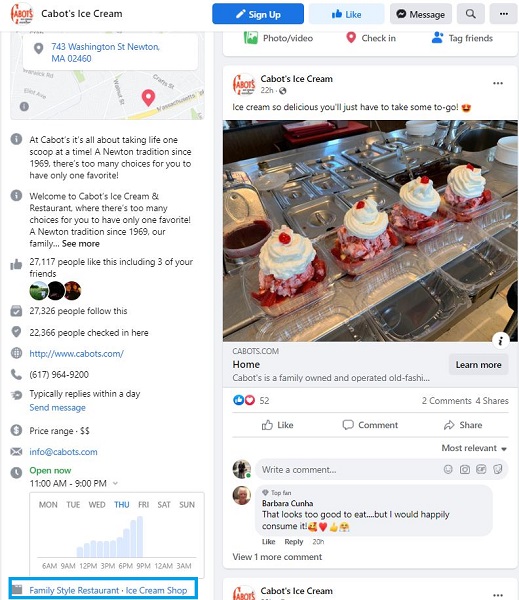 3. dvd Interior Design
With more creative industries, such as visual arts, architecture, or photography, it's difficult to give a potential customer a feel for your services through a computer screen.
It's essential to extend your Facebook bio longer than other industries might. That way, you can include details such as artistic background, education, and personal projects.
Since art can be subjective to the individual, giving your audience a feel for you personally as well as your abilities are invaluable prior to speaking with you in person.
dvd Interior Design went the extra mile by filling out the Facebook bio's "Impressum" section that acts as a statement of ownership from the designer herself. Plus, dvd Interior Design paints a picture for customers with a lengthy and descriptive "about" section:
Interior Design created by your lifestyle. This is my Journal of Design.

Over a decade of Interior Design experience + successful Projects

Deborah von Donop and her career span a wide variety of clients in the design industry covering over 25 years and a range of professional experiences and endeavors. Her current work as an Interior Designer and Decor Blogger keeps her involved in a variety of projects both as a freelance consultant and project designer.

Deborah von Donop has recently been tapped as Senior Designer for Clarity Home Interiors in Greenwich, Connecticut.

Deborah is also the Editor and Founder for a national blog, dvd Interior Design as well as guest blogging for a variety of other sites including Westchester Magazine, IBlog Magazine, BlissfullyDomestic.com and more. She writes weekly on design resources, highlights from industry events, and interior design topics aimed to educate and inspire her readers.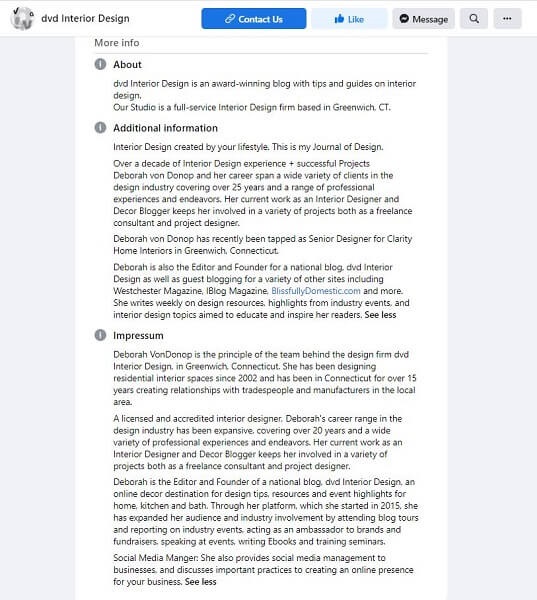 4. Pearl Street Station
If you operate a business with set hours, such as a bakery, restaurant, or bar, adding your hours by day (as well as "popular hours") to your Facebook bio will be extremely beneficial for any potential customers browsing your Facebook page.
Hours of operation can be one of the most asked questions customers look to have answered on your page. Providing that information for them by including your hours allows you to create a smoother process for your audience. Pearl Street Station incorporates both their operating hours in the drop-down, and popular hours in the visual, to make their Facebook bio an easy-to-use tool for visitors.
5. Polar Engraving
Including an intro in your Facebook bio can be just as important as your "about," "additional information," or "Impressum" sections. Polar Engraving does a great job of this by including a concise introduction that jumps out to readers:
Polar Engraving, the leading brick engraving company that assures you a successful brick fundraiser
6. Trendy & Tipsy
Incorporating your branding into your Facebook bio is another great way to drive brand awareness and loyalty. While hashtags in Facebook bios are not clickable the way they are in a comment or post, 7 out of 10 hashtags are branded. Making those custom hashtags known is still valuable to your small business. Trendy & Tipsy uses the hashtag #trendyandtipsy to demonstrate this.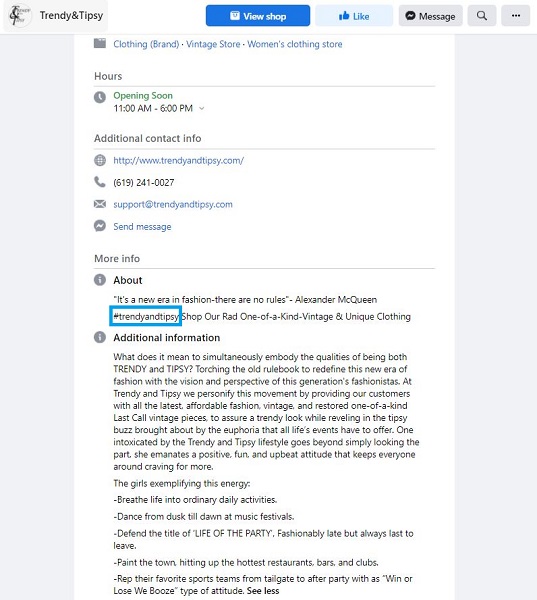 7. Solidcore
Giving your business a touch of creativity can go a long way—especially when it comes to fitness marketing. Solidcore makes its business stand out from other gyms on Facebook by giving a fun name to its go-to machine. Plus, they reinforce their logo branding by putting their key terms in brackets.
[solidcore] is 50 minutes of high-intensity, low-impact, slow & controlled movements on our resistance-based [sweatlana]. Classes are intense and purposefully sequenced to work your muscles to [failure].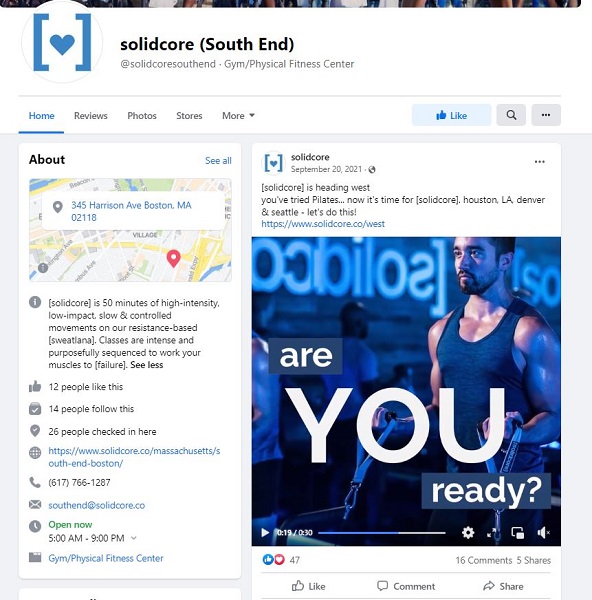 8. Martino Law Group, LLC
In certain industries, keeping your Facebook bio professional is the best course of action. Martino Law Group, LLC reflects this practice in its very polished Facebook bio, describing both what the business does in the "about" section and details regarding the services they offer in their "additional information" section.
Martino Law Group is a General Practice Law firm in Melrose Massachusetts

Additional information

Managing Attorney with Martino Law Group, LLC., a general practice law firm that represents individuals, businesses, banks, and families for all of their legal needs.

Our team handles any matter that could, would, or should go to trial. We represent borrowers, buyers, sellers, lenders, and banks in both residential and commercial real estate matters. We can handle all of your Estate Planning needs from a simple will to complex estate and Medicare planning.

We can represent you and your family for all Family Law and Divorce matters.

The Martino Law Group, provides clients with exceptional, high quality, personalized service, unsolicited updates, and uncompromised legal representation for a reasonable fee.

My team and I have considerable experience in many areas of the law and welcome the opportunity to form a relationship with you, your friends, family and colleagues and to handle any matter that requires an attorney.

Please contact us for further information, to set up a meeting, or simply stop by our offices located on Main St Melrose, MA. We look forward to the opportunity to working with you and your family and friends.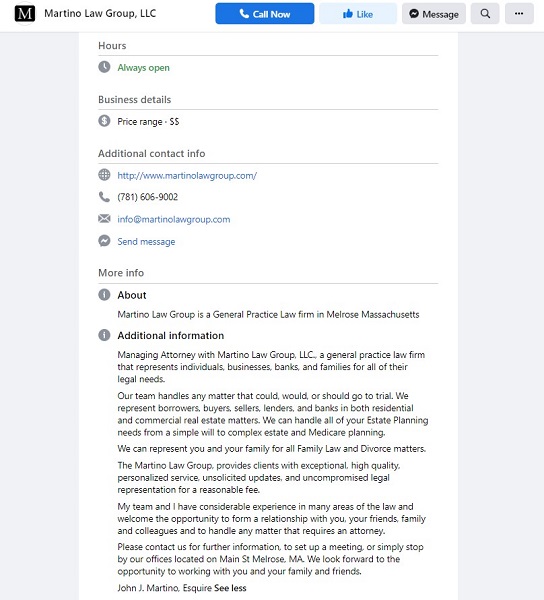 9. Nightshift Brewing
If you're a family-owned business, it's always nice to highlight your backstory of how you came to be. This can help connect deeper with potential customers—eventually building a solid brand community. By sharing when and how they became established in their Facebook bio, Nightshift gives viewers an inside look at their business's background.
Night Shift Brewing was founded in 2012 by a trio of friends with a shared passion for nocturnal homebrewing. Through culinary inspiration and determined innovation, we aim to create memorable craft beers that offer a wide array of unique, complex flavors.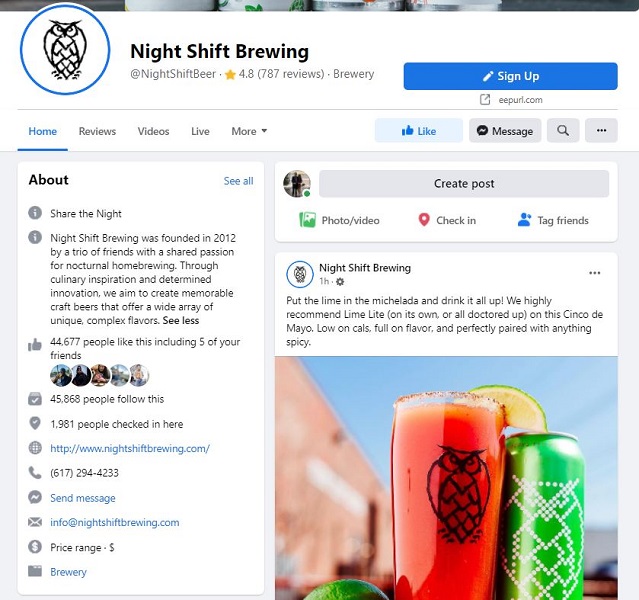 10. Soft Touch Dentistry
Soft Touch Dentistry adds a personality to its Facebook bio by quickly summarizing who customers will be working with. It doesn't just list off qualifications but describes the dentist as a real person in the "additional information" section—making her more relatable and approachable to potentially anxious customers.
A Harvard Instructor.

A caring mother.

A gentle dentist.

Dr. Bidabadi's reputation for dental excellence has earned her a position as a clinical instructor at the Harvard University School of Dental Medicine, which she has held now for over a decade. She has been entrusted to evaluate each Harvard dental student before they can proceed. In addition to being on-staff at Harvard, she was a mentor for the Boston University School of Dentistry. When you consider such credentials, it's hard to imagine a more qualified, more respected dentist than Dr. Bidabadi.
11. Pasta Loft
Not only does Pasta Loft include all the necessary information in its Facebook bio, including operating hours, but it used humor to give the "about" section a unique twist. The owners are the masterminds behind the business page, but they framed it as a "fan page" to add a dose of fun to their description. Plus, the CTA inviting visitors to check back regularly is a great way to increase social media engagement now and in the future.
Finally, a fan page dedicated to the best restaurant in the Merrimack Valley! We will continue building the page with more info and photos so check back often!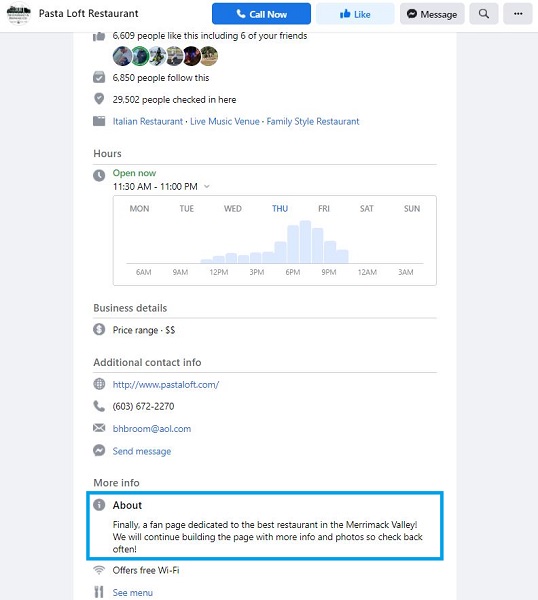 12. Lamacchia Realty
Real estate marketing can always be a challenge since it gets so competitive. Lamacchia Realty ensures it gets the most marketing ROI out of its Facebook bio by linking right to its listings in the "additional information" section. That way, viewers who are interested in seeing listings don't have to dig through their posts and can quickly access their listing sites.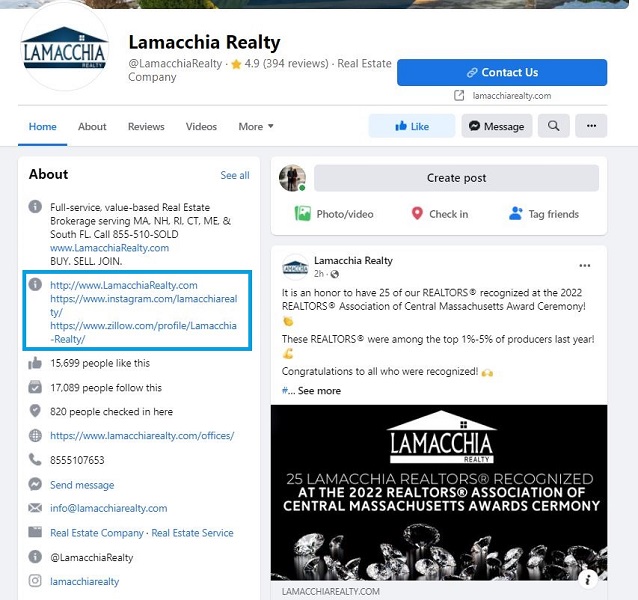 Watch your Facebook bio story unfold
As we can see, Facebook bios can tell the story behind your business. That makes it an incredibly important aspect of your social media profile. Make sure yours is up to par!
For more help with Facebook, download our free guide to reaching success on Facebook. 
Want more? We've got you covered: