There are so many places that you need to describe your business, whether it's your website, an online directory, or even an "about the company" section for an event. Your mission statement is a good start, and your brand story is good background. But what you really need is a compelling business description that provides any reader with a quick overview of what your business does and what sets it apart from your competitors.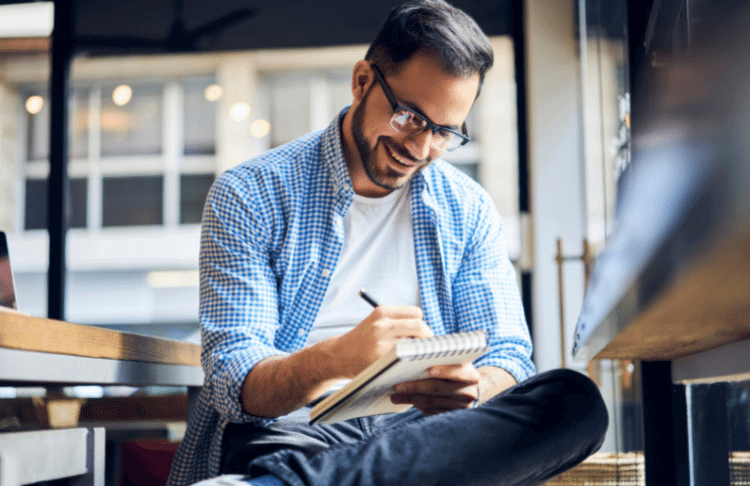 Here, we'll walk through how to write a compelling business description:
Start with your basics
Check out other business descriptions
Choose your keywords
Stick to active voice
Make sure your description is on-brand
Customize for each major platform
Plus, we'll share some examples to give you some ideas before you start writing your own.
How to write a business description: 6 simple steps
What is a business description? It's an overview of your company and how it's different from your competitors. And your business description needs to be an engaging introduction to your brand.
Here's how to write one that works for your business.
1. Start with your basics
The goal of a business description is to introduce any reader to your company—-and to do that quickly. So when you're getting started writing this description, it's a good idea to list out the basic information that you'll need to include.
Here's what needs to go in your business description:
What your company name is
What your business does
What value your business offers
Where your business is located
This is essential information that anyone needs to know in order to understand your business, and hopefully consider how you can help them.
Take a look at this example of a business description on LinkedIn from 829 Studios, a Boston-based marketing agency:

Here, 829 Studios includes its name and location, states that it's a marketing agency, and shares that it works to deliver results. Plus, the agency goes on to share how it does this—even better.
2. Check out other business descriptions for your industry
Your business description needs to let readers know what your business does. It also needs to let your readers know how your business is unique.
Let's say you're working on a business description for a local garden center. You've got your basics and you've narrowed down keywords (including "garden center"), so it's time to take a look at what other businesses are including in their descriptions.
Here's an example of a business description on Instagram from Russell's Garden Center, a small business outside of Boston.

Now here's another business description example for a local chain, Mahoney's Garden.

There are some clear similarities between these business descriptions—and these aren't the only garden centers hitting similar points. Both of these descriptions emphasize legacy and community, whether that's by stressing "family" or "people." This suggests that you want to tap into that here. Does your business run classes or events? Do you run the shop with your partner or your mom? Include those in the business description to attract your audience and set your business apart from your competitors.
When you're writing your business description, be sure to check websites as well as social media profiles, as the descriptions will differ across platforms. We'll talk more about that soon.
3. Choose your keywords
You'll use your business description on your website, on your social media profiles, on review and listings sites—in other words, you'll use this description across the internet. Because the primary locations for this description will be online, you need to make sure it's optimized. That means you need to include keywords.

Yelp business description example with keywords highlighted.
If you're using a keyword tool, you can look at keyword volume for Google, Bing, and other search platforms, which can help you optimize your business descriptions on those sites.
But focusing on Google's keyword volume is always a good place to start for overall SEO, anyway. If your social media profiles and listings come up on the search results page as well as your website, that's just more space for your business.
4. Stick to active voice
This might seem like a nit-picky tip but stick with me. Your business description should show your readers what your business does and how it does it well. Why wouldn't you take every opportunity to make your business active when you only have a few sentences anyway?
That's why it's imperative to avoid passive voice and stick to active voice instead.
Passive voice is when your sentence is structured so that the subject is receiving the action. Take this simple example: The laundry was folded and placed in the drawers.
So who did that laundry? It's unclear.
Active voice is when the subject of the sentence completes the action. Let's rewrite that example in the active voice: Greg folded the laundry and placed it in the drawers. Who did the laundry? Greg. It's nice and clear.
You want it to be nice and clear what your business is doing—and what it can do for your customers.
Read this business description from Brafton's G2 profile.

Brafton creates content and they tell your story; they're stretching muscles and crafting strategy. By using active voice and strong verbs, Brafton's written an energetic business description that's engaging and informative.
Stick to active voice so you can do the same, just make sure your verbs fit with your brand voice, which leads us to the next step.
5. Make sure your description is on-brand
Your business description is an opportunity to introduce your company. That should include introducing your brand personality, too. You should write your description in your brand voice. For instance, if your brand voice is casual and jokey, use some light-hearted humor in your description. If your brand is more serious and formal, then make sure your business description is crisp and authoritative.
Hypercontext, for example, is a great app that makes better meetings and better managers, and its brand is energetic, friendly, and passionate. This comes through in the business description. Here's how it appears on Capterra, a platform for reviews:

Words like "productive," "shared," and "love" stand out here and make this description on-brand.
Keeping your description on-brand like this will let anyone reading know what they can expect from your content or communications. Plus, brand consistency across channels will help make your brand more easily recognizable. And a recognizable brand is good for your business.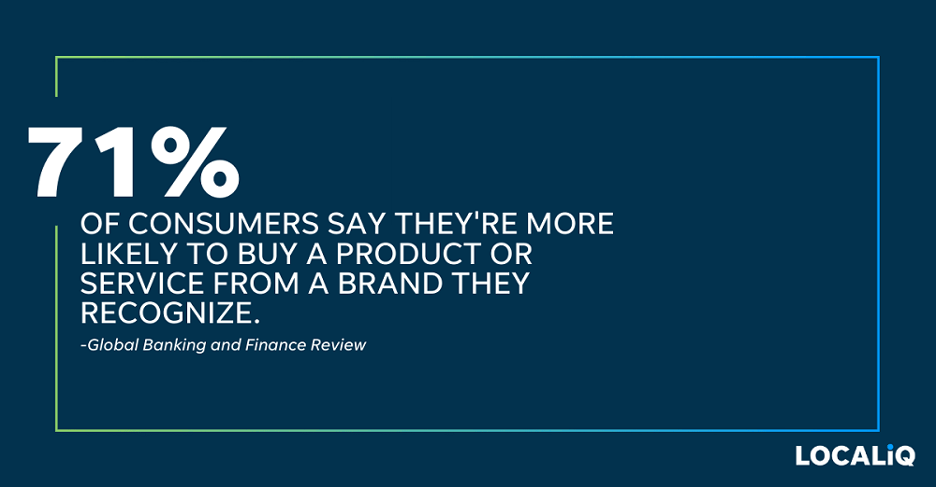 6. Customize for each major platform
This last step is the hardest. When you're done with your business description, you're still not exactly done. The best business description is one that you can adapt slightly for any place you need to quickly introduce your company.
Ideally, your main description will be longer, and you can use this on your website, and for listings, LinkedIn, and review websites. Then, you'll be able to pull out sections or create shorter versions for other social profiles with lower character limits, like Twitter or Instagram.
Here are the character limits you need to know about:
Twitter: 160 characters
Instagram: 150 characters
LinkedIn: 2,000 characters
Yelp: 150 characters
Pro tip: Keep this customization in mind when you're writing. That way, you can plan on having a strong, stand-alone sentence that you can pull out of the main business description when you need to.

Canva's business description on G2.

4 excellent business description examples 
Looking at your competitor's descriptions so that you know how to position your company is one thing. Looking at compelling business descriptions to get inspired and motivated to write or re-write your own is another. That's why we're including some examples we love below.
Take a look at these descriptions from LinkedIn, Twitter, Instagram, and Capterra to get ideas for your own.
1. Bark on LinkedIn
Bark is the parent company of BarkBox, a subscription service that sends a box of treats and toys related to a new theme each month. The treats are packaged in loud, bright colors, and the toys are also usually loud—whether it's the squeaker, the crinkle texture, neon, and metallics, or an in-your-face pun.
I'm not sure I've ever earnestly used the word zany before, but the branding might be zany. Energetic, dog-obsessed, and zany.
Here's the business description on LinkedIn.

The short sentences. The parenthetical. The fact that "dog" appears seven times in two short paragraphs here, and "crazy dog people" is repeated, too. This is a strong example of a business description that provides all the necessary information—what the company sells, its history—while recognizably stays on brand.
2. Buffer on Twitter
If you remember from above, Twitter has a much lower character count available for business descriptions. But check out how Buffer makes the most of every character.

Here, Buffer explains that it has tools for small businesses. By using "we" and the phrase "get off the ground and grow," this business description also suggests that Buffer is a welcoming partner for businesses throughout their social media journey. Throwing in an emoji that's synonymous with startups and growth is also an excellent way to demonstrate that Buffer is, in fact, a social media expert.
3. Dandelion Energy on Instagram
Sometimes simple is best when it comes to adapting business descriptions for your social media profiles. Take this example from Dandelion Energy, a company that provides geothermal heating and cooling to residential homes.

That Instagram bio is straightforward. But like Buffer's above, it also shows personality. The "we" and the casual definition of geothermal makes it clear that Dandelion's brand is approachable and helpful. Using the emoji as a rebus in the last sentence works well, too. It makes the business description feel appropriately casual and even playful for Instagram while making it clear that geothermal is a more efficient, more sustainable method for heating and cooling homes.
4. monday.com on Capterra
Review and listing sites are still places where you should introduce your business and your brand in your description. But personality is more important on Twitter and Instagram. On review sites, people are likely looking for solutions, so they'll want more detail about the offering and the value you provide.
Here's a great example from monday.com, a project management tool with a really useful product and a strong brand. This is the business description on Capterra:

There are more specific here: "drag-and-drop" and "ready-made templates," for example, tell us how to use the tool already. But the value is still clearly communicated with phrases like "instant clarity on their team's capacity." And all the stress on quick movements and efficiency? That's on-brand for monday.com.
Write a business description that works across platforms
There you have it—-how to write a compelling business description and great examples to inspire you while you're getting started. Remember to spend time writing a longer, more in-depth description that you can adjust to fit the different character requirements and the different ones for any platform. It'll be worth it.