Instagram is a treasure to any brand looking to connect with its audience. People use Instagram for inspiration and entertainment but they also use it to find businesses to work with. In fact, 81% of people research products and services on Instagram.
But Instagram is more than just aimlessly scrolling or posting giveaways: you need a strong introduction to your business that makes people more willing to engage with you.
If you own a small business, you need to spend some time cultivating your Instagram bio.
Today, we're going to cover:
Why your business needs an Instagram bio
How to edit your Instagram bio
Instagram bio ideas and tips
Creative Instagram bio examples to take inspiration from
Let's dive in!
Why your small business needs an Instagram bio
Your Instagram bio introduces your audience to your brand for the first time. Your Instagram bio should explain exactly what you do and entice visitors to follow your page.

Filling out your Instagram bio only takes a few minutes and it is a vital step you should never skip. An Instagram bio is only 150 characters (or less) and sits above your photo feed right next to your profile image. It's the first thing audience members are going to read when they visit your profile. After visitors read your Instagram bio, they should want to scroll through your content, follow your page, or visit the link in your bio.
How to update your Instagram bio
If you're unsure how to update or change your Instagram bio, follow these simple steps on your mobile device:
Navigate to your profile by tapping your profile picture in the bottom right-hand corner
Tap Edit profile
Next to Bio, tap in and add your bio
Under the Bio section, add your links, including a link for your bio and your Facebook profile link if desired
Tap Done at the top right-hand corner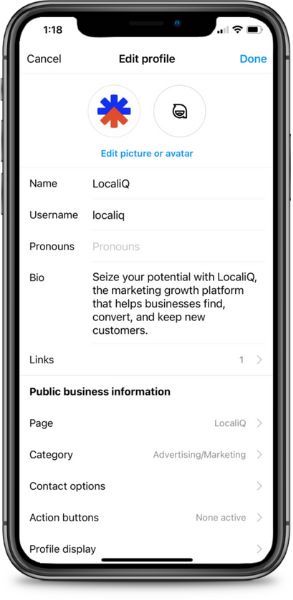 While you're editing or updating your Instagram bio, you should also take a minute to ensure you've added contact options and information, a category that describes your business, and any action buttons that correspond to your link.
Tips for coming up with creative Instagram bio ideas
Before we explore some of the best Instagram bio ideas, we need to spend some time thinking about what we want to include. Consider the following as you brainstorm content for your Instagram bio.
Think about what makes your business unique
You're going to want an Instagram bio that appeals to your audience and makes them want to hit the "follow" button. Your Instagram bio should reflect your goals and values and highlight what makes your business unique.
Ask yourself these questions:
Who does your business serve?
What sets you apart from your competitors?
What do you want your audience to know about your business?
What kind of tone do you want your Instagram bio to reflect?
If you've already written a solid business description, you can also take pieces of that to create your Instagram bio.

Optimize your Instagram bio and name with relevant keywords
The keywords you include in your Instagram bio and name can get you in front of the audience you want. Instagram's algorithm uses keywords to decide what shows up in its feed, and optimizing your Instagram bio makes sure that you are seen.
To add a keyword to your Instagram name, click "Edit Profile," and add one searchable keyword. Do some keyword research first.

This photographer included the keyword phrase "Luxe Destination Wedding Photographer" in her bio.
You'll also want to add a keyword or two to your Instagram bio. Again, consider what keywords people will search for. Consider using a different keyword than what you included in your name.
For example, a photography business may include "headshots" in its name and "personal branding photography" in its bio. A restaurant may use "vegan food" in its name and "authentic BBQ" in its bio.
Add personality with emojis
Emojis are the perfect accessory to make your Instagram bio pop! Not only are they a fun way to show off your brand's personality, but they're also a great way to break up chunks of text or draw attention to important tidbits.
Use emojis to draw attention to each line of your Instagram bio
Add one emoji to the most important element of your Instagram bio, your call to action
Add a finger-pointing emoji or arrow to point people to your link in bio
Consider accessibility as you add emojis to your bio. If you use too many emojis, your audience may not be able to understand your message.
Here's a great example of emojis done well: Half-Peach Vegan Bakery uses emojis to create new lines of text that obviously relate to the content. With only three emojis, the look is striking and not overwhelming.

Include a call to action
Just like your landing page and other marketing materials, you're going to want to include a call to action in your Instagram bio. A call to action tells your visitors what action to take next.
Think about what you want your visitors to do next:
Do you want visitors to sign up for your email list?
Do you want people to buy your products?
Do you want people to follow your Instagram page?
Do you want people to take a different action?

Choose one goal and craft a customized call to action for it. Of course, you can change your call to action over time as you create new marketing campaigns or switch directions.
Add a link to your bio
Once you've decided on your call to action, it's time to add a link directly to your Instagram bio. You'll want your link to tie into the call of action you've chosen.
Your call to action and link combination might look something like this:
Join my email list for exclusive discounts: [link to email sign-up]
Read my latest blog post: [link to blog post]
Book a call with me: [link to schedule]
Adding a link to your bio takes one minute:
Tap the profile photo in the bottom right corner.
On your profile page above your images, you'll see a button called Edit profile. Tap Edit profile.
Tap Links. Then enter your website address.
Hit Done.
One important tip here: you can use a link in bio aggregator like Linktree to show off a list of important links. But if you instead link to a page on your website, you'll drive more traffic to it, which is great for both search engine optimization and conversion rates!
10 ​​best Instagram bio examples
Writing your very own Instagram bio will take some thought, time, and creativity. That's why we've rounded up some of our favorite Instagram bio examples. You have 150 characters to tell audience members why your brand matters. Make them each count!
Free Label
If you are a business that's driven by a specific set of ethics, it's always important to mention your values upfront. Free Label does this by sharing that it's a slow fashion brand that cares about community. By sharing its wide array of sizes and what kind of fashion brand it is, Free Label sets itself apart from others.
Bio:
Community and ethics-based slow fashion brand.
Sizes 5X-XS
FL COTTON + PRINT COLLECTION ⤵
[link]

Bloomed Roots
Small floral business Bloomed Roots immediately introduces itself by mentioning exactly what kind of work it creates: "elevated, organic, and intentional floral designs." Additionally, Bloomed Roots uses keywords in its Instagram bio (like "floral shop" and "floral designs") to help people discover its services.
Bio:
Bespoke Floral Shop & Studio
Elevated, organic, & intentional designs
Events | Special Moments | Weddings
[link]

Glass Inception
If you're a family-owned business, show off the heart and soul of your business! People like to connect with people. By showing that you're a small business rooted in family and community, you can build stronger bonds with community members. Glass Inception also gives customers the answers to two questions immediately: where they are based (Dallas, Texas) and how to get quotes (link in bio). It's helpful and succinct.
Bio:
Owned and operated @buildabetteru
We're a family-owned glass business specializing in glass precision and mirrors. #dallastexas
[link]

Against The Grain
Against the Grain adds its personality to its Instagram bio while keeping it brief. The word "unapologetically" shows how proud the brewery is of serving its Louisville, Kentucky, customers and how proud it is to create beer. Its Instagram bio is only nine words, but it makes a case for leaning into brevity. The brewery feels approachable and powerful all at once.
Bio
We're An Unapologetically Louisville Brewery Making Unapologetically Louisville Beer.
[link]

Unrefined Bakery
Unrefined Bakery is a local bakery that offers gluten-free and allergy-friendly treats. This small business keeps its Instagram bio short and sweet but clearly answers who they are, where they're located, and what they can offer to those not directly in their area. They also include the keyword phrase "Gluten Free Bakery" as part of their name in their bio.
Bio:
💯% Gluten + Soy Free | Keto, Vegan, + Paleo options
📍 5 DFW locations
📦 We ship nationwide!
[link]

Joanna Lowell
Joanna Lowell introduces herself immediately by mentioning that she's a historical romance author. She clearly shows off her personality and brand with fun emojis that tie into her books. Her audience is going to be full of people who are interested in her writing, so Joanna mentions her previous work and upcoming publication.
Even if you are a business of one, you can cultivate an Instagram bio that feels personal and gives your audience the information they desire most. Plus, this is a great reminder that you can use your Instagram bio to promote new products, services, or promotions!
Bio:
Historical romance author. The Duke Undone and The Runaway Duchess out now from @berkleyromance. 🎨❤️Artfully Yours out this February 6 🍰💜
[link]

Mint Mobile
Mint Mobile centers its audience by mentioning why visitors should care about them and what they do to help customers. Everything Mint Mobile mentions in its Instagram bio points to why audience members should care about their mission, and how they benefit.
It would be easy for this telecommunication company to write a bland or dry Instagram bio. Instead, Mint Mobile leads with a strong brand voice that leaves visitors wanting to learn more.
Bio:
At Mint Mobile, we're always looking for innovative ways to save money so we can offer you premium wireless for $15/month.
[link]

First We Feast
First We Feast is a YouTube show where celebrities answer interview questions while eating hot wings. First We Feast specifically mentions what it focuses on "food, drinks, and pop culture" so audience members will know what to expect from its Instagram posts. The brand also takes advantage of its space to call attention to other brands it owns. If your business runs multiple Instagram accounts, it's a great idea to connect with them and build a community.
Bio:
Bridging the gap between food, drinks, & pop culture.
🔥 @HotOnes
🍔 @TheBurgerShow
[link]

Humans of New York
Humans of New York is a big brand name now, but it's still a small business ran by one man. Brandon Stanton shows the human behind the brand by calling attention to his name, adding that it's "audience supported," and adding how audience members can support his work.
Humans of New York centers its own audience by encouraging them to get involved in the mission.
Bio:
Created by Brandon Stanton. Humans of New York is audience supported. If you'd like to support its creation, please consider joining the Patreon:
[link]
Chips Ahoy!
Chips Ahoy! shows how essential a sense of humor is to a brand. The brand uses humor to demonstrate how delicious and addictive its product is. Plus, the call to action of "the follow button is below" tells customers exactly what to do next.
Bio:
Wanted to write more, but we couldn't hear ourselves over the sound of you chewing on a Chips Ahoy! cookie. The follow button is below.
[link]

Write your Instagram bio today
As you write your Instagram bio for the first time, remember to consider your overall social media goals, what actions you want your audience to take, and the tone you want to convey. Remember to include:
A little about your business
A keyword or two for SEO purposes
A sense of personality with emojis and tone
A call to action
A link in your bio
And most importantly, please remember that your Instagram bio can be changed at any time! What works for your business now may not work forever, and that's okay.
Want more? We've got you covered: