Did you ever wish you had an engaged audience? A community of people to:
Ask questions
Gain product feedback
Discuss trends
Share company news
Show what it's like to work with you or your company
A place where you can build a personal or employer brand, talk to people in your field around the world, and build genuine connections on and offline?
Twitter is that place for me. And it can be for you, too.
An engaged audience is the goal, but it doesn't happen overnight. Like Bryan, an Orlando marketer tweeted, "You must build an active community on Twitter before it's useful."
In this post, I'm going to share 15 proven tips for getting more followers on Twitter while building your brand and community.
How to get more followers on Twitter
These tips worked for me, and I know they'll work for your business!
1. Create an attractive profile
Your profile is the first thing people see so make it count. It consists of:
A good profile picture. If it's a personal account, use a photo of yourself. If it's for your business, use your logo.
A custom banner. Create a banner with your brand's logo, website, or call-to-action. Select two or three colors that represent you and use the same images on all social media. (Or you can use colors from your brand kit to keep everything consistent!)
I've created a banner with the same message and logo on my accounts so if people visit my LinkedIn page from @MarSmith they'll recognize me.

A short bio. Describe what you do using keywords to find a potential audience. You have 160 characters. Create a few bios before choosing one. Write your profile in another document before cutting and pasting it to Twitter. (Get tips to write your business description on Twitter here!)
A location. Include your town, state, or nearest city. On several company Twitter accounts that I've managed, a location helped them build local marketing and connections. Time zones help. I tweet with people in Europe earlier in my day than followers in California.
Multiple locations. Companies can list their headquarters and if they are national or global like Dell. Dell's banner is a colorful mix of computers with their profile tagging their customer support Twitter account.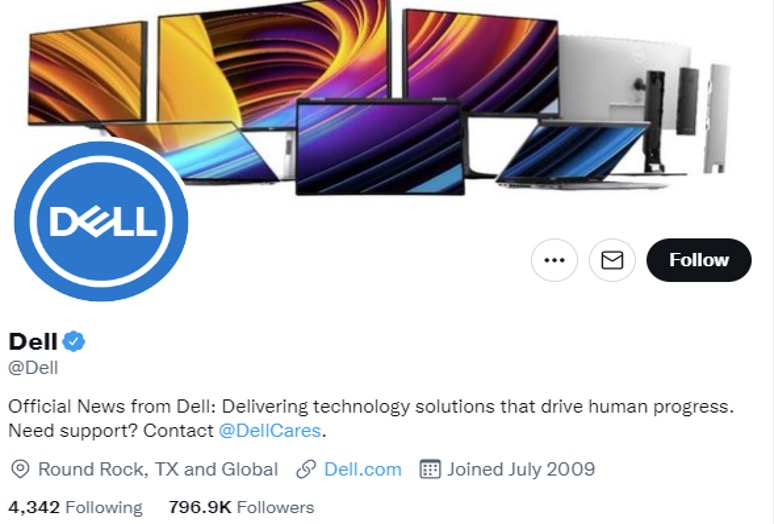 Website links. Add links to your website, LinkedIn profile, or portfolio. If someone wants to learn more about your brand, they'll click over. Make it easy for opportunities to find you.
An accessible Twitter name. Change your @Name if it's lower case to CamelCase like @MarSmith by capitalizing the first letter of each word. This allows screen readers to say it aloud correctly to blind and visually impaired people. @RemoteWorkTribe is more accessible than @remoteworktribe. (Get more tips to make your social media accessible here!)
Refresh your Twitter profile from time to time or when your brand changes significantly.
Did you know: Twitter is one of the top five most popular social networks in the US. Get more Twitter statistics here!
2. Follow relevant accounts
What's your follow strategy? Sometimes people start on Twitter and only follow a few accounts missing opportunities. Small businesses concentrate on content and never follow more people limiting their growth. They get stuck. But if you want to get more followers on Twitter, you need to follow accounts to jumpstart that growth.
Use my checklist to ensure you've found and followed all relevant groups on Twitter.
Follow account checklist:
Customers
Competitors (direct and indirect)
Industry groups and associations
Influencers
Employees
Senior executives
Local media
Local companies
Charities your company supports (local and national)
Review accounts following you and choose who to follow back. Some will follow back. Large name brands like Apple may only follow a low number.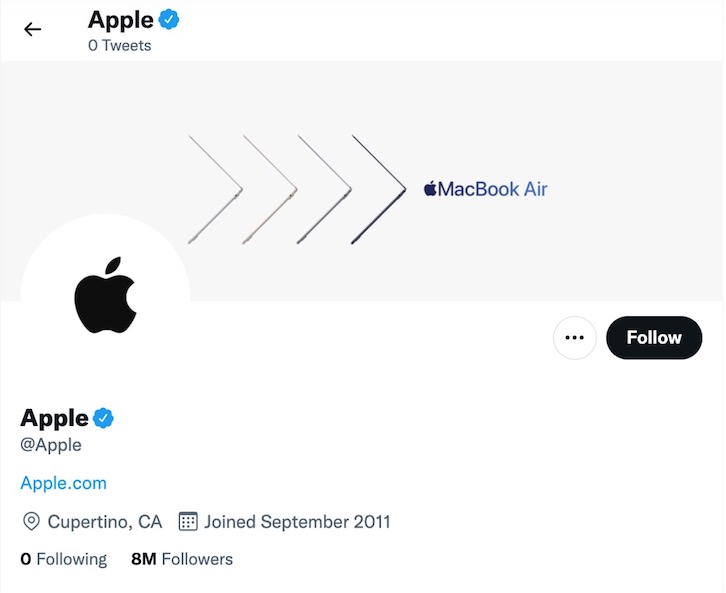 To get more Twitter followers and increase your brand name recognition, follow back more accounts. Don't limit yourself to a few. Check out new followers as you grow at least once per week.
3. Experiment to find your best days and times to tweet
This varies from business to business, but here are some general guidelines.
What is the best day and time to tweet?
According to a recent study by Hootsuite:
"The best time to post on Twitter is early in the morning on weekdays: ideally, 8 a.m. on Mondays and Thursdays, according to Hootsuite's data. If you need to post on the weekend, still aim for the a.m., but perhaps a little later, when Twitter users are awake."
Tweeting earlier on weekdays works for my audience. However, this advice is not one size fits all, especially in social media marketing. Your best time may be noon.
Try this tweet experiment: Experiment on weekdays at various times tracking when you get the most responses from your audience
How many times per day should you tweet?
A recent study by Buffer suggested limiting yourself to three tweets per day. They found that engagement decreases a little after your third tweet.
Many people tweet three-to-five times per day or more and that's okay.
Expect to get less engagement on your fourth tweet. The exception to this is live chats. When live-tweeting an event or tweeting in a Twitter chat, people will tweet more during these times.
Tweets move quickly and have a short shelf life. To reach my audience in different time zones, I retweet my first tweet in the late afternoon for people who missed it the first time.
Since your audience is unique, experiment to learn how often you should tweet for best engagement.
4. Tweet consistently
Tweets aren't news releases where a company can occasionally post a new one on their website. Whatever days, times, and frequency you choose, be consistent. If your business tweets three days per week at 9 a.m. your audience will expect to find you on Twitter on those days and times.
Note: If you schedule your tweets, pick a time when you can interact with your audience.
5. Share useful content geared toward your audience and choose a focus
I tweeted a tip this week for new accounts building their personal brand:

A lady commented who'd been tweeting 10 years and had 1,800 followers. She tweets about different topics plus TV shows and politics. If your account is established, there's nothing wrong with that.
But to get more followers on Twitter, focus on a few topics to attract the potential audience you want.
Ask yourself: What type of content will help my audience?
One of the fastest ways to grow on Twitter is by tweeting content your audience can use.
This resource was retweeted 15 times.
6. Share a mix of content to engage your audience
It's okay for tweets to show personality. Some brands are comfortable having a playful tone of voice while other companies are more formal. Even in regulated industries, companies can mix the type of content they tweet to see what resonates with their audience.
Here are some examples of the different types of social media content you can post on Twitter:
Ask a question. Asking a question and using a cool image prompts engagement like @Chewy asking pet owners about their summer plans.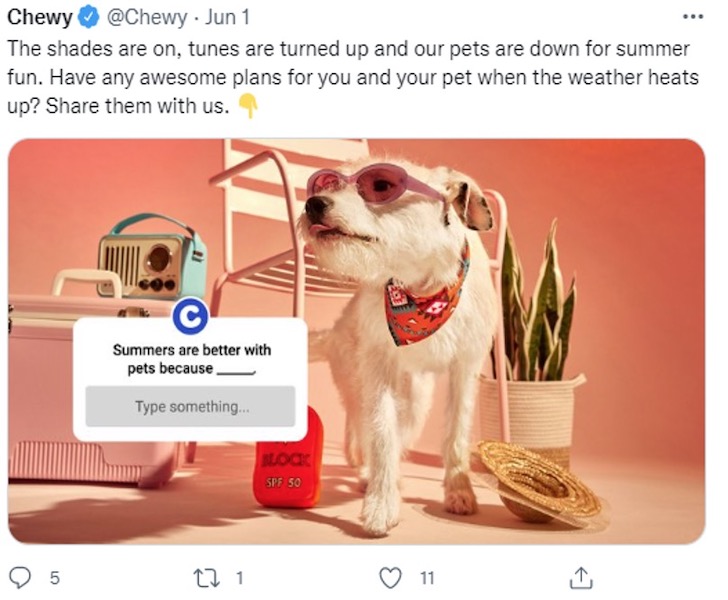 Gamify a tweet. @Pixleeturnto's tweet for marketers to choose their superhero name based on random facts was a fun way to get attention and start a conversation with their audience.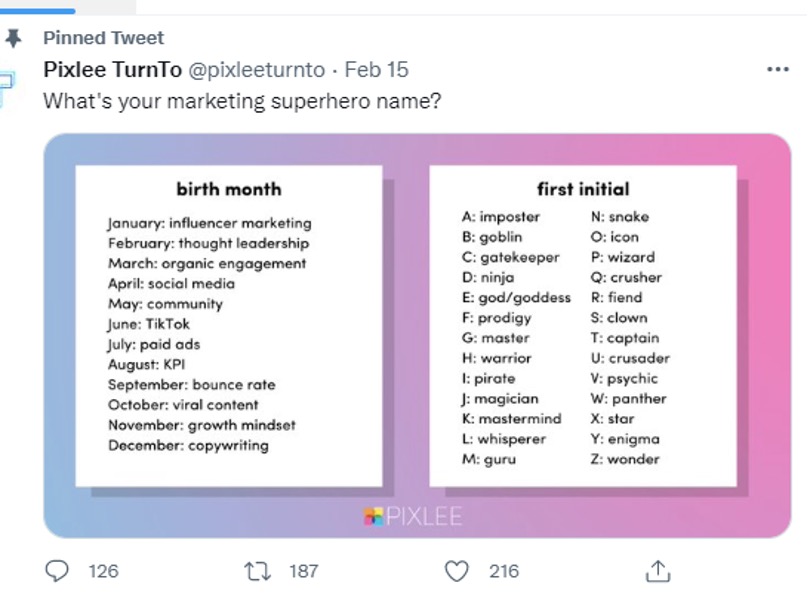 Share seasonal content. @LOCALiQ's Father's Day tweet is packed with 18 content ideas and templates businesses are looking for now to craft their posts.
Poll your audience. Sometimes companies poll for feedback and other times to celebrate a special event like @CareerBuilder did on #NationalDoughnutDay. Chocolate donuts were #1.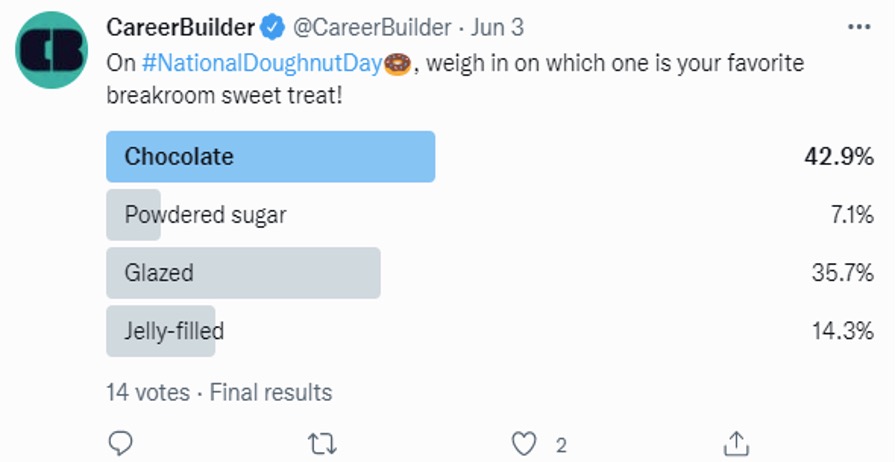 Tweet an Infographic. @Semrush tweeted a Website Content Audit Checklist for their followers to use while reviewing their existing content data.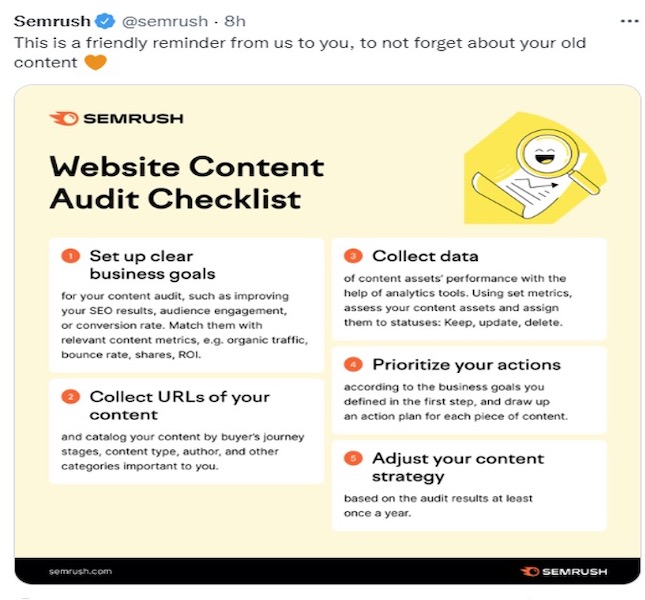 Create a video tweet. Videos are a great format to get more eyes on your tweets. Be creative. Tell a story with your statistics as @LinkedInMktg did in 10 seconds.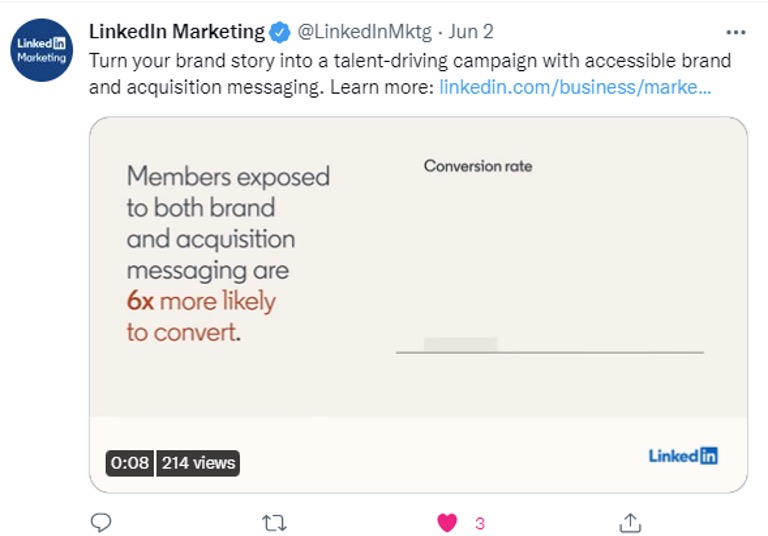 Use promotional content sparingly. Strike a balance between tweets helpful to your audience and promoting your company. Begin with 90% of content geared toward your audience and 10% promotions. Later, as your account grows, an 80/20 % content mix might work.
Repurpose and repackage content. Do people ask the same questions on your Facebook page? Rewrite frequently asked questions (FAQs) and tweet each one. Review old content and repackage it into fresh tweets. Track which ones perform well so you can create more.
7. Pin a tweet on your profile
Select a tweet that will be the first one people see until you change it.
A pinned tweet is a good place to:
Introduce yourself if you're new
Advertise a unique offer or discount
Highlight one of your popular tweets
Feature employee videos about what it's like to work there
Promote an upcoming event like @Vitamintalent's webinar below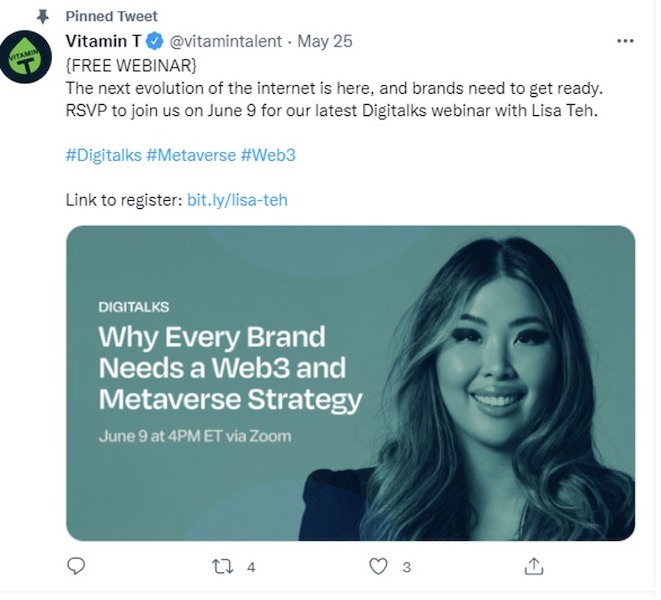 8. Use hashtags
Hashtags help you find people and be found. Different communities use hashtags to discuss topics they care about.
I tweet topics for people in the #MarketingTwitter and #Writing Community which is why I have those hashtags in my profile.
Search hashtags on Twitter's search bar. My example reveals the Top and Latest Tweets using the #WritingCommunity hashtag along with people who have it in their profiles.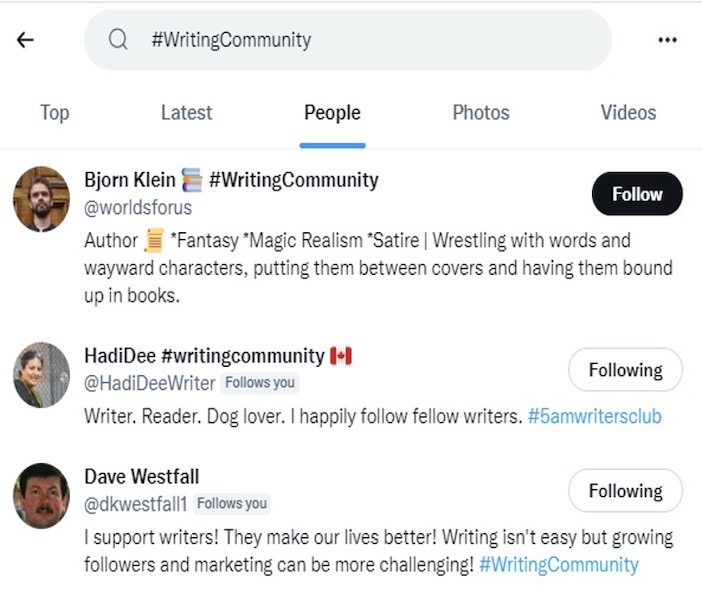 Use hashtags in your tweets. One to five hashtags in tweets can help expand a tweet's reach. The shorter the tweet, the fewer hashtags I use. You want your message to stand out.
Twitter isn't Instagram. Having more than five hashtags takes up space and hides your message.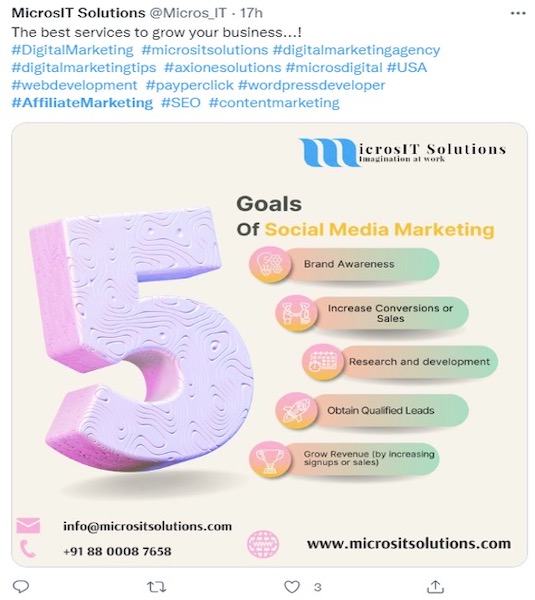 This example contains 13 hashtags, which makes their message less clear.
Create a hashtag list. When planning content, research to find the hashtags your company will use weekly. Keep a main list of hashtags including ones for unique events. There are hashtags for every day of the week, events, holidays, groups, and industries.
@AzioneUnlimited tweeted about Smart Home Technology. As a Smart Home Association, it makes sense for them to plan weekly content for #TechTuesday.
9. Create a content calendar
Keep your hashtag list for Twitter and other social media in your Content Calendar and share with your team. Once you've compiled them in one place, you'll be ready for future content planning.   
10. Create Twitter threads
Twitter is a microblogging site with each tweet allowed 280 characters. How do you tell a story? By tweeting a series of connected tweets known as a thread.
Create a Twitter thread about:
Helpful tips for your product or service
Open jobs at your company
A story about how you got started in your career or business
Changes in the industry and your take on them
A problem your audience shares and how you solved it
I wrote a thread about a marketer who unfollowed all accounts after she had gained 1,142 followers. Each tweet told part of my story and attracted comments from followers and people I didn't know.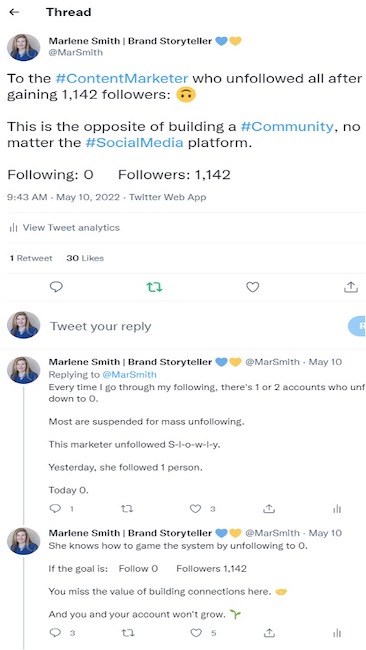 You can also follow and engage with popular Twitter threads. Scroll through your home page or search hashtags to find popular threads. Threads can get hundreds of comments. They are a good place to talk to people you haven't met who are discussing topics important to you.
11. Retweet and quote tweet
Twitter is about engaging with people. Tweets aren't a press release. You want people to respond with a like, comment, reply, or retweet. It doesn't always happen but that's the goal.
Retweet: Retweeting people can help you get more followers on Twitter as people notice who retweets them. @EveryoneSocial retweeted @Socialmedia2day's Employer Brand Guide tweet.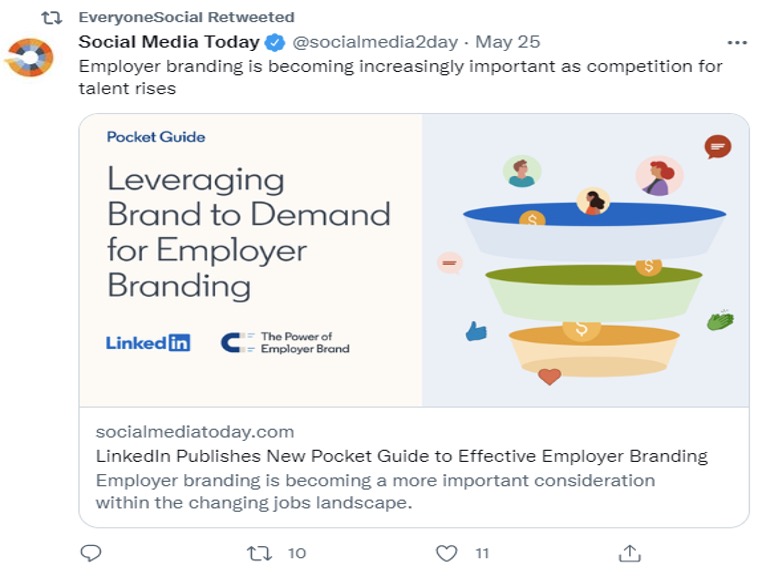 Quote Retweet: Add your insight for followers at the top of your retweet.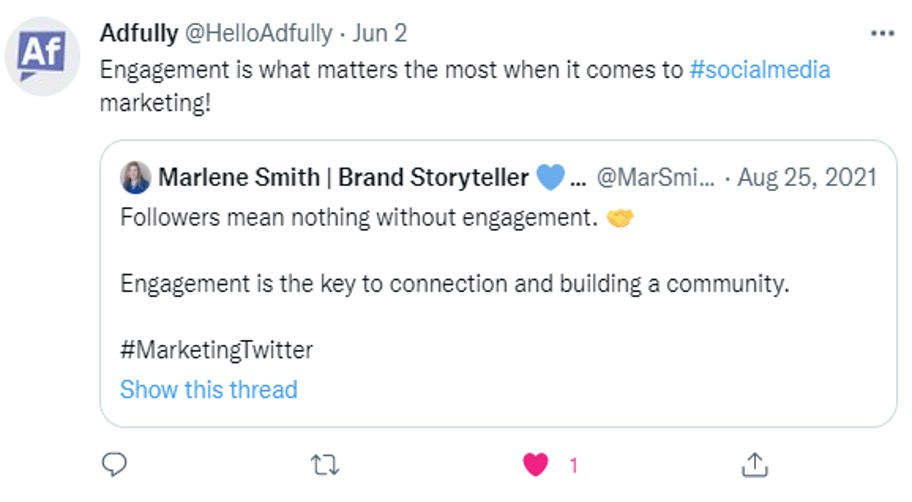 12. Interact with people often
Each personal or company account cultivates its own community. It all starts with conversation. You build your brand or community one person at a time.
It's easy to worry more about writing new content or filling your content calendar. Some tweeters never leave their timeline and wonder why their account isn't growing. People are key.
Engage with people. Review tweets from:
Your following
Your followers
Replies and comments
Join popular conversations in your niche
Search via hashtag for topics you'd like to discuss
Communities
Twitter chats
Twitter chats are scheduled events organized around assorted topics. Entrepreneurs share their take on @HeyLindaRey & @MaikoSakaiBiz Twitter Chat #LetsTalkShop.
Remember that replies and comments count. Today, I didn't tweet anything new since yesterday's tweet was still getting noticed.
However, I replied 18 times today. My comments were part of several different conversations. By the end of the day, I had met five new people. 
13. Create Twitter lists
As your account grows, you'll want to keep track of people you've connected with and be able to access their account fast. I use Twitter lists to organize my followers.
Create Twitter lists of:
People you talk to weekly
Customers
Potential customers
Employees and company Twitter accounts
Competitors
Industry thought leaders and groups
Influencers
News media
Public vs private lists:
Individual accounts can create up to 1,000 lists with 5,000 users on each list. Lists can be private or public. If your company is listing competitors or customers keep them private.
Otherwise, create a public list since people are notified when they are added to one. Often, people will follow your list. This is a perfect time to introduce yourself and meet someone new.
My Social Media & Community list has 298 members and 32 followers.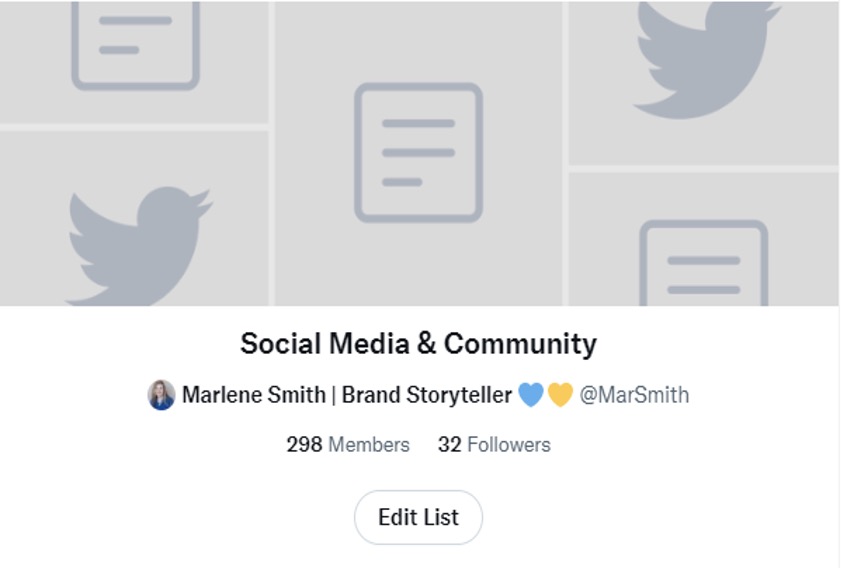 List advantages:
You only see tweets from that group in your feed when viewing a list.
Easy access to people you tweet with often.
Helps in social listening to see competitors' marketing campaigns and tweets.
Note: Periodically review your lists to check for inactive accounts or a change in content.
14. Promote your Twitter account everywhere
Like your website or other social media, you need to promote your Twitter account. Your brand won't be found automatically. Ask people to follow you.
Include your @Name on:
Email Signature: Follow us on Twitter
Facebook page and other social media
Website: Link to your social media at the top
Email marketing and newsletters
Sales campaigns
Events
Branded marketing items (tee shirts, mugs, tote bags, etc.)

Dress for Success has a link to Twitter and other social media at the top of its website making it easy for people to join their communities.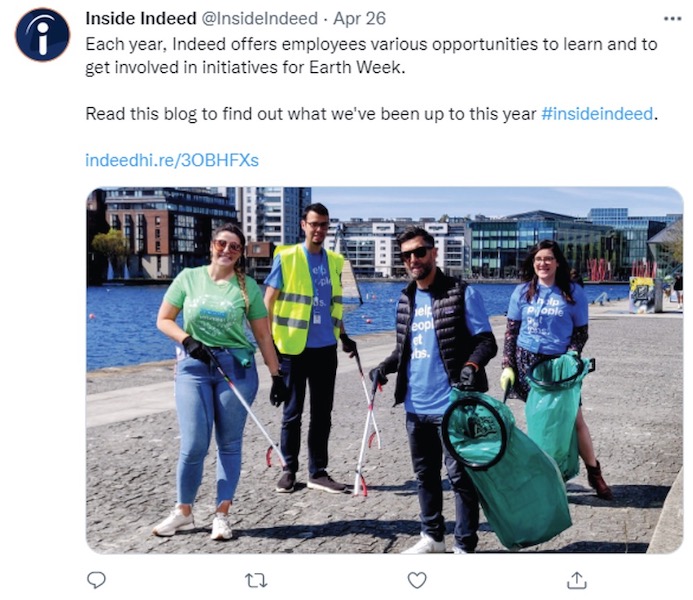 @InsideIndeed tweets pictures of employees wearing company tee shirts using the hashtag #InsideIndeed. Add your @Name and a call-to-action to promotional items and campaigns.
15. Pay attention to Twitter metrics
You want your Twitter account to grow but don't get stuck on one metric like followers. Having 1,000 engaged followers is worth more than 10,000 people who never engage with you.
@TwitterBusiness, in What Twitter KPIs Should You Be Tracking, suggests picking a few KPIs:
Engagement: Define what counts for you and what level of engagement you're tracking.
Performance: Review your engagement rate to see how your audience responds over time.
Growth: As you grow your account measure the number of engaged followers in your target audience.
ROI: Track sales or conversions from Tweets or Twitter ads if you use them.
Other ROI: Include new partnerships and indirect opportunities that started on Twitter.
Get more followers on Twitter–and make them count!
An engaged audience doesn't happen quickly. Quality interactions beat quantity. Give yourself time and track your efforts. Meeting new people and building connections on Twitter is worth the effort.
Opportunities can arise from one tweet!
Follow my 15 tips to grow your Twitter account into a meaningful community:
Create an attractive profile
Follow relevant accounts
Experiment to find your best days and time
Tweet consistently
Share useful content geared toward your audience and choose a focus
Share a mix of content to engage your audience
Pin a tweet on your profile
Use Hashtags
Create a content calendar
Create Twitter threads
Retweet and Quote tweet
Interact with people often
Create Twitter lists
Promote your Twitter account everywhere
Pay attention to Twitter metrics