You know that a consistent presence on social media is important for connecting with your audience. Posting on social media is fun, but consistently posting? That's tough. Especially when social media isn't your full-time job, which is the case for most business owners.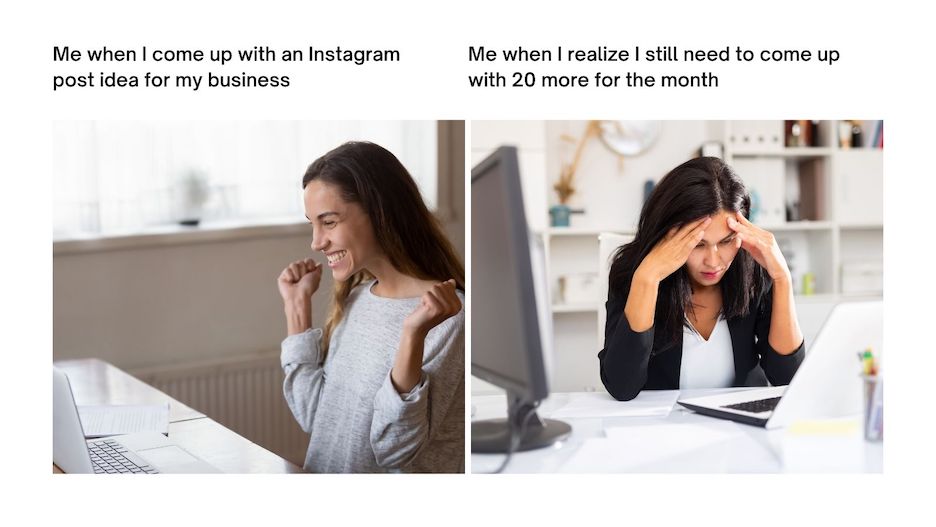 So what's your strategy for creating social media content—especially when the creativity well runs dry or you're running short on time? We created this guide to inspire you with seven different types of social media content that you can start using right away. Plus, we're sharing examples and ideas to make filling your social media calendar even easier (and speedier!).
Speaking of a social media calendar…download our free marketing planning template to get social post ideas you can use each month of the year.
7 types of social media content (+ideas and examples!)
So what are the top types of social media content you should be posting? We're sharing seven along with ideas and examples for each.
1. Videos
According to Social Media Week, 78% of Internet users watch online videos each week, and 55% enjoy online videos every day. With TikTok, Instagram Reels, and YouTube on the rise, these numbers will only grow.
Video content is a great way to increase engagement and communicate with your customers and fans. Video can also build trust with your audience and make your brand feel more personal.
The key is to create videos relevant to your audience and provide them with value. Videos that focus solely on selling will likely be ignored by viewers.
Dove's Real Beauty campaign is an excellent example of how video can be used to promote a positive message and engage with consumers on an emotional level through social media content. The campaign showed real women of all shapes and sizes instead of models with seemingly unattainable beauty standards.
One of the videos, Dove Real Beauty Sketches, featured an FBI-trained sketch artist drawing women based on their own descriptions of themselves, then drawing the same women based on someone else's description.
The results are beautiful, eye-opening, and inspiring–the drawings made from others' descriptions were more accurate and flattering than the women's own interpretations. The video hit 69 million views in many countries and made Dove one of the most trusted beauty brands in the world.
Here are some more suggestions for types of videos you can post on your social media channels:
Create how-to videos and tutorials that show how to use your products or services
Live stream videos to hold a demonstration and answer questions in real-time
Create educational content using short-form explainer videos that tell people about your product or service in 90 seconds or less.
Create customer testimonial videos that show people talking about their experience with your brand
Create behind-the-scenes videos for a more intimate look at your company, product, or service
(Get more video ideas here!)
Retail stores can show off new products and demonstrate how they work, celebrities can share unique insights about their lives and careers, and restaurants can give viewers a behind-the-scenes look at their operations.
The best part? Visual content creation doesn't have to be expensive or time-consuming to create. That's why smartphones are handy. Plus, social media makes it easy to share them with your audience.
2. Polls and questions
Social media users love to share their opinions, but sometimes it's hard to know what everyone really thinks on a subject. If you're trying to figure out how your audience feels about an issue, polls and questions are a great social media content option to get some insight.
For instance, Instagram's polling feature is a quick way to engage your audience and learn more about what they love–whether it's about their opinion on a pair of shoes or what their favorite flavor of ice cream is. It's also a way for you to get immediate feedback about your product if you're thinking of releasing a new item but aren't sure how people will feel about it.
Look at these polls by Alohas on Instagram to gauge their audience preference:
You can also post questions on your social media account (either on the photo or in the caption) that encourage people to comment and give their opinion. I've seen questions like "What flavor do you think this cake is?" or "What would you do if you won the lottery?"
The more entertaining and thought-provoking your question, the more likely people are to respond and even share.
Here are some ideas to incorporate polls, surveys, and questions in your social media marketing strategy:
Use polls and quizzes to learn about your followers by asking them about their preferences, challenges, or goals
Ask for feedback on new products or features, or get ideas for new items
Discover opportunities to provide helpful answers or resources by asking about challenges your audience is facing
Survey followers about their experiences with your brand to improve customer service
Get real-time feedback from fans at an event you are attending
Survey attendees at an event you hosted to find out what they liked and didn't like
3. Contests and giveaways
Contests and giveaways are a fun way to get high engagement on your social accounts. They are also a great way to build your following, build your mailing list, or increase sales.
However, for contests and giveaways, the product you're giving away has to have some value to your audience. The perceived value of the product will determine how many followers you gain and how much effort people are willing to put in to enter.
When deciding what to give away, see if there's something you can offer that might be related to your business but won't cost anything extra. For example, if you own a restaurant, maybe you could offer a free dinner for two as a prize.
There are many ways to run giveaways and contests on social media. Some of the more popular options include:
Posting an image and asking people to comment or like the post
Posting an image or video and asking people to share it
Asking people to post photos of themselves with your product or service
Let's take a look at how Traeger Grills and Yeti worked together to create the Smoke the Competition Photo Contest, which offered seven winners several prize packs. Participants were asked to photograph their grill setup and mention both @TraegerGrills and @YetiCoolers in the post.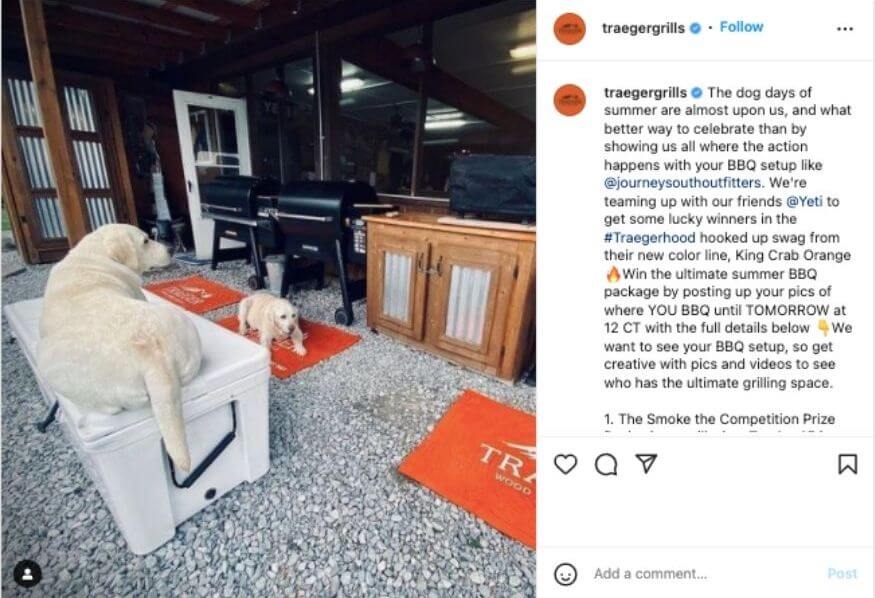 The contest generated nearly 1,300 posts by users on the social media platform, helping the companies increase brand awareness and connect with a community of passionate grilled-meat enthusiasts.
Related: Find out how contests and giveaways can help you create a social media funnel that converts followers into customers.
4. User-generated content (UGC)
User-generated content is a broad category that includes everything from photos and videos posted on social media accounts to comments, likes, and shares.
Because the users themselves create user-generated content, it's seen as authentic and honest. In fact, a recent survey found that nearly 80% of consumers said they find user-generated content highly impacts their buying decisions.
User-generated content has two main forms: tagged posts on social media sites like Instagram and Facebook and comments and feedback on those posts.
For example, here's a user-generated Instagram post by Bellroy, an Australian accessories brand: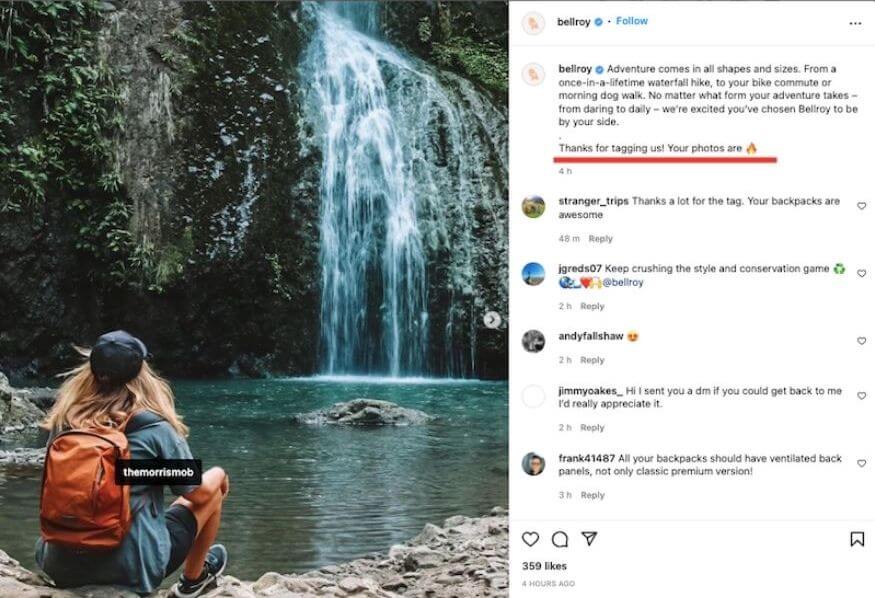 User-generated content on social media doesn't have to be overly promotional; it can simply show that real people use your brand in real-life situations. This type of social proof helps build trust and credibility among your audience.
Businesses also have plenty of opportunities to turn unsatisfied customers into loyal brand advocates by listening to their feedback on social media (another form of UGC).
Customers feel valued and cared for when they post a question, comment, or complaint on a brand's social media account and receive a response–and not just a generic one either.
Research shows that 55% of consumers feel more connected if a brand likes their comments or responds to them.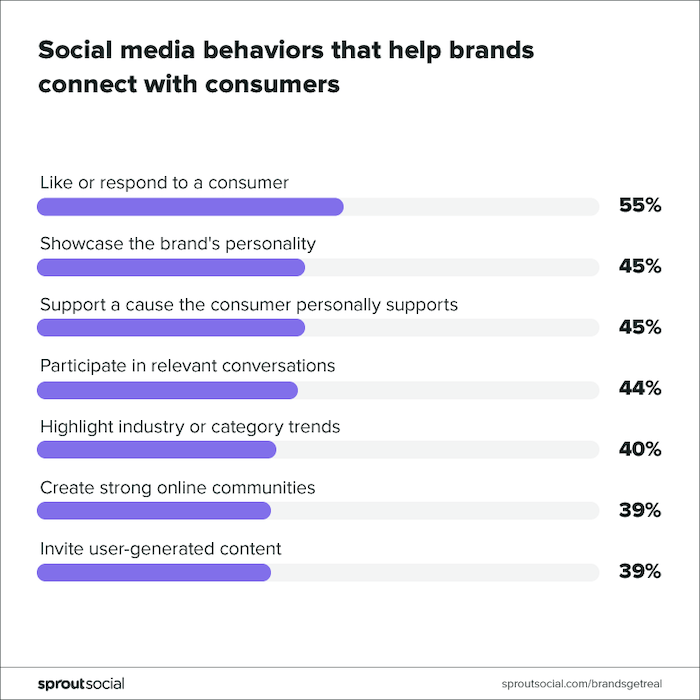 Of course, there are some important things to keep in mind before interacting with your customers on social media. For example, don't ignore negative feedback. Some brands see complaints or criticisms as obstacles or even threats. However, if handled well, these interactions can actually be opportunities to turn a customer into a loyal advocate for your company.
Look at this interaction between a consumer and Mango's customer service associate: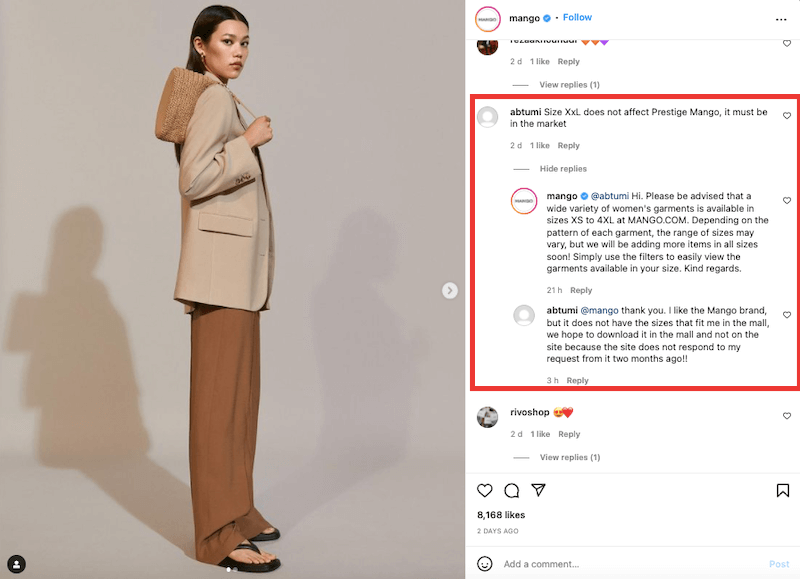 5. Influencer quotes
A great way to spread your brand's message is to share influencer quotes. These are powerful because they are both an endorsement of your company and a relatable message from someone who is generally well-regarded by your audience.
For example, Nike's #UntilWeAllWin campaign features a quote from Serena Williams: "Never let anyone tell you what you're not."
The quote inspires women to take part in sports, pursue their goals, and become their best selves. It also helps them develop an emotional connection with women who wear their shoes and sports clothes.
When you develop a list of influencers to work with, identify messages that resonate with you. Reach out and ask for permission to use some of their more inspiring messages on social media. Make sure you credit them when sharing their quotes!
You can do this by creating a unique design for your quote content (like with a visual tool like Canva). A lot of people just use a stock background image with white text on top of it, but there are other ways to go about it. One option is using typography and a subtle background image or pattern.
Related: Learn how to use Canva with our written guide + video tutorial.
You can also animate the words in the quote, play with color combinations, add a call-to-action, or make it into a meme by pairing it with an appropriate image.
6. Statistics and data visualization
Statistics and data visualization are great for reaching new audiences and building trust with your existing customers and followers. Because it's based on objective facts, it can give you a reputation as an authority in your field.
You can use statistics from your own company or from other sources. Using other people's data requires proper citation and linking back to the source; otherwise, it could come across as dishonest.
Also, remember that statistics from your own company should be relevant to what you're selling. For example, if you're trying to sell a workout program, "1 in 3 Americans don't get enough exercise" is going to be more effective than "Our widget is 5% faster than our competitors' widgets."
For example, here's a terrific infographic from Rethink Sugary Drink that talks about the effects of sugary drinks and uses statistics and data visualization to show how harmful they can be.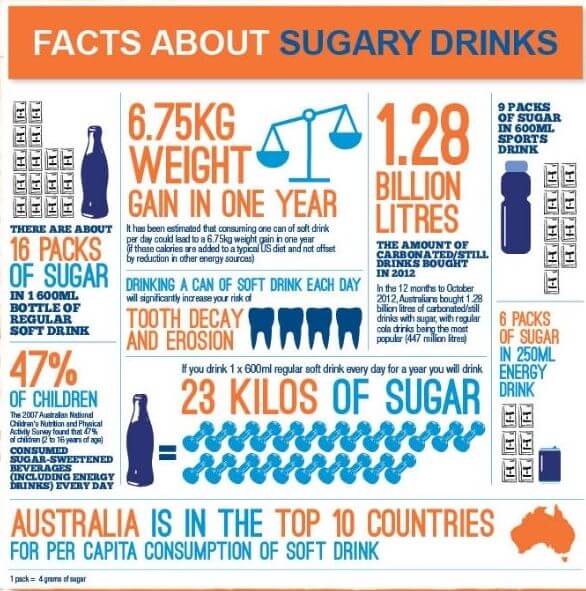 It's also a cool way to present huge amounts of information in a concise, easily-digestible way. Plus it's a highly shareable type of social media content.
7. Ephemeral content (a.k.a. stories)
While social media content can take on many forms, ephemeral content is one of the fastest-growing trends in the industry. Ephemeral content refers to material that is only available for a limited time.
In 2019, reports suggested that 500 million people use Instagram's story feature every day, as do 450 million on WhatsApp and 190 million on Snapchat.
As the name suggests, the main benefit of ephemeral content is the ability to capture and share experiences with your audience at the moment. It's spontaneous and less polished than traditional social media posts so that it can feel more authentic and relatable.
The idea of content that disappears after a certain period of time is enticing because it evokes the sense that you're getting a behind-the-scenes look at something. Similar to the way that audiences love unscripted reality TV, there's a thrill in seeing something genuine and spontaneous–not staged or rehearsed–that you'd normally only get in person.
For instance, Daniel Wellington often posts behind-the-scenes stories and gift guides on Instagram to give followers more ideas for gifts and make them feel closer to the brand.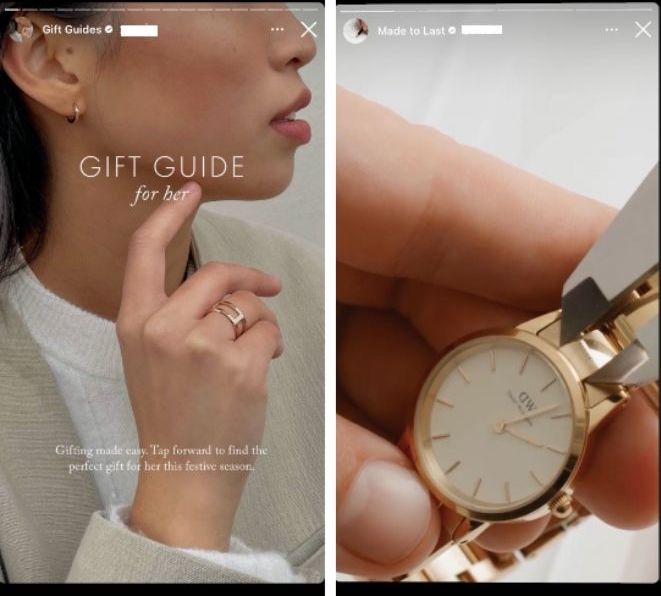 Because ephemeral content disappears after a certain amount of time, brands can also use this type of post to create buzz around a product launch or otherwise limited-time offer.
Here are some more ideas for social media stories:
Showcase the product or service you offer
Give previews of new product launches
Hold Q&As on Instagram stories
Feature your customers
Share user-generated content
Use live video to give updates from a trade show
Promote a special event or sale
Hold a contest or sweepstakes
Additionally, since these posts don't need to be as highly edited as traditional social media posts, they require less time investment from marketers for each piece of content that gets posted.
Try these types of social media content and more
These types of social media posts are good starting points for any company's social presence. But first, dig into who your target audience is as well as your goals on the platform(s). These answers will give you a solid foundation as you dive into the wonderful world of social media.
Just remember: keep your audience top of mind. They'll appreciate your authenticity, and in doing so, become long-term fans and loyal customers.
Here are the top types of social media content to try:
Videos

Polls and questions

Contests and giveaways

User-generated content (UGC

Influencer quotes

Statistics and data visualization

Ephemeral content (a.k.a. stories)