The days are getting shorter, the evening breeze is taking on a sharper edge, and that can only mean one thing: the end of summer is near.
Labor Day, which was officially founded to celebrate labor in America, has come to represent the unofficial start of fall. It's usually the last long weekend before everyone's back in the office and the kids are back in school, so many folks are out and about, squeezing in that last bit of summer excitement.
Why not lean into those good Labor Day vibes in your marketing efforts? You don't have to run a seasonal business or sell consumer goods to get in on the fun. And with email marketing, it doesn't matter if your audience is out of town or enjoying a staycation–you can reach them anywhere!
Let's take a closer look at Labor Day email marketing tactics. We'll share some ideas for the type of messaging to get you started and some eye-catching email subject lines to help increase open rates over the long weekend.
Tips to write better Labor Day email subject lines
Before you build your Labor Day email campaign, let's look at a few rules that'll help you write subjects that get you the best ROI for your efforts.
Are short enough to display in a mobile inbox, but long enough to get your point across.
Tell readers what's in your email. Tease what's inside, and leave out the bait-and-switch messaging (that's against the FTC's CAN-SPAM rules!).
Avoid spammy words. Words and phrases like "guarantee," "free giveaway," and "best price" can get your message flagged by email filters.
Incorporate personalization. Many email platforms have codes that will automatically include a recipient's first name in your subject line.
Include a numeral or emoji. In an inbox full of words, these can create visual interest and catch a reader's eye. But only use them if it's appropriate to your message and business!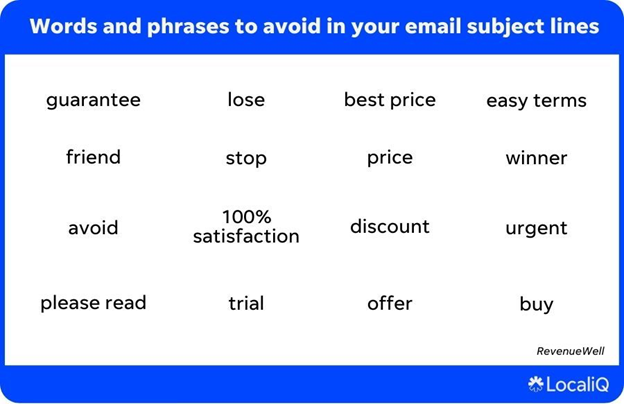 With those basics in mind, let's dive into some Labor Day email subject line ideas!
Ideas for Labor Day emails
If you're wondering what to email your customers about this Labor Day, we've got you covered. Here are a few ideas to help inspire a smart, effective campaign for your business.
Announce a Labor Day sale
Consumers expect brands to announce sales on holiday weekends, and they often keep an eye out for deals! Nearly 9 in 10 consumers say they may indulge in some Labor Day shopping.
A common misconception is that Labor Day sale offers are only applicable to consumer brands. Not so! Of course, a Labor Day sale is a natural fit for retailers, car dealers, and hospitality brands, but businesses in other industries can create a Labor Day sale of their very own.
A B2B brand can position its sale as a "back to work" offer, sharing a discount that helps customers start their Q4 strong.
A home cleaning service can frame its sale as a chance to get the house back-to-school ready, ensuring things are tidy before the chaos of the school year kicks in.
A dermatologist might remind customers that after a season in the sun, fall is the perfect time to come in for their annual skin cancer screening.
Announce special offers for loyal customers
Who doesn't love being treated like a VIP? Brands can generate a lot of goodwill by extending some special perks to loyal customers.
Email marketing platforms allow you to create segmented lists, where you can target subsets of your mailing list with certain messaging. Why not establish a list for your VIP customers–those who have either joined a rewards program (if you have one) or those who shop with you regularly?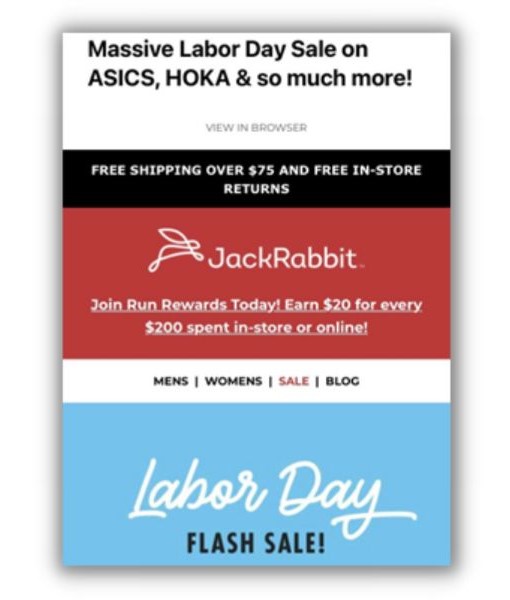 Around Labor Day, you can reach out to your VIP email list with some special offers to thank them for their loyalty. This could be early access to your sale, a special gift when they spend a certain amount over Labor Day weekend, or an additional discount, coupon code, or offer for free shipping.
Share an end-of-summer shopping guide
That transitional time between seasons is when people often restock and replenish items. They may need tools to help them wind down the summer season or products to prepare them for the fall and winter. Either way, if you provide them with a thoughtful shopping guide, you can encourage them to buy those essentials from you.
A shopping guide can certainly be something fun and flashy, but it can also be a list of practical items.
A clothing retailer might share the 10 back-to-school essentials for kids of any age, while a purveyor of home goods could put together a shopping guide for fall baking essentials (complete with warming spices, mixing bowls, and the perfect pie tin).
A hardware store might assemble a shopping list for homeowners, with pool care items for those who are shutting down their spaces for the season, or essentials for lawn and garden care to keep your plantings protected during the cooler months.
Highlight Labor Day events and ideas
If you'd prefer to take a lighter promotional touch with your Labor Day messaging, sending your audience a roundup of Labor Day events or ideas is a great way to stay top-of-mind without pushing an explicitly sales-focused message.
For local business owners who are a part of their community, perhaps you share a list of events around your hometown that readers can enjoy over the long weekend. Bonus points if one of them ties back to your business!
For example, if you're participating in a shopping event downtown, host a booth at a local fair, or sell concessions at the town beach. You can invite readers to stop by and say hello.
You can also share Labor Day-related ideas, recipes, or suggestions with your readers. A restaurant owner might share their recipe for the ultimate end-of-summer dessert, featuring local, fresh ingredients, while a landscaping business might offer some quick tips for getting your backyard ready to host one last summer barbecue.
Forget Labor Day, focus on fall
If the idea of sending a Labor Day-themed campaign doesn't appeal to you, you've still got options to create some clickable marketing messaging for the long weekend.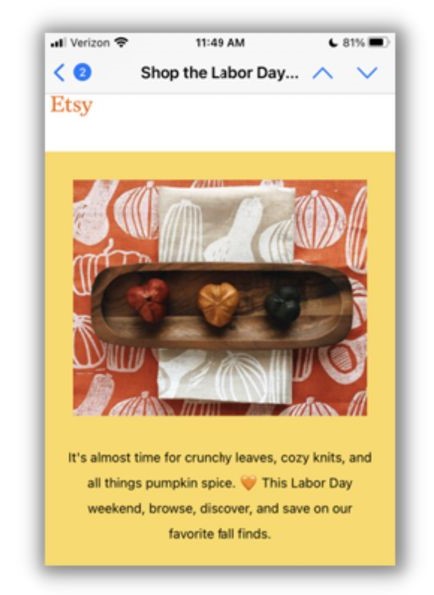 Etsy's Labor Day email has an autumnal color palette and talks about the season ahead.
Because Labor Day is the unofficial end of summer, your audience is mentally shifting gears this weekend and looking ahead toward fall. It might still feel balmy out there, but readers will be a lot more open to fall-focused messaging starting this weekend.
This is a great opportunity for all sorts of businesses, whether you're trying to build up hype for your autumnal offerings or you want to get people excited about cool-weather activities.
If you sell pumpkin spice anything (coffee, candles, bread, perfume–whatever!), Labor Day is a perfect time to announce the drop date for your product. It's worth noting that the excitement around Starbucks' pumpkin spice latte is so intense, they inch the launch up every year–in 2023, you can get your first PSL of the season on August 29.
For seasonal businesses that thrive in the autumn and winter, Labor Day is a time to build excitement with your customers about the coming months. A ski resort might offer early bird discounts on lift tickets, while a purveyor of outdoor gear could promote its cold-weather sleeping bags.
And if you're in the education business, Labor Day weekend is the perfect time to focus on back-to-school messaging. A tutoring service might offer a checklist for high school juniors and seniors to guide them through the test prep and college application process.
45 Labor Day email subject lines to get more opens and clicks
Pressed for time? No problem because these subject lines are ready for your Labor Day email marketing campaign.
Labor Day email subject lines for any business
These email subject line ideas could be used by any business over the Labor Day holiday. Remember to take the time to personalize. Tweak these ideas to suit your business, and include your recipient's name in the subject line (or both!).
Make the most of your long weekend
Less work, more fun
Enjoy 1 last summer fling
Say goodbye to summer in style 👋
1 great summer sendoff
Maximize your summer fun this weekend
It's still summer over here🌞
Sun, sand, 1 last summer hurrah
Kick back and relax this weekend
Work hard? Time to play hard! 🏐
3 more days of summer fun
Grill, chill, and shop this Labor Day weekend🍔
Our treat for all your hard work this Labor Day…
Come see us! We're open Labor Day weekend
New product drop just in time for Labor Day
Labor Day email subject lines to announce or promote your sale
Once you've decided to host a Labor Day sale, it's time to get the word out! These eye-catching email subject lines can help you tease your sale ahead of the long weekend and keep readers excited about your deals during the holiday period.
Shop our Labor Day sale
A little reward for all your hard work…🎁
You work hard! Treat yourself to these deals.
We're hard at work on our Labor Day sale
Fall into some great deals 🍂
A long weekend can only mean 1 thing: Sale time!
3 days, dozens of deals
Labor less, shop more
12 more hours to shop our Labor Day sale!
Don't let these deals melt away 🍦
Last chance! Grab these Labor Day deals
Labor Day sale free shipping ends tonight!
Get prepared for fall with these Labor Day Deals🍁
Take an extra 10% off this Labor Day weekend
Get ready for three days of savings this Labor Day
Summer's ending but Labor Day savings have just begun
Labor Day email subject lines for services
Services businesses can take a slightly different angle from their product-offering counterparts. Since the "product" you sell is actually your team's work, Labor Day offers the perfect opportunity for some punny, benefits-focused messaging.
We work hard 🛠️ so you don't have to 🏖️
Take the day off–we've got this
Fall bookings now open!
Get a head-start on your fall to-dos
Tackle your end-of-summer checklist ✅
Enter the work-free zone
Leave the labor to us this weekend
Relax! We can help tackle your project
Go off-duty this Labor Day
You've got one job this weekend: Relaxing
We labor so you get your day
Labor Day appointments available 🗓️
Don't spend your Labor Day laboring! Let us do it!
Your [health, finances, home] don't take a day off, let us help
 Make Labor Day email subject lines work for you
A little hard work in the weeks leading up to Labor Day weekend can have big benefits for your business! Take the time to devise some clever offers, deals, and email messaging, and enjoy the fruits of your labor as you watch customers click, read, and buy.
Want more Labor Day marketing resources? We've got you covered: