Whether you run a product-based or service-based business, promotional email subject lines can be some of the trickiest to write. With high-tech spam filters, separate promotional email inboxes, and mandatory email marketing laws to follow, just getting in front of your audience can seem like breaking through Fort Knox. Effective email marketing for small business owners starts with sales email subject lines that work.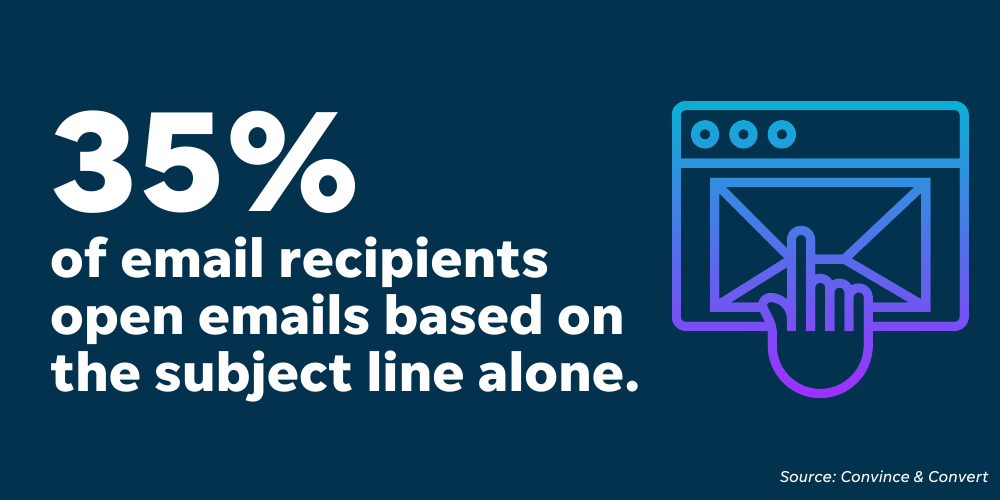 What Makes an Email Subject Line Effective?
Effective email subject lines are the ones that people open. If no one opens your emails, they're not effective. Make your email subject lines enticing by offering a discount, limited-time promotion, or sale on select services.
The three fundamental questions you have to ask yourself before sending off your perfectly packaged promotional email are these:
Does it offer an incentive?
Does it create urgency?
Is it short?
Trying to pack a punch in just a few words may sound tough, but in a fast-paced and mobile-driven society, these criteria are essential to have in your sales email subject lines. It's important to get your audience's attention fast, then follow through with content that delivers on what your subject line has promised.
Email Subject Lines for Friends & Family Sales
Run friend and family sales for loyal customers or to increase referrals to new customers. Here are some examples of friends and family email subject lines:
Friends & Family Week – 25% off all services
Share the love – refer someone and get next service FREE!
Our Gift to You – $10 Promotional Gift Card
Coupon Code for $25 off $100 purchase
Free Gift to the first 100 visitors
$5 Deal Day! Get 'Em While You Can!
Loyalty Members: 40% off today!
You can use a subject line grader, like this one, to check your subject lines before sending them to sales prospects.
Email Subject Lines for Time-Sensitive Sales
Here are some examples of the best email subject lines for sales that manage to capture attention, offer an incentive, and create urgency:
Because We Love You – Flash Sale Today!
1-DAY ONLY Doorbusters!
Breaking News! $25 off Today Only!
EXTENDED! 48-Hour Sale – 10% Off Coupon
One Day Left: Hotel Sale
Hot Savings for 3 Days ONLY!
Email Subject Lines for Holiday Sales
The holidays and other events are great for email marketing. Here are some subject lines for holiday marketing emails or event themed sales:
#NationalDrinkWineDay – 15% Off Your Favorites!
We're thankful for our customers: Coupon Inside
Cyber Monday Madness — Everything on Sale!
7 Spa Treatments to Put You on the "Nice List"
Start your New Year Off Right — 25% off Spa Packages
Free Gift! Happy Valentine's Day, Sweetheart!
Email Subject Lines for Seasonal Sales
Changing seasons is the perfect excuse for a good flash sale. Here are some weather-related sales subject lines to get you started:
Snow Day SALE!
$2 off for every inch of snow!
Winter is coming – we've got a sale!
Warm up to savings!
Cool off with a SALE
Can't take the heat? How about this sale?
Finance & Investment Industry Subject Lines
For small business owners in finance, insurance, and real estate industries, your sample marketing plans may include free consultations, no up-front fees, or discounted add-on policies to incentivize an up-sell. Try using promotion email subject lines like these:
We'll do your taxes for $50
Get out of debt! FREE credit counseling session
Say Goodbye to your PMI
Free Service Upgrade — get more for less!
Fitness Studio Sales Email Subject Lines
Offering low rates or introductory discounts on memberships and services can get you increased foot traffic as part of your fitness marketing strategy.
$14 Days of Yoga for $14
2 weeks Unlimited Classes for $50
Our 5 Year Anniversary—$5 off every November class
$0 Enrollment Fee — Membership Sale
First Cycling Class is FREE!
Salon & Spa Sales Subject Lines
Entice people to visit your salon or spa by sending out relevant timely emails for specials or promotions. This is a great way to fill your quiet weeks during school vacation or other slow times.
$50 Massage today at 12:30 pm
Grand Opening Sale: 25% off all services
$30 Massages! 1 Day Only!
Say hello to a new you — $49 women's hair cuts
Share the love. Get 50% off when you refer someone this month!
Travel Industry Email Subject Lines for Sales
Want to thank your previous customers for using you in the past? or encourage them to make another purchase. Try these travel sales email subject lines:
Review your vacation and get 30% off your next booking!
Pre-Summer Sale on 4th of July travel
11 Great Deals for the Next 2 Days
Tell us more & get $50 off your next trip
Dentist Email Subject Lines for Sales & Promotions
Whether you want to incentivize your patients to come in for their checkup, let patients know about any special promotions you're running, or get new patients through the door, try these email subject lines for dentists:
Here's a reason to smile: FREE teeth whitening
Refer a friend: Get a $50 Amazon gift card
It's time for your cleaning! Come in for a free electric toothbrush
BOGO teeth whitening treatments this month!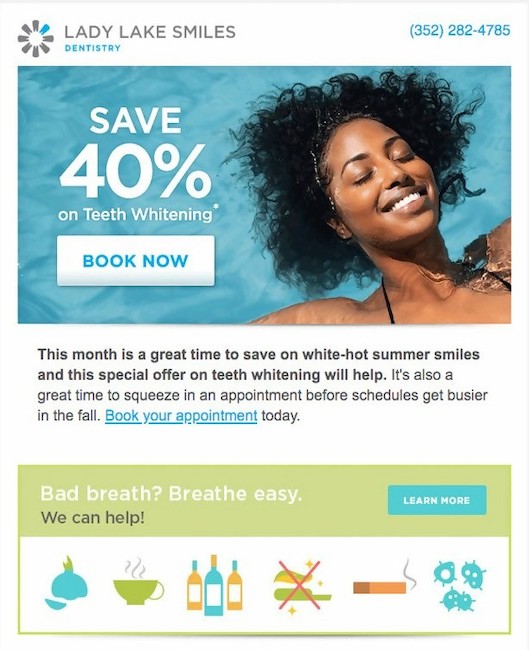 Home Services Subject Lines for Sales
We couldn't leave out our friends in the home services industry! Use these email subject line ideas to rake in new customers and get in front of existing ones.
Book now, save later: 25% off summer services!
Plumbing problem? Let us fix it — deal inside!
5 big discounts you won't want to miss this month
We want your feedback! $50 for your thoughts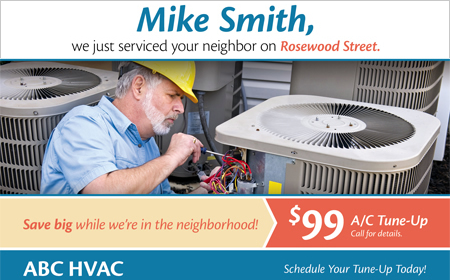 Get Started with Promotional Emails that Work
You can modify any of these promotional email subject lines to fit your business and the promotion or sale you're offering. Successful email marketing campaigns require great content but always start with a solid subject line. These subject lines should give you some examples of the best email subject lines for your sales promotions.