Labor Day has been a federal holiday since 1894 and is celebrated on the first Monday in September. While it was originally created by trade unions and labor movement leaders to celebrate (you guessed it!) labor, it's since come to mark the unofficial end of summer.
The Labor Day long weekend is a popular time for travel, barbecues and backyard parties, and one last family beach day before the cooler weather sets in. And like many other holidays in the US, Labor Day has also become a big day for businesses to host sales and craft holiday-minded marketing messaging that gets consumers shopping on their time off from work.
Let's take a look at how your business can make the most of the Labor Day weekend to drum up sales. From special deals and offers to themed social media contests, there are plenty of opportunities to create excitement around your business. We'll also share some marketing ideas and slogans to help you promote whichever approach you try!
Labor Day slogans to promote sales
Who doesn't love a Labor Day sale? We've all been on the receiving end of Labor Day sale messaging, so we know it's a popular tactic for brands to employ. And that's because it works!
Last year, Numerator asked consumers if they planned to hit the Labor Day sales, and even with inflation rates at record highs, 86% of respondents said they'd still consider shopping over the weekend.
With statistics like that, it's easy to understand why so many businesses get in on the Labor Day sale action. Holiday sales can help you convert prospects who have had an eye on your brand for a while, and they can reengage existing customers who may not have purchased from you recently. Deals and sales can often serve as the tipping point for consumers considering a purchase, pushing them from a maybe to a yes.
End-of-summer sales are also an excellent opportunity to make room for next season's items on your shelves. Additional markdowns on on-sale products are a great way to catch consumers' eyes and help you move that inventory–a win-win!
This brand even acknowledges that it's offering discounts to clear out its summer inventory and make room for "new pretties." 
Service providers can also get involved in Labor Day sales, whether your brand serves consumers or businesses. A spa might offer a discount on its services framed as a "last chance at summer relaxation" deal, while a B2B may offer a discount and promote it with messaging about how the offer can help businesses start Q4 off on the right foot.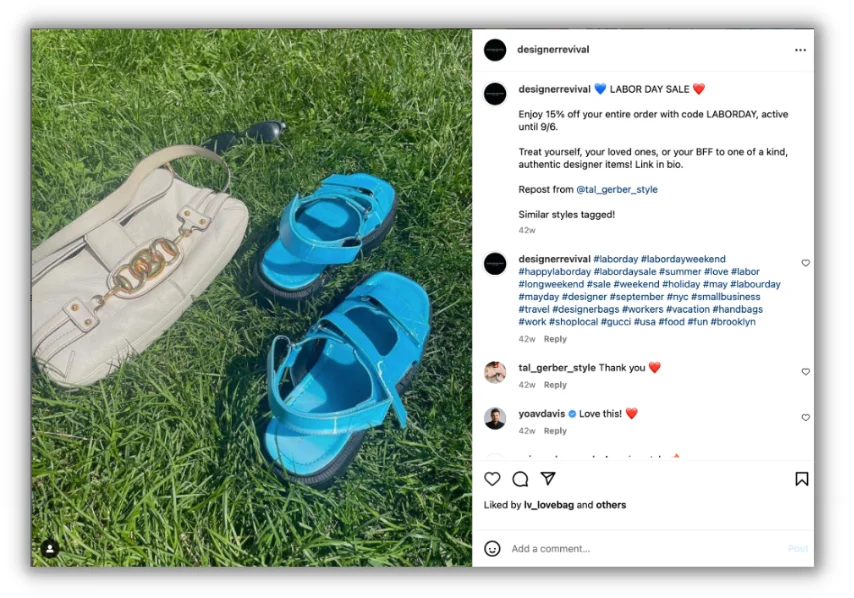 As part of its Labor Day sale, this auto detailing garage offered rewards points and swag when customers spent specific dollar amounts on services. 
No matter what kind of business you run, these slogans can help you to advertise your Labor Day sale, deal, offer, or promotion:
Your Wallet Deserves a Vacation
Holiday for your dollar 💰
You work hard! Treat yourself with our Labor Day deals
A Reward for Your Hard Work 💪
Work Hard, Save Big
Work Hard, Spend Smart
Our Sale Is Working Overtime
Kick back and relax with our Labor Day deals
Deals to Curb the End-of-Summer Blues
Back-to-School Deals 🚌
Going, Going, Gone: End of Summer Specials
Labor Day slogans for email marketing campaigns
You have to get the word out when you're having a sale! Email marketing can be a great way to reach those who are already familiar with your brand–to remind them about your sale and encourage them to stop by (either in-person or virtually) to shop.
The key here is to start teasing your sale early. Begin mentioning your Labor Day deals in your regular communications a few weeks out so that people know you'll be offering discounts and can make plans to shop with you then.
As you approach the holiday, you can step up your sales-focused messaging. Writing subject lines that create a sense of urgency is an effective way to catch readers' eyeballs and drive up open rates.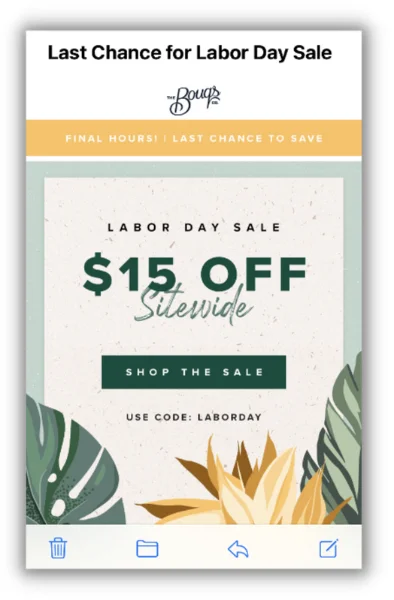 Don't just send one email at the start of the weekend; you can continue to advertise your sale throughout the Labor Day holiday. If you're offering any additional deals on certain days or as the end of the sale gets closer (steeper markdowns, free shipping, or any other perks), call those out in your subject lines.
Not sure how to write your Labor Day email subject lines? Here are some ideas to get you started:
Labor Day Sale Preview: First Look at Our Deals
Hard at Work on Our Labor Day Sale: Preview Deals
Exclusive Offer: Labor Day sale early access 🚨
1 Day Only: Shop Our Monday-Only Labor Day Sale
Free Shipping When You Shop our Labor Day Sale
Spend & Save! Take an Extra X% Off When You Spend $X or More
Only X Hours Left to Shop Our Labor Day Sale
Best deals of the year: Labor Day sale is on 💡
Labor Day Sale Final Hours – Shop Before Midnight!
Free Shipping Countdown: X More Hours
Labor Day slogans and hashtags for social media
When it comes to spreading the word about your Labor Day sale, don't just stop with email marketing. Sharing details on your social media channels helps you reach even more people. Consumers who haven't subscribed to your mailing list will still want to know about your special offers!
Just as with email marketing, teasing your sale in advance on social media is crucial. Begin sprinkling in Labor Day messaging a few weeks in advance to get your followers excited to shop with you over the long weekend.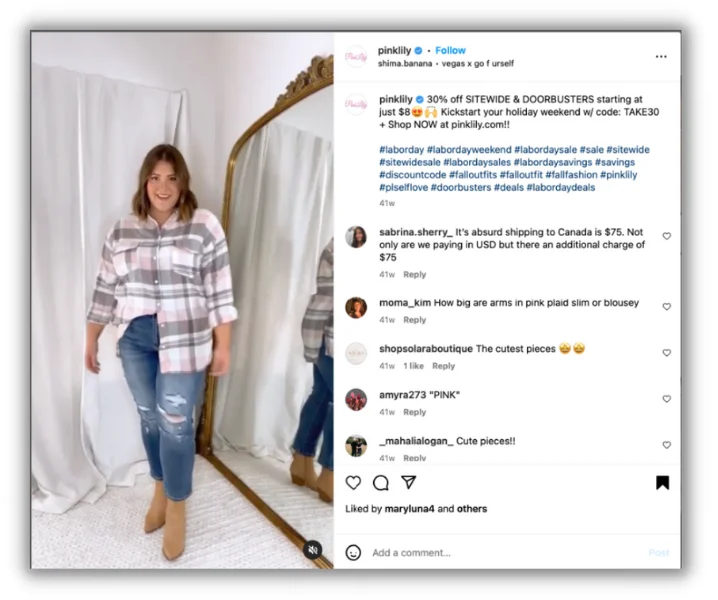 This brand offered doorbuster deals to build anticipation leading up to the main Labor Day sale.
As you get closer to the holiday, you can focus more of your content on your upcoming sale. One benefit to marketing on social media is the ability to create interactive content. Consider making Instagram Stories showcasing the products or services included in your sale, and add stickers, polls, and other interactive elements so your audience can engage with your content.
It's great for your followers to see your sale messaging, but it's even better to spread the word to consumers beyond your immediate social media circle. And to do that, you need to include hashtags in your posts.
When you include related hashtags in your content, you give your posts the opportunity to appear in the results of any social media users who search for that hashtag–whether they're already familiar with your business or not. Hashtags can drive consumers' discovery of your brand at an opportune time (namely, right as they're searching for things to buy over the holiday weekend!).
When deciding which hashtags to include, aim for a mix of event-specific hashtags (in this case, ones that talk about your Labor Day sale), and industry, location, and brand-specific hashtags.
When it comes to selecting the right Labor Day hashtags for your content, here are a few to consider:
#LaborDaySale
#LaborDayWeekend
#LaborDay2023
#LaborDaySpecial
#LaborDaySalesEvent
#WorkHardPlayHard
#KickBackAndRelax
#LongWeekendVibes
#LongWeekendAhead
#DealOfTheDay
Labor Day marketing slogans for contests and giveaways
What if you'd prefer not to have a Labor Day sale? They're an effective tool for many, but they won't be suitable for every business. If you'd like to get in on the long weekend fun but prefer not to offer any deals or discounts, a Labor Day-themed contest or giveaway may be right for you.
Social media is the perfect place to host a contest or giveaway for your brand. Contests and giveaways allow you to generate buzz for your business and capitalize on the broader excitement around a holiday.
Social media contests and giveaways also help you to expand your reach online and can really give a boost to your follower count. And that's great news because, even if new followers don't convert to new customers right away, they're now a part of your social media circle and will see your future content.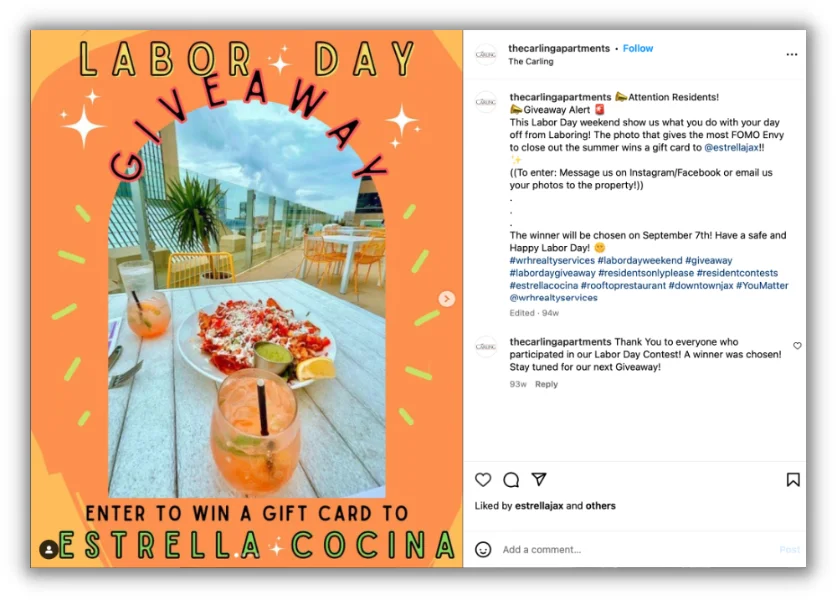 With a social media contest, you may ask your followers to create and share content to enter. Contests usually have a competitive element and sometimes include audience votes for the best submission. Social media giveaways often take a "comment to win" format, with entrants being asked to like and comment on one of your social media posts to enter.
No matter how you structure your event, be sure to tie it into the Labor Day holiday. How you do so will depend on your business, but there are plenty of creative ways to lean into the holiday messaging in your promotion.
A grocery store might host a contest asking users to share pictures from their Labor Day barbecue, tagging the store and using a hashtag that celebrates the end of summer. A dry cleaning business might run a giveaway where they'll clean a lucky winner's white outfits for free (a longstanding fashion "rule" says you shouldn't wear white after Labor Day!).
As you craft your social media posts around the event, read up on the rules around hosting an online contest or giveaway. Each social media platform has its own guidelines, and there are laws that govern the process.
As for slogans or concepts for your Labor Day contest or giveaway, use these ideas as a jumping-off point:
The Last Hurrah: End of Summer Giveaway
Enter our giveaway–No labor required
The 3-Day Giveaway Event
Best sandcastle contest 🏰
Ultimate Beach Day Contest 🏖️
Dog Days of Summer Contest
Labor Day Grillmaster BBQ Contest
Make the most of these Labor Day slogans
The Labor Day long weekend provides business owners a golden opportunity to create fun, enticing marketing messaging. Consumers are celebrating the end of summer and are on the lookout for good deals. The brands that start advertising early, with clever Labor Day slogans to tout their offers, are most likely to catch consumers' attention and end up on their Labor Day shopping lists.