Each year, it feels like summer fun flies by too fast. But before we make the transition into the fall and winter holidays, there's still one last hurrah: Labor Day.
Let's send summer off with a splash by diving into some Labor Day social media ideas that are sure to bring you a wave of customers to last through fall and winter. We'll be covering:
Labor social media tips to keep in mind
Labor Day social media posts to last all weekend
Labor Day social media post templates any business can use
Let's jump right in!
Tips for your Labor Day social media posts
Before we get into all our Labor Day social media posts, let's first review some key tips:
Choose your best time to post on Labor Day
A common small business challenge is knowing when, exactly, is the best time to post on Labor Day to maximize your marketing ROI. This doesn't just go for social media but rolling out promotional campaigns across any marketing channel can feel daunting on such a major holiday.
To pre-plan your Labor Day marketing schedule, you'll first want to refer to any historical data your business has as well as any information you can find regarding your target market.
When you understand how your customers behave throughout their buyer's journey, you'll have a better handle on when they might be online during Labor Day. Lastly, check out our resources on the best times to post, like:
Check your image sizing
Along with scheduling your Labor Day content ahead of time, you'll want to prep your materials in advance as well. Each social media platform will have different specifications for images or videos that you'll need to stick to. Our Labor Day social media post templates linked at the bottom of this post can streamline this for you.
As you create your Labor Day social media posts in advance, you can size out all your images to match the various platform requirements while maintaining brand consistency. Here is a quick breakdown of the sizes you should shoot for: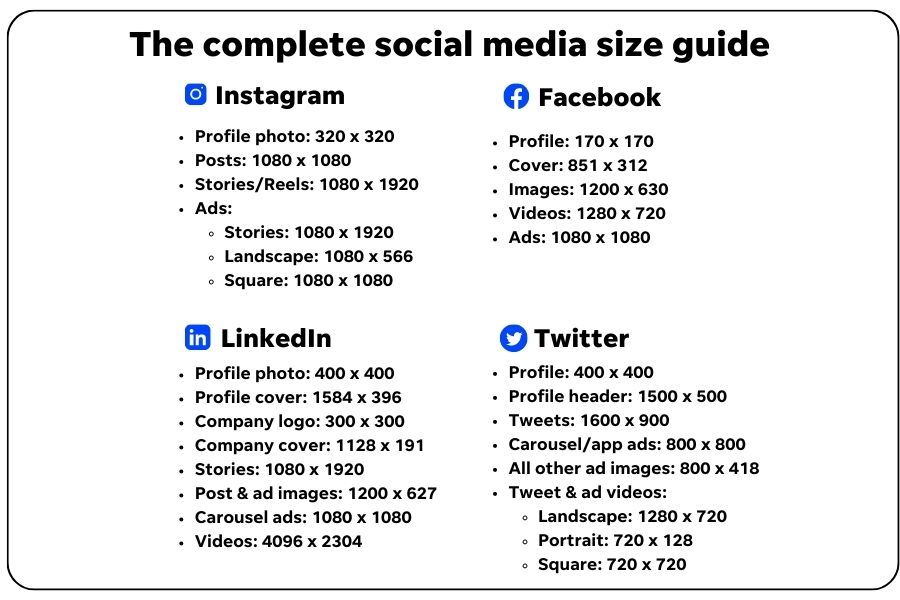 Use Labor Day hashtags
Be sure you always include eye-catching elements like emojis or hashtags.  Hashtags help your posts get found by new followers, so here are some Labor Day hashtag examples your business could test:
#laborday
#happylaborday
#dayoff
#nowork
#restandrelaxation
#longweekend
#labordayweekend
#ldw
#lastdaytowearwhite
#nowhiteafterlaborday
#yayforlaborday
#grillingandchilling
#longlivelaborday
#livelovelaborday
#thankyouworkers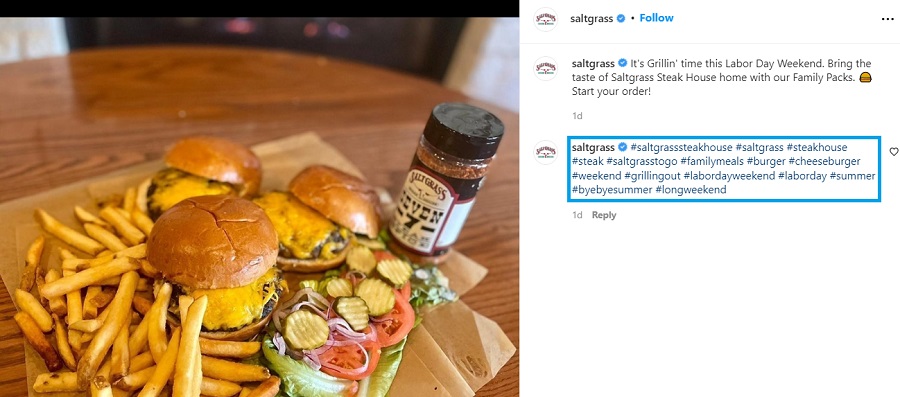 Labor Day social media posts to try
Leveraging Labor Day social media posts is a no-brainer for small businesses since it's a free strategy! Try out these Labor Day social media posts to refresh your Labor Day marketing strategy:
Challenge customers with a Labor Day contest
A Labor Day social media contest is a great way to build an audience and increase engagement with your business around the holiday. Plus, it gives you an easy way to gather some user-generated content you can use to fill your calendar beyond Labor Day. Challenge your followers to come up with the best video or photo relating to your business and repurpose it for your own post later!
Another Labor Day social media contest to increase your social media engagement would be to incentivize newcomers to follow, like your posts, or repost your post so that their network can see your business too! Regardless of what type of contest you decide is the best fit, be sure to promote the post by including your own hashtag to go with it.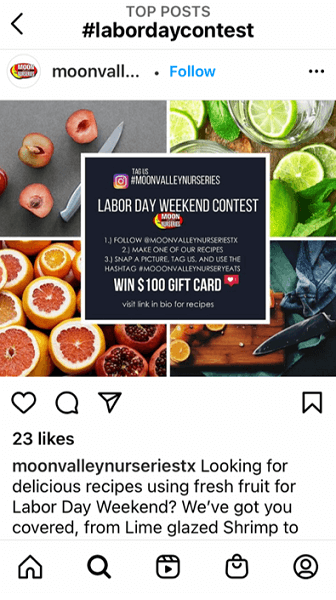 Honor your workers with an employee video
A fun way to get both your customers and your own employees involved this Labor Day is to leverage video marketing to turn your social media marketing strategy into something great for the season. Labor Day originally started in 1866 to honor the workforce of America, and so what better way to appeal to your social audience than to celebrate your own workforce?
If you start now, you could film quick clips of your employees hard at work and compile them into a video thanking them for all they do! Or, you could take a comical approach and have a Labor Day-themed "blooper" or funny video of your employees to appeal to your followers.
90% of consumers say it's important that a brand takes care of its employees and treats them well. So, Labor Day is the perfect time to display that and establish credibility with your social audience.
Play on Labor Day traditions
Aside from honoring your own workers, you can have even more fun in your Labor Day social posts by playing on the traditions of the holiday. For example, 40% of people plan to barbecue on Labor Day with an average of 7 billion hotdogs being consumed during the time between Memorial Day and Labor Day. You can quickly snap a picture of a food-themed social media post to attract hungry customers to your business. Or add a personal touch with posts from a company barbeque.
Another tradition is the infamous "you can't wear white after Labor Day" due to the approaching fall season. You could create a fun social media post series of you or your customers wearing white which will help you have multiple pieces of social content to last the holiday weekend.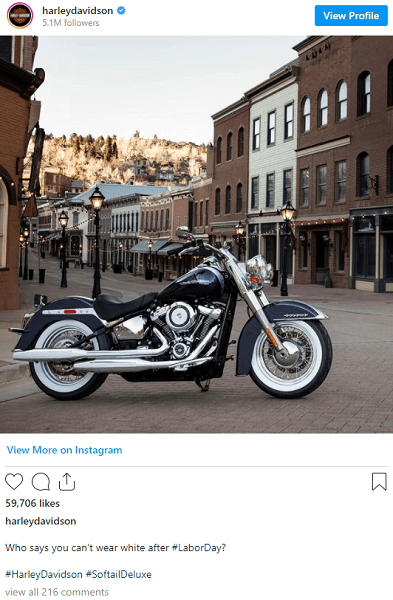 Try a happy Labor Day post
While it sounds simple, this Labor Day social media post idea is too often forgotten! A great way to acknowledge the holiday is with a short and sweet message wishing your audience a happy Labor Day.
To boost your post interactions, you could even ask your followers to comment on how they're spending the weekend. Not only with this Labor Day social media idea save you time, but it also still shows that your brand truly cares about how your audience enjoys the holiday.
Use catchy Labor Day Instagram captions
Certain platforms, like Instagram, necessitate a strong caption with each post. If you're unsure what to put in your Labor Day social media captions, try checking out some social media trends or what popular influencers might be doing for inspiration. A caption could be a motivational quote or a short and sweet "Happy Labor Day" message.
Whatever you choose for your caption, be sure your brand's voice shines through. Here are some Labor Day Instagram caption ideas to get you started:
All play, no work this LDW!
Let us do the labor so you can enjoy your day?
It's Labor Day! Kick back, relax, and shop
We're chilling? and grilling? this Labor Day!
Public workers for the public interest?
America runs on hard work. Thank you to all laborers today!
No work, just sales this Labor Day!
We ❤ Labor Day sale
Long weekend = even longer sale savings
You worked hard, treat yourself this Labor Day.
Happy Labor Day social media post templates
When creating your Labor Day social media posts, be sure to try our easily customizable templates: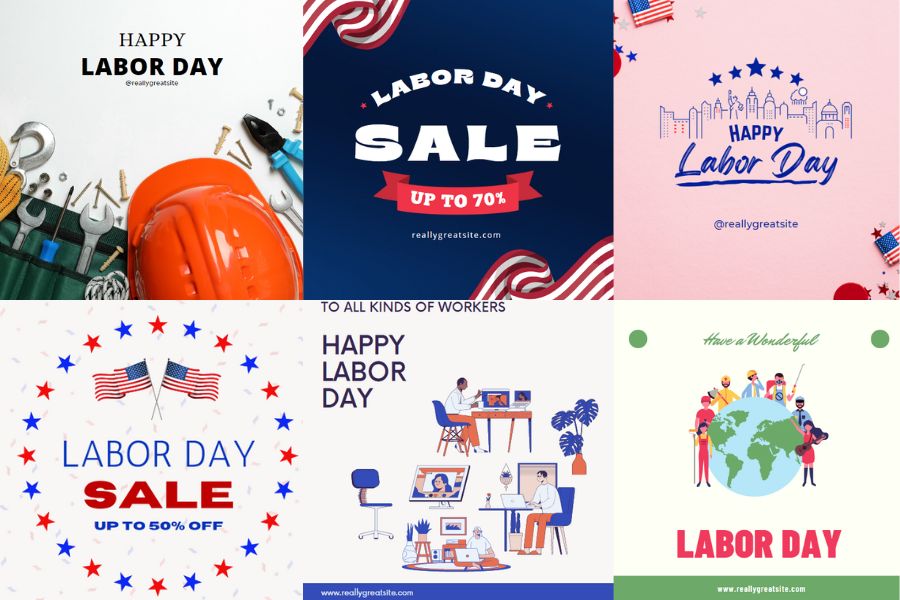 Get the templates here: [Twitter] [Facebook] [Instagram]
Say goodbye to summer and hello to business growth with these Labor Day post ideas
Finish off your summer marketing the right way with these quick and simple Labor Day social media posts. People are ready to spend over Labor Day weekend, so your business acknowledging the big weekend to customers will give you a competitive edge.
Plus, you can run with these Labor Day marketing ideas this year and recycle them for years to come—saving you time and resources. By working smarter, not harder, you'll bring your small business marketing to the next level with these tips.
Related: September's not over after Labor Day! Get September social media holidays and ideas to fill your calendar all month long.
Want more Labor Day marketing resources? We've got you covered: