There are a lot of benefits to having multiple locations for your business. The opportunity to serve customers in different areas, a higher volume of customers (which means a higher volume of revenue), brand recognition and awareness–the list goes on. But, as Peter Parker knows, with great (brand) power comes great (marketing) responsibility. And one of the great aspects (and accomplishments) about your business—your multiple locations—can make your marketing a little bit more complex–especially when it comes to SEO.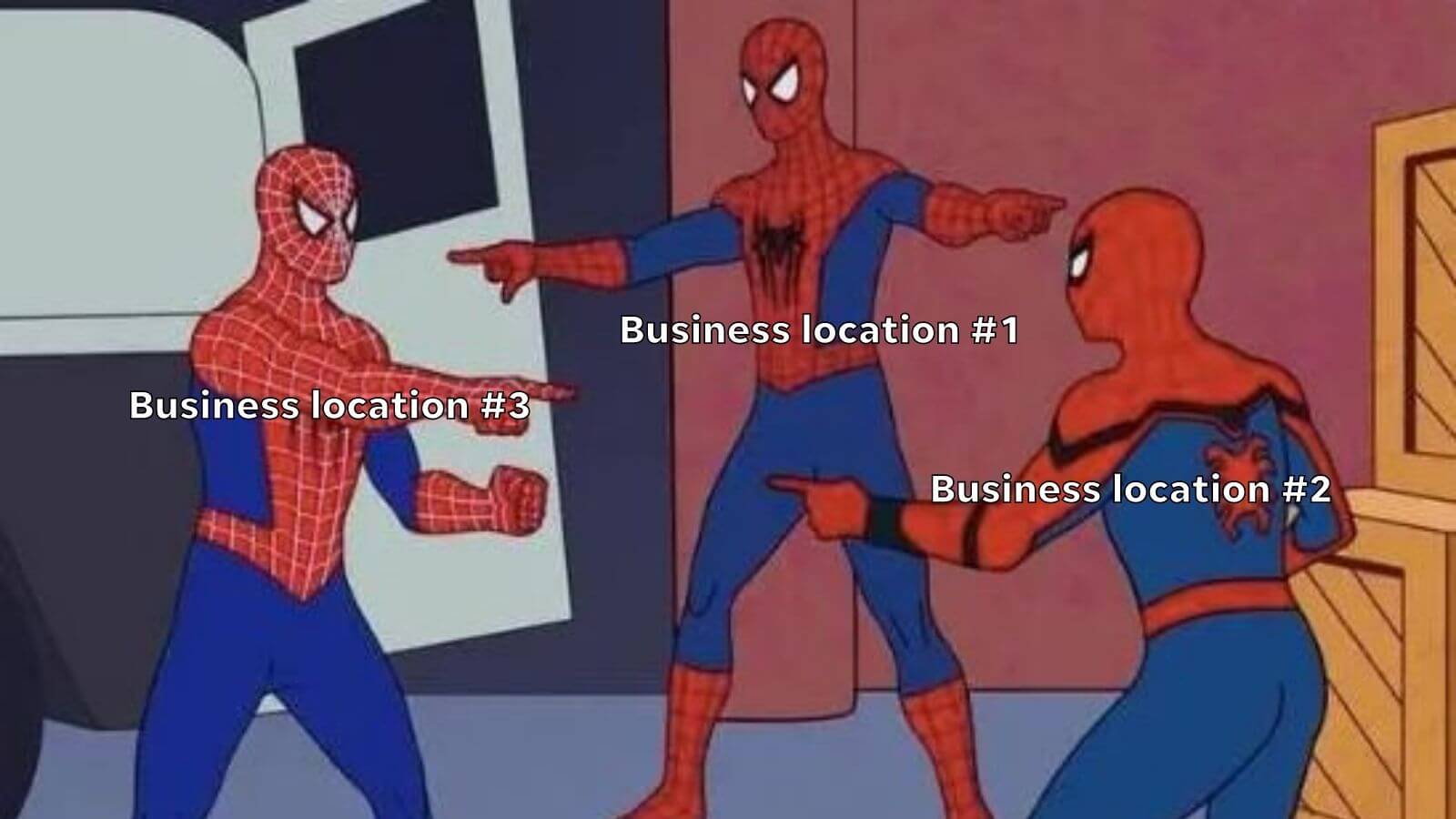 Similar, but not the same.
It all boils down to how customers search for businesses. They're searching for businesses in their area that can meet their needs right now. So how do you scale your marketing across multiple locations so you're capturing local customers where your business is located?
The answer? Investing in a multi-location SEO strategy. In this post, we'll dive into local SEO for multiple locations so you can understand:
What multi-location SEO is
The biggest benefits of local SEO for multiple locations
Practical tips for a successful multiple location SEO strategy
Here we go!
What is multiple location SEO?
Multi-location SEO is SEO that is optimized around and for each of your specific business locations. That could include multiple locations within the same city, metro, state, or locations that span the country.
It's simply taking the practices of local SEO and applying them to all of your business locations.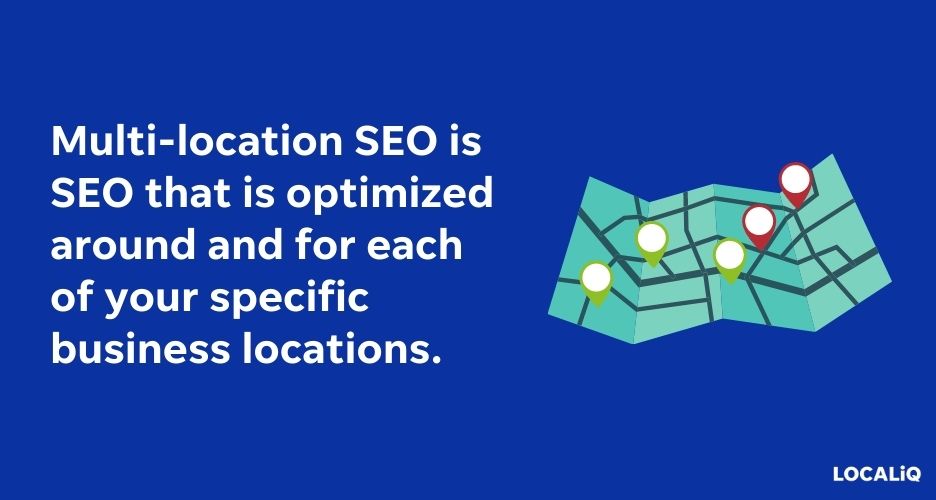 Why is local SEO for multiple locations important?
Why do you need SEO for multiple locations anyway? Local SEO is one of the best ways to get your business to show up for local searches. This is important because nearly half of all searches have local intent, and 78% of mobile local searches result in an offline purchase. (Get more local SEO statistics here!)
You could have great SEO for your business or brand at a national level, but if you're not focusing SEO efforts on your specific locations, you're missing out on searches with local intent. AKA buying intent.
Let's look at an example:
Say I'm searching for a cleaning service for my home. When I conduct a search on Google, Google is going to interpret my location and provide local results for my query. If you had great brand recognition and solid SEO at a national level for your cleaning business, I might see you in my results, but chances are I won't. And you likely wouldn't shop up in the Google 3-Pack, which is going to occupy top results (and include reviews, which I'll definitely want to see as part of my research!).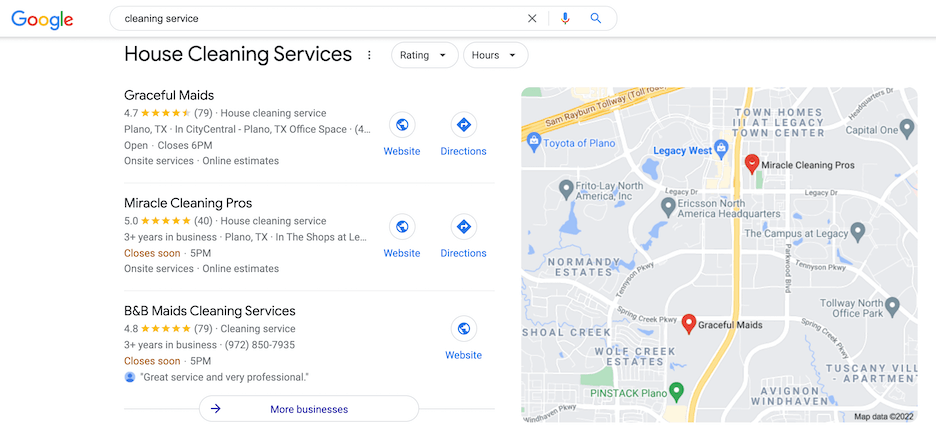 Results in the Google 3-Pack for my query.
And even if I do see your business, without a localized SEO approach, I might not know you even have a local operation. All this to say, without multi-location SEO for each of your cleaning business locations, I would choose a different business to service my home.
You need SEO for multiple locations for the same reasons you need local SEO:
Increased website traffic
More visibility and brand awareness
Gets you more customers
Boosts your other online marketing efforts
Try our free SEO and website grader to find out how your strategy stacks up right now!
7 ways to optimize local SEO for multiple locations
Yeah, yeah—you need local SEO for multiple locations. Now, what? Here are some actionable (and simple!) tips to optimize multi-location SEO for your business's different locations.
1. Create a web page for each location (with a unique URL!)
The first thing you need to do for good multi-location SEO is to create separate pages on your website for each location of your business. Each page needs to contain some important elements, which we'll cover here.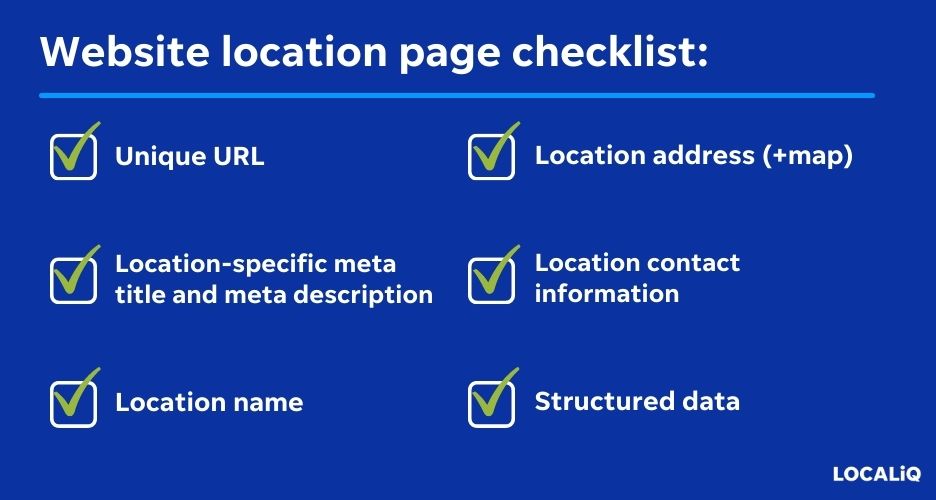 A unique URL with the location name. It can be very simple like www.mybusiness.com/dallas or www.mybusiness.com/locations/dallas. This signals to both searchers and search engines which location they're seeing information for.
Location-specific metadata. This is what shows up on search results and also tells search engines what your page is about. You want it to include your target keyword as well as your location information.
This could be something like:
Meta title: Best Cleaning Service in Dallas | My Business
Meta description: My Business provides the best cleaning service in Dallas and the surrounding areas, including Richardson, Addison, and Garland.
Here's an example:

Location name. Your location page needs to include the location name prominently on the page–either as a Title Tag or an H2. This will likely be the city or specific neighborhood you serve.
Location address (and a map!). Your location page needs to include the address of the location (for obvious reasons), and it helps to include an embedded map. By embedding a Google map to your location page, you can give site visitors a way to get directions without leaving your site, increase time on your page, and send additional signals to Google about your location.
Location contact information. You also need to include the location-specific contact information, including the phone number, email address, and location-specific social media profiles (if applicable). You may also decide to include a short blurb about your location with your contact information.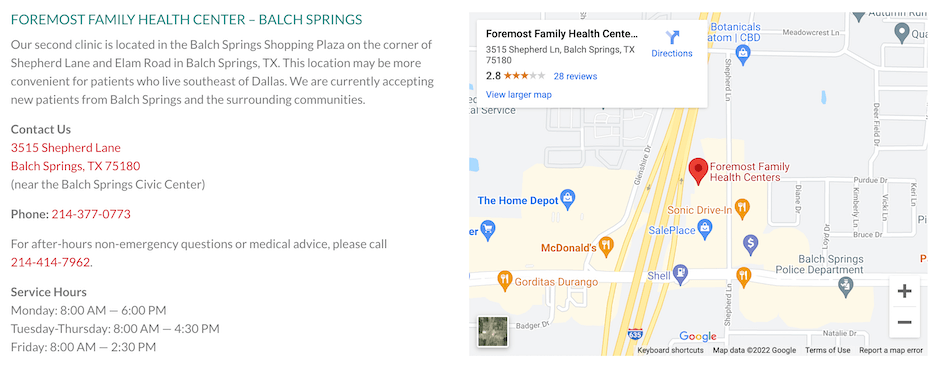 Here's an example of the location information to include on your page. 
Structured data. Structured data is a standardized format of backend code that gives Google additional information about your page. This is usually done through schema.org. By using Schema markup on your location pages, you can give Google further information about your specific location that can get you found for local queries.
2. Optimize for location-specific keywords
If you do everything I outlined above as part of your location page, you'll be in a good place. But optimizing for location-specific keywords is the key (get it!?) to actually getting found for relevant searches on Google and other top search engines.
If you already have an established SEO strategy with a set of keywords, this part isn't too hard. You'll essentially just want to localize those keywords.
Ex:
Best plumber — Best plumber in Dallas
HVAC repair company — HVAC repair company Dallas
Cleaning company — Dallas cleaning company
You'll also want to do some additional local keyword research to identify some keyword opportunities you might be missing—or that would give you a greater chance for success in that specific location.
Examples of local keywords from WordStream's Free Keyword Research Tool.
For example, if your business has locations across the US, you may find that people search differently by region, state, or even by city. This can impact the types of keywords you focus on and how you incorporate your location in your keywords and your content.
If you don't already have established keywords, you'll need to do some keyword research!
Once you have your local keywords outlined, you'll want to create content with them (naturally!). This includes in headings throughout your location page as well as in content paragraphs.
Related: Read our guide to better SEO writing.
Here's a really good example:
Lubbock Home Cleaning Services You Can See and Feel
When you're short on time, the last thing you want to worry about is that endless list of chores waiting for you when you return home. Merry Maids® is here to make sure you always come home to more with our cleaning services in Lubbock. Backed by 40 years of experience, we have proven processes and advanced products that deliver unrivaled results. It's time to live in the moment and leave the housekeeping to our professionals.

You can see that this business is clearly targeting "Lubbock home cleaning services" and "cleaning services in Lubbock," but in a way that feels natural and isn't spammy. It's not necessarily about the volume of your keyword throughout the page, but how your keywords complement and enhance your content to let both searchers and search engines know what the page (and your business) is about.
5. Avoid duplicate content
When you're creating your location pages, it can be challenging to come up with new content to convey similar ideas—just for a different location—and you might feel like you can just copy and paste the same content across all pages and swap out the location names.
If only it were that simple…But it's not.
That's called duplicate content, and it's something that Google and other search engines hate. It's an SEO no-no. In fact, it can hurt your site's ability to rank because Google will only choose to index the page it deems as the "original"–which would defeat the purpose of building location pages in the first place.
Instead, create new, fresh content for each location page. You can use similar language to convey the same idea, but it's important to vary it enough that search engines see it's not duplicated across every page.
This is where different images and content about your specific locations can help differentiate!
4. Try to get local backlinks
Backlinks are links to your page from a website that you don't own. Backlinks signal to search engines that your site is trustworthy and authoritative, which are two important ranking factors.
So getting local backlinks can boost your multi-location SEO. Here are ways you can get good local backlinks:
Become a member of the local Chamber of Commerce and having your location page featured on their site.
Sponsor a local event, team, or organization to get a link back to your site (and for many other benefits like helping strengthen the community!).
Partner with another local business for a link swap.
Partner with a local micro-influencer to write about your business or feature your business on their site.
Writing guest posts for local businesses.
Get your business featured in local write-ups.
Get local press about your locations.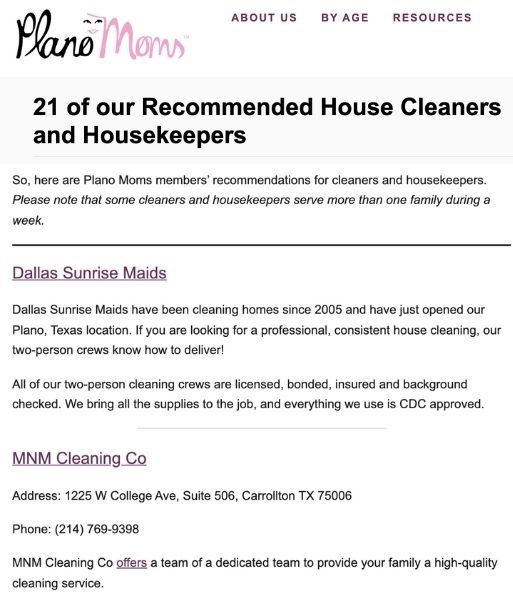 Here's an example of a local write-up about favorite cleaning services that would be a great opportunity for a backlink (and potential referral traffic!).
The challenge when it comes to getting local backlinks for a multi-location business is that you have to scale this across all your locations. But it's worth it to give an extra boost to your SEO!
5. Create and optimize Google Business Profiles for each location
This is a big component of great SEO for multiple locations! You need to create and manage a Google Business Profile for each location of your business. Google Business Profiles are a central piece of local search—these profiles show up in the Google 3-Pack for local queries and in Map results for relevant searches. Plus Google Business Profiles contain crucial information that can help you win over potential customers.
I could go on and on about the benefits of Google Business Profiles, but I'll save it for another day (or you can click that link to read it at your leisure).
There are two pieces to this tip that are both equally important:
You must create a Google Business Profile for each location
You must optimize each profile
Sounds simple, right? And it really is! It just requires some steps and expertise.
The first step is to create and/or claim your Google Business Profile for each location.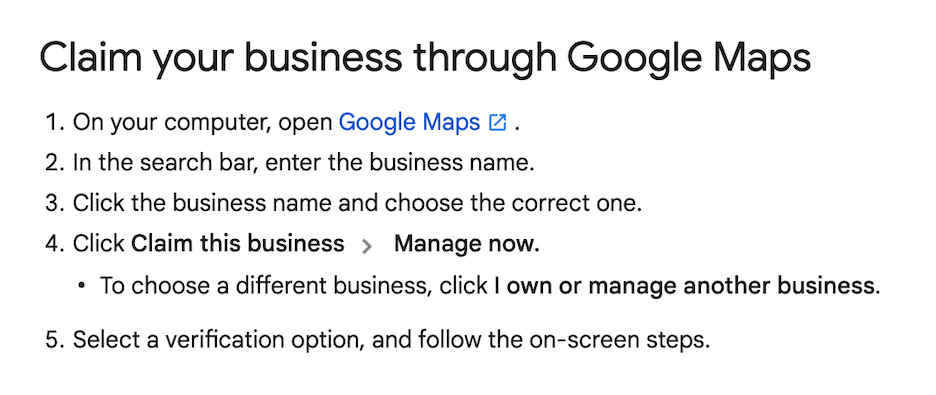 On to the optimization part of this tip!
There are some additional ways you can make your Google Business Profile stand out to increase your chances of ranking for relevant local searches for each of your locations.
For one, it's critical to fill out all the fields and provide as much information as possible for each Google Business Profile, like your:
Business categories
Hours of operation
Service area (if applicable)
Services
Products
Health & safety (this is a newer feature related to COVID-19)
Business description
Related: Get our top tips for writing your best business description.
You'll also want to add unique pictures for each location, including:
Your logo
A cover photo
The exterior of your business
Your business's interior
Photos that show you and your team "at work"
Photos that display your team members
Additionally, you have the option to upload a video that shows on your Google Business Profile for a more in-depth look at your location.
And it doesn't hurt to include any location-specific promotions and updates to each Google Business Profile. You can also take advantage of Google Posts to provide even more great information to searchers.
You can check your listings for each of your locations using our free business listings grader.
6. Manage reviews for each of your locations
Reviews are, of course, a valuable tool for winning new business, but as a ranking factor, they also impact your SEO. Google looks at review factors like number of reviews, keywords in reviews, and a mix of reviews (meaning having a few negative reviews sprinkled in with your positive reviews can actually help you appear more trustworthy—who knew?!).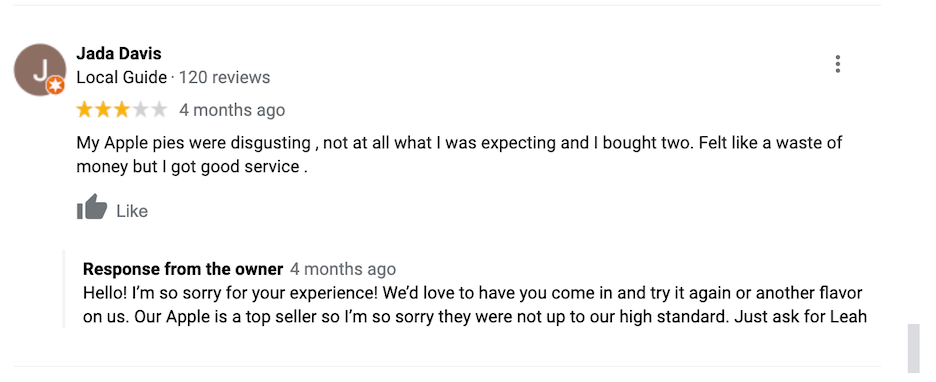 It's important to make review collection part of your business practices by encouraging happy customers to provide feedback on your top review sites. You might also specify that they include your location name in their review to help with your local SEO.
For example, if I'm leaving a review for my favorite bakery, I could write something like:
Unrefined Bakery in Frisco is the best gluten free bakery with the most amazing cupcakes!
I've included the location and a focus keyword right in my review. Of course, you can't tell your customers what to say, but you can incorporate your keywords (naturally) in your review response to help.
For example, if I were the business owner, I could respond with something like:
We're so glad you love our gluten free bakery in Frisco!
This included a local focus keyword without looking spammy.
Getting good reviews can also give you a better chance of appearing in the Google 3-Pack for local searches containing "best."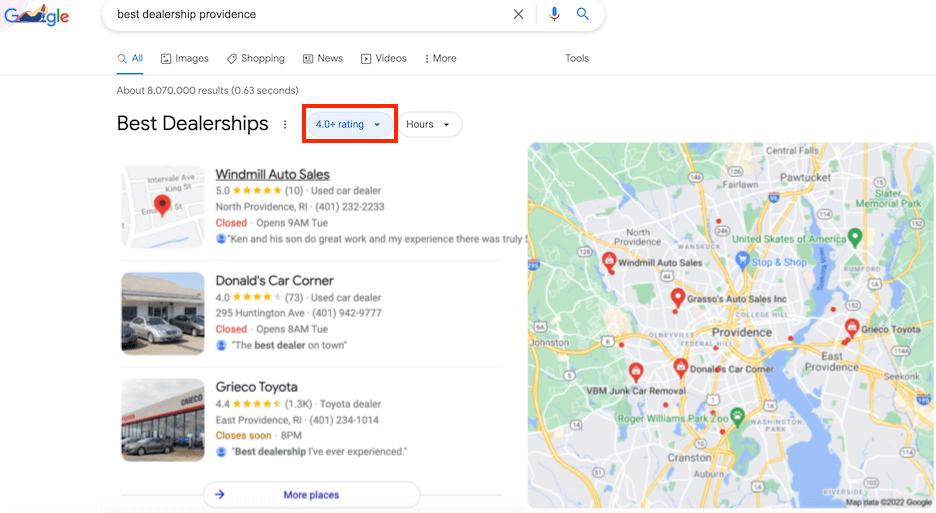 When a searcher includes "best" as part of their query, Google automatically filters results with four stars and above, so if you have a 3.7-star rating, you're not going to show up.
By encouraging reviews from your happy customers, responding to both positive and negative reviews, and even sharing your reviews on your location page or social sites, you can improve your rating and show up for those "best" searches near you.
7. Keep NAP consistent across listings
Another key ranking factor that impacts SEO for multiple locations is NAP consistency—or Name, Address, and Phone Number.
Because Google isn't a sentient being (yet), it looks at signals to determine what information about your business is trustworthy and accurate. If your business information is listed differently across location pages, local citations, and review sites, then Google has low trust in that information and is less likely to surface your pages as a result.
The more accurate your information is across all sites on the web, the more trust Google has that it's correct—and the more likely they'll be to reward you with a search result.
When it comes to NAP consistency and multiple locations, it's important to keep each location's information accurate anywhere it shows up. This includes your business name, your address, and your phone number, and it gets as granular as the way you abbreviate street names.
For example, you wouldn't want to list 123 Main St. #2 on one site and 123 Main Street, Suite 2 on another—even if they route to the same address.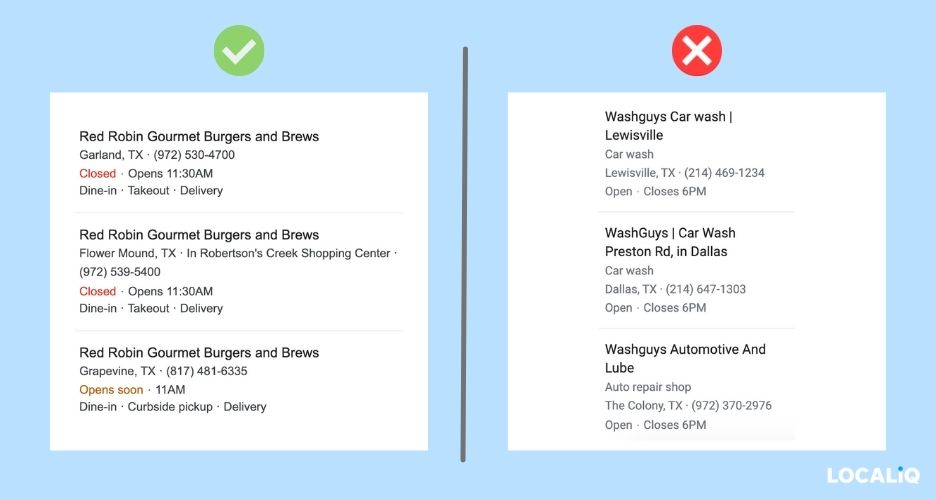 An example of consistent vs. inconsistent Google Business listings.
This is also why we suggest keeping your business name consistent across listings—it signals to Google that these locations are part of the same business, and the address and phone number will let them know they're just in different locations. But, if you do decide to include your location name, keep the formatting consistent: My Business City or My Business – City, not a mix of the two.
Win big with multi-location SEO
One of the best tips I can share when it comes to SEO for multiple locations is to apply local SEO best practices to each specific location. A one-size-fits-all approach just won't work—and it can cost your business in the form of fewer website visits, leads, and customers. But by coupling brand recognition with a strong local strategy, you can win big.
Here are the top tips for local SEO for multiple locations:
Create a web page for each location (with a unique URL!)
Optimize for location-specific keywords
Avoid duplicate content
Try to get local backlinks
Create and optimize Google Business Profiles for each location
Manage reviews
Keep NAP consistent across listings
Want a clearer picture of how your web presence looks against the competition? Try our free online presence and website grader!