Social media has become an integral part of everyone's life, which is why brands and marketers need to embrace it too.
According to We Are Social's Digital 2020 report, the total number of active social media users in the world crossed the 4 billion mark in October 2020.
Not only this, but people are also spending more time on social media than they did before. On average, a user spends 2.5 hours of their day on social media, as per the same report.
These statistics suggest that you need to leverage social media now more than ever.
Many marketers, influencers, and professionals are using it to showcase their expertise, provide value, engage people, and attract work opportunities. Your small business can do this too not only to grow and engage but to become a thought leader in your industry and in your community.
In this post, we'll explore:
What a thought leader is.
How becoming a thought leader can boost your business.
How to use social media to become a thought leader.
Who Is a Thought Leader?
Thought leadership is a term that is talked about frequently but rarely defined clearly.
Who are thought leaders? Do they need to be famous like marketing thought leader Gary Vaynerchuk? Or do they need to be great business leaders like Elon Musk?
Let me answer this question through the survey results below.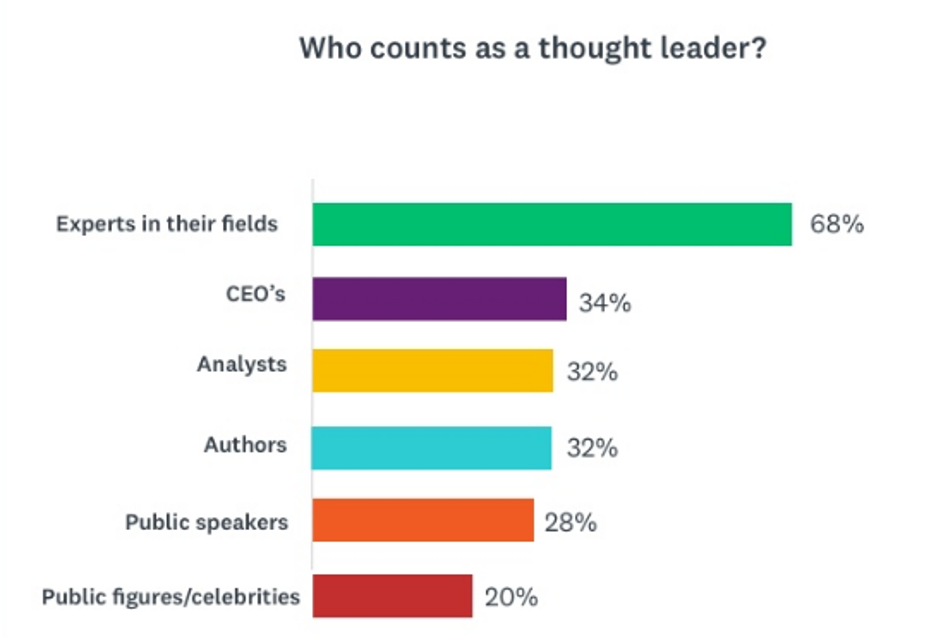 Image via SurveyMonkey
What's most important for being a thought leader is to be an expert in your field. More than popularity and the number of social media followers, what counts is engagement and your ability to influence people.
To become a thought leader in your niche market, you should:
Communicate clearly.
Have strong opinions.
Be able to back your opinions with data.
Publish relevant content consistently.
Be likable.
Inspire people.
Be cited by others often.
Provoke discussions.
What Are the Benefits of Thought Leadership?
Thought leadership is a powerful way to connect with your target audience. It can lead to greater reputation and sales impact in the long run.
That's why many marketers, entrepreneurs, and B2B decision-makers are spending meaningful time becoming thought leaders in their respective niches.
You should consider becoming a thought leader if you want to:
Stand out from other marketers and industry professionals.
Engage people who may be interested in your services.
Attract lucrative jobs and work opportunities.
Build an engaged following on social media.
Build and grow your personal brand.
Start a business or offer services as a freelancer.
Gain recognition in the industry.
Drive greater website traffic and qualified leads.
Increase email subscribers.
Build and nurture relationships with key people.
Impact people during their buying journeys.
Make money.
Yes, you heard that right. The ultimate goal behind becoming a thought leader is to make money.
Many marketers are leveraging social platforms such as Instagram to showcase their expertise, market their services, and generate leads. Some of them are making up to six-figure incomes from their thought leadership efforts on social media.
One example of building successful thought leadership using social media is that of Dain Walker, a brand strategist, and marketer. Dain started his journey on Instagram with two profiles – one with his personal brand, @dainwalker, and the other with a company name, @victoryfrontmedia.
While he posted the same content on both his profiles, used the same hashtags, and did the same activity, his personal brand performed way better.
Today, he has 187K followers, has launched his own courses, offers branding services, and is constantly enhancing his authority as a thought leader.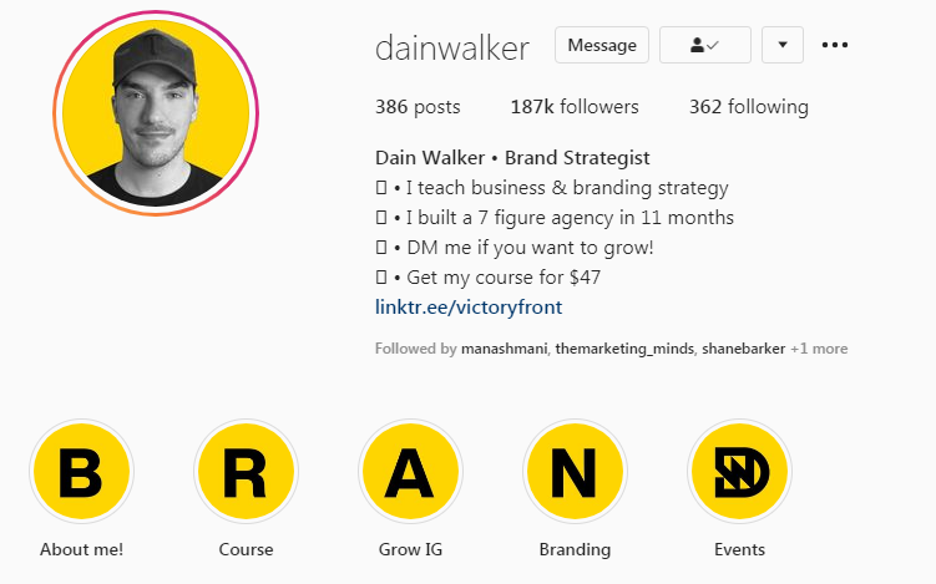 Image via Instagram
How to Build Thought Leadership Using Social Media
Social media offers immense opportunities to marketers, entrepreneurs, and other professionals to build a personal brand of their own. You can use it to showcase your expertise and skills, reach large audiences, and engage them.
Want to make it big in the world of thought leadership?
Let's take a closer look at what you should do to become a thought leader using social media.
1. Choose your social media networks carefully.
Establishing thought leadership on social media takes time. It is not something that could be built overnight.
You should, therefore, choose to do it on a platform that aligns the best with your niche, nature of services, and audience demographics.
Choose a platform that:
Is here to stay for the long haul such as Instagram and YouTube.
Has your target audience.
Supports your requirements.
For example: If you want to create graphics, you should choose Instagram over YouTube. Similarly, if you want to engage B2B decision-makers, you should choose LinkedIn over Instagram. Or, if you want to get in front of millennials or Gen Z-ers, you should turn to Shapchat. 
Pro tip: Another way of reaching your target audience on LinkedIn and growing your business is to use LinkedIn advertising. That would come in handy when building your brand awareness and will affect sales capacity after all.
2. Optimize your social media profiles.
The first thing your potential audience views is your social media profile. It should represent what you do, your expertise, what they can expect, and your core values.
You should optimize everything from your profile picture to your username, headline, and bio. Use all of these to strengthen your credibility and showcase your expertise.
Here's what Sigurd Vedal's Instagram profile looks like:
Image via Instagram
Sigurd is an entrepreneur as well as a life, business, and relationship coach. He focuses on helping his audience live happier and wealthier lives.
His Instagram bio defines all that he does and the niches he caters to. Similarly, his profile picture features a smiling and cheerful headshot on a plain blue background. Most of the content he creates also uses hues of blue and white to maintain consistency.
If you want to become a thought leader, you should:
Use a clear, high-quality profile photo featuring your headshot so that people can know who they're interacting with.
Include a headline that tells what you do.
Choose a color palette for your personal brand.
Add a few points to define the type of content, solutions, and tips people can expect from your profile.
Add contact details such as your website URL and email address.
Encourage people to connect over DMs or via email.
Pro tip: You should use services such as Linktree to help redirect visitors to important landing pages or your online portfolio.
3. Publish quality content consistently.
Thought leadership is all about providing value, and the best way to do that is to deliver quality content. Your audience is not always looking for differentiated content. What they need the most is content that answers their questions and addresses their concerns.
You should plan your content calendar for at least a month or so. It should include:
Inspirational content that inspires people to work towards achieving something such as good health, XX% marketing ROI, sales, etc.
Latest trend reports that provide data about what's trending in your industry
Interviews with other industry experts who have achieved something big and can share actionable tips with your audience.
Opinion-based content on recent issues, strategies, tools to share your take on things with your audience.
Educational content that helps people learn how to do certain things such as write a blog post, plan an itinerary, fix a sink, etc.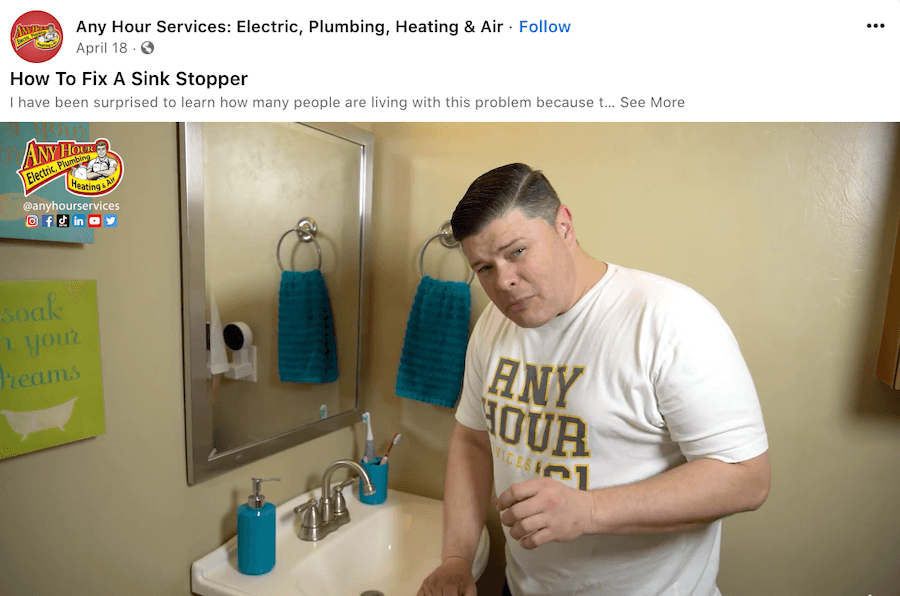 Publishing valuable content consistently can help you build and grow a personal brand on social media. You should pair your posts with relevant hashtags to increase their reach. Remember, hashtags on social media work just like keywords do on search engines.
You should experiment with different content formats and analyze which ones drive maximum engagement. Some of the most popular formats include:
Images
Carousels
Videos
Stories
Polls
Live Videos
Shoppable Posts
Memes
It is also important to create a posting schedule to help your audience know when to expect a new post or Reels. You can also disclose the topics you'll cover in your upcoming posts in advance to generate curiosity and keep your audience coming back for updates.
Many content creators announce their Live Videos, Q&A sessions, and new releases in advance to create buzz and generate more engagement.
4. Save time managing your social media accounts.
Are you managing your social media accounts all by yourself?
You should learn to delegate and automate tasks to improve efficiency and save time. You can use a powerful social media management tool to plan your feed, curate content, and schedule posts in advance.
This can give you more time to work on things that need your attention. You can track and analyze data, understand your audience better, and create content that caters to their needs and preferences.
If you're working with many people, you should create a marketing plan to define the workflow, process, and roles and responsibilities of each person in the team. It will help keep everyone aligned.
5. Join relevant groups and participate in discussions.
You should join groups and discussions that are relevant to your niche. LinkedIn and Facebook groups can help you connect with like-minded people. You can share your experiences, answer questions, and network with other industry experts.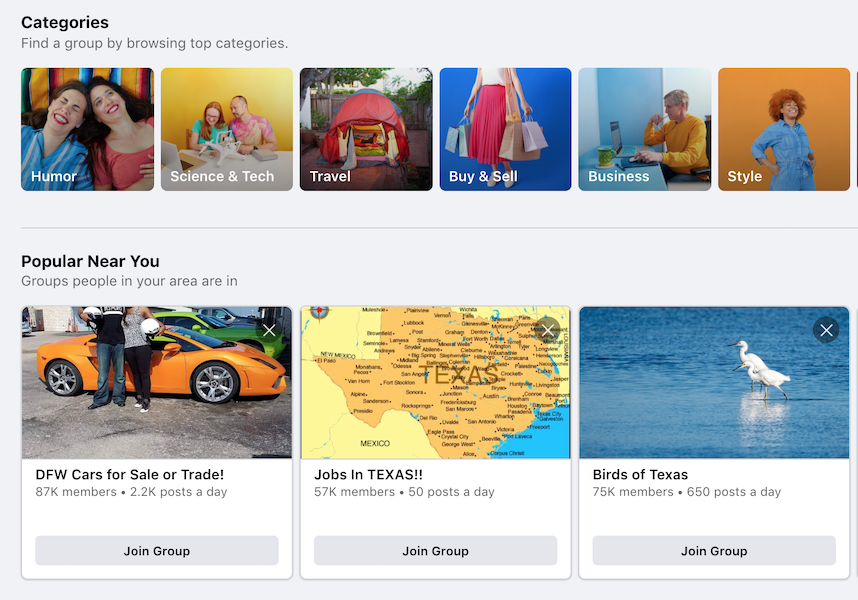 This can help you reach your target audience and grow your loyal fan base. However, you should focus on engagement quality instead of quantity. Don't join too many groups. Instead, engage more with people in a few groups that you join.
Ready to Become a Thought Leader in Your Niche?
Thought leadership is about educating first and selling later. You should spend time creating content that can help your target audience learn, improve, and grow. When you consistently provide value to users, they are likely to follow you and look up to you for advice, product recommendations, services, and more.
That's when you can start monetizing your social media engagement to make money. However, providing value should be your top priority always if you want to grow as a thought leader.
Author Bio
Sumeet Anand is a B2B Marketing Expert skilled in SEO, Social Media Marketing, and Content Marketing. He helps brands and businesses out there generate leads with his top-notch content strategies and is featured on various major media publications across the globe. You can connect with him on Twitter and LinkedIn.