'Tis the start of the holiday season. Do you have an email marketing plan to take you through the end of 2023?
If not, now's the time to start mapping things out. There will be countless opportunities throughout the holidays to connect with your audience via email. Still, Thanksgiving offers your first chance to send holiday well-wishes, announce a seasonal sale, express gratitude to your long-standing customers, and more.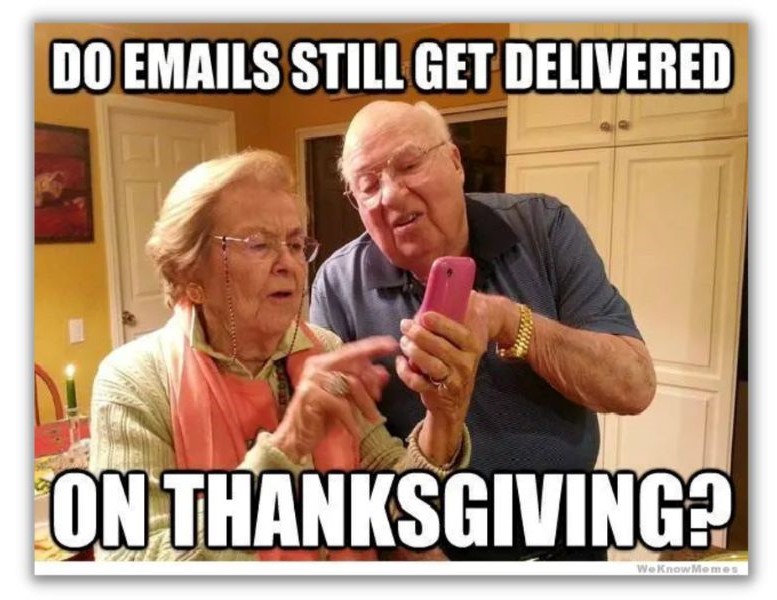 Not sure how to approach your holiday email plan? We've got some Thanksgiving email templates to help get you started!
Although these are just a piece of your holiday marketing game plan, these ideas can serve as a jumping-off point for the email portion of your communications. Starting the holiday season strong with compelling Thanksgiving email copy is a great way to keep your readers engaged throughout the rest of the year–and beyond.
Table of contents
Why send Thanksgiving emails?
If you've read anything about email marketing over the years, you've probably seen some pretty impressive stats. It's a highly effective way to connect with your audience year-round.
Most consumers check their inbox 20 times a day, and the average email open rate across industries is 38.49%.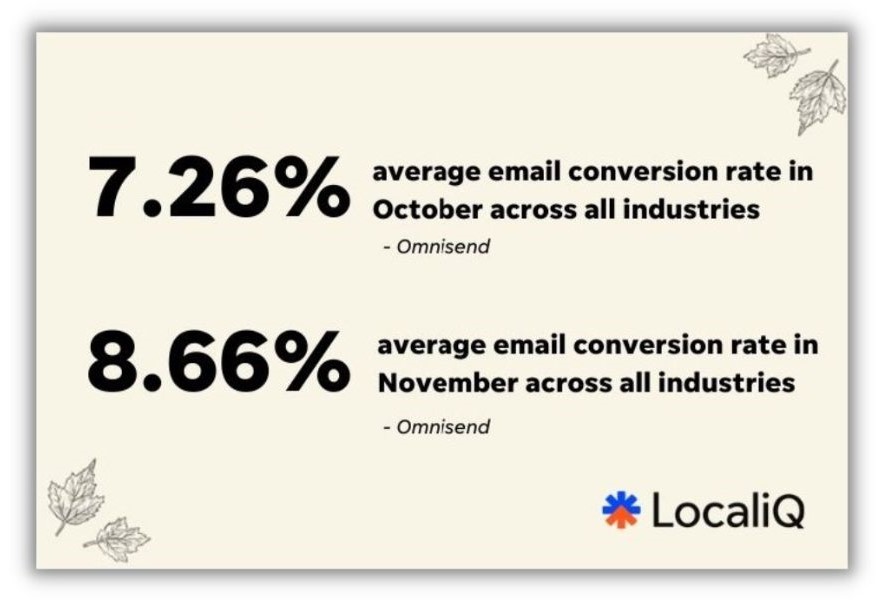 During the holiday season, things look even better. Omnisend notes a boost in email conversion rates between October and November. As we get closer to the start of the holiday season, consumers are scanning for deals, announcements, and offers, and they're ready to click on the right email from your brand!
🚨 Want to make all your email marketing a breeze? Download this completely free guide to small business emails. It's chock full of templates, subject lines, and tons of tips.
Thanksgiving email templates and subject lines to try
So, you know email is a great marketing channel, but you're not sure where to start this holiday season?
We've got some ideas. Here are some Thanksgiving messages to try, plus email templates and themed subject lines to help catch your audience's attention!
(And if you're looking for even more autumnal email ideas, check out our list of fall-friendly subject lines.)
Thanksgiving specials announcement email
Are you doing anything extra for the Thanksgiving holiday?
Many businesses in the food and hospitality industries offer seasonal menus or items to celebrate the food-centric Thanksgiving holiday.
Whether you're a brewery that wants to promote its Thanksgiving pumpkin ale or a restaurant that hopes to tout its special Thanksgiving menu, this template can spread the word.
Remember to provide clear instructions for customers who wish to take you up on your seasonal offering! Many businesses taking food orders for the holiday require customers to submit them in advance, and restaurants want diners to reserve a table. Whatever you're asking of your customers, spell it out in your email.
Subject line: Leave Thanksgiving Cooking To Us 
Body copy: 
Thanksgiving hosting stressing you out? We've got you covered! 
Whether you're looking to dine with us in person or want some help in the kitchen at home, we're here. 
We're offering a special pre-fixe menu for those who join us on Thanksgiving Day. You'll enjoy a turkey dinner with all the fixings, plus an optional wine pairing. 
Or, if you'd prefer to spruce up your own table with extra sides, you can pre-order from our menu of take-home savory dishes and pies. 
Sound good? Let us know to expect you! 
Reserve your table with us here [link to reservations page] or use the button below to review our take-home menu and place your order. 
CTA: Place Thanksgiving Order 
(Please note: We ask that all take-home orders be submitted by [date] so we can guarantee your request.)
Thanksgiving event invitation email
Are you hosting a special Thanksgiving event at your location? There are dozens of ways you may choose to celebrate the holiday. You could hold:
A Turkey Trot walk or run
An all-day Thanksgiving football viewing party
A Macy's Day Parade gathering
A "Friendsgiving" meal for those who don't have other holiday plans
Your very own mini-Thanksgiving dog show with local pups
A Thanksgiving-themed arts and crafts night for families
No matter what kind of event you put together, you'll want to send out invites! Here's a Thanksgiving email template to spread the word about your special holiday event.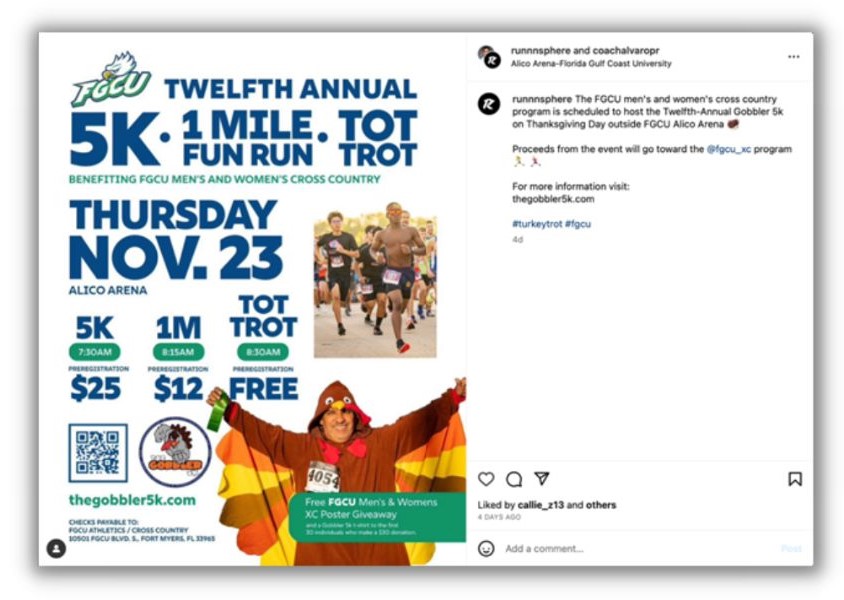 Subject line: Join Us: [Thanksgiving event name or description] on [date] 
Body copy: 
Celebrate Thanksgiving with us! 
This holiday is all about spending time with those you care about, so we're hosting [event name] for our community.  
[Include a brief description of the event and why someone would want to join.] 
Sound good? Here are the details: 
Date: [date] 
Time: [time a.m./p.m.] 
Location: [address] 
[Include anything else they need to know. For example, if you're hosting a football viewing party and want attendees to wear their best tailgating attire, tell them here.] 
Sound like fun? Follow the link below to learn more [and/or] RSVP. 
We hope to see you there! 
CTA: Learn more [and/or] RSVP
Pre-Thanksgiving sales email
Consumers spent $936.3 billion during the 2022 holiday season. Thanksgiving is the gateway to the year's biggest shopping days: Black Friday, Cyber Monday, and Small Business Saturday.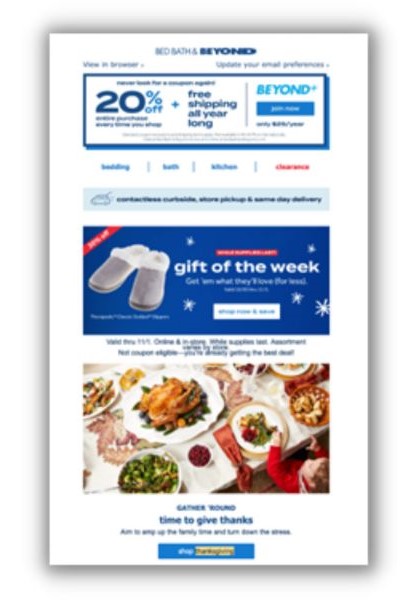 Over the years, more brands have pushed up their sales to start before Black Friday. Some offer deals that kick in on Thanksgiving night (nothing like a little retail therapy while you digest a big meal!), and others even start the discounts in the weeks leading up to Thanksgiving.
No matter how you structure your pre-holiday sale, here's a Thanksgiving email template to help you promote your offer.
Subject line: Black Friday's Come Early This Year 
Body copy: 
Hate the Black Friday rush? Want to get a head start on your gift list? 
Good news: We're starting the holiday sales early this year!  
Shop in-store or online starting on [date] and enjoy [amount]% off all items! 
Start making your list and checking it twice today! Then, get ready to shop on [date of sale]. 
CTA: Start My List
Thanksgiving modified hours email
Stores often adjust their hours around the Thanksgiving holiday, but there are no hard-and-fast rules for when consumers can expect businesses to be open. Share that information proactively!
Let customers know if you'll be open late before the holiday, your schedule for Turkey Day, and how Black Friday and the big sales weekend will impact your hours.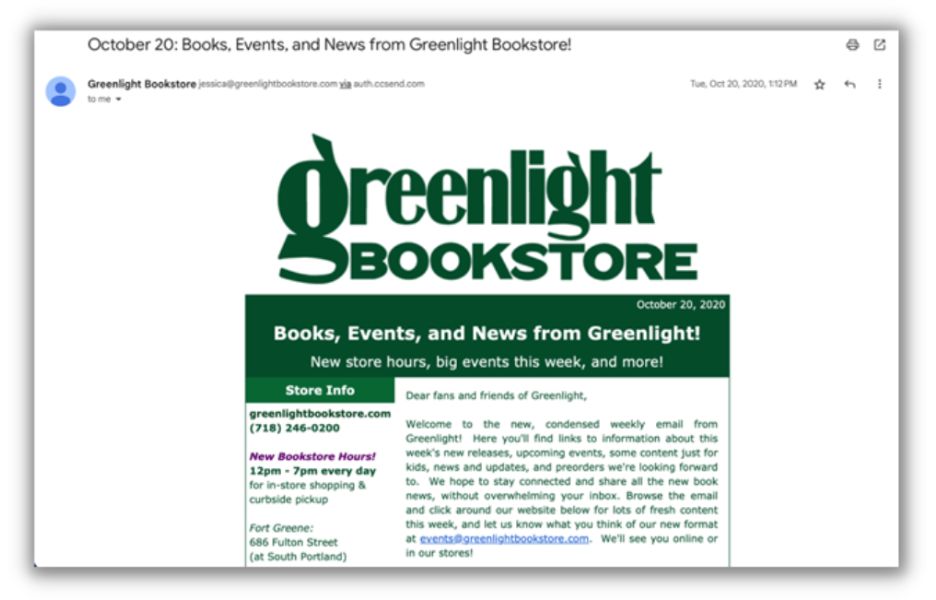 Whenever you change your store hours–holiday or not–email customers to let them know!
Subject line: Check Out Our Thanksgiving Hours 
Body copy if your hours are extended: 
We're here to help you start your holidays right! 
Our store will be open late on Thanksgiving Eve, Wednesday, November 22. Shop until [closing time] p.m. and grab those last-minute essentials for your holiday gathering. 
Our full holiday schedule is as follows: 
[Include your hours for Thanksgiving Eve, Thanksgiving, and any relevant dates in the coming weeks where your hours will be modified.] 
We'll see you soon!
Body copy if your hours are limited: 
Family is important to us at [Business name]. That's why we're giving our team extra time to relax and gather with loved ones. 
We'll be closing at [closing time] p.m. on Wednesday, November 22 (the evening before Thanksgiving). We'll also be closed all Thanksgiving Day, Thursday, November 23. 
We look forward to welcoming you on Friday, November 24 at [opening time] a.m.! 
Wishing you and yours a very happy start to the holiday season.
👋 Email marketing is a great strategy any time. Make sure your emails are getting read with this huge list of Email Subject Lines for Every Month of the Year.
Black Friday (or Cyber Monday) sale emails
If you forgo the pre-Thanksgiving sale, you might consider getting in on the Black Friday, Cyber Monday, or Small Business Saturday fun (or all of the above!).
The best Black Friday sales don't just appear out of thin air on Friday morning. They need a little advanced promotion, plus continued attention throughout the sale period.
You might also add a special twist to your Black Friday sales email to sweeten the deal for prospective buyers. Doorbuster deals–where you offer a limited-time deal at the start–or last-chance extra discounts in the final hours are popular options to up the ante on Black Friday sales.

Here are a few Thanksgiving email templates to help you promote your sale before and during!
Black Friday sale teaser/announcement email
Subject line: Get Ready: Black Friday Deals Are Coming! 
Body copy: 
It's the most wonderful time of the year! And we're taking Black Friday to the next level this season. 
Shop online starting at midnight on Friday, November 24. Or join us in-store from [time] a.m – [time] p.m. 
We'll be offering some of our biggest deals of the season! We can't give it all away (yet), but here are a few things to look forward to: 
[Tease some of the bigger/more enticing deals you'll include as part of your Black Friday sale. Include images of the products that link to your e-commerce store, if applicable.] 
See you then!
Black Friday sale reminder email
Subject line: It's On: Snag Black Friday Deals NOW! 
Body copy: 
Our Black Friday sale is happening now! 
Join us in-store or online for up to [amount]% off on our entire inventory! 
That includes: 
[Highlight some of the bigger/more enticing deals in your Black Friday sale. Hyperlink out to your e-commerce store for each item, if applicable.] 
These deals won't last forever. Shop now to start your holiday season right! 
CTA: Shop The Sale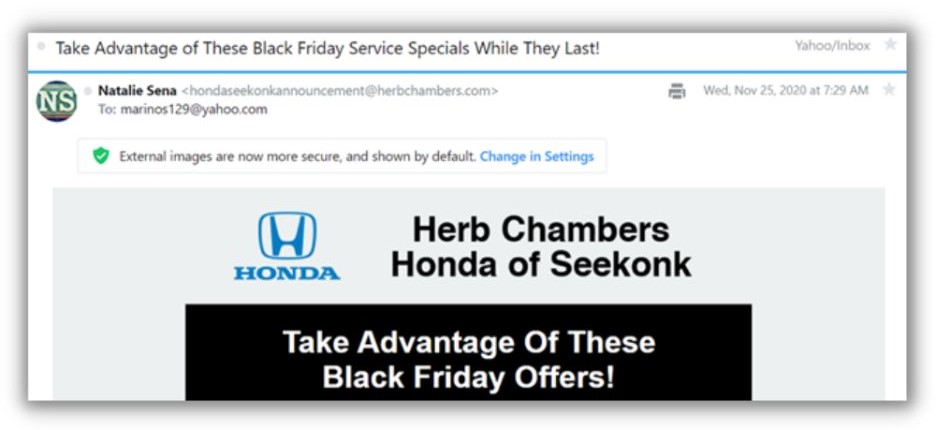 Black Friday final reminder email
Subject line: Last Chance – Black Friday Deals End [day/time] 
Body copy: 
What are you waiting for? Our Black Friday sale ends [day] at [time]. 
Don't miss these deals! Shop now to enjoy up to [amount]% off your entire order. 
CTA: Shop Now 
Still not sure? If you spend more than [dollar amount], we'll also throw in free shipping on online orders plus an additional [amount]% off.
Customer appreciation email
Thanksgiving is a holiday for expressing gratitude. This is the perfect time to thank your customers for their continued loyalty. Whether you simply send a heartfelt note or add a discount code as thanks is up to you. But this is a non-sales-focused way to land in customers' inboxes before the holidays.
Subject line: We're Thankful For You
Body copy: 
Dear [First Name], 
As we begin the holiday season, we're reflecting on the many things we're grateful for at [Business name]. 
At the very top of our list is you.  
Thank you for your continued support throughout the year. If we haven't seen you lately, we hope you'll stop by during the holidays! We'd love to send some season's greetings your way in person. 
In the meantime, we wish you and your loved ones a Happy Thanksgiving. 
In gratitude, 
[Business name]
Customer feedback request email
Thanksgiving inspires feelings of generosity in us all, which makes it an ideal time to ask customers for feedback. This might be an internal survey, or you may ask if they'd be willing to share a public review of their experience with your business.
Just be aware that some platforms, like Yelp, prohibit review solicitation, while others, like Google, say it's okay to ask for reviews, but you can't selectively solicit feedback.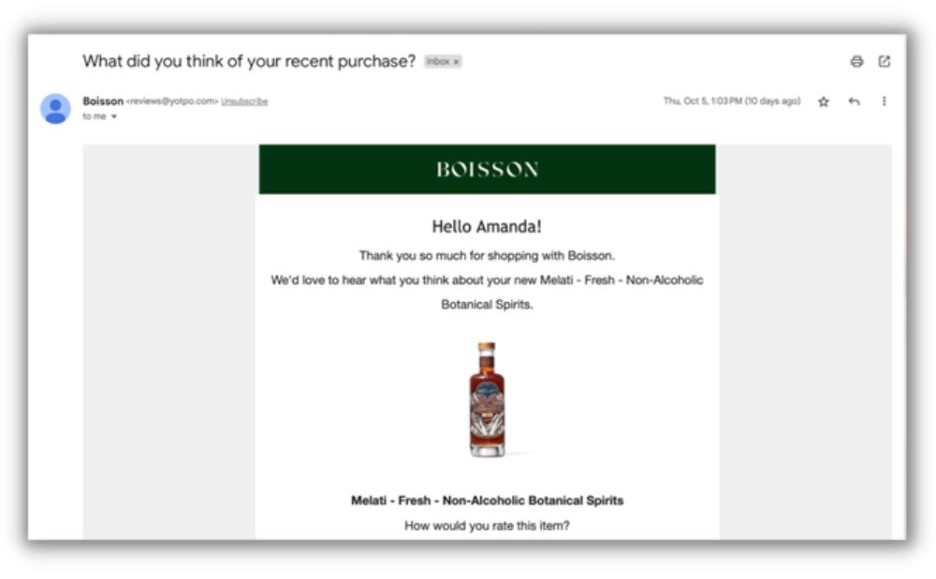 For a customer survey request
Subject line: We Want To Hear From You 
Body copy: 
Hi [First Name], 
The season of gratitude is upon us, and we're so thankful you've chosen to work with us this year. 
We strive to exceed expectations every day, and we can only do that with customer feedback. Would you be willing to share your experience with us? 
This ~3-minute survey will help us understand how to do even better next time. Thank you for sharing your perspective! 
CTA: Take the Survey
For a customer review request
Subject line: What Did You Think? 
Body copy: 
Hi [First Name], 
Thanks so much for your recent purchase with us! As we enter the holiday season, we wanted to take a moment to express our gratitude. 
A small business like ours relies on reviews and referrals to grow. A short online review can make a big difference in getting the word out about what we do. 
Would you be willing to write us a review on [review platform]? We value your open and honest feedback. 
CTA: Write Review
Thanksgiving email templates to spice up your holiday season
Thanksgiving launches us into the holiday season–a critical time for most businesses. By taking a proactive approach to your Thanksgiving email marketing, you position your business for success throughout the rest of the year.
Use these Thanksgiving email ideas to inspire amazing communication with your customers leading up to Turkey Day:
Thanksgiving special announcement emails
Thanksgiving event invitation emails
Pre-Thanksgiving sales email
Thanksgiving modified hours email
Black Friday (or Cyber Monday) sale emails
Customer appreciation email
Customer feedback email request