TikTok is built for content discovery. All those creative videos you post will attract lots of new people to your profile. And guess what they'll see when they get there? Your TikTok bio.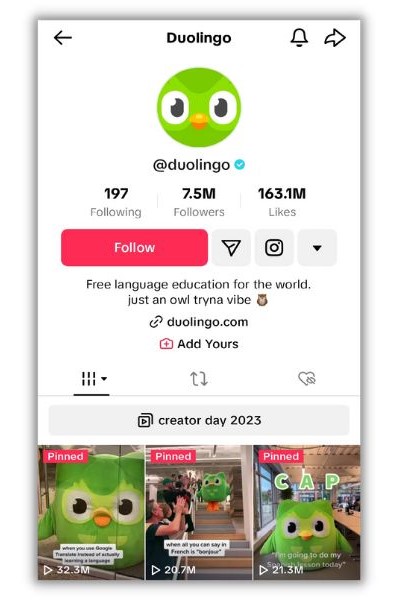 What's your TikTok bio vibe?
Your bio is an introduction to what your brand is all about. It's a welcome sign that tells people they're in the right place.
That's a lot riding on that little bio. That's why we've pulled together this list of outstanding TikTok bio ideas and examples. Give it a scan and get inspired to write the perfect bio for your TikTok account.
Tips to create your perfect TikTok bio
Your TikTok bio is an important piece of your TikTok marketing strategy. Before you post engaging videos or spend money on TikTok ads, you'll want to create a bio that's worthy of all the traffic you'll send to it.
These tips will help you write a TikTok bio that keeps people interested when they click on your profile.
Pack it with personality
You have a few seconds max to catch someone's interest on TikTok. Go big in your bio and let your personality shine through.
Read innocent drinks' bio and you'll know they're not above a little self-depreciation.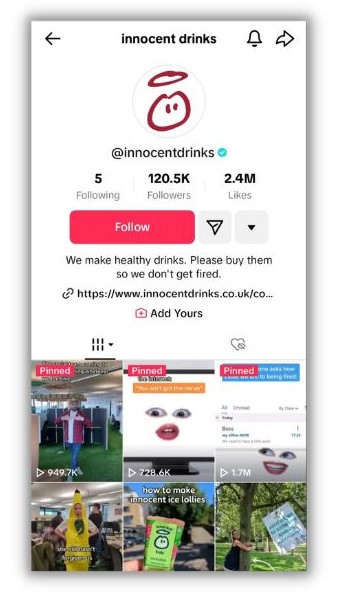 Keep it short
You don't have a lot of space to get your point across in a TikTok bio. In fact, you're limited to 80 characters (and you thought Tweets were too short!).
Check out Taco Bell's TikTok bio. It's two words—just seven letters. But saying "live more" is enough for the iconic brand.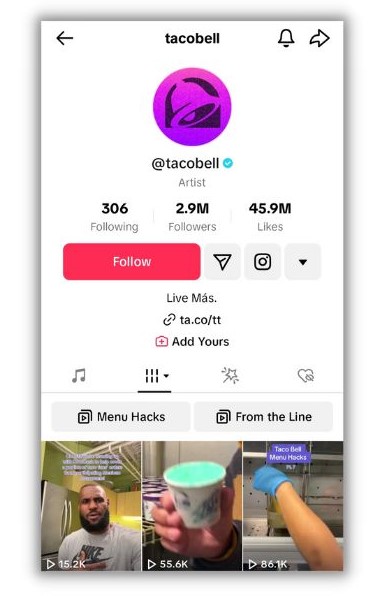 Stay on brand
There's an old saying that goes something like "if you try to be everything for everyone, you'll end up being nothing to no one." When writing your TikTok bio, stick to the brand that your fans and customers love, even if it means some people won't get it.
If you follow the company's marketing, you know that Ryanair does not care. They even say so in their TikTok bio.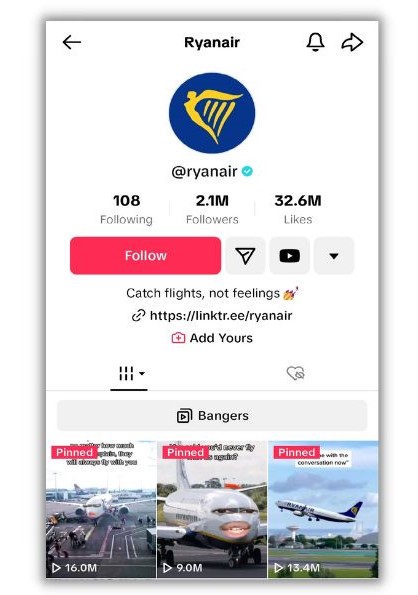 Add a link to your TikTok bio
Once you've amassed 1,000 followers on TikTok, you're allowed to add a clickable link to your bio. Use that valuable real estate and get more people to your website, product pages, or other social media accounts.
Here's an extra sneaky tip. See that link in Mezdha's bio?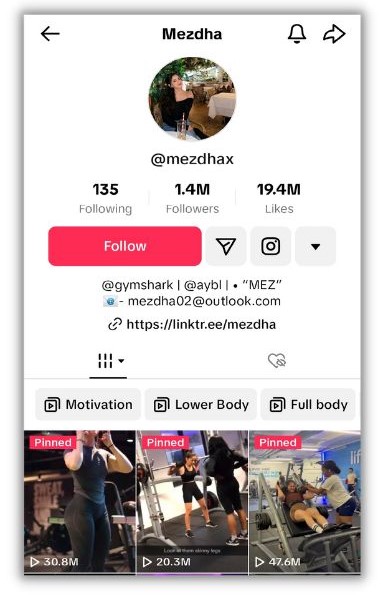 It goes to a Linktree landing page. Tap it and you'll see several links to her workout plans, nutrition education, and other social profiles. Use the same strategy to sneak more links into your TikTok bio.
And if you're not at the 1k follower mark, you can still type a link into your bio. It just won't be clickable.
Use emojis and symbols in your TikTok bio
A picture is worth a thousand words, which means a few emojis 🔥 or Unicode symbols ( ͡° ͜ʖ ͡°) can do a lot of heavy lifting in the limited space of your bio. Use them to show your personality, tell people what you do, or even tell them what they should do.
Check out how Burn the Jukebox uses an emoji as part of a call to action, telling people where they can find their latest single.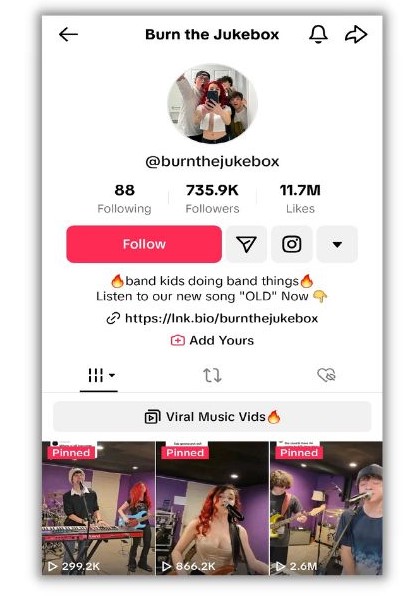 To add some visual flair to your bio, copy and paste emojis and Unicode symbols into the TikTok bio dialog box.
Hash it up
Hashtags are a versatile social media marketing tool that helps your brand and content get discovered. So of course you should use them in your TikTok bio!
Health-Ade has a dual purpose for its bio hashtags. They added the #guthealth tag so people looking for gut health information will find their account. And they used the #followyourgut tag as a funny play on a popular saying.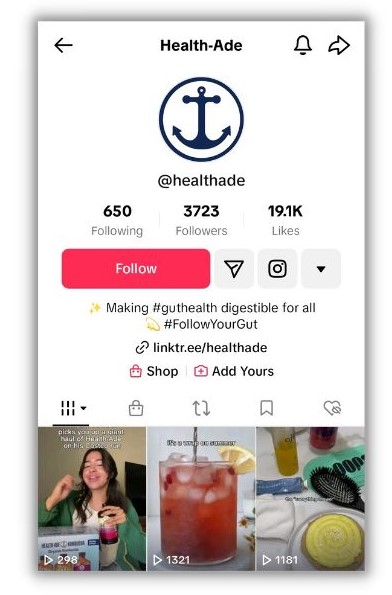 If you're looking for TikTok hashtag ideas, our friends at WordStream have you covered!
Thematic TikTok bio ideas
Does your brand bring the jokes? Are you more of an inspirational force? No matter what your vibe, there are ideas in this list ready to inspire your masterpiece TikTok bio.
Funny TikTok bio ideas
Wendy's has been killing the social media game for a long time. So of course you'd expect no less than hilarity from their TikTok bio. In this case, the burger brand leans into a cultural moment that happens to reference their restaurant.
Here's a heaping helping of funny TikTok bio ideas to help you write your own.
Mostly a chinchilla fan account [insert your own funny obsession]
Just a brand asking for your attention👋
I forgot why I walked in here
Big [insert funny character] energy
Hey, our mom likes this account!
Here for the free condiments
Living vicariously through my dog🐕
We're in it for the tacos🌮
Love our videos or your money back
Tap Follow if you hate this account
*Please place a clever bio here*
Does anyone have any information or know anything about something?
Inspirational TikTok bio ideas
Revolution Beauty makes cosmetics accessible and cruelty-free. Their uplifting message that makeup is for every person shines through their TikTok account. In its bio, the brand inspires followers to be a part of their movement.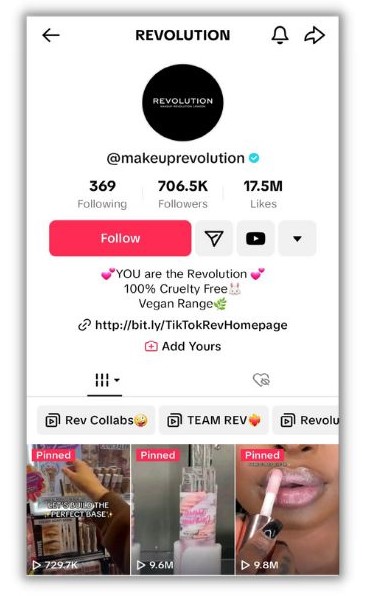 Use these inspirational TikTok bio ideas to motivate your followers and brand fans.
No room for hate here❤️
We welcome all who visit
Self-care everywhere
Be kind, especially to yourself
You're better at being you than any has ever been
Just do the next little thing and you'll get there
We see you, we love you
Risk it all to get it all
Improvement, not perfection
You have nothing to prove here. You are enough.
"You get knocked down. You get up again." – Chumbawamba
Every pizza is personal-sized if you're dedicated enough🍕
Cute TikTok bio ideas
With a name like e.l.f. Cosmetics, you expect the brand to be adorable. The company's TikTok content doesn't disappoint and neither does its bio. They do a great job straddling the line between welcoming and witty.
These TikTok bio ideas will greet your new followers like a friendly little digital hug.
It's all rainbows🌈 and unicorns🦄 in here
C'mon in, have a seat, grab some snacks
It's always sweater weather here
Not responsible for posts while hangry
We don't mind if you stare👀
Look as hard as you want, you won't find judgment
Could you BE any cuter?
Now that you're here, we can get started
Stress-free zone
The only rule is to be yourself (oh, and share your cookies)🍪
Have a seat, we'll take it from here
Spilling all the tea☕
Informational TikTok ideas
What kind of content can you expect from the Fowlerville District Library? Why it's book recommendations and TikToks about library life. We know because they say so right in their bio.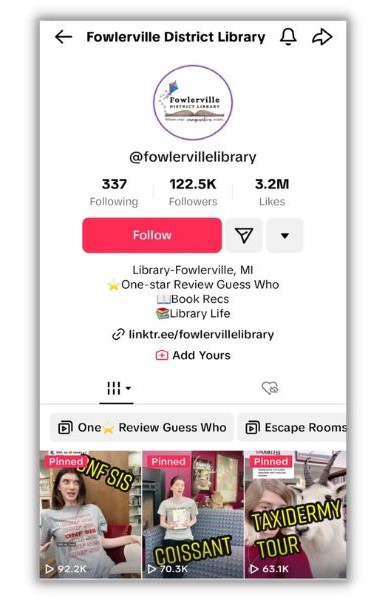 Informational bios like this one tell people exactly what to expect from your content. Here are some ideas you can use to set the stage for your TikTok account.
A bunch of recipes and the occasional dad joke
Want to see behind the scenes of a big city restaurant?
101 uses for [insert product]
The internet's home for party planning videos
Sew you want to be a seamstress?
Follow along for more [topic] tutorials
This information is on a knead to dough basis🥐
You finally found where we keep the [topic] videos
Do you love [topic]? You're gonna love this account!
Pardon us, but may we tell you about [topic]?
TikTok bio ideas and examples for your industry
If you're marketing a business or organization on TikTok, you're going to need some clever bio ideas. We have plenty of them and we've sorted them by industry for easy skimming.
TikTok bio ideas for travel and tourism
Travel booking website Kayak posts a range of content on TikTok, from educational to irreverent. Their bio leans towards the latter.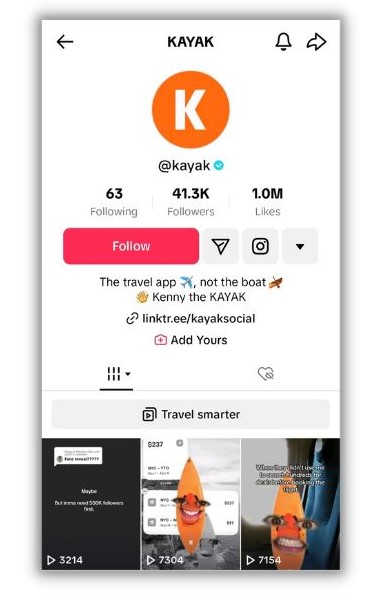 These TikTok bio ideas will work for your travel and tourism business, no matter where your brand lands on the smart to silly spectrum.
We're here to get you there
Opening a window to the wider world through travel
Travel tips and tricks to make travel more fun
Why you trippin'?
Let's get going✈️
The rains in Spain fall mainly on our planes
All who wander are not lost
We're going on an adventure
Everything you need to visit [location]
Official tourism account of [location], plan your visit with us👇
TikTok bio ideas for home services
Plumbers, electricians, and HVAC service companies aren't the first thing that comes to mind when you think of TikTok. But home service professionals like Auri Katariina are cleaning up on the social media platform. Notice how she's used emojis, style, and a little bit of brashness to make the most of her TikTok bio.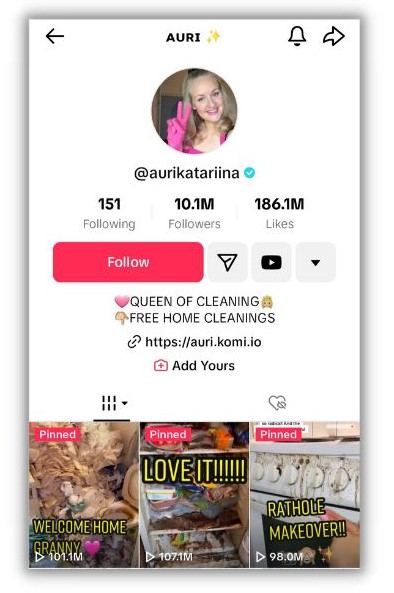 Want to have 10 million followers of your home services account like Auri has? These TikTok bio examples just might help you get there.
Bringing the heat so you can keep your cool
What we do in the shadows
Living the pipe dream
We've been framed🔨
Teaching you how to avoid calling me🛠️
Daily life of a [profession]
We're in over your head [roofer]
Daily videos of what we've built
Follow for landscape and lawn care tips
Helping you improve your home one video at a time
TikTok bio ideas for real estate agents and brokers
In real estate TikTok, it's all about location. Well, it's also about what makes you stand out as a real estate professional.
That's exactly what Amber Perkins has done with her TikTok bio. Her bio says where she's located, shows some spark, and uses an emoji as a CTA to get in touch.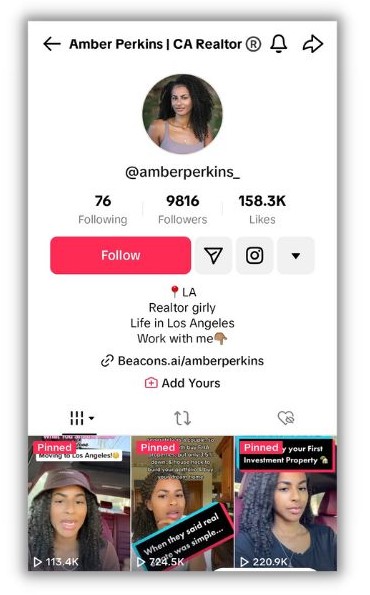 Grab one of these TikTok bios for real estate professionals and watch your profile value go way up.
Your luxury real estate partner
Home tours and real estate life in central Iowa
What to expect when you're expecting to buy a home in California
Breaking down the mortgage process
Making moves in central PA
Follow me if you want to live…in a new home
Start your real estate journey with us
Setting you straight on real estate🏡
#1 mountain states real estate pro on social media🥇
TikTok bio ideas for professional services
While you want to keep your TikTok bio more professional if you're a lawyer, investment pro, or tax accountant, it doesn't have to be boring.
Check out this bio from Ugo Lord. The attorney quickly tells us his specialties and how to reach him, but does it with a little flair.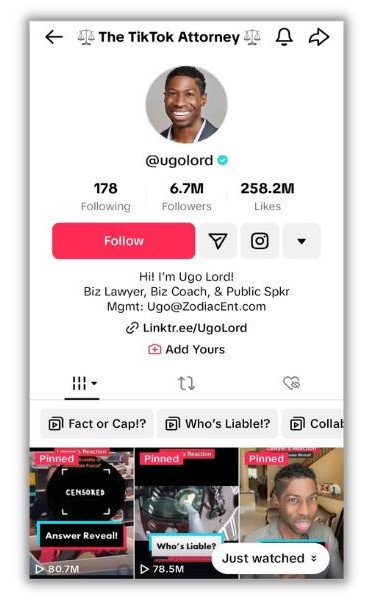 These professional services TikTok bios will generate lots of buzz for your business.
I went to [profession] school so you don't have to
Chicago's top-rated business accountant1️⃣
Breaking down the legalese of contracts for you
Money-saving tax tips from your favorite LA accountants
Videos that make cents of investing👛
Tax strategies for budding businesses
Follow us if your money isn't managing itself
If your favorite uncle was a lawyer
Helping you navigate real-world legal questions
Practical advice for every investor
TikTok bio ideas for health and fitness
Health and fitness topics are taking off on TikTok (videos tagged with #healthcare have over 14 billion views). The right TikTok bio will help you take advantage of this trend.
Look at this dental hygienist's bio. It's fun, relevant to her profession, and includes her credentials (a good idea if you're explaining health and fitness topics).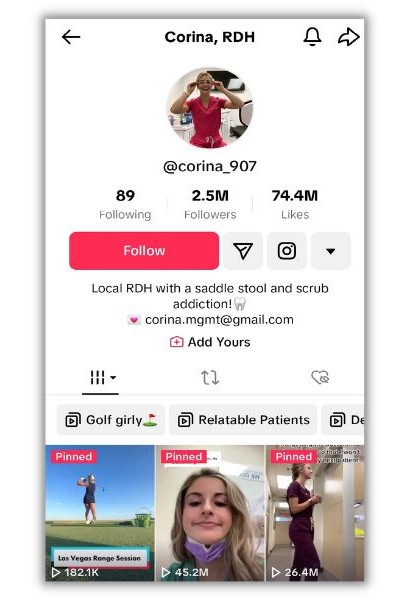 We can't list every three-letter accreditation, so take these health and fitness TikTok bio examples and add your creds as you see fit.
If teeth were self-cleaning, you wouldn't need us🦷
Connecting mind, body, and soul
Family medicine, holistic approach, education first
Dental pros with a love of clean teeth and 80s power ballads
Explaining dental procedures daily
Healthy movement professional keeping you moving to the beat💃
Education, support, and a little humor for people on a fertility journey
I fix teeth for a living
Showing you how to turn food into your best health ally
Helping you untangle the messy world of health insurance
Follow for funnier videos than you'd expect from a podiatrist🦶
How to edit your TikTok bio
Creating and editing your TikTok bio is easy. It only takes a few steps.
Open TikTok
Tap your profile in the lower right corner
Tap "Edit profile"
You'll land on a page with lots of profile customization options.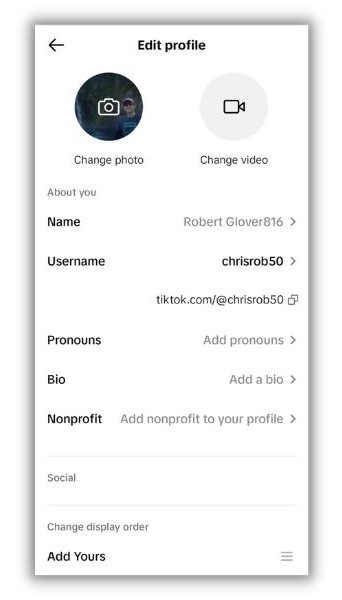 The actual Bio tab is near the bottom. Tap it to type in your 80-character-max bio.
You can also update your profile image or video, add pronouns, and pick a different username. With a business account, you can add links to other social media accounts.
[Box]
If TikTok isn't the only place you market online, use this ultimate guide to cross-channel marketing to build your brand across all your platforms.
[/box]
TikTok bio FAQs
TikTok bios are deceptively tricky. These FAQs will help clear things up.
Where is the TikTok bio located?
Your TikTok bio is located just under your follower and like counts and just above your videos.
Why can't I add a link to my TikTok bio?
Only accounts with more than 1,000 followers can add clickable links to their TikTok bio. You can type a link into the bio text box, it just won't be clickable.
How long can my TikTok bio be?
TikTok gives you 80 characters in your TikTok bio. That includes spaces, special characters, and even one character every time you hit enter. So your bio needs to say a lot in a small space.
Get more followers with your TikTok bio
If people tap over to your account after seeing a single video, they don't have a lot of information to decide if they want to follow you. Your TikTok bio can help them make that choice.
To get create the best TikTok bio for your account:
Make your bio relevant to your audience
Add some personality so it's memorable
Use emojis to emphasize your vibe
Include a link if possible
Add a CTA that tells visitors what to do next