Every year, marketers and business owners pose the same question: "Is email marketing dead?" It's a morbid way of asking whether or not email marketing is still effective.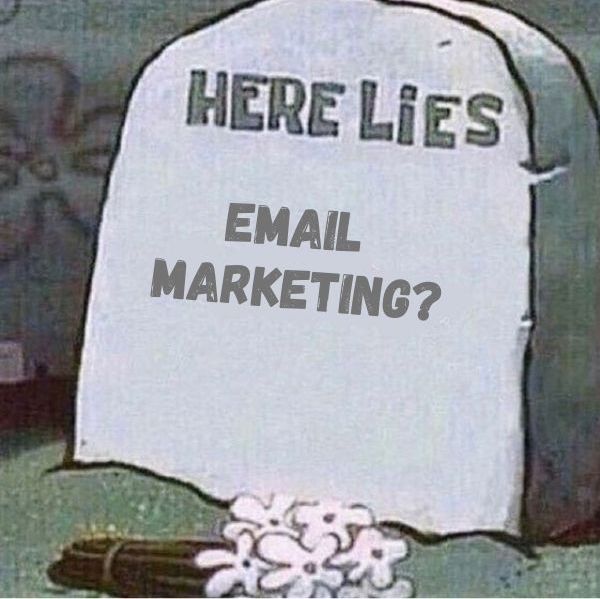 We're here to tell you that not only is email marketing alive and well in 2023, but it continues to be one of the most effective marketing channels in terms of return on investment and engagement with a return of $42 for $1 spent. Plus, it's one of the most preferred marketing tools by US small business owners.
Like any marketing tactic, it all comes down to having the right strategy. Especially if you want your business's email marketing to stand out from the other small businesses and large brands also using this tactic. In this post, we are going to:
Describe six types of emails that must be an integral part of every small business marketer's email marketing arsenal.
Share when you should send them to your contact list.
Outline how frequently to send each type of email.
These types of emails will help you focus your efforts to build stronger relationships and grow sustainable revenue in a time-efficient and cost-effective manner for your small business.
6 types of emails every small business needs to send
Let's take a closer look at the top types of emails, when you should send them, examples, and best practices for making them work for your business.  
1. Monthly email newsletters
The main aim of an email newsletter is to establish regular communication with your prospects and customers. Small businesses can use email newsletters with two main purposes in mind:
To educate prospects and customers about their business.
To nurture existing customers with the company events, news, and product launches.
By creating effective and engaging email newsletters, you will be remembered by a prospect when they need a product or service you offer. For example, if you have sent an email newsletter with packing tips for your next move plus a moving checklist, a prospect may contact your moving company to help with their relocation.
When and how frequently to send email newsletters
The best cadence for an email newsletter is monthly. You can then increase the frequency with time and after calculating valuable insights from your audience who have shown interest. Always remember that the recipients of email newsletters get into the habit of anticipating it on a regular basis. Your aim is to transform that habit into an addiction (a virtuous one, of course!).
Email newsletter example
In the following newsletter, Salesforce promotes its blog with an exquisite illustration and a concise description of the blog content and its value to its recipients. It has also leveraged the diversity available to newsletters by including CTAs to other blog posts.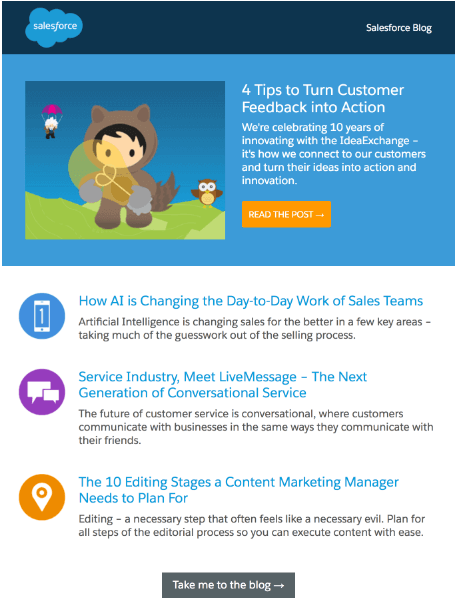 A word of caution about email newsletters
Email newsletters allow you to include various content types like blog posts, whitepapers, offer discounts, surveys, etc. in one place. This very diversification, however, can sometimes scatter the recipients' attention. That's why it's a best practice to put the most important message at the top along with a clear call to action.
Get more newsletter tips and ideas here.
2. Promotional emails
Promotional emails are like landing pages with a single message and a single goal focused on one call-to-action—typically promoting a sale, discount, or other deal. For small businesses, there are many instances when reaching out to the entire contact list is a good idea. For example, monthly offers, business events, national festivals, etc. can all warrant a promotional email.
Related: Want to get your promotional emails seen by more potential customers? Find out how to build an email list fast!
At other times, it's best practice to use segmentation so that a particular promotional email is sent to a specific segment of your audience. For example, a lawn care discount wouldn't apply to your customers who rent apartments.
One big benefit of promotional emails is that they can make tracking your progress easier and faster, which is something highly valuable when determining what works best for your marketing strategy.
When and how frequently to send promotional emails
Whenever a new product or service is launched or you're offering a new deal, it's a good idea to send a promotional email to your relevant contact list. Make sure to send a series of promotional emails leading up to your sale or event to give contacts ample time to take advantage with plenty of reminders.
Promotional email example
The below email from Evernote is exquisitely designed and includes an animated GIF. The most important aspect of this email is its clear-cut CTA with only one goal: Conversion!
A word of caution about promotional emails
What if there are more than two significant things happening in your organization at the same time? A product is being launched and a discount is being offered all at the same time. You can include both in your promotional email or direct recipients to a landing page that has more information about offers and specials you have running.
3. Transactional emails
Transactional emails are the messages that recipients anticipate from businesses to complete an action like buying a product or service. Since your audience can't proceed without interacting with the transactional email, they are bound to open them, fill out mandatory information, and click. Therefore, transactional emails have very high click-through rates, which gives your small business a great opportunity to send them additional (and engaging) information.
When and how frequently to send transactional emails
Some of the situations in which you can send transactional emails are as follows:
Password reset
Delivery notifications
Order confirmation
Invoice generation
Shipping confirmation
Legal and procedural updates
Transactional email example
The transactional email from Airbnb below contains the vital information about booking details, costs, and location. It may also contain additional information about your host. A recipient is always going to click on this mail to get the required information.
A word of caution about transactional emails
There is, usually, no unsubscribe option in a transactional email because their purpose is to facilitate transactions. So it's important never to use transactional emails as a means to generate extra revenue.
4. Seasonal emails
One easy way to incorporate email marketing into your marketing plan is to use holidays and seasons to send additional emails and stay top-of-mind all year long. Seasonal emails for holidays and events are a natural time to get in front of customers with seasonal products, promotions, events, and ideas. For example, you might create seasonal flavors for your ice cream shop or create holiday gift guides each year. You can share these updates in seasonal emails that will get your customers to visit your business.
Related: Get more seasonal marketing tips here.
When and how frequently to send seasonal emails
Having an email marketing calendar and planning well in advance is a good idea. From spring to autumn, Christmas to New Year, and Black Friday to Cyber Monday, you can leverage each event to make interesting holiday emails with effective subject lines that capture your audiences' attention.
Seasonal email example
Intuit leverages seasonal emails to prompt its users to check their credit score in a creative way.
A word of caution about seasonal emails
Before executing your seasonal emails, make sure to take the demographics of your recipients into consideration. If your list is comprised of an older population, sending "Back to School" emails might not resonate as much as it would with parents or teens and young adults. Get tips to identify your target audience here.
5. Lead nurturing emails
One of the most important types of emails for small businesses is the lead nurturing email, which is not a single email, but a series of emails with the sole aim to keep your target audience engaged with useful content, guiding them through to the bottom of the sales funnel and ultimately converting them. For lead nurturing emails, it's best practice to use marketing automation tools that can help you streamline and automate this effort based on where a customer or prospect is in the buyer's journey.
When and how frequently to send lead nurturing emails
For sending better lead nurturing emails, it is important to have a very good idea about your customers and how they engage with the sales funnel. If you have a longer buying cycle, you may need to send emails every couple of months for up to a year as you nurture leads through the buyer's journey. If you have a shorter buying cycle, you may need to send more frequent emails that provide the information your prospects need while also urging them to take action quickly.
Lead nurture email example
Dunkin Donuts utilized its launch of a new coffee to reach out to their audience in the email below. Observe how they showcase their new drink, invite the recipients to locate the nearest store, and ask them to connect on Snapchat, all of it, through one email.
A word of caution lead nurture emails
You have to have a lot of patience when it comes to marketing through lead nurturing emails. The spike in traffic and conversion will not be significant on day one, but with a little tweaking and testing, you can see great marketing ROI in the long run.
6. Survey emails
Survey emails are emails you send to your customers to collect customer feedback. These types of emails are crucial if you're looking to improve on your products and services—plus, they can make your customers feel heard and cared for.
You can send open-ended emails asking your customers to respond to you directly with their feedback, or you can embed or add a survey link they can click to so you can collect all responses in one central location.
Collecting feedback from your customers gives you valuable information that can help you improve your business, so they're definitely a type of email you shouldn't overlook.
When and how frequently to survey emails
You can send survey emails at different times throughout the buyer's journey. For example, you can send a survey or feedback email after each purchase or service to ask your customers about their experience. You can also send a survey email to customers yearly or quarterly to gather feedback you can use for planning and improvement.
Use these customer feedback questions to create the best survey emails.
Survey email example
Online clothing boutique Love, Bonito used the below survey email to gather information about their community they can use to improve products, shipping, and more. They even offered a small promotion to anyone who completed the survey as a thank you for their time.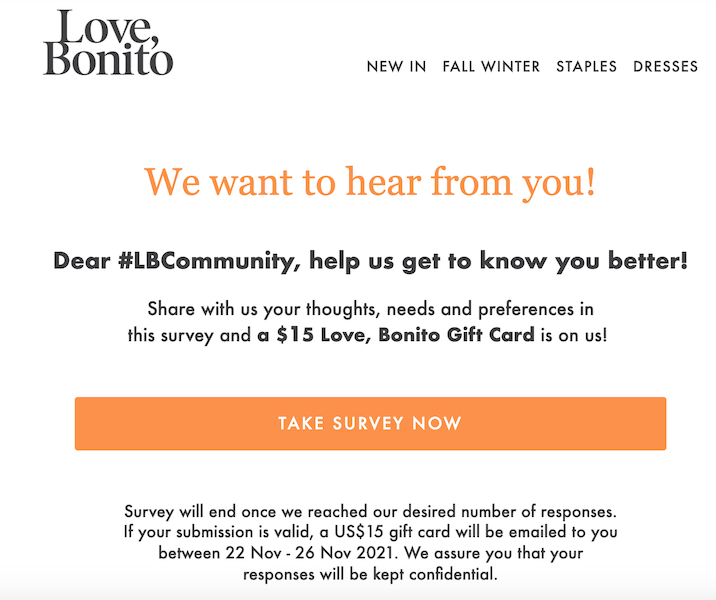 A word of caution about survey emails
Aside from post-purchase feedback emails, try not to send too many survey emails or your audience might feel like you're not taking their initial feedback seriously. It can also be helpful to send a follow-up email to those who completed your survey to let them know what meaningful changes your business is making or has made as a result of their feedback.
Use these popular types of emails in 2022
Email marketing will continue to be a big hit for small businesses in 2022. By using the most popular types of emails—and sending them at the right times to the right people—you can keep your audience engaged, drive them to take action, and grow your business with ease.
Here are the top types of emails to send in 2022:
Monthly email newsletters
Promotional emails
Transactional emails
Seasonal emails
Lead nurturing emails
Survey emails