Spooky season is upon us! Now is the perfect time for carving pumpkins, enjoying some spiced apple cider, and trying your hand at some marketing witchcraft.
Building your marketing messaging around an upcoming holiday or season can have a few distinct benefits. It helps you stand out–from that of other brands and your own typical, non-seasonal communications.
It also allows you to tap into the cultural excitement inherent in the holiday. (Which is almost as good as having real magical powers, as far as we're concerned!)
Finally, seasonal marketing allows you to flex your creative muscles and find some extra enjoyment in your marketing work. And when your readers engage with your festive content, they just might get a sixth sense about how much fun creating it.
The great thing about Halloween is that it's a non-denominational holiday that people from all walks of life like to celebrate. Just about anyone–from young children to college students to parents and grandparents to business owners like you–can get in on the fun.
Are you looking for some ways to create scary-good Halloween marketing slogans for your business? We've got ideas to help you conjure up the perfect marketing magic potion.
Halloween marketing slogans for:
Halloween marketing slogans your business can use (and the ideas to use them for!)
Of course, your marketing slogans don't exist in a vacuum–you write them to promote an underlying campaign. When you create marketing events, concepts, and promotional ideas that fit well with the Halloween season, it only makes sense to pair them with a festive, fun, holiday-themed slogan.
Here, we'll break things down by industry and share our top pick for a Halloween marketing idea for businesses in that arena, though many of these ideas will be applicable across several industries. We encourage you to peruse our entire spell book and find the idea that resonates with you and your brand!
Once you've found the concept you like, keep reading for marketing slogan ideas you can leverage to advertise and spread the word about your business.
🛑 Need help creating a marketing plan? We've got you covered with our free guide >> 6 Simple Steps to a Complete Small Business Marketing Plan (+Template!)
Halloween marketing slogans for education businesses
If you work in the education space, chances are high that you work with children. Halloween is a big holiday for kids–who among us doesn't have fond memories of trick-or-treating and dressing up like our favorite characters?
Creating events and promotions around the holiday can help you tap into that excitement and bring the whole family together to enjoy your Halloween-themed offerings.
The marketing move we love for brick-and-mortar education businesses? Host an in-person Halloween party.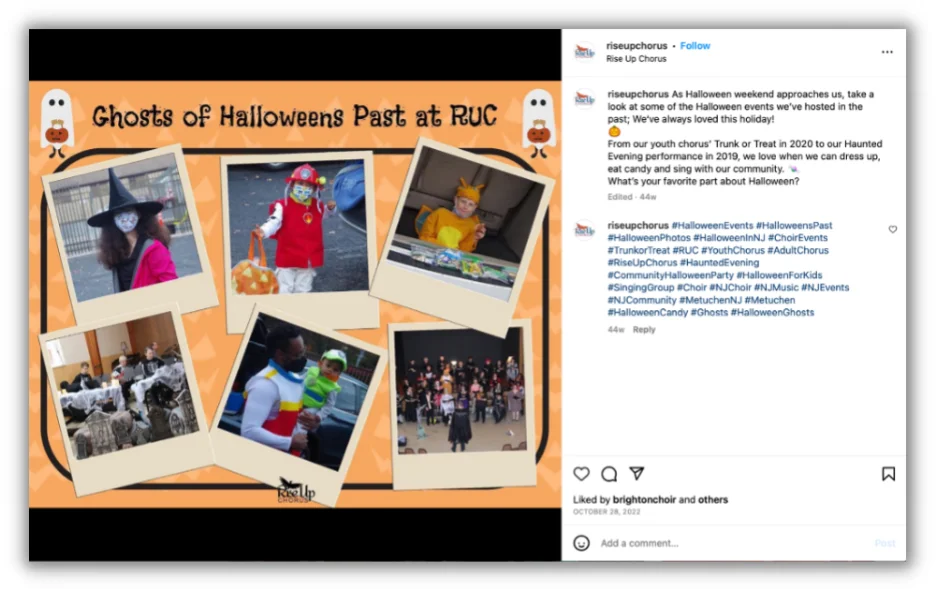 Consider opening your doors and inviting kids and their families to stop by for a Halloween party. This is a great way to build community and establish your business as a safe, fun place for everyone to gather.
You may choose to host on Halloween evening so families can stop by before or after trick-or-treating (or as an alternative to it). Or you may opt for another October date that doesn't conflict with the big night.
If you're looking for Halloween marketing slogan ideas to promote your in-person party, try the following:
You're invited to our haunted (open) house
Join us for a magical night
Skip the spooky. Join us for fun!
Come to [location] for fun and frights on Halloween night
And if you're advertising your educational business more generally, test out these Halloween slogans:
Straight As? It's not witchcraft, it's tutoring.
Scare up great scores with our test prep
We've got SAT prep tricks and treats
Our students are scary-smart
Halloween marketing slogans for healthcare businesses
When you think "healthcare business," you might not automatically think "Halloween." And yes, creating Halloween-themed marketing messaging won't be right for every healthcare business, but the industry runs the gamut.
If you run a fitness center, retirement community, dentistry practice, or urgent care, there are still ways to tastefully tap into the seasonal messaging.
Rather than running an event or promotion, we think Halloween is a great time for healthcare businesses to market regular services with messaging that has a unique seasonal twist.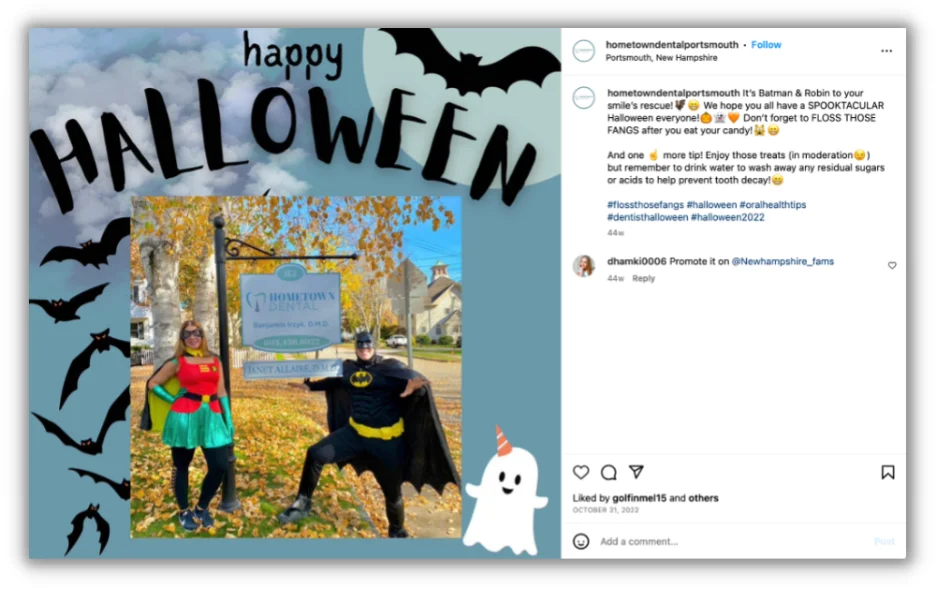 These dentists have a lot of fun with seasonal puns and still communicate a valuable message about the importance of flossing.
Here are some Halloween marketing slogans that healthcare businesses can use to promote their existing offerings during spooky season:
Get your sweet tooth checked (dentistry practice)
A (candy) apple a day…is no replacement for your annual physical (doctor's office)
Avoid a scary ER scene–stop by [urgent care facility name]
We're here for you on Halloween night: extended hours
Spooked by your gym membership fees? Try us instead.
Haunted by memories of the last workout fad you tried? We're different.
We'll help you look and feel scary-good
Halloween marketing slogans for home services businesses
Home services businesses keep their customers' homes fresh and functional–no haunted mansions here!
If you're in the business of helping people care for their homes, we love the idea of bringing the fun to them in the form of a Halloween-themed promotion or deal.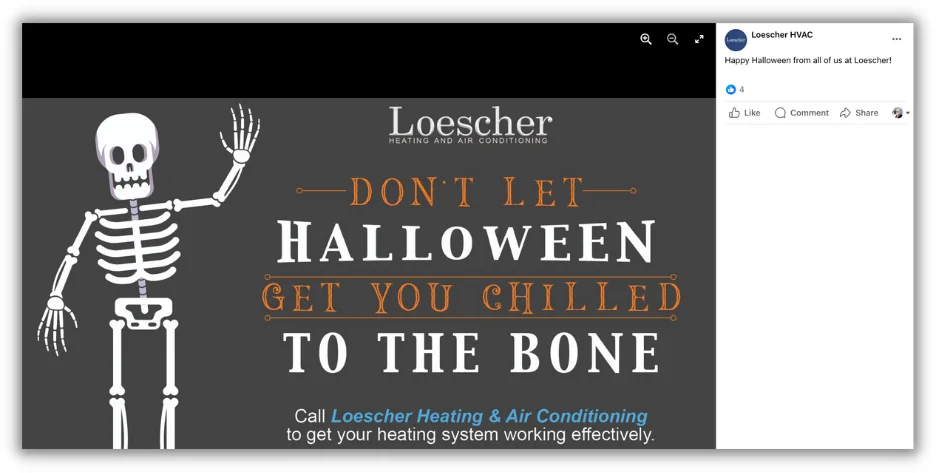 Whether someone's HVAC situation has gotten hairy-scary or they require home repairs or general cleaning, there are dozens of punny ways home service providers can advertise their deal during the Halloween season.
Here are some ideas to help get you started:
Banish the things that go bump in the night
Got skeletons in the closet? We can clean those up for you.
We'll sweep away the cobwebs
Take your house from haunted to heck-yeah
We've got renovation tricks to make your home a treat
Who you gonna call? [Business name]!
💡 Speaking of ideas…get them for every month of the year in our Marketing Planning Calendar Guide!
Halloween marketing slogans for retail, food, and entertainment brands
If you run a B2C business, you likely have more latitude to get fun and silly with your Halloween marketing ideas.
Many consumers start to face shorter, colder days in October and are looking for something fun to buy, do, or see that will keep their spirits high. Brands that can position their product or offering as an exciting antidote to the oncoming winter doldrums may drum up some new business around Halloween.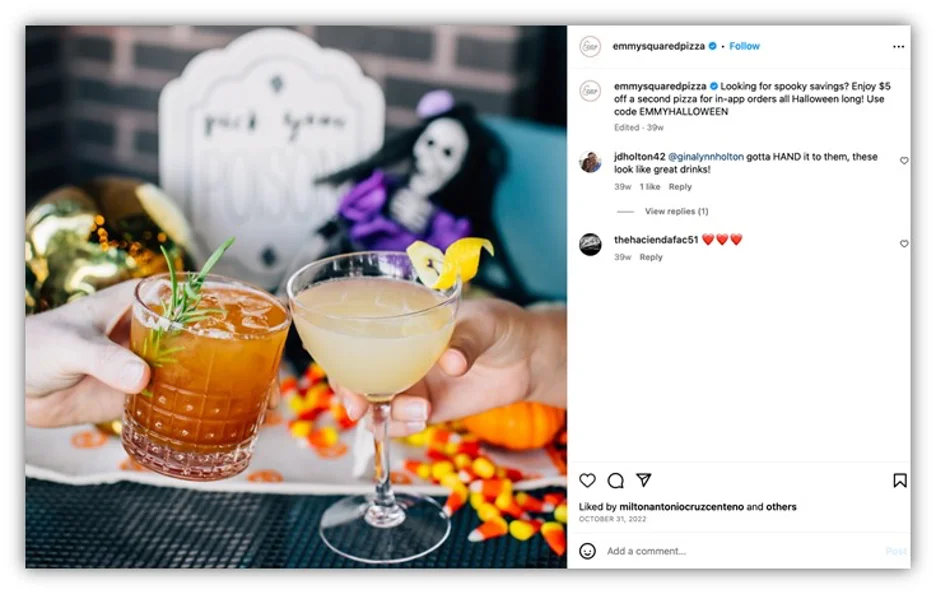 For brands that are selling fun and frivolity, a marketing idea we love is hosting a Halloween costume contest. Whether you run it on social media and allow your followers to vote for their favorite participants or you choose to hold an in-person event, a costume contest can garner a lot of attention for your business.
For some costume contest-specific marketing slogans, try these on for size:
Show off your spooky side
Calling all witches, goblins, and ghouls!
Will your costume cast a spell over our judges?
Enchant our followers with your best Halloween look
To help you promote your B2C business more generally during the Halloween season, give these marketing slogans a whirl:
Boo! New product alert.
Deals that will make you scream
Try our spook-tacular new [product/offering]
Ghouls and goblins, stop by our sale!
Scary-good Halloween offers at [business name]
No tricks, just treats at our Halloween event
Halloween marketing slogans for professional services businesses
Sometimes, B2B organizations feel like they can't try fun or playful marketing messaging or trends. And some organizations do indeed need to maintain a level of decorum that excludes them from techniques like engaging in holiday-focused marketing.
However, for other B2Bs, creating some messaging with a little wink and goblin-like smile can serve to endear you to your customers.
After all, a business entity is paying for your services. But the buying committee at that organization consists of people just like you. And one of their decision-making criteria is likely finding a provider that's professional but also approachable and likable.
Sponsoring a local event like this can be an excellent way for professional service businesses to connect with the community.
When it comes to taking advantage of Halloween marketing for your professional services business, participating in a local event as a sponsor or host allows you to celebrate the holiday, get your name out there in a positive light, and support your community.
Of course, if it feels suitable for your brand, you can also try some Halloween messaging in your regular marketing efforts. Here are some slogans to try:
Let us work magic for your business
We've got the magic potion you need
[Business name]: Scaring up business success since [founding year]
Banish the ghost of inefficiency with [our offering]
[Area of business you help with] looking spooky? We can help!
Don't let coming up with Halloween slogans spook you!
With these Halloween slogans and ideas, you'll be prepared to treat your audience with some fun, creative, and targeted messages! Want more Halloween marketing resources? We've got you covered: