While October is full of fun and interesting observances, this one final day of the month gets all the attention. We're talking about Halloween, of course!
There's no such thing as going overboard with Halloween, IMO.
But there's no need to wait until the end of October to leverage it for fun and creative marketing. There are several ways to use Halloween to come up with interesting marketing ideas and attractive sales promotions that will increase engagement, generate leads, and attract more customers to your local business.
In this post, we'll cover 13 easy Halloween promotions and marketing ideas to run this month.
Halloween promotions for your small business
As you read through these Halloween promotional ideas, think of how you turn them into authentic and win-win marketing opportunities for your local business and customers.
1. Host a Halloween event
Throwing a Halloween party or hosting a Halloween event suitable for all ages is a great way to increase foot traffic (if relevant) by both new and existing customers.
Your Halloween event doesn't need to be a massive expense–some free treats, spooky or festive music, and simple decorations can go a long way (mainly the free treats, so don't forget those).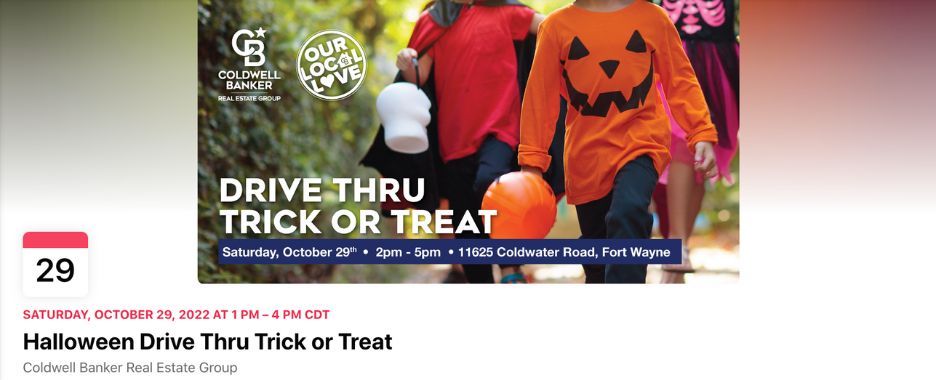 A few tips:
Treats: Avoid bowls of unwrapped food or treats, which are bad for allergies and can spread germs.
Music: Moster Mash, duh. Just kidding. Spooky music, festive tunes, or really just likable pop music are all good options.
Decorations: You can get cheap decorations at your nearest Dollar Tree/Dollar Store/Family Dollar, purchase a few small pumpkins at a local farmstand or even grocery store, and even make cutouts and streamers.
Pro tip: Offer a party-exclusive sale, such as 13% off (a spooky percentage indeed), to help increase sales during your party.
2. Partner with other businesses for a Halloween event
If you're not up for hosting your own Halloween event, you may want to collaborate with other small businesses in the area to offer a joint event. This will give it even more of a community focus. Plus, parents are always looking for safe Halloween activities, so this is a good opportunity to win them over.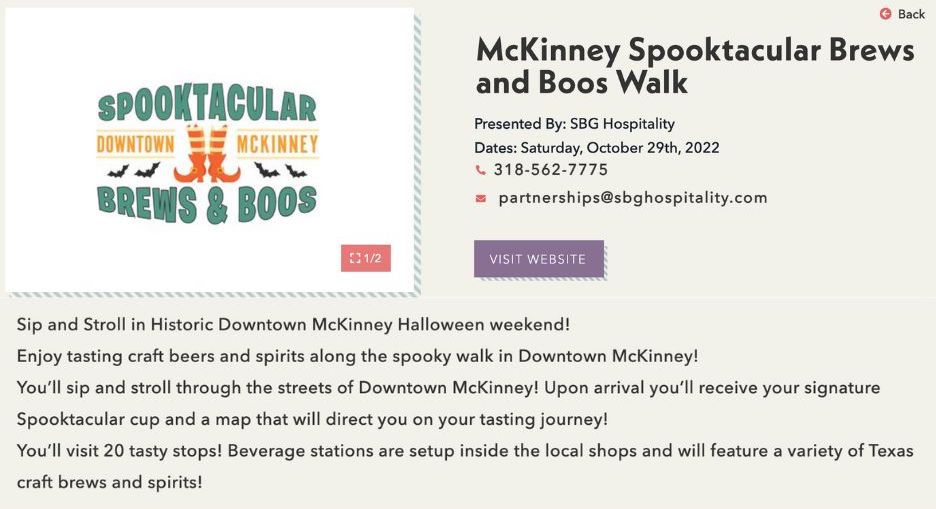 This event features 20 different small businesses.
Some ways to make this event unique:
Include a special "discount" treasure map for the adults, listing out the promotions but leaving them to figure out which store it's associated with.
Make sure the businesses you partner with can offer different products or services from each other, so you can have a diverse (and therefore more appealing) range of offers.
3. Hold a pumpkin-carving contest
Who doesn't love a good pumpkin-carving contest? This Halloween promotion can help you get into the spooky spirit and award some creative pumpkin carvings.
It would be ideal if you had an outdoor space at or near your location for this Halloween tradition, but you could also run the event virtually–or try other options.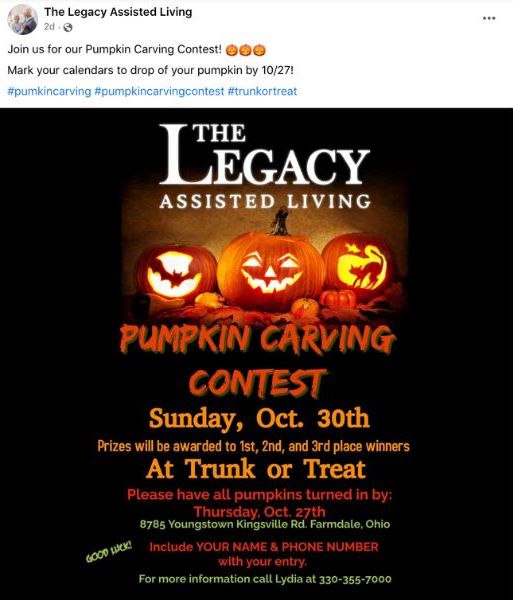 To make this a successful promotion:
Have people register online with their email addresses so you can provide updates and follow up later with photos and other information.
Offer prizes (have a first, second, and third place) such as a gift card to your business, a seasonal gift basket, or a discounted bundle of your services.
If you run your contest online, come up with a unique hashtag required for entry.
Make sure to take pictures and videos from your pumpkin carving contest so you can share them on social media later!
Related: Get Halloween social media posts to use this #spookyszn.
4. Offer a dress-up discount
Another great way to increase foot traffic to your business and maximize sales this Halloween is by offering a discount or gift with purchase to anyone (human or pet) who appears in costume. Not only will this encourage customers to visit your business, but it also creates an opportunity for user-generated content.
Maybe even offer an extra bonus if they post on social media and tag your business. If you have a tablet, set up a simple DIY photo booth.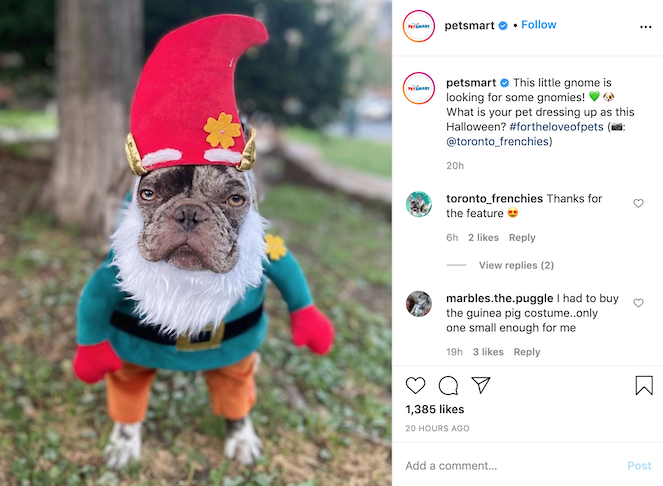 5. Host a scavenger hunt
Whether your business has a storefront or operates digitally, hosting a scavenger hunt is fun, easy, and affordable. This can be a store-wide event, a town-wide ordeal, or a simple and quick manipulation of your website. Maybe participants have to find clues on your pages, such as a bat peeking from behind your homepage logo, a skeleton in one of your product pictures, or a candy corn icon on your blog homepage.
The images can link to a landing page with the prize discount, or you could have entrants come into your store or email you with locations of all the clues to redeem their prize.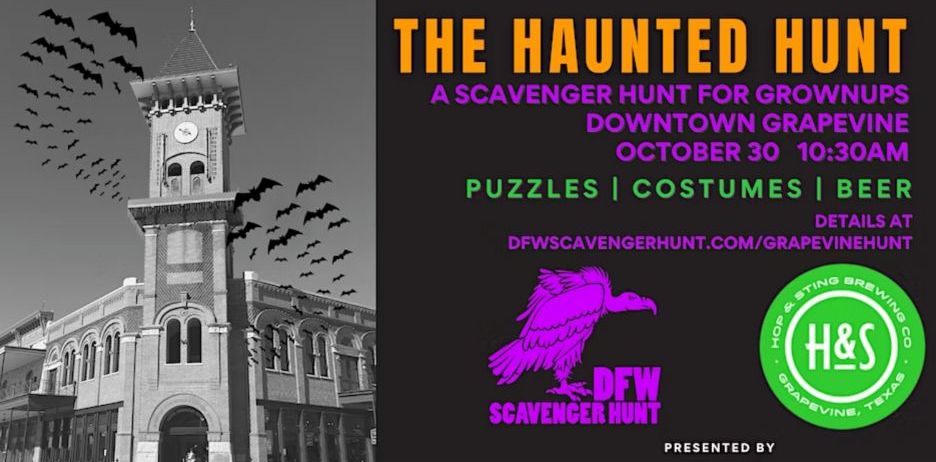 6. Run a "guess how many" contest
Want more email addresses for your newsletter or email marketing list? Grab a jar and fill it with something Halloween-inspired–candy corn, plastic spiders, orange and black candies, etc. Put the jar by your cash register or in your location and have customers drop their business cards or a slip of paper with their guess in a box. Just make sure customers include their email addresses in their entries.
You can also run the contest on social media to increase engagement–post a picture or a video of the jar and have people comment with their guesses and tag their friends to get their guesses!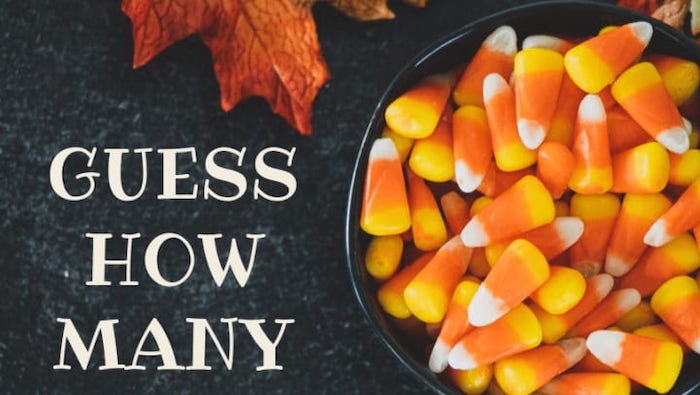 The winner gets a discount on their next purchase, a free service, or a free product. Announce the winner on email, social media, and in-store.
7. Give away Halloween treats with purchases
Stock up on some low-cost Halloween candy to pass out to customers who purchase items all month long. If you don't have the ability to give out candy, a referral program with purchases can be just as effective. Provide buyers with an incentive by giving them a Halloween-themed referral coupon.
8. Offer a Halloween-themed item or service
Get a sales boost this month by offering a Halloween-themed product, service, or an entire menu. Themed items are always appealing to customers and typically make for great social media material.
Here are some ideas:
Bakeries can feature green witch finger cookies or white chocolate-colored strawberry ghosts.
Restaurants can offer vampire cocktails with cranberry juice and a plastic spider garnish.
Florists could offer Halloween bouquets with orange, black, green, and purple flowers at your flower shop.
Gyms could throw a Halloween-inspired fitness class. Create a Halloween soundtrack (think "Somebody's Watching Me" or "Disturbia"), run a black-lit class where neon sneakers illuminate, or if you want to get really silly, have participants lift a large pumpkin in one of your circuit stations.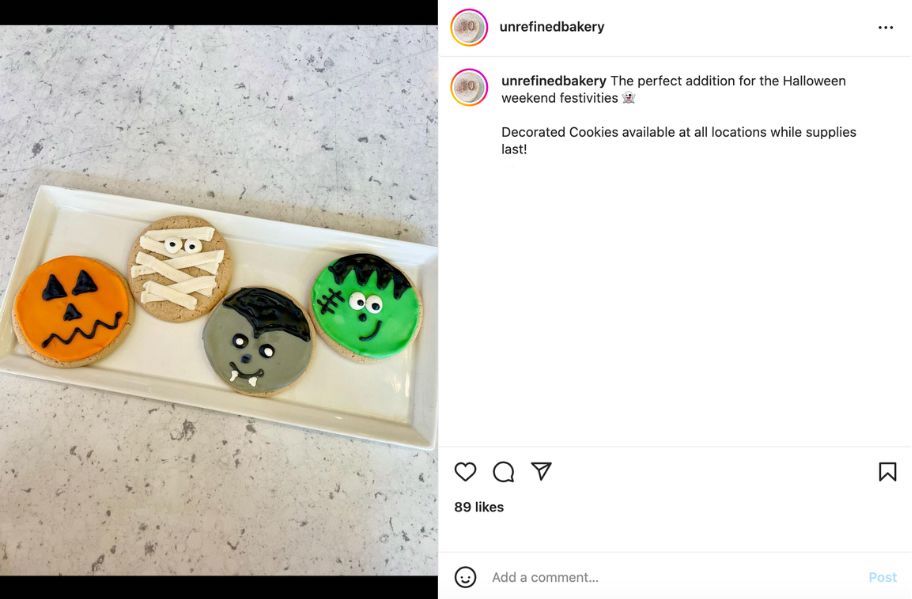 Make sure to announce these fun offerings to your website, blog, social media, and on Google Business Profile posts to generate excitement and maximize participation.
9. Run a Halloween sale
You don't need an excuse to run a sale, but it never hurts! Your Halloween sale can feature seasonal items, items you need to clear to make room for new inventory, or just a specific discount to get people excited to buy from you.
And, because 40% of people start their holiday shopping before Halloween, you can also use this as an opportunity to target shoppers who are getting a jumpstart on their list. Put together a holiday gift guide and run an early-bird special on items or services from your business to spark some ideas (and purchases).
Here are some other ideas for a Halloween sale:
Hold a Halloween sidewalk sale to bring people over to your business and capture more foot traffic.
Bundle your Halloween-themed items or services to give people an extra incentive to purchase them.
Offer early access to your Halloween sale to newsletter subscribers or social media followers so you can grow your audience.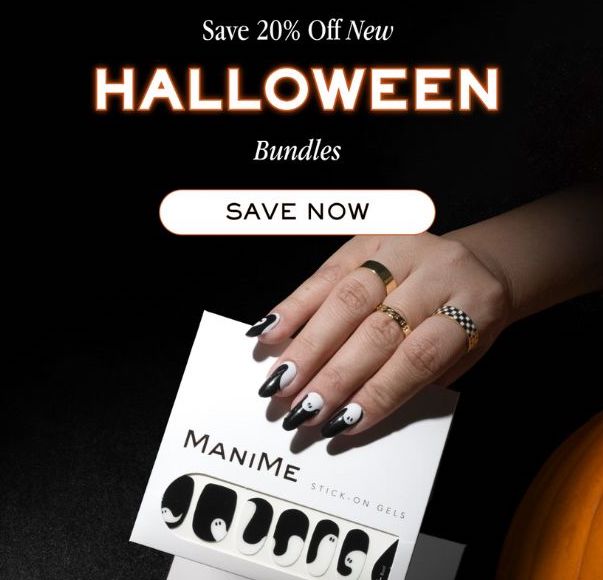 Getting a little creative and having some fun can help your Halloween promotions and sales stick out from the rest.
Halloween marketing ideas to try
Many of these October marketing ideas are traditional Halloween activities, but you can make them unique with your business's offerings and brand personality.
10. Join in on community events
During the month of October, plenty of community events will be taking place in your neighborhood such as fall fairs, festivals, and farmer's markets. Set up a table or tent with coupons, decorations, Halloween treats, and most definitely your dog if you have one, to attract visitors.

Be sure to promote your presence on social media and add an extra incentive such as a free item for the first 10 people who arrive at your booth. Participating in community events will help to build your local reputation as well as your knowledge about your audience. The more information you have stored internally about your customers as individuals, the more natural and successful your marketing will become.
11. Spookify your online assets
This is a super-simple Halloween marketing idea that can be fun for you too. While you can easily decorate your storefront for Halloween with pumpkins and spider webs, you can also decorate your online presence. Consider updating your Facebook, Instagram, and Twitter cover photos to a Halloween-inspired one using Photoshop or Canva.
You can also update your website with your Halloween events, sales, or promotions along with some festive images.

A Halloween-themed cover photo from Party City's Facebook page.
12. Make the most of social media
I've mentioned social media throughout the post but will include it as its own idea here for added measure. There are a few things with regard to social media that can help make your Halloween promotions successful. First, be sure to take plenty of pictures and share them before, during, and after the event or sale. Capture customer or employee photos and (with their permission) share them on your Facebook page. Encourage others to do the same. Second, use hashtags (you even can apply all of them to one post) to boost your exposure and get better results.
Here are some hashtag ideas:
Use unique hashtags for contest entries so you can track and monitor participation (#FitSpaPumpkinContest2022).
Add custom hashtags you use regularly to enhance brand awareness (#UnrefinedHalloween).
Use location-based hashtags to build your local online presence (#AllstonOctoberSale #TimsPumpkinPatch).
Use popular hashtags for your Halloween-themed products like #halloweenrecipes or #halloweenworkoutjams.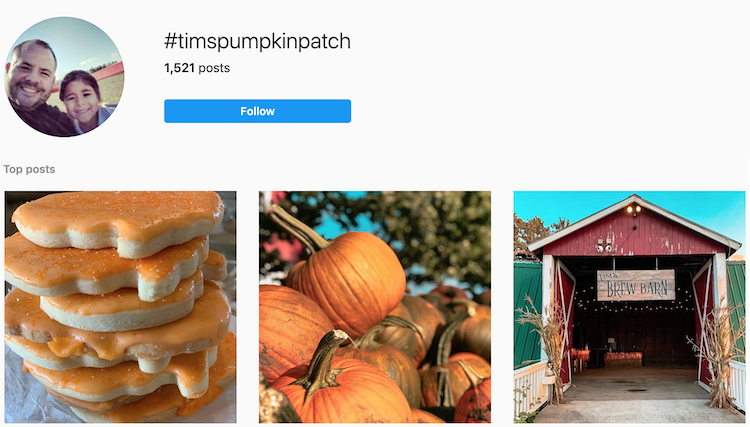 Finally, be sure to monitor the hashtag and share or repost any comments or posts from customers. Social media is a two-way street, and the more you engage with your followers, the more they will continue to engage with you. And the more engagement you have on your page through comments and posts, the more prospects can see how active your business is and what it's like to interact with it.
One final tip is that you can also share useful or fun content produced by complementary businesses and industry influencers, such as pictures, recipes, costume ideas, and safety tips. The more content you put out on social media, the more attention your business will get.
Related: Copy-and-paste these Halloween Instagram captions to treat your audience all season long.
13. Experiment before the holidays
Thanksgiving, Small Business Saturday, Christmas, Hannukkah, and New Year's Eve are right around the corner. And we all know that once it starts, it does not stop. Marketing strategies like these can make a big difference during this time of elevated consumer activity, so use Halloween to get a feel for things and maximize your holiday promotions. You may want to use your Halloween marketing to:
Try out marketing automation platforms.
Find out which channels are most popular among your audience.
See what messaging resonates best with customers.
Identify popular products to help inform your holiday offerings and deals.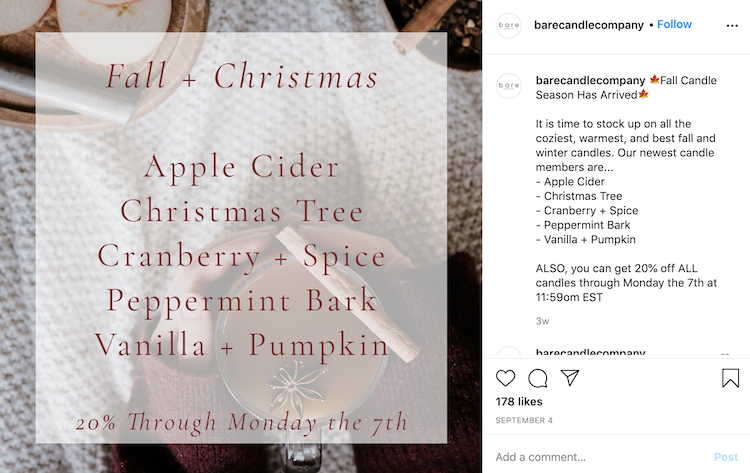 Get started with Halloween promotions that get scary-good results
A successful Halloween promotion will help your business to increase engagement, attract new customers, awaken dormant existing customers that have perhaps dropped off during the summer, build your local presence both online and off, and most importantly, strengthen the community in which you are a part. Start simple and let the process flow from there. If all else fails, you'll be sure to learn a lot and have some meaningful experiences.