Instagram is one of the most-used social media platforms today, and users post everything from vacation photos to food and coffee to their kids' first steps. Instagram is built around a sense of community and interaction, which makes knowing how to share content from Instagram to Facebook essential to keeping your Facebook content fresh.  
Many business owners post photos to Instagram and then open Facebook and post the same picture. Posting on multiple sites is a great way to get engagement across social media channels, but actually doing it can be cumbersome and time-consuming. What if there was an easier way to cross-promote the photos on your Instagram page? There is! By linking your Facebook Page to your Instagram account, you can easily share photos from Instagram to Facebook with just the tap of a button! 
But how do you link an Instagram account to a Facebook business page? It's actually a fairly simple process. Here we'll be sharing:
Why linking your Instagram to your Facebook is important.
How to link an Instagram account to a Facebook Business Page.
4 tips for sharing on both Instagram and Facebook.
With this information, you'll find yourself managing Instagram and Facebook simultaneously (and with ease) in no time!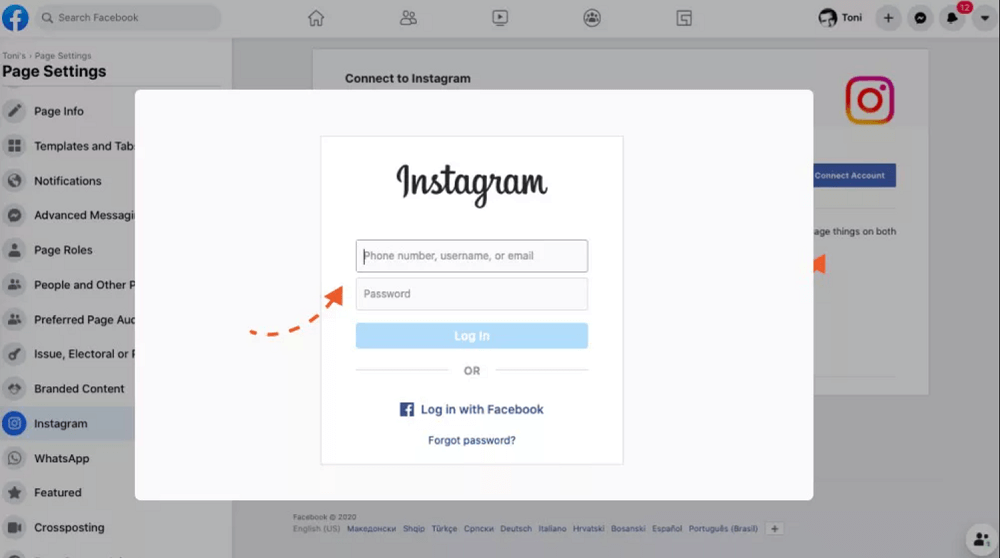 The benefits of linking Instagram to a Facebook Business Page
If you're reading this post, you probably have both Instagram and Facebook already set up for your business (or plan to). But if you haven't linked your Instagram to a Facebook Business Page, you're missing out.
Here are the three biggest benefits of linking your Instagram account to a Facebook Business Page:
You can post on both platforms simultaneously.
You can analyze and manage both accounts from your Facebook business manager.
You can advertise on both platforms.
And if that's not enough to convince you, here are some social media statistics that further illustrate why linking the two platforms is best for your business:
Instagram accounted for 33% of Facebook ad spend and 36% of impressions for brands rolling out campaigns on both platforms.
86% of Instagram users also use Facebook. This means using the two in harmony will increase your chances of catching your audience in either place.
With over 1 billion users, Instagram is the second-ranked traditional social network in terms of active users, right behind Facebook. So you'll be able to cast a wide net over your audience in both places.
Related: The Complete Beginner's Guide to Facebook Advertising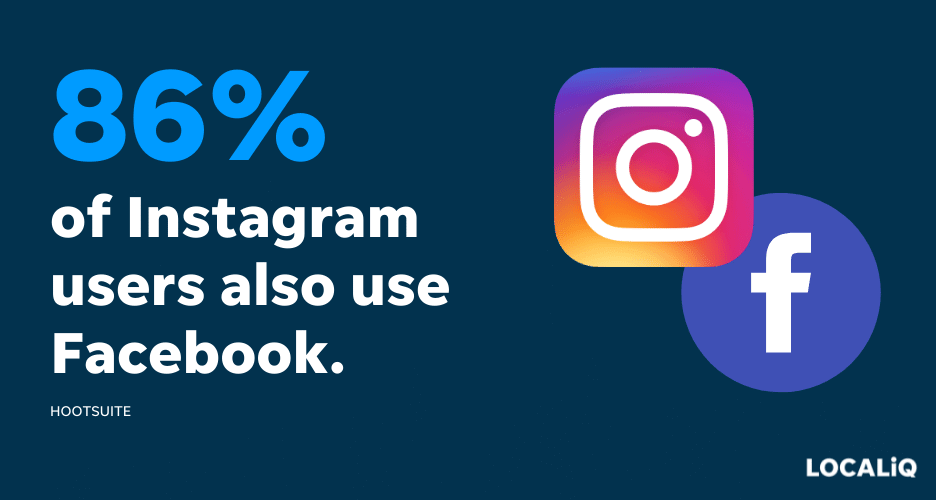 How to link Instagram to a Facebook Business Page

 
Based on the data above, it's clear you don't want to miss out on the chance to link your Instagram to your Facebook Business Page for a streamlined marketing experience. Find our quick and easy steps on how to make it happen below.
How to link your Instagram to your Facebook Business Page directly in Facebook
You can link from either the Facebook platform or your Instagram app. If you're more comfortable logging into your Facebook page to link from there, then here's how to link from Facebook.
1. Log into Facebook and navigate to your page listed under Pages in the left menu.
2. In your Facebook page, click Settings.
3. Scroll down to select Instagram in the left column.
4. Select Connect Account, and follow the prompts to log into your Instagram account.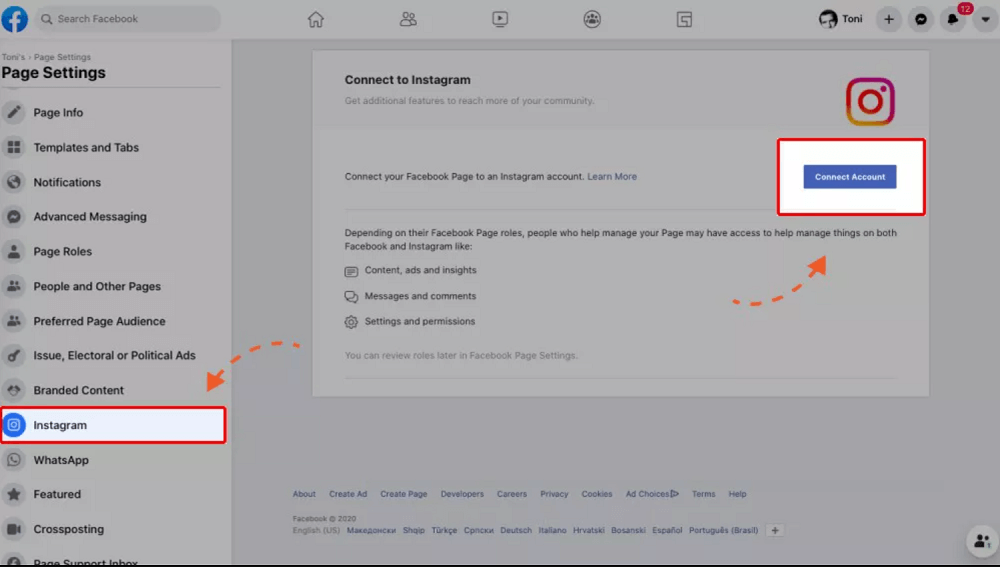 How to link your Instagram to your Facebook Business Page directly in Instagram
If you prefer to link your Facebook and Instagram accounts from Instagram, we've got you covered. Here's how to link your Facebook page to your Instagram page once you're on your Instagram account.
1. Log into Instagram and navigate to your profile.
2. Select edit profile. 
3. Under Public Business/Profile Information, tap on Page.
4. Follow the prompts to connect your Facebook page.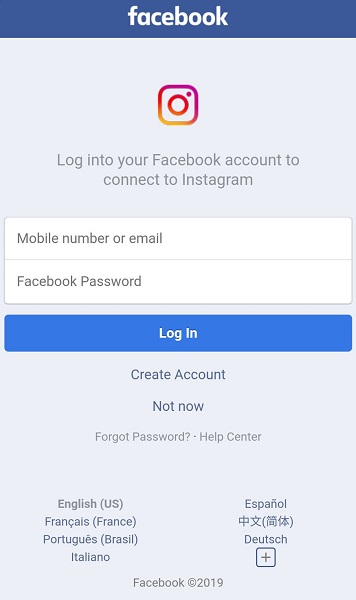 There you have it!
What to post on both Facebook and Instagram: 4 tips
Now your accounts are linked, and you can reap the benefits we mentioned earlier. Not sure how to get started? We've got some tips to help you make sure your post content is both Facebook-friendly and Instagram-friendly.
1. Images or videos
This one's a given. On Instagram, all your posts have an image or video of some type, so when planning your social media marketing strategy, make sure to include a photo or video for posts that will be shared to both Facebook and Instagram. While you may be able to get away with text-only posts on Facebook, Instagram is a visual platform that requires some type of creative media in order for you to post.
Plus, including images or videos in Facebook posts can increase engagement.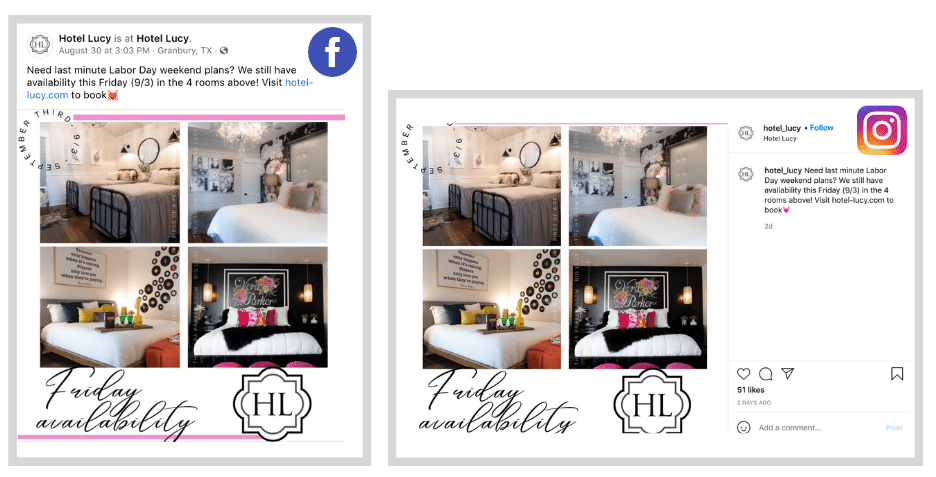 This business's post looks great on both Facebook and Instagram.
2. Social media contests
Social media contests are an easy way to get more followers, engage your audience, and post across both your Instagram and Facebook business pages. When doing giveaways and special promotions, make sure that all of the rules are exactly the same. Luckily, when you post to both accounts simultaneously, your audiences on both platforms will see the exact same information, which streamlines all your contests and giveaways! 
Get our best tips for Facebook contests and Instagram giveaways.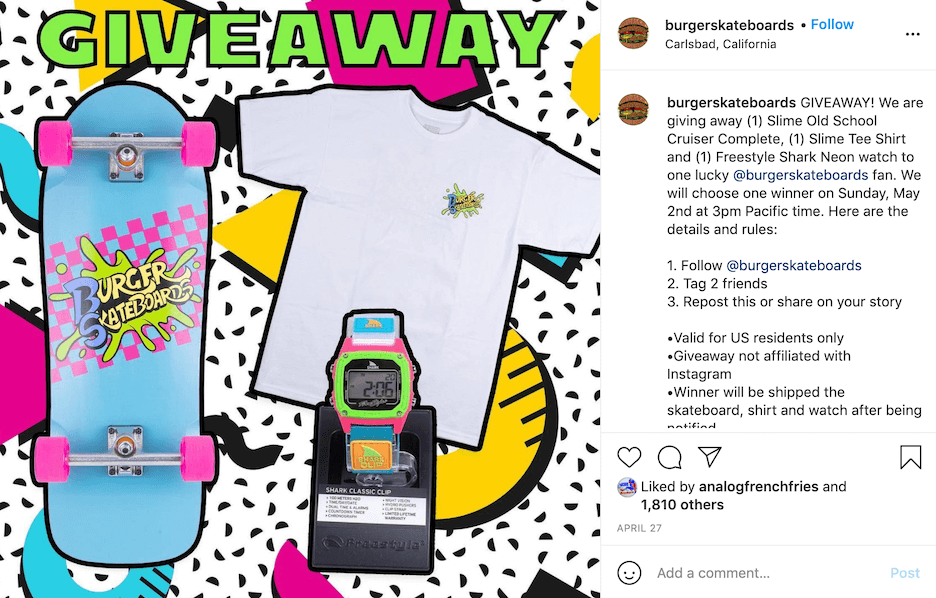 3. Sales and promotions
Running a special sales promotion on Instagram? Share it to Facebook too! Cross-promoting sales promotions over your various accounts is a great way to increase your customer base and your sales. Since you now have the ability to "catch-all" on both platforms, sharing your latest promotions will only help you increase sales.
Special sales or discounts are one of the few marketing tactics that are platform agnostic. The more you get the word out there on those, the better. Take advantage of the fact that you can post on both platforms easily with your linked accounts and fit some sales posts into your Facebook and Instagram posting schedule.
4. Hashtags (used the right way!)
While you'll want to use hashtags in your posts for both Instagram and Facebook, you may want to adjust which hashtags you're using where. Plus, Instagram posts have an average of seven hashtags while Facebook posts have a higher engagement rate when just one or two hashtags are used. When you share to Facebook, you have the opportunity to edit your caption, so cut down your hashtags before posting to Facebook.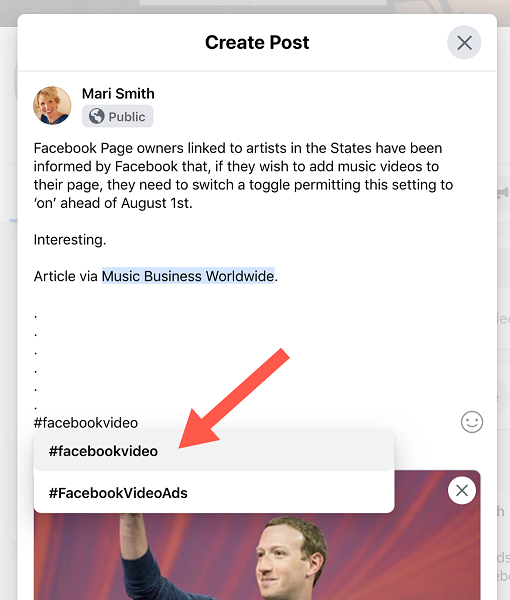 Link your Instagram profile to your Facebook Business Page for streamlined social marketing
Linking your Facebook and Instagram business pages saves you time on cross-platform posts, plus–it's easy to set up in just four simple steps. Social media isn't a nice-to-have for small business marketing but a need-to-have. So work smarter not harder when it comes to local social media marketing by linking your pages today!