Instagram is a great tool for growing your business and, let's be honest, so many consumers today expect to see your brand on the social media platform. But knowing where to start and how to build your presence and what to post on Instagram can be overwhelming. The important thing is to set a goal, focus on a channel, and be strategic.
So if you're looking to grow your business's following and engage your audience, here's what you should post on Instagram:
User-generated content
Influencer photos
Videos and reels
Contests and giveaways
Brands you love
Behind-the-scenes glimpses
Stories takeovers
Trending hashtags
Long captions
Now, here's how to do it right.
1. User-Generated Content
The first thing you should post on Instagram to build your business's following is user-generated content. There are two reasons for this: User-generated content doesn't cost you anything to create, plus it comes with built-in engagement.
You can find user-generated photos by checking your business's tags or your mentions. Not sure of the difference? When you're tagged on Instagram, your profile is included in the photo or video, and everyone can see this post on your profile, too. A mention, on the other hand, is when someone @'s your handle in their Instagram caption. This isn't visible to anyone else.
When you share user-generated content, be sure to ask for permission first. If they agree, be sure to tag and mention the user's profile to engage with this user and their followers, boosting your own reach. Here's a great example from Glossier.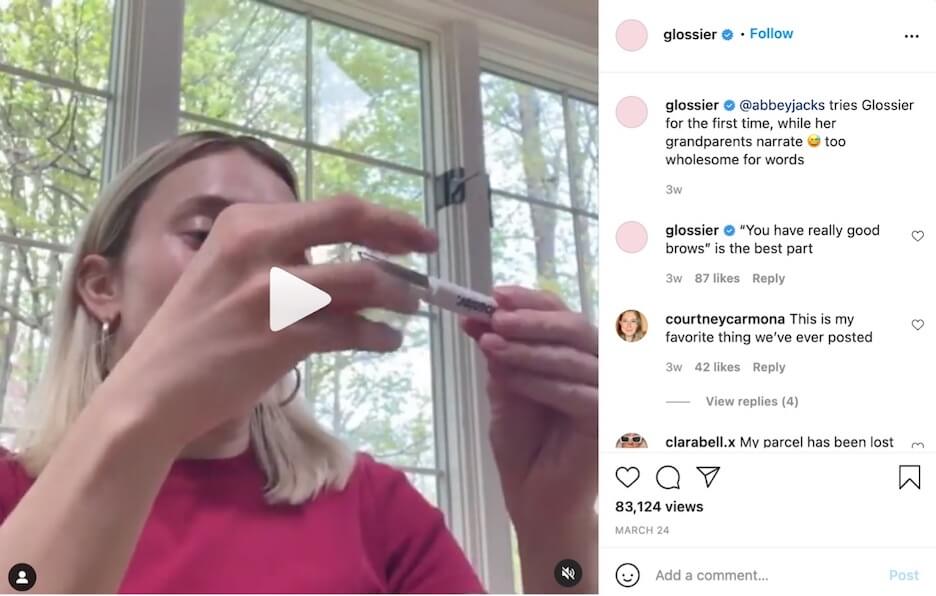 Those comments? Adorable. This is another huge benefit of user-generated content — it's less polished and more genuine, which Instagram users gravitate towards. In fact, this type of #unfiltered content is a major Instagram marketing trend for 2021.
That's also the reason why this social media marketing strategy works so effectively. Buffer was able to grow their Instagram following 400% in just one year by re-posting user-generated content. So keep an eye on your tags and mentions and start engaging with your audience.
2. Influencer Photos
All of your customers matter, and all user-generated content is useful. But some of your customer's content is just going to be a bigger opportunity to grow your business. Especially when they're influencers.
An Instagram influencer has an established audience and respected credibility, which is why their recommendation is meaningful. More people can see your content, sure, and they see a recommendation from a trusted source.
When an Instagram influencer shares your product or mentions your brand, you can reshare this on your profile for more impactful user-generated content. Just make sure to tag the user's profile, as Blackbird does in the example below, and ask for permission like you would for any user-generated content.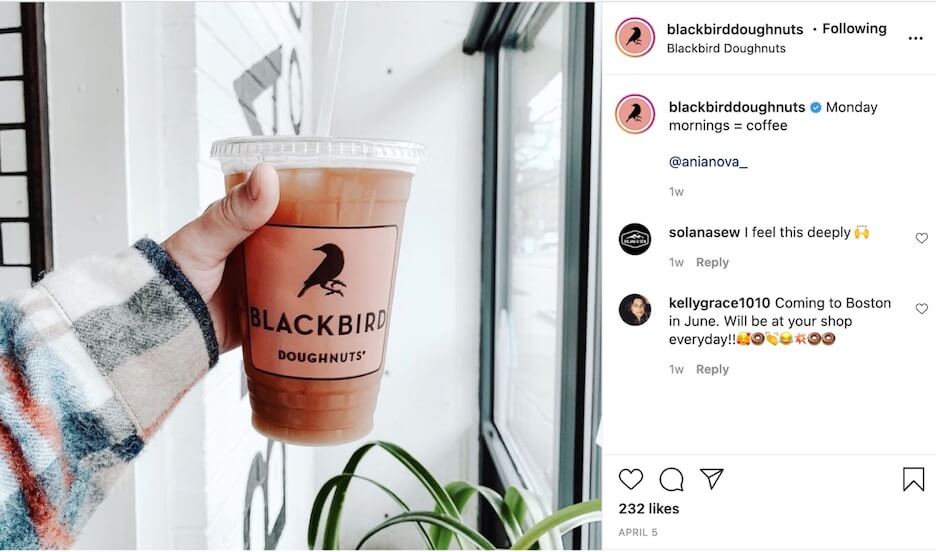 3. Videos & Reels
Video content performs better on social, and that includes Instagram. Mention found that video posts get a median of 150 comments. That's significantly higher than both image and carousel posts.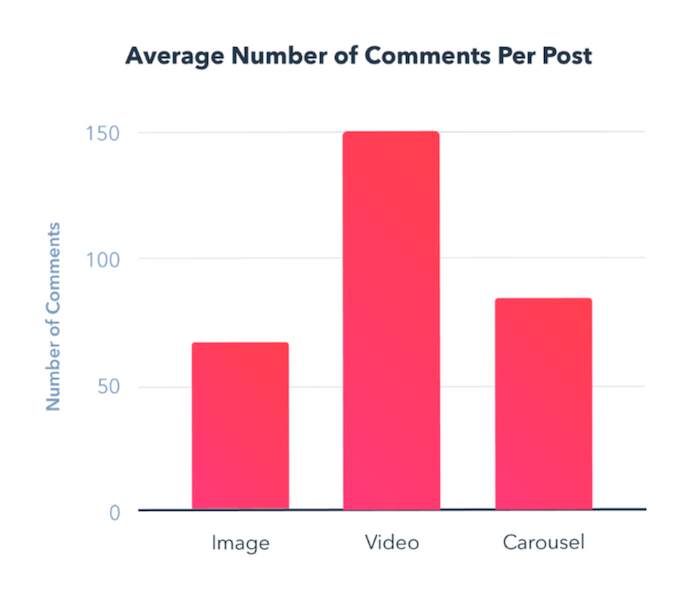 More engagement on your content helps your followers see your content in their feeds and other users discover your posts in their Explore tabs. That means posing video content regularly can help you grow your Instagram followers — as well as your overall social media presence.
Last year, Instagram also introduced another type of video content, Instagram Reels. This type of post is Instagram's answer to TikTok. These quick videos are 15 to 30 seconds long, and (if my feed is any indication) they're often re-posted TikTok videos.
But even if your business isn't active on TikTok, you can use this new video format to experiment with new types of content and see what works for your audience.
4. Contests & Giveaways
Running a contest or giveaway on Instagram is a great way to grow your following fast — and to grow it with people who are actually interested in your brand and your offering.
The most common rules for an Instagram giveaway require users to reshare your post with tags and mentions or tag a friend in the comments. In both instances, the user almost always has to follow your account in order to be eligible. That boosts your reach, your engagement, and your followers all in one campaign.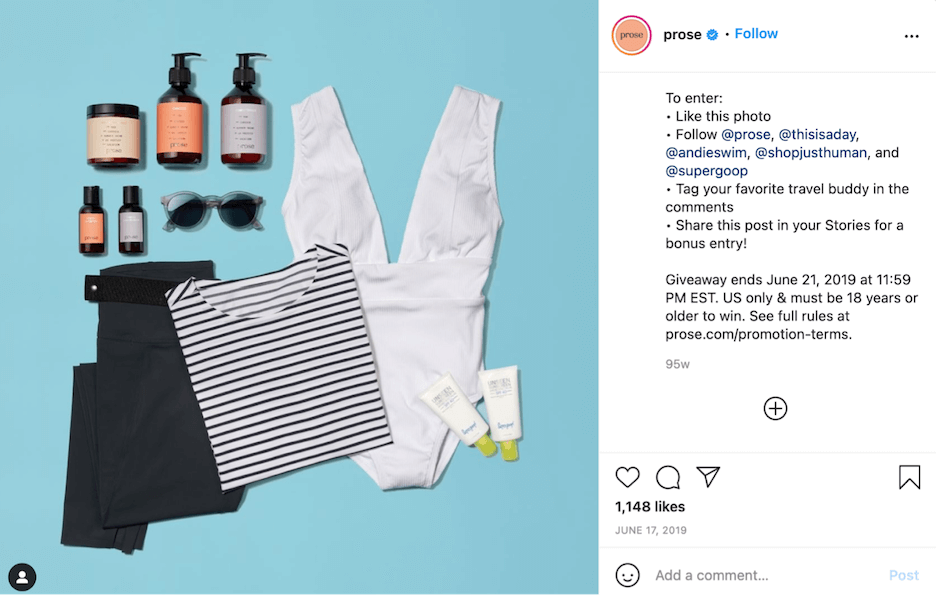 In this example from Prose above, the personalized hair care company teamed up with other brands to run a successful contest and grow all of their social platforms — which leads us to the next type of content to post on Instagram to build your business's following.
5. Brands You Love
Your business interacts with other brands. Whether you're a digital marketing agency running ads on major platforms or a market stocking locally made postcards and souvenirs, you're working with other brands as suppliers and partners. Plus, if you're a small business owner, I bet you've also got a network of other owners that you lean on for support and guidance when you're navigating the ins and outs of growing a business that aren't easy to learn anywhere else.
Promoting products or companies in your network is a great way to spread the love and support other small and growing brands. It's also a great way to reach more people and build your following.
Take this example from Revelstoke, an adorable coffee shop in Concord, NH. Recently, Revelstoke started offering breakfast foods, including these egg rolls from another Concord-based business, Wander Roll food truck, and they promoted the new partnership on Instagram.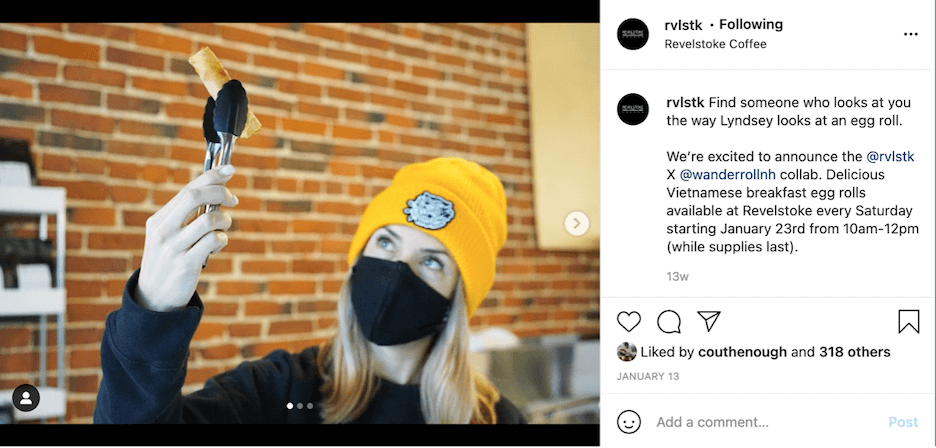 By tagging and mentioning Wander Roll's profile, Revelstoke not only garnered some goodwill in the partnership but also increased their reach. And apparently, this worked on both fronts. Wander Roll has also posted about the partnership — and to note that these egg rolls sold out quickly.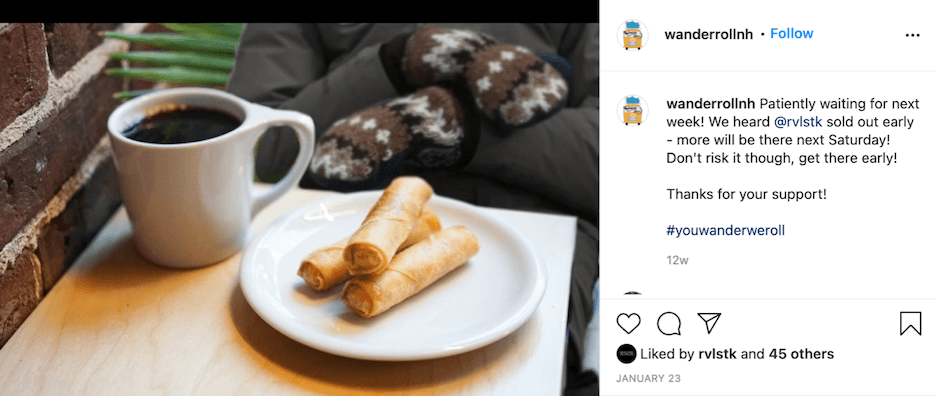 6. Behind-the-Scenes Glimpses of Your Business
People want to know who runs the brand they're trusting. Seventy percent of consumers feel more connected to brands with CEOs who share on social media, and 72% feel similarly when a brand's employees are active on social media.
Sharing behind-the-scenes glimpses about your day-to-day operations is a great way to give people the kind of content they're looking for. You can post photos of your office or your store, or you can take photos of your employees.
If your business creates products, this is also a great opportunity to share that process. PWRFWD, for example, helps athletes create their own products. On its Instagram, PWRFWD includes behind-the-scenes photos of the designs-in-progress for these products, videos of shirts being printed, and pictures of these items in the production facility.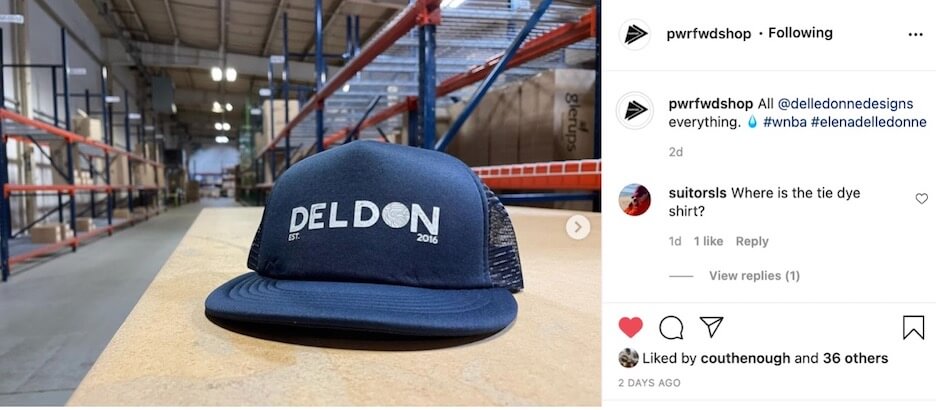 Letting consumers see how and where your products are being made is a great way to not only feature your products but let people know they can trust your business.
7. Instagram Stories Takeovers
We talked about switching up your types of content — feed posts, videos, images, Stories. While behind-the-scenes glimpses are great for your feed, Stories takeovers are a great way to feature spontaneous content in another format.
They're also a great format for a series. HelloGiggles has a weekly Instagram Stories takeover series called Self-Care Sunday. Each week, someone takes over the Stories and shares their weekly self-care routine.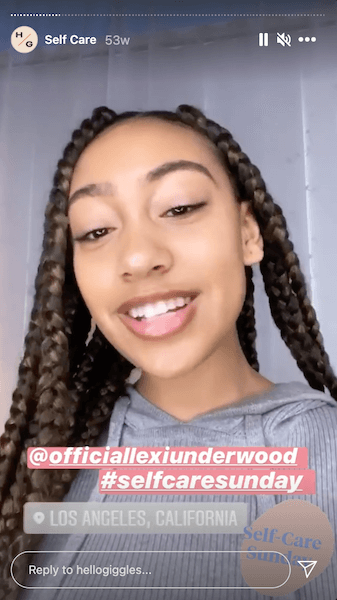 The example above is actress Lexi Underwood, and HelloGiggles features other celebrities in this series. But small business owners, therapists, writers, and even HelloGiggles employees take part. As long as you encourage the person taking over your account to promote their appearance to their followers, you'll be able to increase your reach.
Plus, you can save these Stories to your profile. That's why it's a good idea to go with something evergreen for a series rather than getting too timely.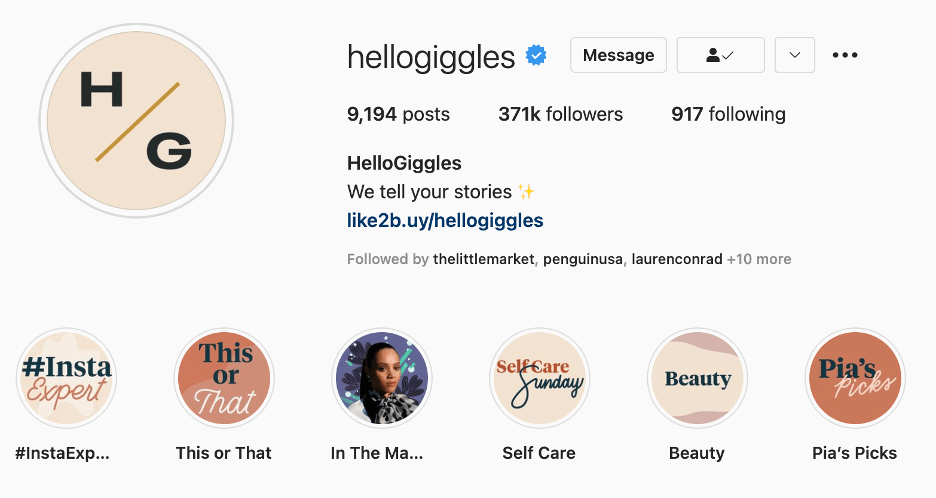 8. Trending Hashtags
Instagram hashtags are a great way to improve your reach. Users can search or follow hashtags, so make sure to include these on any of your relevant posts. The right hashtag could mean lots more eyes on your content — and more followers for your account.
When you're posting, it's a good idea to add around nine hashtags for the best engagement.
So hashtags are a great way to improve your reach, and they're also a great way to find ideas for content. For best results, focus on trending hashtags. To find these, you can search right on the platform and see how many posts there are with your hashtag and how often people are posting with it.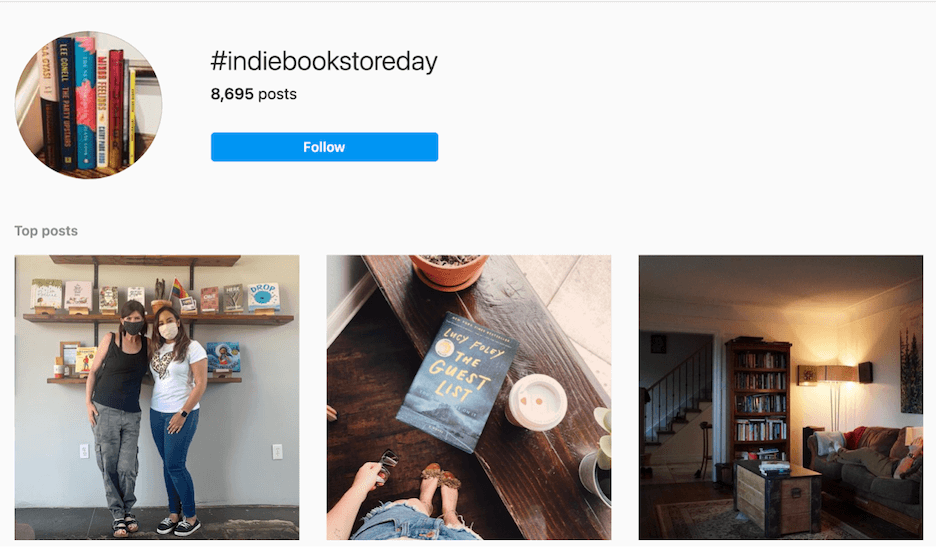 Whether it's a recipe trend, a seasonal hashtag, or an upcoming event like #indiebookstoreday above, creating posts for these hashtags is a great way to grow your following.
9. Long Captions
We've covered what kinds of videos, images, and hashtags to post on Instagram to grow your following. What's left? What kind of Instagram captions to post.
Over the last few years, the average length of Instagram captions has been steadily increasing. Your Instagram caption character limit is 2,200, and it'll get cut off from view in a feed around 125 characters. The average length for 2021 is projected to be 405 characters, which is around 70 words.
That's a lot of Instagram caption to write.
The good news is that you shouldn't write captions this long every time, at least not until you prove that it works well for your business on Instagram. Instead, test out these longer captions when you have a story to tell, especially if it's first-person. That way, you can make the most of the opportunity to connect with your audience.
Now You Know What to Post on Instagram
These are nine kinds of content you should share on Instagram to grow your business's following. But you shouldn't go through this list and call it a day. You should be switching up your medium, trying out different types of content, and sharing regularly in order to grow your following — so that you can keep growing your brand.