Champagne? Check. Cheesy 2023 party hats? Check. Social media posts sent out? Wait a minute…
How it feels when you let your New Year's social media posts slip through the cracks.
Don't let your New Year's social media posts become an afterthought. Social media is a powerful (and free) marketing tool your business can use to stay top of mind with customers during major holidays like New Year's. Luckily, our resolution for this guide is to help you simplify your New Year's social posts with the following:
New Year's social media post tips to keep in mind.
New Year's social media post ideas any business can use.
Instagram captions for New Year's that are sure to be a hit.
Unlike Times Square, you certainly won't be dropping the ball when it comes to your New Year's social strategy thanks to this handy post.
New year's social media post tips
Before we walk through our list of toast-worthy New Year's post ideas, here are some key social media tips to keep in mind:
Identify your goals and strategy
You can't create an effective New Year's post without clear social media goals. Your goals will help you determine what type of post you'll want to leverage during this social media holiday.
If you're not sure what type of post will be best for the new year, try working through the SMART goals exercise to identify what strategy would be the most specific, measurable, achievable, relevant, and time-bound to ensure you see results.
Prep your New Year's social media post ahead of time
Once you have an idea of what type of post you should create to best match your goals, it's time to start planning the logistical details. First, determine which day you'll want to put your post live, since different days around New Year's Eve could mean different things to your audience. You could then leverage free marketing tools, like Later, to get your post ready to go out automatically on that day.
Lastly, you may also want to consider what time of day your post should go live, as this can impact your results. Check out our resources on this below:
Related: Our free 2023 marketing calendar can help you determine your New Year's post plan.
Leverage New Year's social media templates
Eye-catching graphics are at the core of any social media holiday post. Try using online tools like Canva to make a New Year's post that pops.
If you don't have time to create your own imagery, we've got you covered! Check out our free, ready-to-use Canva templates below:
[Facebook] [Instagram] [Twitter]
Use happy New Year's social media hashtags
Hashtags will help your New Year's posts show up in feeds, explore pages, and searches across platforms. Plus, hashtags add extra flair to your captions that you may not have had otherwise—which can help to catch your audience's attention. Try out these New Year's hashtags below:
#nye
#nye2022
#newyears
#happynewyear
#newyearnewme
#hello2023
#bye2022
#ttyl2022
#rip2022
#2023isforme
#newyearsavings
#newyearseve
#newyearsameme
#newyearsresolutions
#nyegoals
#nyefit
#newyearsfit
#newyearskiss
#newyearscelebration
#newyearsday
#freshstart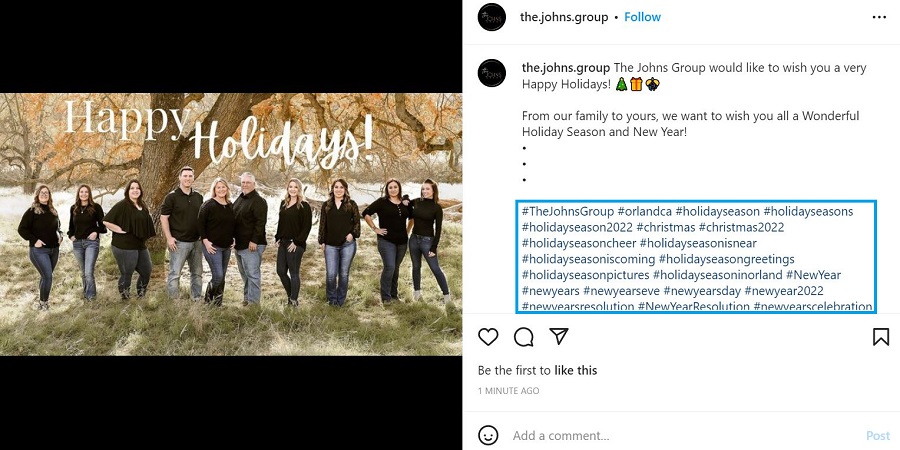 New Year's social media post ideas
3,2,1… The countdown to our ultimate list of New Year's social media post ideas is over! Use these ideas below as inspiration for your own posts:
Leverage a simple happy New Year's social media post
We're kicking off our list with a New Year's social media post idea that may seem like a given but can be overlooked by businesses all too often in the rush of holiday marketing. However, a short and sweet happy New Year's social media post makes a lasting impression on your audience.
They'll likely be excited to celebrate and ring in the new year, so this post will appeal to their mood as they scroll. Plus, it will save you time since it's quick and easy to make—especially when you use our handy Canva templates below:
[Facebook] [Instagram] [Twitter]
Promote a New Year's sale
Along with a happy New Year's social media post, you can also leverage the templates above to spread awareness for a seasonal sale. If you don't have the marketing budget to allow for deep price cuts, that's okay. You could offer a small percentage off during the 2023 New Year's weekend or offer a "buy one, get one" deal with the use of a coupon code. This is sure to create buzz across your social media accounts throughout the holiday.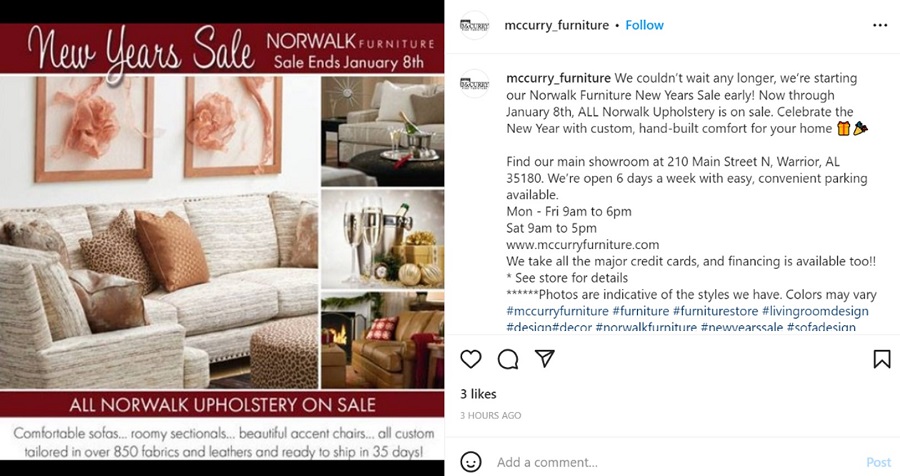 Review your 2022 wins
Try creating a carousel post or a thread of posts that recap highlights from your business's year. For example, you could share pictures of your biggest client wins, company events, office renovations, new hires, and more. Whatever your business had going on this past year, your followers will be interested in seeing how your brand has evolved in 2022.
Share your 2023 resolutions
New Year's is a unique holiday because it's treated as a chance to start fresh. With that comes New Year's resolutions. Most people have New Year's resolutions, but not everyone keeps them. Show how your business can be held accountable by creating a list of fun, approachable New Year's resolutions and provide updates on them throughout the year. This will give you plenty of content to post now and throughout the year.
Countdown to the new year
The best part of this New Year's social media post idea is it can give you a chance to fill your marketing calendar with multiple posts. Try posting in the days leading up to New Year's Eve with a fun countdown to 2023.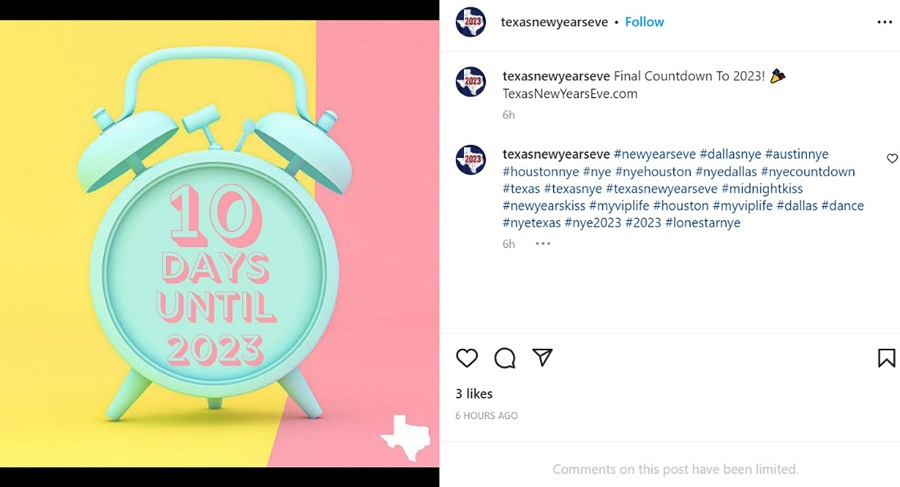 Challenge your followers to a contest
New Year's is the perfect opportunity for a contest because the options are endless. For example, you could ask your followers to tag you in posts of them celebrating the new year to be picked at random for a small prize. Alternatively, you could increase engagement on your posts by asking your followers to comment their list of resolutions for you to pick from for a prize.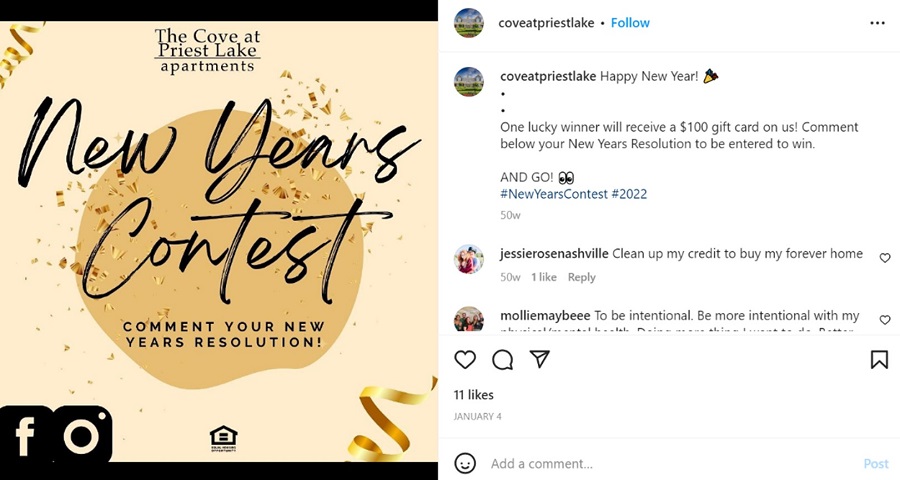 Run a giveaway or sweepstakes
If contests aren't your thing, a New Year's Facebook giveaway or sweepstakes can be equally as effective. Try putting together a grand prize and direct viewers to your small business website where you can generate leads with an entry form. You could post about the giveaway to create buzz and direct your viewers to a link in your bio.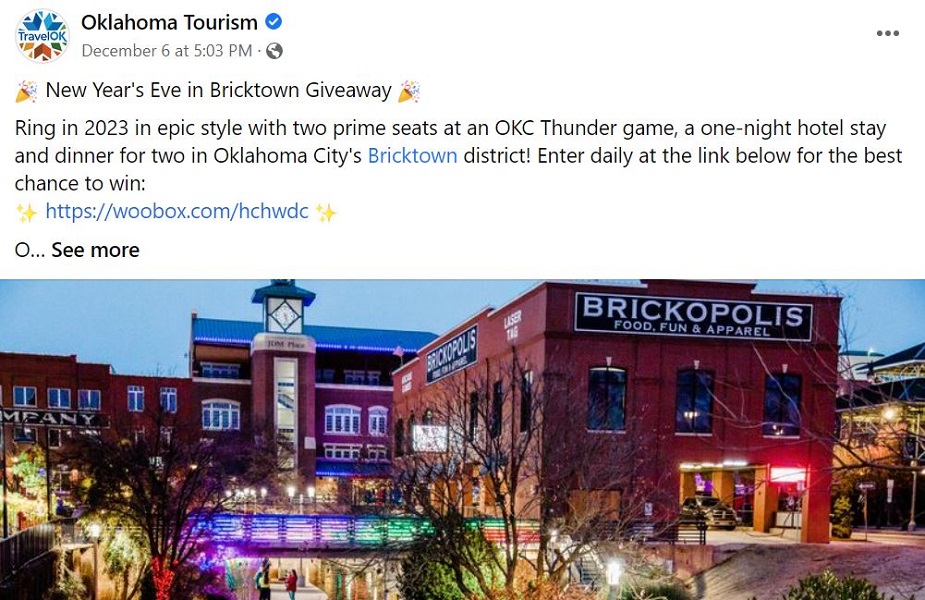 Promote a limited-time-only product or service
Since it seems the New Year's holiday comes and goes so fast each year, try creating an exclusive New Year's product or service offer to promote over a short period of time. Limited-time offers create a sense of urgency, so they can help you reach your sales goals before 2022 ends.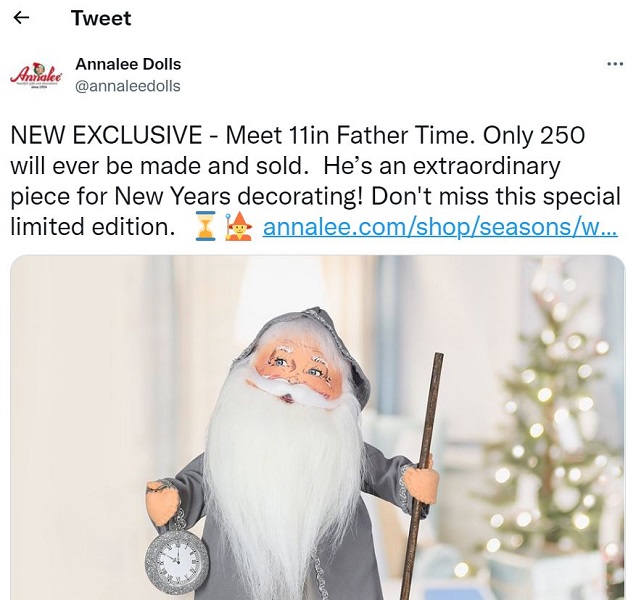 Provide holiday updates
Similar to how you would update your local listings for the holidays, your social media accounts could benefit from a post regarding any updates too. For example, if your business is changing your operating hours during New Year's Day, be sure your followers are aware. If not, you could remind your followers that business will continue as usual into the new year.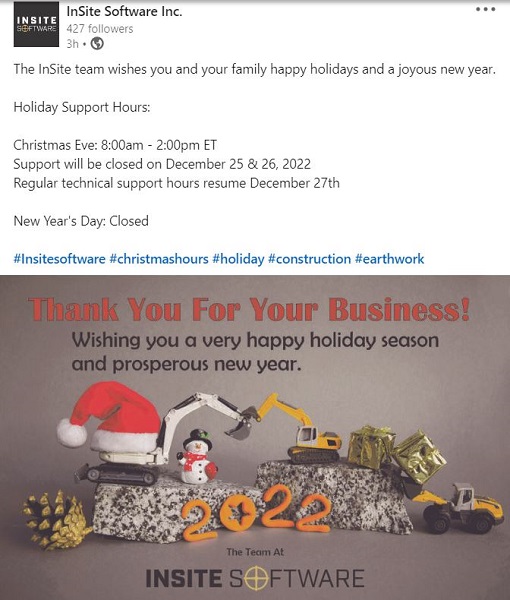 Repost a 2022 throwback photo or video
Did you have a particular post that performed particularly well this year? Now is the time to take advantage of it once again by posting a "throwback" repost. That way, you can squeeze even more out of an old post while also staying relevant in the new year.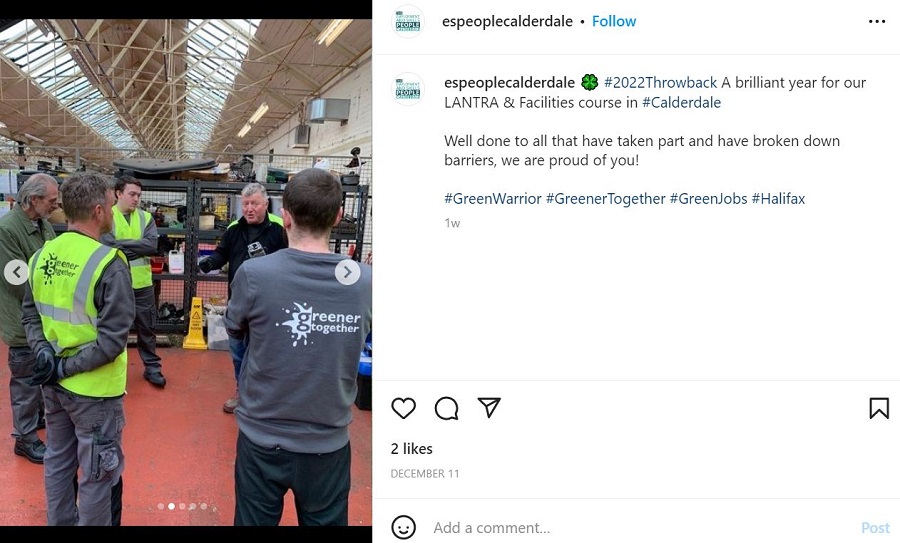 Share a New Year's recipe
Did you know that 71% of people use social media platforms to find new recipes? With that data, a recipe post is sure to be a quick social media win for your business. You could share a twist on a classic New Year's appetizer your family makes or try a drink recipe that uses champagne.
Repost content from others
The 4-1-1 social media rule states that you should have a mix of content from both your business and from others. That means it's a best practice to repost content from other users during this holiday. Give your audience something fresh to look at by sharing a funny New Year's meme or video from a follower, or reposting a New Year's tip from another business.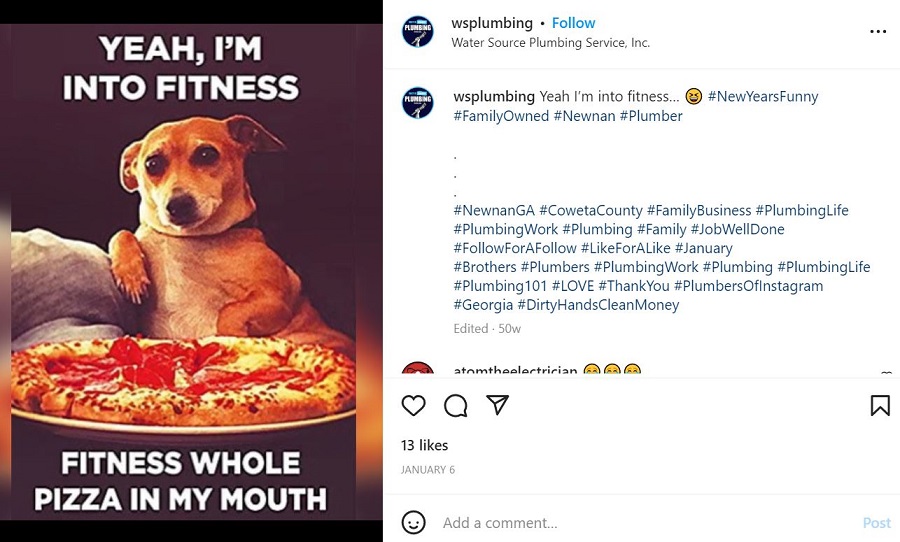 Promote a New Year's event
If your business is hosting an event for customers, a company holiday party, or a virtual happy hour, be sure to share plenty of content before, during, and after all the action. This can help spread awareness to increase your registration rates, or simply showcase to your followers how your business is celebrating. If you don't have the bandwidth to host your own event, partnering up with one in your community can also do the trick for this New Year's post idea.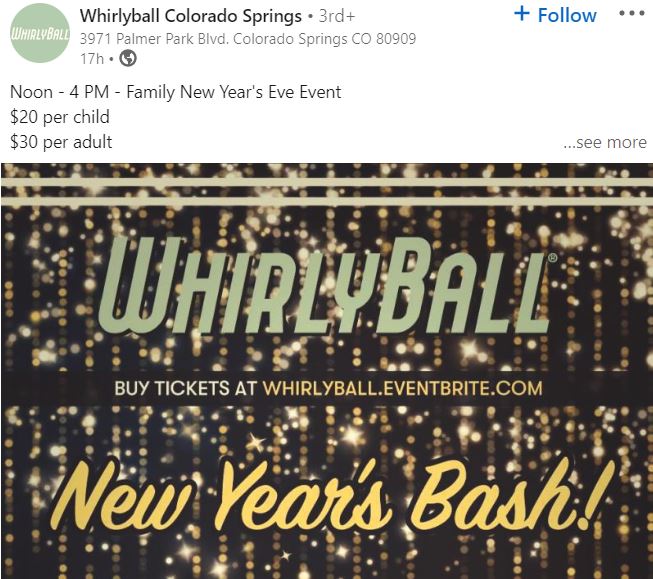 Acknowledge New Year's holidays from other cultures
An inclusive marketing strategy should be something clearly reflected in your social media posts year-round, however New Year's opens the door to even more diversity and inclusion opportunities for your business.
Many other cultures celebrate New Year's differently throughout the year. For example, Chinese New Year and Korean New Year both tend to fall a few weeks after American New Year's Day. There are also other groups, like Marwari and Gujarati communities of northern India, that treat Diwali as the new year. Additionally, there's Rosh Hashanah, which is the Jewish New Year that occurs in the fall.
Tons of other cultures have different New Year's from America, and while we wish we could list them all here, the main point with this idea is to remind your followers that not everyone may be celebrating New Year's during this time.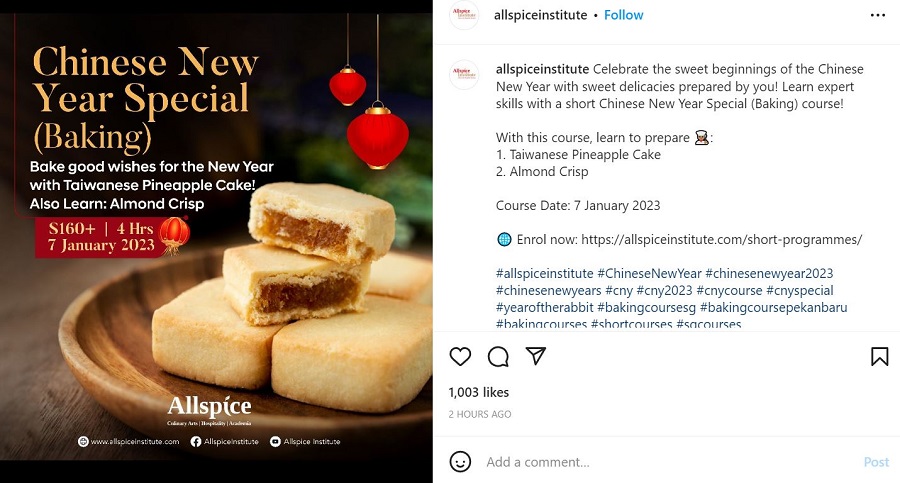 Play off these creative Instagram captions for New Year's
You can't have a robust social media marketing strategy without Instagram. And, you can't have a killer New Year's post without a strong caption. So, to round off our list of New Year's social media posts, here are some Instagram captions for New Year's you can use as inspiration for your posts:
The new year is here! To celebrate, we're giving the first ten people who reshare this post to their story a coupon that's good for the entirety of 2023
TTYL, 2022👋 Hello, 2023 😎 How are you celebrating the new year? Comment what your New Year's plans are below and we'll pin the best response!
We ❤ 2023 already! Why? Because we've got tons in store for you all this year. Be sure to click the link in our bio to learn more about all the exciting events we have planned for 2023.
3,2,1… 🍾 #happynewyear
We love celebrating New Year's, but we're more for what's to come with our resolutions! What are your New Year's resolutions? Comment below and we'll reply back with our tips on how to make your resolution come to life!
Get 100+ more New Year's Instagram captions here.
New Year's social media posts mean new growth opportunities
You don't have to wait until 2023 to start growing your business. New Year's social media posts clearly have plenty of flexibility to promote your business in unique ways. Try posting on New Year's, and stay consistent with your posts through next year, to see lasting growth.