Between taxes, performance reviews, and everything in between, audit season is upon us.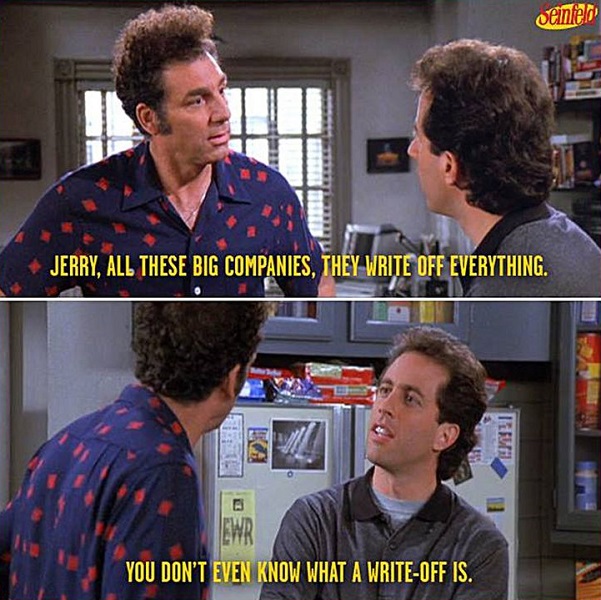 Your brand's social media should be no exception to this time of year. You're auditing all other important aspects of your business, why not your social media marketing too? Similar to tax or performance audits, evaluating all aspects of your social media marketing can be easier said than done. Unless you have a team of experts to help you, that is! We'll be walking you through everything that goes into a social media audit.
Here's your social media audit table of contents:
Not only will you be a professional social media auditor by the end of this post, but you'll also walk away with a savable social media audit template you can use in real-time!
What is a social media audit?
A social media audit evaluates how your business's social media marketing aligns with your overall business goals. Conducting a social media audit is the process of gathering key information and metrics across all your social media platforms to find out what's working (or what's not).
Why are social media audits important?
Checking in on performance is always a good idea, but why are social media audits so vital to small business success? There are many reasons, but here are our top picks:
Social media audits help you stay on track with growth. With so much going on in the world of social media, it can be easy to let parts of your strategy slip through the cracks. While the year is flying by, conducting social media audits regularly can help you understand how you're pacing towards success. In fact, 72% of brands use social media data to inform business decisions, even more so than market research!
You're able to maintain brand consistency. Since posting happens across all platforms all the time, it can be a challenge to ensure that strategies align across platforms. While you want to follow social media trends, you also need to balance your brand identity. Looking at your accounts from a bird's eye view ensures you're clearly conveying who you are.
It can save you from headaches later. Social media audits help you identify any issues with performance before they escalate to full-scale problems. Small business challenges with social media can range from out-of-date business descriptions on your profile to total account shutdowns, and everything in between. Use social media audits to ensure you're running on all cylinders across all your social marketing channels.

What's included in a social media audit?
If you're wondering what actually goes into a social media audit, we've got you covered with this handy, quick list:
Your social media goals
Your social media goals are vital to your social media audit since they can help define what success might look like for your business as you're looking through your accounts.
If you don't have social media goals in place, that's okay too! It's never too late to start measuring items like engagement, followers, and more. Your social media audit may even uncover new KPI's you can leverage in future audits.
An example of a set of social media goals.
All your social media platforms
No social media audit is complete without an inventory of all the platforms you're currently running on. Be sure to check out our social media template to gather a complete list of all the social media platforms you're running on (or could be running on).
Your branding
Be sure to have your brand guidelines on deck so that you can look for any messaging gaps. You'll want your brand voice present across all aspects of your social media activity.
For example, if you have jargon-filled posts on one platform that seem like they're created by an industry expert, but casual comments that sound like they came from a friend on another, that can lead to a poor brand experience.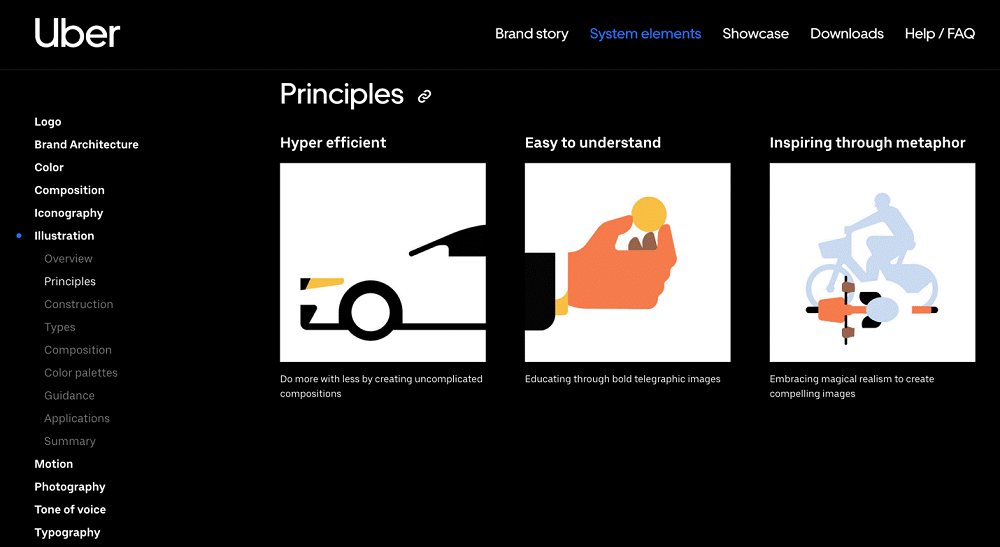 An example of a brand style guide that can influence social media content.
Your competitors
Gather a list of competitors to look at before, during, and after you conduct your social media audit. You'll first want to understand what's working for them, then how their posts compare to yours, and what you can do to make your business stand out from the competition on social media.
How to do a social media audit
You know what goes into a social media audit, now it's time to dive in with these seven easy steps:
1. Take stock of your social media accounts
Take inventory of anything and everything related to your business's social media presence. It's essential to check up on everything you have running across platforms to understand what you're currently executing on. This includes outlining all your social sites that are currently active (check out our complete list in the template below) and searching to ensure you have no pages that were made for your business but that your business doesn't own. To avoid errant pages, conduct a search on Google as well as each platform. Be sure to get access to and delete any errant pages that come up.
2. Make sure your social sites are on brand and accurate
Once you have an understanding of all the social profiles you own for your business, it's time to make sure they're consistent and contain accurate information. Have you recently updated your business description and need to add it to your Facebook page? Are your hours of operation correct? Read through each of your social sites to make sure your information is accurate, click on links to your website, and ensure your phone number is correct. This step might include updating your cover photo or adding new visuals using tools like Canva.
3. Dig into performance
Look at key marketing metrics within your social media accounts. If you don't have a reporting method in place already, some of your accounts may provide analytical dashboards right from within the platforms. It doesn't matter how you look at your social media KPI's or which metrics you look at, as long as you find an easy workflow that works best for you and your business. That being said, here are some examples of common items social media audits evaluate:
And more!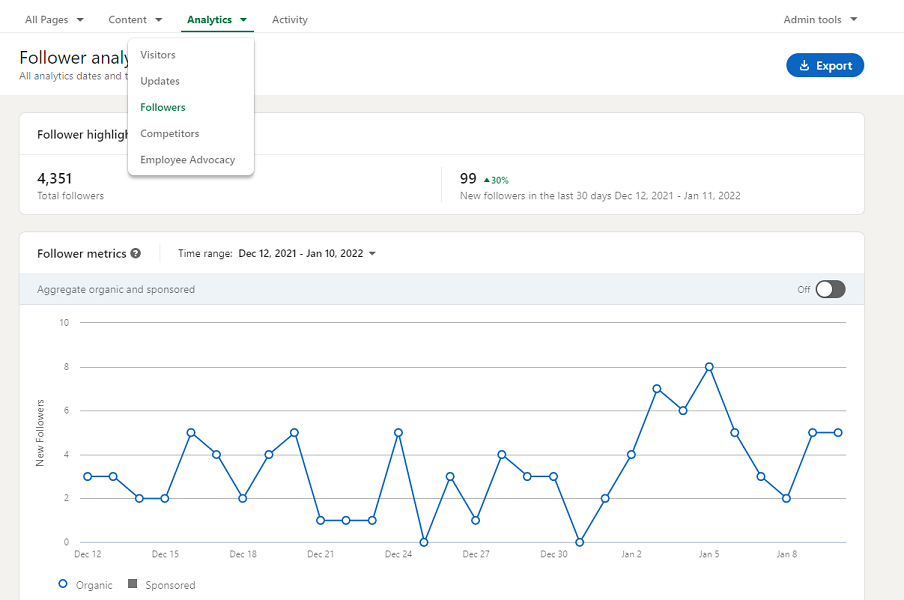 An example of LinkedIn's Company Page analytics dashboard that can be used to measure social media performance.
Related: Get tips for how to get more followers on Twitter.
4. Take note of your audience
As you begin to understand your performance across each platform thus far, you'll want to start thinking about your target audience and who you're actually reaching on each of your social sites. Take a moment to identify your audience on each platform since they may differ.
Within most social media platforms, you can find information about your audience. For example, on Facebook you can navigate to Insights > People to see information about your audience.

5. Find trends
As you look at your social media performance, you can start to connect the data to tell a story. In order to make data-driven decisions in your marketing, you'll want to piece together trends within your audit to fully understand what may or may not be working.
For example, you may want to look at specific date ranges to see how performance has changed over time and how that correlates with posts that were live during that period. Regardless of how you decide to loop together the data from your social media audit, you should try to identify three to five key takeaways from your findings.
6. List and audit your competitors' social sites
Now that you've taken a deep dive into your social sites, you can see what your competitors are doing. Start with a short list of your top competitors—about three to five competitors is a healthy list to start with. With each one, look them up across social media platforms.
You'll want to look at what types of content they're posting, how many followers they have, or the type of engagement they get. You might also check out who they're following and who follows them so you can gather ideas on how to build your own brand community on social media. Basically, anything your competitor is doing well on social media is an opportunity for you to do better!
7. Reevaluate your goals
At this point in your social media audit, you should see the big picture coming together. You may find that your social media marketing strategy needs to be adjusted based on your findings.
Be sure to have a neutral perspective. You don't need to poke holes to only find what's doing good or bad. Embrace anything you might be doing that's trending positively and think about how you can do more of it. On the opposite end, if you find a certain aspect of your social media is perhaps draining your marketing budget, it's time to pull the plug and replace with an alternative strategy.
4 free social media audit examples
To help inspire your own social media audit, here are some free social media audit examples and resources to learn from:
Best YouTube social media audit example
This YouTube social media audit example is from Elif Hiz, a marketing strategist and educator with nearly 40,000 subscribers. Great for visual learners, Elif walks through her own YouTube channel for the social media audit example. That beind said, the concepts she discusses can be applied across platforms. Most importantly, she explains the "why" behind her audit and how your social media audit could impact your strategy.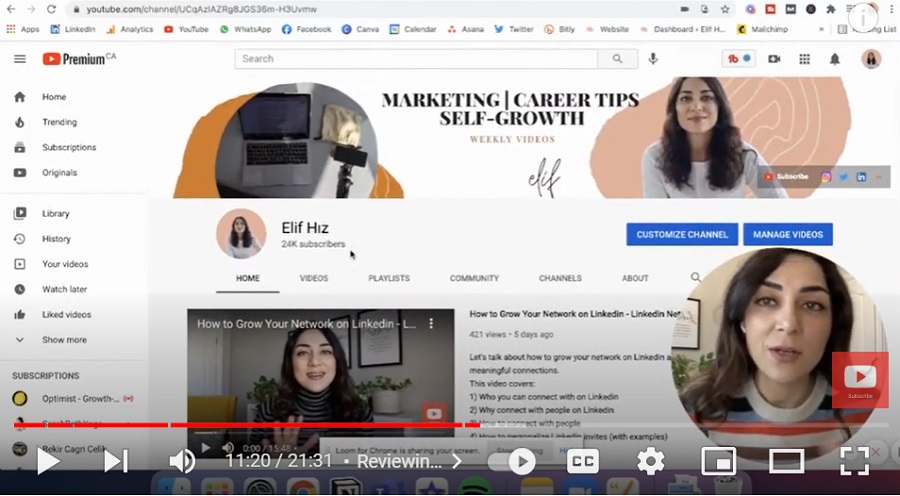 Best simple social media audit example
For those tight on time, this quick social media audit example from Buffer only takes about 15 minutes. The easy-to-digest article is complete with real-life example images, and prioritizes the most important social media audit information. That way, you skip through or skim the article for only the steps most relevant to your business.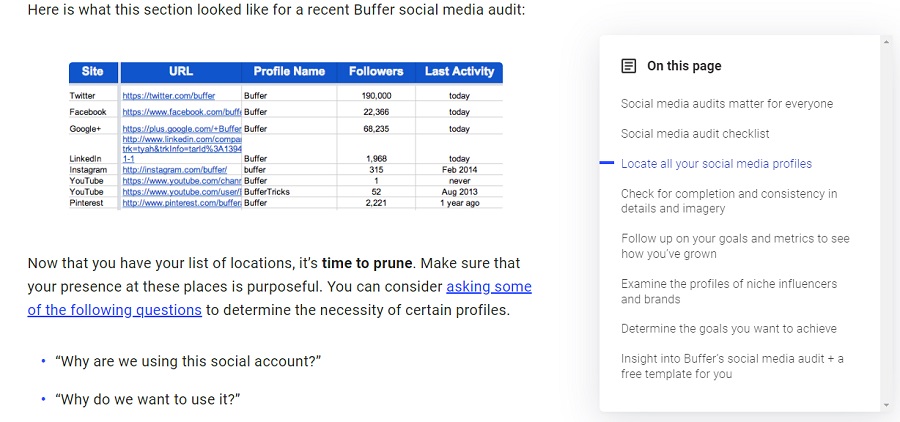 Best long-form social media audit example
For those who need anecdotal information and examples from real-life businesses, Harvard Business Review's article on social media audits would be a good fit. It tells in-depth social media audit success stories from major brands—making it perfect for those looking for thorough information as well as inspiration. Plus, it provides a helpful social media audit example chart.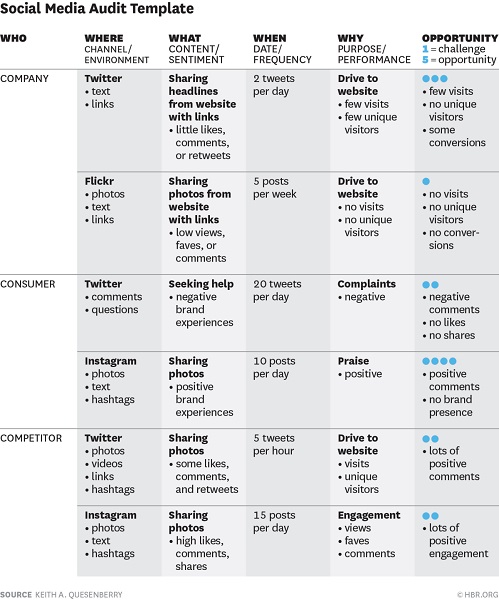 Best social media audit example for SMBs
LOCALiQ's free social media audit template is perfect for busy business owners on the go. Not only is it free and easily accessible, but our template is complete with prompts that provide examples along each step of the way. Read on to learn more about our template later in this post!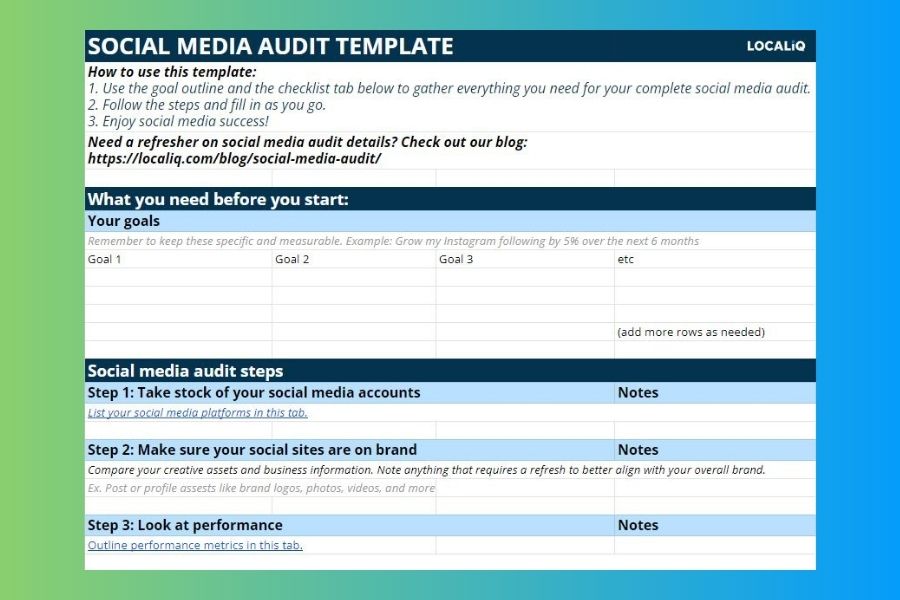 How to use your social media audit
In order to make your social media audit efforts worthwhile, you'll want to have an action plan in place on how you can best use your findings. Start with these ideas on how to make the most of your social media audit:
Plan out your next steps
Your social media audit is more than halfway done! You now know what's working and what's not. It's time to make a social media marketing plan. Put specific steps in place to begin the process of optimizing your social media based on your audit. For example, try SMART goals to create a social media audit action plan.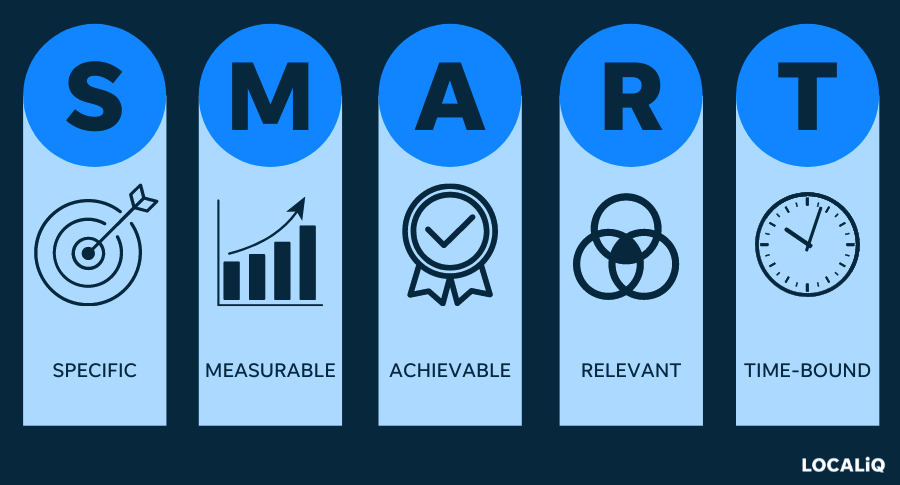 Take action
Don't wait! Get the ball rolling by executing your audit's action plan. It helps to use a marketing calendar so you know what you can act on now versus what you'll have to fit into your schedule later.
Taking the first steps toward social media optimization can help you make the most out of your plan. In fact, data shows that when you dedicate even five minutes to get a project going, you're more likely to complete the project. When you take action on your social media audit, even for a few minutes, it increases the likelihood of it having a larger, positive impact on your business in the long run.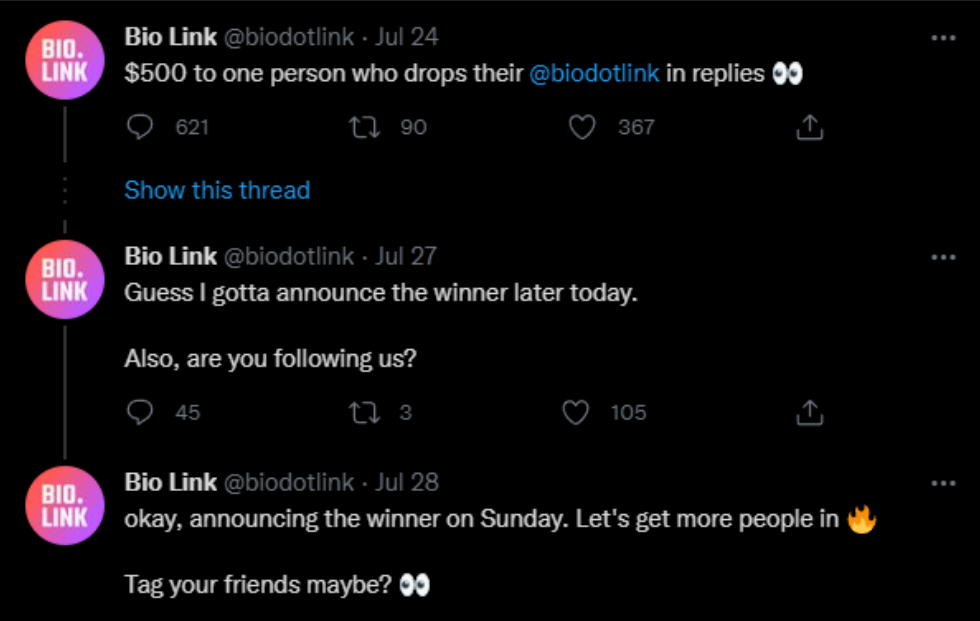 An example of a quick post that could start your journey to more followers.
Keep an eye on other opportunities
While you want to narrow in on what is or isn't working for your business on social media, don't get so wrapped up that you fall victim to tunnel vision while finishing off your social media audit. Keep an open mind and don't be afraid to try new social media tactics. Use your social media audit as the key that unlocks the door to untapped opportunities for your business.
For example, say your target audience skews older. Well, did you know that 59% of TikTok users are Millennials, Gen X, and Baby Boomers? Don't rule out a platform just because it may be new or unfamiliar—as that can actually be a benefit!
An example of businesses trying influencer marketing and paying for promotion on Instagram Reels.
Check back regularly
Fun fact about social media audits: they're never truly complete. A strong social media audit requires regular updates to help you stay on track. Social media is constantly evolving, so should your audits. Hold yourself accountable by scheduling quick sessions to check in on your pacing and tracking.
Want growth? Get on it with a social media audit
A social media audit is one of the most valuable tools a growing business can take advantage of. The best part is that doing your own social media audit is completely free. Dedicating a small amount of time to your social media audit can bring you big results.
If your schedule is too tight to do your own social media audit, look into having a marketing partner do your audit for you. You can even check out our free, instant grader tool that can get your audit gears turning.