The holidays are a fun time, but they can also be stressful. Kids are almost out of school (or have been virtually learning all year), presents need to be bought, wrapped, and shipped, relatives are making plans to visit…and that doesn't even take into account your day (and sometimes round-the-clock) job of running a business.
So, how can you take one thing off your plate so you're able to focus on what matters most to you this season?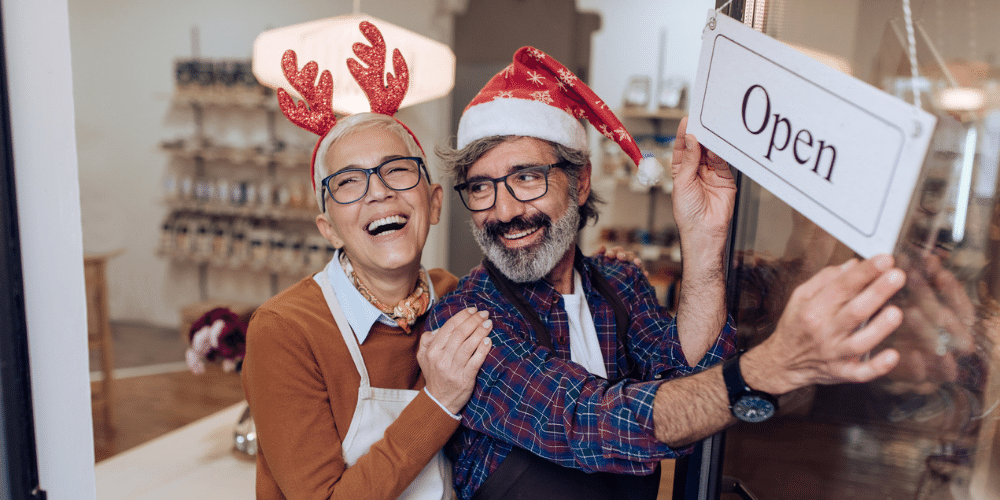 Let's start with your marketing. Unless your business is marketing, it's probably not your favorite thing to think about. So, how can you worry less when it comes to your local marketing?
Here are eight time-saving holiday marketing tips to help you stress less this season.
1. Get Help with Your Local Listings
There are a lot of marketing activities that are extremely valuable but also extremely time-consuming. For example, around the holidays, your hours probably vary a bit. You might be closed in observance of certain days and need to let your customers and prospects know you're not available.
If you don't let customers know about a change in hours of operation, you could miss out on leads or make them angry (I know I get upset when my favorite bakery is closed even though their Maps listing says they're open).
So, you'd need to update not only your website but also your local listings.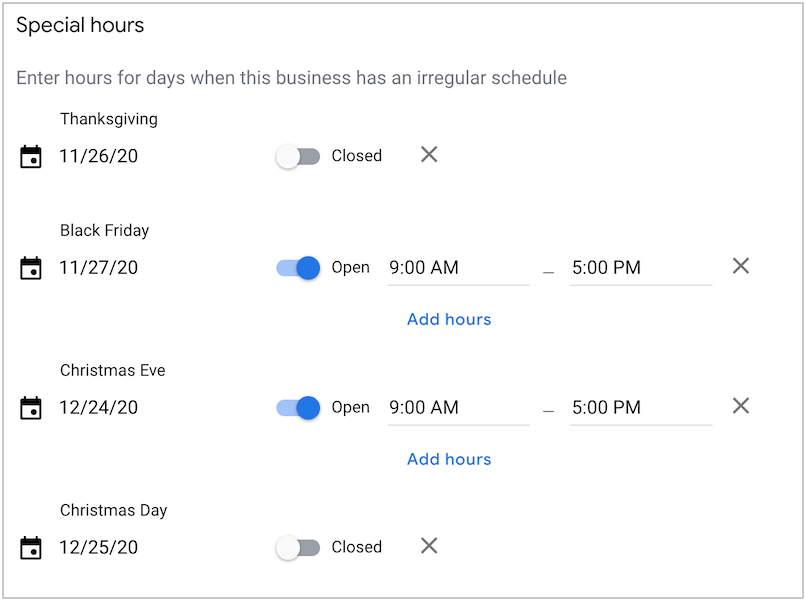 Do you really want to go into each listing site, like Google My Business or Yelp, and manually change your hours only to go back in after the holidays and make another update? I know I wouldn't. And what if you have to do that for multiple locations? Sounds like a nightmare (before and after Christmas).
Save some time by partnering with a marketing agency to help you manage your local listings so you can take this off your plate this season and into the new year.
PS: Get our local listings holiday checklist to make updating your listings a breeze!
2. Review Past Year Successes
When it comes to prioritizing your holiday marketing, you want to know that you're spending your budget on the marketing strategies that are going to get you results.
Sometimes, this can feel like a guessing game. What's going to resonate with customers right now? Will they even be doing much holiday shopping this season (spoiler: they will!)? What's the best way to reach them?
A great place to start is by analyzing your previous year's holiday marketing to see what worked – and what didn't. This can help save you a lot of time – and headaches – when it comes to determining the right holiday marketing mix to bring in customers.
You can also do this same exercise when it comes to your 2021 marketing planning, which you might be working on around the holidays. See what's worked throughout the year, what might have fallen short, and what you want to try to take your marketing to the next level.
3. Plan Your Holiday Marketing in Advance
One of the easiest ways to save time and money this holiday season is by planning your holiday marketing in advance. (And, if that wasn't the case for you this year, there's always next year – it's never too early to plan!)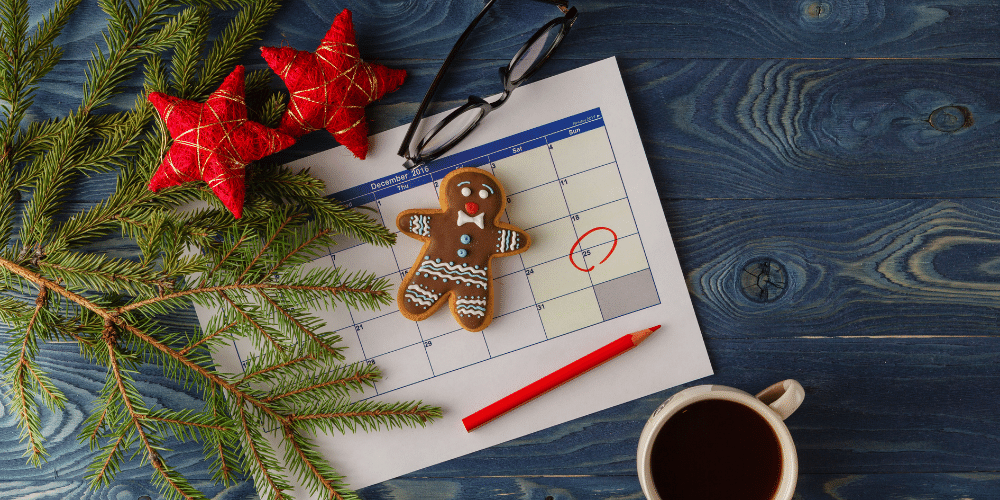 When you're creating your yearly marketing plan, make sure to include a tentative plan for your holiday marketing – including any holiday promotions or specials you might be running, any increase in staffing you may need to accommodate demand, and any special holiday marketing strategies you may want to run around the holidays.
When the holidays get closer, you can finalize your holiday marketing strategy and get moving! We know that a lot of people start their holiday shopping in October, so your holiday marketing strategy should be locked and loaded by September so you can take advantage of the full holiday shopping season.
By planning in advance, you'll enter the holiday season with one less thing to worry about.
Get 12 free holiday marketing resources to make your planning a breeze. 
4. Offer Competitive Holiday Discounts
The holidays are a competitive time – pretty much every business has the same goal: to increase revenue and finish out the year strong. And, for small businesses, you're not only competing with other local businesses, but you're also competing with the big brands.
One way to save some time (and worries!) this season is by offering compelling and competitive holiday promotions and discounts that will help you stand out from your competitors.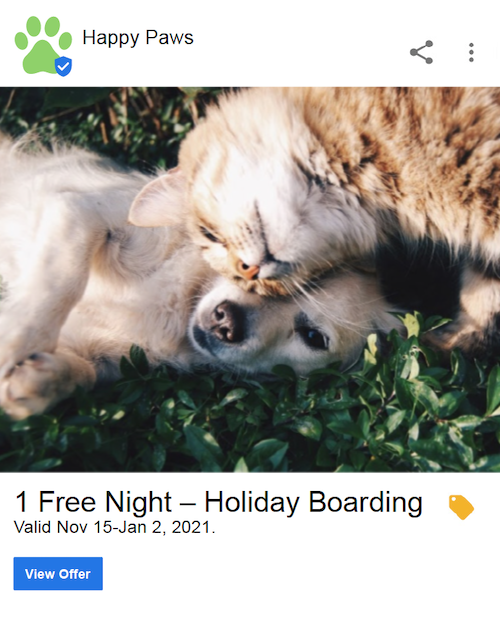 Some businesses provide free shipping (which is smart, because only 20% of customers will pay for shipping), others offer discounted gift cards, and some give other incentives like free gift wrap or delivery.
Think about how your business can offer a holiday promotion or discount that brings in shoppers without hurting your bottom line. You might even ask your existing customers for feedback on what types of incentives or discounts they'd be interested in around the holidays.
Planning these promotions can help you inform your marketing strategy as well, which saves you time!
5. Automate Your Leads During the Holidays (& Beyond!)
How much time do you and your team spend following up with and keeping track of leads? It's probably a lot. And, if you're not responding to or following up with leads after hours, you might be missing out on potential customers. But, you don't want to be glued to your computer or work phone when you're trying to enjoy time with your loved ones, right?
That's where automating your lead management comes in. With a lead management solution in place, you can set up specific hours where leads will get an automated response, so you don't have to worry about missing them while you're watching your favorite holiday movie or indulging in some sweet treats.
A lead management solution can also keep track of all your leads in one place, so you and your team know who has been followed up with and who still needs a call. Some lead management solutions can even show you what marketing drove the lead to your business, which comes in handy as you're thinking about your marketing plan for the next year.
6. Run a Holiday Email Marketing Campaign
Email marketing is a quick and easy marketing strategy to use during the holidays. With your planned promotions in hand and a compelling holiday subject line, you can entice existing customers to visit your business or bring in new customers by using targeted email marketing, which is pretty much just what it sounds like – a way to target users based on a set of criteria with your email marketing messages.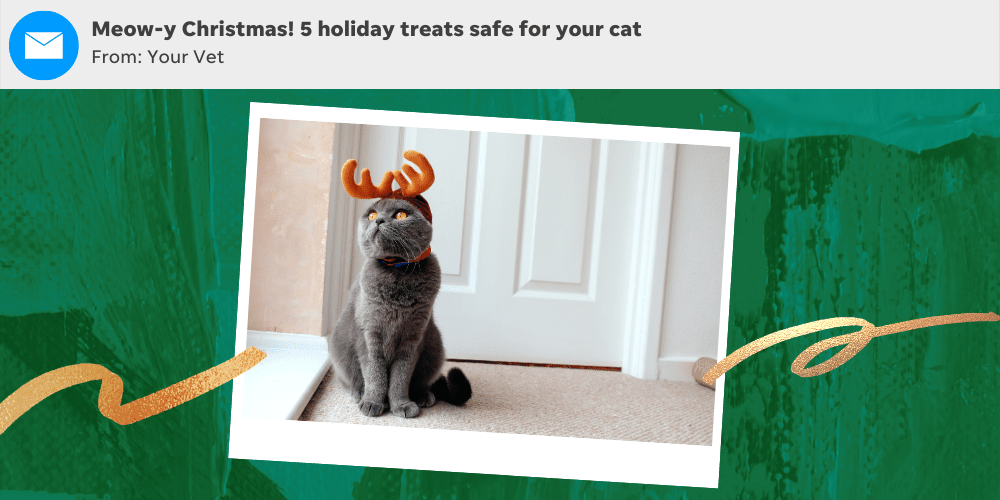 Send existing customers a special promotion inviting them back or rewarding them for a recent purchase and bring in new customers with a new-customer special. Make sure your email marketing messages include seasonally appropriate graphics and call out any special ways you're serving customers to keep them and employees safe this season.
Email marketing can especially be a time-saver for your business during the holidays if you partner with a marketing agency to run your email campaigns for you – that way, they can take care of the audience segmentation, marketing message, and reporting so you can sit back and watch the customers roll in.
7. Pre-Plan & Schedule Your Holiday Social Media Posts
Social media is one of the most powerful marketing tools to harness during the holiday season. With both free and paid options available, promoting your holiday offerings on Instagram, Facebook, Twitter, and Pinterest are all-powerful outlets to draw in new customers and retain existing ones.
The best way to get ahead on your holiday social media marketing is by planning out and scheduling your content in advance. You can use Excel, Google Sheets, or a free Team Up calendar to plan out your social posts by creating columns for each platform, copy, and date to be published. Using a posting tool like Hootsuite or SproutSocial can help to save you even more time by allowing you to schedule your posts for each channel on one platform.
You don't have to complete the entire holiday season in one sitting, but even blocking out a few days at a time can help relieve some stress and save you time. If you're looking for ideas, we have holiday Instagram post ideas, Facebook holiday post ideas, and Christmas social media post ideas to help you get started.
And, if you're already working with a social media management company, they can take care of this for you – which will save you even more time during the holidays!
8. Hand Over Your Advertising to the Experts
Digital marketing activities like search marketing, social ads, and display advertising are great ways to get your business in front of consumers. And during the holidays, consumers are in the mood to buy — whether they're buying presents, gifts for themselves, or prepping their home and health for visits — they're probably spending some money.
Many businesses slow their digital marketing spend during the holidays because it's a lot to handle on top of everything else. But now's the time to get in front of those customers and set yourself up for a successful New Year. So, working with a marketing partner to help you run this marketing and determine the best paid channels, messages, and ad creative to effectively reach holiday buyers can make things not only easier for you by giving you more time but can also save you the frustration of running this yourself.
Let Us Be Your Holiday Helpers
Speaking of the experts… At LOCALiQ, we love the holidays. But more than that, we love helping businesses grow through marketing. We'd love to partner with you so you can take one thing off your full plate this season and into the New Year.
Contact us so we can talk about what we can do to make your marketing merry!