Tis the season to be social. Social media is a big hit for businesses around the holidays as people are searching for gift ideas and shopping the sales. One way to increase their chances of finding your business is with the use of holiday hashtags.
Hashtags serve many purposes, but when it comes to marketing your business, they can help:
Expand your business's visibility on Instagram
Express your post message
Support your brand message
Make it easier for non-customers to discover you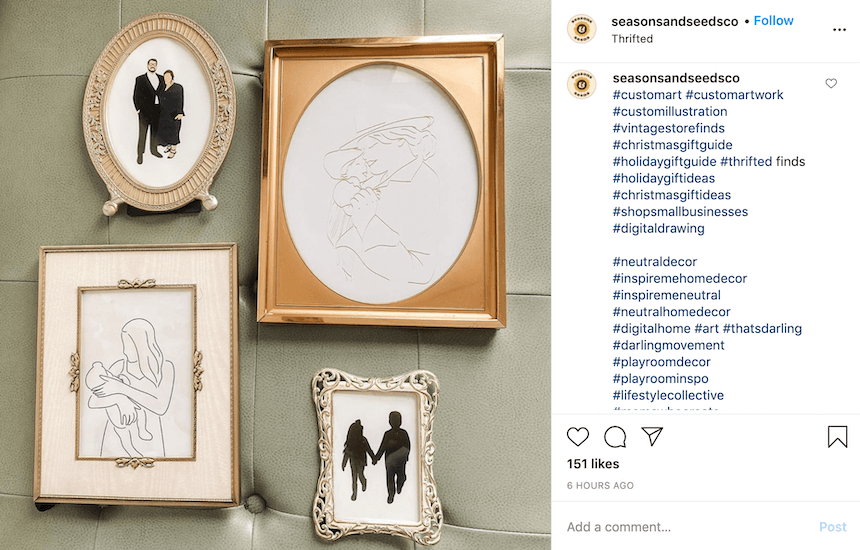 Holiday hashtags can serve these same purposes, which just might give your business a big ole boost during the busy holiday season. In this post, we'll be sharing 120+ holiday hashtag ideas broken down by:
We'll also share holiday Instagram post ideas to help you connect with customers, attract new customers, and build a sense of community throughout the season.
How to use holiday hashtags
Your business and your audience can get connected through hashtags in a variety of ways. For example:
Craft a post and then go through this list to see which hashtags make sense.
Use the hashtags in this list to get inspiration and then use our post ideas to help you reach the right target market.
Take a look at which hashtags your competitors and complementary businesses are using in their posts. Since you share audiences, you can indeed get found by your target audience through other businesses ' posts, just through hashtags.
Without further ado, let's get to our hashtags!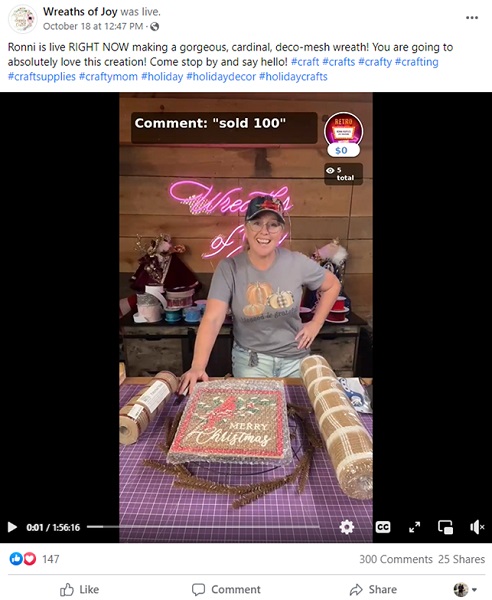 Just-for-fun holiday hashtags
Not every hashtag you use has to be geared toward growing your audience or getting more customers. The hashtags below can simply help to describe your posts, or joyfully place your business into the hub of the holiday spirit.
Holiday Hashtags
#holidaycraze
#tistheseason
#holidaystruggles
#tistheseasontobejolly
#holidaygiftgiving
#holidaycrazy
#holidaycheer
#holidaymayhem
#tistheseasontogive
#tistheseasonofgiving
#happyholidays
#hoorayitstheholidays
#holidaybliss
#merryandbright
#seasonsgreetings
#holidaysarehere
Christmas Hashtags
#christmastime
#christmasmagic
#christmasmood
#christmasseason
#christmassy
#christmasiscoming
#christmaslights
#christmasgram
#christmasfun
#christmasgoodies
#christmasspirit
#christmasgiving
Get Christmas social media ideas to help you use these hashtags right!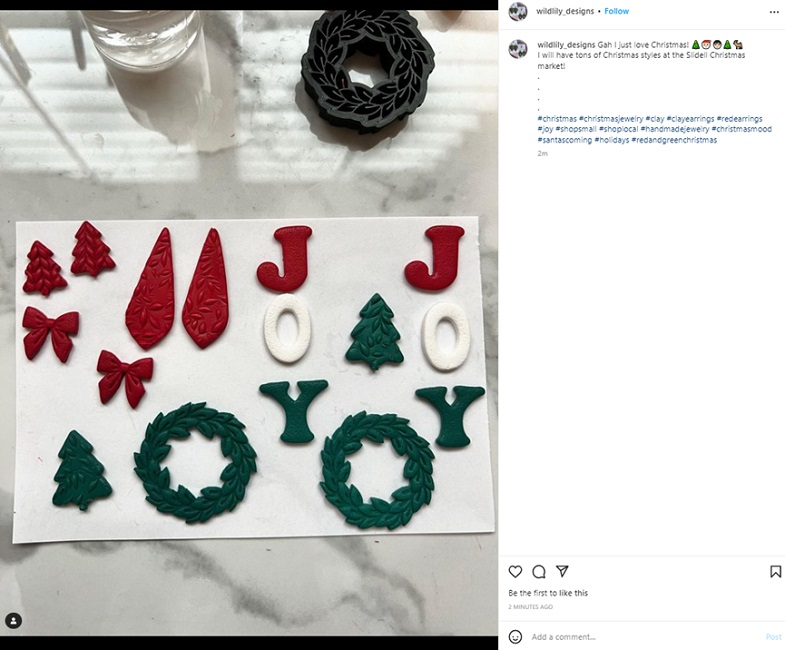 Hanukkah Hashtags
#hanukkahbush
#happyhanukkah
#dreideldreideldreidel
#instahanukkah
#festivaloflights
#lightthemenorah
#countdowntohanukkah
#hanukkahgifts
New Year's Hashtags
#newyearresolution
#happynewyear2023
#toasttothenewyear
#newyearstoast
#newyearscelebration
#nyeparty
Small business holiday hashtags
Did you think we'd miss this section? Don't forget to tag your holiday posts with small business hashtags to get connected with the local shoppers out there, especially if you're participating in #BuyBlack Fridays or Small Business Saturday.
#smallbusinesschristmas
#shoplocalthisholidayseason
#localchristmas
#shopsmall
#localholidayshopping
#supportlocal
#blackownedfriday
#smallbizsat
#smallbusinessSZN
#shopsmallholiday
Holiday hashtags for sales and promotions
If you're looking to expand the reach of your holiday promotions and sales, take a look at the hashtags below.
#christmassale
#christmasgiveaway
#christmascountdown
#holidaysale
#christmasdeals
#holidaydeals
#christmaspromo
#holidayshopping
#christmaspromotion
#holidaydeal
#holidaysavings
#12daysofchristmas
#8daysofhanukkah
#entertowin
#holidaypromo
#12daysofgiveaways
#happyholidaysale
#hoppingholidaysale
#8daysofdeals
#christmassavings
Gift idea holiday hashtags
Many searchers will use hashtags to find inspiration when it comes to gift ideas. Use these hashtags to help them discover your business.
#christmasgift
#hanukkahgiftguide
#hanukkahgift
#christmasgear
#christmasgiftideas
#hanukkahgear
#hanukkahgiftideas
#holidaygiftforher
#christmasgiftguide
#holidaygiftforhim
#holidaygiftset
#holidaygiftlist
#holidaygiftbaskets
#holidaygiftguide
General holiday hashtags for tips, ideas, and inspiration
People often use Instagram as a way to search for ideas and inspiration–especially around the holidays. Use these holiday hashtag ideas to inspire your audience.
#christmasgoals
#creativechristmastree
#holidayideas
#modernmenorah
#stockingstuffers
#holidaypartyideas
#creativechristmas
#hanukkahdecor
#christmasdecor
#holidayinspo
Practical and tactical holiday hashtags
These hashtags might work great for home services businesses, healthcare brands, auto businesses, or any niche market in between. If you're looking to attract the holiday crowd with posts about holiday tips and tricks, be sure to use these holiday hashtags:
#holidaysavingstips
#holidaysurvival
#holidaytips
#holidaysurvivalguide
#holidayhacks
#holidaysurvivalkit
#hanukkahhacks
#holidaysafety
#christmashacks
#holidaysafetytips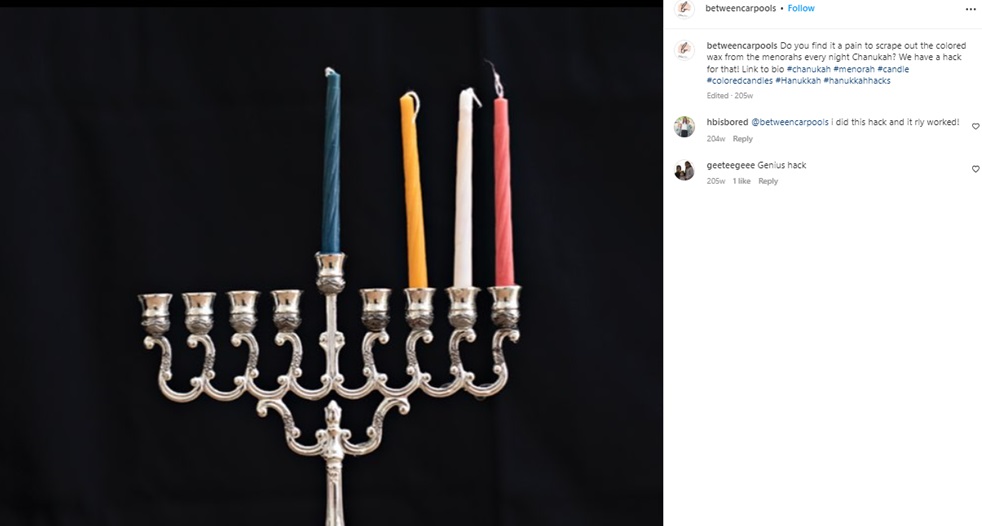 DIY holiday hashtags
DIY holiday hashtags are great for businesses with creative audiences. They're most beneficial when the DIY relates to your products and services.
#diyholiday
#diyholidaydecorations
#diyholidaydecor
#diychristmascard
#diyholidaygifts
#diychristmaswreath
#diyholidaygiftcards
#diyholidayphotos
Holiday event hashtags
If you're hosting an event, be sure to create a custom hashtag for your event and encourage all attendees to use it!
#holidayevents
#holidayeventsboston
#holidayeventideas
#christmasparty
#holidaygathering
#holidayhappenings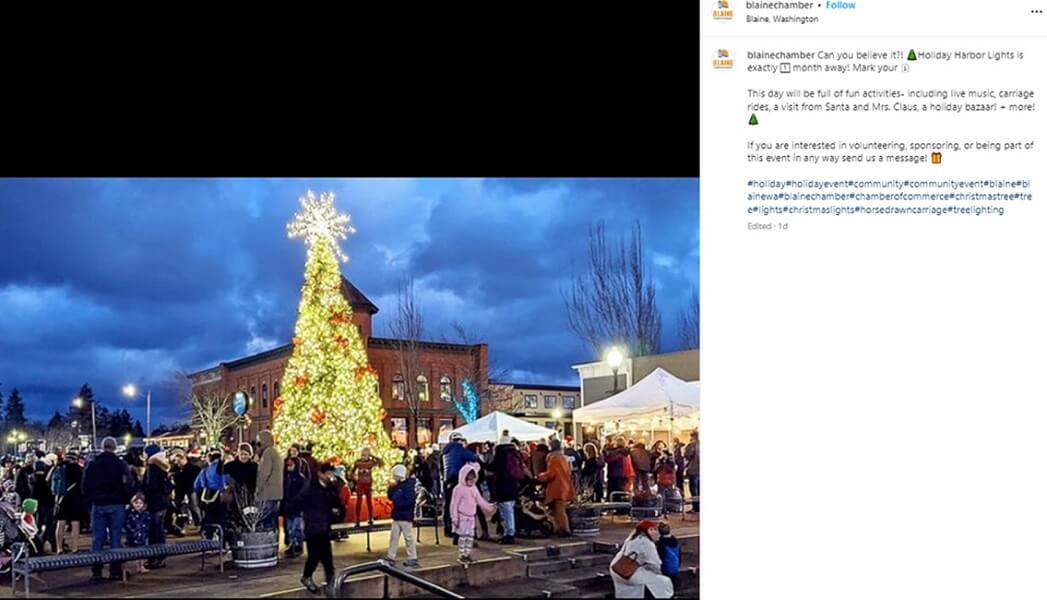 Location-specific holiday hashtags
There are many hashtags to which you can add your location at the beginning or end. Location-based hashtags are a great way to increase your visibility in your community. For example:
#holidaysinboston
#bostonholidaydeals
#charlestonholidayhappenings
#tampaholidayevents
#shopholidayshouston
#holidaysalechicago
Vertical-specific holiday hashtags
Think about the ways that you can tie your specific products, services, and company mission into the holidays.
For example, businesses in the fashion, events, or salon industries could use hashtags such as:
#christmasdecor
#christmasnails
#christmasfood
#christmasdress
Health and fitness businesses might want to add these hashtags to their posts:
#healthyholiday
#healthyholidaytreats
#healthyholidaychallenge
#healthyholidaytips
#holidayfitnesschallenge
#healthyholidayrecipes
#healthyholidayhabits
#healthyholidayseason
#healthyholidaygifts
#holidaywellness
Now that you have all the holiday hashtags you could ever need, let's talk about what types of Instagram posts you can include them in!
Holiday Instagram post ideas
Here are some ideas for and examples of using Instagram as a marketing tool during the holiday season to grow your business and delight your audience. (And if you're looking for holiday Instagram captions, we've got you covered!)
Encourage your community to support and shop local
The shop local theme of the holiday season gets kicked off with Small Business Saturday, but it doesn't have to stop there! When you're promoting products during the holidays, especially products that make great gifts or event additions, use #localchristmasshopping and be sure to include other hashtags related to Christmas, holidays, and shopping local.
Highlight your products as gifts
If you create handmade items or customizable products, create Instagram holiday posts with these products. In addition to just showing that your product can be a gift, use hashtags and captions to explain why it makes such a great gift. And, if your business has created a gift guide, you can feature the items from your guide on your Instagram.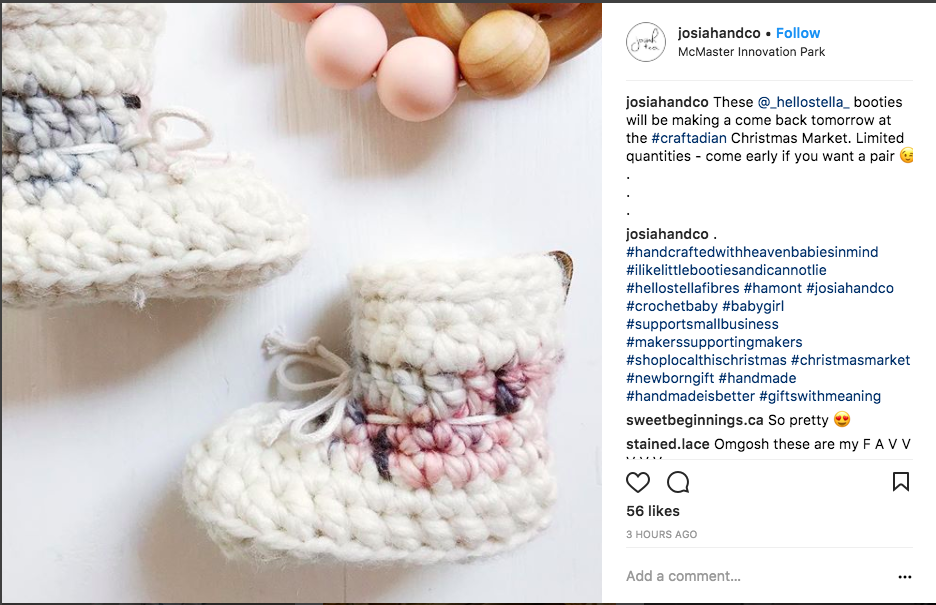 Post invites to your events
Of course, don't use Instagram as the only source of promoting your event. With no clickable links, your Instagram post won't do much to actually get attendees (unless you use Instagram ads, too). However, once you've emailed out about the event and posted about it on social media (maybe even created a Facebook event), use a screenshot of the invite, a photo of a physical invite, or a DIY graphic to promote the event on Instagram. And, don't worry–you can use this tip for virtual events, too!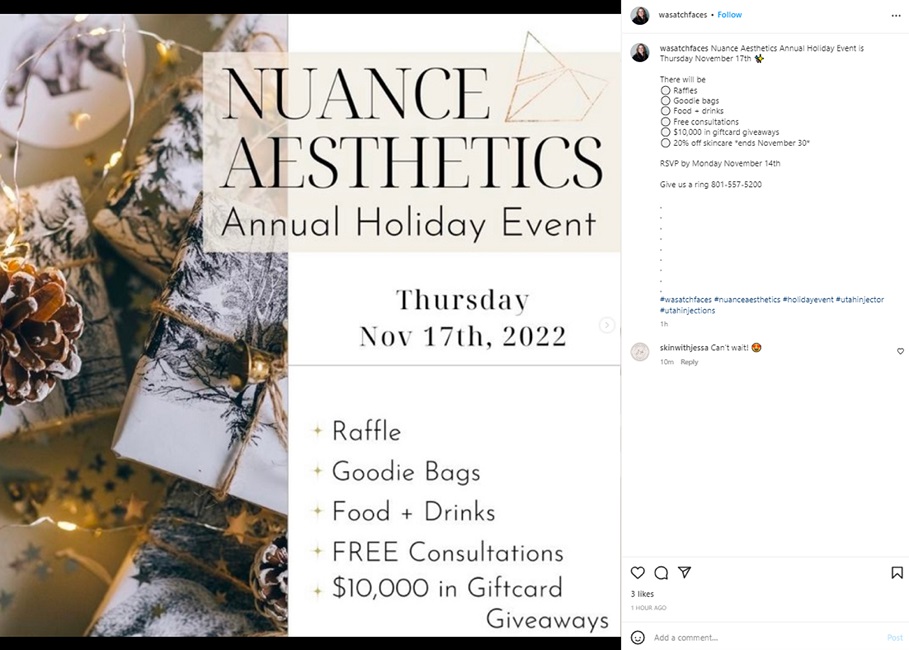 Show off your merchandise
You might have holiday-specific products, or you might display that product in a Christmas setting, or you might present your product as a holiday gift. Seeing the product in gift form can help a potential customer to visualize giving that item as a gift.
Build community
Even if you're not looking to promote anything specific, you can still use Instagram posting during the holidays to build your brand community. Posting pictures from your local area that spread the holiday spirit, highlight fellow local businesses, and get people excited about annual traditions are great ways to build your community and build your reputation within your community.
For community-building posts, use location-specific hashtags, and be sure to tag your location.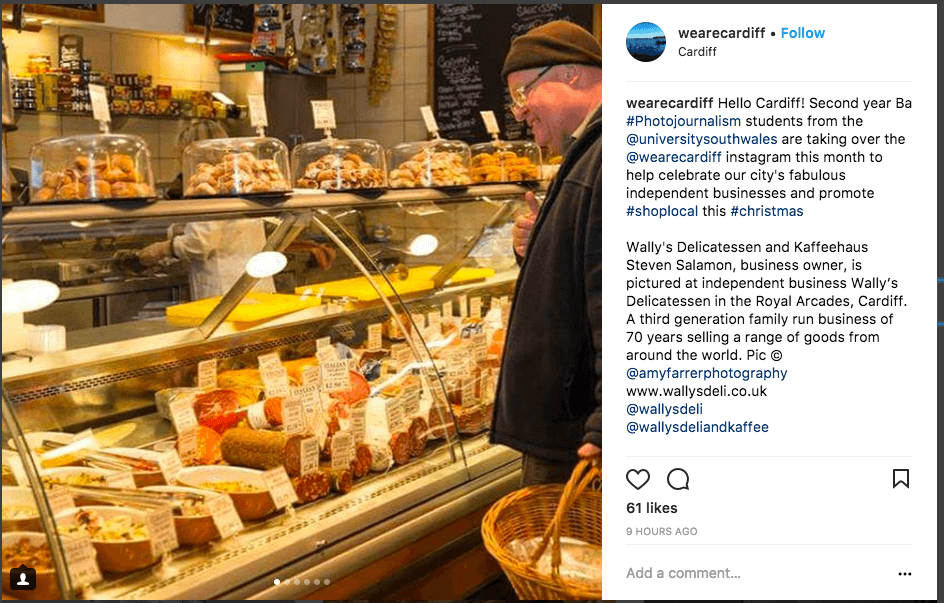 Promotions with a cause
Tis the season of giving. Why not partner up with a charity for your holiday promotion? You might even use your Instagram following to help promote an up-and-coming influencer.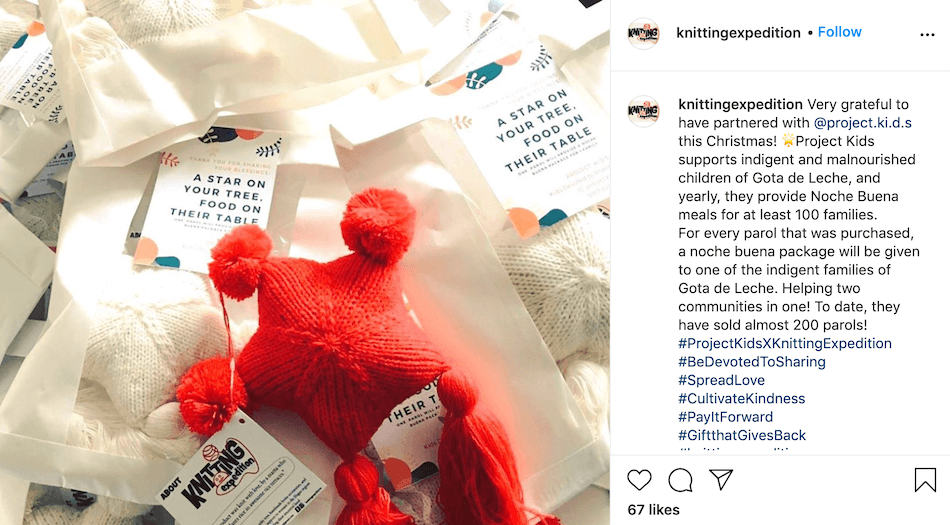 Help support a fellow business or local artist
Another holiday Instagram campaign idea is to help promote complementary businesses or feature a local artist. You may even partner up with them so that they will be promoting you on their end as well.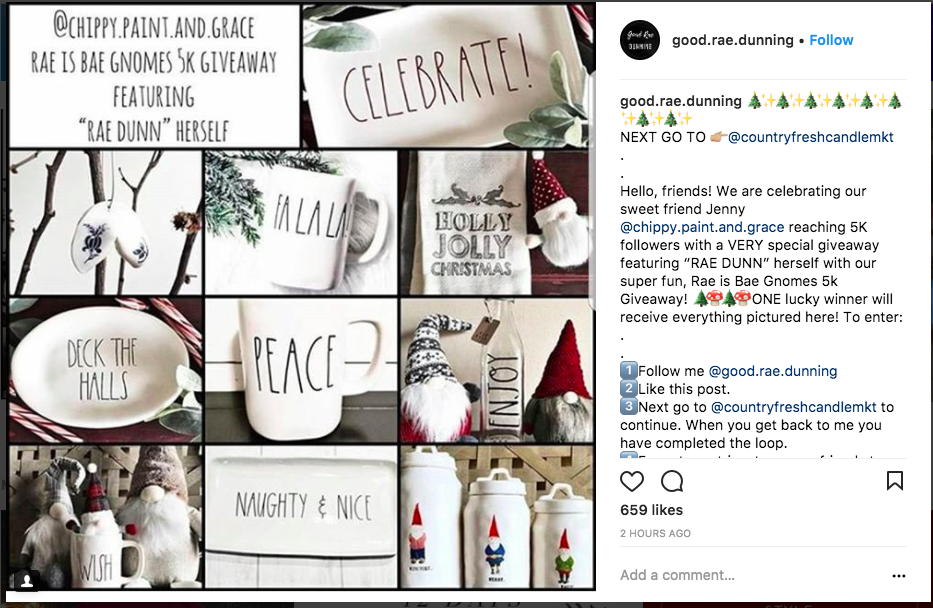 Post a promotion code
In addition to promoting your products as gifts, you might also want to include a promotion code to get more engagement. Of course, be sure to use hashtags and engaging captions to highlight the benefits of the product.
12 days of tips
If you can't do a product or prize giveaway, why not do a 12-day-themed campaign on Instagram where you provide something useful each day? This will keep your followers wanting more throughout the season. Plus, this holiday Instagram post idea can help fill your marketing calendar with content in a flash.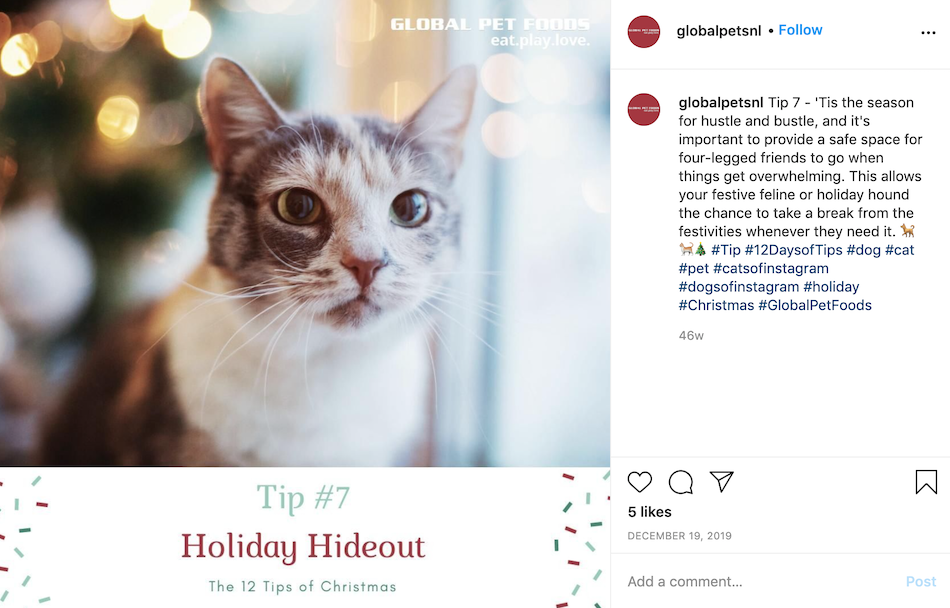 Create a schedule of your promotions or events
If you've got a lot of holiday promotions or events going on, you'll want to promote each deal on the day it occurs as well as a day or two (or more) in advance. To avoid overwhelming followers, you might want to create one master schedule first and post it to Instagram. You can also do this for events in your community and share it as a resource for your followers!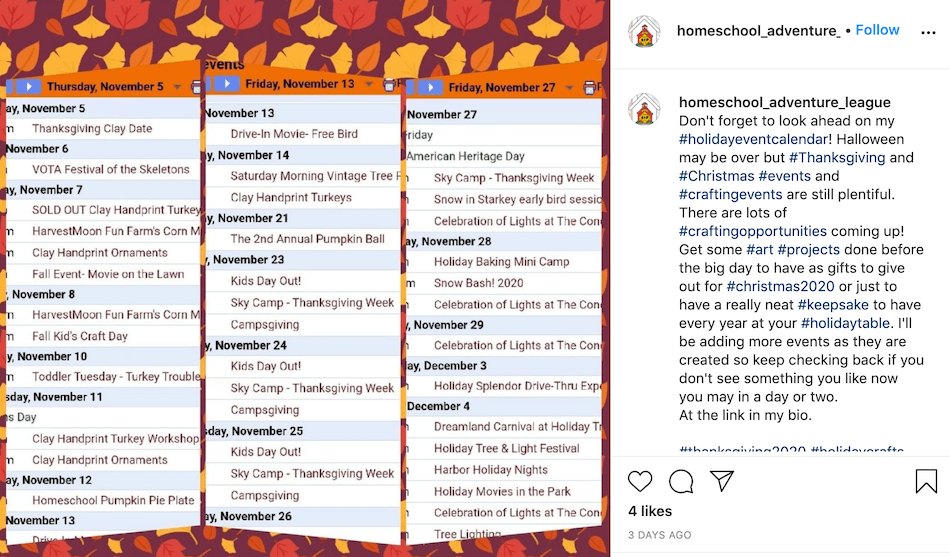 12 days of giveaways
There are different ways to do a 12 days giveaway:
Give away something different on each of the 12 days
Pick one item to give away every day for 12 days
Run a contest that accepts entrants for 12 days
Offer a reward for completing an action 12 consecutive days in a row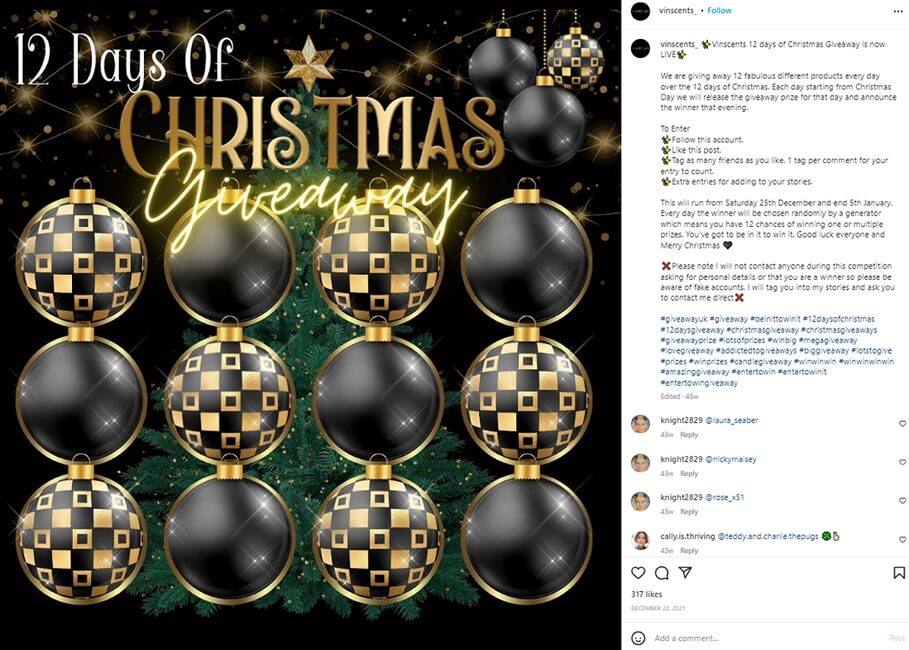 Get our tips to run an Instagram giveaway here.
Other holiday Instagram post ideas
Create a holiday video. You could just say thank you and happy holidays, or post pictures to music that recap the year. Or, you may even do a parody of a traditional holiday song.
Create and post simple graphics wishing your customers and followers a happy and healthy new year.
Share influencer posts that can help your audience achieve their shopping goals and stay well this season.
Let followers in on your more personal side, such as by sharing pictures from family traditions.
Post ideas for decorating, cooking, staying healthy, and other ways related to your industry. Ask your followers for their favorites and ideas.
Run a different type of holiday Instagram giveaway.
Try holiday and Christmas hashtags for #winning Instagram posts
Instagram can be a great addition to your holiday marketing strategy. We hope these happy holiday hashtags, Christmas hashtags, and holiday Instagram post ideas and examples get you off on the right foot with your holiday Instagram marketing!