Facebook is a powerful marketing tool year-round, but it can be even more of a gift to your business during the holidays. People are scrolling for recipes and holiday ideas, sending Facebook event invites, and keeping in touch with friends and family. And do you know what else they're doing? They're looking for businesses just like yours to buy from this holiday season.
In fact, our study found that Facebook is the top social media platform holiday shoppers will use to find information this season.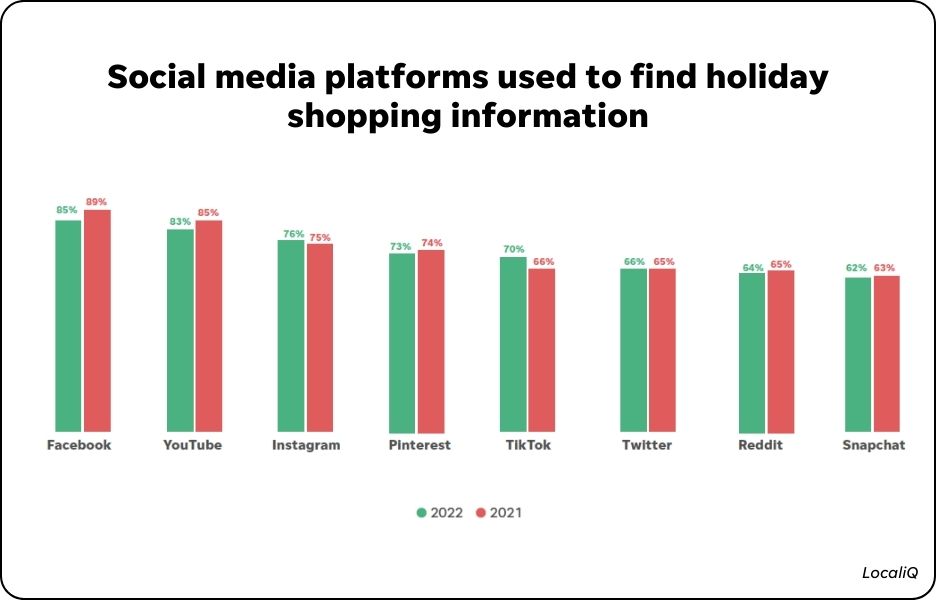 With the right Facebook marketing strategy, you can turn your business's Facebook page into a destination for your customers, a place to appeal to your target audience, and a lead generation tool during the holidays.
In this post, we'll share:
Holiday Facebook tips to get your page ready for new customers
Holiday Facebook post ideas to engage your audience
Examples of great holiday Facebook posts and ideas to get your creative juices flowing
Let's dive in!
Want the data on how consumers will search and shop this season? Download our free guide packed with data and tips to make your holiday marketing a success!
Update and optimize your Facebook page for the holidays
Before we get into some fun and festive tips for your Facebook page during the holidays, let's take a second to make sure your business's Facebook page is ready to go.
1. Double-check your contact information on Facebook
Facebook is not only a place for people to engage with your business, but it also provides a way for them to get in touch with you during the holidays. Take a minute to make sure that your website, phone number, and address are listed accurately on your Facebook page.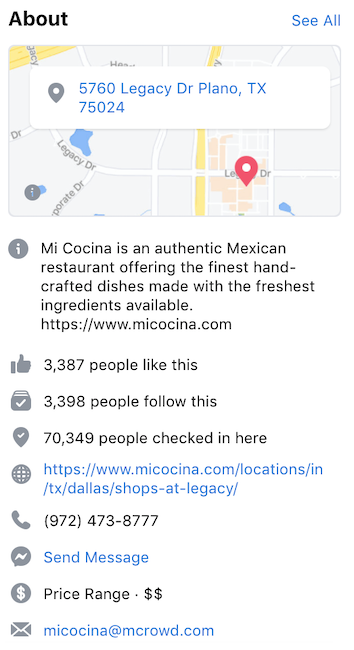 You might consider viewing your Facebook page as a user rather than an admin just to make sure that what your audience sees is correct.
2. Update your holiday hours of operation
Do you have any special holiday hours? Will you be closing early Christmas Eve? Extending your hours for the holiday shopping season? Make sure that your hours of operation on your Facebook page reflect when your business is operating to make life a little easier for your customers who may be trying to contact you–or visit your business.
3. Change your Facebook cover photo or video to something festive
Your business's Facebook cover photo or video is one of the first things people see when they visit your Facebook page. Why not update it to something that will catch their eye? You can create a fun holiday graphic, change it to a picture of the interior of your business decorated for the holidays, or share a video of your holiday décor.

Run a holiday Facebook contest
One way to boost your social media strategy during the holidays is to hold a giveaway or contest. Facebook giveaways or contests are often oriented around users taking an action, like tagging a friend, checking in to your location, and more so you can increase engagement. Before you determine the type of giveaway or content you're going to run as part of your holiday Facebook strategy, figure out what you'll give away. Many businesses will give away free products, discounted services, or tickets to special holiday events happening in the community.
Here are some Facebook holiday contest ideas to help you get started!
4. New Facebook follower contest
For this holiday Facebook contest, each new person who likes your business's Facebook page is entered to win your prize. Or, you can award the people who drive new followers to your Facebook page by having them tag potential followers in your post.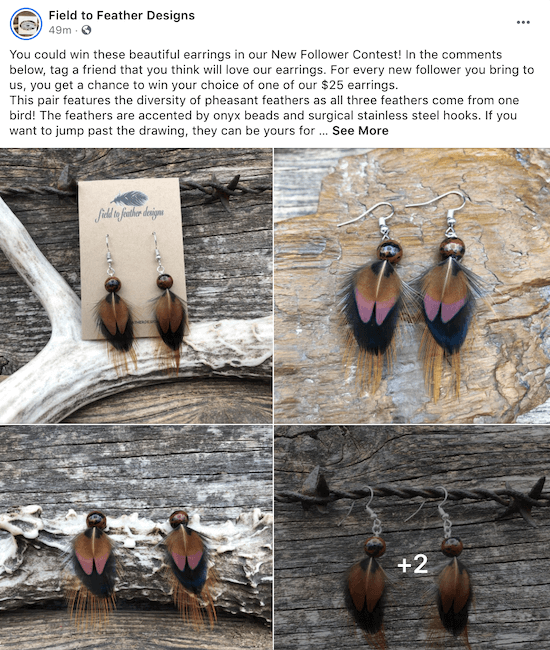 This helps you increase your audience on Facebook, which can help you reach more people during the new year.
5. 12 (or 8) Days of Giveaways Facebook contest
For a 12 Days of Giveaways contest, you can give away a different prize each of the 12 days. You can also run an 8 Days of Giveaways contest to appeal to your audience that celebrates Hanukkah. Each day, you can post a photo of the prize for the day and have users enter by liking the photo and commenting on why they want to win the prize.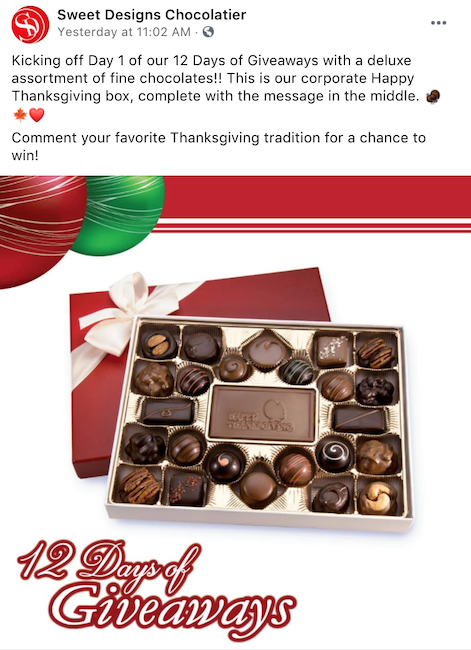 This holiday Facebook contest increases engagement on your page and keeps people coming back each day.
6. Like and tag (or share) to enter Facebook contest
For this straightforward holiday Facebook contest, anyone who likes your post and tags three friends is entered to win your prize. This helps you expand your audience because users are tagging their friends who may or may not be fans of your business on Facebook to enter. Once they see the prize, they may be inclined to tag more friends to enter. Make sure to include a disclaimer that winners have to be following your page!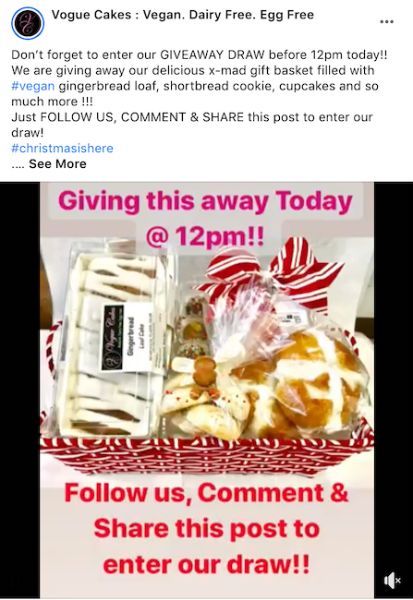 This business had users enter the contest by following them, commenting, and sharing the post. This is also a great way to amplify your business using your audience's existing network!
7. Facebook check-in contest
In this holiday Facebook contest, users must check in at your business on Facebook in order to enter to win your prize. When a user checks in at your location, it shows as a post on their friends' News Feeds, which can help amplify your business and increase awareness.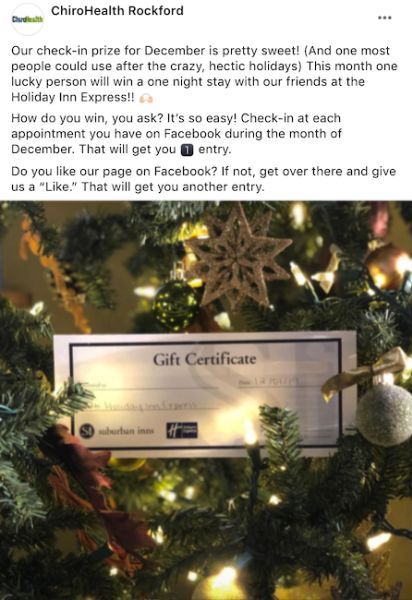 8. Photo (or video) Facebook contest
This holiday Facebook contest is especially great for businesses like vets or schools and consists of users sharing a picture to your business's Facebook page based on your contest prompt. The person whose picture gets the most likes wins the prize. Users can tag their friends to like their picture and share the picture on their Facebook page to encourage their Facebook community to engage with the picture on your page.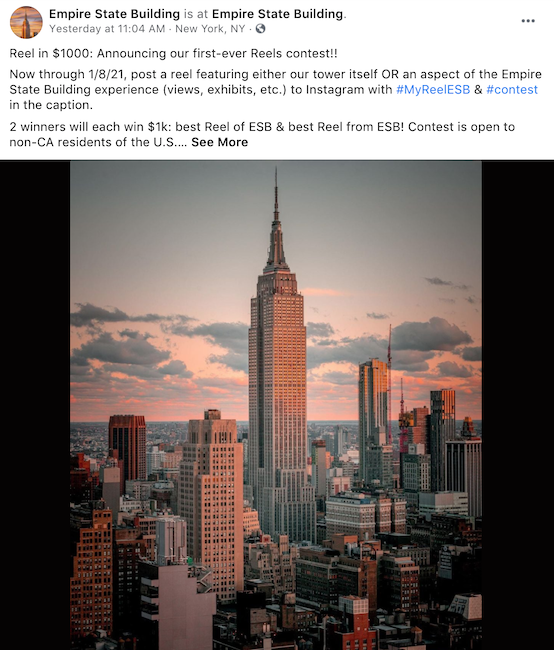 A vet could ask users to share a picture or video of their pets in their holiday sweaters, and a school could ask users to share a picture of how their students are spending the holiday break. This is a great contest to get creative and see what your audience will share!
Plus, it gives you great user-generated content to fuel your holiday Facebook posts.
Support your community during the holidays (on Facebook and beyond)
The holidays are a great time to give back to your community, and you can use your business's Facebook page to spread the word. Here are some ideas to get started.
9. Amplify local organizations' posts on Facebook
One way you can build a sense of community is by sharing Facebook posts from local organizations–these could be posts asking for donations, advertising a local charity event, or looking for volunteers.
Find and follow (if you're not already) a few local organizations in your community that are doing great work already and share a weekly post to get the word out to your audience.
10. Share how your business is giving back
If your business is already participating in or sponsoring a way to give back to the community during the holidays, make sure you're sharing that on your Facebook page.
You might be hosting a toy drive, volunteering as a team at the local food pantry, or partnering with a local organization to deliver meals to neighbors.
People like to work with businesses that care about the community, so share your philanthropic side!
11. Host a Facebook event to benefit a local organization
If you're not already participating in an event or initiative to give back, consider hosting a Facebook event to raise money or awareness for a local organization. You can create an event on Facebook to get the word out, and you can even have a raffle to entice people to attend your event.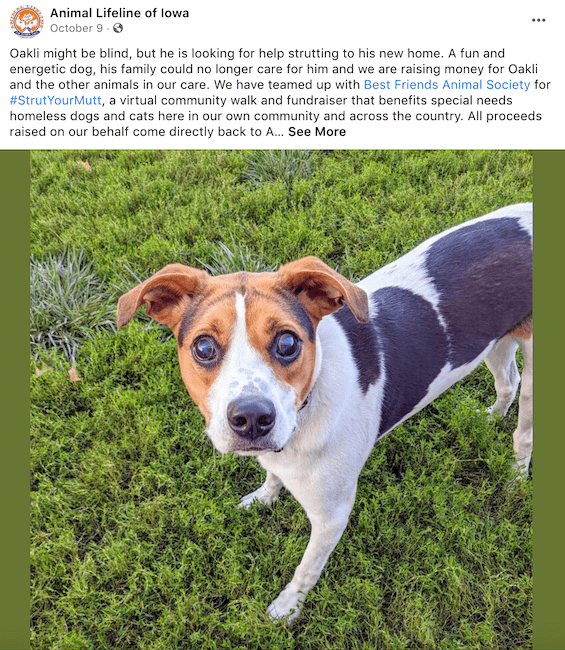 Your virtual event could feature a representative from an organization you care about talking about what they do and what they need during the holidays or just be a fun way to educate your audience about what your community is up to this season. You can also partner with other local organizations or businesses to amplify your event!
Keep posting throughout the holidays with these Facebook post ideas
The holidays are a busy time, but that doesn't give you an excuse to keep your Facebook page bare. You want to create social posts that engage your audience, entice them to do business with you, and give them valuable information that will keep them coming back.
Here are some holiday Facebook post ideas.
12. Post holiday tips and tricks related to your business
Everyone can appreciate a quick tip or trick–especially around the holidays. Think of a way you can share some interesting or helpful holiday information with your Facebook audience, like:
Plumbers: Remind your audience what can (and can't!) be put down the kitchen sink or flushed in the toilet.
Lawn care: Share some tips for winter-proofing peoples' lawns and gardens.
Vets: Share some holiday-approved treats cats and dogs can eat from the table – and what they should avoid.
Fitness businesses: Share healthy takes on family favorite recipes to keep people on track during the holiday season.
Healthcare businesses: Post tips to remind your audience to stay healthy.
13. Post holiday sales and promotions
While your Facebook page is a great place to engage your audience, it's also a great place to let them know about holiday sales or promotions you're running. You want them to do business with you, after all!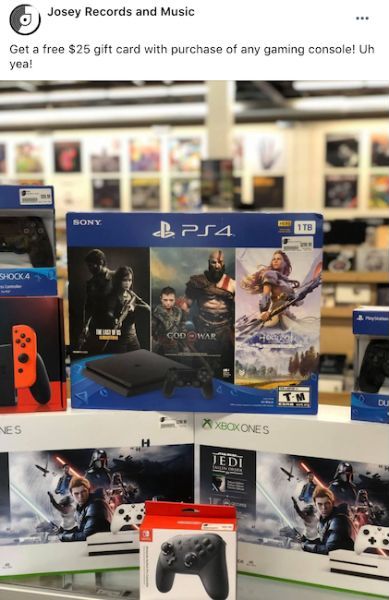 You might even consider running a Facebook promotion where people who are fans of your business's page get a special holiday discount.
14. Post gift guides
Creating a gift guide is a great way to get people to visit and engage with your Facebook page. Your gift guide can include not only gifts that you offer, but gifts from other local businesses or those related to your industry. Get our tips for creating a gift guide here.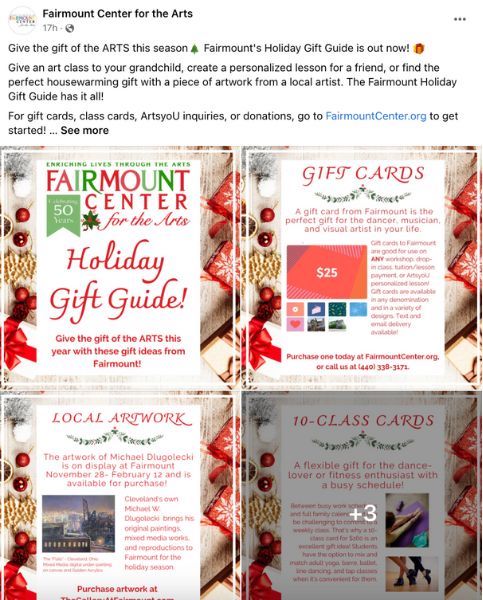 If you don't create your own gift guide, you can find and share gift guides on your Facebook page from other sources.
15. Post pictures of holiday décor or festive fun
If you have a storefront and have decorated your business for the holidays, make sure to share those pictures on your Facebook page! Give people an idea of what they can expect when they visit you–creating an experience is important for shoppers and can make the difference between them choosing to visit you over a competitor.
Plus, if your location is decorated nicely, it might even inspire other businesses (or influencers) to post pictures from your location to their Facebook pages, like in the example above!
16. Post your business's holiday safety and precautions
This holiday season, people have largely revisited their pre-pandemic in-store shopping habits, but some shoppers are still cautious. Make sure to share what your business is doing to keep customers and employees safe. Clearly outline your store policies around masks, and share pictures of sanitizer stations, and signage around store occupancy.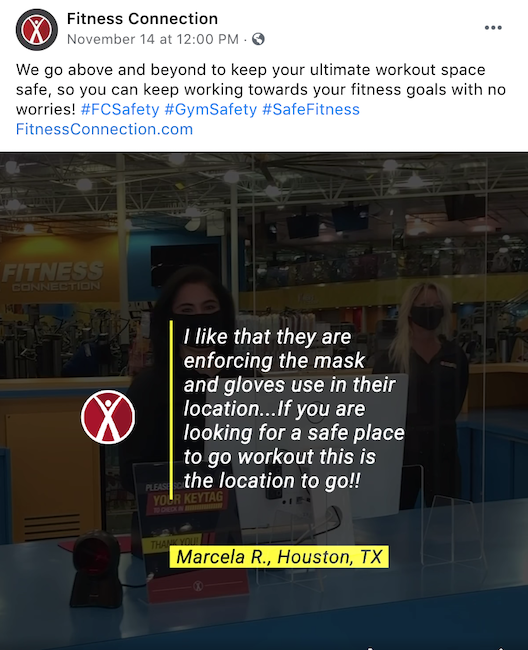 Plus, make sure to share any special ways you're serving customers–like through curbside pickup, free shipping, or contact-free payment.
17. Special holiday observances posts
The holidays give you some built-in social post ideas around Hanukkah, Christmas, and New Year's. But, there are some other fun observances during December that you can take advantage of on your Facebook page, like:
National Gingerbread House Day
Free Shipping Day
National Flu Vaccination Week
First Day of Winter
Ugly Sweater Day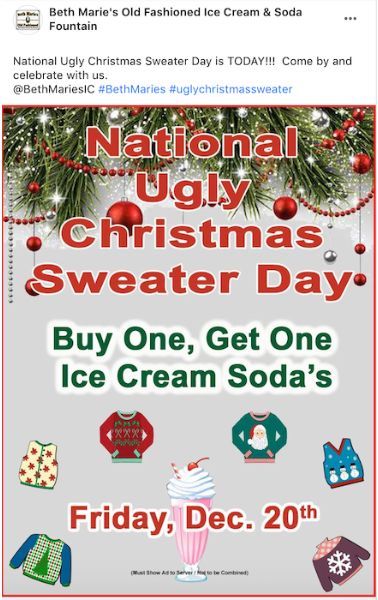 And that's just the tip of the iceberg! We outlined December social media holidays here. Find a special holiday observance that your business can participate in and share out on your Facebook page–make sure to use the right holiday hashtag to get even more eyes on your posts!
Related: Get Christmas social media posts and slogans to fill your calendar.
18. Create employee appreciation posts
Your employees keep your business running all year long, and they dedicate a lot of time during the holidays to make sure your business is successful. You can take some time to profile and thank your employees on your Facebook page with a picture or video and a quick blurb about why you appreciate them.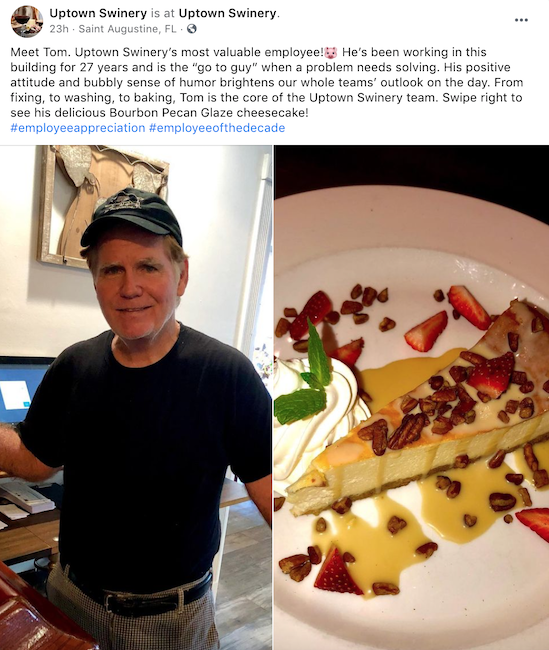 People like to see that businesses treat their employees well, and posting about your team will also give your customers an opportunity to get to know your employees and build a connection with them.
Don't forget Facebook advertising during the holidays
While it's important to engage with your audience organically on Facebook, it doesn't hurt to reach a wider audience with Facebook advertising. Here are some ideas for your holiday Facebook advertising.
19. Advertise holiday sales and promotions
Just like you want to post organically about your sales and promotions, you also want to get the word out with a Facebook ad. Use Facebook advertising to reach your target audience and encourage them to take advantage of your holiday sales or promotions.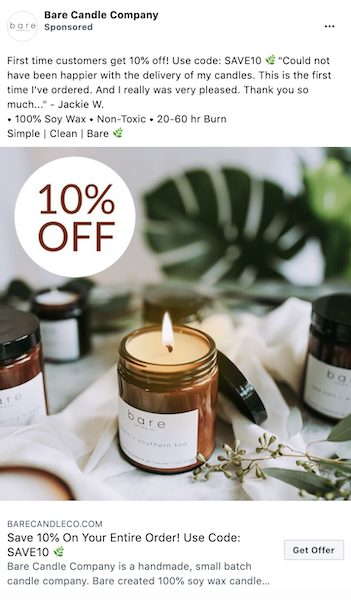 20. Grow your audience for the New Year
Set yourself up for success in the new year by growing your audience now while people are spending a lot of time on social media. Use Facebook's lookalike audience targeting to reach people with similar traits and demographics to your current followers on Facebook so you can start the new year with a wider audience and more brand awareness.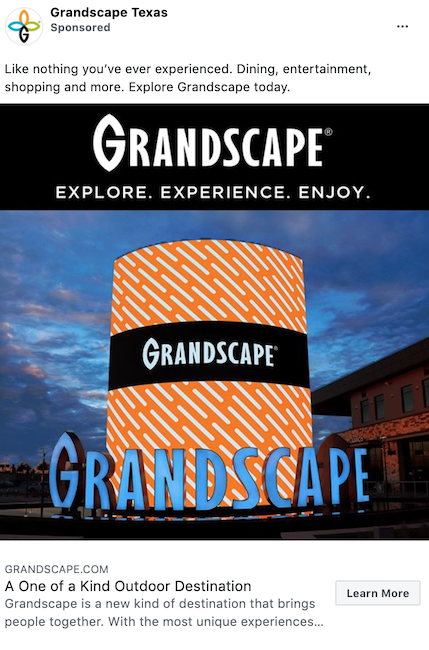 21. Try different ad formats
Facebook advertising is great because it allows you the flexibility to choose from different types of ad formats. By diversifying your ad formats for your holiday campaigns, you can stand out from the competition and capture users' attention.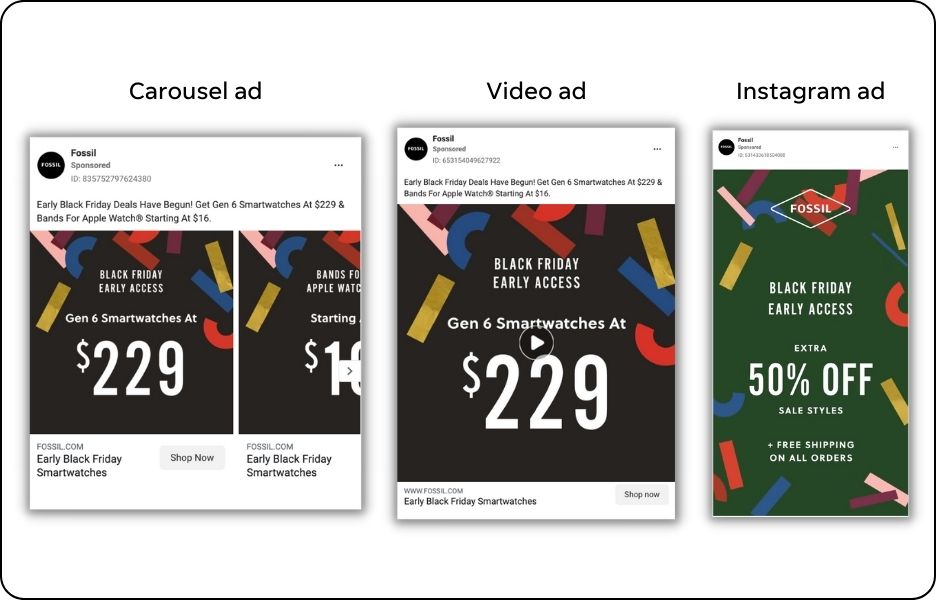 For example, you can run carousel ads, video ads, and Instagram ads through Facebook to see which helps you reach and convert your audience best.
Make Facebook your friend this holiday season
Facebook can help your business reach a new audience and engage with your current audience during the holidays and beyond. All it takes is the right Facebook marketing strategy. Use these tips to build your following and appeal to your target audience with your holiday marketing on Facebook.
Holiday Facebook ideas
Confirm your contact information
Update your hours of operation
Upload a festive Facebook cover photo
New Facebook follower contest
12 (or 8) days of giveaways contest
Like and tag Facebook contest
Check-in contest
Photo (or video) contest
Amplify local organizations' posts
Share how your business is giving back
Host a Facebook event
Share holiday tips and tricks
Promotion your holiday sales and deals
Create and publish gift guides
Share pictures of holiday decor or festive fun
Post your holiday safety precautions
Create special holiday observances posts
Make employee appreciation posts
Advertise holiday sales and promotions
Use Facebook lookalike audience targeting
Test different ad formats