Did you know that one billion hours of YouTube videos are watched every day? Plus, YouTube is the world's second-most visited website in the world (just behind Google). And 90% of people say they discover new businesses on YouTube ?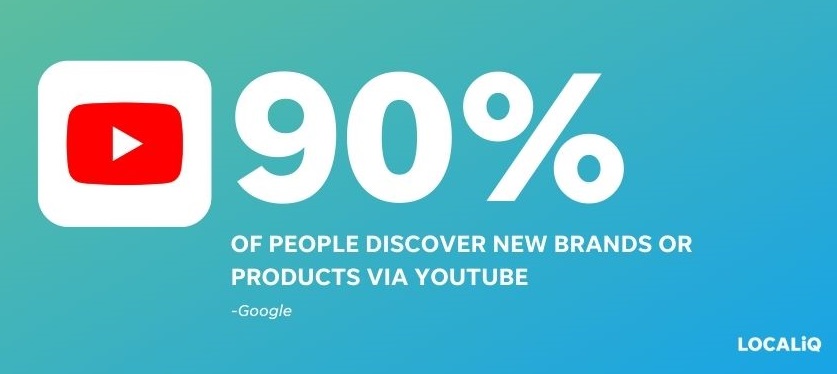 If you haven't dipped your toes in the YouTube waters yet, now might be the time. But when it comes to creating videos for your business's YouTube channel, it can be a challenge. What types of videos should you create? What will your audience be into? Where to start?
Coming up with the right YouTube video ideas is one of the hardest parts of running a successful YouTube channel. So, we're taking care of that for you in this handy-dandy post detailing the top (and easiest) YouTube video ideas!
YouTube video ideas table of contents
Keep reading to get all the details, or skip to the section you're most interested in.
And, action!
YouTube video idea tips
Before you get started identifying the right YouTube video ideas and creating your first videos, consider these tips.
Understand if YouTube is right for your business
Maintaining a YouTube channel can be quite a commitment, but if it works for your business, it's well worth it. As with any marketing strategy, it's important to consider if YouTube marketing is right for your business.
Here are a few questions to ask that can help you decide:
Are there existing videos related to your business? Do a quick search on YouTube for some video ideas that are related to your business. Do videos around those topics exist? How many video views do those videos have? If you notice there aren't many videos related to your business and the ones that do exist don't have many views, it could be a sign that your audience isn't really on YouTube.
Do you have the time and resources to create videos? Creating YouTube videos doesn't have to be costly, but it can be time-consuming if you're creating all your videos in-house without a dedicated person to help. If you or someone on your team is a video whiz or you're planning to work with a video vendor, then you can probably move forward with ease!
Do you have a promotion plan? Videos are a great addition to any marketing strategy, so creating videos for a YouTube channel also gives you additional content to share on your other marketing channels, such as social media, your small business website, and email marketing. Think about the other places you can use your videos to get the most out of your strategy.
Home services businesses are a great fit for YouTube videos.
Get the right equipment or team
As mentioned, creating YouTube videos doesn't require a full video studio and Hollywood-level director, but it does require a little bit of investment either in the form of video equipment, editing software, a video expert, or a video vendor.
If you're planning to create YouTube videos in-house (AKA you and your team will be shooting and editing them), then you may want to invest in a stabilizer (this can hold either a video camera or your phone camera to keep shots steady) and some video software (there are free online versions you can try). If you want to go all-in on YouTube marketing, you can identify and hire a video vendor to execute the strategy for you.
Set up your YouTube channel
If you don't already have a YouTube channel set up, you'll want to do that before you create your first YouTube video.
To create a YouTube channel for your business, you'll:
Log in to YouTube (using the same credentials you use to manage your Google Business Profile)
Go to your channel list
Create a new channel or create a channel from a Brand Account (creating a channel from a Brand Account will tie your channel to your existing Google Business Profile)
Fill out all the information to name your new channel
Click Create
Once your channel is created, you'll also want to add a YouTube cover photo, profile picture, your website URL, and a short blurb about your channel.
Know how often (and when) to post
The best YouTube influencers will tell you that it's best to post your YouTube videos regularly and on a schedule. Most experts recommend posting at least once a week on YouTube.
The best time to post on YouTube is generally between 2-4 p.m. CST or EST, and many recommend posting during a weekday.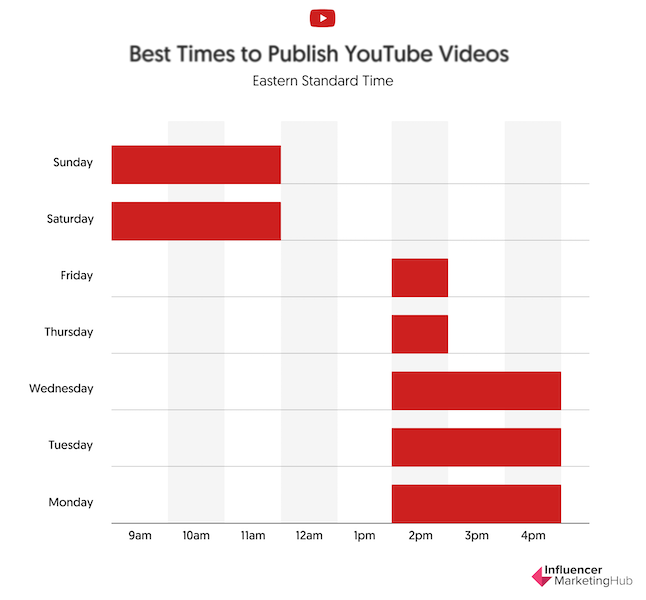 Once you find the right day and time to post to your channel, you should stick with that same schedule to increase your chances of engagement.
Promote your video across (marketing) channels
Again, video is a great addition to your overall marketing plan, so make sure you're promoting your YouTube videos across all your channels to maximize your investment. You can upload your videos directly to your social media sites or you can share a link to the YouTube video. You can also include your YouTube videos in email marketing, on your website, and on landing pages to increase engagement.
And, don't forget about YouTube Shorts! You can cut down and edit your videos to publish as Shorts so you can increase your reach and maximize the effectiveness of your video. Learn how to make YouTube Shorts here.
First YouTube video ideas
If you're thinking about launching your YouTube channel, you know you want to start off with a bang. Here are some first YouTube video ideas to consider.
Introduce your business
This is a quick and easy first YouTube video idea: All you need to do is create a quick video introducing your business. This can be a short overview of who you are, what you offer, and what you're planning to post on your YouTube channel.
Even after you create more YouTube videos, you can still set this as the first video new visitors to your YouTube channel see so they get an idea of what to expect.
Create a mini commercial
If you want to take your first YouTube video up a notch, you can create a mini commercial highlighting your business. You may consider partnering with a video vendor for this one—and if it turns out really great, you could always use it for YouTube advertising to get in front of a new audience and promote your YouTube channel.
Make sure to feature your products or services and highlight anything that makes your business stand out from your competitors.
Create a highlight reel for your business
If you don't want to go the full commercial route, you might consider creating a highlight reel for your business as your first YouTube video. This could be a picture or video montage of your business location, customers enjoying your products or services, and any special callouts you would want prospective customers to know about.
Introduce yourself and your team
The easiest and best first YouTube video idea, however, comes down to simply introducing yourself and your team. Tell your viewers what your business is about, what you love most about your business, and have your employees share what makes your business special. This can help you create an emotional connection and entice viewers to keep checking back.
Also make sure to create standout YouTube thumbnails for your first (and future!) videos. Get YouTube thumbnail examples to emulate here.
Easy YouTube video ideas any business can try
It can be a challenge to create a robust YouTube marketing strategy, but with the right video ideas and a solid foundation, you can start to see success on YouTube.
Interview a customer (customer testimonials)
Got a video-capable smartphone? Got a happy customer? Then you can easily pull off this easy YouTube video idea. Customer testimonial videos are helpful pieces of content for your business because they allow your existing customers to persuade potential customers to work with you or buy from you. You can either create one customer testimonial video per customer, or you can get short quotes from multiple customers and combine that into one YouTube video.
Make sure to ask your customers what they like best about your business, why they chose your business over your competitor's, and what problem your business solved for them.
Learn more about creating great customer testimonials here.
Product demos
Another super easy YouTube video idea is to create a product demo. This is pretty self-explanatory, but it involves you or a member of your team demonstrating how to use your product (or service). This can be a great video if you recently launched or got a new product in stock, if you're hoping to promote a specific service, or if you have a product that people are really curious about.
Product demos are an easy YouTube video idea because they simply require your product and someone showing how to use it—so you can easily knock this video out in a short period of time.
If you don't want to demo a product, you can also show viewers how to use a specific feature related to your business, like this example from grocery store HEB:
Educational video
As a small business, you can easily position yourself and your YouTube channel as a helpful resource to customers and potential customers by creating educational videos. These types of videos entail sharing helpful information related to your business. For example, a plumber could share what to look for when replacing sink hardware, or a real estate agent could share what you need to know about mortgage rates.
Educational videos can be really simple to create because they rely on your expertise. Plus, if you already create educational content in the form of a blog or newsletter, you can repurpose this content in video format for your YouTube channel.
Community-focused video
Does your business regularly participate in community events? Do you support specific organizations or groups in the area? Do you partner or work closely with other local businesses? If so, you can create some community-focused videos that highlight local events, organizations, or other businesses.
Perhaps you share a highlight reel from a local event your business sponsored. Or your film yourself visiting a local business to share your love for shopping locally on your YouTube channel. Or, like in the example below, you can share fun things to do in your area:
People love to engage with businesses that are active in their communities, and creating YouTube videos that showcase that can help you grow your audience with local customers.
Employee-focused videos
Just like people love engaging with businesses that care about their communities, they also love engaging with businesses that care about their employees.
Plus, this can humanize your business by putting a face and personal story behind the people who would be helping them.
You can feature your employees in YouTube videos in multiple ways:
Interview your employees about their favorite feature, product, or service your business offers.
Interview your employees about their favorite part about working at your business.
Ask your employees about a memorable experience helping one of your customers.
Ask employees to film a "day-in-the-life" video showing what they do at your business everyday.
These are just a few ideas to get started!
Holiday videos
An easy YouTube video idea that you can use year-round is to create holiday-related videos. While holiday videos easily apply to winter holidays like Christmas and Hanukkah, this video idea is also applicable for smaller social media holidays like Chocolate Chip Cookie Day or National Brunch Month. (See our round-up of all the social media holidays you need to know here!)
You can create silly videos highlighting these holidays, showcase any seasonal sales you have going on around these holidays, share holiday-related ideas, or feature a product or service related to the specific holiday. The sky's the limit with this YouTube video idea!
Get holiday video ideas here.
Event videos
If your business hosts, attends, or participates in events, you can easily create event videos. If you're hosting or sponsoring an event, you can create an event promotion video to get people excited about the upcoming event. Make sure to include what they can expect at the event, the event details like date and time, and any link they need to visit to register.
Once the event is over, you can create an event wrap-up video that showcases highlights from the event, includes attendee interviews, and shows all the fun that was had.
For example, if you're hosting a trunk-or-treat for local families, you would create a teaser video sharing details about the event. Then, once the event was over, you would create and share a highlight reel video showing how much fun all the families had at the event.
Promotional or sales videos
While you want the majority of your YouTube videos to be about building an audience, you can also create and post some promotional videos meant to drive action. These are typically around sales or specials your business is running.
These can range from quick videos teasing your upcoming sale, or they can be longer videos walking through each of the items on sale, how to use them, and why people should stop in to shop the sale.
Product feature videos
Similar to a product demo video, a product feature video highlights all the special features of your products or services. This is less of a demonstration and more of a sales-related video where you're showcasing why your product or service is worth a purchase.
But just because this video can be used as a sales tool doesn't mean it has to be overly salesy! Make sure to focus on the benefits of your product or service for your customers specifically. This might even include some customer testimonials or demonstrations.
For example, if you're a beauty brand, you could talk about how your skincare line works to solve common skin problems and have a customer show a before and after photo and talk about how much it helped them.
Q&A video
Just like an FAQ page is important on your small business website, Q&A videos can be beneficial for your YouTube channel. These videos answer common questions your customers have either about your business, your products, your services, or questions related to your industry. This can position your business as an expert and give you an additional piece of content to share on your website and social sites.
Let's say you're a community college and you get a lot of questions about how enrollment works, how students can transfer course credits, and more. You could create a Q&A feature focused on each of these questions that you could then share on your website or include in a FAQ YouTube playlist.
Additionally, you can source questions from your audience on social media and promote your video answering those questions across your marketing channels.
Create a video series
A video series is just what it sounds like—a series of videos around a related topic. This YouTube video idea works well for many video types, including product demos, Q&A videos, and informational videos. Plus, it can help you keep to a posting schedule and keep viewers coming back to your channel.
Many YouTube influencers have been quite successful using the video series model because people begin to look forward to the next installment in their series.
To create your own video series, think about what your audience is interested in, what would engage them, and what you could create videos for on a regular basis. Then, create a video series name (it doesn't have to be fancy!) and make sure to keep to your regular posting schedule.
Here's an example from a financial business sharing a series on passive income ideas:
Feature other businesses
Is there another local business that has an active YouTube channel? You could also them if they'd be willing to do a video swap—you could create and post a video highlighting their business, and they could do the same for you. This could include you experiencing their business—either by filming yourself going to their location and trying their products or services, or you talking about the business and what you love about it. You could even create a community feature series where you test out other businesses in the area to share with your audience.
Partner with a YouTube micro-influencer
YouTube is no stranger to influencer marketing. There are many successful YouTube influencers and micro-influencers, so one easy YouTube video idea would be to partner with a micro-influencer to create a video featuring your business. You could send a local influencer your products or invite them to partake of your service in hopes that they would feature you, or you can make it more official and pay them for a feature. Once they create and share their YouTube video, you can ask for a copy to upload to your channel, or you can simply promote it across your other marketing channels.
Here's an example of a video an influencer created for Nespresso:
Thank your customers
Your customers are the backbone of your business, so it's important to show some customer appreciation now and then. A thank you video can be a great addition to your YouTube strategy because it's easy to create, it's personal to your customers, and it helps build a relationship with your viewers.
This video can be short-and-sweet. It's all about letting your customers know how much they're appreciated, the difference that they've made for your business, and what you love most about working with them.
This video type is also great to share on other marketing channels like social media.
Year-end wrap-up
Have you reached new milestones throughout the year, launched new products/services, or done some great work in your community? You might consider sharing your accomplishments as part of a year-end wrap-up video for your YouTube channel. This video type showcases what your business has achieved throughout the year, the ways your customers have helped you get to that place, and what's to come for the next year.
Day-in-the-life videos
An easy way to give your customers a peek behind the scenes to show all that goes into running your business is to create and share day-in-the-life videos. These videos can show a snapshot of what you and other team members do day-to-day. You can have different team members showcase snapshots of videos of what they do, and you can create one yourself.
Related: Get tips for writing the best YouTube titles for your videos.
New products/services feature
Do you have any new products or services? Make sure to feature them in your YouTube videos. You can create a video for each product or service you offer and keep adding to your playlist as you launch new ones. Make sure to showcase what makes your product/service special and anything cool that viewers should know about it.
True/false video
Similar to educational videos or Q&A videos, true/false videos give you a great way to debunk common misconceptions about your business, your products, or your industry.
For example, many people have questions about what's happening in the economy and the stock market. Your financial services business could share true/false videos around common claims or incorrect information out there.
These videos are interesting and can help your audience learn more about a specific topic while positioning your business as an industry expert.
Explainer videos
This is another easy YouTube video idea because it just requires you to explain how to use your products or services. These videos are typically used in marketing materials, so creating one for your YouTube channel can benefit your other marketing channels, such as your email marketing or landing pages.
Explainer videos typically provide a short overview of what your business does (or provides) and how your business can solve a customer's problem. You also want your explainer video to include a call to action to encourage viewers to take the next step to become your customer—or at least learn more about your business.
How to video ideas
This video idea deserves its own section. How-to videos are some of the best YouTube videos to create because people search for them all the time, they're helpful, and they can showcase what an expert you are.
To find the right how-to video ideas for your business, think about common questions people search for in your industry, questions your customers have, and what you think are basic pieces of information people should know.
Here are some how-to video ideas by industry:
Home services
How to fix faucet leak
How to stop toilet from running
How to know if your roof is leaking
How to paint a room
How to shut off main water valve
Education
How to write an application essay
How to write an essay
How to choose the right college
How to write a research paper
How to choose a major
Real estate
How to find a realtor
How to find a realtor for a first-time buyer
How to get the best mortgage rate
How to find a house to buy
How to sell a house
Healthcare
How to find a doctor
How to know if you're sick
How to feel better when you're sick
How to brush your teeth
How to know what medicines not to mix
Auto repair
How to change a flat tire
How to check oil in car
How to change air filter on car
How to reset engine check light
How to jump a car
Get rolling on YouTube video ideas that get views
Coming up with the right YouTube video ideas for your business can be a challenge, so we hope this has helped spark some inspiration so you can be ready to roll on your YouTube video strategy!
Here are the top YouTube video ideas for businesses:
Introduce your business

Create a mini commercial

Create a highlight reel for your business

Introduce yourself and your team

Interview a customer

Demonstrate your product or service

Educational video

Community-focused video

Employee-focused videos

Holiday videos

Highlight an event

Feature your promotions or sales

Product feature videos

Q&A video

Create a video series

Feature other businesses

Partner with a YouTube micro-influencer

Thank your customers

Year-end wrap-up

Day-in-the-life videos

New products/services feature

True/false video

Explainer videos

How-to videos
Related: Make your YouTube channel stand out with a killer description. Check out the best YouTube channel description examples for inspiration!