Before social media, the customer journey started with attention and ended with a purchase. However, as social media made it easier for customers to share their experiences with others, loyalty and brand advocacy became part of the customer experience.
To illustrate the path a customer takes from awareness to advocacy, many marketing professionals and business owners create sales funnels. These funnels help businesses forecast future sales, gather valuable customer data, and identify the adaptations required to boost sales.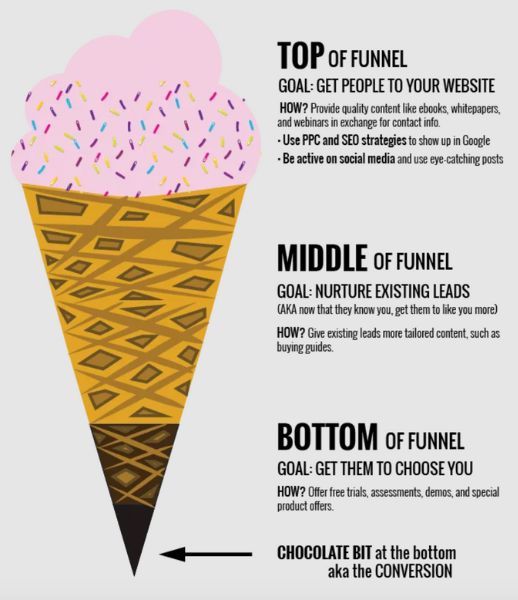 Love this visualization of the sales funnel from WordStream!
Given that social media marketing is based heavily on metrics, the funnel model provides a helpful visual for those seeking to improve service while boosting conversions. Here's how to adapt the sales funnel for your social media strategy.
What is a social media funnel?
The social media marketing funnel charts the path your customers take at different points during their customer journey. This sales funnel starts when potential customers become aware of your brand and continue until they turn into customers.
A social media funnel can help you establish a trustworthy brand image that generates positive word-of-mouth and turns leads into customers.
It is divided into five sections: awareness, consideration, action, engagement, and loyalty. The funnel stages are interconnected, with the user moving smoothly from one stage to the next until the funnel achieves its goals.
Here's a brief overview of each stage:
Awareness: At this stage, you attract the attention of potential leads, making them aware of your brand. They also get interested in knowing more about your brand, the use cases, and the benefits.
Consideration: You want your leads to see your business as a good fit and memorize it at this stage. Furthermore, you must distinguish your brand from the competition to make interested customers consider your business.
Action: Leads are persuaded to take action, i.e., purchase a product or sign up for your services.
Engagement: This is a kind of reiteration strategy. You must keep your customers engaged with your brand and stay at the forefront of their minds even after the sale.
Advocacy: When you build enough trust with your audience, they will start recommending you to others on their social media networks. That's the goal of this stage of the social media funnel.
You can customize your social media marketing funnel to meet the needs of your industry and target audience. However, the essential concepts of the five stages will remain the same. The following is an illustration of a social media marketing funnel: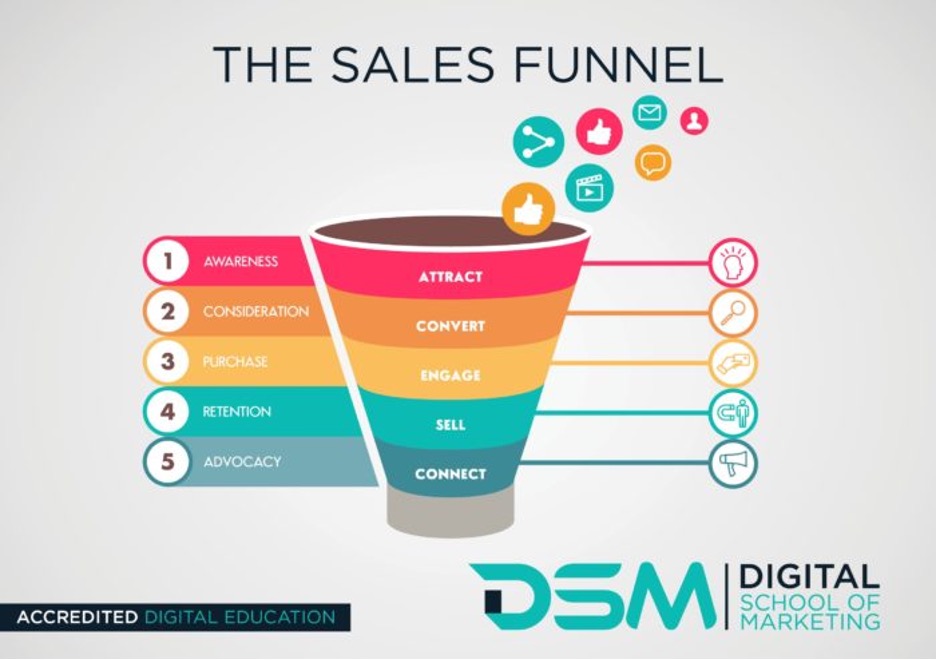 A social media marketing funnel helps you build a loyal fanbase and community for your customers. This, in turn, helps you build brand reputation and customer trust while increasing sales.
How to create your social media funnel
Most marketing funnels demonstrate the customer journey and help you convert more leads into customers. The social media funnel is no exception. At each stage of the funnel, you can employ various social media strategies to influence the prospect's behavior and guide them in the right direction.
So, here's how to create an optimized social media marketing funnel:
1. Know your target audience
Conducting market research to identify your target audience is a key aspect of any marketing campaign. Understanding your target market is also essential for creating the customer personas for your brand. (These target market examples can also help build out robust customer personas.)
The persona will help you tailor your product or service to your customer's needs depending on their age, location, and customer pain points. You may also use the data gathered to personalize bulk emails and other forms of content marketing.
When building your brand using social media, you also need to factor in crucial demographic points such as age (which can generally impact social media usage). For example, research shows that adults under the age of 30 tend to use Snapchat, Instagram, and TikTok more than other platforms.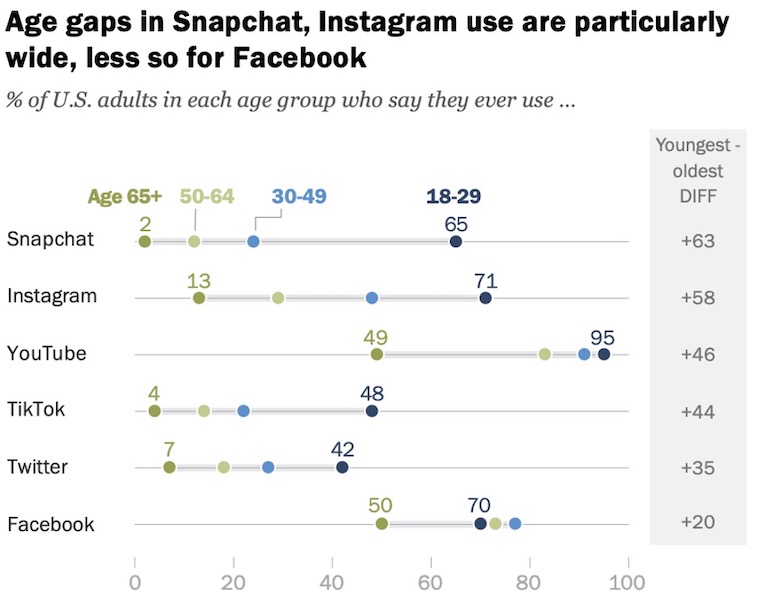 The study also showed noticeable demographic differences in social media users depending on various factors. For example, those with bachelor's or graduate degrees were more likely to have LinkedIn accounts. Elsewhere, reports indicate the user base for Facebook is steadily becoming older.
If you are just building a social media presence, you need to tailor your content according to your audience's behavior and preferences. If you already have an established cohort of consumers, the key points you might include are:
Age
Location
Language
Spending patterns and wealth
Interests
Challenges or pain points
Life events
B2B companies might also consider additional factors such as the size of businesses they engage with and who tends to make purchasing decisions at the client level.
In both cases, mining your existing customer database and social media analytics can provide fresh insights into your use of social media marketing and how you decide to leverage it for your brand.
Following on from this, you need to design your social media marketing funnel accounting for the data you have gathered about your audience. You may even use email finder tools to find emails and send surveys to your target audience and get to know them better. The more information you have, the more likely you will create a social media funnel with higher conversion rates.
2. Define your marketing funnel
A marketing funnel represents your customer's journey from brand awareness to purchase and brand advocacy. Netflix's sales funnel is one such example. The brand is active in publishing funny memes and engaging with followers in a way that makes them feel as if they are speaking to a friend. In this approach, Netflix raises brand awareness and, over time, brand advocacy.
Here is an example of one of Netflix's posts: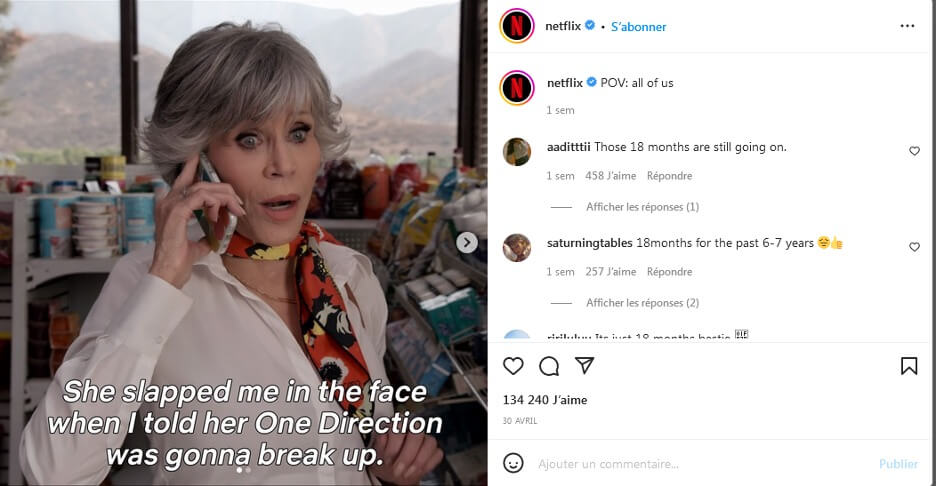 These types of social media content posts create a sense of community among subscribers because their memes relate back to content on their streaming service.
If users click on the link in Netflix's bio, the desire for the service is further reinforced through minimal web design outlining payment information and offering customers clear instructions that guide them towards their subscription purchase.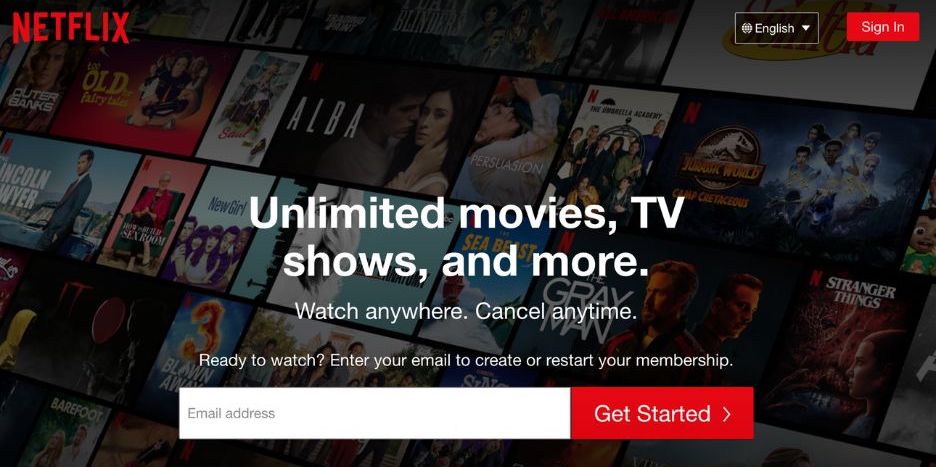 A structured social media marketing proposal can help define your marketing funnel by establishing key goals and creating a time-bound, goal-oriented framework for your funnel.
3. Create your social media funnel
The social media funnel has five stages (awareness, consideration, action, engagement, and advocacy), and you must invest in all these five stages to create a winning social media funnel. The marketing funnel works as a whole. Each stage must include strategies for organically guiding your audience through the customer journey.
However, before you begin your social marketing funnel, take the time to define your social media goals and target audience. Then, start with developing a lead magnet to raise brand awareness. Furthermore, to move prospects seamlessly from one stage to the next, you need appealing offers.
Also, you need a social media landing page that is simple and appealing to your target audience as part of this process. It should combine customer-centered design and accessibility while remaining on-brand.
While the outcomes of your funnel are likely to be complex and varied, it's best to keep the design itself simple–at least until your funnel has been fully validated and tested (you can then add more detail, such as upsells).
When building your brand using social media, it's essential to continually check what is working and what isn't. Innocent Smoothie is a well-established company whose quirky brand persona plays a vital role in its customer engagement process, as seen on its Twitter page.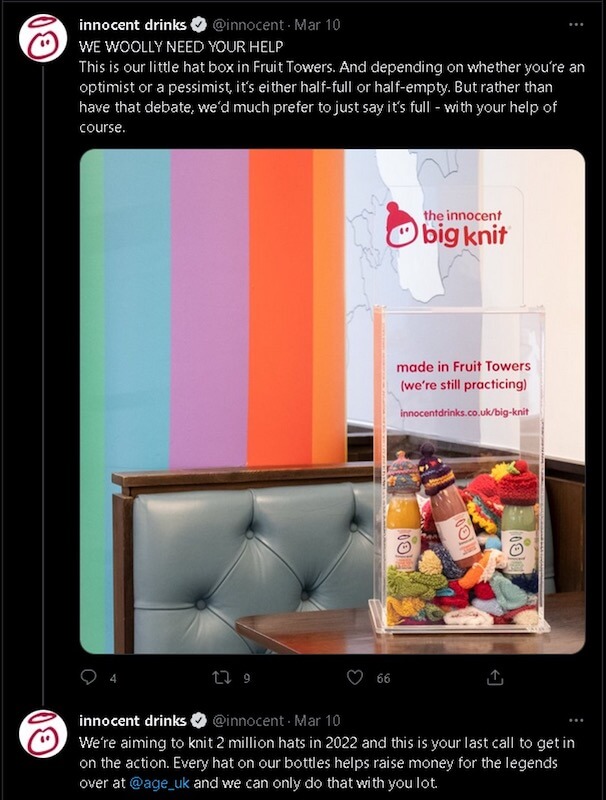 This post promoting their "Big Knit" campaign (a long-running collaboration with charity Age UK) demonstrates how Innocent's particular branding style is more relevant than ever.
Rather than focus on the hard sell (which has lessened in appeal in recent years), Innocent focuses on authenticity and social responsibility with an engaging sense of humor to win over their customers.
4. Test your funnel and make changes
Funnel analysis shows the conversion between the funnel stages in the user journey. It helps you determine what percentage of your users remain with you or churn at a certain point.
In the first stage, your funnel should start with what is known as the three levers of PPC: targeting, visuals, and ad copy. The more these align with each other, the more successful your funnel will be.
In the next stage, you need to analyze how your funnel performs using key performance indicators. This tracks how your customers engage with your content.
The most important social media metrics to analyze include:
Impressions: The number of times a particular post appears on an individual timeline.
Reach: Mainly indicated by web traffic in addition to sharing metrics.
Engagement: Indicated by likes, comments, mentions, clicks, and re-tweets.
ROI in terms of referrals (how your audience found your landing page) and conversions: Either direct from the site or via one of your social media channels.
Share of voice: Or how much space your brand is taking up in the online sphere, trackable by the performance rate of past versus current campaigns.
Response rate and time to customer care: As measured by engagement reports from interactions such as webchat data.
CTR (click-through rate): This shows the number of times someone has clicked on content. The higher the rate, the more successful the content.
Related: Find out the most important marketing metrics for all your strategies in this guide.
Compiling this data helps identify successes and areas for improvement; it also provides helpful visuals to any future stakeholders you may be working with.
Additionally, this also provides an overview of how your company is progressing concerning things such as marketing budget and resource increases. You can use various social media marketing tools to measure your social media engagement.
For example, you can use heatmaps and screen recordings to analyze typical behaviors when visitors reach your landing page. The picture below provides an example of how it works.
Heatmaps show you where website visitors are clicking on your page. The red dots show the most clicked element on the website, and the color lightens as the number of clicks decreases.
You may also use social media analytics tools like Google Analytics, Sprout Social, and others to measure traffic and interaction.
As your brand grows and more data is gathered about your target audience, you will be able to better position your company to optimize the social media funnel according to your audience's tastes and preferences. You will also have the flexibility to accommodate any changes in trends that might be taking place in the market.
5. Focus on customer retention
As you build your cohort of loyal customers, it's more likely that they will spread the word about your business, helping to increase your reach and engagement even further. So, you need customer retention strategies that allow you to give and generate more value from your existing customer base.
You can start by posting user-generated content, such as reviews and consumer images. It is a great way to engage your customers while also fostering a sense of community among your customers.
Create and engage with communities and groups on platforms such as Facebook and LinkedIn to interact with people who share your interests and establish a brand community for your business.
You may also run loyalty programs to entice consumers to return by providing discounts, exclusive access, or special offers.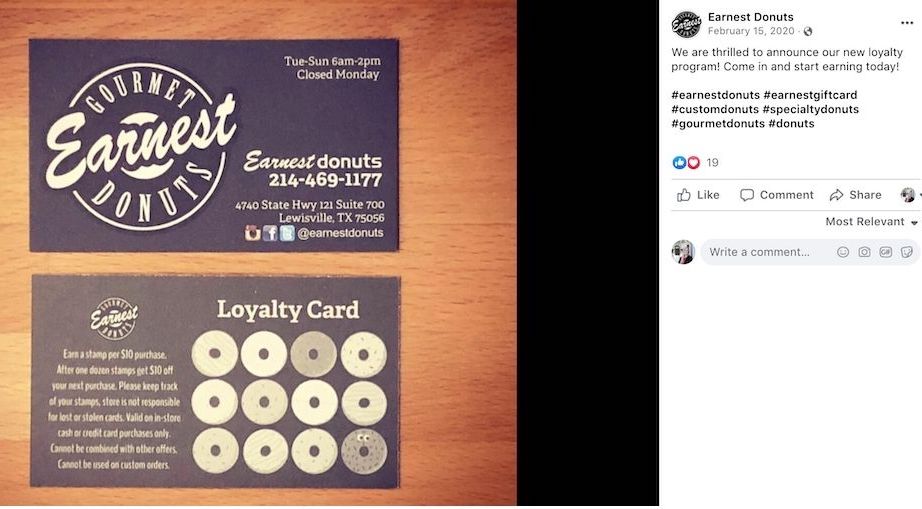 You must ensure that your customers have a positive experience with your social media customer support. Customers are increasingly turning to social media for customer service concerns since it is a more immediate and public channel.
Remember that crucial brand touchpoints such as accessibility and consistency are also worth considering when building brand loyalty and boosting engagement with new customers.
Build a conversion-worthy social media funnel today
A social media funnel is essential in today's digital marketplace. It allows you to establish a new level of trust and relationship with your audience. It also enables you to tailor your marketing content to the specific needs of your target audience, addressing critical pain points and catering to their needs and interests.
So, you must start by identifying your target audience through strategic market research to build an accurate buyer persona. As your sales funnel evolves, you can then build on key demographic points arising from consumer data and other metrics (such as engagement), using them to optimize your funnel.
Aside from that, creating a landing page with components such as social media buttons will help you drive more traffic to your brand's social pages and website. That can help build your social media audience and increase conversions and leads as part of an ongoing sales strategy that gets better over time.