Posts hidden from followers. No one able to search for your account. Engagement dropping drastically.
No, it's not a social media nightmare. It's something called shadow banning.
A shadow ban is when your account has suddenly been silenced for some unknown reason. It's basically a social media timeout. It typically happens when you've violated a social media guideline or posted inappropriate content, and a shadow ban leads to a large drop in engagement that includes fewer likes, comments, and views.
Regardless of whether you think you're at risk of being shadow banned or want to be prepared just in case, keep reading to understand what a shadow ban is, how to avoid it, and what to do if you've been shadow banned.
What is a shadow ban?
Shadow banning means that your account or the content you've shared is getting reduced visibility for some reason, often without you being notified of it (except on Instagram). Your posts, comments, and activity may be hidden from other others on the specific platform or app. Your username may not be showing up in search results. Your content may get fewer likes or comments.
Many users across social media platforms have reported a shadow ban, meaning their account has been muted or blocked without warning. For example, Instagram has shadow banned users in response to hashtag use or after someone reports their content for various reasons. While not all social media platforms haven't acknowledged how shadow banning works or if they even use it, people have been affected by shadow banning. In fact, 9% of social media users believe they have been shadow banned at some point in the last year (although there's no way to prove that).
Shadow banned posts won't typically show up in search results or for users who aren't following the poster. 
Experiencing an unknown drop in engagement, losing followers, or having a hard-to-find social media account sounds like a nightmare, but shadow bans can be avoided or fixed.
How do I know if I was shadow banned?
There are a few ways to know that you've been shadow banned, even if you're not sure why. You can be shadow banned on any platform, and you will not be notified about it (again, except on Instagram).
Of course, you may see a drop in engagement due to changing algorithms, problematic content strategies, or increasing competition. But if you're experiencing the following issues, it's possible that you've been shadow banned:
Huge drop in engagement, comments, and likes. If you notice a dramatic drop in your engagement, including likes, comments, follows, and shares, you may have been shadow banned. However, posting less often and algorithms changes may also be to blame.
You are unable to post or posts are under review. If you're suddenly unable to use certain features that are currently available to other users, you may have been shadow banned. Check to see if you are able to post as normal.
Your username or name isn't showing up in searches. If other users are unable to discover your brand by searching for your username, you may have been shadow banned. Check this by searching for your username in the search bar in your brand's account and through a personal one.
On Instagram, you can check if you've been shadow banned directly on the app.
For personal or non-business accounts:
Tap to your profile.
Tap the three lines at the top right-hand corner for the menu.
Tap Account.
Tap Account Status.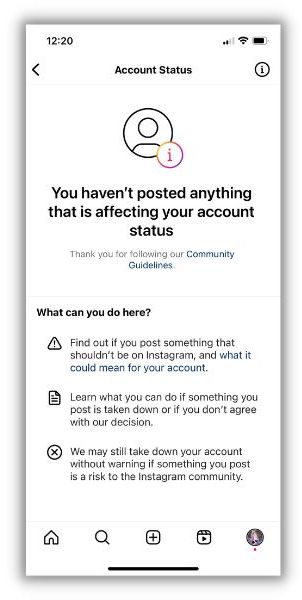 For business accounts:
Tap to your profile.
Tap the three lines at the top right-hand corner to open the menu.
Tap Preferences.
Tap Account Status.
How to avoid being shadowbanned
While there are ways to fix an existing shadow ban, avoiding being shadow banned in the first place is more important. If you ultimately recover from a shadow ban and return to unethical or unwise social media management practices, you're at risk of landing right back where you started.
Adhere to community guidelines
Every single social media platform has community guidelines and policies in place to make their communities safe for everyone. By creating an account and posting, you've agreed to adhere to these community guidelines. Though community guidelines vary from platform to platform, they generally prohibit illegal activity, bullying and harassment, violent content, hate speech, nudity and sexual activities, violent extremism, and misinformation.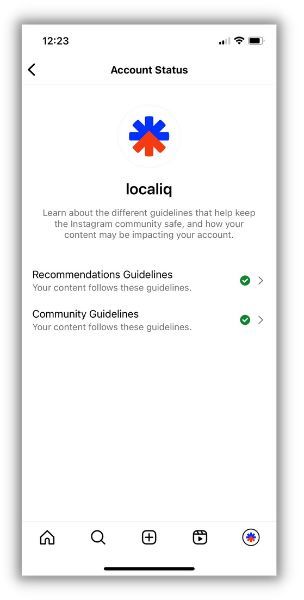 Review the community guidelines so you understand what they are and if you're violating them. TikTok, Facebook, Instagram, YouTube, Twitch, Discord, and Twitter have all made their community guidelines public.
If you're posting content that violates these community guidelines or even vaguely violates the guidelines—for example, if your content exists in a gray area that's not fully safe—you may be shadowbanned.
Don't post spam
If you act like a spam account, you will be treated like one. Sharing the same content over and over can result in shadow banning. Frankly, even if it doesn't, your followers are going to ignore repetitive content. Keep your content fresh, repurpose old content in interesting and new ways, and post different links, images, and copy.
Use good hashtags and avoid banned hashtags
If you're using too many unrelated hashtags in an attempt to get more views and shares, you may be at risk of being shadow banned. This may be seen as bot behavior. Additionally, if you're using banned hashtags—hashtags that a social media platform has removed from the search—your content won't show up in searches.
No social media platform has an official list of banned hashtags, but you can do a Google search to see if the hashtag you want to use has been banned. There are also many banned hashtag checkers available for free.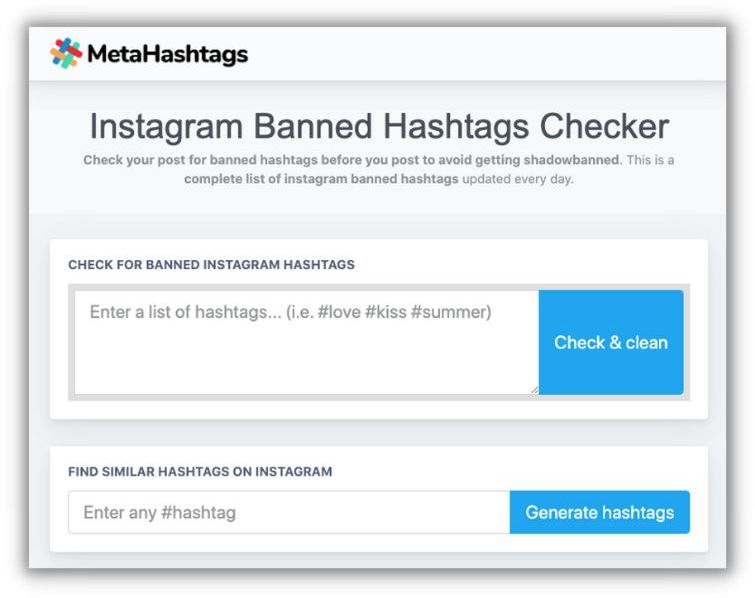 Never pay for followers, comments, or likes
Algorithms across social media networks never reward paying for likes, comments, or followers. Social media networks notice when you pay for bots to artificially inflate your fanbase. You may be shadow banned if you're discovered buying followers. Additionally, paying for likes and followers distorts your performance metrics, harms your credibility, and doesn't help you connect with the demographics you want. Basically, it's a waste of money.
Post consistently
Posting inconsistently will make it much harder to connect with the audience you want. You need to post regularly to get seen by your audience. If you post sporadically, your audience may not know when to find your content. Your engagement will be higher when you post at regular times, or at least on a regular schedule.
You can use a social media calendar to help you come up with regular post topics and keep a consistent schedule.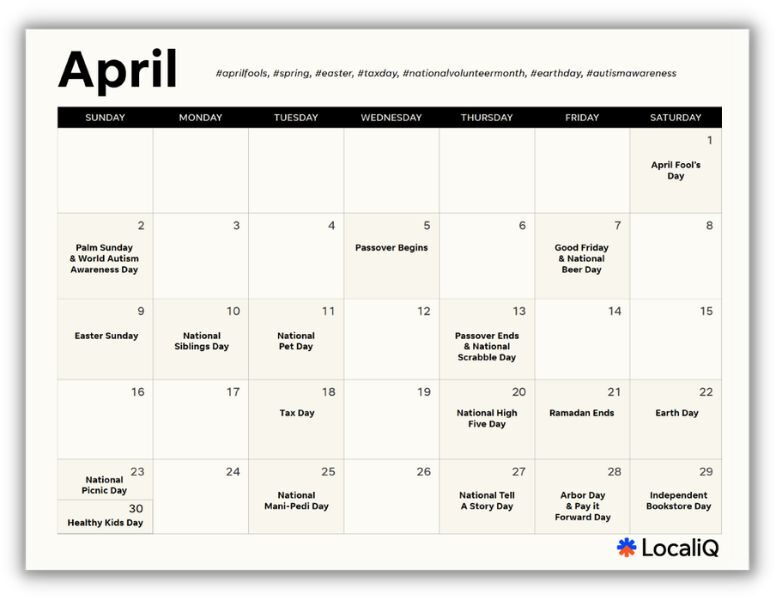 Be professional
This one is just common sense. Don't harass people or speak hatefully. Never troll other accounts. If you treat other accounts respectfully, you shouldn't have to worry about being shadow banned. If your content is constantly getting reported, you may need to reconsider what you're posting.
Avoid copyright infringement
If you post something that has a copyright, social media platforms may remove it. Violating copyright infringement can get you in legal trouble, so you will want to post original content.
Prevent copyright infringement by doing your due diligence.
Always attribute your social media content to the correct source.
Ask permission before posting images on social media that don't belong to you.
Link to the content you use on social media.
Create your own original social media content.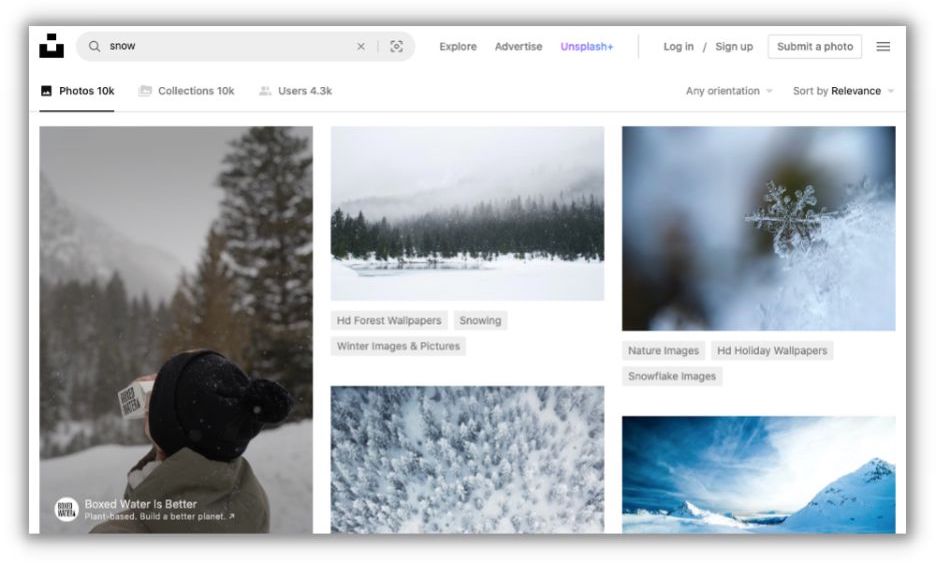 How to fix an existing shadow ban
Unfortunately, you may end up getting shadowbanned. You'll need to review your current social media practices, audit your content, and potentially ask customer service for help.
Switch to a business account
If you've been posting from a personal account, you may need to switch it to a business account. A business account will give you access to more advertising tools, analytics, and other tools. Every social media platform—from TikTok to Snapchat—has a way to create a business account or a way to switch a personal account into a business one.
Delete any spam, R-rated content, and content that goes against community guidelines
As we said before, violating community guidelines will get you in trouble fast. If you've violated these guidelines, you must:
Delete any spam and repetitive posts.
Delete any R-rated content on your social media like nudity.
Delete any other content that violates community guidelines.
Review your content strategy and internal guidelines to ensure this doesn't happen again. Our free social media audit template is perfect for taking a look at your performance and strategy.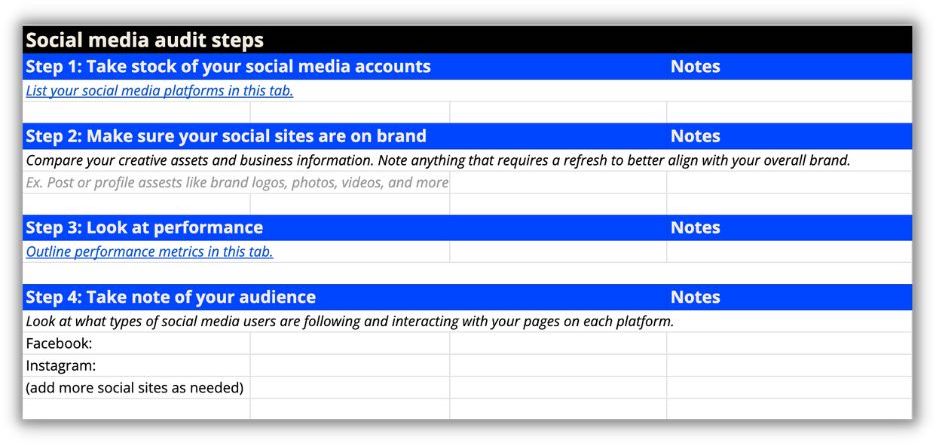 Stop paying for followers, likes, or comments
Paying for followers, likes, and comments can cost anywhere between a few hundred to a few thousand, depending on your budget. Save your money by ending any contracts you have with companies that give you these fake followers. Then, consider spending your marketing budget on social media marketing, an upgraded website, or a new landing page design.
Take some time away from social media
Even if you haven't done any of the above, your account may have been flagged by a huge amount of activity. Social media platforms may interpret your activity as a sign of bots and then shadowban your account. Taking a break for a few days may help lift your shadow ban faster. This break can give you time to come up with a consistent posting schedule and revamped social strategy if needed.
Contact customer support
It's possible that your account was shadow banned by mistake. It's also possible that you may not be able to solve the problem on your own. You should reach out to customer support to get an update about your account.
On Instagram, you can also contact the site directly to appeal your shadow ban. To do this, you follow the steps outlined to check your account status, tap "Disagree with decision," and submit your request.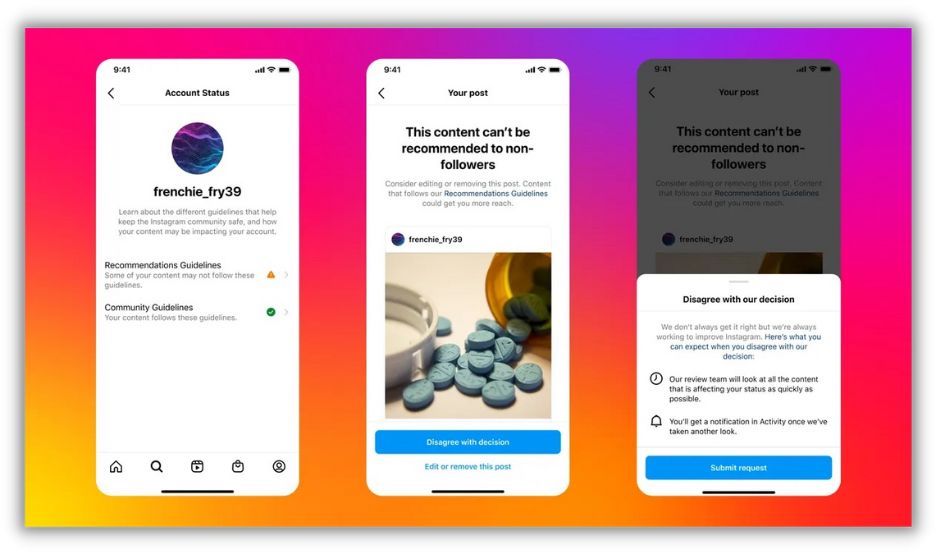 Avoid shadow banning
Most small business accounts won't have to worry about a shadow ban, but it's always good to be prepared and err on the side of caution.
Avoid a shadow ban by:
Following social media guidelines
Avoiding banned hashtags
Posting consistently and on a regular content schedule
Never posting copyright infringement material
Being kind and courteous online
Never paying for followers, likes, shares, or comments
Reviewing your posted content for spam, R-rated content, and inappropriate content
Auditing your social media practices
Posting great content that's suitable for social media and appealing to your audience
Taking a social media hiatus (if needed)
If you think you've been shadow banned, contact customer support for help. Then you can return to your social media game with authentic and actionable content that will impress your audience!