If you think TikTok is a trendy app solely catering to young people lip-syncing and creating choreographed dances, think again. While many Gen Zers (and let's face it, millennials, Gen Xers, and boomers!) still love that side of the app, TikTok has very quickly grown to include all types of content and authentic and diversified communities.
Simply put, TikTok is no longer a trend. With over 1 billion monthly active users and a projection to reach 1.5 billion by the end of 2022, the video-sharing app is also becoming the platform of choice for many brands (large and small).
While many small business owners are still figuring out where TikTok would fit in their marketing plans, there is no doubt that consumable, short-form video content is here to stay. With industry-leading organic reach and engagement rates, now may be the right time for your small business to take another look at TikTok.
In this post, we'll cover:
Why you should try TikTok for your business
How to create a TikTok account
How to get started with TikTok marketing
Let's dive in!
3 reasons to consider TikTok for your business
If you're not convinced yet, here are three reasons to consider TikTok for your business.
1. The TikTok user makeup is getting older 
The demographics are clear. The past few years have shown a dramatic increase in the number of TikTok users over 30 years old. In fact, 42% of U.S. users in 2021 were aged 30-49, and 47% of users fell in the 10-29 age bracket.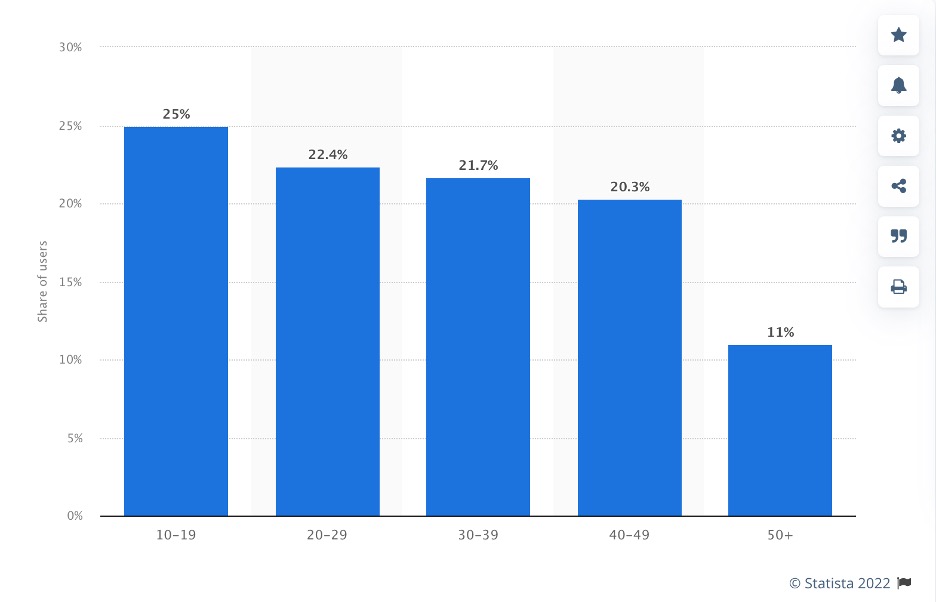 With the app now covering a large swath of age groups, this could very well mean that at least some of your small business target audience may be regular users of the TikTok platform. If so, starting a TikTok account allows you to meet them where they already are with content that resonates and benefits your bottom line.
2. TikTok is increasingly being used as a search platform
Have you seen the latest data showcasing how TikTok is being used as a search engine?

Here are just a few of the headlines:
How does this trend impact your small business? Right now, it simply means that shifts in consumer behavior are ever present and something to keep an eye on.
It also brings to the forefront why people would turn to a social media platform when searching for a new restaurant to try or a small business making the best handmade dog bandanas.
There is a demand by consumers for engaging, authentic, and creative visual content. This shift towards short-form video content is something to consider as you're mapping out your marketing plans in the near future.
3. TikTok engagement rates favor smaller accounts (for now) 
In recent years, many marketers have known social media engagement rates to be pretty dismal. That's why it's been interesting to see how TikTok stacks up compared to other key platforms like Instagram and YouTube.
You'll see in the chart below that accounts with less than 15,000 followers see an average engagement rate of nearly 18% on TikTok, compared to 3.86% on Instagram, and 1.63% on Youtube, respectively.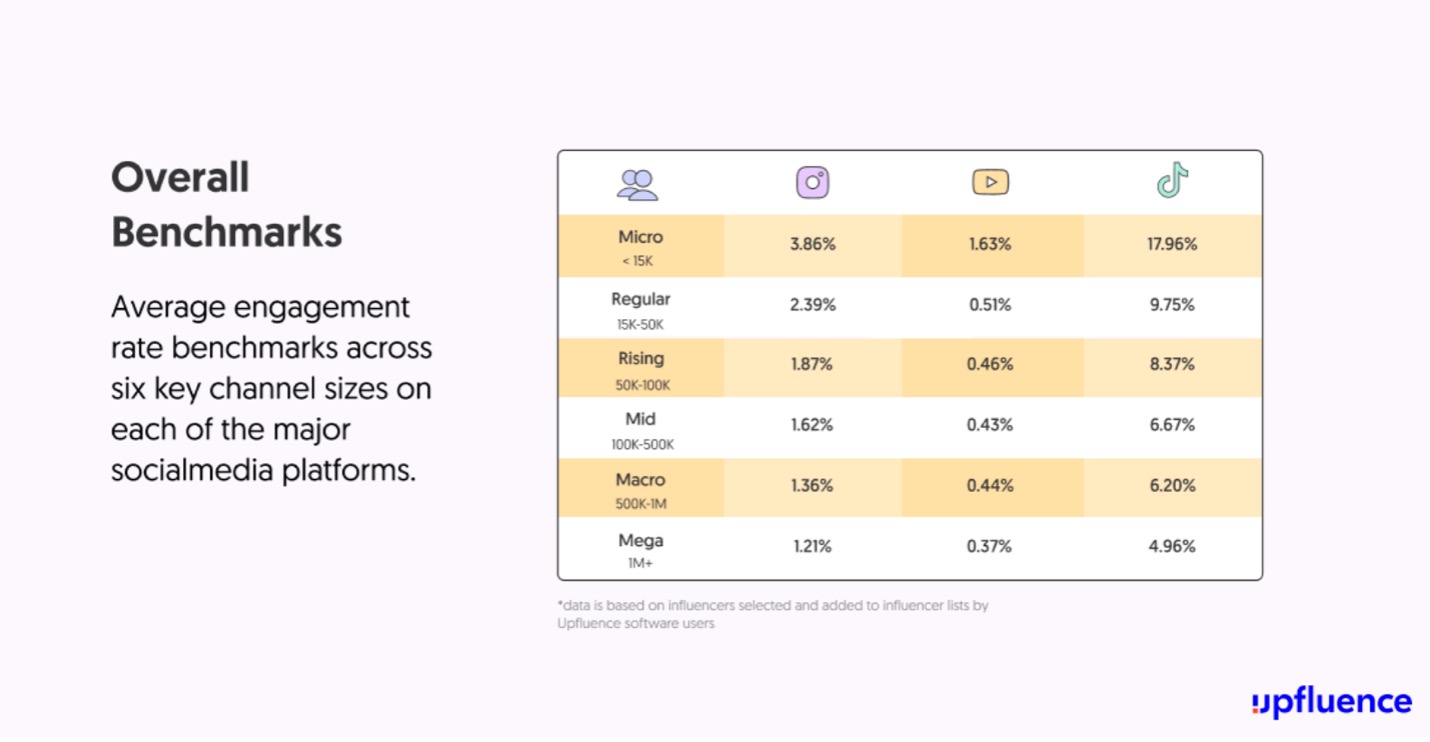 These insights mean a small business TikTok account with a modest following could see some of the highest engagement rates across any social platform. In social media, this is a relatively rare opportunity to connect meaningfully with your customers and prospects.
Of course, social media platforms and algorithms are constantly changing, so while this is the case now, it may not be forever.
Related: Find out how to check and improve social media engagement across sites.
How to create a TikTok account for your business
If you've gotten this far, it likely means you've decided TikTok is the right social media platform for your small business! Next up, we'll walk you through how to set up a TikTok account and the next steps you can take on the platform:
1. Download and open the TikTok App
Create your account by following the prompts on the "Sign up for TikTok" screen.
You'll be asked to provide your birthday, a phone number or email address (we recommend your business email), a username, and a password. Your username is an essential element that will be displayed prominently on your account. Ideally, it should be short, easy to remember, and incorporate your business name for brand recognition.
Don't worry too much about getting the username perfect during the sign-up process, as you can always change it at a later date. Once you've completed the sign-up process, the app will bring you to your profile.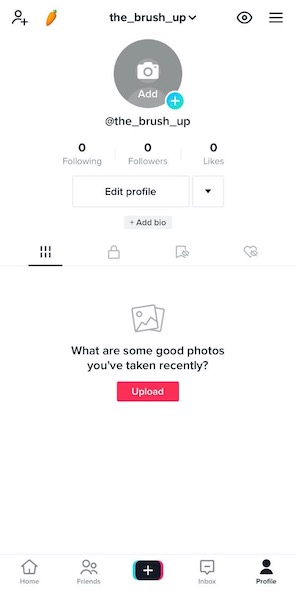 2. Switch a business account
Tap the three-line icon at the top right of your screen and select "Settings and privacy," then "Manage account," and finally "Switch to Business Account." Once on the "Business" screen, click "Next" and follow the prompts to set up your business account.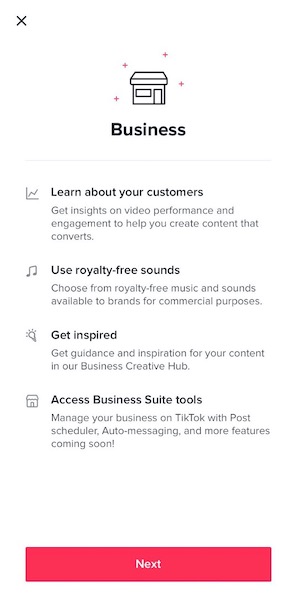 TikTok will ask you to choose a category that best describes your small business. Your public-facing account won't display this category, but it will help you receive customized content and events relevant to your business.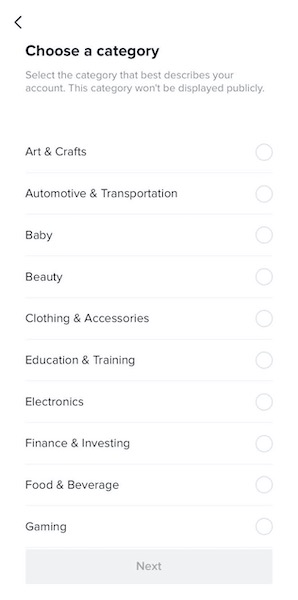 Once you complete your business account setup, the app will take you back to your profile.
3. Completely fill out your profile
Edit your profile by clicking on the "Edit Profile" button at the top of your profile. Update the form fields as you see fit.
Start by changing your default photo to your brand's logo or another relevant image. Please note that your "Name" and "Username" are two different fields. Your name will appear above your photo and can be whatever you choose (e.g., the owner or business name).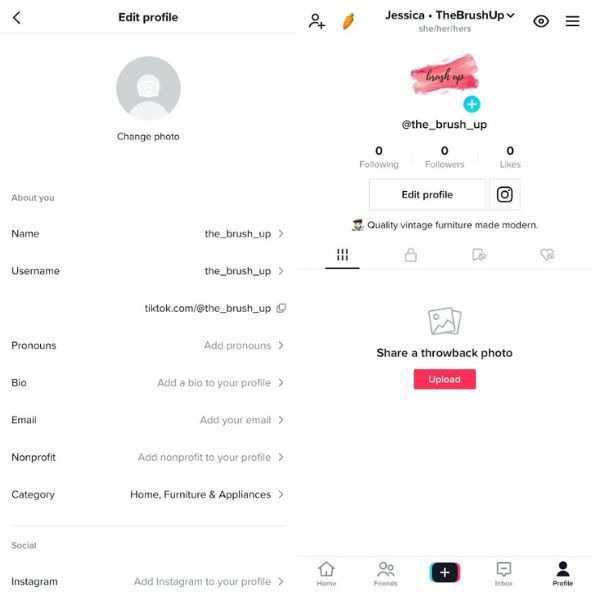 You can add your TikTok bio, email address, and Instagram or YouTube URLs. Once your business account surpasses 1,000 followers, you can also add a website link.
Your business account is now complete!
Related: Try these easy ways to get TikTok followers for your business.
Next steps for your new TikTok business account
You created a TikTok account for your business–now what? Here are some of the first actions to take to get started with TikTok marketing.
1. Explore and experiment
First things, first. Try out TikTok for yourself! Swipe through some videos, explore inspiring content by searching small business hashtags (e.g., #smallbiztok, #thepoweroftiktok), or consider checking out TikTok's newly launched "Follow Me" six-week training program for small businesses (hint: it's free!).
2. Discover the TikTok Business Suite and look into advertising
The TikTok Business Suite includes several tools to aid your marketing efforts and is accessible from the menu (three-line icon at top right) in your TikTok account (see screenshots below).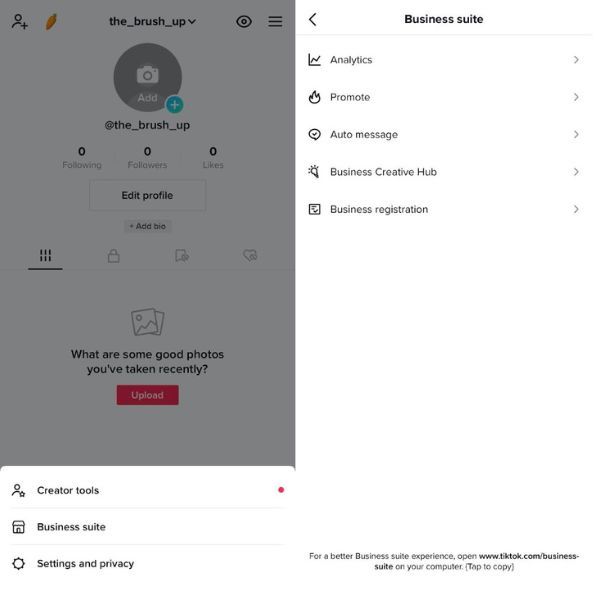 Once you have created at least one video, you can also look into paid promotion through TikTok ads.
3. Create and engage!
Now, the fun part. Get in on the action by trying out a TikTok trend, use relevant hashtags so your content can be found, and start engaging with your customers and prospects. Learn more about TikTok marketing for small businesses.
Start connecting with your small business customers on TikTok
Getting started with TikTok for your small business is quick and straightforward. Like other social media apps, the key to seeing growth and engagement on TikTok is consistently publishing new content to the platform. Set your team up for success by creating a content calendar to keep new ideas neat and orderly.
Lastly, don't be afraid to try a new trend or go out on a limb with a creative idea. Sure, it may not perform well, but there's always a chance it could be the next viral video that puts your small business on the map!
More TikTok resources