Artificial Intelligence (AI) has become both more commonplace and more easily accessible when it comes to marketing. And while there are many practical applications for AI in marketing, the one that people can't stop talking about right now is ChatGPT, especially when it comes to AI in content marketing.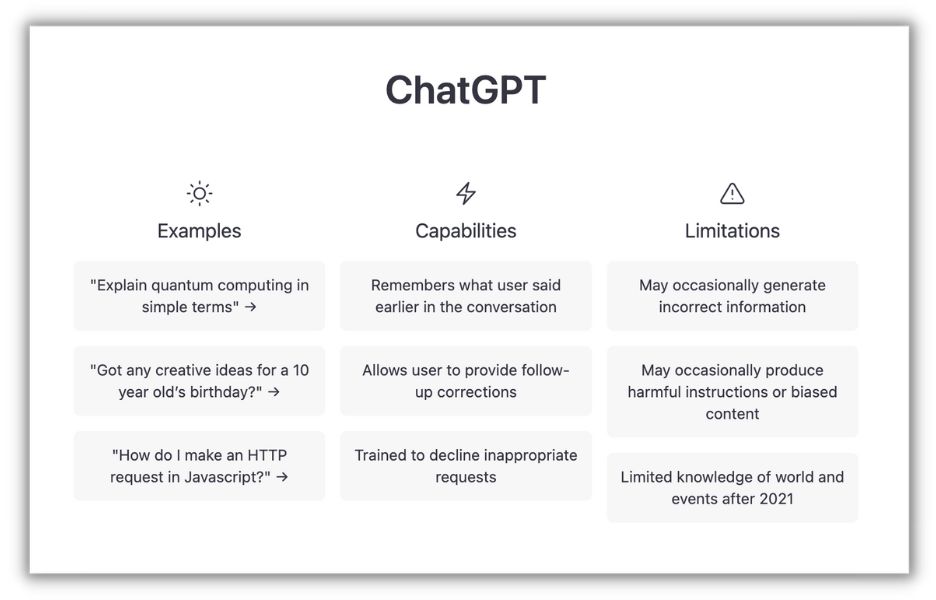 If you haven't heard of ChatGPT, it's a chatbot developed by OpenAI that's fairly advanced and has been used for anything from writing dreaded cover letters to writing code for full video games. It's garnered attention from big corporations, like Bing—who integrated AI chat from OpenAI into its search engine. This, of course, prompted Google to announce it developed its own AI chatbot, Bard, that will eventually be used within its search engine.
Needless to say, ChatGPT, and AI chat in general, is something you should know about.
And, as AI becomes more prevalent, it's helpful to know the different ways you can use it. That's why in this post, we're talking all about how to use AI in content marketing, plus how not to use it—and how to minimize potential mistakes and risks.
What is AI content marketing?
AI content marketing is using AI-powered tools or machine learning to inform, execute, or measure your content marketing strategy.
This means a machine can either create content for you, provide ideas or insights for your content, or help with any aspect of your content marketing or content planning.
It can entail asking an AI chatbot a guided question to get information or content. Or it can mean using an AI-powered tool that's built for a specific content marketing function, such as social media calendar creation, content scheduling, or content analysis.
A tool like this one from MarketMuse can analyze your content to see how it performs and provide optimization suggestions.
AI content marketing has many use cases as well as some distinct pros and cons, which we'll cover in this post.
AI tools for content marketing
Now that you have an understanding of what AI for content marketing is, let's talk about some of the different AI tools available to help here.
ChatGPT
Arguably one of the most buzz-worthy and important AI tools for content marketing right now is ChatGPT.
I gave a really basic definition of what ChatGPT is already: A chatbot that OpenAI developed. It's currently in its "research stage," meaning OpenAI is still working out bugs and kinks as well as continuing to develop it.
ChatGPT is currently free to use, and users can also submit feedback based on the answers they receive to their queries.
What makes ChatGPT different than other AI chatbots is that it's a little more advanced. Whereas most AI chatbots can simply provide answers to one question at a time, OpenAI touts that it can "answer followup questions, admit its mistakes, challenge incorrect premises, and reject inappropriate requests."
That sentence might conjure images of the recently-released M3GAN, an AI that becomes more and more lifelike—and also vengeful. But it's not quite to that point (yet).
Getting started with ChatGPT is simple. You sign up to participate in the free research period on OpenAI's website. Then, you can walk through a tutorial on how to use the site or get started asking your questions or entering your prompts. From there, the possibilities are nearly endless.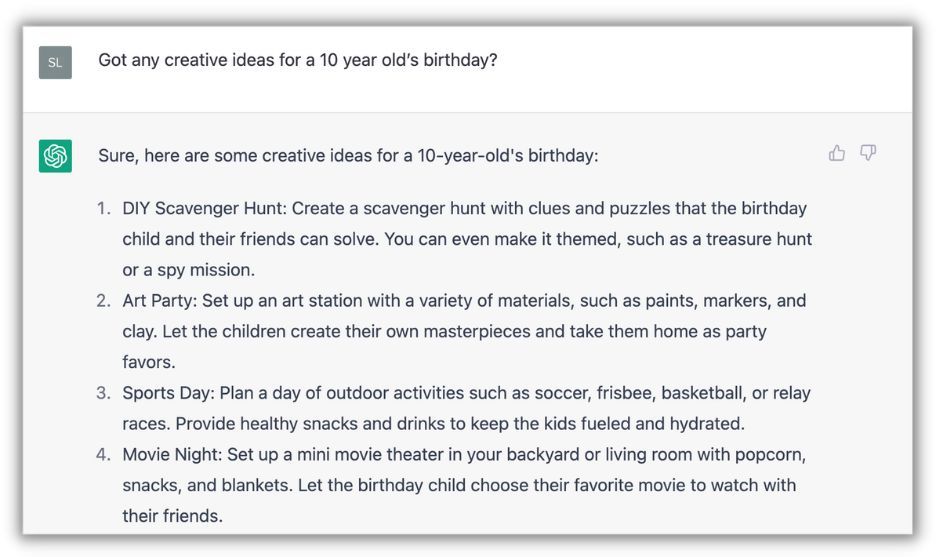 Get help with your content marketing and plan your child's birthday!
You submit a question or prompt into the ChatGPT box and wait for a response. You can then continue the conversation to get more detailed responses, provide feedback on the response you received, or start a new conversation or query. Your previous queries are also saved so you can revisit them. (Here are some ChatGPT prompts to help you get started!)
Other AI tools for content marketing
Although 55% of businesses use ChatGPT currently, there are many other AI-powered tools for your content marketing. Here are a few options to look into.
Chat by Copy.ai: Copy.ai recently released its own AI chatbot built specifically for marketing. Calling itself "the #1 ChatGPT alternative," this AI chatbot allows users to write content briefs, summarize YouTube videos, personalize sales emails from a LinkedIn profile, and more. Chat by Copy.ai is currently free to use.
GrammarlyGo: Grammarly is rolling out its own AI content marketing tool in April 2023 called GrammarlyGo. This tool can create new content from a short prompt, come up with content ideas, rewrite or improve existing content, personalize content to your brand voice, and more.
Copysmith: Copysmith is a paid AI content marketing tool that's built more for e-commerce businesses. It can create product descriptions, brainstorm blog topics, write ad copy, create social media posts, and more. It starts at $19 per month.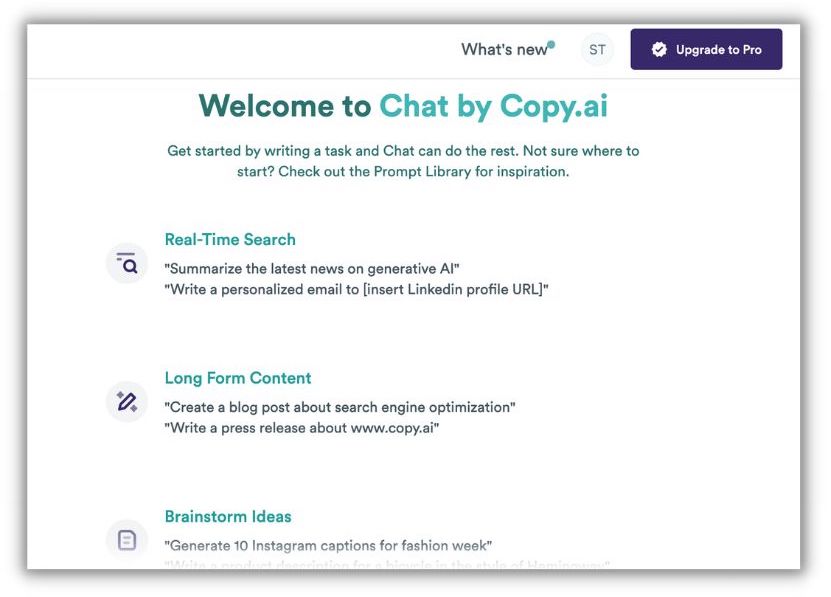 There are, of course, plenty of other AI tools that can help with content marketing. It all depends on what you're looking for and if you want to invest in a tool.
Why use AI for content marketing? Pros and cons
You might be wondering why you would even want to use an AI chatbot. What can you really gain? And to be honest, I thought the same thing when I first heard about it. But after testing it, I found that there are many practical applications that can help business owners with their content marketing.
But first, let's get into a few pros and cons of using AI for content marketing.
Cons of AI content marketing
I'm a "bad news first" type of gal, so let's start with the risks.
It's not always accurate or up-to-date
While some people look to ChatGPT and AI chat as the end-all-be-all when it comes to credible information, that's just not the case. In fact, ChatGPT has limited knowledge of the internet past 2021, which means that the information it's providing could be inaccurate or outdated.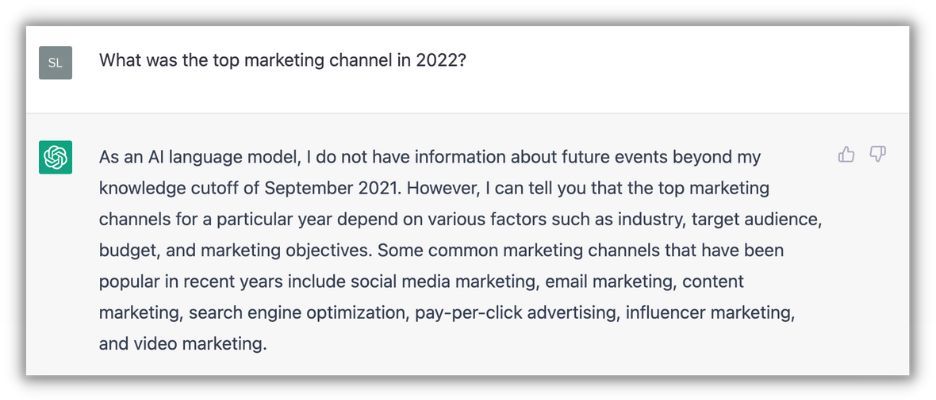 That's why it's important to take information from AI chat with a grain of salt. The same applies to any content it creates for you. You want to read through it with a fine-tooth comb to make sure it's accurate and updated.
Lack of experience
If you're thinking of using ChatGPT or other AI tools to write content for you, it might harm your SEO in the long run. Aside from the potential for duplicate content, Google's emphasis on E-EAT (experience, expertise, authority, and trustworthiness) means that content is likely not going to rank. Content written by AI lacks experience, expertise, and trustworthiness—all important signals Google looks for when ranking content and websites.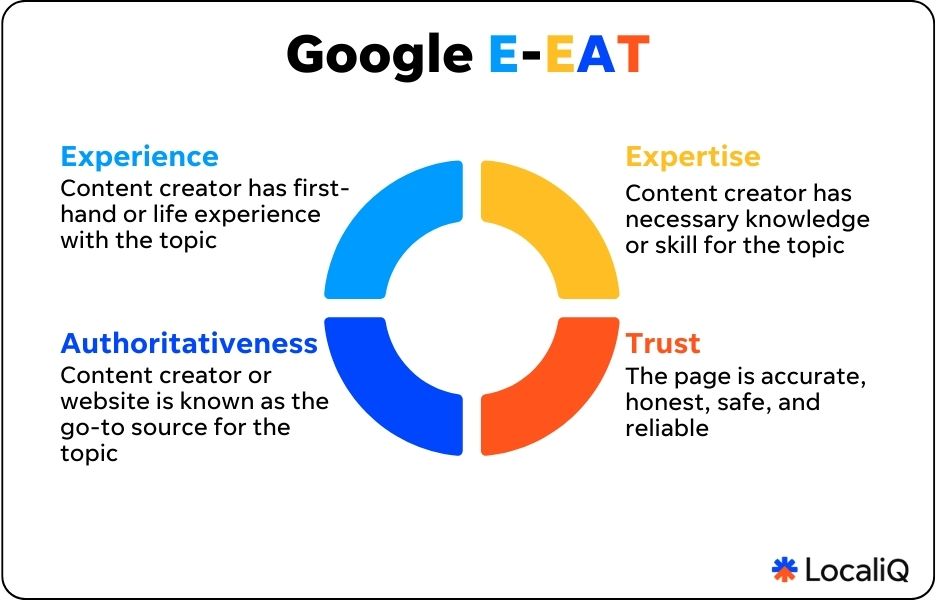 Lacks the human touch
AI chat can be a great place to start for ideas and content, but it's going to lack personality and that special human touch that can't be replicated by AI (yet). And oftentimes it's just not going to be as good as the real thing.
ChatGPT and other AI tools aren't programmed to have a personality, which frankly makes for really boring content and marketing.
Plus, you could run into this: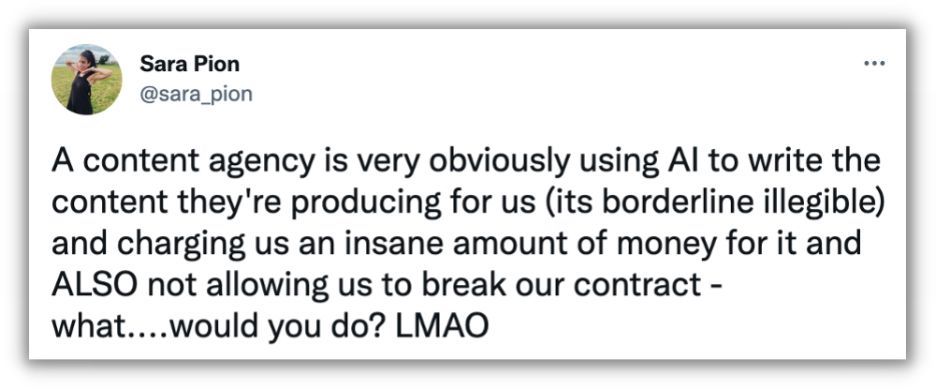 Pros of using AI for content marketing
It's not all negative! There are some distinct positives to adding AI to your content strategy tool belt.
It has free options
There are currently a number of free AI content marketing tools available, including ChatGPT (although they recently released a paid option). And that's a good price, especially for busy business owners already investing a lot in marketing.
Think of AI for content marketing like you would any other free tool—it's a great asset to have access to that can help boost other parts of your marketing, but it shouldn't be the only thing you rely on.
It can help with ideas
Sometimes you just need help with ideas. You're stuck coming up with a good social post, you're not sure how to write a good business description, or you want some email subject line ideas. AI chat can help with all of those.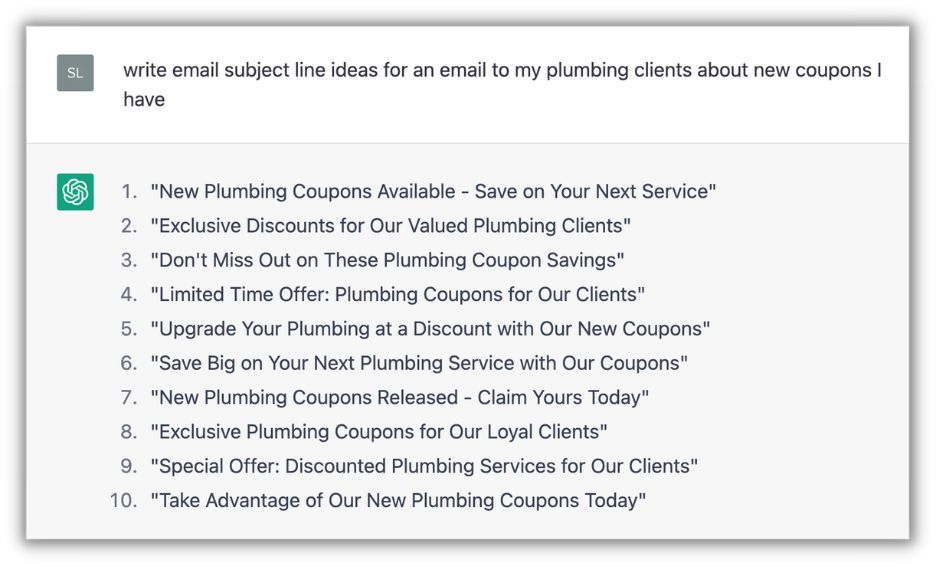 We'll share some more ways it can help with this in a bit.
It's a great starting point
If you use AI chat as a brainstorming tool or a starting point, it can help you personalize your marketing, infuse your own brand personality, and make sure you're not negating your experience or expertise.
For example, if you asked ChatGPT to provide some email subject line ideas for a St. Patrick's Day email, you could take any of their ideas and make a couple of tweaks so it aligns better with your brand. Or add some fun words or slogans to make it more eye-catching.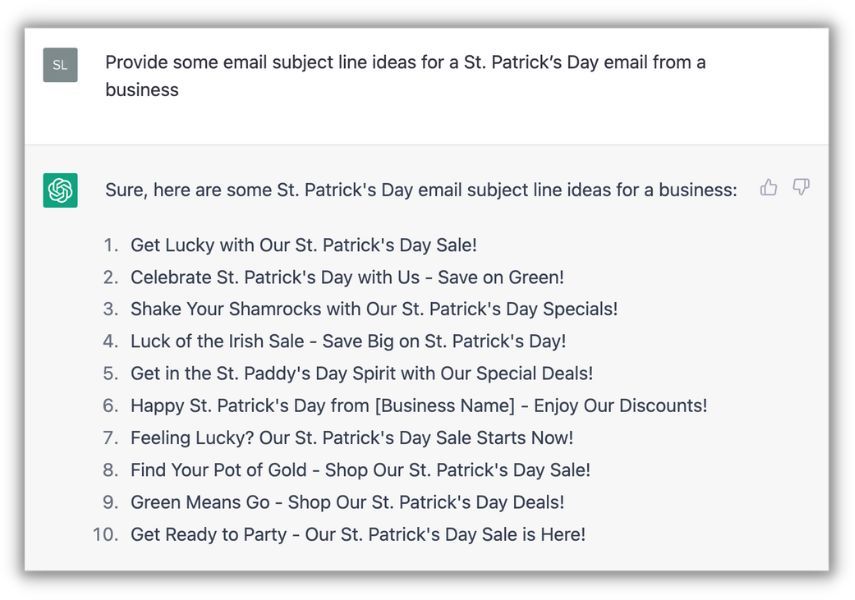 How to use AI for content marketing
Now that you understand what AI for content marketing is and some pros and cons, let's talk about how to use it (responsibly) to help with your marketing.
I've even provided some example searches for each to help you get started! 🔎
Blog post ideas
Coming up with blog post ideas can be taxing (trust me, I know!). If you don't have a dedicated content marketing partner or even a team to bounce ideas off of, AI chat is a great resource.
You can ask an AI chatbot like ChatGPT to create blog post topic ideas related to your business. From there, you can do additional research to see what would be a fit for your business, what keywords you should include, and how you can make that post your own.
🔎Example prompt: Give me some blog post topics for a lawn care business.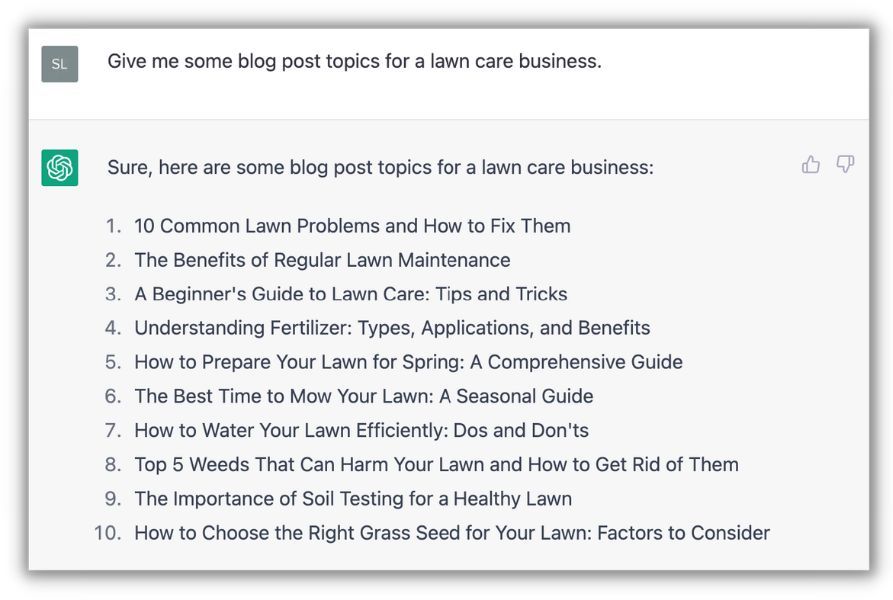 Content outlines
Once you have your blog post ideas, maybe you need some help developing your outline. AI content marketing tools can outline blog posts for you, which can provide a helpful jumping-off point for creating your content.
Again, I would recommend against having AI write your content for you, and I would still look at the outline as a starting point. But it's nice to have some help mapping out your posts, especially if you're just getting started with creating your own content.
🔎Example prompt: Create a blog post outline for a post on spring lawn care tips.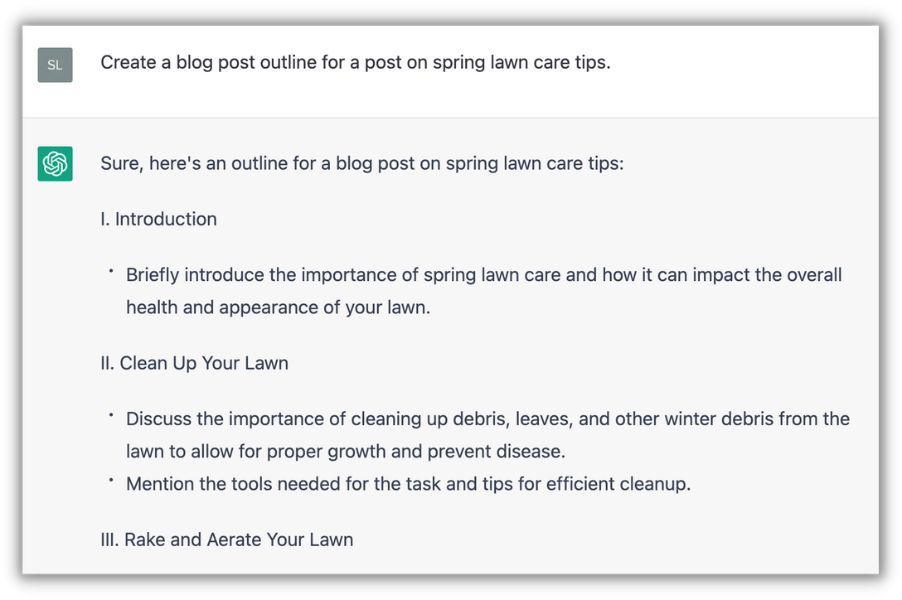 Pro tip: One way to make sure your content stands out is to see what your competitors' posts include and add a little something extra.
Keyword suggestions
Keyword research can take a lot of work, time, and expertise. While there are some excellent free keyword research tools out there (we happen to love WordStream's Free Keyword Research Tool, of course), you might want to test out some other tools to see what you get.
That's where AI content marketing tools can help. You can ask the AI to provide some basic keyword suggestions for your business. That may give you a good idea of some starting points that you can drill down on using more advanced keyword research tools.
🔎Example prompt: What are some good SEO keywords for a lawn care company?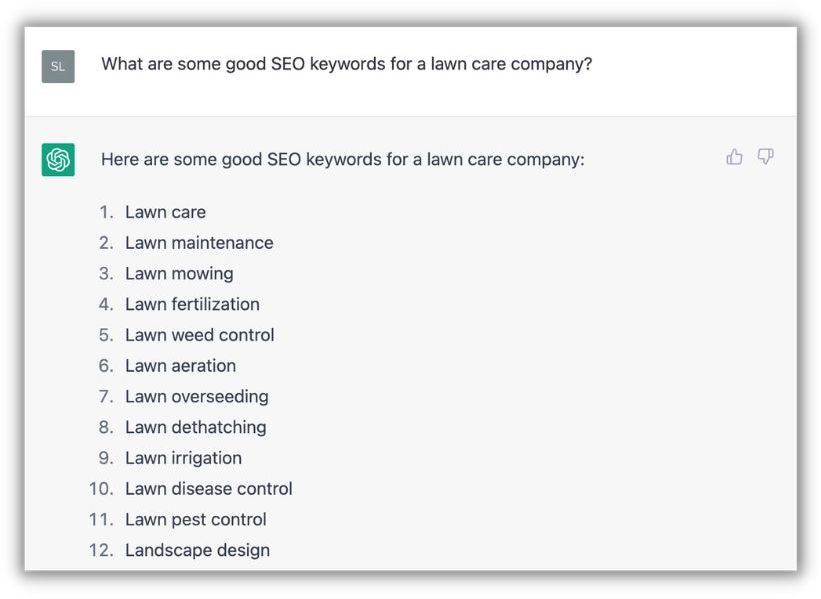 Slogans
Slogans are fun phrases you can use in your marketing and advertising campaigns to capture attention and drive people to take an action. You can also use seasonal slogans to refresh your campaigns.
AI chat can help you brainstorm some new slogans to use as part of your campaigns or content marketing. These ideas can be tailored for your business or a specific sale you're running.
🔎Example prompt: What are some good slogans for a spring sale?
Social media posts
Managing your business's social media sites can be daunting, especially when you have to constantly come up with new and engaging post ideas.
AI chat can simplify this a bit for you by providing social media post ideas or Instagram captions. You can then customize and refine these ideas to make them more specific to your business, your image, or your video.
🔎Example prompt: What are some good Instagram captions for my lawn care business during the spring season?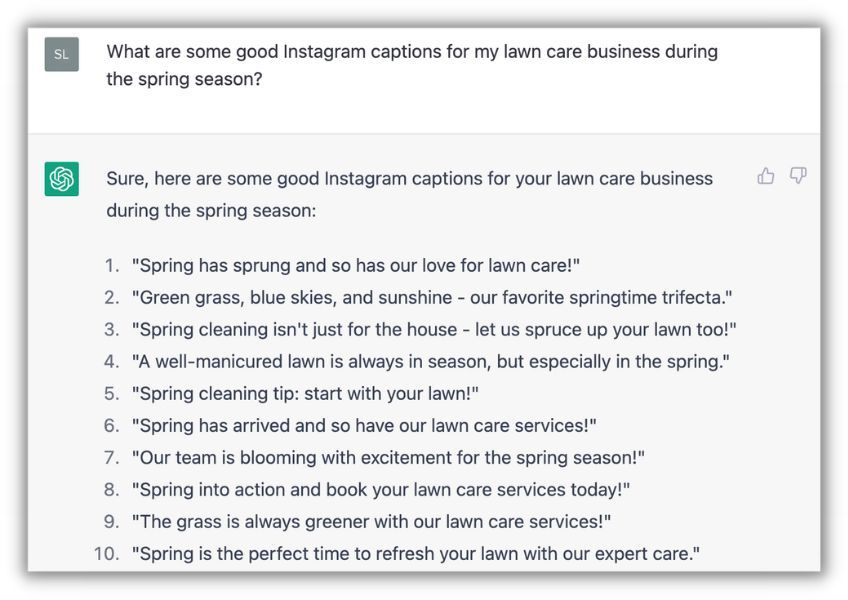 Newsletter topics
A newsletter is a great way to keep your audience engaged and your business top of mind. But after a few sends, you might feel like you're running out of ideas.
You can ask AI chatbots to provide some newsletter topics specific to your business. This can help you plan your newsletter calendar, freeing up time and energy to pour into creating compelling content for your newsletter.
🔎Example prompt: Give me monthly newsletter ideas for my lawn care business.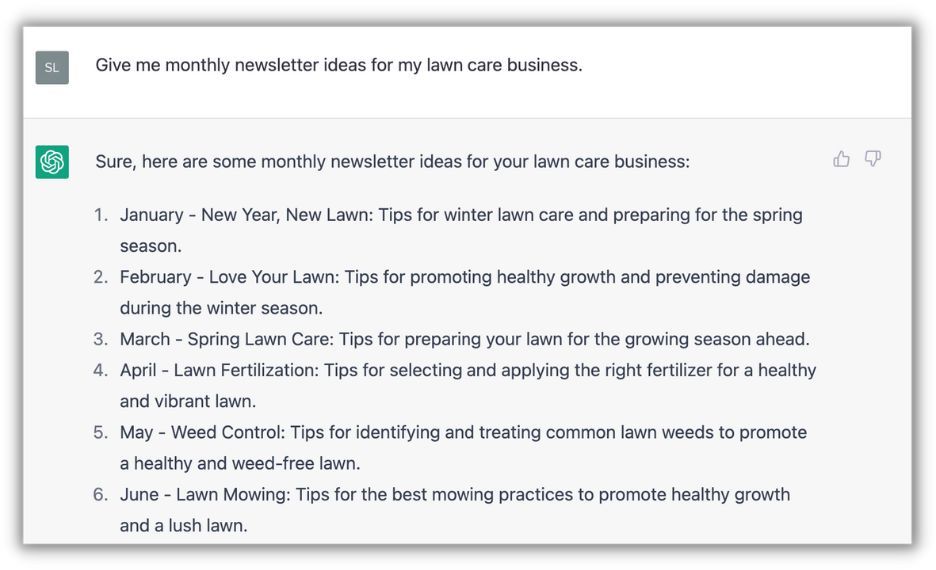 Email subject lines
Using the right email subject lines is important. In fact, nearly 50% of people open an email based on the subject line alone—and nearly 70% report an email to spam based on the subject line. But coming up with a compelling subject line can be a challenge.
With AI chat, you can get subject line ideas that you can then tweak and personalize. (Personalized email subject lines are 22% more likely to be opened!)
🔎Example prompt: What are some good email subject lines for an email about a 25% off spring services promotion for my lawn care business?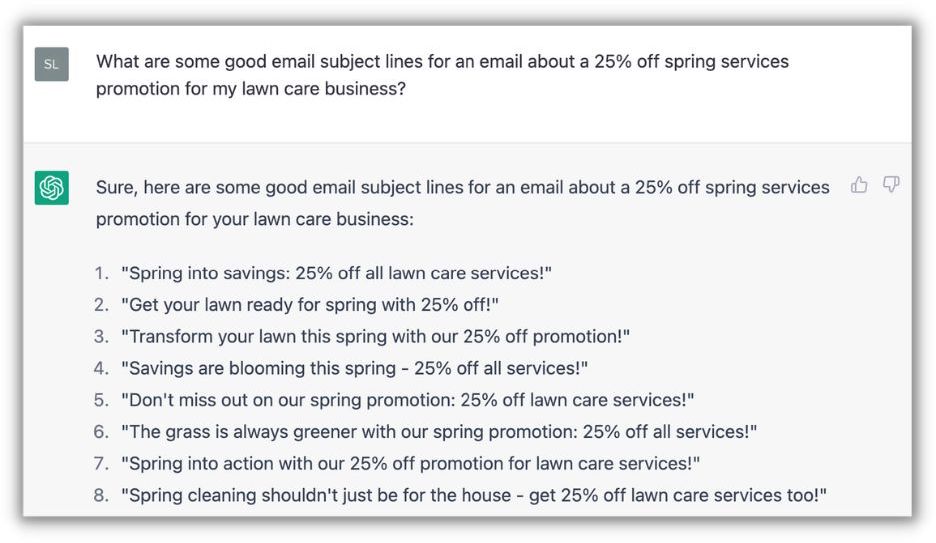 Pro tip: Even though ChatGPT and other AI content marketing tools might provide some great subject lines, it's still a good idea to check that they don't include any words that might send your emails into spam.
Business descriptions
Another way you can use AI for content marketing is by having it help with your business description across your website and all social sites. A compelling business description is important because it educates potential customers about your business, what you offer, and why they should choose you.
Creating a good business description can be a challenge. You have to distill a lot of information about your business into a few paragraphs. And then shorten that even more for social media sites.
You can use AI chat to create a business description that you can then personalize. You can also ask AI to shorten that description for specific social sites.
🔎Example prompt: Can you write a business description for my lawncare company based off my website homepage [website URL]?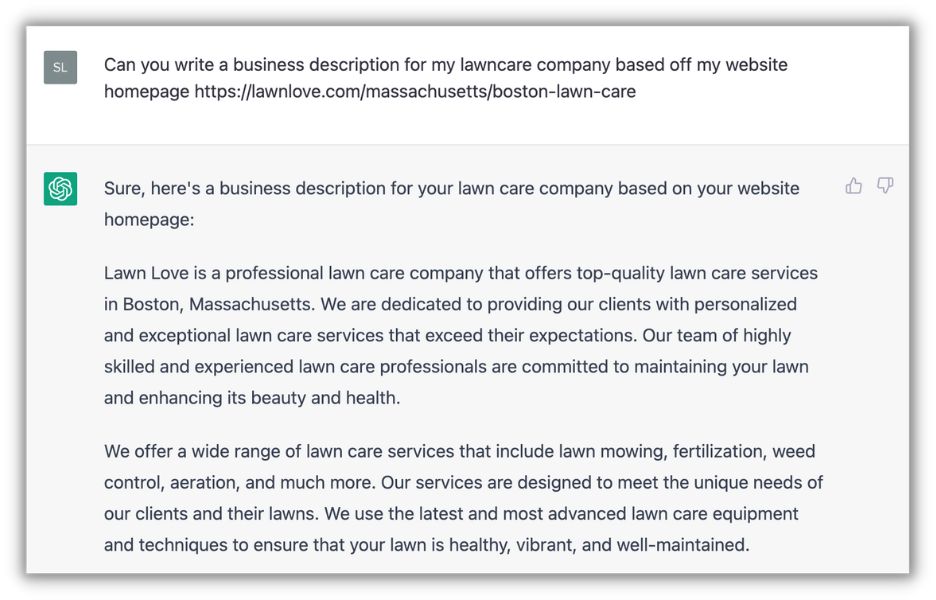 Use AI content marketing responsibly
As AI continues to encroach into marketing—and daily life—it's important to understand both the benefits and the implications of using it. By using ChatGPT and other AI chatbots the right way, you can propel your content marketing and help your business stand out without sacrificing quality or an individualized strategy.