As artificial intelligence (AI) has become more widely available for people to access, there have been some interesting trends in AI and its uses. For example, you can use AI to make memes:
On second thought… AI might not make you a viral meme sensation, but it can help you promote your business in countless ways (when used with caution).
But, just how widespread is AI? How are businesses and consumers using it? And what trends do you need to be paying attention to? To answer these questions (and more), we're taking a look at the data and sharing the AI statistics you need to know when using this technology. Plus, you'll walk away with a handy infographic you can refer to anytime to know how AI is changing the face of marketing.
AI terms to know
Before we get to the good stuff (a.k.a. all our juicy AI statistics), here are a few core terms you may want a refresh on before digging into all the data:
AI: Artificial intelligence, or in other words, machine learning. AI uses complex algorithms to make data-backed decisions and outputs in real time.
AI in marketing: The practice of using artificial intelligence or machine learning to complete marketing-related tasks for your business.
Generative AI: A type of machine learning technology that can generate and produce different types of content such as text, graphics, videos, and more.
The AI statistics below further explore the ways AI can assist you in growing your business. However, you can learn more about AI in marketing and beyond here.
AI statistics (our top picks)
Here are the top AI statistics and facts you need to know.
1. 29% of SMBs are using AI.
Even if your business isn't using AI yet, your competitors likely are—or will be soon. If you want to start, try taking small steps like using AI for one marketing channel and building from there.
For example, here is a resource on how to use AI for content marketing. Or, check out this post on using AI in email marketing.
2. Over 75% of business owners say it's important for them to be able to trust AI's analysis, results, and recommendations.
While businesses may be investing in AI as we saw with the stat above, there are still some concerns. This AI statistic suggests that businesses are open to using AI to inform these key pieces of their marketing strategies–but are still cautious of the output.
3. 45% of SMBs believe AI will improve their marketing and sales initiatives.
Basically, if you're a small business using AI, you're likely using it primarily for your sales and marketing strategies. Although AI has additional use-cases for human resources, finance, and more, marketing and sales are the main drivers for businesses wanting to use AI.
4. Nearly 25% of businesses are concerned about the impact AI will have on website traffic.
If you're looking to increase traffic to your website, beware of any AI-related issues. Basically, business owners will now have to optimize their small business websites to compete with AI-generated content and searches. However, you can avoid this with highly optimized local SEO content.
On that same note, you may want to frequently check on your website vitals using a website grader tool to ensure a seamless user experience. That way you won't don't deter any website visitors, either.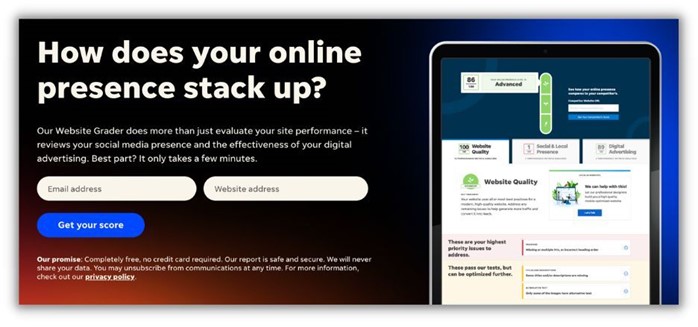 The LocaliQ website grader can help you optimize your website to compete with AI-generated content.
5. AI is expected to see an annual growth rate of 37% from 2023 to 2030.
The growth rate for AI is unmatched! To put that into perspective, it's higher than the predicted growth rates of TikTok as well as the digital marketing market as a whole. Not only is AI a rapidly growing industry, but it's going to be even more prevalent in the coming years. So, it's important to get comfortable with AI technology sooner rather than later.
6. 9 in 10 leading businesses have ongoing investments in AI.
The future of AI appears to be positive since many large businesses are investing in AI! Google, for example, seems to be heavily banking on AI as most of the announcements at this year's Google Marketing Live included advancements that integrate AI.
7. 77% of devices now use AI technology in some form.
Whether we realize it or not, the devices we use every day are already leveraging AI through things like voice search, virtual reality filters on platforms like Snapchat, and more. Now, when you're considering strategies like mobile marketing, you may want to factor in that type of device's AI capabilities.
8. The global AI market is valued at $136 billion.
Let's compare the current AI market value of $136 billion to a few other popular markets and industries:
True, AI may not yet have the same market value as more established industries such as digital marketing and advertising. However, it's already ahead of others that have been around much longer like SEO and social media.
For small businesses, the competitive market value of AI hints at what the future of the marketing landscape might look like. As the AI market grows, more and more businesses will be integrating it into their business practices and marketing strategies, so it will be important to stay on top of the curve.
How businesses are using AI for marketing
Find key AI statistics for business owners here.
9. 54% of businesses have reported increased cost savings and efficiencies because of AI implementation.
As a result of using AI, businesses are seeing a decrease in costs along with an increase in productivity. If either of these are current challenges for your business, AI might be a good tool to add to your arsenal.
10. The most common AI tool used by businesses is ChatGPT.
55% of businesses use the generative AI tool, ChatGPT, followed by:
Copy AI: 42%
Jasper.AI: 36%
Peppertype.ai: 29%
Lensa: 28%
Dall-E: 25%
Midjourney: 24%
11. AI algorithms can increase leads by as much as 50%.
If you're looking for lead generation ideas, look no further than AI. AI can not only support your content marketing efforts, but it can also help you manage and nurture your leads with the ability to create email content, automate email follow-ups, and more.
12. Using AI for sales can reduce call times as well as overall costs by 60%.
On top of being a lead booster, AI can also cut down sales call times—putting valuable time back into your sales team's day. AI is equally effective at reducing costs—which can help free up your marketing budget for other endeavors.
13. 64% of businesses expect AI to increase productivity.
According to the last AI statistic we reviewed, AI does increase productivity. However, this data point also highlights the expectations business owners have when using AI. If you feel your AI implementation hasn't yet increased productivity, that may be a sign that you need to switch strategies.
14. AI is projected to improve employee productivity by 40%.
This estimation provides more insight into AI and employee productivity. It clearly validates the expectations business owners have when using AI. In short, there's a high likelihood that using AI for your business may increase productivity as expected, especially when used correctly.
15. 22% of businesses feel generative AI hinders their workflow.
While the stats above highlight the of benefits using AI for your business, there's also the chance that AI might end up as an additional small business stressor. For example, AI could likely hinder your workflow if there's a lack of training or resources to invest in the right tool.
16. The main reason why some SMBs aren't yet using AI is because of costs.
Not all AI tools are free. You may have to pay for software subscriptions, internal or external consultants, and more when using AI for your business.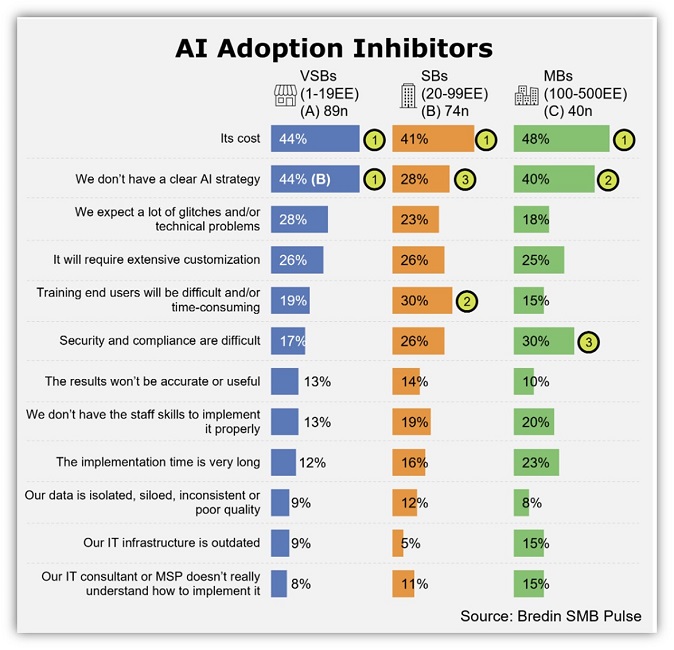 17. 25% of businesses are using AI because of labor shortages.
While the need for labor varies among industries right now, the businesses that are facing recruitment challenges are also leaning into AI. This highlights yet another benefit of AI for your business: filling in staffing gaps.
18. 1 in 4 sales teams currently uses artificial intelligence in their day-to-day work.
In addition to engaging current customers, AI can assist in acquiring new customers, too. Sales teams can use AI for email correspondence, scheduling management, and more.
19. The top three departments at risk when using AI for your business are cybersecurity, compliance, personal privacy.
For anything AI-related, it's extremely important to ensure your tools will be compliant with your company policies.
20. 42% of businesses claim to currently be evaluating AI.
In fact, these businesses are exploring the benefits of using AI for business processes, specifically. It sounds like the small business space is about to get even more competitive as companies take advantage of AI.
21. 62% of organizations are in favor of using AI for business.
However, 34% of business owners are unsure about AI. This group classified themselves as "undecided" when it comes to AI.
22. Two-thirds of businesses say they use AI for brainstorming sessions, drafts, and outlines.
While AI can be used throughout your marketing process from start to finish, it's been found that AI can be most applicable in the early stages of your marketing planning.
23. Nearly half of businesses rely on AI to produce final content.
Although most businesses use AI only in the initial phases of marketing campaigns, about half of all businesses are also seeing their AI-generated drafts through to fruition. This isn't something we recommend as AI-generated content lacks the experience, expertise, authority, and trust (or, EEAT)  needed to help your content perform well.
24. 73% of businesses are now using generative AI to produce various types of content.
Here is a breakdown of what percentage of businesses use AI to create various types of content:
Email marketing copy: 44%
Social media copywriting: 41%
Social media images: 39%
Live chat: 37%
Website images: 36%
SEO: 35%
Blog posts: 33%
Other marketing collateral: 33%
How consumers are using AI
When considering using AI in marketing, it's important to understand how consumers are using AI and how they perceive it. Check out these statistics about AI usage for consumers:
25. Over 75% of consumers are concerned about misinformation from AI.
Concern about AI doesn't just come from the perspective of business owners, consumers are worried about misinformation from AI, too.
26. Over 50% of consumers are optimistic about AI, overall.
Most consumers may have some AI-related concerns, but over half are also generally optimistic about the future of AI. With so many AI statistics that highlight the benefits of AI, this makes sense!
27. 26% of consumers say they interact with AI daily.
On a daily basis, your current and potential customers are becoming increasingly familiar with AI.
28. More than half of people in the US use AI-powered voice assistants for voice searches every day.
Voice search continues to be on the rise as over half of the U.S. population uses it daily. How does voice search interpret the voice commands from users? AI, of course!
29. Fewer than half of consumers believe they understand AI.
Although many consumers claim to be familiar with AI, less than half feel like they understand how AI works. AI is a complex topic! So, if you're implementing any customer-facing AI resources, like live chat, be sure it's easy for customers to work with and understand.
30. 62% of consumers said they'd be willing to submit data to AI in exchange for a better experience with businesses.
As platforms like Google Ads and Facebook Ads continue to limit data tracking capabilities, other channels, like AI, could open up opportunities for your business to collect valuable information from potential customers. This stat also highlights the importance of delivering a great experience to your customers.
31. 15% of all customer service interactions globally were estimated to have been fully powered by AI in recent years.
AI is already being implemented in customer service processes—which can be an opportunity for growing businesses that don't have the bandwidth for live customer support representatives.
32. 68% of users enjoy the speed of AI chatbots.
If you feel service wait times are a common customer pain point in your industry, AI-powered chat could be your chance to get ahead. Since AI can quickly respond to customers on the fly, they've become more favorable among users as opposed to a live representative. Add this statistic to the ever-growing list of reasons to add chat to your website!
Fun AI statistics
Here are even more AI fun facts and statistics.
33. How much faster is AI than humans? Up to 125,000 times faster!
You might still be wondering why AI is so popular, and the answer lies within this AI statistic. The speed at which AI can produce results is unmatched!
34. The human mind can answer a single math problem in five minutes, but AI can solve 10 math problems in one minute.
Most people don't consider math to be their strongest subject, so that's when AI can come in handy. More importantly, though, is that this stat proves just how powerful AI can be.
35. The country that uses AI the most is America.
Followed by:
India
Canada
Germany
United Kingdom
Spain
Brazil
Mexico
Australia
Italy
France
Japan
36. AI is estimated to create 97 million new jobs in the coming years.
With all the data we saw above about AI increasing productivity and filling employment gaps, AI technology is also creating many new jobs. Your business should be ready to fill new roles when using an AI solution that may need additional monitoring and support.
37. 45% of consumers claimed to use AI daily for responding to people via text or email.
Followed by these other popular ways to use AI:
Answer financial questions: 43%
Plan a travel itinerary: 38%
Craft an email: 31%
Prep for a job interview: 30%
Write a social media post: 25%
Summarize complex or lengthy copy: 19%
38. Netflix's AI-powered recommendation engine is worth $1 billion a year.
When you think of AI, you might picture a generative AI tool developing email subject line ideas or serving you results from a search. However, AI is all around us. In fact, one of the leading brands in OTT streaming, Netflix, is at the forefront of AI technology.
39. Amazon leads the AI voice assistant and smart speaker market with 30% of the global market share.
Amazon is followed by Google with 17% of the market share.  Another reason why optimizing for Bing is so important since it powers Amazon's voice assistant!
40. 80% of retail executives expect their businesses to adopt AI automation by 2025.
Any retail business owners should note that AI is going to be huge in their specific industry. AI can come in handy for ecommerce, nurturing shoppers through your sales funnel, and more.
For example, you could use AI to create product photos or videos. In fact, we saw at Google Marketing Live 2023 that Google Ads released AI updates for this precise reason:
41. The top-performing AI-powered voice assistant is Google Assistant with an average accuracy record of 98%.
Google Assistant has the highest accuracy scores for most responses it gave to users. The study for this AI statistic looked at voice assistant performance based on the type of questions it answered best. Google Assistant gave the best responses for navigational, informational, and local questions. Google Assistant is followed by Apple's Siri and Amazon's Alexa.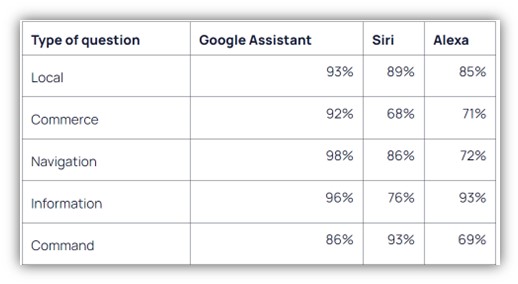 42. AI-powered self-driving cars gross more than $170 billion in annual revenue worldwide.
People often forget that AI is now found in our vehicles, too. Cars that can self-park, self-drive, and do other complex tasks are of high market value right now.
43. The top industry using AI is technology with 17% of technology-based businesses using AI.
Here are the percentages for businesses using AI within specific industries:
Financial services: 15%
Healthcare: 9%
Education: 8%
Government: 6%
Telecomm: 5%
Manufacturing: 4%
Retail: 4%
Media: 3%
Energy: 3%
Defense/Security: 3%
Other: 22%
These AI statistics and your marketing go hand in hand
While some AI statistics may connect back to your business or industry more than others, they have one proof point in common: AI isn't going anywhere! So, it's important to become comfortable with AI technology and identify the most effective ways to use it for your business.
Check out the full infographic with AI stats below:
See how our solutions can help you make the most of the latest AI trends!