April Fools' Day is pretty polarizing. Maybe you've been the butt of a prank and it's left a sour taste in your mouth, or perhaps you're a jokester who loves to see who will fall for your latest foil.
Whether you love it or love to hate it, April Fools' Day has become a day for businesses and brands to get in on the action—from announcing "new services" like Petco's salon for pet owners to viral sensations like Burger King's left-handed Whopper.
People were lining up for their Whoppers!
So how can your business participate in April Fools' Day without making a faux pas? Social media is your best bet, and we're sharing April Fools' ideas for social media that will have your audience engaged—and laughing–plus some helpful tips to consider before you get in on the fun
Tips for your April Fools' social media posts
Before we share some fun ideas, here are a few tips to keep in mind as you plan your social media posts.
Think about your brand personality
When it comes to any posts for your business's social media strategy, it's important to make sure they align with your overall brand personality. Pretty much any business can post about April Fools' on social media, but you'll want to choose an idea or post that doesn't stray from what you typically post or highlight. That's why we're providing multiple types of ideas—from fun jokes to sharing interesting info to simply wishing a happy day.
Use April Fools' hashtags
Hashtags are always a great way to increase engagement on your social media posts and can be especially helpful on April Fools' Day by getting your post seen by more people while clueing your audience into your prank. Try these hashtags:
#aprilfools
#aprilfoolsday
#aprilfoolsprank
#aprilfoolspranks
#aprilfoolsjokes
#aprilfools2023
Keep it light and fun
This goes hand-in-hand with the above point, but keep your April Fools' social posts light and fun. You don't need to go overboard or overthink—your posts can be simple and engaging. Think about what your audience enjoys, how you typically engage, and what usually performs well when planning your social posts!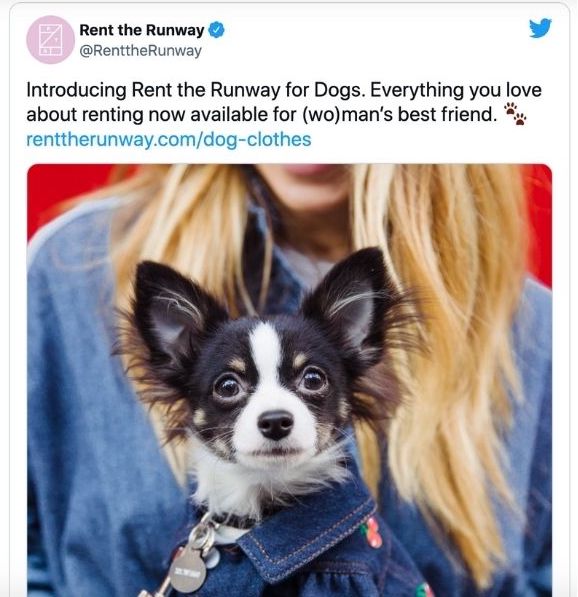 Here's a perfect example from Rent the Runway: It aligns with the brand, it's fun, and it's light. Plus, it's not actually a bad idea…
11 April Fools' ideas for social media
Try these April Fools' social media posts to have a little fun with your audience and fill your calendar.
1. Announce a "new" product or service
This is an April Fool's social media idea that a few businesses have done in the past, and it usually goes over best when the "new" product or service is just absurd enough where it could be true—but you don't want to get your audiences' hopes up with a new product or service they could actually want.
Maybe you're a restaurant that introduces an interesting new dish or a home services business that announces a new service completely unrelated to your field. Have a little fun and get creative and then make your social post!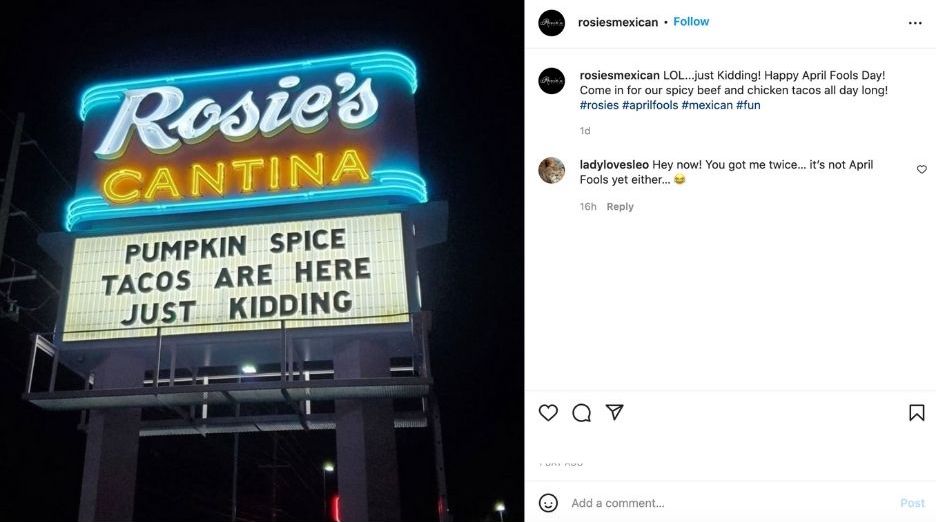 2. Share a (not true) fun fact about your business
This is a very easy and harmless way to get in on the April Fools' Day fun on social media. Share a simple, yet not true, fun fact about your business. Maybe it's a fake story about how you came up with your business name, an untrue vision of what you wanted the business to be, or a funny story about your founder or owner. Make it a little silly yet still a little believable.
3. Give your logo a "redesign"
Have you seen the TikToker who gives popular logos a makeover—or, rather, a make-under? This viral star has made some big waves with big brands getting in on the action.
And you can get in on it too by giving your own logo a little redesign in honor of April Fools' Day. Perhaps you make a new logo entirely out of clip art or you go wild with Paint to get your artistic vision out. Make sure to change your profile pictures and cover photos on April Fools' Day to really sell it. (But don't forget to change it back on April 2nd to keep your brand consistency going!)
Need to design a real logo? We put together some tips on how to create a small business logo (with templates!).
4. Crowdsource April Fools' Day ideas to try on your employees
Another spin on this April Fools' Day social idea is to ask your audience for ideas you can try on your employees. You'll want to start this before April Fools' so you can give an update on the day of so your audience can see how their idea(s) played out.
Make sure your employees know it's all in good fun!
5. Ask your audience about their favorite April Fools' Day prank or joke
If you're not into pranks on April Fools' Day, you can still get involved on social media by asking your audience to share their favorite or best April Fools' Day prank. This is a great way to start a conversation with your audience and inspire some laughter throughout the day.
You can even make a contest out of it—the best April Fools' Day prank wins a prize, or anyone who submits is entered to win. (Read more about how to run Facebook contests and Instagram giveaways here!)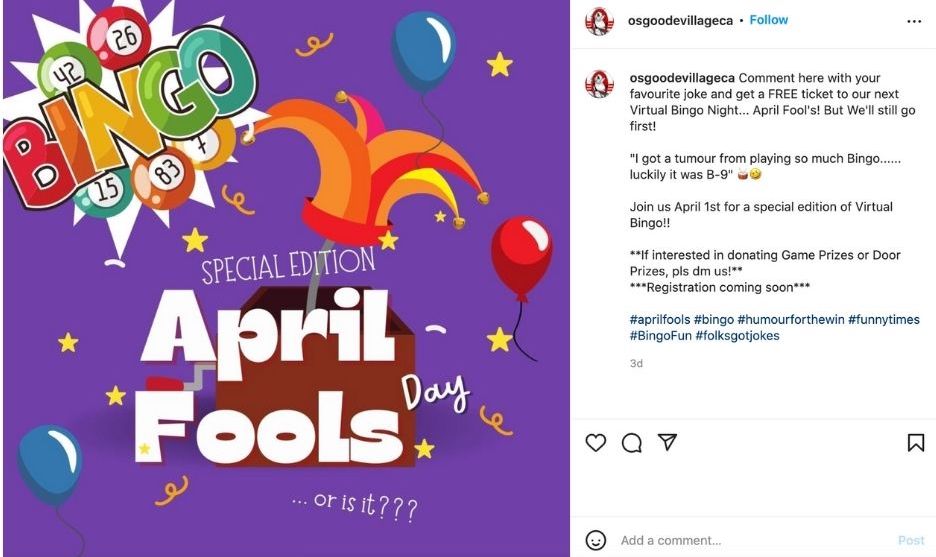 6. Share your favorite April Fools' Day prank from a business
As I mentioned earlier, businesses and brands have long been getting in on the April Fool's Day fun. If there's a specific brand or business that's previously shared an April Fools' Day joke you like, you can simply repost it or reshare it with your audience so they can enjoy it along with you.
Here are some ideas to inspire you!
7. Make or share an April Fools' Day video
Videos are always great social media post ideas—and you can easily create and share one in honor of April Fools' Day. You could film yourself fooling someone, share your favorite (or least favorite!) April Fools' Day prank, or simply wish everyone a Happy April Fools' Day.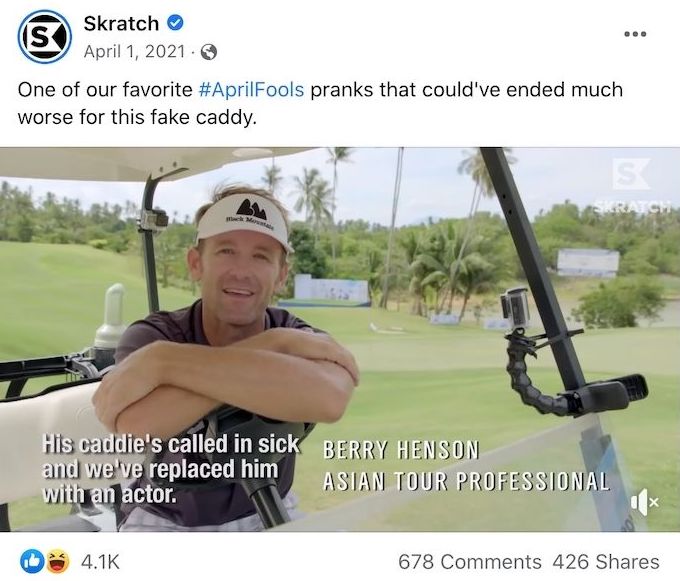 8. Promote an April Fools' Day sale (but a real one!)
Reward your audience for braving the day by promoting an April Fools' Day sale—but make sure it's real! You can play into the fun by using phrases like "This sale is no joke!" or "You won't get pranked by these savings!" People love a good sale or promotion, and honoring this day with something that will get them excited—and ready to do business with you—is a win-win all around.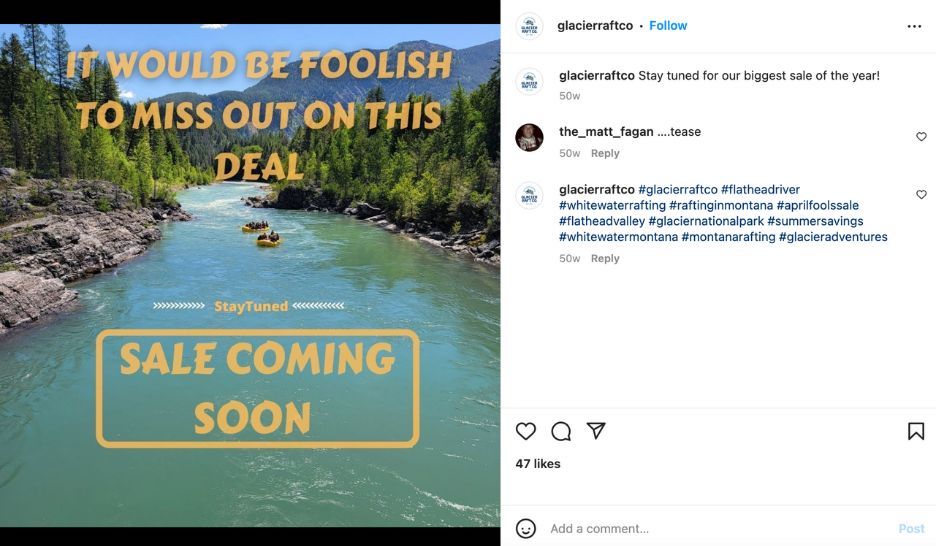 Related: Get spring Instagram captions you can use all season long.
9. Post about the history of April Fools' Day
Another April Fools' social idea is to simply share or reshare information about the history of April Fools' Day. For instance, did you know April Fools' Day is believed to date back to 1582 when France began celebrating the new year on January 1 rather than April 1? Or that in 1957, the BBC showed a video of farmers harvesting noodles from trees and told everyone that they had spaghetti crops? (You can get more fun facts from History.com!)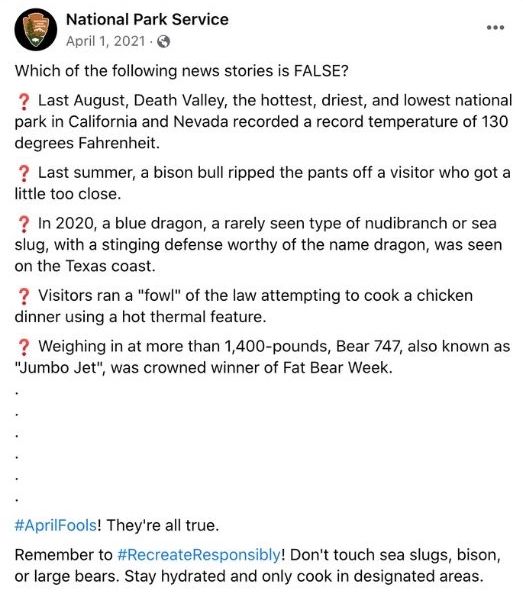 10. Rickroll your audience
Have you heard of or ever been "Rickrolled?" It's when you click a link thinking it will take you to one thing and it ends up taking you to a YouTube music video of Rick Astley's "Never Gonna Give You Up." While we don't advocate for baiting and switching your audience on the reg, this is a harmless April Fools' social post idea that your audience is likely familiar with. For this post, simply write something up and tell people to click the link to learn more—it's best to use a bit.ly link so they can't tell they'll be clicking on a YouTube link. Make sure the video doesn't populate, either!
11. Keep it simple
You don't have to have to post something elaborate for April Fools' Day. You can take advantage of this social media holiday by simply sharing an image or graphic with a short caption wishing everyone a happy and fun-filled day. We curated some Canva templates you can customize and use on Instagram to make this even easier here.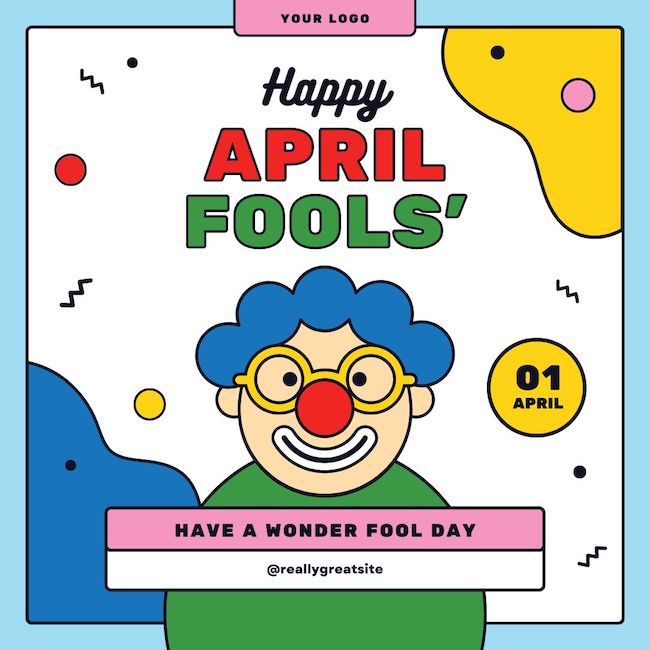 April Fools' Day Instagram Canva templates
Have some April Fools' social media fun
April Fools' Day is just another day, but it's also a great way to engage your audience on social media, have a little fun, and show off your brand personality.
Here are the best April Fools' Day social media ideas:
Announce a "new" product or service

Share a (not true) fun fact about your business

Give your logo a "redesign"

Crowdsource April Fools' Day ideas to try on your employees

Ask your audience about their favorite April Fools' Day prank or joke

Share your favorite April Fools' Day prank from a business

Make or share an April Fools' Day video

Promote an April Fools' Day sale (but a real one!)

Post about the history of April Fools' Day

Rickroll your audience

Keep it simple
Want more April ideas? We've got you covered: