Are you tired of posting on Instagram only to receive a handful of likes and a few half-hearted comments? Do you want to engage your followers in a way that genuinely sparks their interest and keeps them coming back for more? Look no further than Instagram polls.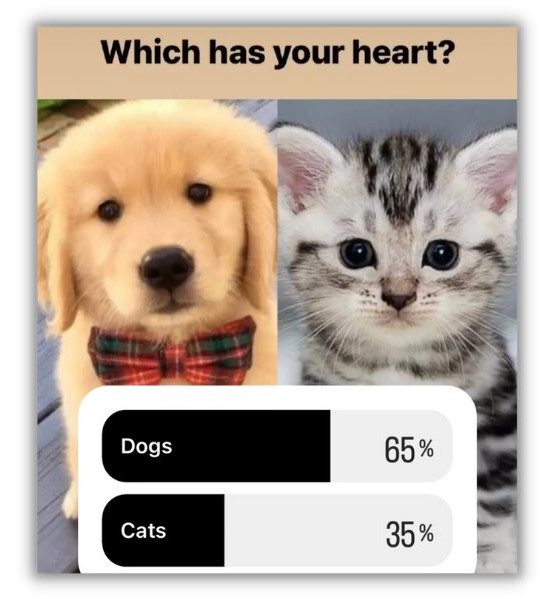 These little-known gems are the (not-so-secret) weapon of social media experts and influencers, allowing them to create dynamic, interactive content that grabs attention.
Instagram poll questions are easy to set up, so anyone can have a poll up and running within minutes.
In this guide, we'll show you how to create a poll on Instagram and share creative ideas for poll questions to surprise your Instagram followers. Get ready to level up your Instagram game and generate real audience engagement.
Your step-by-step process for how to do a poll on Instagram
Polls are powerful because they allow people to share their opinions and help you gather valuable information about your audience.
Here's a quick step-by-step guide to creating a poll on Instagram. Note that we've walked through the steps as they apply on the mobile app.
1. Create a new Story post
Open your Instagram app. Tap your profile picture in the top left or the "+" button at the bottom center of your Instagram home screen to create a new Story post.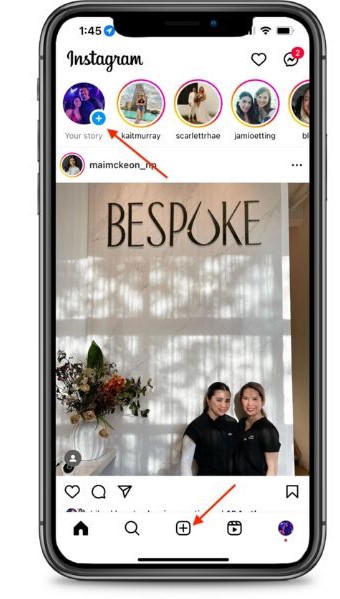 Related: Here are 19 other Instagram Story ideas that'll bring you tons of engagement.
2. Adhere the "Poll" sticker to your Story
Either take a photo or video or choose one from your camera roll. You can also use a blank or different background by tapping the Aa icon.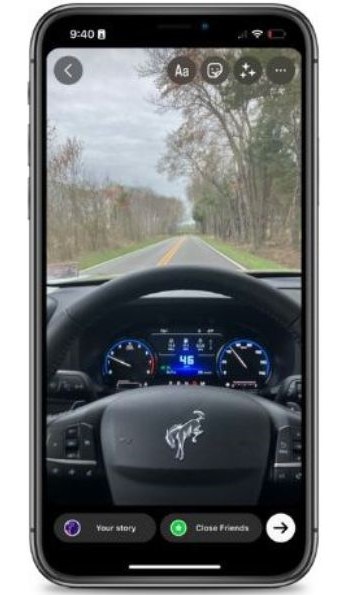 Once you have opened the post-creation screen, you will see a row of stickers at the bottom. Scroll through the stickers until you find the "Poll" sticker or the "Emoji" slider. (The latter also engages your audience by asking them to "rate" your post with an emoji. We'll discuss this more later.)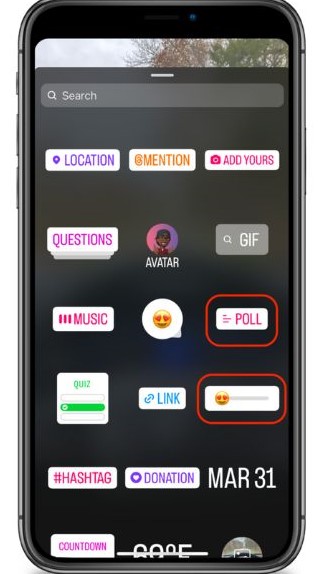 Tap on the sticker to add it to your post.
3. Ask your question
After adding the "Poll" sticker to your post, type in the question you want to ask your followers. Initially, you'll see two default answer options: "Yes" and "No."
To customize the answer options, tap on each and replace it with the answer you want to provide. You can also add an emoji to each answer option by tapping on the emoji icon to the right of the answer field.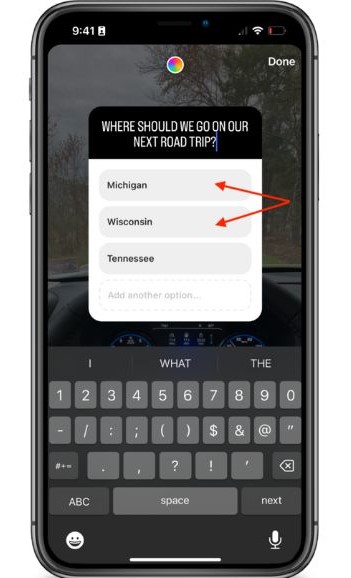 You can add more than one answer option if you desire. We recommend offering no more than four answer options at a time so as not to overwhelm your audience.
4. Customize your poll
You can also customize the color of your poll to match your brand or aesthetic. To customize your Instagram poll, tap on the color palette icon at the top of the screen to cycle through color options.
You can also adjust the size and placement of your poll by moving it around your Story post.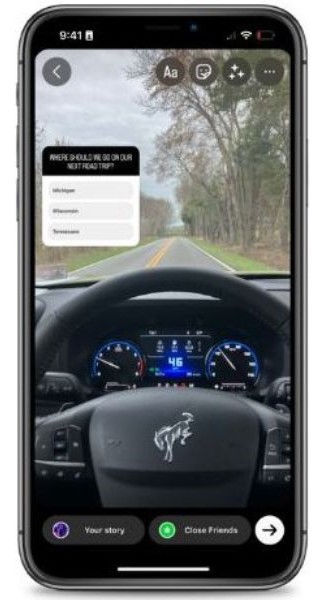 5. Share your poll
With your poll customized, tap the "Share" button to post it on your Instagram Story, feed, or even through direct messages.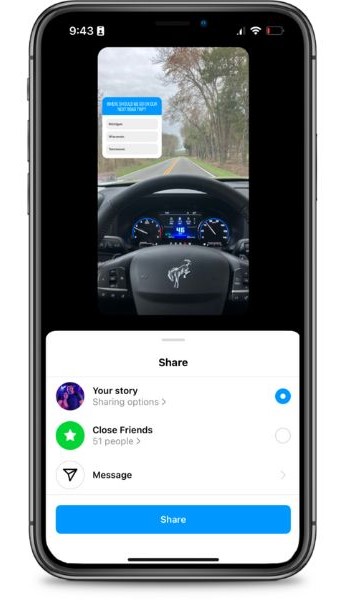 Your followers will be able to see it for 24 hours and respond to it by choosing one of your answer options or sliding the emoji scale.
6. View Instagram poll results
After your followers have responded to your poll, you just have to swipe up or tap the post on your feed to view the results. You'll be able to see the total number of votes and the percentage of votes for each answer option.
Tips to master Instagram polls
Polls are a fun way to zhuzh up your Instagram feed and engage your followers beyond asking for likes and comments.
However, misused polls can seem spammy or forced. Here are some best practices to avoid that.
Ask for opinions and feedback
People love to share their opinions. Boost your engagement by requesting opinions and feedback from your audience.
If you have new products coming out soon, use Instagram polls to determine which one people desire the most. For example, a women's boutique could ask: "What new product should we sell for summer?" Followers could choose from "Sandals" or "Bikinis."
Josh Weiss, founder and CEO of Reggie, a leading dog wellness regimen, also suggests asking for feedback on your existing products. According to Weiss, "If users see that their votes are having a tangible impact, they're more likely to engage with the poll."
Who knows? Followers may start to shop and buy the products they reviewed on Instagram.
Use polls for events or holidays
Use Instagram polls to create excitement around an event or holiday.
For National Ice Cream Day, you could ask your followers what flavor they prefer on a hot summer day. Or, for Valentine's Day, ask people if they like chocolate or strawberries (or both).
Holidays provide themes and discussion points around which you can create relevant polls, engage your followers, and turn them into customers.
Here's another holiday example: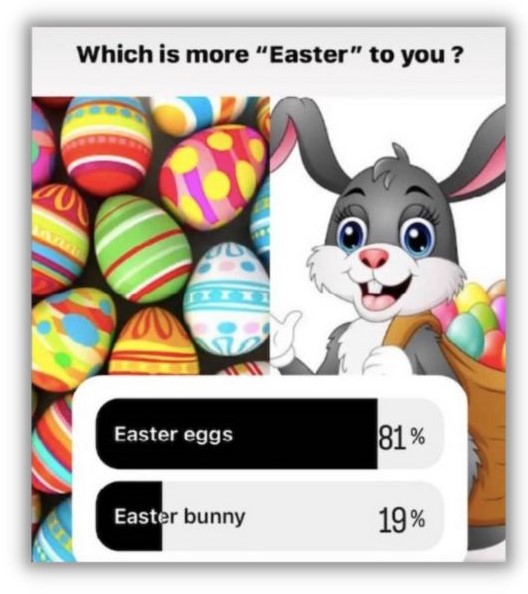 Make it concise
Make sure your poll question is clear, concise, and not leading. For example, "Do you like our new shoes?" isn't as engaging as "Which color of our new shoes do you prefer?"
Make it visual
Use visual elements (like a poll sticker) to help users understand the purpose of the post and how to participate in it. Fun visuals also catch your followers' eyes and increase engagement.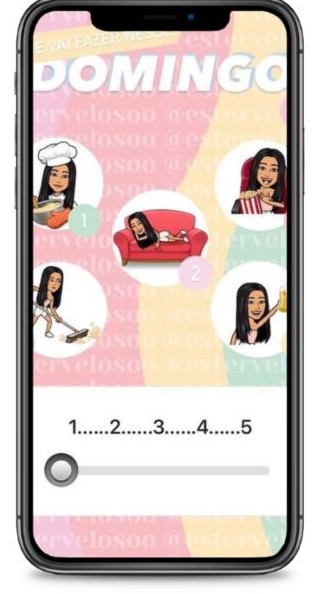 Follow up with your audience
Instagram polls aren't just powerful for engagement; they also serve as market research and fodder to start a conversation with your audience.
Once the votes start rolling in, take the opportunity to "slide in your followers' DMs" and engage them in conversation. You can ask what compelled them to vote for a specific option or simply make a joke about their answer.
Laura Moore and Laura Davis, social media agency owners of The Two Lauras shared, "Instagram polls are a great way of collecting useful data, so make sure you can follow up with the respondents afterward."
This is especially critical if your polls involve brand or product decisions where you'd be spending money or making changes to your business.
Word polls in a positive light
The Two Lauras also shared, "Sometimes people will be reluctant to vote on something that makes them look bad or positions them in a negative way, so think of a way to word your poll question and options to avoid showing them in a negative light. This way, you will be likely to generate more responses."
For example, instead of asking your followers to vote for the "best" option or their "favorite," consider wording the two-answer poll with words like "prefer" or "opt." Even easier, skip the text altogether.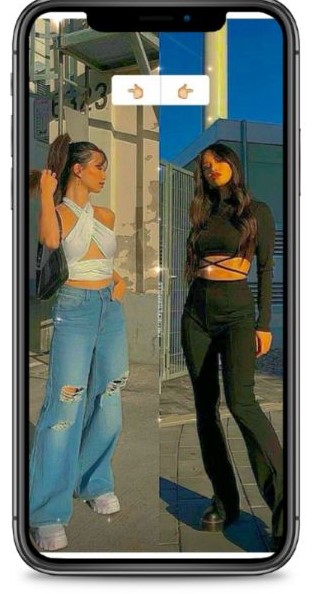 Engage your audience in advance
Rachel Macfarlane, Content Marketing Strategist at Redfox Visual, managed to increase engagement by approximately 48% by spending 15 minutes engaging with her audience before posting a poll.
Rachel adds, "Additionally, before posting the poll in your story, it's effective to post a selfie-style video where you speak directly to the camera and reference the upcoming poll. You could even include the poll directly in the video. This type of content is highly engaging and a great way to warm up your audience."
Instagram poll questions and ideas to boost your engagement
Instagram polls are a great way to spark conversation around your brand and products. If you're running dry on inspiration, here are a few poll ideas to boost engagement.
This or that
Give your followers a choice between two options, and let them vote on their preferences. Notice how this poll avoids any negative commentary around either brand but rather asks for voters to simply choose their favorite.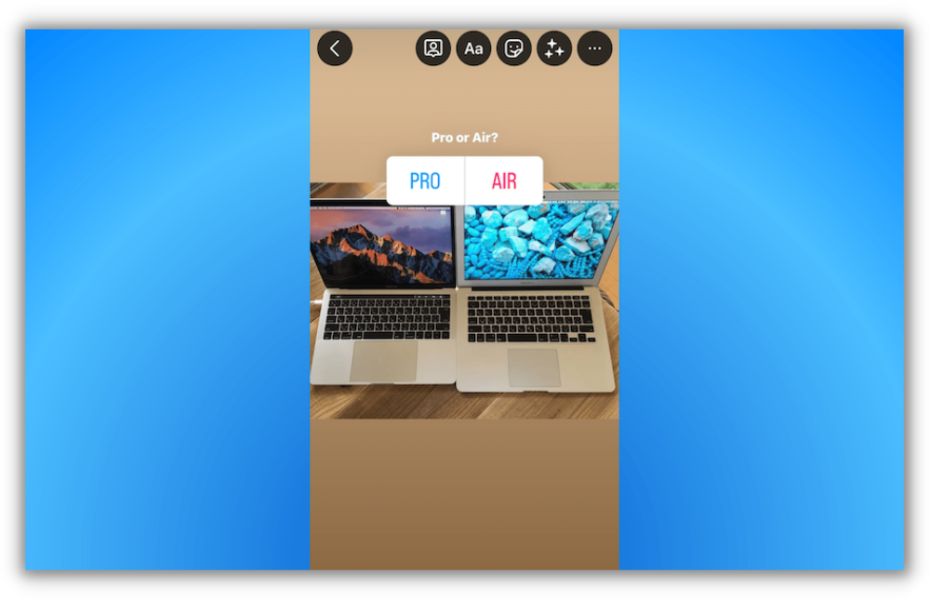 For example, if you are a fitness brand, ask folks to vote on their preferred workout styles (such as HIIT or yoga). This will help you understand their interests and preferences and tailor your content accordingly.
Would you rather?
Give your followers two options to choose from and let them decide which one they prefer.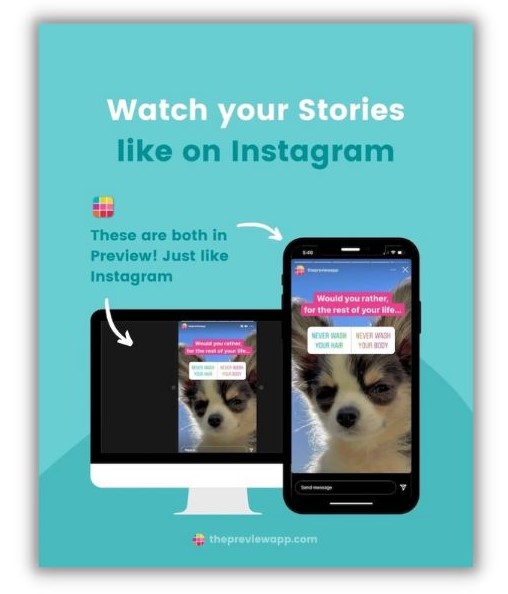 The Preview App has a comprehensive article with hundreds of "Would you rather?" questions appropriate for Instagram Stories.
Emoji slider
One fun way to collect feedback and engage your audience is by using the emoji sliding scale.
This type of poll opens up the answer options beyond the dichotomy of yes or no, this or that.
Better yet, you can use an emoji that matches your question, such as a shopping bag or smiley face for a question like, "How excited are you for our new product release?"
Get to know me
Allow your followers a peek into your personal life by asking a question and letting them choose between two options that you can later answer.
For example, you could ask, "Which story should I tell in my next post?" with answer options of "How I opened my store" and "My first big business failure." This type of poll is multi-dimensional in that it provides feedback on what your audience is interested in and gives you fodder for your next Instagram Story.
Guess the outcome
Give your followers a scenario and let them guess the outcome of the situation. It could be as simple as asking viewers to guess which celebrity will be next in line for an engagement ring or as complex as asking them who will win a sporting event.
Or, you could make it more brand-related by asking questions like, "Guess which guest I'll have on my podcast next!" or "Guess which product I'll test out tomorrow?" This drums up some buzz for future events or posts and gives you a peek at what your audience wants to see.
Your Instagram poll masterclass
Instagram polls are a fun and interactive way to engage with your target audience and get them involved in your content.
With the step-by-step tutorial outlined above, along with the tips and ideas provided, you have everything you need to create engaging Instagram polls that keep your followers coming back for more. Create a Story, share it on your feed, and send it via direct message—it's up to you how you play around with the poll feature to learn more about your audience and what they want to see from you.
Here are the steps for how to do a poll on Instagram:
Create a new story post
Adhere the poll sticker to your story post
Ask your question
Customize your poll
Share your poll
View Instagram poll results
Want more Instagram how-tos? We've got you covered!