Running a profitable small business isn't easy. According to the US Bureau of Labor Statistics, around 20% of new businesses fail during their first two years. Another 45% after five years.
Some of the biggest challenges for small businesses are lack of money and lack of time. And since you have to play the long game when optimizing for the search engine, the initial investment (both time and budget) in search engine optimization, or SEO, might seem like an unnecessary expense.
But if you want to get found on search engines, where 87% of people turn to for help finding a local business, you need SEO.

The numerous benefits of SEO make it a worthwhile part of your small business marketing strategy. We're sharing exactly what those are to help you feel confident in your SEO investment.
What is SEO?
Before we dive into the benefits, let's first talk about what SEO is and what it does.
SEO, or search engine optimization, is the practice of optimizing your website and online presence to get found on search engines organically. This means showing up in the non-paid results of search engines like Google and Bing.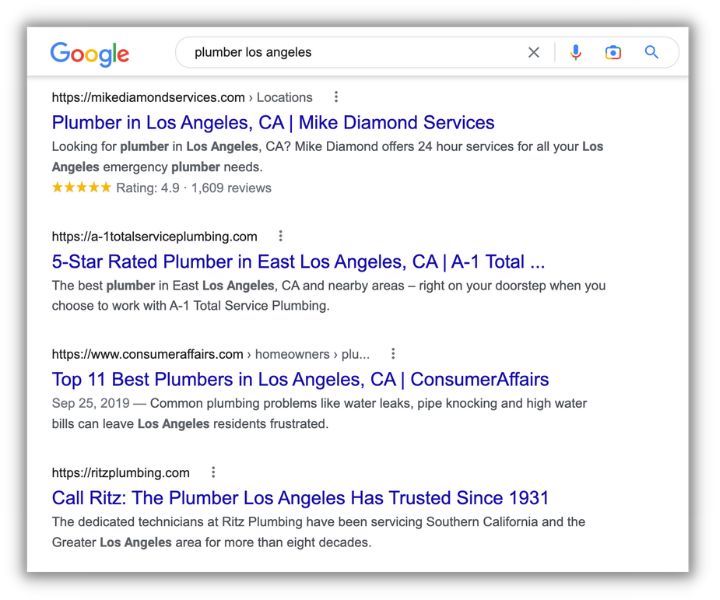 SEO comprises many strategies, including:
On-page optimization. This includes creating and optimizing website content using specific keywords and terms that will help you rank in search engines.
Off-page optimization. This includes optimizing anything outside of your website (such as listings, social media signals, and backlink generation).
All of these strategies work together to signal to search engines that your site is credible and trustworthy. They also provide relevant information that will allow search engines to serve your site for relevant searches.
🛑 Download our marketing planning guide and template to build the most effective plan (that includes SEO!).
13 benefits of SEO
Let's take a closer look at the biggest benefits of SEO for your business.
1. You funnel more organic traffic
Organic search is responsible for 53% of all website traffic. That means people are already searching for products and services you offer. You just have to help them find you.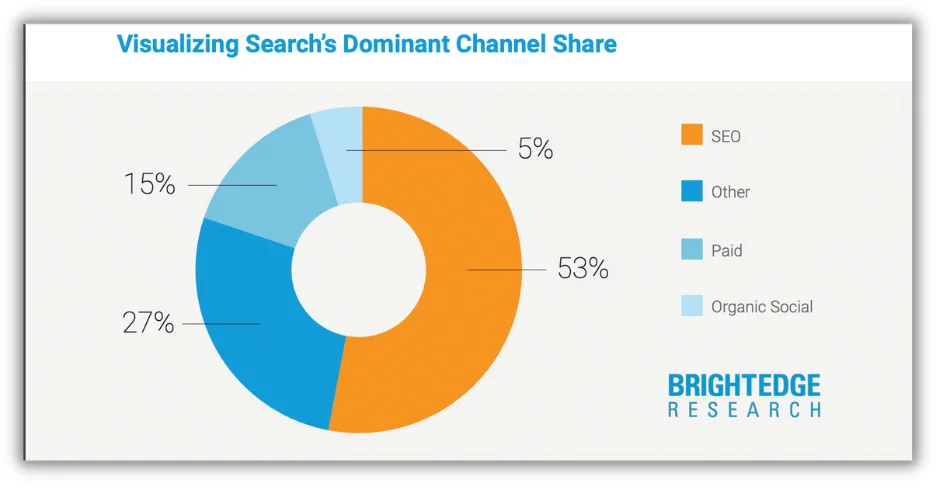 And if you're already raking in search traffic, a robust SEO strategy can help you increase the number of site visitors over time. More people entering your sales funnel means more revenue, even if your conversion rates stay the same.
2. The quality of traffic is better
All traffic sources aren't equal. Research from Databox found that organic typically yields the highest quality of traffic.
Think about it: Someone scans your website QR code off a poster. Are they more likely to be interested in your product or service than a visitor who found you online after typing in relevant keywords? The answer is probably not.
Instead of relying on a spray-and-pray approach in the hopes that the right customer will find you, the benefit of SEO is that you can actively drive your target audience to your website.
💡 Need help finding SEO keywords? Free download >> Complete Guide to Local Keyword Research
3. Organic traffic is more likely to convert
You don't need to spend too much time and effort educating organic visitors about how you can help them. If their long-tail query led them to your website, they're already half-convinced about your product and services.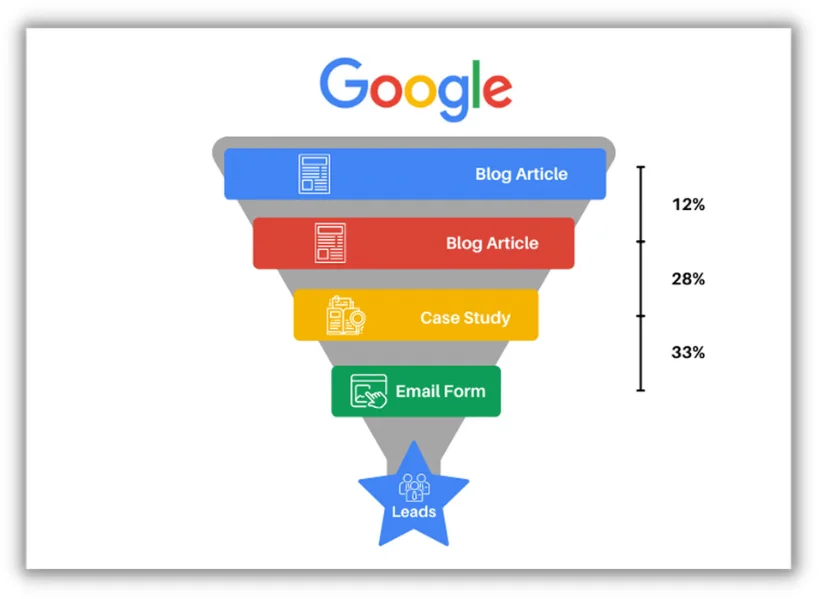 In fact, marketers surveyed by HubSpot ranked SEO as one of the most effective channels to acquire new customers. And, Ahrefs found that leads from organic search have a 15% conversion rate (compared to around 7% for search ad leads)!
4. SEO helps lower your acquisition costs
Even though ads make it easy to quickly get in front of the right audience, you're going to see conversions only as long as the campaign is running.
That means your customer acquisition cost (CAC) over time for paid ads compared to other channels like SEO is high. Plus, in a competitive market, ads for competitive keywords cost more, driving up CAC even more.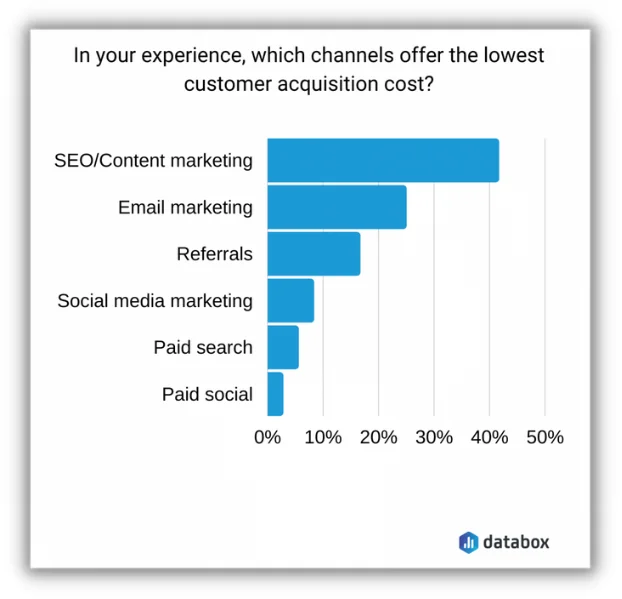 SEO, on the other hand, continues driving traffic and leads to your website–sometimes forever.
A study done by AdLift found that companies that invested in significantly boosting SEO traffic over paid search saw their CAC drop by about 60%. Databox's survey also showed similar results–compared to other channels, SEO/content marketing offers the lowest CAC.
BTW, we've covered all the conversion metrics you should track besides CAC here.
5. Your buying journeys become shorter
SEO can help streamline the buyer's journey for potential customers.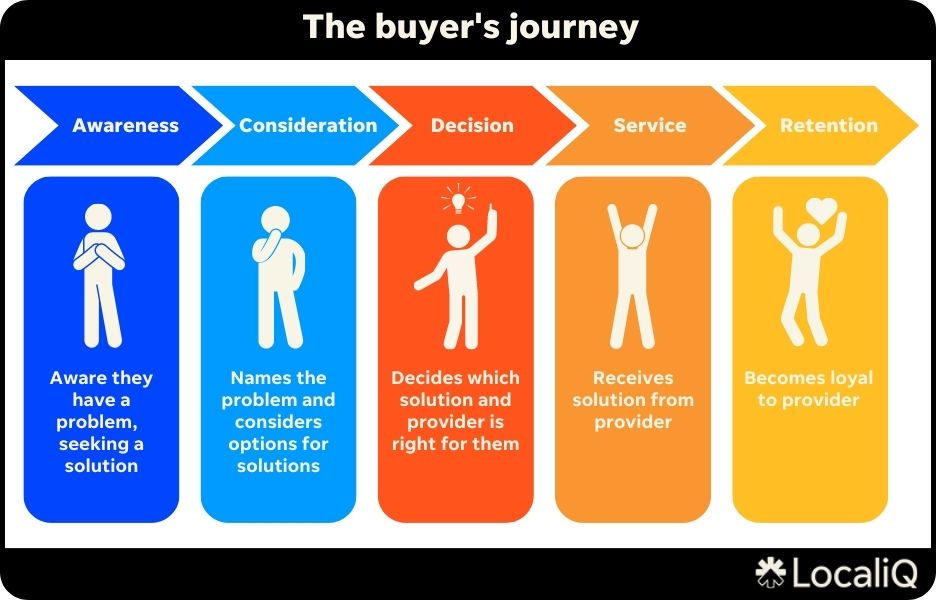 By helping you rank for informational and educational content, your audience can swiftly find answers to their questions or solutions to their problems, nudging them closer to a purchasing decision.
Even with a largely sales-led growth model, search-optimized content is useful for letting potential customers know how you compare against other companies. And that helps them narrow down their choice of vendors.
Plus, when you optimize for long-tail keywords that are also high-intent, you cater directly to users on the brink of making a purchase. These users aren't merely window shopping online–they have a clear intention to buy, and a well-executed SEO strategy can efficiently bridge the gap between their search and the final purchase.
6. Your brand builds trust and credibility
Consistent visibility in top search results not only educates but also bolsters trust and credibility. If a potential customer repeatedly encounters your brand during their research phase, they'll likely see it as a trustworthy and reputable source, accelerating their decision-making process.
This phenomenon can be attributed to the Familiarity Principle or the Mere Exposure Effect—a human tendency to see things more favorably with repeated exposure.
People clicking on your website on search results aren't the only ones who will find you. Marketers also prefer linking to great quality content as external sources. And that means their audience is bound to discover and learn about you.
For example, take this post on technical SEO by Hubspot:

It has around 400 backlinks, and that's just in the last three months!
7. Contributes to better ad performance
Even if your marketing strategy relies heavily on ads, your SEO efforts can help boost your campaign's performance thanks to repeated exposure.
Plus, when running remarketing ads to target people who've already visited your site, you're more likely to convert them since SEO funnels in more high-quality traffic.
Understanding SEO better also inevitably helps with running better ads on social media and search engines.
You can use keyword research from your SEO strategy in your ad copy since you know people are searching for those terms.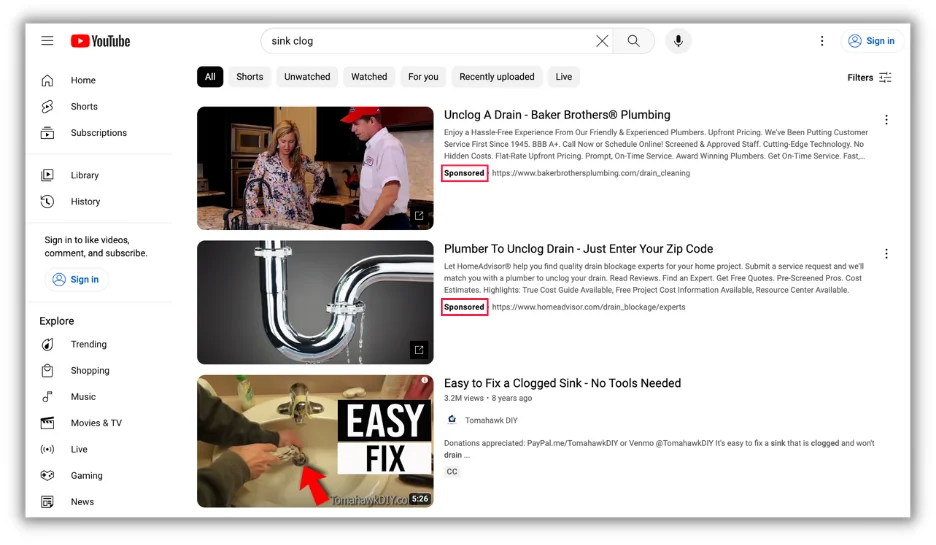 For instance, you can use user-generated search terms in your ad copy and creative to catch your audience's attention instantly.
8. Provides an easy way to understand the customer's needs
Customer research allows businesses to understand their needs and make data-driven decisions that help achieve business outcomes.
But it comes at a cost. Surveys, market research, focus groups, and interviews take time and are expensive to conduct.
We're not saying you shouldn't do customer research the traditional way. But if you're looking for an easy ongoing method to learn what customers want, SEO is your best friend.
Search queries on Google Search Console show keywords people type in to land on your content. You may even discover keywords that aren't getting any clicks, but your content shows up for on search result pages. That allows you to understand the real search intent and update your content.
Say you write a guide on how to maintain your car during the winter. The search queries show people looking for advice on how to winterize their car or perform routine maintenance based on issues that arise in the colder months. That shows you what people are really looking for, and you can align with their needs.
Keyword research tools like Ahrefs allow you to analyze your competitor's content and see what keywords they're ranking for so you have additional data to understand customer needs.

9. SEO is more cost-effective than other channels
HubSpot's State of Marketing report found that marketing channels like paid social media content, email marketing, print and physical ads, and in-person events are going to see a strategic budget cut.
But even in a leaner economic climate, marketers plan to continue investing in SEO since it generates the strongest returns. The study also found SEO is one of the top 5 marketing trends that have the highest ROI (return on investment).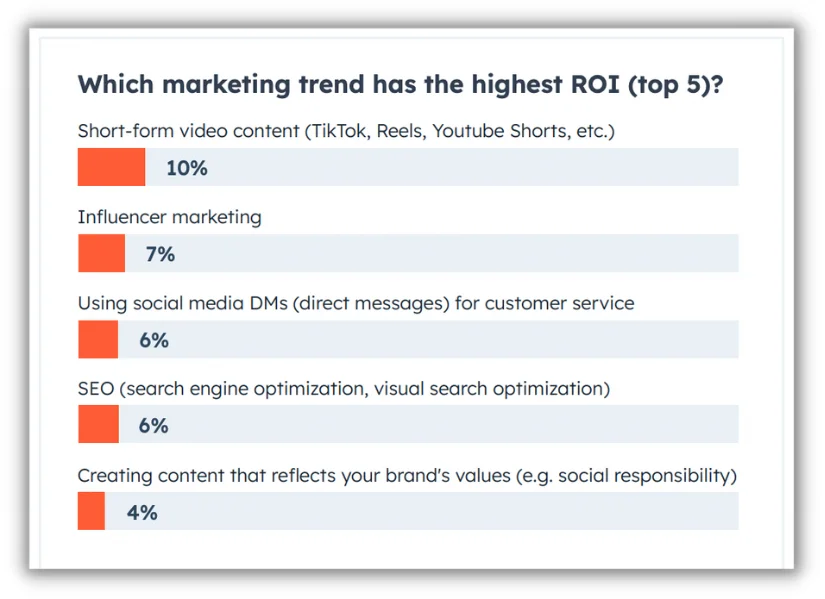 10. Indirectly improves the visitor experience
One of the main tenets of SEO has always been improving the user experience.
But with the launch of Core Web Vitals—"a set of metrics that measure real-world user experience for loading performance, interactivity, and visual stability of the page"—websites now have a greater impetus to fix any underlying issues.
You can use a tool like PageSpeed Insights to see whether your site passes the Core Web Vitals and diagnose any performance issues.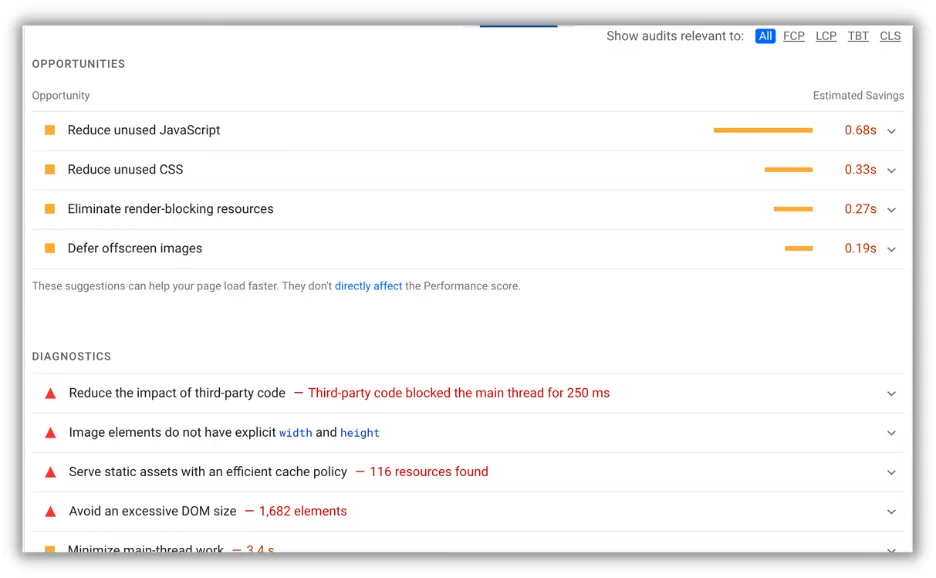 The tool lists opportunities like reducing unused JavaScript, properly sizing images, and using next-gen formats to help your page load faster.
While improving page loading times is by no means the only way to improve the visitor experience, this small change has a huge effect on conversions.
The first five seconds have a huge impact on conversions. Every additional second your page takes to load, your conversions can drop by an average of 4.42%.
11. Helps you beat other local businesses in search results
While local SEO isn't a novel concept, businesses not taking advantage of it are at a disadvantage.
The average person chooses a small business to shop at over 200 times a year. And since most purchase decisions begin with a search online, local SEO tactics can give you a leg up on your competition.
Capture "Near Me" searches by listing your business on Google. Have an online presence on local business listings. Also, create and optimize local keywords like "best [product/service] in [city]" to drive local searchers.
12. SEO doubles up as good PR
SEO and PR have a common goal—to establish a brand's credibility and manage its reputation. And search-optimized thought-leadership content that positions your brand as an expert doubles up as good PR.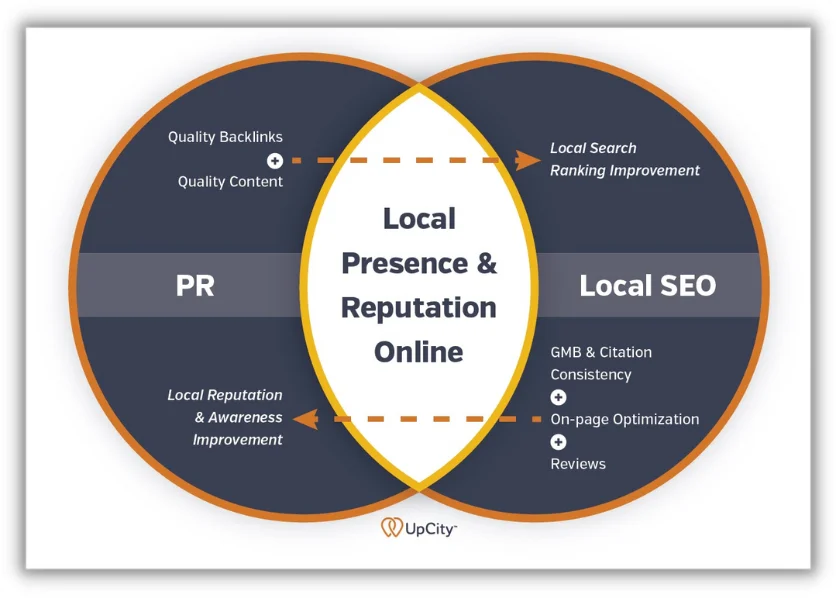 Source
As a small business, you can share counter-narratives about your industry, post your take on current trends, and publish original research.
Doing so has two benefits:
You create linkable assets that other outlets and publications are likely to pick up.
When these optimized pieces are distributed on social, email, and other digital channels, readers see you as a trusted partner instead of a vendor.
13. Can uncover new partnership opportunities
The SEO benefits don't stop at PR.
Going through your backlinks—sites that have linked to you—can help you find companies that are in a similar space that you can approach for a strategic partnership.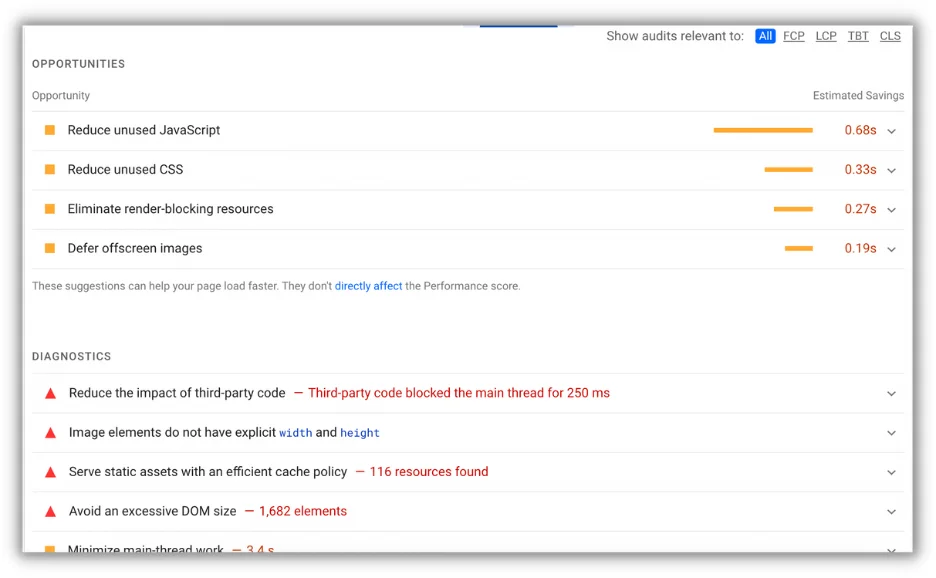 For instance, if you have a packers and movers service and a moving insurance provider linked to your services (among others), you can promote each other's brands to your audience for a package deal.
P.S. Besides a partnership, here are 8 Ways to Get More Customers FAST
Get all the benefits of SEO for your business
While SEO takes time, expertise, and patience, the tradeoff is well worth it. Increased website traffic from qualified visitors, lower client acquisition costs, and efforts that can continue bringing in results long-term are just a few reasons SEO is an important strategy to add to your marketing plan.
To recap, here are the biggest benefits of SEO:
Drives more organic traffic
The quality of traffic is better
Organic traffic is more likely to convert
Helps lower your acquisition costs
Shortens your buying cycles
Builds trust and credibility
Contributes to better ad performance
Provides an easy way to understand the customer's needs
Is more cost-effective than other channels
Indirectly improves the visitor experience
Helps you beat other local businesses in search results
Doubles up as good PR
Can uncover new partnership opportunities
Need help getting started? We can help you maximize your online visibility with our SEO solution. Get a personalized walkthrough today!