Over 5 million existing homes changed hands last year. That's a pool of 10 million potential buyer and seller clients up for grabs to enterprising real estate agents.
And which agents landed the lion's share of those listings? The ones who developed programs to generate free real estate leads. They built networks, created their brand online, and leveraged past clients for referrals and reviews.
This guide exposes the tricks and tactics successful real estate pros use to generate a consistent flow of absolutely free real estate leads. If you want to get to the closing table more often, this is where you start.
Table of contents
How to generate free real estate leads online
This mix of inbound and outbound tactics is easy to do and delivers lots of free real estate leads.
1. Be active on social media
Social media is your most versatile tool for generating free real estate leads. You can use it to prove your expertise, build trust, grow brand awareness, and even show off your best listings.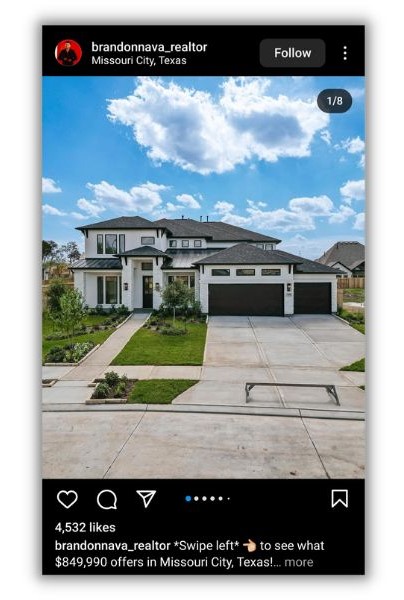 Each social media platform offers something unique, so it's worth exploring all of them.
Here are some social media post ideas to fuel your lead-generation activities:
A day in the life of a real estate agent
Brag about awards or certifications
Educational posts about homeownership, the buying process, or mortgages
Lifestyle and humorous posts
Challenges and trend posts
❓How do you keep all of your marketing efforts organized and efficient? With this free small business marketing plan and template, of course.
2. Become the expert on Nextdoor and Reddit
People often turn to online forums for help understanding the complexities of real estate. Two such forums that attract local buyers and sellers are Nextdoor and Reddit.
Nextdoor is organized by neighborhood. On Reddit, you'll need to look for Subreddits (sub-groups that focus on specific topics) like r/newyork or r/charlotte.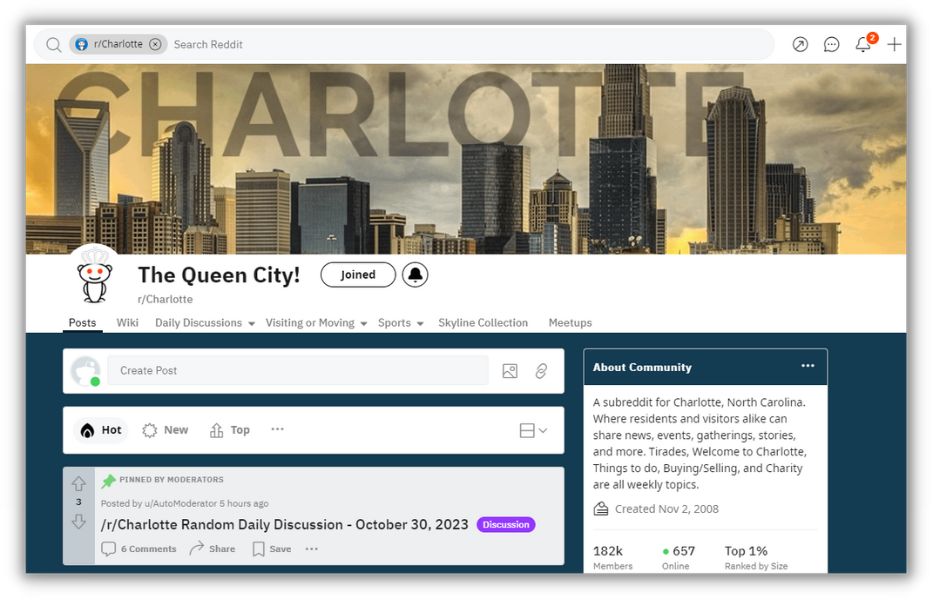 Once you find your community, jump in and answer questions about moving to town, where to find services, and other topics prospective clients might ask. Just don't be salesy. Your comments and posts can get downvoted, and you can be moderated right out of the group if you go in sales guns-a-blazing.
3. Use video marketing
Real estate marketing that includes video gets 403% more inquiries than messages without it. And there are plenty of ways to incorporate video into your real estate marketing plans.
Consider creating a YouTube channel with helpful advice or video walkthroughs of your listings.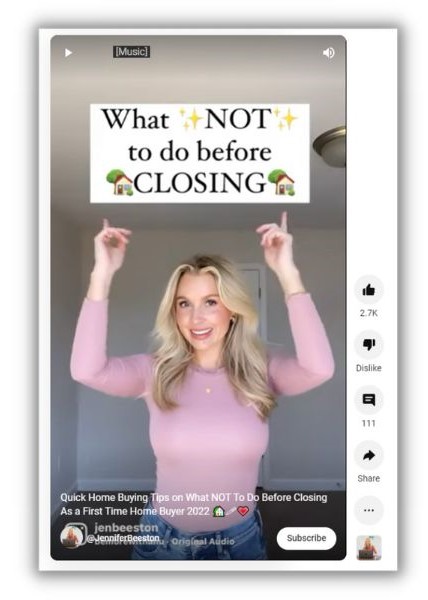 Then take slices of those long-form videos and repurpose them on your website and social media posts.
4. Get more online reviews
An overwhelming 96% of people say they used the internet to help them find their next home. Positive online reviews help you show up more often in online searches and are powerful social proof to the people who see them.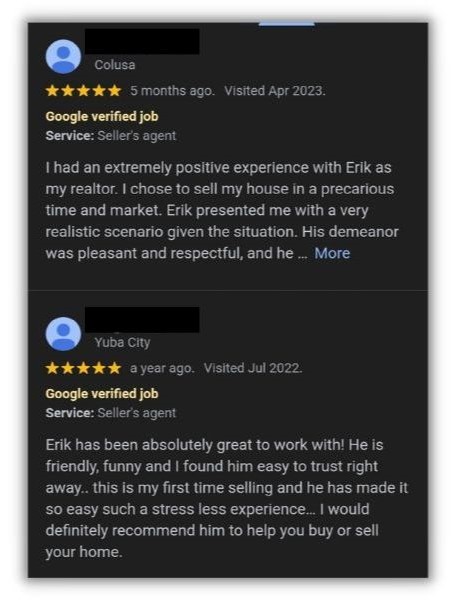 The first step is to ask every client to leave you reviews in places that matter like Google and Zillow. Then repurpose those reviews in emails, on your website, and in social media posts.
5. Send market update emails
One great way to get free real estate leads from people in your network is to create an email marketing strategy. Then send regular market updates to your email subscribers.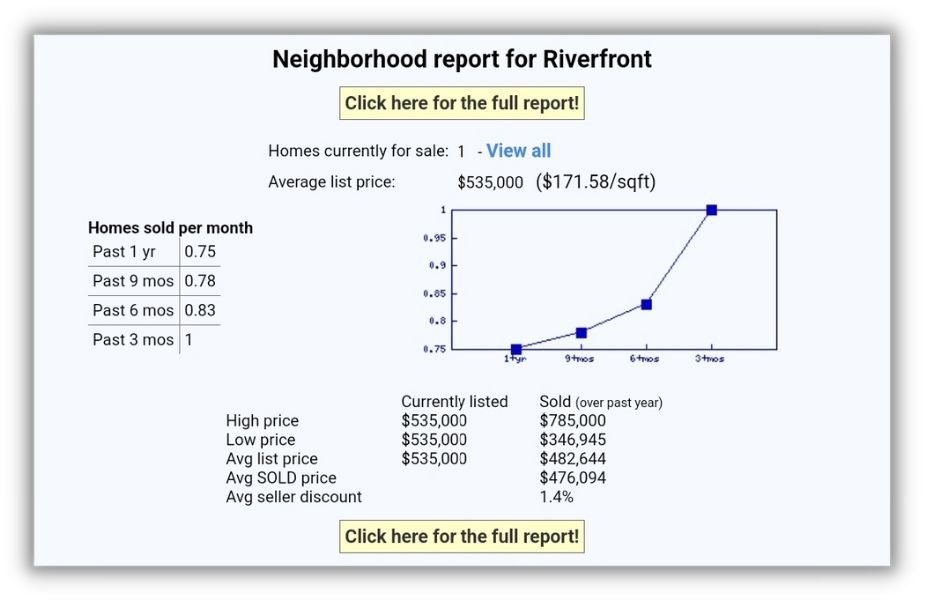 You can segment your email list by location and send personalized neighborhood data so each email is hyper relevant to the recipient. You can also send birthday emails and the occasional request for referrals to round out the strategy.
6. Get found on directories
When someone searches for a local service provider—like a real estate agent—they're usually presented with listings from online directories like Google Business Profiles, the Yellow Pages, or Yelp.
To capture free real estate leads from internet searches, you'll need to be visible on these directories. Start by claiming your business on digital directories and then optimizing your listings with business details, images, and more.
🚨 Are your directory listings making the right impression with people searching for real estate agents in your area? Find out instantly with our Free Business Listings Grader.
7. Blog for traffic and credibility
Blogging helps you generate real estate leads in several ways. First, it makes your website more search optimized so it shows up more often in Google and Bing searches.
Educational blog posts also help build trust with your audience by showing off your expertise.
And finally, blog content is fantastic fodder to use in emails and on social media. Share the links and snippets from your posts to get new followers.
The good news is, you don't have to be Shakespear to write a blog post. Just pull blog ideas from the questions your clients frequently ask and write in your own voice. Authenticity beats formality every day.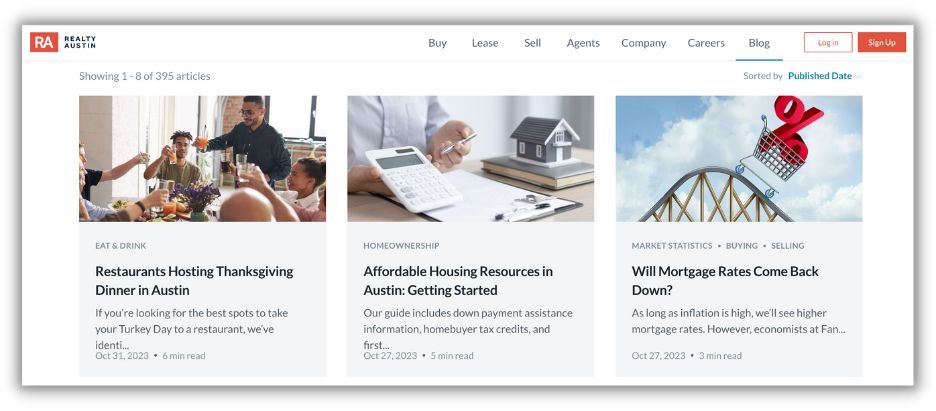 8. Use lead magnets
A lead magnet is something valuable you give people in exchange for them setting up an appointment, subscribing to your email list, or some other lead generation activity.
You can add lead magnets to your website or use them on social media.
What is the valuable something you should offer? It can be a new homebuyers guide, a market report, or even a giveaway like tickets to a local event.
9. Build an SEO optimized website
Your website can do a lot of lead generation heavy lifting for you just by being optimized for search engines.
A good place to begin with SEO for real estate is by finding the keywords your target clients use and working them into your website. For example, if you're an agent in Seattle and focus on high-end homes, you might consider:
Homes for sale in Seattle
Seattle real estate agents
Luxury homes Seattle
What are the best neighborhoods in Seattle
Keyword research tools will make the job easier. And an SEO audit will help you find other ways to make sure your site shows up on search engines.
How to generate free real estate leads offline
Social media and email are great places to find real estate leads. But there's still plenty of room for networking in real life.
10. Grow your sphere of influence
Your sphere of influence is made up of people you're personally connected to and that you could influence. Since 38% of buyers and 36% of sellers found their agent through a friend, neighbor, or relative, your sphere is a powerful way to get free real estate leads.
Who's in your sphere? At the least, it's your friends and family. But it could also be people at your gym, your mail carrier, dentist, and all of their friends.
The key here is to grow your sphere of influence systematically. That means entering contact details for your current network in a contact relationship management (CRM) software. Then set times to touch base with each via phone, email, text, or in-person. And remind each to connect you with their network when real estate expertise is needed.
11. Attend and host community events
Community events are a great opportunity to meet new people and support local neighborhoods.
Look to volunteer at:
5K races or local group runs
Pet adoption events
Home building / Habitat for humanity projects
You can even host your own. Host a paper shredding day, trunk-or-treat Halloween event, or open house at your office. The possibilities for marketing a real estate business through events are endless.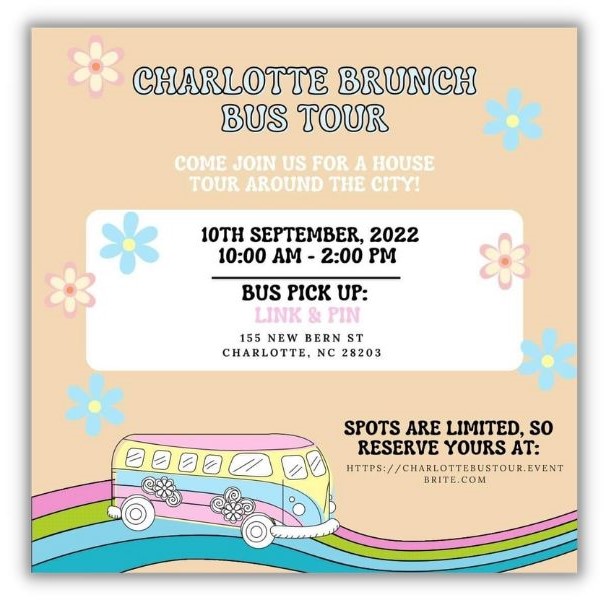 12. Use circle prospecting
Circle prospecting is a real estate marketing strategy where you contact homeowners who live near one of your current listings. This is a great way to find free real estate leads because your existing client can give a trustworthy referral to their neighbors.
Start by knocking on doors or cold calling neighbors to invite them to your client's open house. Then follow up and make sure they know you're the go-to real estate pro in their neighborhood.
13. Leverage your open houses
Open houses are naturally filled with people interested in homes and real estate. Some people will show up with an agent in tow. But many are just beginning to look for a new home or are there to learn how an open house works so they can sell their current house.
Either way, set up a sign-in sheet to collect email addresses. Offer to keep people in the loop in real estate transactions in the neighborhood. Get them into your CRM so they get your newsletter.
14. Host home-buying seminars
Organize a lunch-and-learn or "Coffee with a real estate agent" at a local restaurant or cafe. Ask the eatery to offer a small discount to attendees in exchange for you bringing people in the door.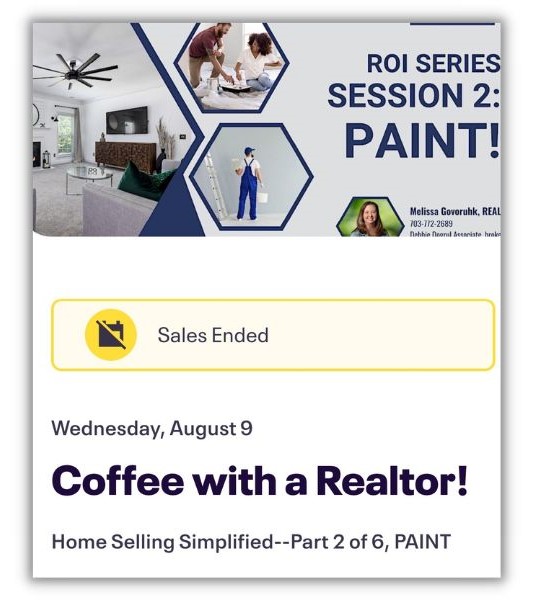 Make the event Q&A style or prepare a short talk. Take a read of the room upfront so you know if the group is made up of first-time home buyers or budding real estate investors.
For a bigger crowd, consider inviting other pros like a mortgage broker and real estate lawyer to lend their expertise.
15. Create a professional referral network
People thinking about buying, building, or selling a home may contact home inspectors, service providers (HVAC, plumbers), land surveyors, builders, and other professionals.
Get cozy with the most highly rated of these pros in your area and offer to trade leads. When someone hires a handyman to prep their house for sale, the pro they hire can send them your way.
You can even expand this network to just about any local professional. Think: hairdressers, gym owners, and landscapers. Anyone who relies on local customers would be a good addition to your network.
16. Be a guest on a local podcast
People listen to local podcasts to learn about their city. You can become the go-to expert for local podcasters on questions about the housing market, demographic trends, and getting to know different parts of the city.
The best part is that all you really need to do is show up and talk about what you know.
Most podcasts have websites and social media pages, so you'll get exposure and links to your website from those platforms as well.
17. Get leads from past clients
Check this out…27% of sellers used an agent they'd worked with in the past (12% of buyers did the same). You have a significant source of leads sitting right in your client file drawer.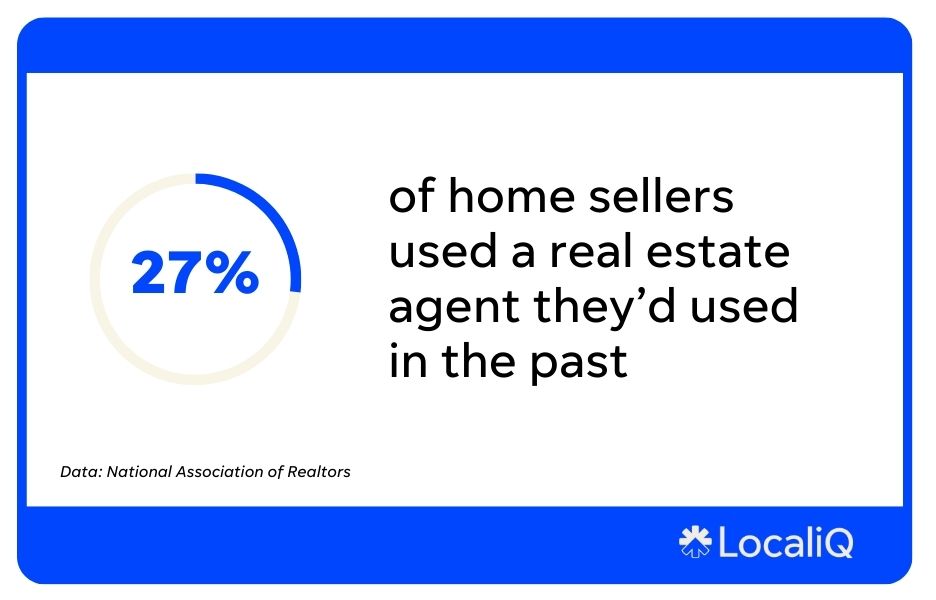 And not only might a previous client use you again, but they'll also eventually know someone that needs to buy or sell a home. That referral is everything.
To keep the embers of past client relationships alive, set them up on automated email and snail mail campaigns. Send a card for their birthday, update them on their neighborhood, and invite them to events in and outside of your office.
18. Explore FSBOs and FRBOs
For sale by owner (FSBO) and for rent by owner (FRBO) properties are excellent opportunities to find free seller listings. That's because a good portion of FSBO and FRBO property owners are new to real estate and can quickly get overwhelmed with the process.
The key is to go in open-minded and ask questions. There's a reason they aren't using an agent, so the hard sell will probably send them running.
Learn about their real estate experience, how they're marketing the property, and how long they've been trying. Then find a good reason to follow up, like a comp property you can share with them for pricing intel. If they continue to struggle finding a buyer or renter, you'll be the first person they contact for help.
Frequently asked questions about free real estate leads
Getting free real estate leads is an important goal for growing agencies. Here are a few answers to popular questions on the topic.
Does Zillow give free leads?
Sort of. Through Zillow Flex, approved Zillow Premier Agents can receive leads for free. However, if a lead closes, Zillow will collect 15% to 40% of the agent's commission.
Where do realtors get most of their leads?
According to a survey by the National Association of Realtors, the most popular way for a buyer or seller to find a real estate agent is by referral from a friend, neighbor, or relative. That's why it's so important to build your personal network.
Should I pay for leads in real estate?
Buying real estate leads can be a good option to fill the void when there are lulls in your business or when you're just starting out and need an initial boost. But paid-for leads can be expensive, and they're not guaranteed to be qualified. It's best to create regular sources of free real estate leads and use paid-for leads sparingly.
Build an auto-refilling funnel of free real estate leads
It takes a lot of hustle to build a successful real estate business. But when you know what the most successful agents and brokers do to get free buyer and seller leads, you'll have a leg up on your competition.
As you grow your business, remember these sources of free real estate leads:
Be active on social media
Become the expert on Nextdoor and Reddit
Use video marketing
Get more online reviews
Send market update emails
Get found on directories
Blog for traffic and credibility
Use lead magnets
Build an SEO-optimized website
Grow your sphere of influence
Attend and host community events
Use circle prospecting
Leverage your open houses
Host home-buying seminars
Create a professional referral network
Be a guest on a local podcast
Get leads from past clients
Explore FSBOs and FRBOs