Just like the leaves change color from summer to fall, the real estate industry experiences a shift of sorts as the seasons change. And this season is no exception. After a strange summer of rising interest rates and falling inventory, real estate businesses are watching the housing market begin to correct itself and bracing for what that means.

So how can you continue marketing your real estate business through uncertainty and market changes?
Fresh ideas and a different perspective can help, as well as looking for new ways to get in front of clients. We've got just the ideas to inspire a little creativity this season.
11 fall real estate marketing ideas
Incorporate these (free or nearly-free) fall real estate marketing ideas into your strategy this season.
1. Clean up your Google Business Profile for the fall
A new season is a great reminder to check in on your Google Business Profile. Your Google Business Profile can show up when people are searching for local real estate-related businesses or when they search for you specifically.
This profile can provide valuable information that can entice potential clients to take the next step and contact you or visit your website to learn more.
Google offers a lot of great options to help you educate clients about your real estate business directly from this profile, including Google Business Posts, reviews, images, and a Q&A section (Hint: you can seed this section with frequently asked questions you receive).
Add some Google Business Posts to your profile to highlight upcoming open houses, seasonal events, or to feature your agents or employees.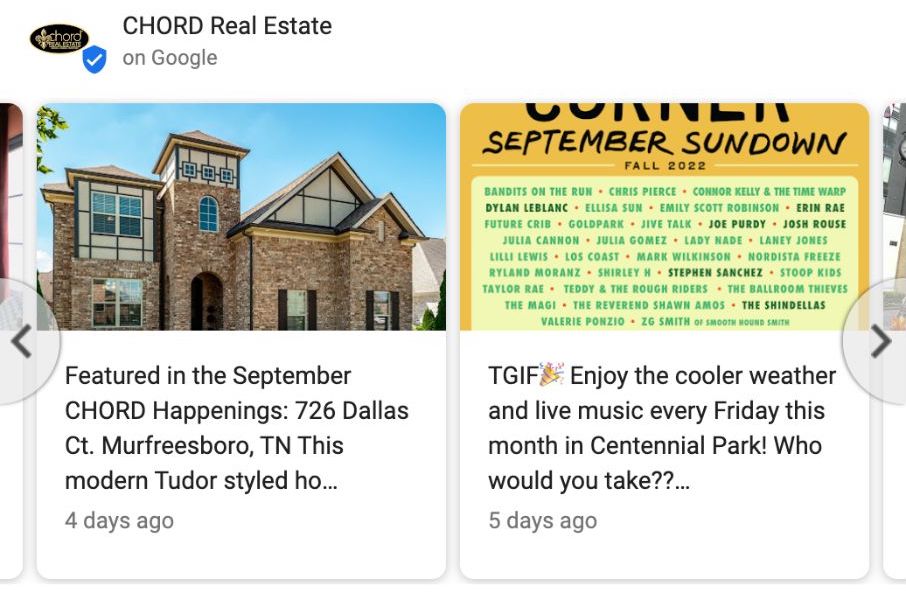 The fall season covers holidays like Halloween, Thanksgiving, Hannukah, and more. So it's also important to check that your hours are listed correctly on your Google Business Profile (and other top business directory listings).
Related: Get our tips to prepare your directory listings for the holidays.
2. Create seasonal blog content
Did you know that businesses that blog get 55% more website visitors than those businesses that don't?
Creating and regularly updating a blog for your real estate business can help you target relevant local keywords, position your business as a resource in the industry, and stand out from the competition.
To put a seasonal spin on it, create some fall-related content for your blog. This could include Halloween happenings in the area, the best patios to enjoy a fall meal, or ideas for decorating your home for the fall holidays.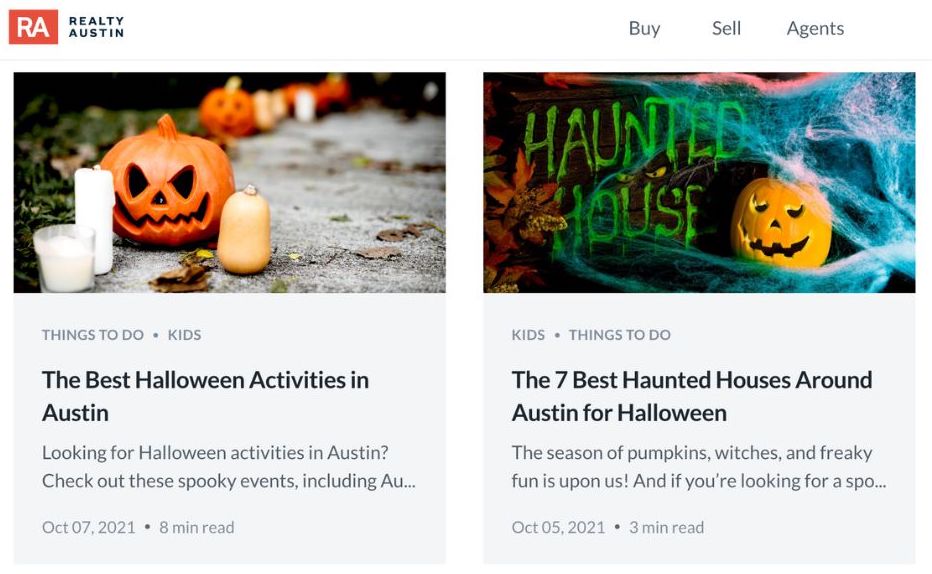 Get more content marketing ideas for your real estate blog here.
3. Send a fall newsletter or email series
Once you've created fall-related blog content, you can promote it in a seasonal newsletter. Newsletters can help you stay top-of-mind with prospective clients and nurture them until they're ready to convert.
It can also help you re-engage past clients who may either be in need of your services again or know someone they could refer you to.
If you aren't creating fall blog content, you can still send a fall newsletter. This example below incorporates a feature on a local home along with helpful information about the local real estate market.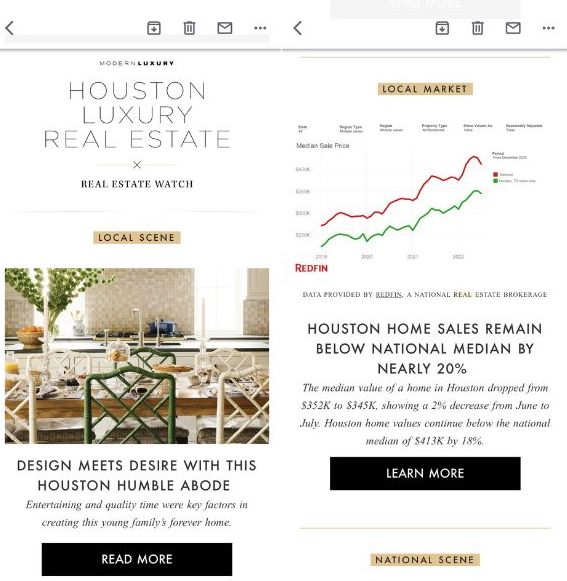 Think about what your prospective and current clients would be interested in, and test different fall email subject lines to see what drives the most opens.
Related: Get newsletter ideas for every month of the year here.
4. Try real estate TikTok
As more and more younger people are entering the real estate market and as usage grows in general, TikTok has become a great place for real estate businesses to connect with and educate prospective clients.
If you're not trying out TikTok for real estate marketing yet, now's a good time to test the waters.
You can share short, educational information as TikTok videos as well as use TikTok to show off your open listings, share homebuying tips, or bust myths about the home buying experience.
As you're getting started on TikTok, you can also reshare your TikTok videos on Facebook, Twitter, and Instagram and repurpose it as YouTube Shorts. This helps you get the most out of your content and can help you test what topics and types of videos resonate most with your audience.
Related: Get our tips for how to get more TikTok followers here.
5. Sponsor (or host) a Halloween event
Real estate businesses can get involved in the community to build relationships and get new clients. One way to do that during the fall season is to sponsor or host a Halloween event.
You can see if your city or town is hosting a Halloween event and looking for sponsors. Or you can host your own trunk or treat, haunted house, or costume contest to engage the community.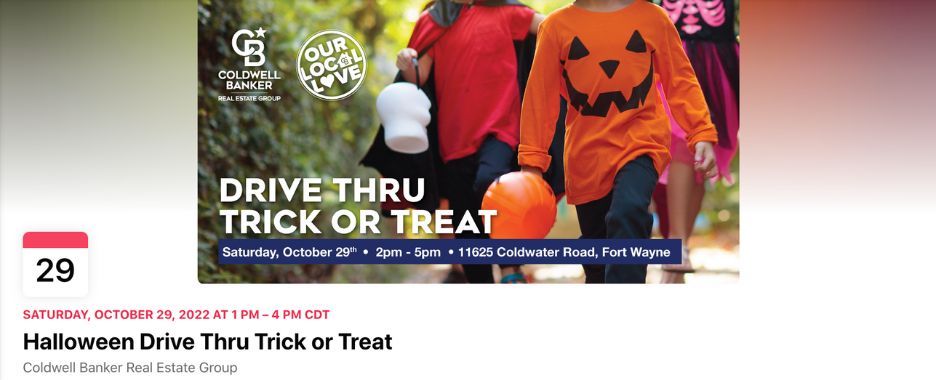 If hosting or sponsoring an event isn't in the budget for this season, you can also volunteer at a local Halloween event. This still gives your real estate business a presence—and an opportunity to connect with local clients—but it doesn't require the financial commitment of event sponsorship or hosting an event. Plus, it gives you a way to give back to the community!
6. Share a customer appreciation message for Thanksgiving
The fall season also brings us Thanksgiving, which is a great opportunity to thank your existing clients. We shared a whole list of customer appreciation ideas here, but one that stands out is creating a thank you message to your clients.
You can do this via video, email message, or just a nice social media post. But we're partial to the video message because it can be shared on all those channels and adds a nice personal touch.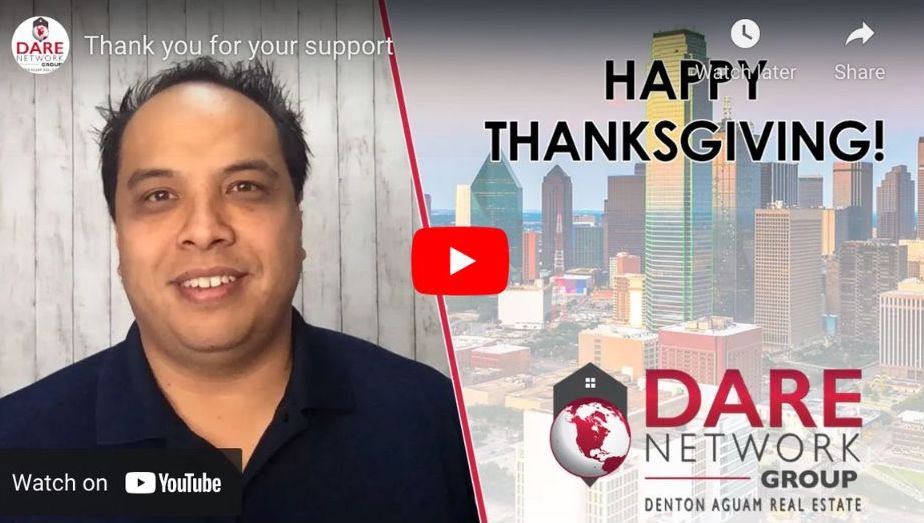 You can also get your other employees or coworkers involved in the message by having them say a quick thank you or highlighting some of the clients you've worked with throughout the year.
7. Get involved in Small Business Saturday
Creating connections with other businesses in your community can open up opportunities for your real estate business. While it's important to show support and connect with small businesses in your area year-round, Small Business Saturday gives you a built-in way to get involved.
You can participate in Small Business Saturday in a number of different ways:
Host or sponsor a Small Business Saturday event. You could partner with a small business in your area and set up a table with refreshments or a photo wall to bring in customers to the retail business while you have a presence there.
Highlight businesses participating in Small Business Saturday. Share a blog post or social media post roundup with businesses you'll be supporting on Small Business Saturday.
Create a Small Business Saturday gift basket. Purchase items from local businesses and host a social media contest to choose a winner.
This real estate business created a video roundup of small businesses to support and posted it on Facebook.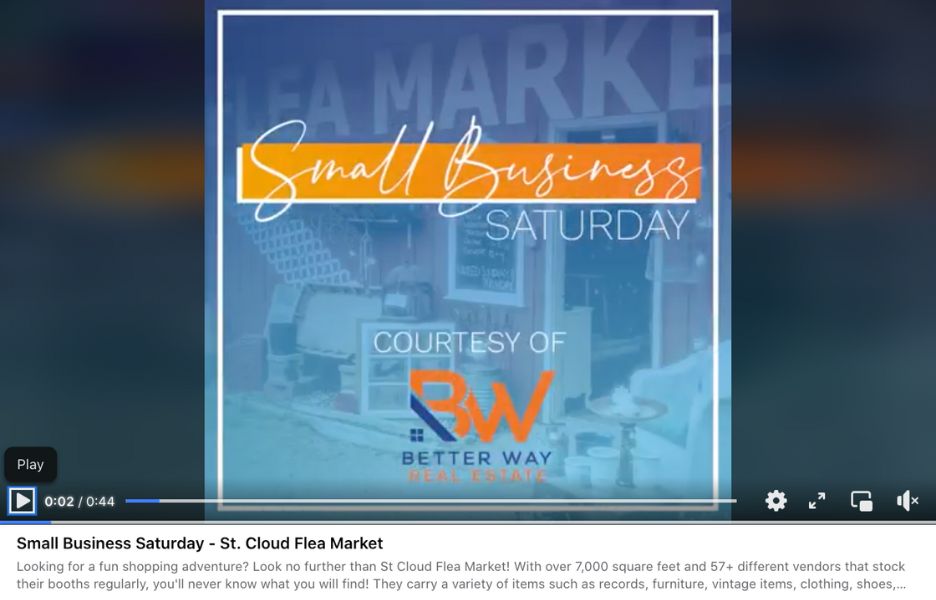 8. Run a fall social media contest
Speaking of social media contests, you can use this fall real estate marketing idea for any occasion—it doesn't have to be related to Small Business Saturday.
Facebook contests and Instagram giveaways can help you expand your audience on social media and increase engagement. This helps you get seen by more potential clients and stay top of mind with previous clients.
The best way to achieve this social media goal is to run a contest where users have to like your post, follow you, and tag another user. Make sure to choose a compelling prize and post all the rules of the contest in your announcement post.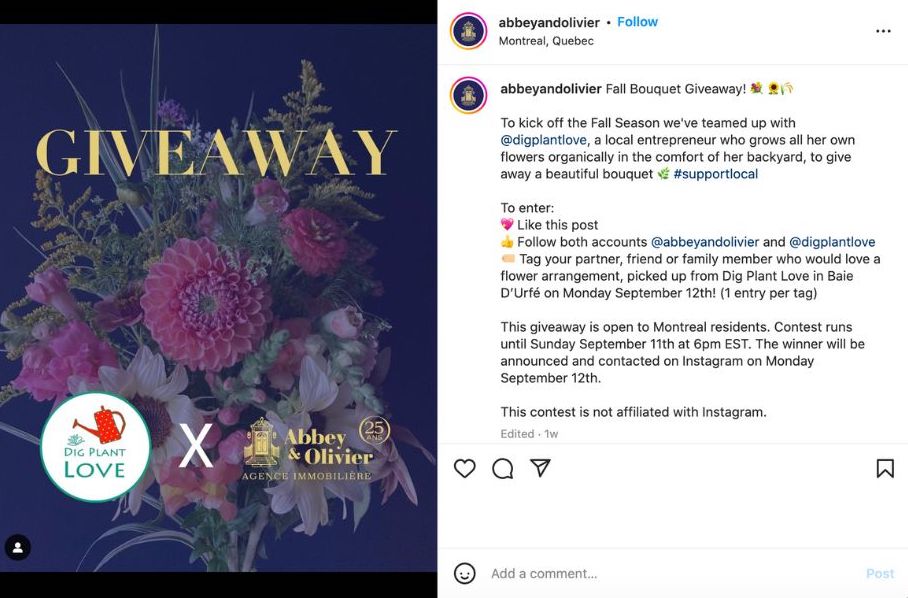 9. Create educational graphics for social media
The real estate market has been a hot topic, and many people are more confused than ever about the impact of rising interest rates and low inventory. One way to cut through the noise and help educate your audience is to create helpful graphics you can share on social media. People engage more with posts with images, and we retain information better from images than text.
These graphics can cover frequently asked questions, highlight a timely topic, or define a confusing term.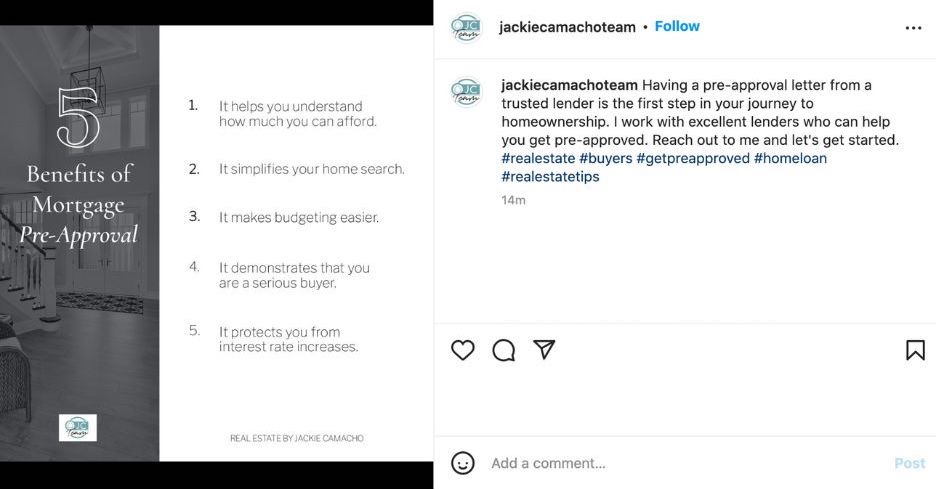 Make sure to include your logo and relevant hashtags as these types of graphics are easily shareable and can become a handy resource for sourcing new clients.
You can also test your graphics on social media to see what elicits the most engagement. Then you can use that to determine what to build newsletter topics or blog content around.
10. Schedule your holiday social posts
It's never too early to get your social media calendar buttoned up. As the holiday season gets closer, you'll be busy with your business as well as holiday obligations, gatherings, and preparations.
Scheduling out your holiday posts in advance can help you check this item off your to-do list for the next couple of months.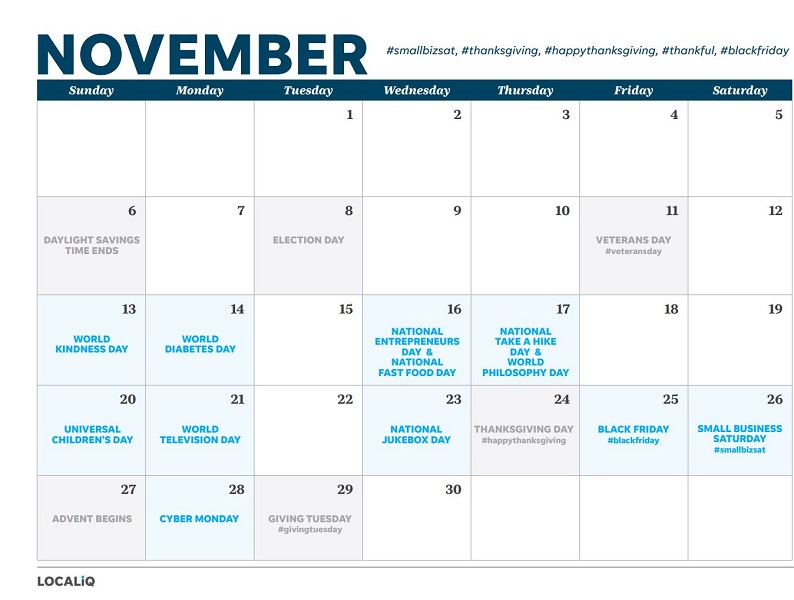 Download our marketing calendar to get ideas for all the upcoming social media holidays this season.
We've got you covered with some resources and post ideas to make this even easier:
11. Start your 2023 planning
Fall runs until December 20, meaning you won't have a lot of time to plan for the new year once winter rolls in. So use this season to start planning your 2023 real estate marketing.
This requires a look back at your strategies, campaigns, and initiatives for 2022—what performed well? What missed the mark? What marketing strategies were missing altogether?
This is also a good time to narrow down your marketing budget to determine how much you can spend on campaigns next year. Then you can prioritize the marketing channels that drive the best results for your real estate business.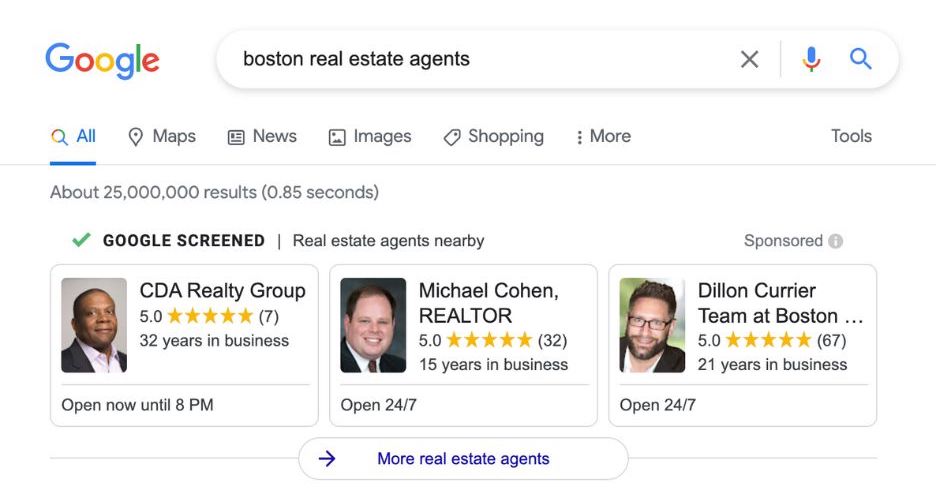 Google Local Services Ads are a great real estate marketing strategy to try.
For real estate businesses, it might also be helpful to assign some themes throughout the year. If you know that the market may take a turn in the spring, you may want to plan a bigger push for new clients during that time or ramp up your marketing as that season slows down.
Try these fall real estate marketing ideas now
Fall is here, which means some fresh ideas can help you plant the seeds for success over the next few months and wrap up the end of the year strong.
Try these fall real estate marketing ideas to see what works for your business (and what you might want to carry into 2023!):
Clean up your Google Business Profile for the fall

Create seasonal blog content

Send a fall newsletter or email series

Try TikTok

Sponsor (or host) a Halloween event

Share a customer appreciation message for Thanksgiving

Get involved in Small Business Saturday

Run a fall social media contest

Create educational graphics for social media

Schedule your holiday social posts

Start your 2023 planning
⚡️ Get more ideas to generate free real estate leads here!