Have you started working on your holiday email marketing campaigns yet? If not, now is the right time to do so. Holidays are the best time to up your conversion rates and drive faster business growth. In fact, holiday emails generate higher conversions than regular email marketing messages.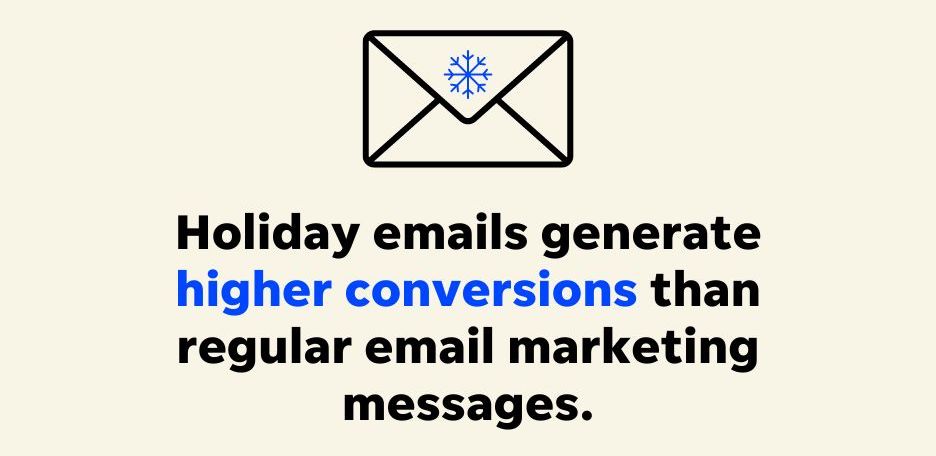 This year, holiday spending is projected to increase between 4% and 6%, totaling over $1.45 trillion. And we know that 61% of consumers start shopping by early November. So, it's recommended that you start planning your holiday emails well in advance to help capture some of that holiday spend.
To make things a little easier for you during this holiday season, we're sharing 10 best practices that will help you drive more conversions and sales with your holiday email marketing strategy.
10 best holiday email marketing tips
Use these tips and best practices that will put your holiday email marketing strategy on the nice list.
1. Write subject lines that reflect the festive mood
When sending your holiday emails, have a little fun and lean into the festive spirit to help your emails stick out.
Here are a few tips for your holiday email subject lines:
Craft subject lines that instantly let the readers know what to expect in the email.
Add relevant emojis like ??? ? to add a personal touch and celebratory vibes.
Keep your subject lines short and sweet. If your subject lines are too long, they'll be cut off in mobile viewing.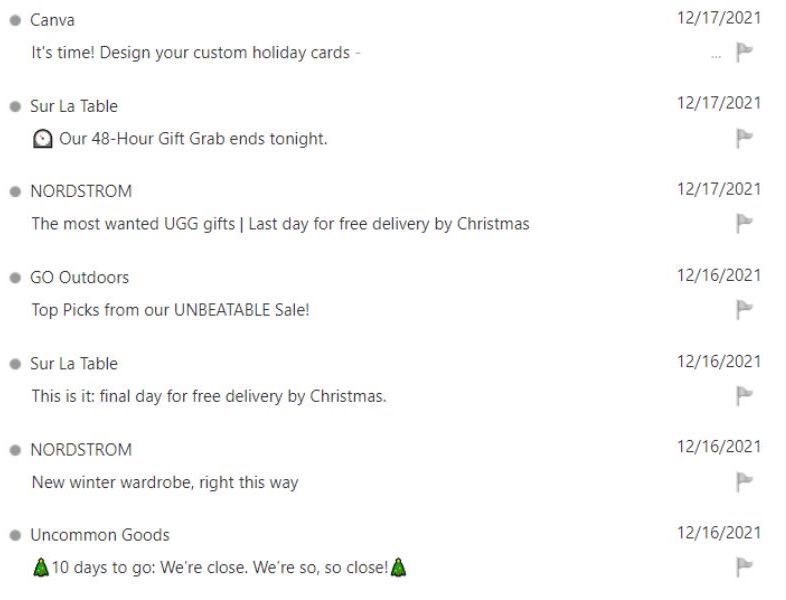 2. Send out targeted messages with effective segmentation
Segment your email subscribers to build personalized email campaigns. This will be more effective for your holiday email marketing than sending generic emails to your full list.
You can create segments based on the following parameters:
Demographics. Age, gender, and geographical location are the basic segmentation criteria for every business.
Past purchases. Categorize your customers according to the items they have searched for and their previous purchase categories.
Frequency of purchases. There are two types of shoppers: year-round shoppers and seasonal shoppers. Segment them based on these criteria and create your holiday email campaigns accordingly. You can share a VIP preview sale or exclusive offers with frequent shoppers. Or you can have a reward points system that would encourage the seasonal shoppers to purchase more frequently and join the VIP customers.
Discount shoppers. Make a separate list of people who shop during a sale or only with discount codes. By creating this segment, you can make sure that you do not offer discounts to users who are open to paying full price.
3. Create unique email designs that stand out
The holiday season is the time when all businesses are reaching out to their customers and prospects with offer emails. So, your emails must stand out and leave a lasting impression on the reader's mind, thereby persuading them to convert.
Send out visually rich emails in sync with the holiday they are sent for. For example: Incorporate spooky imagery in Halloween emails and Christmassy visuals with red and white color combinations for Christmas emails.
Go the extra mile and think of new ideas for holiday emails. You can experiment with different types of animations to enhance subscriber engagement and make them purchase from you.
Take a look at this email by Stop Aging Now. All the visual elements match the theme of Halloween. The clever copy and CTA draw the subscriber's attention and encourage them to click through.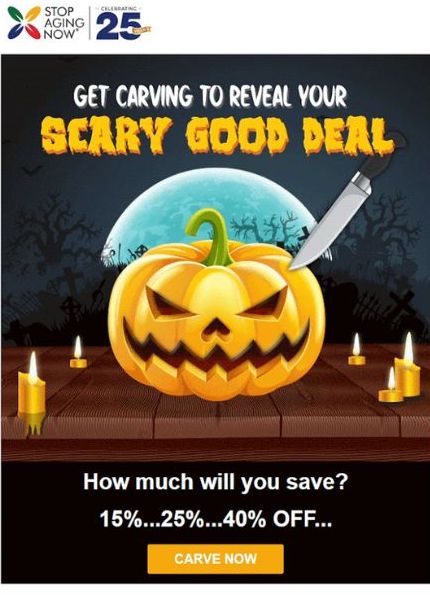 Once they click on the call to action, they get redirected to the landing page where they can reveal the offer by carving the pumpkin.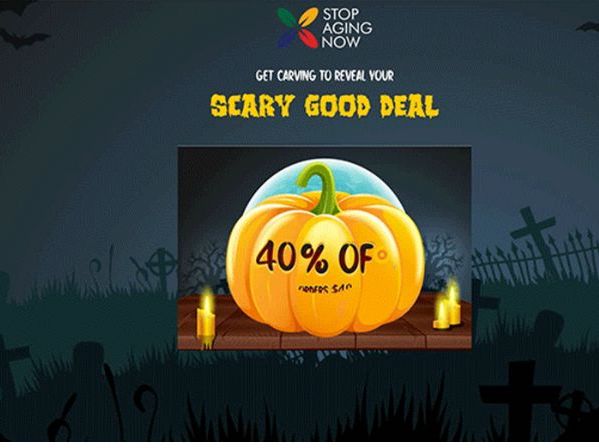 Isn't it a great idea?
4. Send out holiday gift guides
More often than not, customers are looking for help to decide on a gift for their loved ones during the holiday season. So how about sharing a holiday gift guide in your holiday email marketing campaigns to lend a helping hand?
Share ideas on the different types of gifting items available in your store for the holidays. This will inspire readers and entice them to purchase from you.
Here's how &Open has sent a gift guide email with attractive visuals to help last-minute shoppers.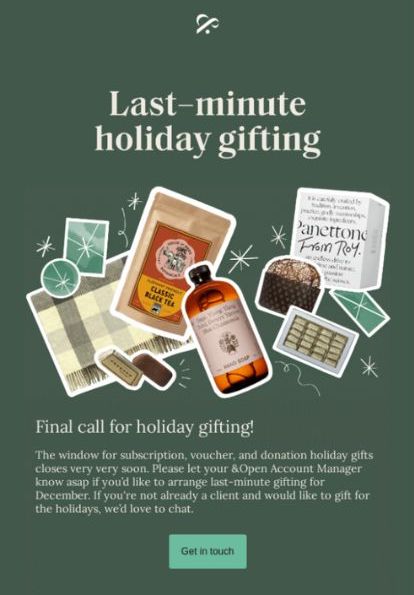 5. Tap into FOMO
One of the most important objectives of your holiday campaigns (or any other email campaigns) should be to stop the customers from moving on to your competitors. Create a sense of urgency by highlighting limited-time offers and interactive countdown timers.
Skydio has created a sense of urgency through their holiday email by emphasizing the phrase "Last chance." This plays into the fear of missing out and urges customers to complete their purchases.
Related: Our friends at WordStream detail more ways you can influence buyers using marketing psychology.
6. Set up automation workflows to reach the right person at the right time
Holiday email marketing works best with automation workflows. Here are some automated emails that you should include in your holiday marketing strategy.
Seasonal welcome emails
Do away with that welcome email created long ago. Instead, design a brand new welcome email for the holiday season. Incentivize users with an exclusive offer they cannot refuse. Add vibrant colors like red, green, and blue to create the holiday mood. You can even add rich media to improve the aesthetic appeal and take the customer experience to the next level.
Cart abandonment emails
Cart abandonment becomes all the more frequent during the holidays as people are on a shopping spree. There are too many distractions that can lead to abandoned carts. Cart recovery emails can go a long way to bring these customers back and improve conversions. You can send a series of cart abandonment emails over a period of 72 hours. Additionally, you can include a discount coupon code to make the cart abandoners complete the purchase.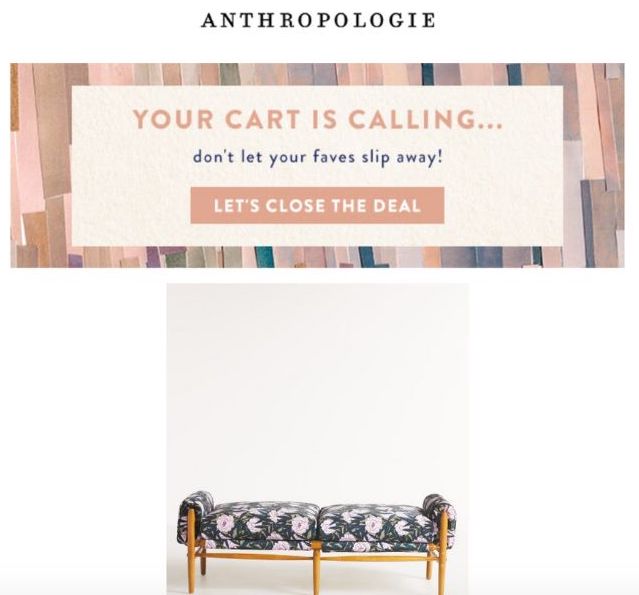 Promotional emails according to the buying cycle
Even during the holiday season, your prospects are traversing through different stages of their buyer's journey. Make sure you create holiday-themed emails to prompt them to convert. Furthermore, send a post-purchase email campaign to get their feedback and pave the way for future purchases.
Related: Use these clever holiday marketing slogans to capture attention.
Re-engagement emails
The holiday season is the best time to re-engage inactive customers and urge them to purchase again. It is a good excuse to offer discounts and attract them to your website. Re-engagement emails can help revive dormant leads and make them purchase from you again.
Related: Get email templates and examples to help craft these messages.
7. Be strategic with your email cadence
Just because everyone else is sending emails frequently during the holidays doesn't mean that you should. Sending too many emails can get overwhelming for readers and lead to unsubscribes.
Therefore, keep an eye on your holiday email sending frequency. Allow email subscribers to set their preferences so that you can send them emails as per their expectations. Sending too many emails suddenly during the holiday season can trigger spam filters and affect your email deliverability. Plan your emails strategically so that you don't end up bombarding your customers.
8. Integrate social media and email marketing
The holiday season gives you an opportunity to build your social media presence. Organize social media contests and promote them through your holiday email marketing campaigns. Share links to your social media handles to increase your brand visibility and get more followers.
See how Unique Vintage has invited its readers to follow their Instagram handle. They have also included the relevant social media handles in the email footer.
Related: Get ideas for holiday Instagram giveaways to run this season.
9. Test and see what works for you
You can test different ideas for your holiday email marketing strategy with A/B testing or multivariate testing. See what works for you and what doesn't.
Remember that every tip shared online might not work for you. So figure out what resonates the most with your target market. For example, you can start sending Christmas emails in the second week of December if your buying cycle is around two weeks.
10. Optimize email campaigns based on data
Monitor the performance of your holiday email marketing and keep optimizing them according to the results. Also, check out the kind of emails your competitors are sending and take inspiration from them.
Wrapping up 🎁
To sum it up, make a list of all the upcoming holidays that you want to include in your email marketing strategy. Decide whether you want to run offers for all holidays, including big shopping days like Small Business Saturday or Cyber Monday. Then chalk out ideas and concepts to create winning email campaigns. Use the tips shared here and watch your holiday sales soar.