As the end of the year approaches and the holidays are in full swing, businesses are thinking about ways to surprise and delight customers while looking for one last push to finish the year strong.
One effective way to accomplish both of these goals is to create video holiday greetings to share with customers, prospects, and employees.
But, you're already so busy—why take the time to create holiday videos? In this post, we'll answer that question as well as share:
Easy holiday video guidelines to follow for success
10 company holiday video ideas (with examples!)
Where (and how) to share your holiday video for the best results
Let's get rolling.
Why create holiday videos?
Video marketing is a crucial strategy any time of the year but can be especially impactful during the holidays. Consider these holiday video stats:
83% of shoppers say they use YouTube to discover new products and businesses during the holidays.
72% of customers prefer watching videos from businesses over other types of marketing.
87% of businesses using video marketing reported an increased return on investment.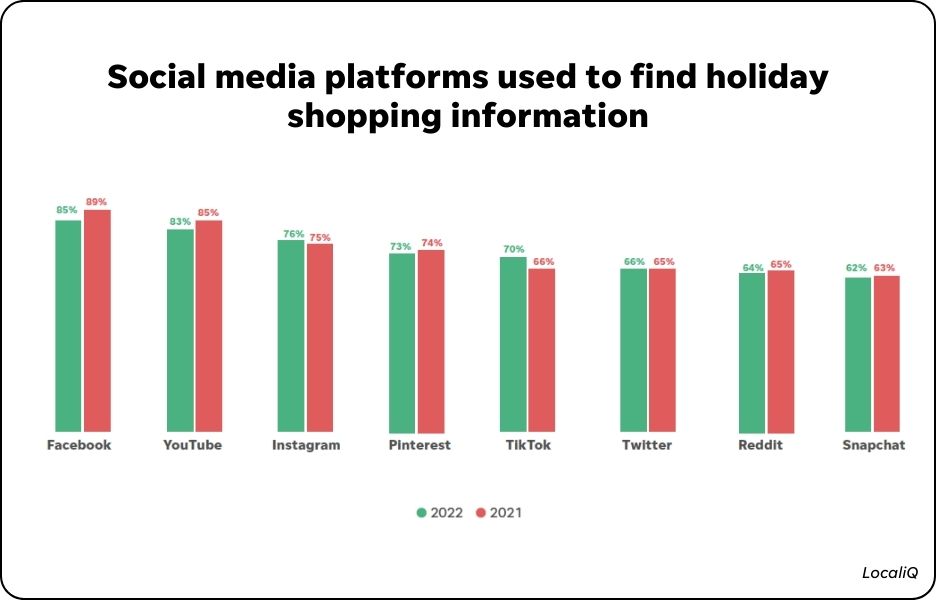 Holiday videos give you a way to reach and engage with your audience in the way that they prefer—which can help you get more customers and increase revenue during a crucial time.
4 easy holiday video guidelines to follow
Yes, holiday videos are a must, but they don't have to break the bank or take up a ton of your time and energy to create.
Before we get to the ideas, here are some simple guidelines to follow for a successful holiday video marketing strategy:
1. Have a goal for your holiday videos
Before you create a company holiday video, you'll want to set a goal tied to your video production. This will not only help you determine the type of video to create, but it will help you narrow down your holiday video message.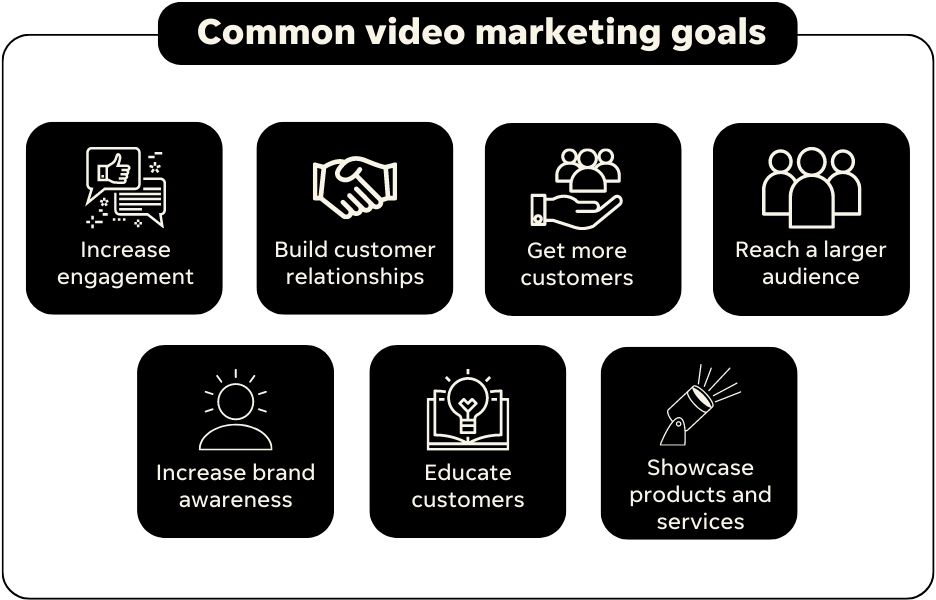 Your goal can be as simple as thanking customers for a great year or as ambitious as driving an increase in revenue.
2. Use what you have to create your videos
Customers crave authenticity, which means you don't need Spielberg-level production quality to make an impact. If you don't already work with a videographer or video production and editing team, you can still create a great holiday video that your customers will love. All it really takes is a smartphone and potentially some light editing software or programs. Both of which you probably already have!
For instance, if you have an iPhone and a Mac, you have everything you need to create a great video. And if all you have is a smartphone, that works, too!
You'll also see in some of the holiday video examples we share that many companies have created videos using just photos, which is another easy route to create your holiday videos.
3. Create a video promotion plan
You can create the best holiday video in the history of holiday videos, but if you don't have the right promotion plan, no one will see it.
We'll cover the ways you can use your holiday video a bit later to help you build this out!
4. Have fun with it!
Company holiday videos are supposed to be fun and lighthearted. This gives you a great opportunity to think outside of the box and come up with some creative holiday marketing ideas that will make your customers smile.
Just for fun, here's a funny company video that puts a holiday spin on The Office.
10 holiday video ideas (with examples)
Now that you're in the holly jolly spirit to create a holiday video, where to start? Here are some holiday and Christmas video ideas that will be sure to make your customers (and employees) merry.
1. Highlight your holiday sales and promotions
Holiday shoppers love sales. And I'm not just speaking from experience. A study we conducted found that 51% of shoppers would shop with a different retailer if they found lower prices. So take the time to create a video highlighting your holiday promotions so they know they're getting the best price with your business.
It doesn't have to be as polished as this video–it can be a quick Instagram Reel or TikTok highlighting your promotions or items on sale or even a quick photo montage of your promotions.
2. Share a holiday gift guide
Want to help your customers out? Create a holiday gift guide video. Every year, I have the hardest time finding the right gifts for my family and friends, so I'm a big fan of these types of videos.
Your business can easily create a holiday video featuring items you recommend as holiday gifts. You can include products or services your business offers along with products or services from other local businesses. (This can also help with your amplification strategy! Don't worry, we'll talk more about it.)
Plus, this is super easy content to create. All you need is a smartphone, the products you're featuring, and a spokesperson! Talk through each item, why it would make a good gift, and who the gift would be perfect for. You can also create a holiday gift guide video series for even more video content.
3. Thank your customers
After a whirlwind year, the holidays are a great time to show some appreciation for your customers.
This holiday video can be short and sweet—letting customers know you're thankful for them and that you look forward to a great new year together. Or you can make it more involved by sharing thank you messages from employees or highlighting a special deal for your loyal customers.
4. Educate your audience (with a holiday twist!)
Educational videos are always a hit. They provide valuable information to customers and position your business as an expert. You can create an educational holiday video by tying your tips to the season. For example:
A tire repair shop could share a video about how to winter-proof your vehicle or what to pack in case of a tire blowout during a holiday road trip.
A healthcare professional could share tips to stay healthy during the holiday season.
A gym could share healthy takes on everybody's favorite holiday treats.
A home services business could share tips to prevent plumbing problems when you have more family and friends using your facilities.
Think about what would be useful and helpful to your customers right now and answer their questions or concerns in your video.
5. Demo a product
Videos are hugely helpful when it comes to product demonstrations, and the holidays are a great time to create this type of video.
You can show how customers can use your product around the holidays, the benefits of your products, and the different use cases. Or you can feature your product in a how-to video like in the example below.
6. Feature your services
You can also highlight your services in your holiday videos. This gives customers an idea of what it's like to work with you and can spark some interest during the busy holiday months.
This can be especially useful for home services businesses. For instance, if you're a cleaning business, you could create a video showing a home before and after you cleaned it to remind people to schedule their home cleaning before the holidays.
7. Shout out your employees
Your employees have worked hard all year. Create a company holiday video thanking them for being part of your business and for their contributions.
This type of Christmas video not only makes your employees feel good, but it can go a long way with customers and potential customers. One report found that nearly three in 10 respondents said how a company treated its employees was the most important factor in deciding whether to become a customer.
8. Give a peek into the holiday shopping process
Perhaps you're offering a new curbside pickup procedure, streamlining your checkout process, or you just want to give customers an idea of what it's like to shop with you. You can create a video showing the holiday shopping process—from the time they enter your store until they walk out with their purchases. This helps customers understand the types of products you offer, what their wait time might be, and what to expect when they do business with you. Plus, it's a really easy holiday video to create!
9. Create a year in review
A lot happens for businesses in a year. By creating a year in review to share during the holidays, you can highlight the great things that happened for your business throughout the year and share your excitement for the year ahead.
If you have access to this data, you could even include some information like the number of customers served, miles driven (for home services), orders shipped, and more.
10. Show support for your local community
Giving back during the holidays is a great thing for your business to do—and it's something you may do already. This also provides a great opportunity for your holiday video. You can share ways to support local organizations or other businesses or showcase how your business gives back.
For example, many businesses partner with local organizations for food or toy drives during the holidays. You can create a video to promote your toy or food drive and then another video once everything is collected and dropped off. These types of videos help build trust for your business and increase a sense of community.
Related: Get even more YouTube video ideas you can use all year long!
Where to use your holiday videos
Once you've created your holiday video or videos, it's time to share with the world! You'll want to use your holiday video in multiple places to get the widest audience. Here are some ideas.
Upload your holiday video to YouTube
When you think of video, you probably think of YouTube. This is a natural place to upload your holiday video. You'll just want to make sure you have a YouTube account set up for your business already so you can take full advantage of video marketing.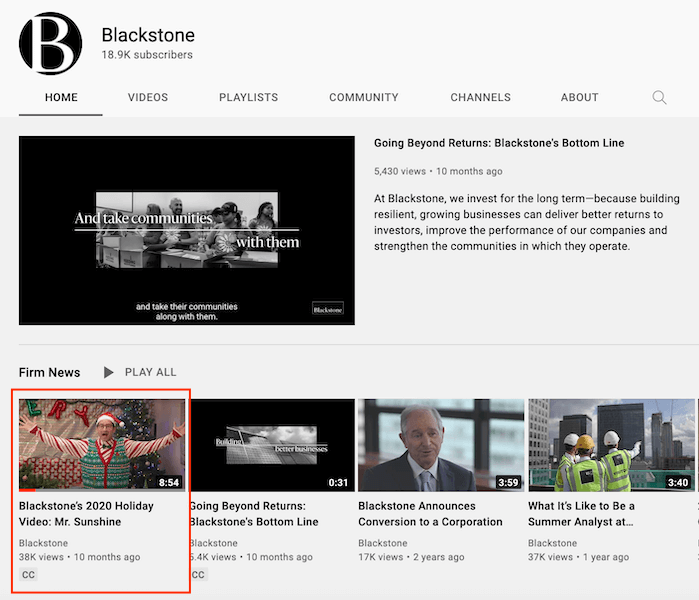 Uploading your holiday video to YouTube also gives you an easy way to share it on other marketing channels and embed it on your website.
Share your holiday videos on social media
People love to watch videos on social media. In fact, video posts on social media get 48% more engagement than other types of posts. So make sure to upload and share your holiday video to your social media sites, including Facebook, Instagram, and LinkedIn.
You can share your holiday video natively on these sites (meaning you upload it directly to the social media channel), or you can share a link to the video on your YouTube channel. Typically, videos uploaded natively perform better, but you can test what works best for your audience by sharing your video multiple times throughout the season.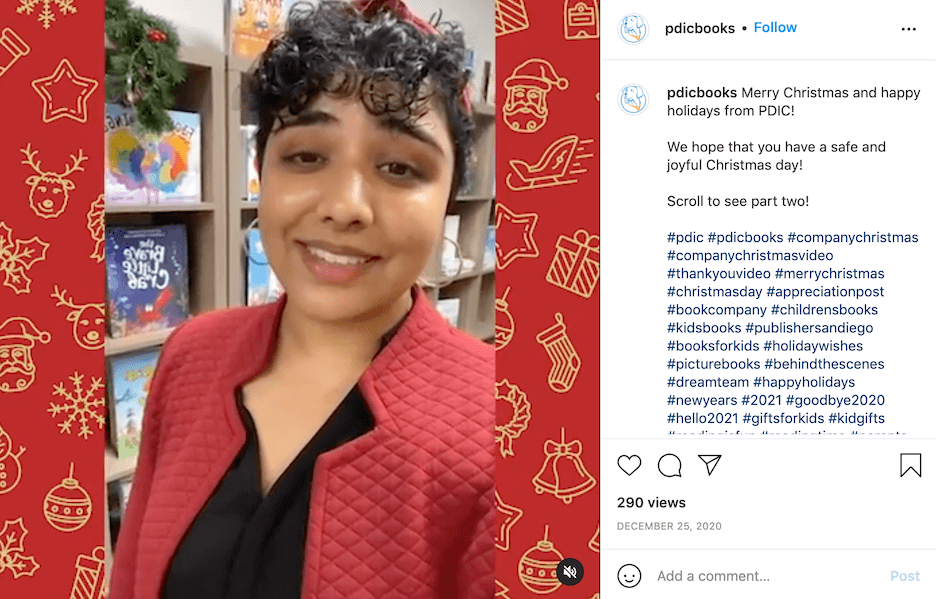 Get more Christmas social media ideas using video here!
If you have a TikTok account for your business, don't forget to share your holiday videos there, too! Your business's TikTok can also be a great place to test different types of videos to see what resonates with your audience and drives engagement.
Blast your holiday video in your email marketing
Email marketing is a huge part of an effective holiday marketing strategy. By incorporating your holiday video or videos into your email marketing, you can get more opens, increase engagement with your emails, and entice more customers to your business during this busy season.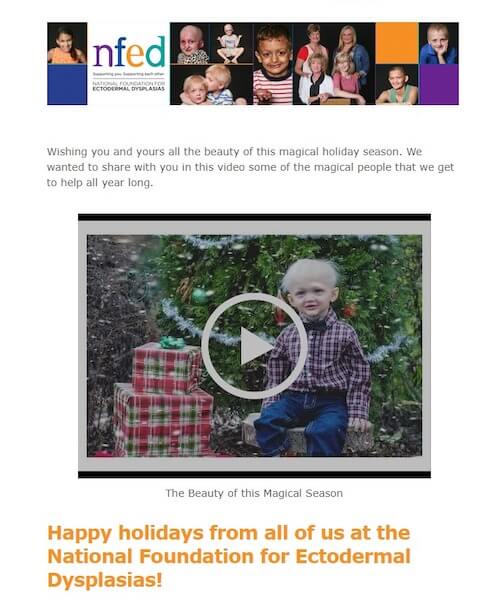 PS: We've got you covered with holiday email subject lines to try with your video.
Tease your holiday video in display ads
Display ads help you get in front of customers when they're spending time online and on local news sites. By featuring your holiday video in your display ads, you can get more clicks on your display ads.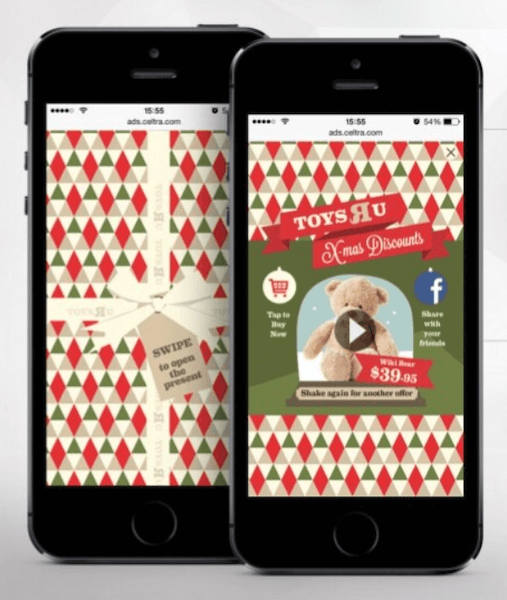 Take it a step further by embedding your holiday video in a high-converting landing page with a form to either contact you or chat with you to increase your display advertising click-through rate and conversion rate.
Add your holiday video to your website
Optimize your website for the holidays by including your video there. You can embed your holiday video on your homepage, add it to your About Us page, or feature it in a blog post about the holidays.
Adding your holiday video to your website is a great way to keep your web content fresh and get people to engage on your site longer. In fact, people spend nearly 90% more time on websites that have videos than those that don't.
Have other businesses share your holiday video
This can be done easily through a holiday gift guide featuring other local businesses. Or you can have your community businesses duet your video on TikTok or Instagram Reels to put their own holiday spin on what you've created. Make sure to return the favor and reshare holiday videos from those businesses!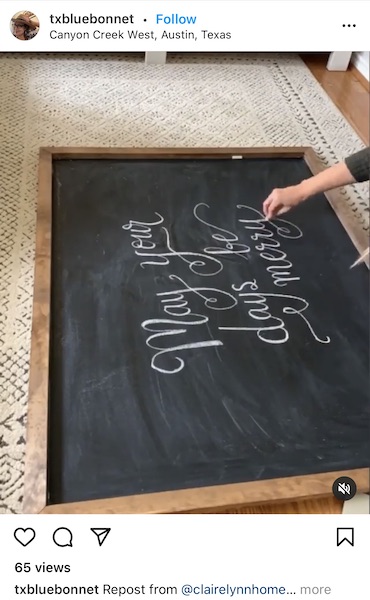 Create a holiday video that shines
Using these holiday and Christmas video ideas, you can create something that will engage your audience, get people excited to do business with you, and spread some holiday cheer.
Here's a wrap-up of those holiday video ideas:
Highlight your holiday sales and promotions
Share a holiday gift guide
Thank your customers
Educate your audience (with a holiday twist!)
Demo a product
Feature your services
Shout out your employees
Give a peek into the holiday shopping process
Create a year in review
Show support for your local community