For any business, gaining visibility for Google searches in your area requires some strategic effort, but it is especially challenging for businesses that don't have one pinpointled address. The businesses we're referring to here are home service businesses. Unlike brick-and-mortar businesses that serve all clients at one physical address, these businesses serve their clients on-site, and as such, have infinite locations. As such, it's hard for these businesses to build their prominence online.

In this post, we'll walk through seven strategies that home service businesses can use for gaining exposure in Google local search.
7 Ways Home Service Businesses Can Increase Their Visibility on Google
There are two very important entities that play a role in your visibility on Google: your website and your Google business listing.
1. Create Your Google Business Profile
First and foremost, do you have a Google Business Profile? This is required in order for you to make changes to your Google Business Profile — the official name for your listing on Google. For help with creating your Google Business Profile and account, head to these instructions from our friends at WordStream.
PS: Want to see how your Google Business Profile and other listings look online? Try our free business listings grader!
2. List Your Business as a Service-Area Business
Home service businesses in Google My Business have the ability to represent their business as a purely service-area business (does not serve customers at its business address, but delivers or services its customers at their address — like a refrigerator repair company) or a hybrid business (both serves customers at its business address and delivers to customers elsewhere — like a pool repair company with a retail location).
To list your business as a service-area business, head to your Google My Business account (go to Google.com/business and log in with your credentials), and select the "Info" tab. You'll then see a space to edit your address and then to "Add a service area." (Note: If you have multiple locations, go to "Manage locations" and select the location you'd like to manage).
Related: Get tips to optimize local SEO for multiple locations.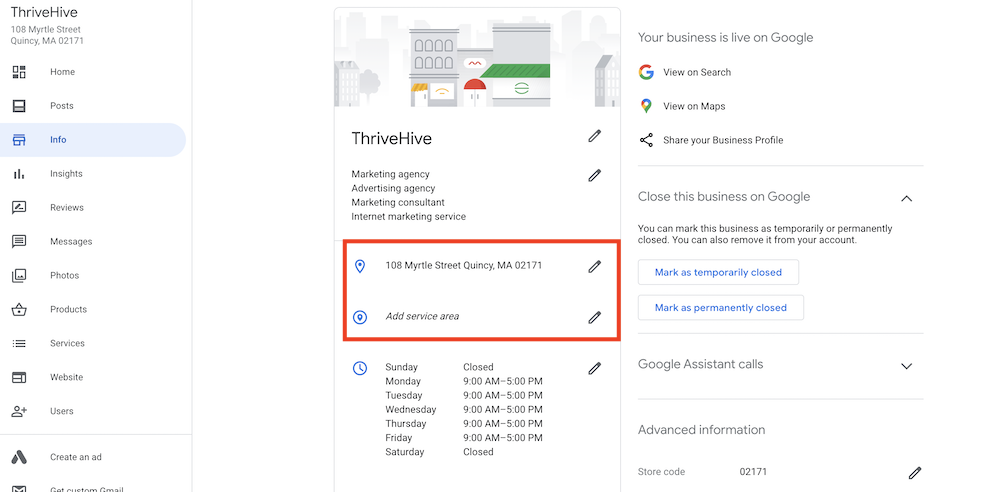 If you are a hybrid business, add both your address as well as your service area. If you are purely a service-area business, add your service area. By adding your service area, we mean indicating the zip codes or cities you serve in. Google says you can add up to 20 service areas but advises that you do not include zip codes that are more than a two-hour drive away.
3. Optimize Your Google Business Profile
Optimizing your Google My Business profile is, without doubt, the most effective step you can take for your home service business to show up in local searches on Google. This means filling out every section. Many home service businesses make the mistake of only providing their name and zip code, thinking that Google will automatically display their business in search results for that area. This is simply not the case.
Google is reluctant to show empty listings that aren't useful or trustworthy. They ask for particular information because they have data showing that searchers have looked for that information. So, the more information you give Google, the more questions they can answer from searchers and the more results they can show you in.
Not having a physical address does not impact your ability to fill out all of the sections of your Google business listing. The sections that make up a complete Google My Business profile include:
Name

Contact info

Category

From the business

Photos

Questions & Answers

Reviews

Posts
Depending on your category, there may be more sections to fill out such as amenities, bookings, etc. The first four sections are the ones you can and should complete right away. Collecting reviews and creating posts are important, but they are ongoing initiatives that you may or may not be able to get started with right now.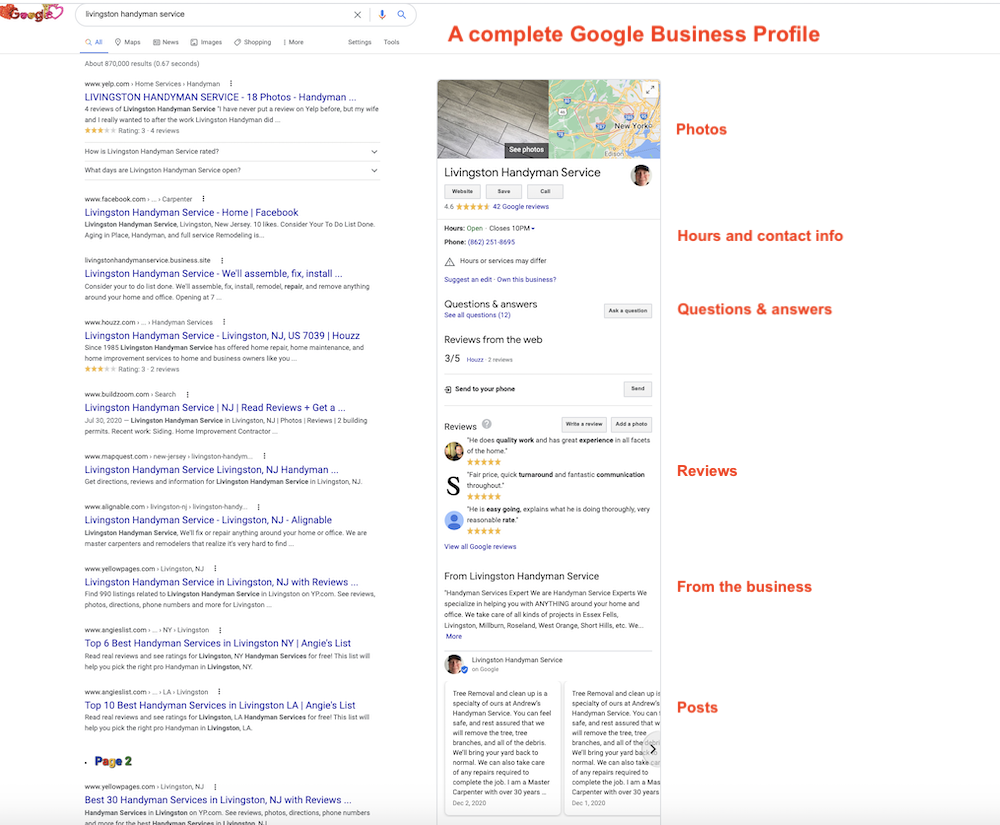 Be sure also to include location-specific keywords in your answers and "From the business section." Also note that if reviews contain keywords that users are searching, those keywords will be bolded in your profile. This is why it's important to get as many Google reviews as you can — you never know when someone will add the neighborhood you served in their review.
4. Create Location-Specific Website Pages
The second strategy for showing up in local search results applies to your website — through the creation of location-specific services pages.
These pages operate the same as your "Services" page, but each one is dedicated to a specific subdivision you serve or would like to serve. Populating those pages with useful content specific to that area will help the page to show up in relevant search results for that location, despite not having a physical address there. This is local SEO at its finest.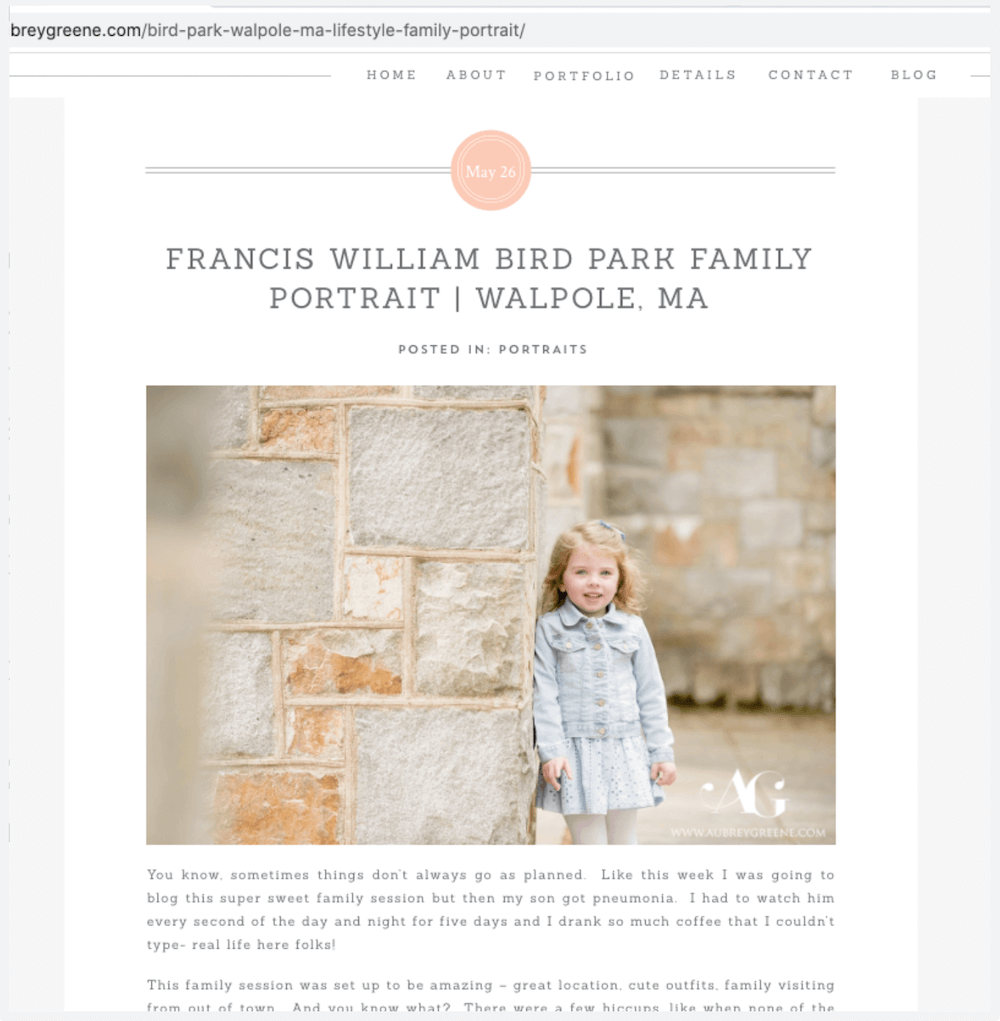 You may not think that you can populate a whole page for each neighborhood, city, or subdivision, but there's actually plenty of content you can use here!
Talk about the standards, codes, or requirements for that particular neighborhood or city. (For example, bylaws around fencing or particular shrubs that aren't allowed). This will help potential customers to see that you've done your homework and your services will be up to par.

Describe jobs you've done in that area — what was needed, how you provided a solution, and what the end results were.

Post photos of jobs in that area — not just the end result but also the process at each step of the way.

Include testimonials from customers in that area.

With proper consent, invite page visitors to drive by a particular address that displays your work.
With so much useful and pertinent information about one particular area, this one page can rank for a lot of searches your potential customers in that area are performing, helping your business to gain greater online visibility.
5. Run Local Service Ads
Local Services ads are one of Google's current solutions for helping home service businesses get a leg up with local search marketing.
Local Service Ads (or LSAs) on Google operate similarly to regular Google Ads, but instead of bidding on keywords, you bid on services, such as AC repair or AC replacement, within a zip code. Note also that leads from these ads come in as phone calls and messages. 
Local Services ads show up at the very top of Google search results. On mobile, they are typically tap-to-call while on desktop, the searcher is brought to a page where they can request quotes from the listed businesses.
Google Local Services ads on desktop:

Google Local Services ads on mobile: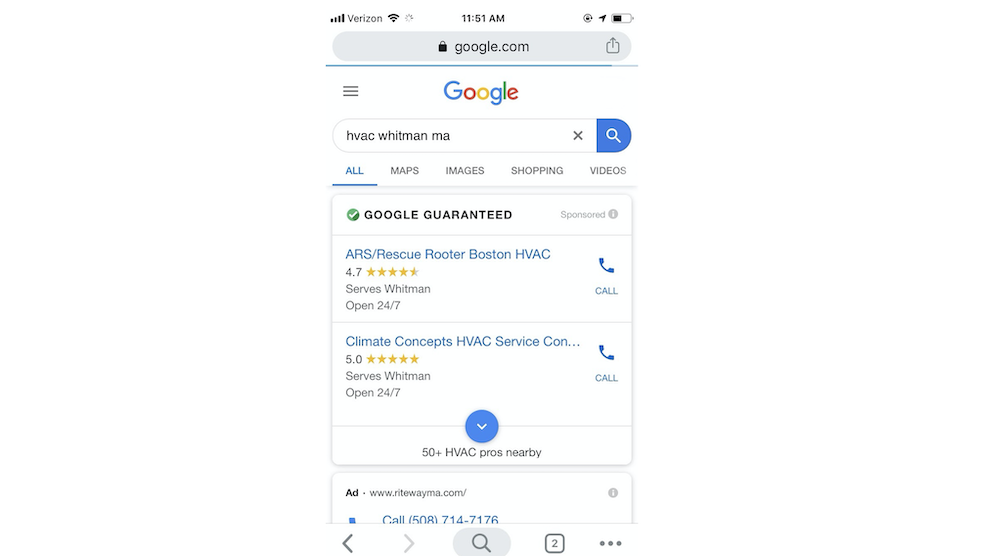 Your business may have to go through one or more forms of background check depending on your category, and they cost more than traditional Google ads, but their benefits are worth it. First, your business will show up at the very top of search results, even above Google Ads.
Your listing will also be labeled with "Google Guarantee" which searchers are more inclined to trust (and click on). If the service doesn't work out, Google guarantees the work up to a certain dollar amount. Another great feature with Local Services ads is that if a call ends up being unqualified or spam, you can defer to Google and they will not charge you for it.
If you have the budget and need good quality leads, you should start running a campaign now! If not, you should set up your Local Services ads account regardless, so that you can turn it on and off as needed. These ads are also a great way to become more prominent in a specific neighborhood without having to expand your entire radius in every direction.
Get an idea of how your home services advertising might perform by checking out our benchmarks!
6. Use Real & Specific Photos
The second-to-last local search strategy for home service businesses involves both your website and Google listing. When it comes to photos, many business owners upload a picture of their logo to their listing and maybe some pictures of the outside of their building or office. For their website, they'll use stock images. We strongly discourage this! Here's how to get on Google's good side with your photos.
Adding photos of your actual staff to your website adds authenticity and familiarity. When potential customers can see the friendly, smiling faces of exactly who will be going into their homes, they are more likely to trust your business and engage with your site. Engagement leads to more customers and positively impacts Google rank.
Ditch stock photos! Google incorporates images into local search results (see the Local U Deep Dive about this), so stay ahead of the curve and include images of every service you provide — specific photos labeled with what is being done and where.
When Google wants something from us, they reward us for giving it to them. We saw this with reviews, and now they want photos, so let's give them more photos!
7. Use Google Search
One final tip, not just for home service businesses but any business, is to use Google to get noticed on Google. Use it to search out your competitors, sponsorship opportunities, groups you can join, spam to be aware of, and more. Also, get familiar with what shows up for searches related to your business and local area. Get a feel for who's showing up, who you can beat, who you may have to join, and what gaps you can fill.
Help Your Home Service Business Show Up in Local Search
Not having a brick-and-mortar location with a qualified address makes local search visibility tricky, but not impossible. By completing your Google Business listing, creating location-specific website pages, using real images, and monitoring Google itself, you can take care of things on your end while Google evolves its algorithm for home service businesses.