When you spot a leak in your home or need to find a new dry cleaner's, what's the first thing you do? If you're like over 80% of people, you turn to Google to find a local business to meet your needs.
Local search continues to grow–nearly 50% of searches on Google have local intent (that amounts to 1.4 BILLION local searches per day!), and "near me" searches have increased 100-200% in just the last year.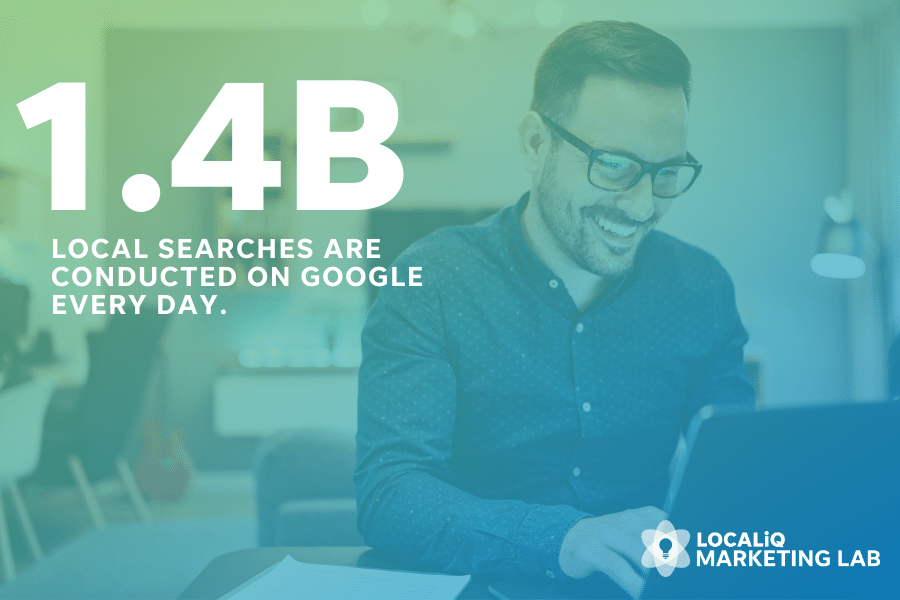 All this to say that if your business doesn't have a local search marketing strategy in place for 2022, you're missing out.
By understanding the key concepts of local search marketing, your business can get more new customers and increase brand awareness amongst local searchers. To help you with this monumental task, we're sharing:
The definition of local search marketing
The biggest benefits of local search marketing for your business
The top 10 local search marketing tips for 2022
Let's get going!
What is local search marketing?
First, let's get the definition of local search marketing out of the way. Local search marketing is the process of utilizing all online available avenues to improve your business' local web presence and rankings within Google and other search engines using organic efforts.
Local search marketing is also known as local SEO, which means it's applying principles of SEO with a local focus.
For example, a plumber in Los Angeles would only target the city of LA and other smaller areas within that vicinity; they would not be trying to rank for "Plumber in New York" or just the very general (and highly competitive) "plumber."
Rather, they would target keywords with local intent like "Plumber Los Angeles" or "LA Plumber."
It's important to note that local search marketing is not just limited to small businesses that operate in just a single city. Local marketing is a must for national brands as well because the high number of product searches that begin with "where" or "how to buy X in Y" or "near me" indicates that people are looking for nearby businesses and retailers.
Local search marketing benefits
The benefits of local search marketing are numerous, but the most notable include the following.
Increased lead volume and conversions
Increasing the number of leads and conversions coming through your website is probably the biggest benefit of local search marketing. This, in turn, helps you improve sales and revenue by strategically targeting customers based on where they are located at any given time.
More control over your business' online reputation
The internet can either make or break your business, which is why it's crucial to actively monitor what people say (both positive and negative) about your company online. Doing so will allow you to address any concerns potential customers may have as well as provide them with more information about the products and services you offer. By taking full advantage of local search marketing, you'll be able to address negative reviews and complaints (and even come out on top) before they damage your brand and profitability.
The ability to expand your market
Unlike traditional marketing, local search marketing allows you to target a much broader range of audiences. This is because you can now cast a bigger net by reaching out to people who are interested in the various aspects of the products and services that you offer without having to narrow in on demographics or other ad targeting options.
You can save money on advertising
By improving your local search engine optimization strategy, you can also save money on advertising. This is because the leads and sales coming from local search marketing are more inclined to take action as they have already been prequalified based on their location.
Get more local SEO statistics here!
By no longer paying for ads that may or may not work (where you're also paying each time someone clicks on such an ad), you can now focus your budget on long-term strategies that don't stop delivering targeted customers to your website as soon as you stop paying.
This allows you to focus on lead generation (on a budget) and create conversion-optimized landing pages that allow you to really test what customers are doing on your website–and not outside of it.
Build trust and authority
Google and other search engines award your business when you show that you are credible and authoritative through your website content and off-page SEO signals. One major benefit of this is that it also increases your authority with searchers, which can help build trust. This will ultimately help establish your brand as an authority in your niche, which will increase the number of leads you receive through your website.
Top 10 tips to improve your local search marketing strategy in 2022
The following are the top tips for local search marketing in 2022.
1. Use location pages or a location-specific "about us" page
The best local search marketing tip is to create a unique page on your website for your business that specifically discusses the business and its location. If your company's name is "Big City Sports," then you should create a location-specific page that describes what the business offers and uses keywords relevant to specific localities. And if you have multiple locations, it's important to create multiple location pages to help with multi-location SEO.
You should also use this unique web page to include information about why customers should choose your product (over competitors'), which will help persuade your audience during their search process.
Such targeted pages will help improve your local rankings and boost your search engine optimization efforts.
Get tips to create the best about us page on your website here.
2. Research and use hyper-local keywords
The second tip for improving your local search engine marketing is to thoroughly optimize your website with keywords that are relevant for your business in its location.
Using the right keyword tools can make this process a piece of cake. You can use Google's Keyword Planner to find hyper-local keywords that are popular in your area and include them on your website. One pro of Google Keyword Planner is that it's free; however, a big disadvantage of it is that it's not meant to find organic keywords and so, the data it produces might not be accurate.
If you want to get really accurate results, you can also use keyword-specific features in the top keyword rank tracking software to get even better results for your specific needs. The more relevant keywords you use, the better your chances of improving your site's ranking.
WordStream's Free Keyword Tool can help with this: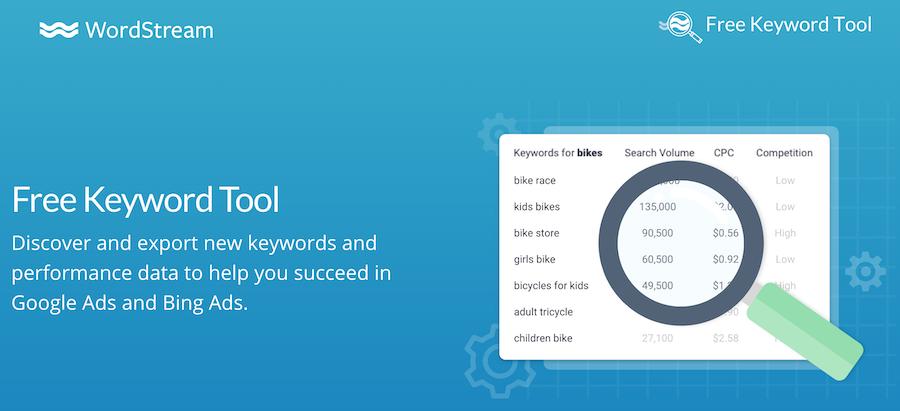 Keep in mind that at the same time, you shouldn't over-optimize your website since this might be seen as trying to manipulate Google's rankings. Instead, focus on using the keyword you've identified in the most natural way possible on your website. (Get tips for better SEO writing here.)
3. Upload photos of local points of interest related to your business to your website
One great way to boost local search marketing efforts is to take photos of important places near your business location or pictures inside your business location and upload them to your website. This local search engine optimization tip not only optimizes your website with relevant content in the form of pictures, but it can help you rank in image results on Google, which can drive more people to your website or your business.
You'll want to take several photos of different places in the area around your business, such as a nearby park or well-known building, as well as inside your business, like your lobby, patient rooms, product shelves, etc.
Using these images can be a great way to not only spruce up your website but also increase the chances that people will visit your site from a picture they saw on Google or Bing.
Another important factor of local search engine optimization you should keep in mind is making sure all of your photos are optimized for local SEO purposes. The reason doing so is important has to do with how many people use images instead of words when trying to find information online. For example, if someone was searching for a plumber they'd be much more likely to click on the first result which includes a photo along with a caption (instead of just text) that shows them fixing leaks and faucets.
So, make sure that the images you upload to your business website include words like "plumber" or "faucet repair." Use the appropriate alt text on each image (this is one of the many SEO website design tips to consider) to increase the likelihood that people will come across your page when they're looking for (in this case) a plumber in their area.
4. Create a local video to show off your business and its location
Another great local SEO tip is to create a video about your company and its location. This can be done simply by using your phone and figuring out a way to portray your business in the best light possible. You could even hire a professional to get a better job done, however, this is definitely not a must.
Videos are important because there has been an increase in how often people rely on them for professional information. For example, if someone is looking for a dentist in their area they're much more likely to take action and call the first one that shows up on the search results page if it has an explainer video.
Having a video can be beneficial when uploaded to YouTube because it increases your chances of appearing on the front page of video search results. This is another way by which people that live in a specific area can find you and take the first step towards becoming your customers.
5. Claim and manage your Yelp business listing
Yelp is one of the most popular local listings sites on the web, and it often shows in search results on Google or Bing for relevant searches, so you'll want to take advantage of it. One of the best ways to do this is by creating a Yelp account and claiming your local business listing.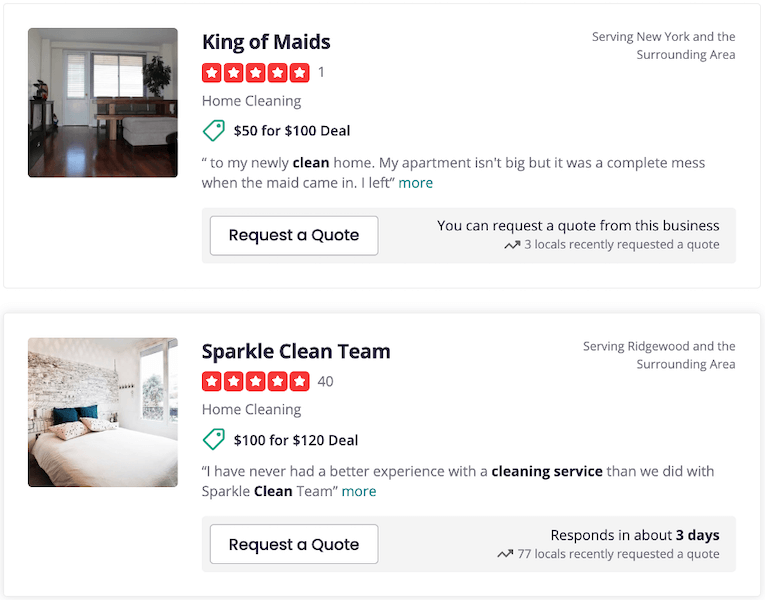 Creating and claiming a Yelp page will make it much easier for people to find your business online–which can help increase online traffic from search engines. Plus, if someone has good experience at your place, they'll be more inclined to leave a Yelp review that can also improve your rankings and encourage others to give your business a try.
6. Get high-quality backlinks from businesses in your area
One of the best ways you can boost your local SEO is to get backlinks from other businesses in your area (A backlink is a link from a website to your website). Doing so will help increase your rankings for local keywords as well as build up the authority of your website.
You can find other businesses (that are complementary to yours but not competitors) in your industry by looking at Google Maps for nearby locations or searching for specific keywords related to what you do on social media sites like Twitter and Facebook. Once you've identified a few quality prospects, reach out to them online through email or their social media pages and ask them if they'd be interested in providing a link back to your site (you might have to figure out what you're going to do for them in exchange).
Related: We talk more about using backlinks in this post about creative digital marketing ideas!
7. Add call tracking with a local area code
Another way to maximize the potential of local search marketing is by using call tracking with a local area code. Doing so will allow you to give people that visit your website a local number to call which can help you track where calls are coming from. This is especially helpful if you have more than one physical store location.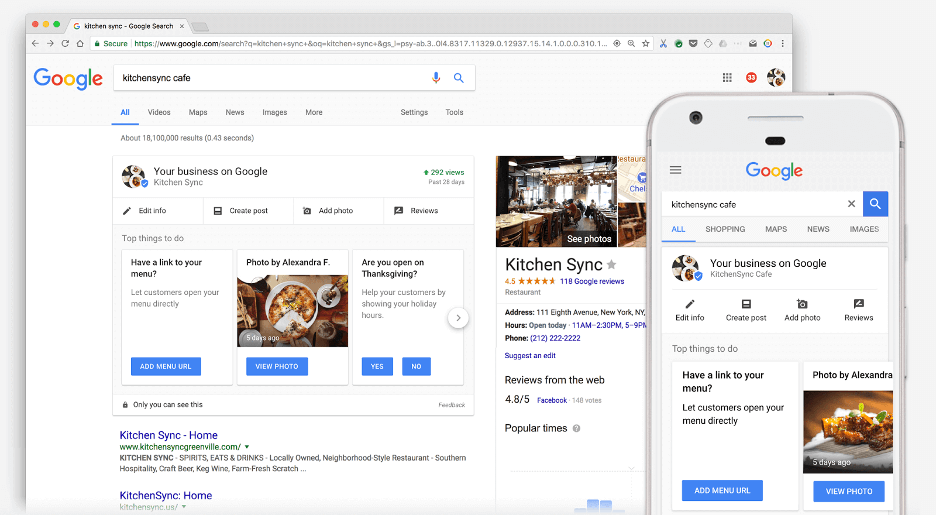 Also, providing a local phone in your Google Business Profile (more on this in the next section) looks much more professional and some argue that it could help when it comes to ranking your business higher in search engines.
8. Use your Google Business Profile to your advantage
Creating a Google Business Profile is one of the first things that you should do when it comes to local search marketing. Optimizing this profile and ensuring it's always up to date is a process that should never be stopped.
Answering reviews (both good and bad), adding more relevant images, and updating information regarding your business as soon as it becomes important is key to having an optimized Google Business Profile.
The better optimized your Google Business Profile is, the better chance you'll have of ranking higher in local search results and generating more sales and leads through your website. So it's a good idea to invest some time familiarizing yourself with your Google Business Profile before implementing it as part of your local search marketing strategy.
In addition, check out our post on Google Business Profile benefits to learn more about how to use this free tool to optimize your business online.
9. Make use of Google's Local Business structured data
Another excellent way to improve local search engine optimization is by using Google's Local Business structured data. What this structured data does is provide search engine robots with additional information about your business's site that helps them better understand what you do and where you are located.
Using the Local Business structured data is as easy as adding some code to your website (or having your website developer add it). Once you've done so, search engine robots will crawl your site and collect the data, which will then be used to improve your local results on Google search results pages as well as Google Maps.
By using Google's Local Business structured data, you can improve your local search marketing efforts while increasing traffic to your business' website at the same time.
10. Invest in local search advertising
While this post has focused on the organic aspect of local search marketing, there is a crucial paid piece we need to mention: Search advertising (also known as pay per click, search engine marketing, SEM, Google Ads, and more).
Related: Find out the real differences between SEO vs SEM here.
By adjusting your search advertising strategy to bid on local keywords and target local searchers, you can increase your chances of showing up for relevant searches from customers close by who are more likely to do business with you.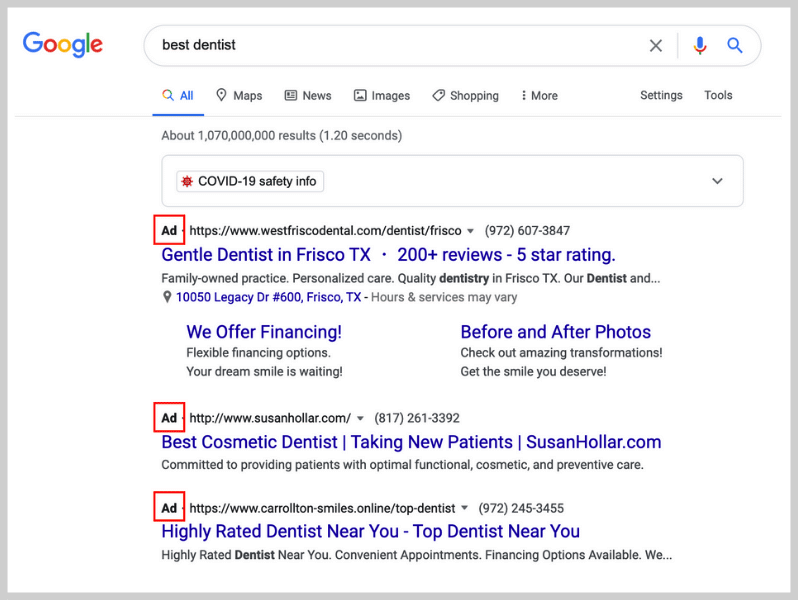 And by running local search advertising in conjunction with your local search marketing strategy, you can potentially show up multiple times on the search engine results page, which increases brand awareness and trust for your business (not to mention increases the opportunities for a searcher to click on one of your results!). Learn more about local PPC here to get started with the basics of this strategy.
Create the best local search marketing strategy for 2022
For local businesses, the success of their marketing strategy depends on how well they're able to stand out from the competition. By optimizing your website for local search, you'll be giving your business a much-needed boost in its overall online presence.
It's important to keep in mind that local search marketing is a marathon, not a sprint: take things slow and steady by making small improvements over time instead of trying to do everything at once.
Follow the tips to improve your local search marketing strategy and watch as the results translate to more leads and sales for your business:
Use location pages or a location-specific "about us" page

Research and use hyper-local keywords

Upload photos of local points of interest related to your business to your website

Create a local video to show off your business and its location

Claim and manage your Yelp business listing

Get high-quality backlinks from businesses in your area

Add call tracking with a local area code

Use your Google Business Profile to your advantage

Make use of Google's Local Business structured data

Invest in a local search advertising strategy
About the author
With over 500,000 monthly readers, Adam Enfroy's mission is to teach the next generation of online entrepreneurs how to scale their influence at startup speed. You can follow him on Facebook, Twitter, and Instagram.