Boo! Summer is over and the winter holidays are creeping in. But don't let that scare you! Take advantage of the festive fall season while it lasts by implementing seasonal marketing tactics for your small business.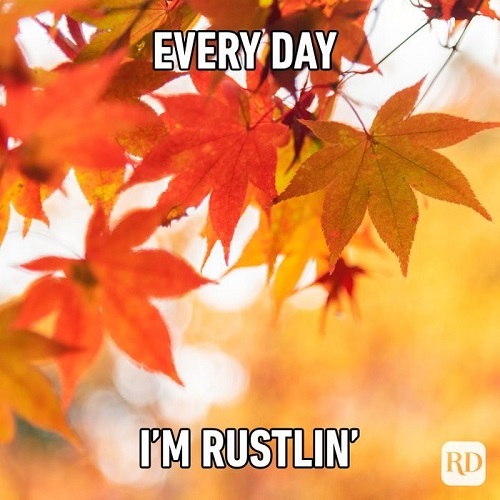 While the leaves are rustling, you're sure to be hustling to promote your business before the end of the year!
Email marketing is perfect for small businesses because it can be a low-cost option to keep on top of seasonal shifts. We'll show how your business can take on email marketing this October by answering the following:
Why should my small business run an email marketing campaign in October?
How can I write a catchy email subject line for October?
What should I put as the subject in my October emails?
By the end of this post, you'll have everything you need for scary-good October emails faster than you can say "trick-or-treat.
📧 Need email subject line ideas to last you the whole year? Download our free email subject lines guide complete with tips and tons of inspiration for every email occasion.
Why your October email subject lines matter
While email marketing can be a smart strategy for small businesses year-round, your October emails can make or break your fall marketing plans. You'll want to make your October email subject lines count, as average email conversion rates climb to 7.26% in October and continue to grow well into November at 8.66%. Plus, studies have shown that emails sent during the fall and winter drive the most traffic to your website. You won't want to miss out on getting ahead of these benefits in October, so here are some ideas on how you can leverage email marketing this month:
Build awareness for any fall promotions or sales
Let your customers know how you're celebrating Halloween
Share tips to help your customers prepare for winter
Get customers ready to close out their year
Share a fun autumn contest or giveaway
Now, you don't always have to have a special reason to run an email marketing campaign. However, having a goal in mind for each email can help your subject lines stay on track.
5 tips for your October email subject lines
Before we jump into our October email subject line ideas, here are some email copywriting tips to keep in mind:
1. Be sure to try out emojis
October is the perfect month to introduce emojis into your email subject line strategy. Between the jack-o-lantern, fall leaves, or ghost emojis, there are plenty of safe emojis to choose from that will draw attention while maintaining professionalism.
56% of brands that use emojis in their email subject lines saw higher open rates. It's clear emojis aren't just for casual text but can be fitting for small business marketing too!
2. Get creative
We're now entering the time of year where brands are starting to let loose and include festive messaging to match the mood of their audience. Spice things up and get creative in your fall marketing.
To start, try a rhyming or colorful email subject line. 33% of recipients will open an email simply because it had a catchy subject line. October is a great month to just have fun with it when writing your email subject lines.

3. Keep it personal
If you're struggling to come up with email promotion ideas for your small business this fall, try to think about your target market. What is it that they might need from your business during this time of year? Your answer can help you frame an offer that will appeal to them.
If you can, try using a personalized marketing strategy when sending out your emails. For example, subject lines that include the recipient's first name historically have higher click-through rates. If you don't have the time to plug a bunch of names into your email subject lines, leverage a marketing partner that will have the technology to do the personalization for you!
💡 Want help creating more personalized emails? Read our quick guide to small business email marketing complete with ideas, tips, and templates.
4. Keep it quick
As always with our email subject line series, we want to remind you of the importance of a concise subject line. Your subject line is the first impression your email imposes on your audience. With 47% of people using mobile apps to check their email, you don't want that first impression to get cut short. Check out these email subject line specifications across devices: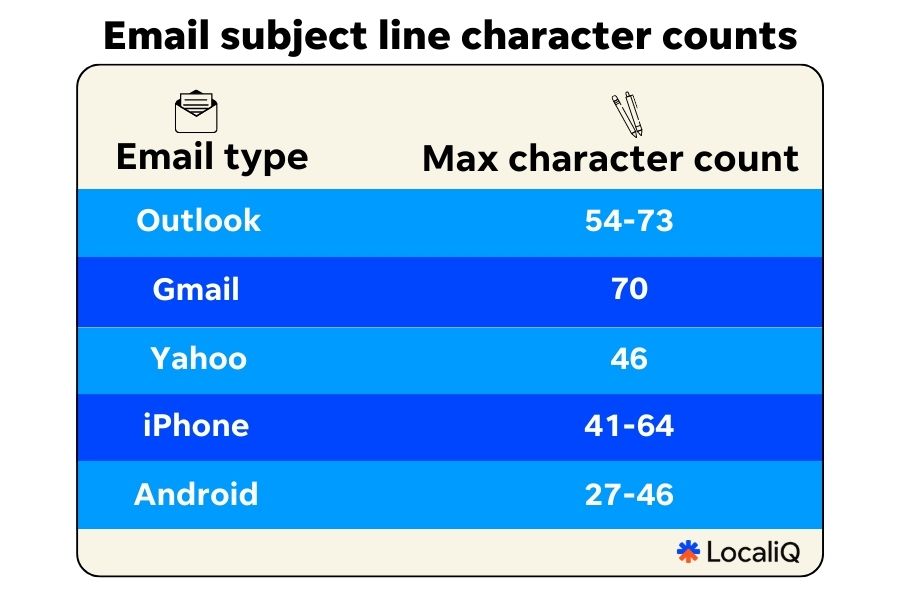 5. Always avoid spam triggers
While you need to maximize your email subject line's potential in a limited amount of character space, using "salesy" language is never a good idea. That's because nearly 70% of recipients report an email as spam solely based on the email subject line alone. To avoid falling victim to this stat this October, save any "spammy" sounding promotions for inside your email content. That way, you keep your email subject lines as neutral as possible. If you're unsure what terms might be spam triggers, keep this image below handy as a starting point to guide your October email subject line efforts in the right direction:
October email subject lines by industry
To give a terrifyingly terrific twist to our subject line series, we organized this first brainstorm by industry:
Email subject line ideas for automotive
Whether you're a multi-location car dealer or a local repair shop, here are a few ideas to get your automotive email gears in motion:
When Roads Get Frosty, Tim's Auto Can Help.
Heated Seats Sound Nice Right About Now…
Initiate the Tailgate
Melanie, get ahead of our year-end sales now
Temps are cooling down ⬇ our inventory is heating up ⬆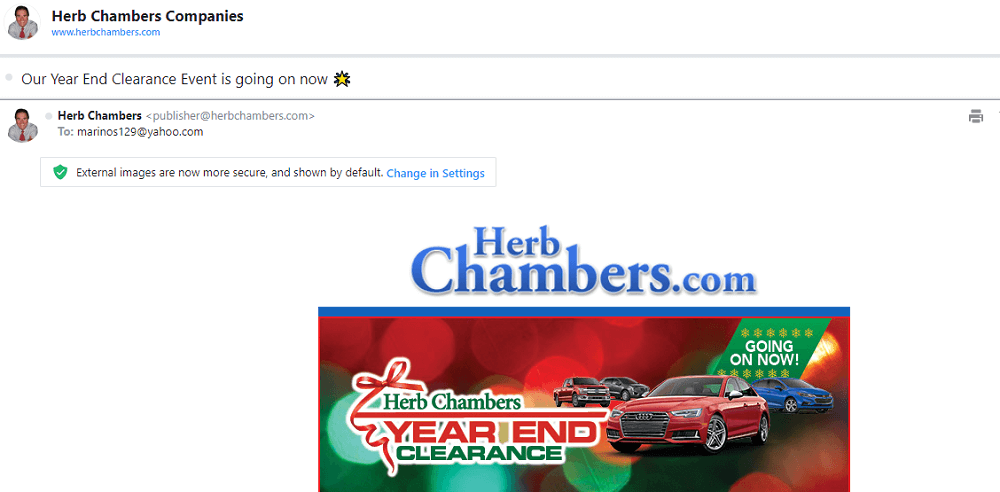 October email subject line ideas for restaurants
Pumpkin spice, caramel apples, maple flavoring… Enough said! October is your industry's time to shine:
Pumpkin Spice & Everything Nice!
Jackie, Try Our New Autumn Harvest Specials.
Spice Up Your October Nights.
Terry, Join Us for Oktoberfest.
Spooky Showdown: Apple vs. Pumpkin
🚨 fall menu drop🚨don't miss our seasonal specials!
We ❤ fall flavors!
Click for October BOGO meal deals🎉 all month long
Pro tip: Get 15 restaurant marketing ideas for a killer fall season.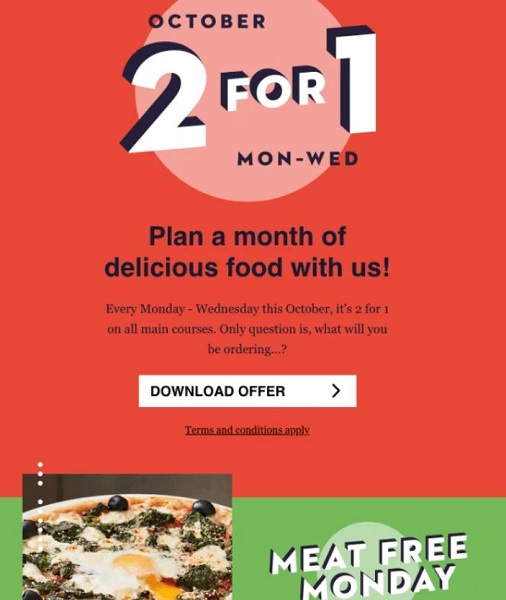 October email subject line ideas for education
If you work in higher-education marketing, you know October is a big part of one of your busiest seasons. These ideas may help save you time this month:
Class is in Session! 5 Ways We Can Help You.
New Semester = New You
5 reasons why October is the best month on campus
Fall is our favorite season, can you guess why? 🤓
Daniel, Don't Miss Homecoming at Our University!
Courses are full, and so are our hearts ❤
Kerri, R-YES-V-P to Our Fall Happenings!
Pro tip: Watch our education marketing video series.
October email subject line ideas for healthcare
Defrost your cold-weather healthcare marketing efforts with these subject lines:
Getting Chills? 3 Ways to Avoid Colds This Fall
Fact or Fiction? Health Tips to Fall for This Fall
Get in Scary Good Health Before Winter
Geraldine, Don't Fall Victim to These Fall Ailments
Beat seasonal blues with these ideas
Pro tip: Check out our healthcare industry benchmarks and marketing tips.
October email subject line ideas for home services
Home service businesses need to be nimble during this time to adapt to ever-changing consumer needs. Here are a few email subject lines that do just that:
Sam, Is Your Lawn Ready for Snow?
Weatherize Your Gutters Before It's Too Late!
New Pests Getting Cozy in the Fall?
Don't Be Left in the Cold! Maury's HVAC
What to Do if Your Pipes Freeze (Yes, It Can Happen!)
Job done before you can say trick-or-treat
Pro tip: Check out our home services industry benchmarks and marketing tips.
E-commerce email subject lines for October
Don't forget to take advantage of the month at hand while you gear up for the November and December holiday marketing push!
Fall Fashion! Boots, Tops, & More for Guys & Ghouls
Free Fall Shipping Bonanza
Get it in time for Halloween!
Scary Good Sales Happening Now
A Treat from Us, No Tricks
New autumn arrivals + fall favorites!

B2B email subject lines for October
The B2B world buzzes in October as business professionals prepare to close out the year and plan for 2021. Play off that with these subject line ideas:
It's Already Q4?! Spooky. Here's How We Can Help
Reach Your 2024 Goals with Time to Spare
6 Frighteningly Good Tips to Make Q4 Matter
How October Impacts Your 2022 KPIs
We're obsessed with these October tactics
Pro tip: Read our guide on killer B2B social media marketing.
October holiday email subject line ideas for any business
Don't worry, we'll get into Halloween next. But did you know there are tons of other holidays you can capitalize on this October? Here are some unique October holiday and email subject line pairings that fit any business:
Keep your pearly whites bright with us 😁 (Dental Hygiene month)
Talia, join us in taking a stand against bullying! (Anti-bullying month)
Here at [business name] we celebrate ALL employees (Disability Employment Awareness month)
Helena, enjoy a coffee on us ☕  (International Coffee Day, October 1)
Province Hospital Thanks Their Custodial Workers (National Custodial Worker Day, October 2)
Name Your Car Contest (Name Your Car Day, October 2)
A Great Gift for a Great Guy (National Boyfriends Day, October 3)
Ghoulish Golf at Simmons Golf Course (National Golf Day, October 4)
How Deb's B&B Is Giving Back This October (National Do Something Nice Day, October 5)
Teacher's Discount! Thank You, Teachers. (World Teacher's Day, October 5)
8 ways to prevent frightening fires this fall (Fire Prevention Day, October 9)
Recap: Memorable Hispanic Heritage Month Happenings (Hispanic Heritage Month, September 15-October 15)
Join Us at the Autumn Harvest Food Drive (World Food Day, October 16)
A Harvest Pasta Recipe, From Our Family to Yours (National Pasta Day, October 17)
Wicked Good Dessert Samples at The Bakery (National Boston Cream Pie Day, October 23)
5 Ways to Carve Creativity into Your Work Plan (International Artist Day, October 25)
Get Pumped About This Pumpkin Recipe (National Pumpkin Day, October 26)
Don't Let Your Project Turn into Frankenstein (National Frankenstein Day, October 29)
An Offer Sweeter Than Candy Corn😋 (National Candy Corn Day, October 30)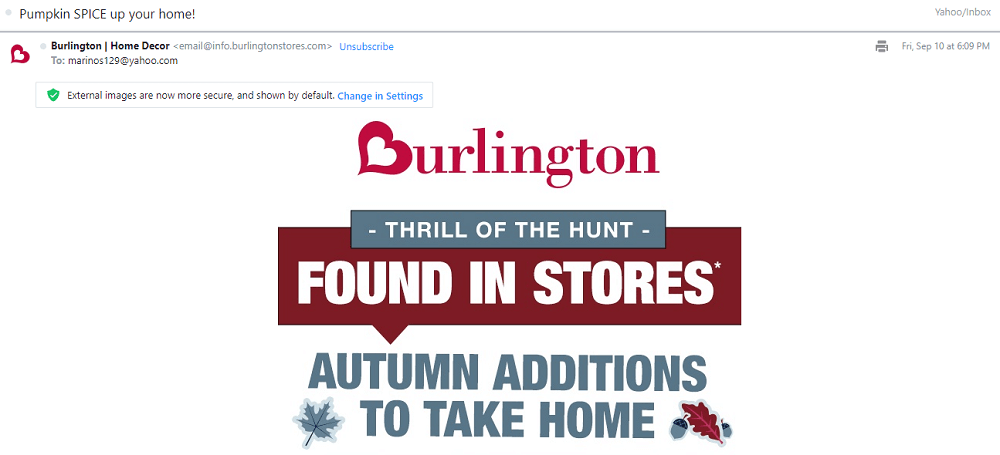 Halloween email subject line ideas
We felt this treat-filled holiday deserves its very own section! Here are some spooky Halloween email subject line ideas for you to try out:
Deals to Make You Jump!
Scared Yet? This Discount is a Spook!
Boo! Savings Jumping Out of Nowhere!
Pumpkin Carved. Candy Bought. What's Missing?
Trick-or-Treat, Save Your Seat!
We're Kicking Off Halloween Early!
For Guys & Ghouls, Try Our Scary Good Services
Scared Silly Contest: Funniest Costume Wins!
We're Casting a Spell for Chilling Results
A Witch's 10 Secrets to Buying Software
$5 Off? Halloween Magic!
Creep Up to Our Halloween Costume Party
Devilish Deals: Halloween Weekend Only
Wicked Discounts Coming This Halloween
Our statistics might give you a fright 😱
#spookyszn🎃 celebrate with this…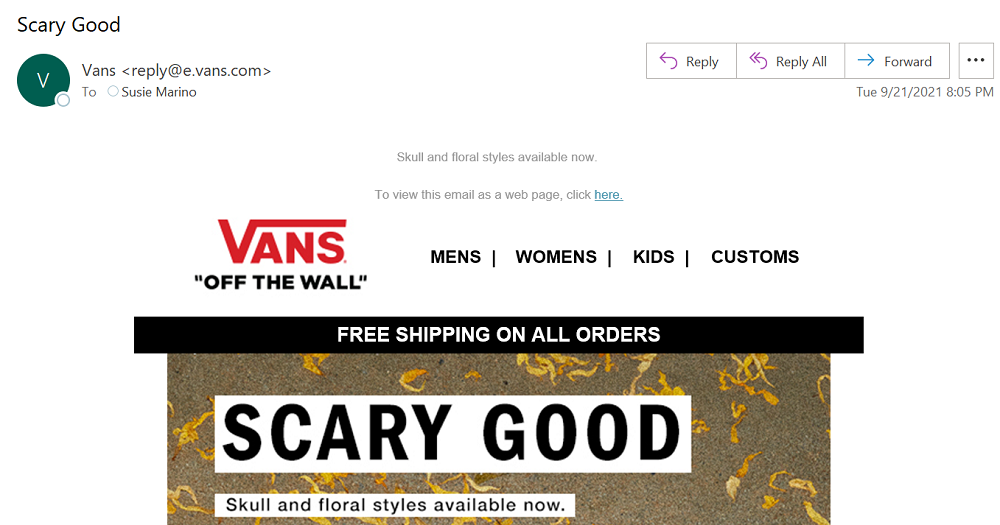 October newsletter subject line ideas
Email newsletters are a great way to stay in front of customers all season long, but it can be tough to showcase your October content while also increasing open rates. Here are some subject lines that are sure to be a treat to your October readers:
Don't Miss Out! Learn Our October Secrets
Share with The Fam! Fun & Freakish Halloween Facts
ICYMI: September Roundup
TLDR: All the October updates you need to know
Hello, October👋 new newsletter alert!
How Kris's Kandy Shop Is Celebrating Fall
We Have Spooktacular News
Boo! Our 🔥 hottest 🔥 news is here
It's time for our October roundup ⏰
Even more October email subject line ideas
To end our list with a sprinkle of spice (pumpkin spice, that is), here are a few more email subject lines to use this October:
Fall into Fall Savings
Leaves Aren't the Only Thing That's Changing…
Should You Do Holiday Prep Now? We Have the Answer
Let's Spice Things Up This October
Savings That'll Give You a Chill
Marissa, 10% All October long
Save up to 15% now through 10/31
Falling behind this fall? We can help 🤓
Try these terrifyingly terrific subject lines today
Squeeze all you can out of the fall season with a strong email marketing campaign. Taking the time to brainstorm October email subject lines can be a common small business challenge. Save yourself from a headache this month by taking advantage of these October email subject line ideas. The results just might give you a spook—in a good way!
Want more October-centric marketing ideas? Check these out: