Creating social media posts that engage your audience, help you get new followers, and build your brand can be a business owner's or marketer's nightmare. But with the right ideas and the right social media plan in place, you can turn that nightmare into a dream.
So are you wondering what to post on social media in October? Not to fear! Here, we'll cover everything you need to make your October social media spooktacular, including:
Tips for your October social media calendar
October social media holidays to create posts around–with examples
Non-holiday October social media ideas and examples
No tricks here–just treats!
PS: Download our marketing planning guide packed with social media ideas for every month of the year. 
Tips for your October social media calendar
Before we get into our October social media post ideas, here are some general tips to keep in mind throughout the month.
Think beyond Halloween
Of course, October is the perfect time to post scary-good social posts to highlight Halloween. But you can break outside of the box and post about some other October holidays and observances to engage your audience and stand out from the crowd.
Warm up your holiday messages
The winter holidays are looming… It may seem early, but 40% of people start their holiday shopping in October, so make sure to incorporate some holiday cheer into your social media calendar this month. We're sharing how a little later!
Test videos or other formats
People love video. Think of some ways you can incorporate videos into your social media strategy in October. Your videos don't have to be Spielberg-level productions. You can shoot quick videos on your phone that will engage your audience and bring in new followers. We'll share some ideas on how to do this throughout the post.
Related: Avoid these scary social media mistakes and find out what to do instead!
October social media holidays with post ideas
Want to know what's coming up in October that you can create social media posts around? Here are the top October social media holidays to help you fill your calendar—with ideas and examples for each.
Adopt a Shelter Dog Month
You know what does well on social media? Kids and animals. Adopt a Shelter Dog Month is a perfect time to post cute pictures of puppies to get your audience engaged. Here are some ideas for how you can incorporate this into your October social media plan:
Share or repost information about dog adoption events in your area. This is also a great way to spread the word about worthy organizations in your area!
Have your employees share a picture of their adopted dogs with a short quote about why they love them or why they chose them at the shelter.
Promote a pet food or supplies drive on your social media sites.
Partner with a local shelter for an adoption event at your location and promote it on social media.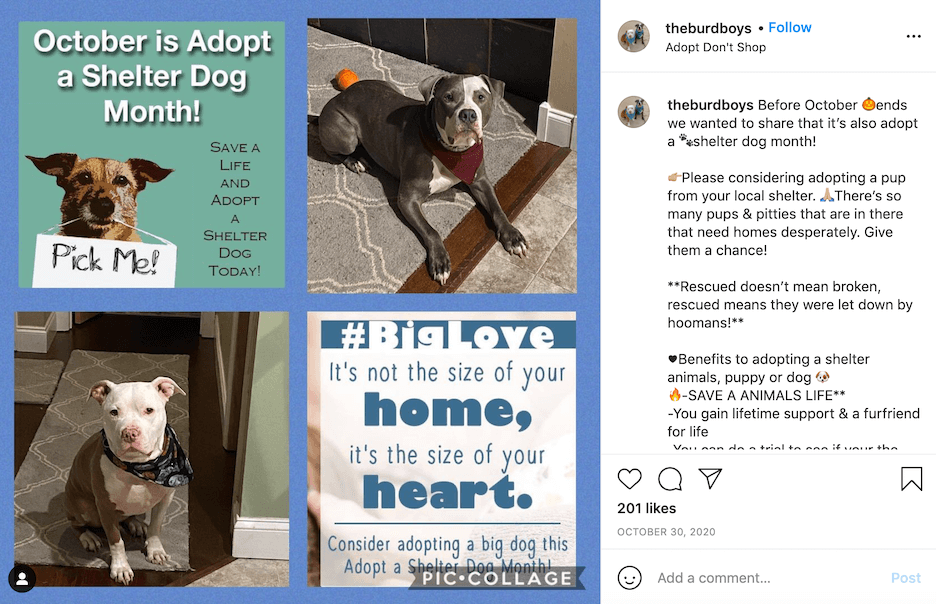 Breast Cancer Awareness Month
Did you know that one in eight women will develop breast cancer in their lifetime? During Breast Cancer Awareness Month, your business can:
Post information and stats about breast cancer.
Share resources from reputable publications.
Share tips for how to keep the women in your life healthy.
This observance is a natural fit for any healthcare businesses, spas, or other businesses that cater to women.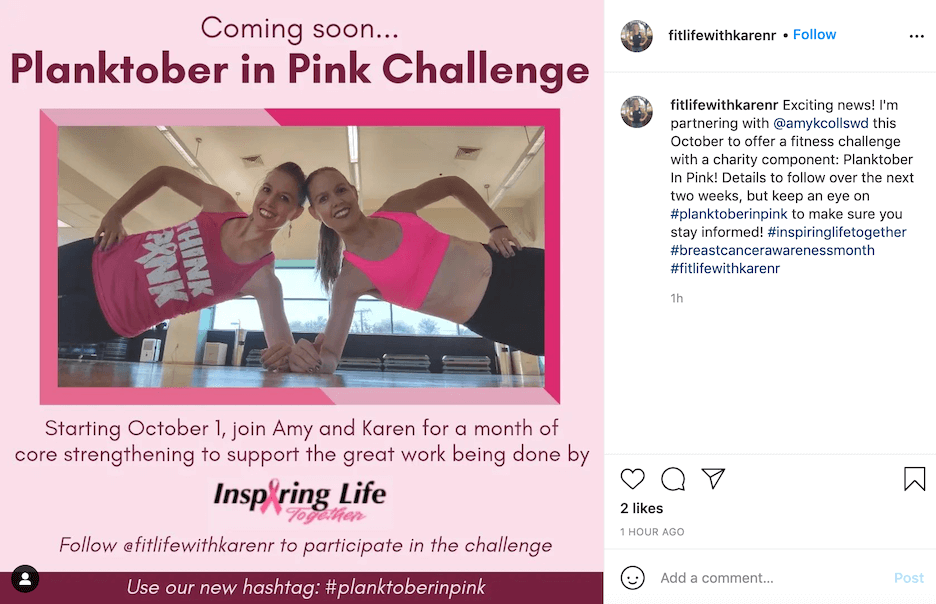 National Women's Small Business Month
Speaking of women, did you know October is National Women's Small Business Month? Women own 42% of businesses in the US, so this is a great opportunity to highlight that through your social media marketing.
If you're a woman-owned business, take some time this month to share your story on social media! If you're not, you can:
Spotlight women-owned businesses in your community.
Share quotes from female business owners you admire.
Ask your audience to share their favorite women-owned businesses so you can help promote them.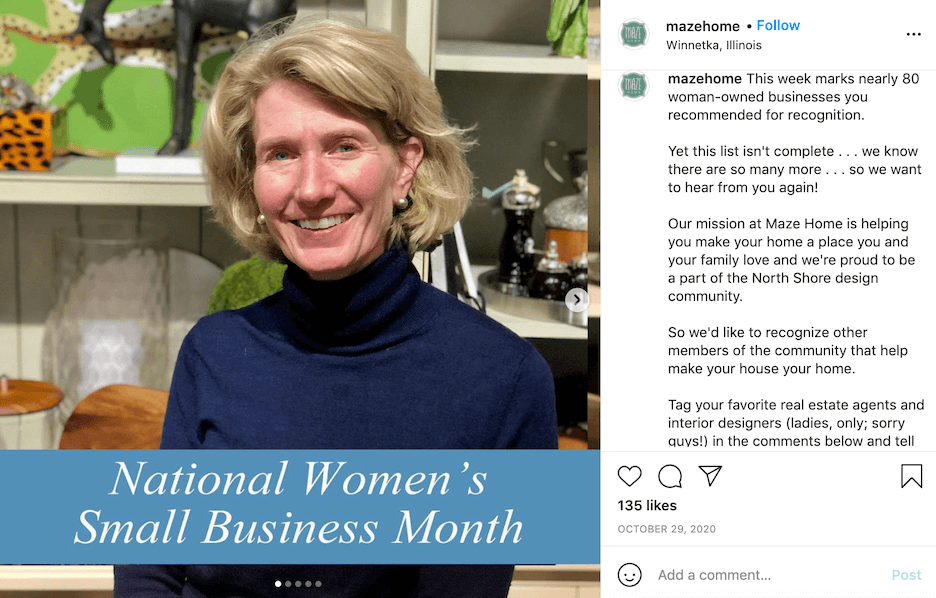 National Cookie Month
What's better than that first bite of warm cookie right out of the oven? Nothing, except maybe the smell of those freshly-baked cookies. October is National Cookie Month—so take this opportunity to add these social media ideas to your calendar:
Share your favorite cookie recipe. Or recipes. Who can share just one?
Ask your audience to share their favorite cookie recipe—or their favorite place to get cookies.
Give away cookies at your storefront and promote it on social media.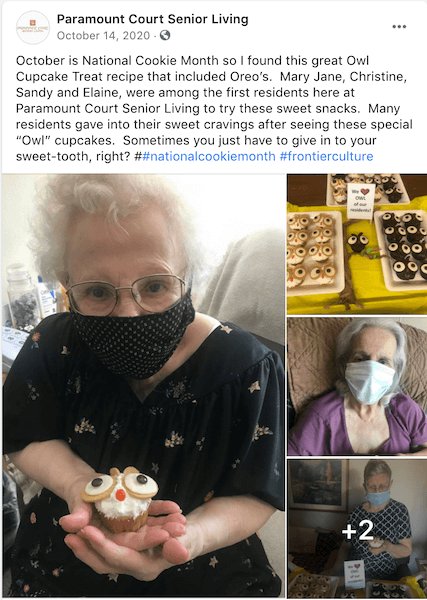 LGTB History Month
LGTB History Month highlights the history and achievements of those in the LGTBQ+ community. While Pride Month is celebrated in June and is meant to celebrate the community, LGTB History Month honors those who helped the community move forward. This year, the LGTB History Month website will highlight a different lesbian, gay, bisexual, or transgender icon with a video, downloadable images, a bio, and more. Here are some ways your business can get involved in supporting this October social media holiday:
Reshare icons from the LGTB History Month website. Because the site is already doing some of the heavy lifting, you can spread the word by resharing its posts and resources.
Share information or resources from a local LGTBQ+ organization in your area on social media. You can also get involved by volunteering or asking how your business can support them.
Share a quote recognizing LGTB History Month (and use the #lgtbhistorymonth hashtag).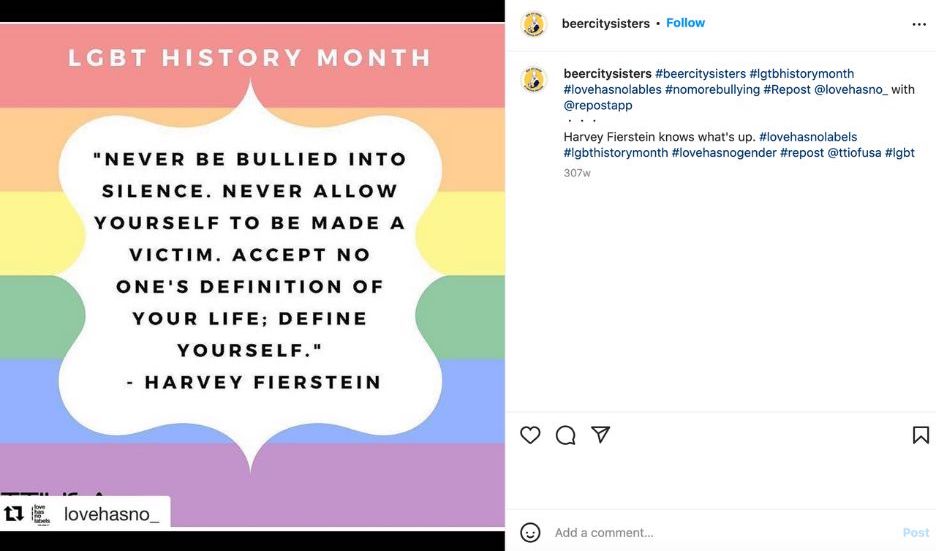 October 1: World Vegetarian Day
Celebrate your favorite vegetarians—or go vegetarian for the day—on World Vegetarian Day. Here are some social media post ideas for this day:
Share a recipe for your favorite vegetarian dish.
Spotlight local restaurants in your area with vegetarian options. If you do this, make sure to tag them in your posts!
Ask your audience to share their favorite vegetarian dishes, recipes, or local restaurants.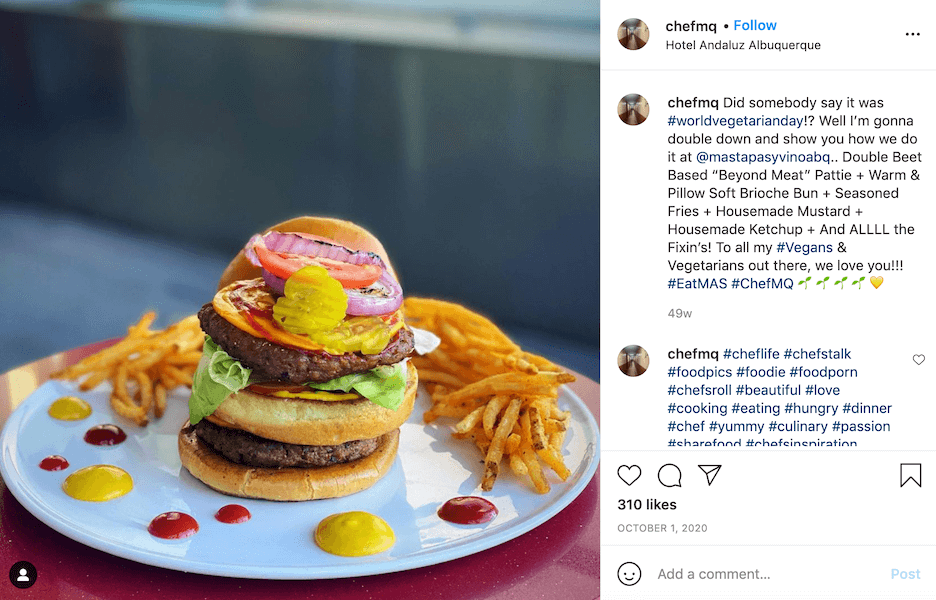 October 1: World Smile Day
Who can turn the world on with their smile? Mary Tyler Moore, of course, but also you on World Smile Day celebrated on October 1. This is an easy social media holiday to celebrate because you can participate in many different ways:
Share a photo of your employees or customers smiling. Easy!
Ask your audience to share a smiley selfie and tag you–or use a custom hashtag.
Post a picture that makes you smile.
Dentists—this is also an ideal holiday for you to celebrate on social media. Here are some social media post ideas just for you:
Share tips patients can use to keep their smiles sparkling.
Show off some of your patients' smiles (with their consent).
Hold a Smile Day contest on social media by having people tag you in their smiling pictures.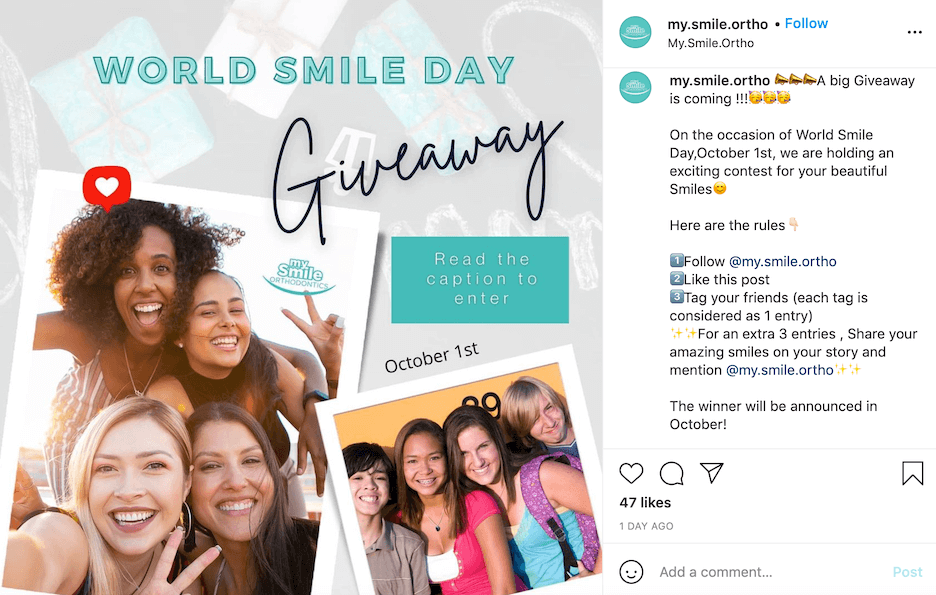 October 4: National Taco Day
National Taco Day happens on October 4 each year and is a great social media holiday to use as part of your October social media plan—especially for restaurants. Healthcare businesses can also take advantage of this holiday by sharing tips to make your tacos healthier or healthy taco recipes.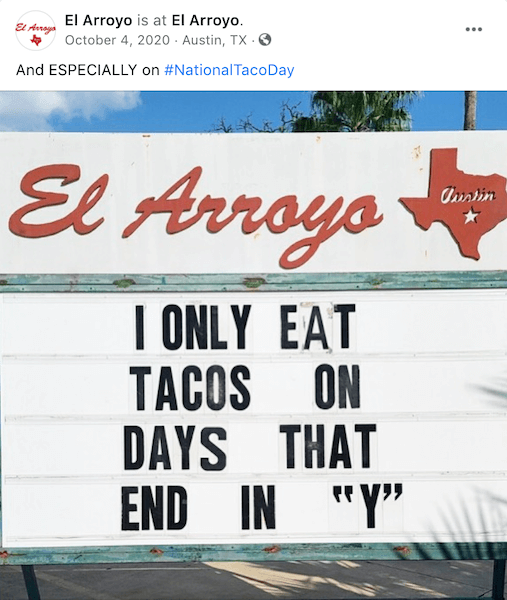 October 5: World Teachers' Day
Teachers deserve more than a day, especially after the rough year and a half they've all had! Here are some social media post ideas for World Teachers' Day:
Promote any deals, products, or sales specifically for teachers. Many businesses offer teachers a small discount year-round, so if your business does this, you can call this out on social media on World Teachers' Day.
Ask your audience to post about their favorite teacher and tag your business.
Schools can share quotes from students about why they love their teachers or post any pictures from Teachers' Day activities. (We have even more school social media post ideas here.)
October 10: World Mental Health Day
Mental health awareness is an important cause that your business can highlight on social media. Share social posts from reputable mental health resources to your social media pages to raise awareness for this cause. Don't forget to use the hashtag #worldmentalhealthday.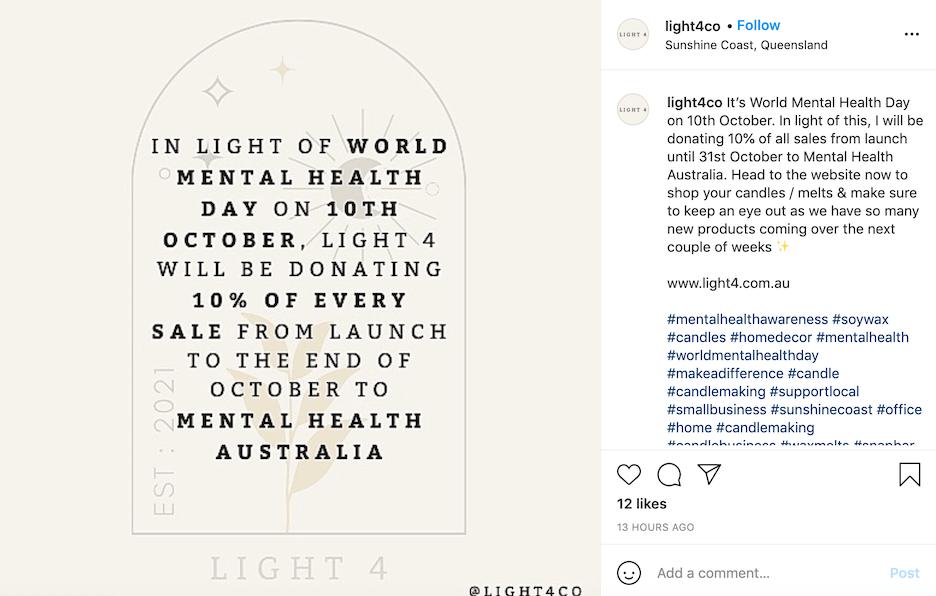 October 26: National Pumpkin Day
You can't think about fall without thinking about pumpkin. You've got pumpkin-spice lattes, pumpkin bread, even pumpkin-flavored Oreos. That makes National Pumpkin Day a no-brainer for your October social media calendar. Try these social media ideas:
Hold a pumpkin carving event—promote it on social media and post pictures after the event.
Post your favorite pumpkin-related recipe.
Promote any pumpkin-flavored or decorated items you sell on your social media sites.
Post a funny pumpkin-spice gif or meme.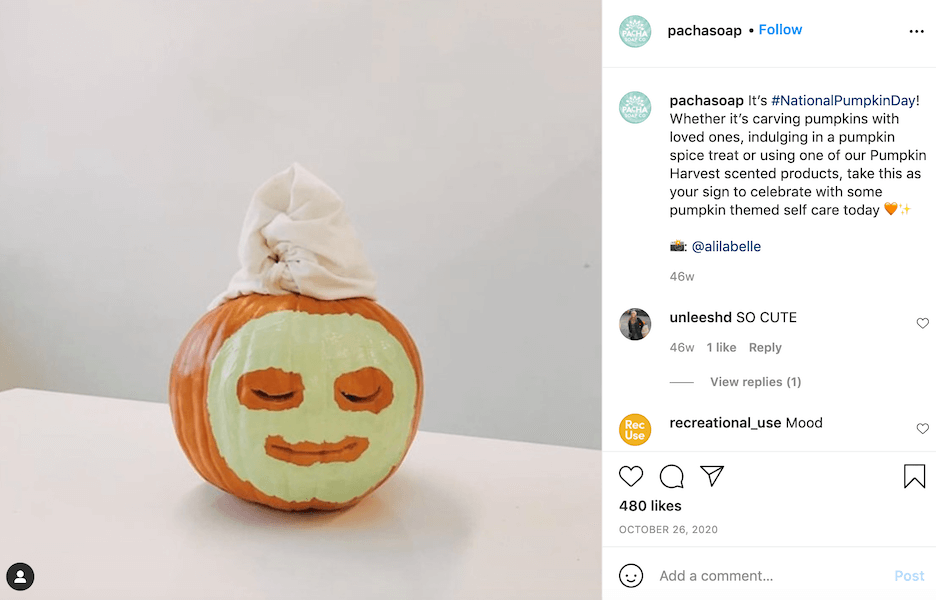 October 31: Halloween
Ah, who can forget Halloween? The pinnacle of October holidays and a candy bucket filled with social media post opportunities. Halloween may fall on the last day of the month, but you can celebrate it on social all month long. Here are some ideas:
Share local Halloween events in your area on social media.
Share costume ideas—people are always looking for new and creative ways to dress up!
Take it a step further and share DIY costume ideas.
Share Halloween recipes, party ideas, or décor ideas—whatever aligns with your business.
Promote any events or Halloween discounts you're running on social.
Get even more Halloween social media post ideas here!
Additional social media holidays
Here are some additional holidays and observances you might want to incorporate into your October social media planning:
Dyslexia Awareness Month
Emotional Wellness Month
Global Diversity Awareness Month
National Economic Education Month
National Pizza Month
National Pet Wellness Month
Tackling Hunger Month
Oct 1: International Music Day
Oct 2: International Day of Non-Violence
Oct 3: Mean Girls Day
Oct 4: National Golf Lovers Day
Oct 4: Yom Kippur
Oct 5: World Financial Planning Day
Oct 6: National Plus Size Appreciation Day
Oct 8: National Depression Screening Day
Oct 10: Columbus Day
Oct 10: Indigenous Peoples' Day
Oct 11: National Coming Out Day
Oct 12: National Stop Bullying Day
Oct 14: National Dessert Day
Oct 15: Global Handwashing Day
Oct 16: World Food Day
Oct 16: Boss's Day
Oct 17: National Pasta Day
Oct 21: Back to the Future Day
Oct 21: National Mammography Day
Oct 25: International Dwarfism Awareness Day
Oct 27: National Black Cat Day
Oct 28: National Chocolate Day
Oct 29: World Stroke Day
Oct 30: National Candy Corn Day
Oct 30: National Checklist Day
Oct 31: World Magic Day
Want a full list of social media holidays for every month of the year? We've got you covered!
More October social media ideas and examples
Want some October social media post ideas that don't revolve around a holiday or observance? Here are some more to try throughout the month.
Run a Halloween social media contest
Halloween really is the gift that keeps on giving, social media-wise. In addition to the ideas we shared, you can also run a Halloween-themed Facebook contest or Instagram giveaway. Here are some Halloween social media contest ideas:
Pet costume contest: Have people submit pictures of their pets in costume—whoever receives the most votes wins a prize.
Guess the candy corn contest: Post a picture of a jar filled with candy corn and have people comment how many candy corns they think are in the jar. The person closest (or who guesses it!) wins.
Tagging contest: Post a Halloween-related picture and ask your followers to enter the social media contest by tagging their friends and reposting your picture to their page or story. Choose a winner at random.
Check-in contest: Have people tag your business location on Facebook and Instagram when they visit throughout October. At the end of the month, choose a winner at random.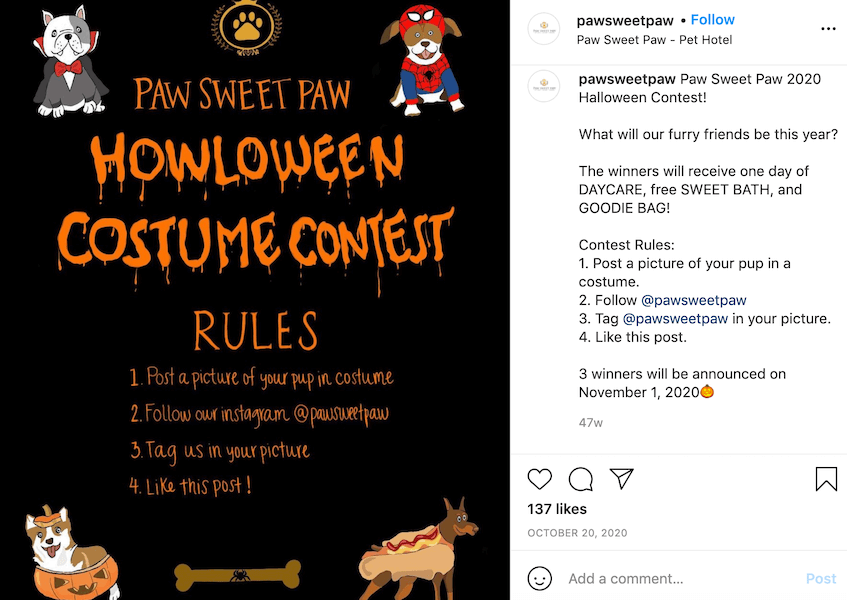 These Halloween contest ideas are not only fun, but they can increase engagement and get you more followers on social media. Just make sure to clearly outline the rules for entry, the prize, and the date you'll announce the winner.
Promote your October promotions
Yes, you have to promote your promotions–and social media is one of the best places to do that! Make sure to post about any events, specials, sales, or deals you have in October. You can even create a Facebook event for your in-store event or promotion to get the word out—don't forget to invite your existing followers to attend.
This October promotion also supports Breast Cancer Awareness Month!
Check out these fall promotion ideas to spark some more ideas!
Sprinkle in some holiday messaging
Like we said earlier, October is the month many people begin their holiday shopping, so start warming up your holiday marketing on social media. This might include:
Promoting any holiday gift bundles.
Highlighting holiday-themed products or services.
Teasing upcoming holiday events or promotions.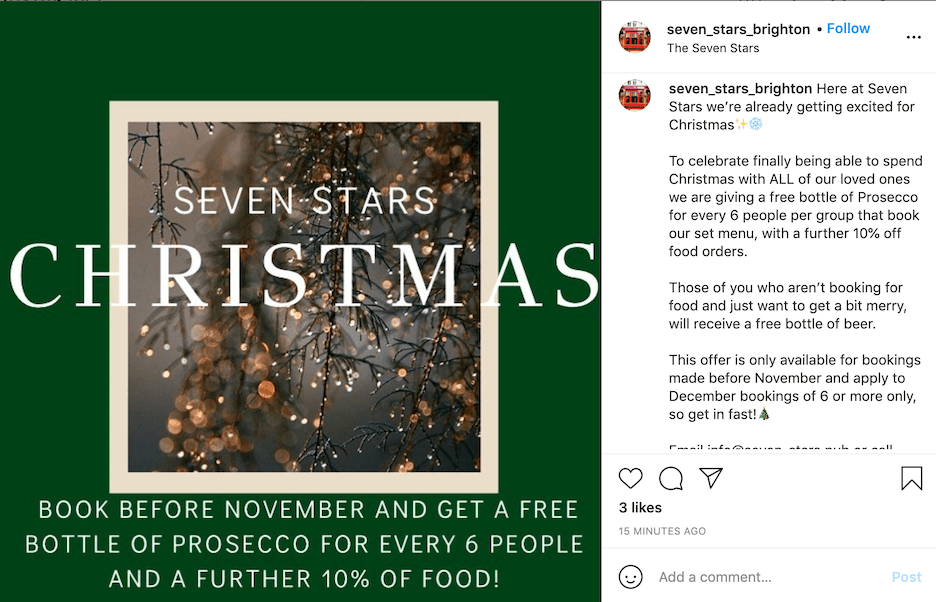 Test educational content
Social media can help your business by building trust and creating a connection between your business and your audience. One way to do that is by creating content that helps rather than sells. This positions your business as an expert and lets your audience know that you care about them—not just their business. You can test educational content on social media by:
Creating helpful videos, like Q&As that you typically get about a specific problem.
Sharing or reposting helpful and educational content from other sources.
Sharing content you've created for your website that would be helpful to your audience, like blog posts.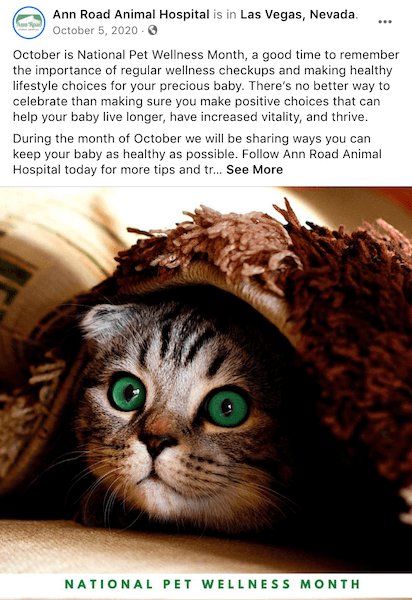 Try these October social media ideas
Your October marketing doesn't have to be scary. Try these October social media ideas to engage your audience, highlight a new holiday, and prepare your business for the busy upcoming holiday season.
Save our free social media calendar template below so you don't miss an October holiday or observance this month, and download our free marketing calendar guide to get even more ideas.