It's crazy to think that once September comes along, businesses only have a few short months to finish out their year strong.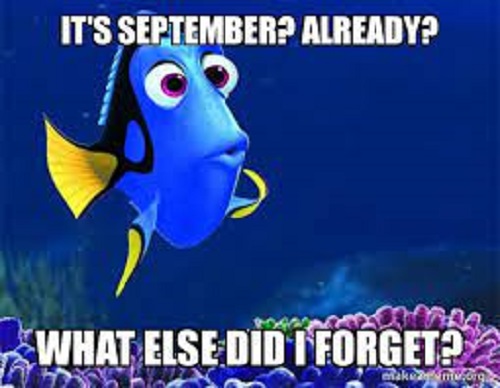 By the time September rolls around, time feels like it's flying by for business owners!
A great way to achieve your goals ahead of the year's end is by running an email marketing campaign! However, September is a busy time of year not only for consumers but for small businesses as well. It can be tempting to shy away from emails during this time due to a lack of resources to come up with consistent copy.
Don't let this hold you back from reaping the benefits of a September email campaign. To help, we brainstormed September email subject lines to help guide you to killer September emails that will bring in results that will last through the end of the year. Plus, we're answering questions like:
Why should I run an email marketing campaign in September?
What are some subject line best practices to consider?
What should I put as the subject in my September emails?
Start the fall season off on the right foot with September email subject line ideas you can carry through the whole month (and that might inspire you the rest of the year)!
Related: Want email subject line tips and ideas for every month of the year? Download our free email subject lines guide to get the tools you need for long-lasting email success.
Why run email marketing campaigns in September?
Email marketing is a perfect marketing strategy to run year-round. September, though, is an especially great time to capitalize on email marketing because consumers aren't yet busy with winter distractions like the holidays.
Here are some ideas for your September email marketing campaigns:
Promote a Labor Day sale or promotion
Let customers know about your back to school events
Educate customers about how to weatherize their house for winter
Share updates to fall or winter hours
Tell customers about your new loyalty program
While you don't need a specific reason to send email marketing campaigns, having a goal in mind for your email can help you craft the best subject line.
Tips for your September email subject lines
64% of consumers decide to open emails based on subject lines alone. Make sure your September email subject lines appeal to your target market with these five email subject line tips:
1. Be concise
Since your email subject line is your recipient's "first impression" of what they're about to open, you don't want your email to get cut off in the preview. Plus, you'll be allowed about 30 characters to make a visible mobile subject line, and 82% of businesses keep their subject lines under 60 characters.
Check out this full list below of max characters you'd need to cut down to in order to have your full subject line show in the inbox preview screen.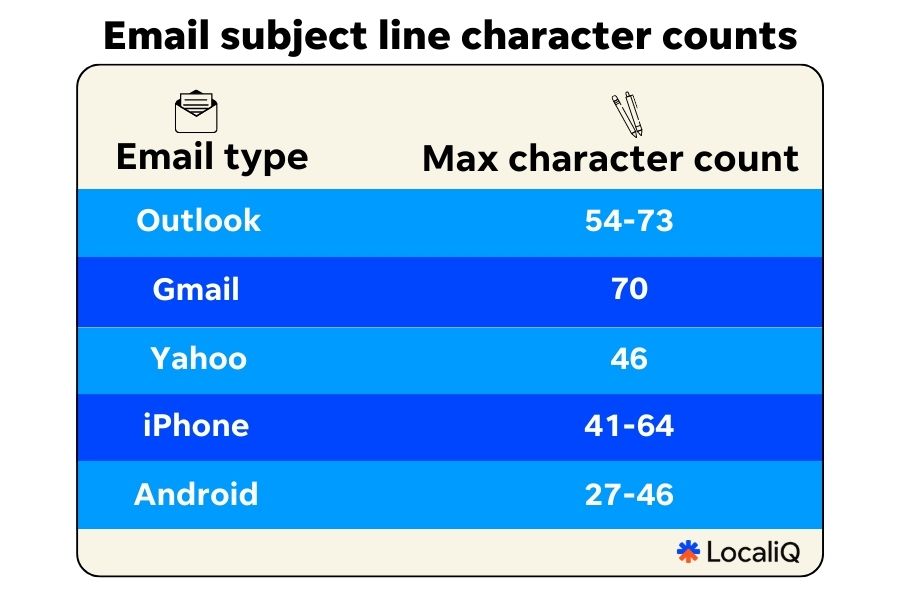 2. Try to personalize your subject line
If at all possible, try to include the first name or another personalized feature within your subject lines this September to enhance your results. Emails that include your recipient's first name in the subject line have a higher click-through rate than those that don't.
A personalized marketing experience is always a good idea, but this September it will be vital to your email's success. If you don't have all the resources to plug in tons of names into your individual email subject lines, leverage a marketing partner that has the technology to do so for you!
Related: Read our quick guide to targeted email marketing.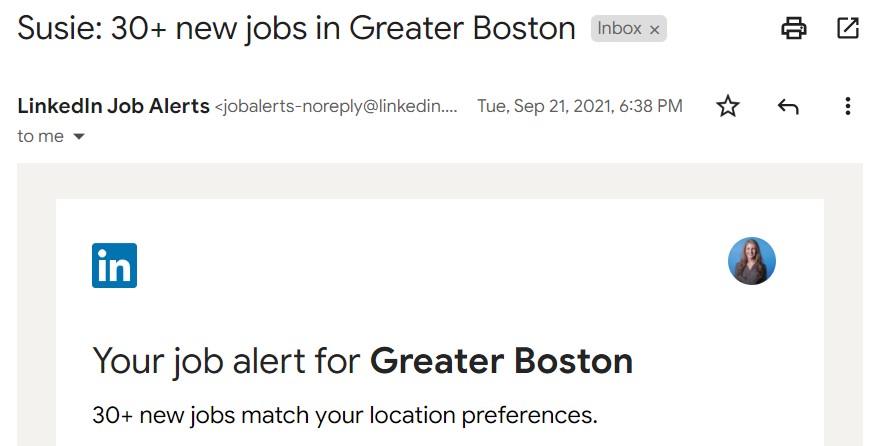 An example of a personalized email.
3. Give emojis a go
While this might feel counterintuitive when creating a professional email, it's been proven that 56% of brands using an emoji in their email subject lines had a higher open rate. September is the perfect time to try this email subject line trend since there are plenty of fun fall emojis you can relate back to the purpose of your email—whether it be a pumpkin next to your fall event announcement or leaves swooping in on your back to school sale promotion.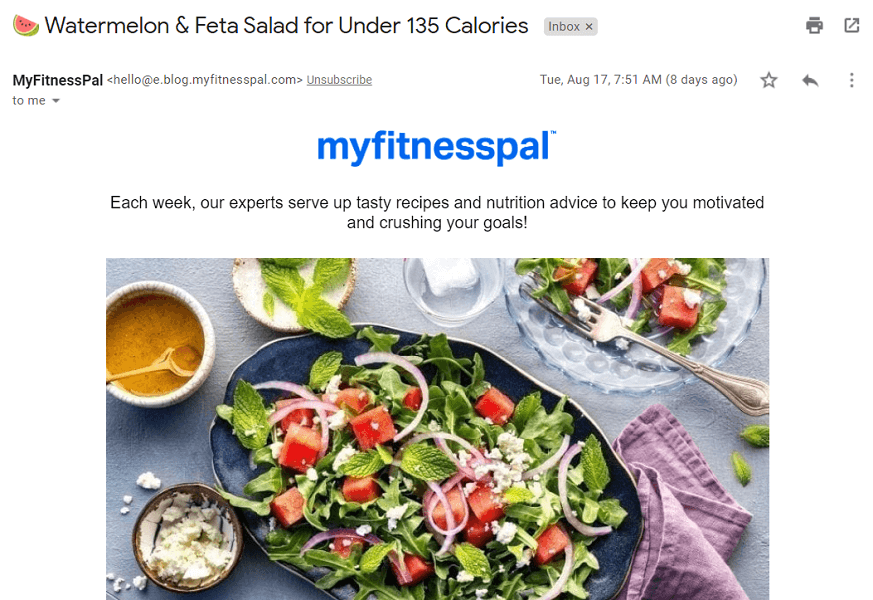 4. Offer value
We know that viewers are going to scan through our subject lines and decide to open on a whim. So you'll want to always be answering the "So what?" behind why your recipient should open your email. For example, if you're running a giveaway or contest, emails including the word "free" in the subject line are 10% more likely to be opened.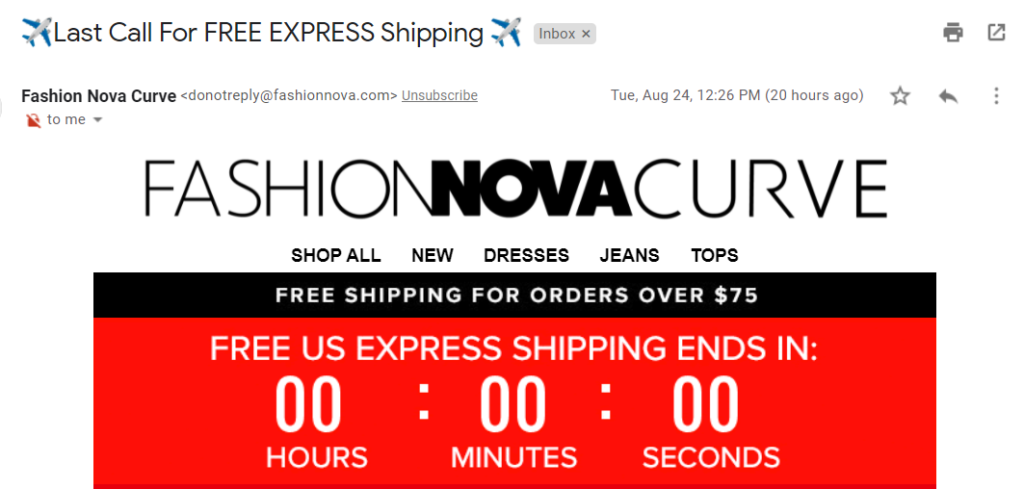 5. Avoid spam triggers
Nearly 70% of email recipients report emails as spam after simply reading the subject line. Don't let your September email subject lines cause you to become a part of that statistic. While it can be tempting to use promotional language throughout your email copywriting, you'll want to save any "spammy" words for the content inside your email. It's best to play it safe with your September email subject lines by avoiding words like "winner," "urgent," and other "pushy" phrases. Be sure to save our handy image below so you know what not to include in your September email subject lines: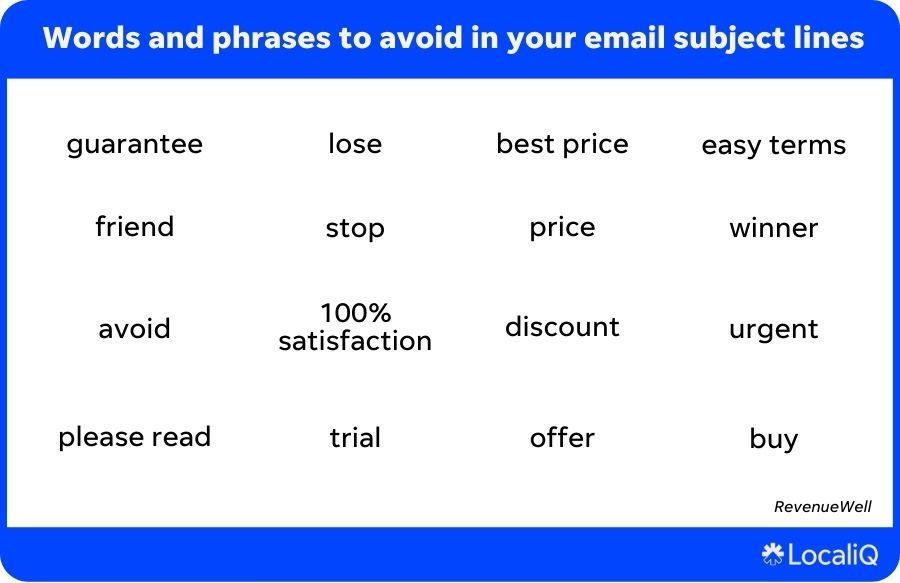 September email subject line ideas that boost sales
Whether you're a small clothing boutique, a local hardware store, or any other type of business that sells products, these revenue-boosting email subject line ideas should help you to start the fall season off on a high note.
Care for a Free Sample? Come by Julie's Bakery
Get ahead with our Pre-Winter Blowout Sale now
New School Year = New Family Vehicle
Winter Is Coming Fast! Shop Now
Crisp Autumn Deal Valid Until 9/30/23
Sweet September savings you won't want to miss👀
$20 Back to School Discount Applied Instantly
Up to 15% Off September Sale Items
Fall Decoration & Supply Sale
It's Getting Cooler & Our Sale Is Heating Up
Kelly, $10 Coupon Just for You!
Jared, Your Discount Code Just in Time for Fall
Rake in these fall savings🍃
It's officially shop and save September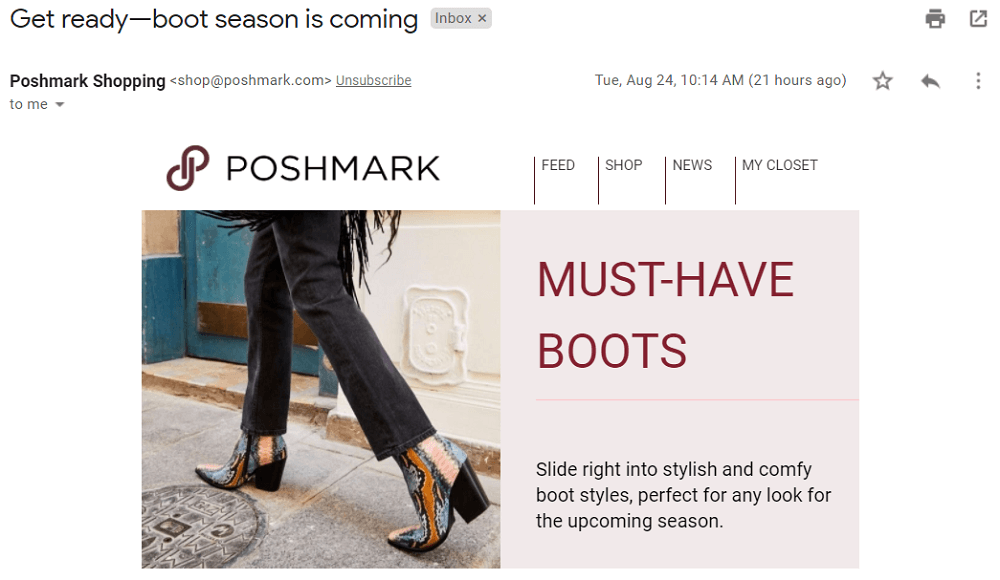 September email subject line ideas to promote your services
Whether you're a local gym, nail salon, or any other business that offers a service to your customers, you need to have your email subject lines highlight your business's best features.
Here are some of our favorite email subject lines for small businesses that offer services:
Back to School Mom & Daughter Manicures
Sam, Is Your Roof Ready for Winter?
Get Fit this Fall at Fairfield's Gym
Struggling to Manage Fall Finances?
Fresh Fall Air, Fresh Home with Maids-R-Us
Find Out the Buzz at Tom's Cuts
Refresh Winter Gear at Larry's Laundry
Fresh air = fresh service catalog
Rich Autumn Interiors at Becky's Designs
Cold is Coming, Is Your Car Ready?
Don't Be Without Heat This Winter
Hurry! September slots filling fast 🚨 Book now
Sick of Chilly Showers? Jay's Plumbing Can Help
Field Trip! Back to School Catering Specials
Preorder Homecoming Corsages at Prime Florals
Labor Day Landscaping Just in Time!
Football Season is Here at Tony's Bar
Jen, Try this New Apple Smoothie Recipe
10 Ways to Check for Pests This Fall
Keith, 8 Tips for an Autumn Auto Detail
Strong summer = even stronger September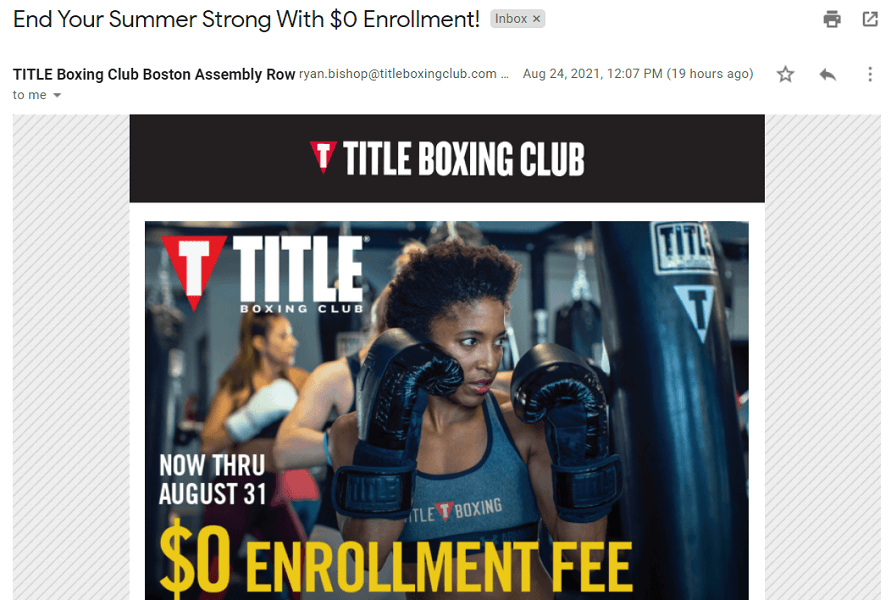 Email subject line ideas for September holidays
Regardless of what industry you're in, a fun go-to for seasonal email marketing is to mention the holidays. Try out these email subject line ideas to increase your engagement and give your business an edge this September:
Our easy steps to a better you😌 (Self-improvement Month)
Explore the great outdoors with us🌲 (Wilderness Month)
A Letter from the Owner (World Letter Writing Day, September 1)
Grill Season is Still Strong at Butcher Brothers (National Tailgating Day, September 2)
Bennington Chiro Can Help You Stand Tall (Skyscraper Day, September 3)
At Yoga Inc. Your Flexibility Will Soar (Skyscraper Day, September 3)
Get Your Head In the Game! (National Tailgating Day, September 4)
Bacon? Yum! Grab Brunch at Josie's (International Bacon Day, September 4)
Happy Labor Day from ECU (Labor Day, September 4)
Labor Day FREE Giveaway (Labor Day, September 4)
Celebrate Labor Day Savings All Weekend (Labor Day, September 4)
Don't Be Late! September Open House (Be Late for Something Day, September 5)
Pizza Party! See You There (Cheese Pizza Day, September 5)
A Fall Recipe from Our Family to Yours (National Acorn Squash Day, September 7)
Take a Breather & Let's Talk (International Day of Clean Air, September 7)
A Cold One on Us! Coupon from CiCi's Liquors (National Beer Lovers Day, September 7)
Tom's Dental Thanks Healthcare Workers (National Grateful Patient Day, September 7)
Carrie, Join Our Exclusive September Book Club! (International Literacy Day, September 8
FREE Fall Consultations at Clearwich PT (World Physical Therapy Day, September 8)
Ready for retirement in 2023? (National 401(k) Day, September 10)
Join Us for a Family Fun Fall Event (National Grandparents Day, September 12)
It's Never Too Late! Go Back to School Online (National Online Learning Day, September 15)
Let Us Do the Hard Work For You (Working Parents Day, September 16)
Have You Submitted to Our Video Contest? (National Dance Day, September 17)
Not to be Cheesy but… A Treat on Us (National Cheeseburger Day, September 18)
Brownie Points! Discount for Husbands at Win Bakery (Wife Appreciation Day, September 18)
Ladies Night + Discounted Memberships (National Women's Friendship Day, September 19)
Fall into Fall Savings! (First Day of Fall, September 21)
To all our IT experts 🤓 THANK YOU! (IT Professionals Day, September 21)
Katie, Join Us in Celebrating Woman-Owned Businesses (Business Women's Day, September 22)
This Week Only: Bring a Friend for 20% Off (National Singles Day, September 22)
September Special Event at Sunnyside Senior Living (National Daughters Day, September 25)
Do You Have All of Your Autumn Gear? (National Hunting and Fishing Day, September 25)
Wicked good deals this September only (National Lobster Day, September 25)
At Perry's Contracting, You're Family! (National Family Day, September 26)
A Hot Cup on Us! ☕ (National Coffee Day, September 29)
Tune into our latest podcast (International Podcast Day, September 30)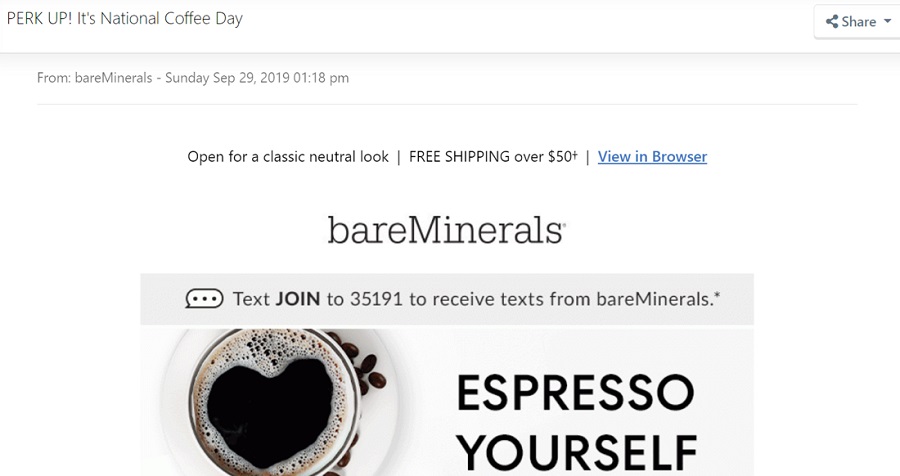 September email subject lines for newsletters
September is the perfect time to keep your customers engaged with a newsletter email. Make your business's fall initiatives clear to recipients with these September newsletter email subject line ideas:
September shindigs and happenings you need to know
Abel, find out what's in store for September
Our Top 5 September Survival Tips
4 Seriously Helpful September
Send it September: how we're having fun this month
How to get ahead of your 2024 planning
Hallie, your complete fall guide awaits 😎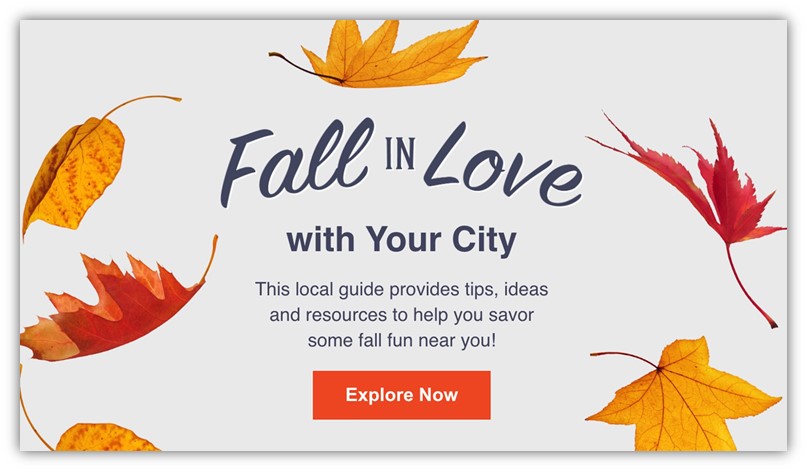 Even more September email subject line ideas
Want even more September email subject line inspiration? We've got you covered!
Psst… Secret September Offers Are Inside
The Only Back to School Shopping List You Need
5 Tips When Buying Presents
What are you doing this Halloween?
Hello from [your business]
6 Reasons You Need This for Fall
How Our Product Can Be the Apple of Your Eye
4 Ways To Keep Cozy this Autumn
Sweet September Shindigs to Attend
See ya, summer hello September
Fall into these September email subject line ideas
Fall is upon us, so you want to get the most out of your September email marketing strategy before the season's over! Take these subject line ideas and frame your email copywriting around them to save yourself time. Your customers most likely are already getting tons of emails per day. So, don't overthink it and get those emails to your inboxes before September flies by.