If you're currently a human being living on planet Earth, chances are high you've had to send a reminder email at some point in your life. If you're a business owner, those odds increase.
There are dozens of potential reasons to send reminder emails. Perhaps you're following up with a prospect or client. Maybe there's a vendor you want to reconnect with. Or possibly there's a colleague you need to circle back to.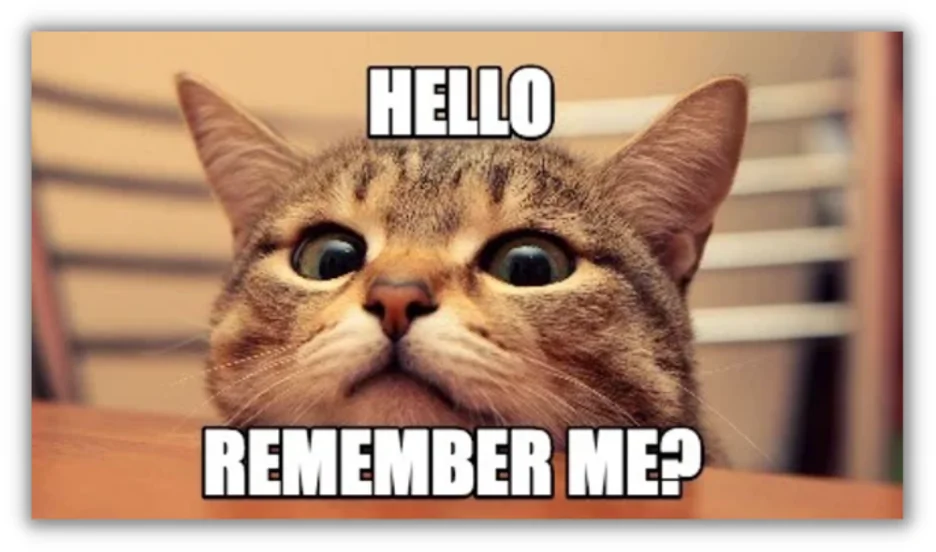 No matter who you're hoping to reach and why, there are some universal truths about how to send a successful reminder email. Let's take a closer look at the dos and don'ts, then share some reminder email templates to help you if you're struggling to get your message just right.
How do I make sure my reminder email gets read?
The first step to getting your reminder email read is ensuring it lands in your recipient's inbox. Email service providers have built robust tools to scan for spam emails, and they will automatically redirect emails they think might not be something the recipient wants to read.
Spam filters will be on high alert if you're emailing someone new, using an email marketing platform, or contacting someone outside your organization.
So, to help you avoid the dreaded junk folder, avoid spam trigger words and phrases in your subject line, like "please read" or "urgent."
Once you've cleared the spam filter, you must get your human reader to open your email.
Emails are more likely to be read if your recipient can see the entire subject line in their inbox. While it might be tempting to add longer phrases like "Following up" or "Checking in," those can lengthen your subject line and obscure the real purpose of your message–only use them if the rest of your message is short.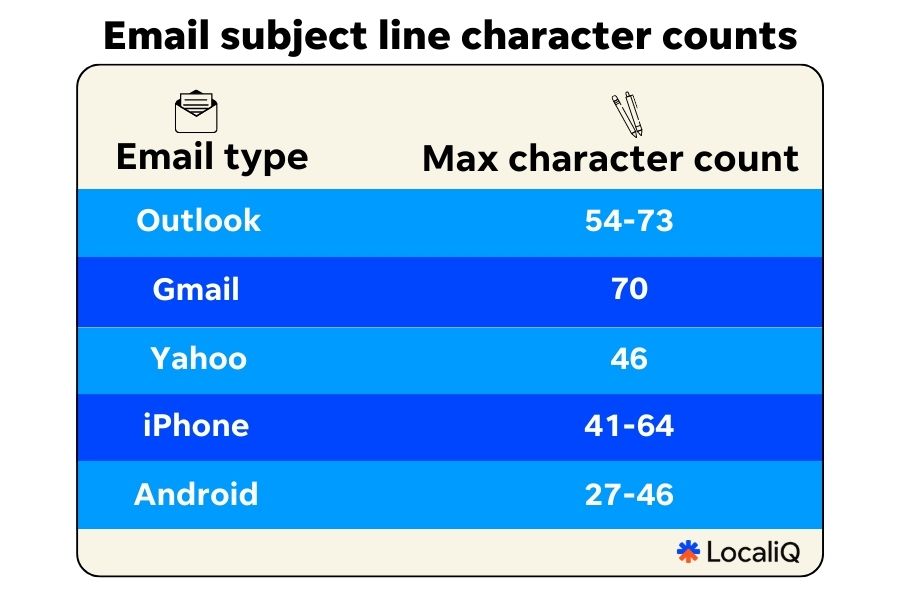 Remember these subject line character counts to ensure your entire subject line is visible.
When it comes to stylistic choices, these subject line tips can help your message stand out in a crowded inbox:
Use emojis (sparingly). One or two can help catch a reader's eye, but more than that, it starts to feel spammy.
Include numbers. If there's a reason to put numbers into your subject line, doing so can help boost open rates.
Avoid all caps. This may make your recipient feel like you're yelling, which can feel especially uncomfortable in the context of a reminder email.
💡 Need help creating the best subject lines? We've got you covered: Email Subject Lines for Every Month of the Year.
What should my reminder email contain?
After you've convinced your recipient to open your reminder email, you want to greet them with a message that:
Eliminates unnecessary words, and gets right to the point! The average time readers will spend with an email is 8.97 seconds.
Friendly and professional. Depending on your reminder email's topic, you may feel frustrated or defeated at needing to circle back (sometimes more than once!). But please don't let that show in your email.
Gives your reader a concrete next step to take. If it makes sense, consider including a CTA button that directs your reader to exactly where you'd like them to go. (For example, if you're reminding someone to review your business on your Google Business Profile, include a link to your review page.)
15 reminder email templates and examples for every need
Let's take a closer look at some of the events that might necessitate your sending a reminder email.
If you're comfortable using the guidelines above to write a reminder email yourself, that's great! But if you'd like a little extra help, we've got you covered with some templates below.
1. Meeting reminder email for a prospective buyer
Meeting face-to-face (or via video call) with a prospect can be crucial in moving them closer to a buying decision. That's why you want to remind prospects about your meeting or demo session.
Your email should include a recap of the basics (the date and time of your meeting, location or meeting link, and any other relevant information, like check-in instructions if they're coming to your office, where you have a front desk security procedure).
The ultimate goal of this reminder email is to confirm your meeting, so include clear steps for your prospect to confirm, cancel, or reschedule.
Subject: Meeting Confirmation: You x [Your Business Name]
Dear [prospect name],
I hope this email finds you well. I'm reaching out with a quick reminder about our scheduled meeting tomorrow, [date], at [time]. I look forward to our discussion and know it will be a productive and informative session.
We're meeting in person tomorrow at [address].
[OR]
We're scheduled to connect via [Zoom or other conferencing tool]. The link to join the meeting is [include link].
[OR]
I'm planning to call you at [phone number you have on file]. 
Does all that look correct? If so, please click the "confirm" button here.
[Insert button: Confirm Our Meeting]
Need to make an update, reschedule, or cancel? That's okay, too! Simply follow the link below to make any changes.
[Insert button: Edit Meeting Details]
I look forward to connecting tomorrow.
Best regards,
[your name]
⚡️ Get even more ready-to-customize emails in our free guide >> Small Business Emails Made Easy: Free Templates, Subject Line Ideas, & Tips!
2. Reminder to take advantage of your free trial
Some businesses choose to offer a free trial to help convert warm leads. When prospects have a chance to interact with your offering "in the wild," it can showcase your value and may convince them to buy.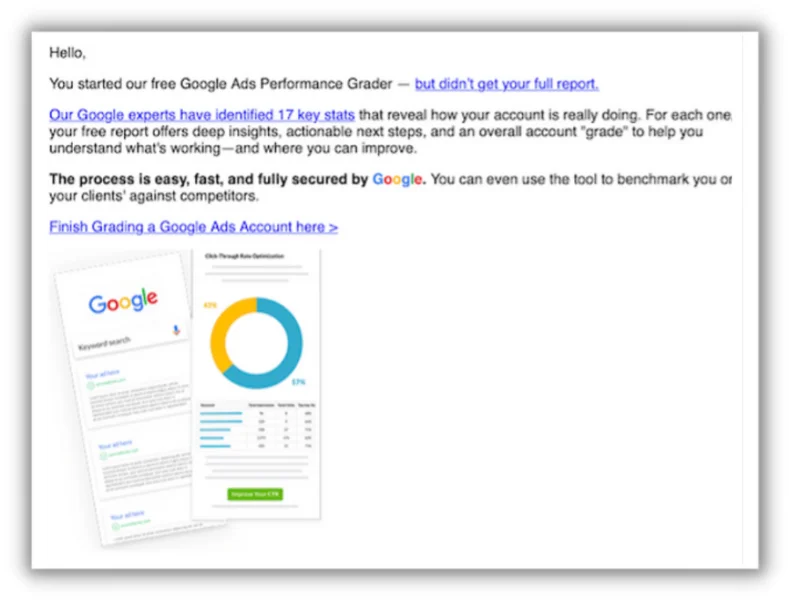 Of course, a free trial offer works best when your prospect actually takes advantage of the offer. But even if someone's excited to test out your tool or service, they may not do it without a little reminder.
A check-in email can help you nudge those prospects who haven't yet used their trial. You may even be able to automate this outreach–for example, if you run a fitness center, you can configure your CRM to email members who've registered for a free trial but haven't yet swiped their badge at your front desk.
Instead of simply reminding them they've registered, a compelling free trial reminder email will offer your prospect additional support to help them overcome the hurdle holding them back.
Subject: Trial with [Business Name] – Can I Help?
Hi [free trial registrant],
I'm so excited you've signed up to try [our product or service]! I know you'll love [a compelling feature or solution to a common pain point].
I noticed you haven't gotten a chance to take advantage of our offering yet, and I want to ensure you're able to try it out before your free access ends on [date].
Is there anything I can do to help you get started? 
Simply reply to this email or give me a call at [number]; I'm happy to assist you in making the most of your free trial.
Warm regards,
[your name]
3. Reminder to respond to a proposal
If you run a business that involves proposals as part of the sales process, you know it takes some serious effort to create a thorough one. You're likely hopeful all that work will result in a sale.
Sending a friendly, non-confrontational reminder about your proposal can help you to close that business. Here's a template to help you nudge your prospective client to respond.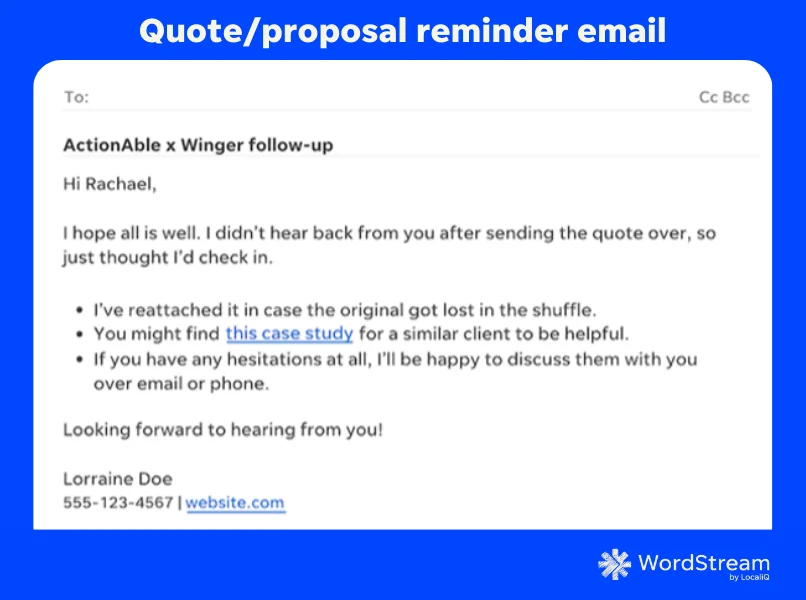 Subject: Proposal for [Service/Offering] – Checking In
Hi [prospective client name],
I wanted to circle back on the proposal I sent over on [date]. Did you have a chance to review it, and are there any questions I can answer for you? 
I've re-attached the original proposal here for your reference.
Please let me know if I can get you any additional information; I'm also happy to hop on a call if you'd like to discuss further.
Thanks,
[your name]
Are you looking for other email templates to help support you in the sales process? Check out our follow-up email templates to close new clients.
4. Reminder about a PR or collaboration pitch
A big part of growing your business is getting the word out about what you do. PR, brand collaborations, and other marketing outreach can help you do just that.
But getting a journalist to write about your business or winning a new brand partner can take some follow-up. It's up to you to send a reminder email to your contact, reintroducing your pitch and inquiring about their interest and availability.
Here's a reminder email template to follow up with a PR contact.
Subject Line: Gauging Your Interest [Reiterate Pitch]
Hi [contact name],
I'm following up on my email last week proposing [quick description of your submitted story or collaboration].
[For a story pitch:] 
I think this story would resonate with your readers for the following reasons:
[For a collaboration pitch:] 
Our brands have a lot in common, and I think our partnership could bring value to our customers in the following ways:
[reason 1]
[reason 2]
[reason 3]
Please don't hesitate to reach out if you have any questions or would like to discuss further. You can reach me at this email or on my cell [include phone number].
Thanks for your time, and I look forward to hearing from you soon.
Warm regards,
[your name]
5. Abandoned cart email
Sometimes, all a customer needs is a little encouragement to take the plunge and make a purchase.
They've already gone through the trouble of browsing your options and dropping items into their cart–they're primed to buy. That's probably why 1 in 3 opened abandoned cart emails result in a purchase.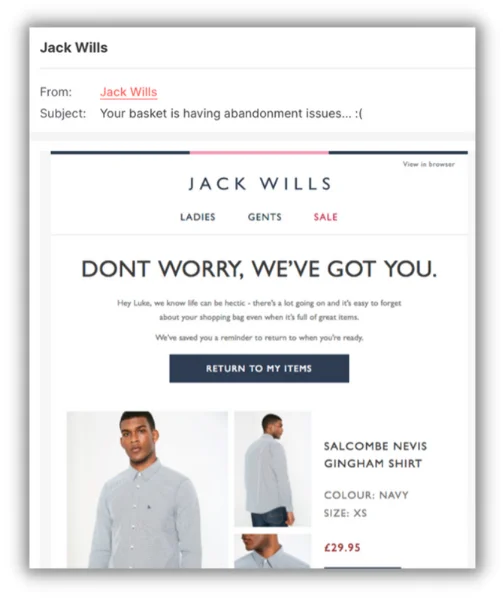 You can configure your CRM to automatically send a reminder email to anyone who's left an item in their e-cart past a set timeframe. Here's some language to help you draft that email.
Subject Line: Hey [Name], You Forgot Something!
Hi [name],
We couldn't help but notice you left something behind in your cart. 
We know you're busy, so we're holding your things for you until you're ready to buy. Just follow the link below to complete your purchase!
[Insert "Complete Check-Out" button]
Got some questions for us? Check out our FAQs [insert link to FAQs page] or reply to this email–our customer service team is here to help.
6. Appointment reminder email
When running a service-based business, you want to ensure your customers come in for appointments.
Whether you're a dentist, a hair stylist, a restaurant owner, or a service provider who does house calls (like a cleaning service or HVAC technician), sending a reminder email can help reduce no-shows or last-minute cancellations.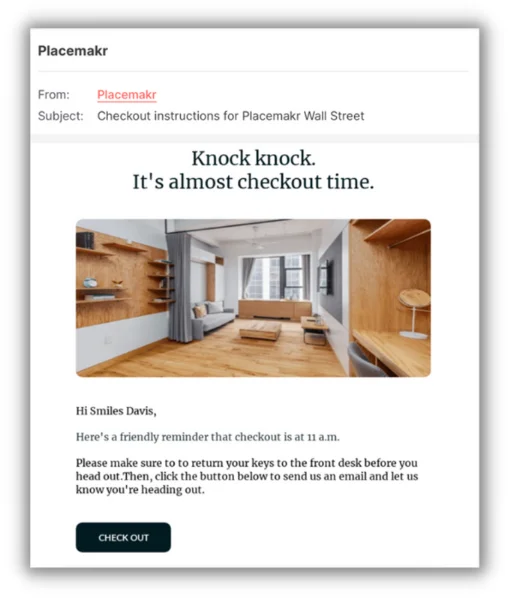 Here's a template to reconfirm the appointment date, time, and location with any customer.
Subject: Confirming Appointment for [Client Name]
Hi [client name],
This is a friendly reminder about your upcoming appointment with [our business]. Your booking details are as follows:
Date: [insert date]
Time: [insert time]
Location: [insert location and address, if relevant]
[Include any other pertinent information specific to your business or the service your client has booked.]
Please use the buttons below to either confirm this appointment or to edit, if needed.
[Insert button: "Confirm Appointment"]
[Insert button: "Change Appointment"]
We look forward to seeing you soon!
Best regards,
[your name]
7. Event reminder for registered guests
Events are hard to plan–you want to ensure your attendees actually show up on the big day! Whether your event is in-person or virtual, your reminder email can help you reduce attrition, get an accurate headcount, and adjust your plans if needed.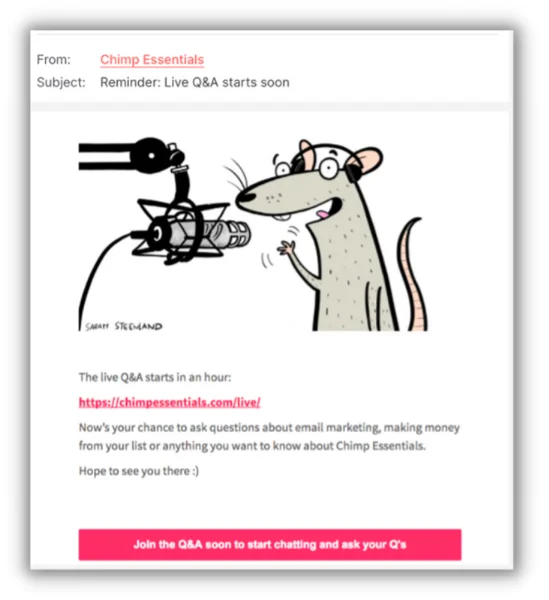 Your event reminder email is an excellent opportunity to reiterate what registered guests will get out of your event–this can help encourage those at risk of flaking to follow through on their decision to attend.
How do you phrase your reminder email for your upcoming event? Here's a template to help you get started.
Subject: Event Reminder: [Name of Event] on [Date]
Hi [registered guest name],
[Event name] is just around the corner! We can't wait to welcome you and [share something about what will make this event memorable for attendees].
As a reminder, [event name] details are as follows:
Date: [insert date]
Time: [insert time]
Location: [insert location and address or online meeting link]
[Include any other pertinent information specific to your event. You might share details about an event app, if you have one, or a link to your detailed event agenda. You may also outline specifics about dress code or check-in protocol for in-person events.]
If you'd like to adjust your registration, please click the link below.
[Insert button: "Modify Registration"]
We look forward to seeing you soon!
8. Reminder to share feedback on their experience with your business
Public reviews or private client feedback surveys can help you improve your business, strengthen customer relationships, and maybe even attract new customers.
But people are busy and sometimes need a gentle reminder to share their feedback with you. Here's a template that service providers or retailers can use to solicit customer feedback on their purchase, experience, or interaction with your team.
Subject: How Was Your Experience with [Your Business Name]?
Hi [customer name],
Thank you so much for your recent [purchase/visit/descriptor that suits your business].
We'd love to hear more about your experience. Please follow the link below to [complete our brief customer survey/leave a review on our Google page/action you'd like the recipient to take].
[Insert button: "Share Feedback" or "Take the Survey"]
Thank you so much for your time, and we look forward to seeing you again soon!
9. Reminder to join your rewards or subscription program
Any program that can help you develop an ongoing relationship with clients may help fuel your business's long-term health. Subscription and rewards programs are strong marketing and sales tools to help you turn casual customers into loyal ones.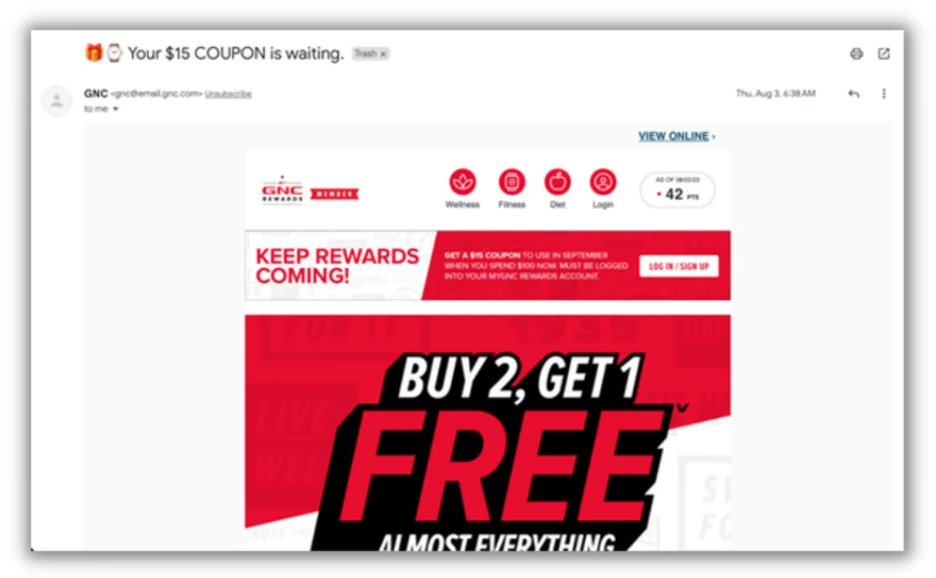 GNC encourages new customers to create a loyalty account by offering a coupon code.
If your business has a loyalty or subscription program, inviting customers to join after their first purchase can help take your budding relationship to the next level. But if a new customer doesn't respond to your first email, it may warrant a reminder email. You might also consider adding an incentive to your second communication to nudge them toward a conversion.
Here's a template for your rewards or subscription program signup reminder.
Subject: Don't Forget to Join [Name of Your Program]!
Hi [customer name],
Just popping in to remind you about our [rewards program/subscription service, branded name of program, if one exists].
Why join? We're glad you asked. Members enjoy the following benefits:
[benefit 1]
[benefit 2]
[benefit 3]
And if you sign up in the next week, you'll get [additional perk to incentivize membership].
If you have any additional questions, check out our FAQ page [insert link to FAQ page] or reach out to our customer service team by replying to this email.
Thanks so much for being a customer! 
10. and 11. Reminder about a sale or promotion
Sales and promotions can be an incredible way to incentivize prospective customers to make a first purchase or encourage existing customers to buy again. But a sale is only effective when your customers know it's happening!
That's why you must build an email marketing plan to advertise your sale. Ideally, you'll have messages that go out before the sale period to build excitement and then during the sale to drive action on the day.
Here, we've got two templates to get you started: One email reminder that goes out before the sale and another during-the-sale reminder.
Advanced Email Promo Subject: Sale Next Week – Mark Your Calendars!
Catch some of our biggest deals of the season at our [official name of sale] event! Shop with us on [dates of sale] and get:
[detailed sale information – point 1]
[detailed sale information – point 2]
[detailed sale information – point 3]
We hope to see you online or in-store then!
During the Sale Email Promo Subject: Sale is ON – Get X% Off Now!
Our [official name of sale] event is happening! Shop between now and [end time] and get:
[detailed sale information – point 1]
[detailed sale information – point 2]
[detailed sale information – point 3]
Plus, we're now offering [additional perk] on purchases [within parameters you set]. Shop now and save even more.
Are you looking for some more ideas to promote sales and limited-time offers for your business? Check out this list for even more email templates.
12. Reminder about your launch
You invested time and effort into building a successful go-to-market strategy to launch something new.
Sending reminders about your recently launched product or project keeps the momentum going after your big day.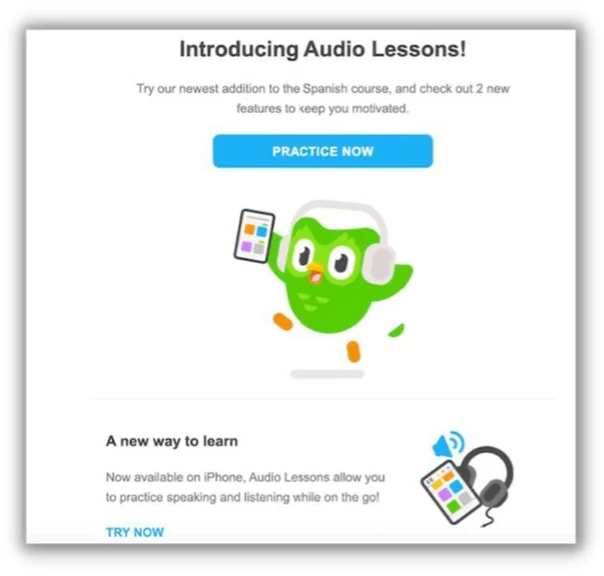 Like with sales, launches are worthy of an entire marketing campaign, with cross-channel communication before your launch, on the official drop date, and after the fact, but here's a template you can use for that post-launch reminder.
Subject: Did You Hear? We Just Launched [Insert Description of Launch Offering or Official Product Name]
Hi [customer name],
On [date of launch], we introduced [name of new offering, followed by a brief description of its value proposition].
We're so excited to share this with you, and we hope you'll check it out.
[Insert button: "Learn More," driving to a landing page for the new offering]
13. Reminder to a vendor about service
When you engage a vendor for your business, you anticipate the same kind of prompt, attentive service you give your customers! Unfortunately, it doesn't always work out that way.
When a vendor fails to deliver on their promises, you might have to send them a reminder email. Here's a template to help you follow up with a vendor who owes you something you need for your business.
Subject: Checking in – [Include order number or brief description of agreed-upon product/service]
Hi [vendor contact name],
I am following up about the product/service we ordered on [date]. At that time, we discussed [terms of the agreement that still need to be met]. We are still waiting for [term to be fulfilled].
Can you please provide an update about when we can expect [agreed-upon terms to be met]? You can reply here or reach me at [include phone number].
Thank you,
[your name]
14. Reminder to client about payment
Another type of email you might need to send on behalf of your business is a reminder to a client about an overdue invoice.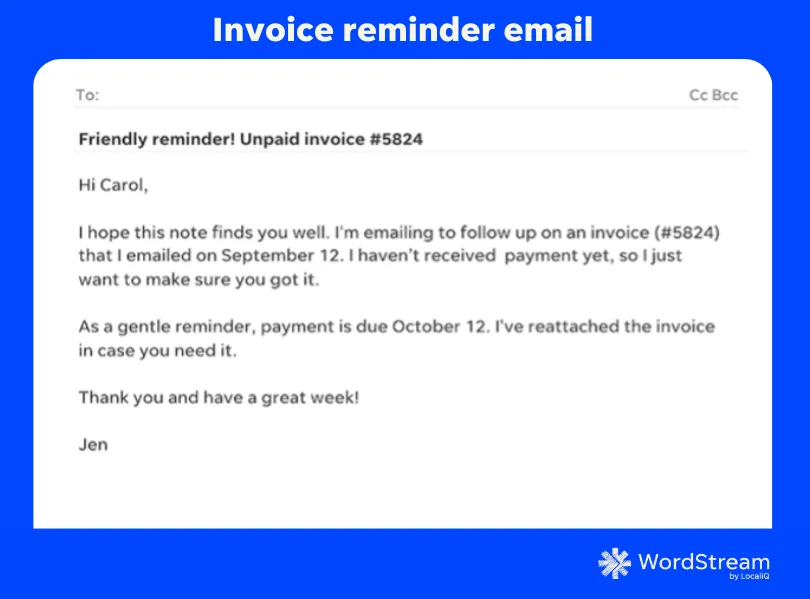 Here's a template to send your client a tactful payment reminder once the invoice becomes past due. If the problem persists, you may need to send further reminders with a firmer tone.
Subject: Payment reminder – Invoice #[Include Numerals] is due
Hi [client name],
I hope you're having a good week! I'm writing to follow up on invoice [number] that I emailed on [date]. I've attached it here for your reference.
We've not yet received payment; are you able to provide an update about its status?
Thank you,
[your name]
15. Reminder email about the reminder email
Sometimes, that first reminder just doesn't do the trick. Needing to send a second reminder is common, and it's not a reflection of the email recipient's feelings about you or your business–often, people's inboxes are chaotic, and their lives are busy.
Here's a template to help you tactfully remind someone that you reached out. If you don't get a response to your second reminder and this is a 1:1 message about something urgent (like an overdue invoice or service your business has paid for but has yet to receive), then it might be time for a firmer follow-up–or a phone call.
Subject: Send second email on the original chain; can add "Following up" to the subject line if you'd like
Hi [name],
I wanted to circle back on my previous email. Have you had a chance to [take the desired action outlined in the first email]?
[For prospects you're encouraging to take the next conversion action:]
Please let me know if I can provide you with any additional information. I'm happy to connect over email or to hop on a call. You can reach me directly at [include number].
I look forward to hearing from you soon.
Warmly,
[your name]
[For vendor or client who owes you a response on something related to your business operations–overdue payment, late service, etc.:]
Do you have an update to share on [your inquiry]? If I have not heard anything by [date], I will [set expectations for the next action you will take; may be to follow up via phone, speak to a more senior contact at the organization, etc.]
Kind regards,
[your name]
A final reminder for your reminder emails
A reminder email can be a great addition to your email marketing strategy. Make sure to follow email marketing best practices, personalize messages when you can, and keep your subject lines fresh. This will keep you top of mind with customers, vendors, and any other email recipients.