"Alexa, play September by Earth, Wind, and Fire!"
That feeling when your business is #winning at September social media marketing.
It's time for your business to celebrate all the wins you've had this year. You've officially made it to the tail-end of the year as you enter September! Don't lose your marketing momentum. Leveraging September social media holidays to inspire your posts can help you consistently push out content as you enter yet another busy season. That's why we're covering:
Tips for successful September social media posts.
54 September social media holidays with ideas and examples.
More September social media post ideas to fill your content calendar.
With this post, your business's September social media growth will soar.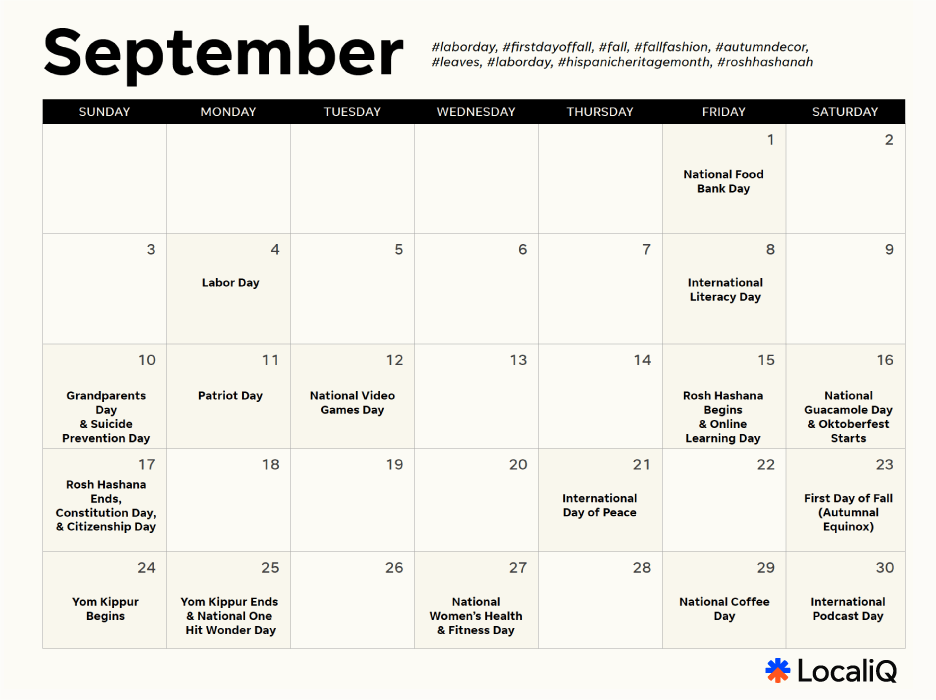 Download our
marketing calendar
for copy-and-paste social media tips through the end of the year!
September social media tips
In order to use our September social media ideas to your best advantage, you'll also want to implement these social media tips with each post you create:
Post purposefully
This first social media tip might not be what it looks like at first glance. While you want your posts to mean something to your audience and align with your brand's feel, you also need a clear purpose for each post that will relate back to your social media goals.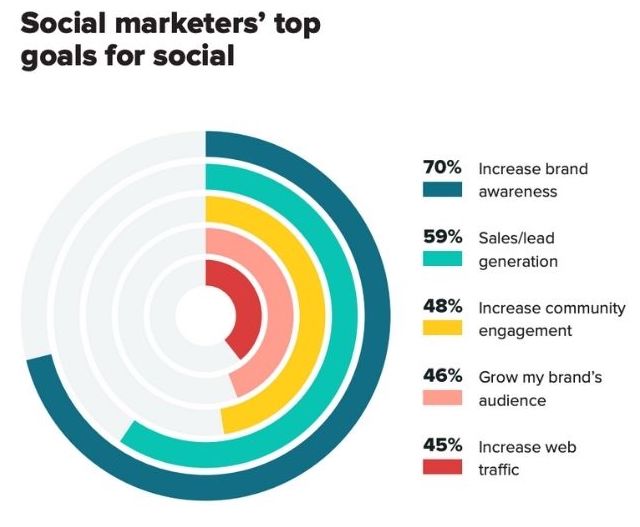 For example, let's say one of your business's objectives is to boost your brand awareness. You might have a call to action in your September post captions that asks followers to repost your content or click to your website to learn more about your business. If you choose this route, be sure to think of any indirect results of your social efforts—such as increased traffic to your website.
Use LocaliQ's
website grader
to get actionable tips to improve your website and online presence.
Maintain a regular posting schedule
Not only does posting regularly help to hold you accountable throughout the month of September, but it also helps to maintain brand consistency. When you post according to a schedule, your audience will know exactly what to expect and when to expect it. This will prove to your followers that your brand's account is one they can rely on for consistent content.
Aside from the brand recognition benefits of a social media holiday schedule, you'll save time since you'll have content prepped and ready to go out in a flash throughout the month.
Lastly, certain platforms may have time slots that can be more or less popular for businesses. A posting schedule helps you to strategically put your September posts live throughout the month during times that will maximize your social media marketing ROI. To start, check out these resources on post timing and scheduling:
Investing in an online scheduling tool like this one can help you manage your September social media posts.
Use engaging creative elements
This final September social media tip pulls your strategy together. You have your goals in mind and a set schedule, so now comes the fun part: getting creative! You'll want to have engaging photos and videos that will appeal to your audience.
To make that easy to achieve, try free design tools like Canva to prep custom social media content.  That way, you can also crop your photos to each platform's size requirements in a flash.
It's also recommended to keep your captions as captivating as your creative assets, so try out social media trends like emojis or hashtags. Elements like hashtags achieve two objectives at once: they help your posts get found in feeds while also catching your audience's eye. Here are some September social media hashtags to help you unleash your inner creative side:
#sunnyseptember
#septemberscenes
#senditseptember
#seeyasummer
#hellofall
#fallingforfall
#classinsession
#backtoschool
#hispanicheritagemonth
#hispanicheritage
#selfcare
#selfimprovement
#initiatethetailgate
#funandfootball
#footballsundays
#roshhashana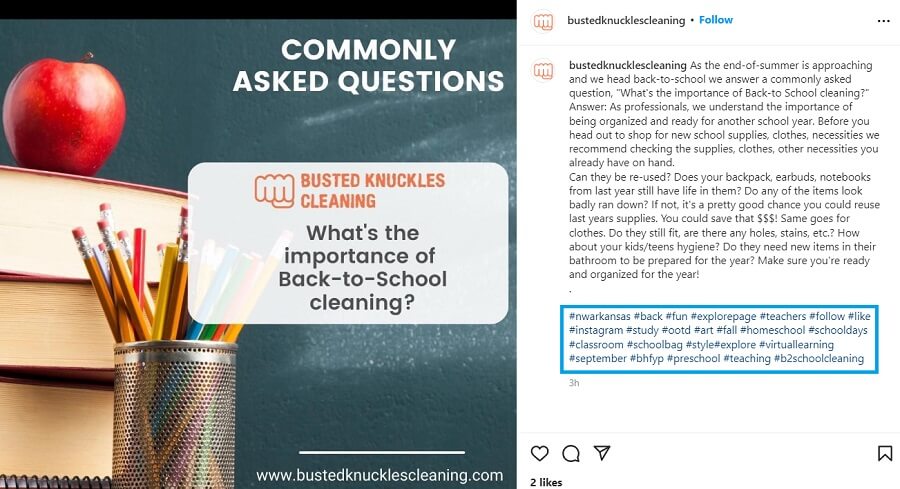 Related: Avoid these social media mistakes and find out what to do instead!
September social media holidays (with ideas and examples)
Check out these September social media holidays:
Classical Music Month
Classical music is one of the oldest genres out there. In fact, some of the earliest records of classical music date back to the year 1150. However, this September monthly observance came to be much more recently than that in 1994. Here's how your business can take advantage of Classical Music Month on social media.
Create a shareable playlist to enjoy with your brand community. Pick out some of your favorite classical tunes and organize them into a playlist under your business's name on any free public streaming platform. You can share the playlist on social media and have your followers join in on listening along with you. Plus, you can use the playlist to play in-store or in-office for an added dose of brand recognition.
Highlight an inspiring classical musician from the past or present. There are tons of classical musicians that your followers will love to learn about. This post is sure to be well-received by your followers since over 50% of social media users are on social platforms with the intention of learning something new.
Increase your post engagement by asking your followers to share their favorite classical music tunes. You can make those who comment feel like your business truly cares about each of your supporters by commenting back on each response.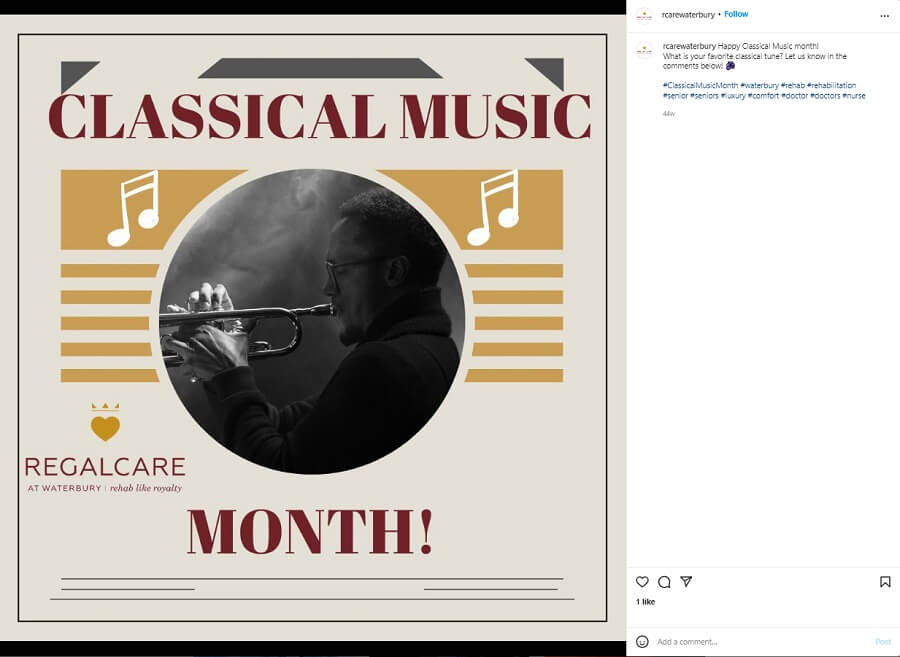 Hispanic Heritage Month
Hispanic Heritage Month runs from September 15 to October 15. It's meant to celebrate the rich history, culture, and contributions Hispanic American citizens have made to their communities. Hispanic Americans have ancestors from Spain, Mexico, the Caribbean, as well as Central and South America. This September monthly observance acts as an opportunity for your business to have a more inclusive marketing strategy. Here's how:
Invite a member of the Hispanic American community to do a "social media takeover." Do you have an employee, family member, or friend of your brand that proudly identifies as Hispanic American? Pass your "mic" off to them throughout September to discuss their favorite traditions, facts, and what it means to be Hispanic American to them. They could do posts or live stories that you can reshare all month long!
Take part in a Hispanic Heritage community event. There are tons of Hispanic Heritage events throughout the days of September and October, so see if you could become a sponsor or vendor at one of them. If you don't have the marketing budget to do that, volunteering at your local Hispanic American community center can be just as effective. However you choose to give back during Hispanic Heritage Month, be sure to take plenty of photos or videos. That way, you can share them on social media to inspire your audience to do their part as well.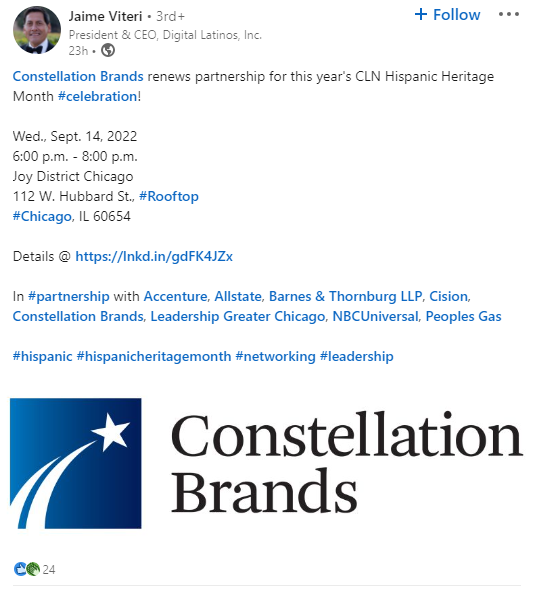 Self-Improvement Month
While it's okay to be content with how things are, there can always be room for improvement. Self-Improvement Month aims to remind us of that, and here are some ways you can improve your social media posts with these ideas:
Do a video walk-through of how your business has evolved. Have you made improvements to your products or services throughout the years? Or, perhaps, your business has improved its processes or workspaces over time. Whatever improvements you may have made, this September social media holiday is a great opportunity to combine your video marketing strategy with your social strategy. An educational video series can promote your business to prospective customers while staying festive for this monthly observance.
Provide tips on how your followers can start their self-improvement journey. Everyone needs to start somewhere. Your business can be that motivational entry point to inspire your followers to focus on their own self-improvement. A list of quick tips or a fun quote are good post types to start with when you want to share your own self-improvement recommendations.
Point out ways your product or service offering can play a part in your followers' own self-improvement journey for a promotional boost.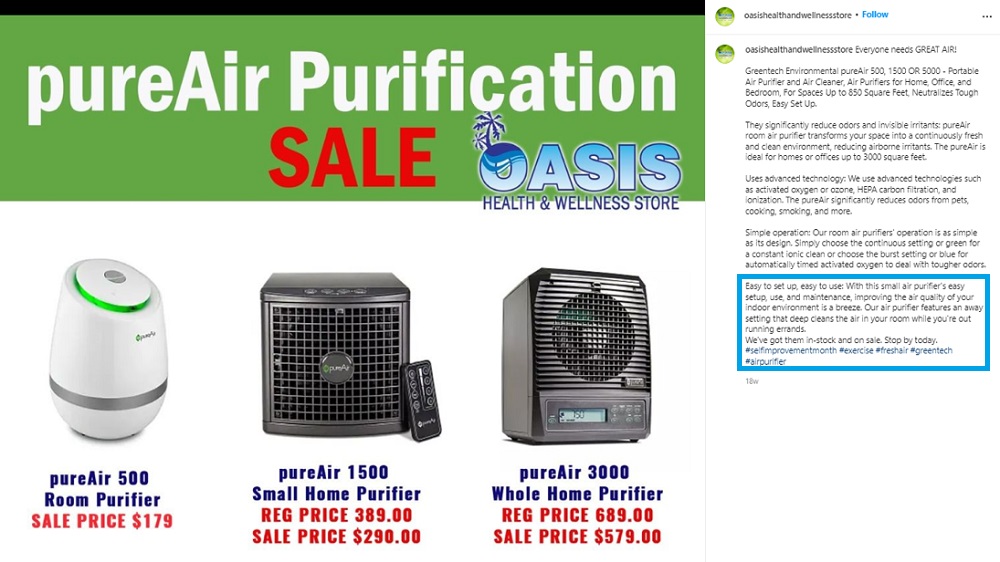 National Chicken Month
There isn't a ton of information on how National Chicken Month came to be, but we certainly don't mind it as a September monthly observance! Use this amusing theme to add a splash of fun to your social media posts:
Post a delicious chicken recipe. Your followers will eat up this type of social media content, especially since more than half of social media users hop onto social platforms to find new recipes.
Share chicken fun facts. Entertain your audience with some little-known facts about chickens to help your business stand out during this September social media holiday. For example, did you know that there are over 25 billion chickens in the world? That means they outnumber humans four to one!
Repost a funny chicken meme or video. It's a best practice to have a variety of content on your social media pages. In fact, the 4-1-1 rule says that for every self-serving, or "hard sell," post you have, you'll also then want to share one other "soft sell" relevant post as well as four other related "entertaining" posts. The set of four posts are often reposts, so resharing a funny chicken meme or video is the perfect opportunity to ease into this best practice.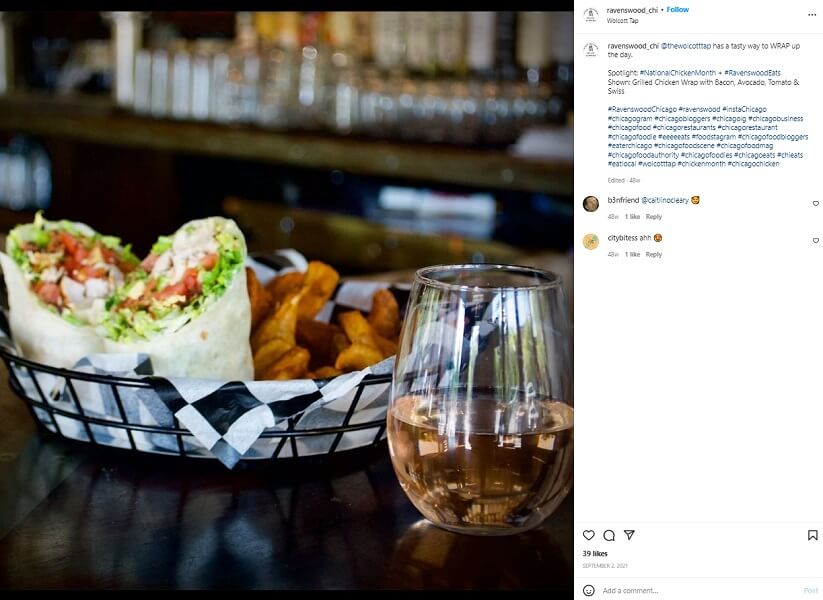 September 2: National Tailgating Day
Luke Lorick, president of the Tailgating challenge, started National Tailgating Day in 2016 to spread his love for tailgate parties. The purpose of this September social media holiday is to inspire sports fans to load up their trucks or cars with food and friends to go cheer on their favorite teams. Here are our top Tailgating Day ideas:
Post highlights from your own tailgate. Have you had a tailgate with your company, friends, or family before? Provide a recap to your followers to help give them ideas for their own football fun.
Share a go-to tailgate recipe. Fan food is arguably the best food. These days, the food on football Sundays can be as intense as the game! From buffalo chicken dip to the best steak tip marinade, to crispy potato skins, there are plenty of tailgate-related recipes your followers will love to see on your page.
Ask your followers to share their season predictions. September kicks off a long stretch of sports, starting with the end of baseball season while football, hockey, and basketball ramp up. Ask your followers to comment what their predictions are for your local team, and respond back with your own to boost your social media interactions.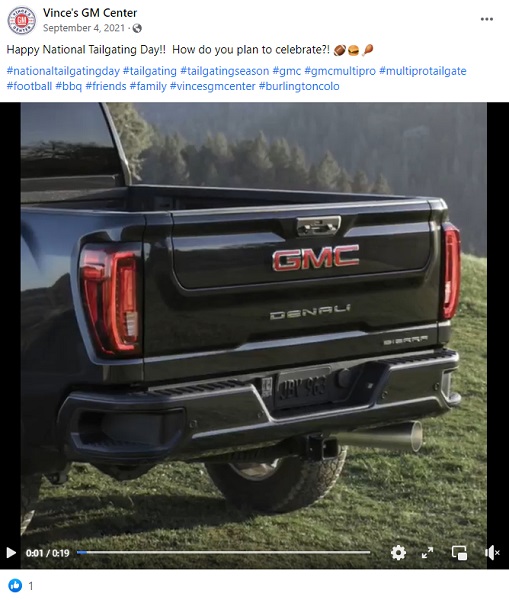 September 4: Labor Day
Labor Day is a major holiday your business definitely won't want to miss out on. Be sure to check out our entire post on Labor Day social media posts! In the meantime, here are a few Labor Day social media post ideas to get your long weekend social plans started:
Try a sweet and simple "Happy Labor Day" post. Your followers will be eager to get offline and enjoy the long weekend, so saving yourself time with a templated Labor Day social media post will be efficient and effective. When you wish your followers a Happy Labor Day, you're showing you truly care about how they spend this September holiday, so this post will be greatly appreciated.
Run a Labor Day social media contest or giveaway. A major holiday is a perfect opportunity to drive engagement with a fun game or contest. You could have your followers comment guesses on Labor Day-related trivia or enter a contest showing how they best spent their long weekend with a tag back to your business. In return, you could reshare the winner to your page and offer them a small gift card or incentive.
Build your employer branding by highlighting how you or your employees are spending the holiday. You could have your employees submit photos or videos of how they spend Labor Day to reshare on your pages.
Use Labor Day slogans to infuse some fun into a simple social post.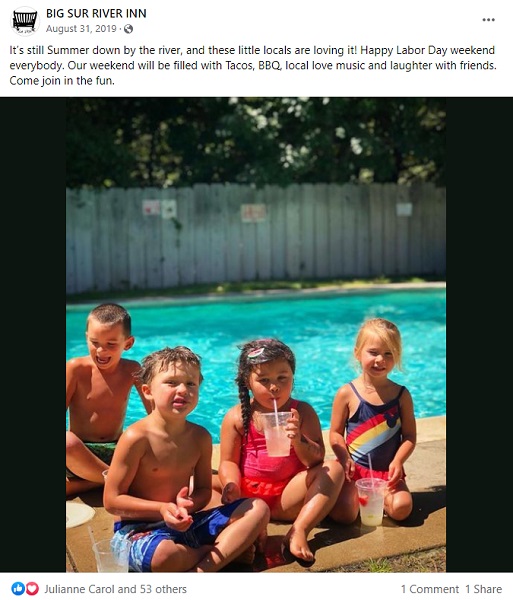 Related: Get more Labor Day marketing and promotion ideas and Labor Day subject lines here.
September 15: Online Learning Day
With all that happened due to the pandemic in the last couple of years, no one is a stranger to online learning these days. In fact, online learning has evolved quite a bit, and here is how your business can capitalize on this September social media holiday:
Create an educational video around your top product or offering. In the spirit of this September social media holiday, people will be eager to learn via social media. Use this as an opportunity to go into all the details of what your product or service offering does to help meet your customers' needs.
Share out online learning resources. There is always more to learn out there, so help your audience jumpstart their own online learning journey by sharing links or providing recommendations on online courses you love.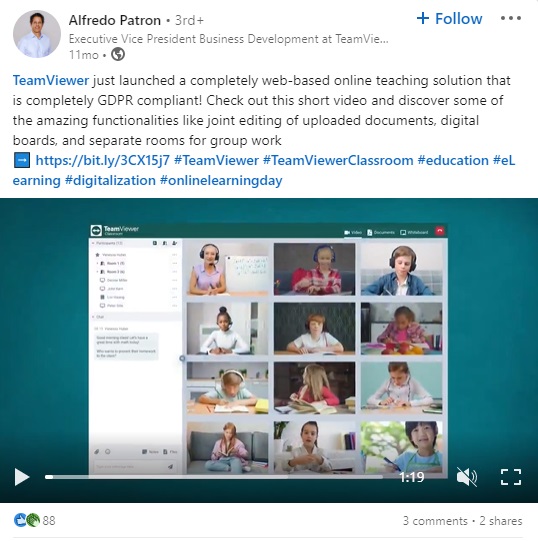 September 15-17: Rosh Hashana
Rosh Hashana is a religious holiday that signifies the Jewish New Year. For people of the Jewish faith, it is a time for reflection, prayer, and enjoying time with friends and family. Don't miss out on acknowledging this holiday on social media with these ideas:
Wish your followers a Happy New Year! Since Rosh Hashana is the Jewish New Year, this is a friendly yet simple way to honor the holiday.
Give insight into Rosh Hashana facts. Some of your social media audience may not be as familiar with Rosh Hashana, so take this as an opportunity to introduce them to all the cool history behind the religious holiday. For example, the first morning of Rosh Hashana will always fall on a Monday, Tuesday, Thursday, or Saturday. It will never be on a Sunday, Wednesday, or Friday since the Jewish calendar follows a specific rhythm.
Share a traditional recipe. The best part of any holiday is the food, of course! Rosh Hashana holiday feasts usually start with two loaves of round challah bread sweetened with raisins and dipped in honey. Find a similar recipe or other delicious, traditional treats to delight your followers!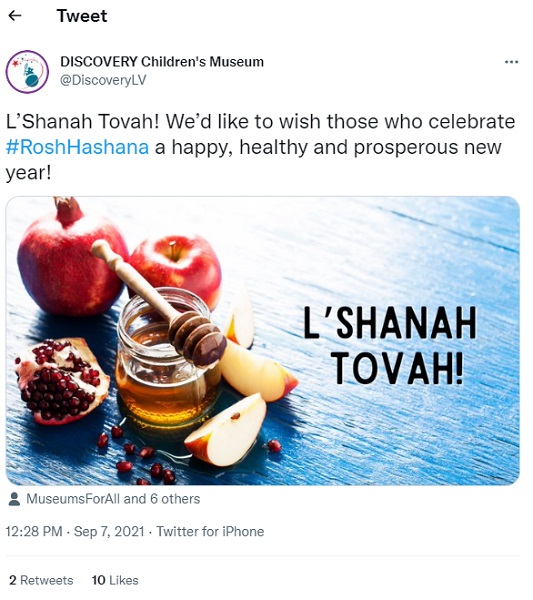 September 26: National Family Day
Without family, where would we be? Family is just as important to your followers as it may be for you, so here are some ways your business can show appreciation for family on social media:
Host an event filled with fun for the whole family. Whether your event is in-person or virtual, this is the perfect opportunity to bring your followers' families together for a special celebration of this September social media holiday. Be sure to share plenty of pictures and videos from the event, as well as tease the event leading up to the day, to squeeze the most out of this post idea.
Post a picture of your family. Your followers will be interested to get an inside look at the family behind your business, so sharing a simple picture of your family will go a long way on social media.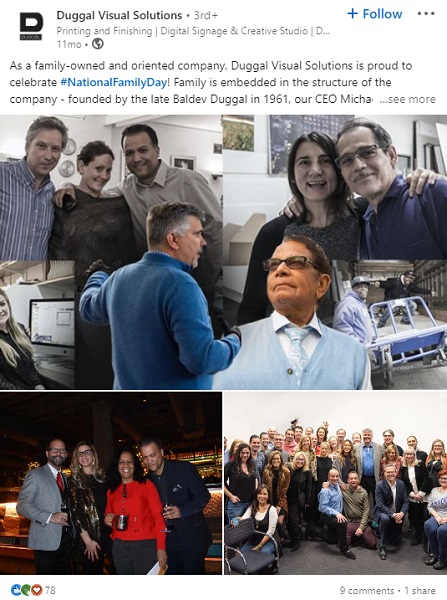 September 29: National Coffee Day
Believe it or not, National Coffee Day falls at the end of September because people historically needed that extra jolt to get them through the busy fall season. Liven up your social media feed with these National Coffee Day ideas:
Ask your followers what their coffee order is. Everyone likes their coffee a certain way, and in today's world, there are endless coffee combinations out there. Get your followers chatting in the comments about coffee by asking what their favorite go-to coffee is.
Promote a coffee-related limited-time offer. Limited-time offers are ideal for social media holidays like this because there are endless ways you can frame them. Whether you partner with a local coffee shop to offer a free gift with purchase, switch product colors to coffee color hues, or do other special promotions, you're sure to see riveting results.
Post a picture of your own cup of joe. Share with your followers how you start your day with a picture of your favorite cup of coffee, or whatever drink you prefer.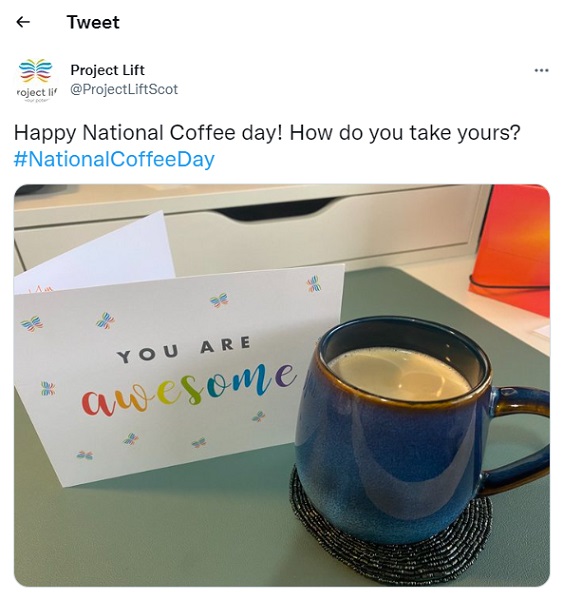 September 30: International Podcast Day
National Podcast Day was first celebrated in 2014, and podcasting has taken off since then! In fact, 55% of the U.S. population ages 12 and above listen to podcasts. There's no doubt your followers love podcasts, so here's how your business can take part in this September social media holiday:
Record a podcast for your business. Podcast marketing continues to be on the rise as one of the trendiest strategies for small businesses. Use this September social media holiday as an excuse to ignite your podcasting fire! You can try out podcasting by creating a single episode and promoting it across your social media marketing channels.
Repost a podcast you think your followers might love. If creating your own podcast doesn't feel feasible, you can always reshare a podcast that's relevant to your niche market.
Partner with a podcaster in your industry. If there's a podcaster that your target market might be listening to, see if you can partner with them for a social media shoutout or even a flow-blown advertising placement campaign.
Even more September social media holidays
Here are more September social media holidays you can frame your posts around:
Gynecologic Cancer Awareness Month
National Blood Cancer Awareness Month
National Childhood Cancer Awareness Month
National Childhood Obesity Awareness Month
National Mortgage Professional Month
National Self-care Awareness Month
September 1: World Letter Writing Day
September 2: National Food Bank Day
September 3: Skyscraper Day
September 4: International Bacon Day
September 5: Be Late for Something Day
September 5: Cheese Pizza Day
September 7: National Acorn Squash Day
September 7: International Day of Clean Air
September 7: National Beer Lovers Day
September 7: National Grateful Patient Day
September 8: International Literacy Day
September 8: World Physical Therapy Day
September 10: National 401(k) Day
September 11: National Grandparents Day
September 12: National Video Game Day
September 16: National Guacamole Day
September 16: Working Parents Day
September 17: Citizenship Day
September 18: National Cheeseburger Day
September 19: National Dance Day
September 19: National Women's Friendship Day
September 19: Wife Appreciation Day
September 21: First Day of Fall
September 21: International Day of Peace
September 22: Business Women's Day
September 22: National Singles Day
September 25: National Daughters Day
September 25: National Hunting and Fishing Day
September 25: National Lobster Day
September 28: National Women's Health and Fitness Day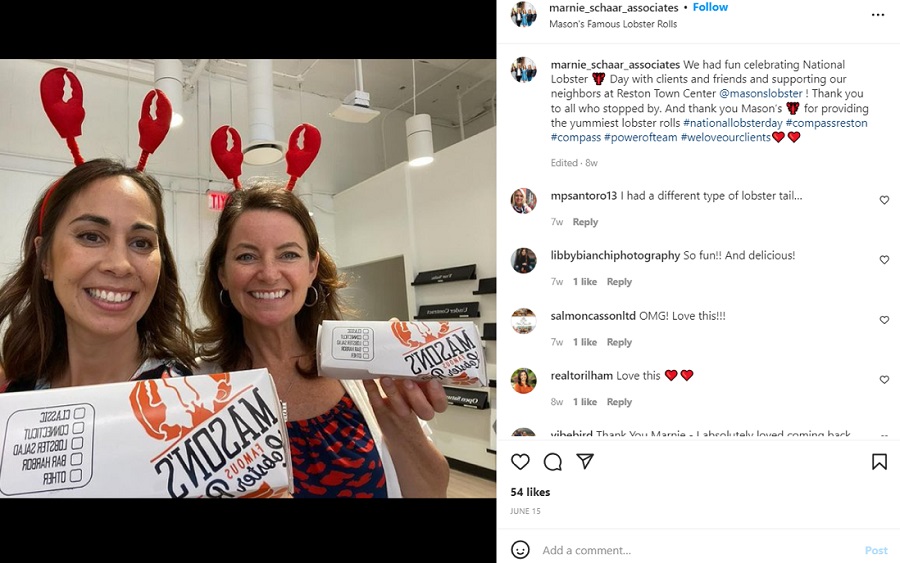 September 11 social media posts
A common small business challenge is knowing what to do on social media for memorial holidays, like September 11. Since this September observance is so sensitive, we thought it'd be helpful to do a separate section with a couple of ideas to help businesses navigate this day:
Remember and honor the day
The September 11 tragedy is one America will never forget. You might want to try posting a simple remembrance post that honors and thanks all the first responders who fought to protect the American people that day.
Choose not to post
Unlike all the September social media holidays above, September 11 is a somber occasion. So much so, that many people may find businesses trying to market during this day offensive. It can feel inappropriate to try and promote your brand on such a sensitive day. So, show your followers you respect their time to reflect by not posting at all.
Even more September social media ideas (not about holidays!)
If September social media holidays don't float your boat, there are plenty of other ideas you can frame your social media content around during this time of year.
Give company updates
September is often a month that people associate with starting fresh. Between a new school year, cooler weather upon us, and holidays coming up, there is lots your followers will be juggling this month. Let them know what they can expect from your brand in the coming months and use this post idea to showcase any new plans for the fall season.

Spice up your product positioning
The best part about September is that we can dive into fun fall flavors, scents, colors, and more. Switch up your product or service offer positioning by making it a fall-themed item to promote on social media throughout the season.
For example, if your dental marketing plans for summer have been pushing summer break appointments, you might want to adjust your posts to talk about flexible school-hour scheduling and any fall treats patients can get for coming in.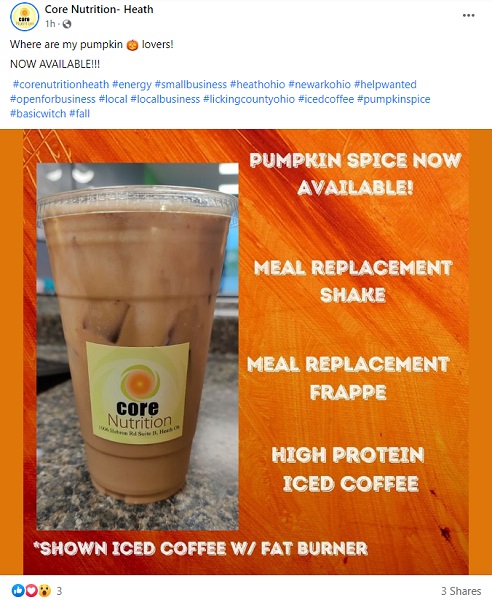 Try these fall slogans to help spice up your product positioning!
Recap your summer highlights
No doubt your business had a great summer—especially if you leveraged our other summer marketing resources, like our summer promotion ideas! End on a high note by wrapping up all your business's best summer moments.
Whether you share a series of photos, a slideshow video, or simply bullet out some of your brand's summer highlights, this will help your followers get a big-picture view of all your accomplishments.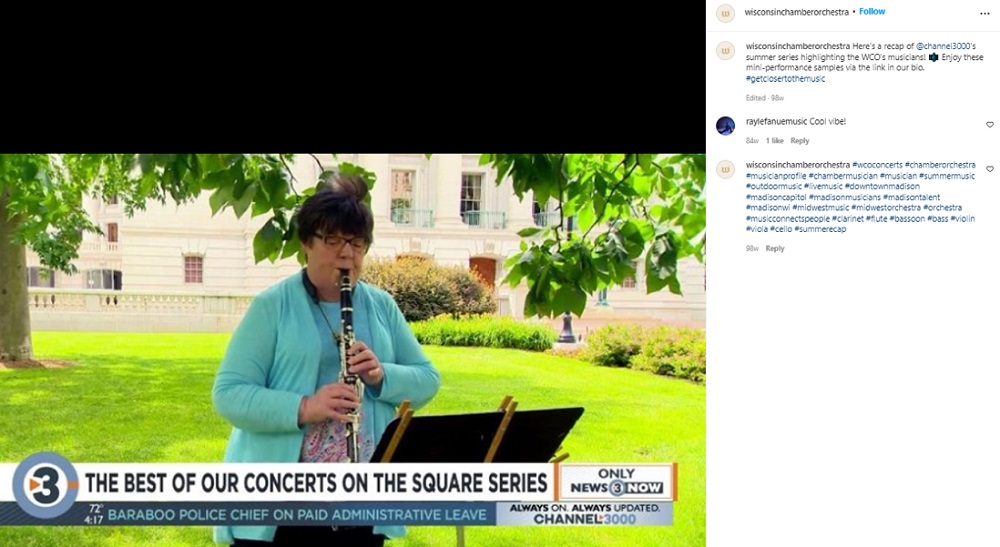 Use these September social media ideas to your advantage
Whether you're a seasoned pro, or totally new to local social media marketing, these September social media holidays and ideas provide the tools needed to post confidently and get results.
If you still feel like social media is a struggle, you're not alone! See how our solutions are here to help with experts ready to coach you through all your social media hurdles. Plus, be sure to check out our other free social media marketing resources (like our guide to simplified social media marketing) to squeeze the most out of your social strategy.