A live chatbot on your website is no longer a nice-to-have marketing tactic for your business, it's a must-have! In fact, over 40% of customers will expect a live chat feature on your website.

Chatbots can automatically answer customer questions, guide a user's navigation on your site, ask survey questions, upsell and cross-sell, generate leads, and more! With endless capabilities that help both you and your customers, it's no wonder that the global chatbot market will reach over $994 million by the end of 2024. However, some chatbot use cases are better than others.
Understanding the risk versus reward of using different types of chatbots is key to unlocking live chat success for your business. Luckily, today's chatbot statistics can help!
Table of contents
Our best chatbot statistics
Let's kick off our list of chatbot statistics with our top picks that demonstrate all the reasons to use live chat for your business:
1. The number of websites and apps that offer a chatbot experience has increased by 92% in recent years.
The fact that the number of businesses using chatbots is increasing aligns with the overall projected growth of the global chatbot market. Basically, more and more businesses are starting to use live chat on their sites. So, if you haven't yet added live chat to your business's website, you'll likely want to this year.
2. 68% of people enjoy the speedy replies chatbots provide.
While a speedy response was the primary cause behind positive customer chatbot experiences, customers also reacted positively to chatbots that were available after hours and offered connection to a live representative.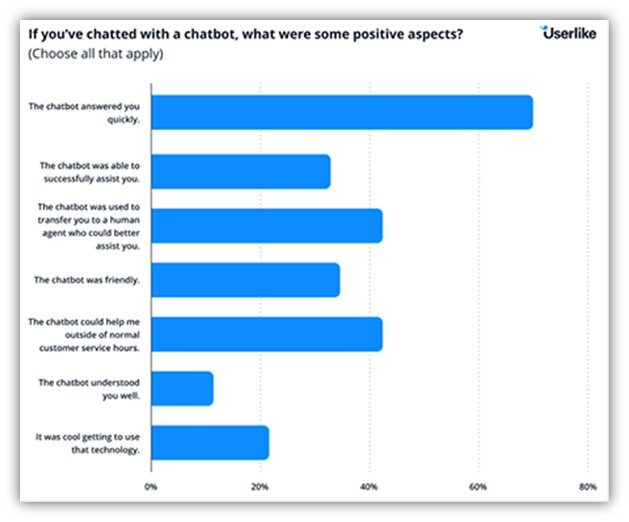 3. 33% of consumers find their live chat experience to be "very effective" at resolving their issues.
Meanwhile, 54% of customers found their live chat experience to be "somewhat effective" and only 13% reported it to be "not at all effective."
4. More than 90% of consumers think that businesses should use chatbots.
This chatbot statistic proves that customers also think it's a good idea for businesses to implement live chat on their site!
5. Businesses that use chatbots see a 67% increase in sales.
If increasing sales is a key marketing goal for your business, using a chatbot to proactively upsell or cross-sell customers can make an impact. Chatbots can also catch cart abandoners before they leave to help your business close more sales.

6. 57% of businesses state that chatbot usage results in a significant ROI with minimal investments.
One of the biggest benefits of live chat for businesses is that it doesn't take a ton of time, marketing budget, or other resources to implement. There are plenty of live chat options out there to fit business needs of all shapes and sizes.
7. Chatbot conversion rates can be as high as 70% for businesses within certain industries.
For some industries, such as ecommerce, chatbots can be particularly effective since they alleviate many customer service needs. This chatbot statistic could also ring true for service-based businesses since chatbots can help guide customers in selecting the correct types of appointments or service offerings.
8. Adding live chat to a business's website can increase total conversions by 12%.
Website conversions are a core marketing metric for many marketing channels, such as SEO, search ads, and more. You likely don't want to only increase traffic to your website, you also want to convert those website visitors into customers. One way to do this is to leverage a chatbot to increase your website's overall conversion rates.
🖱Get more chatbot users with our free guide on increasing traffic to your website!
9. Over half of businesses using chatbots find that they're generating more high-quality leads.
Calling all service-based businesses! If generating leads is a constant challenge for your business, live chat can be the solution. This live chat statistic proves that chatbots not only increase your overall number of leads but more importantly, the quality of those leads as well.
10. Chatbots saved businesses approximately 2.5 billion hours of work in 2023.
Since chatbots are an example of using AI in marketing, this chatbot statistic doesn't come as a total surprise. We already know from popular AI statistics that AI, in general, improves business processes and productivity. It also cuts down the time spent on campaign planning and execution. However, chatbots are the main contributor to this overall AI trend since they replace the manual hours of labor a customer service employee might work.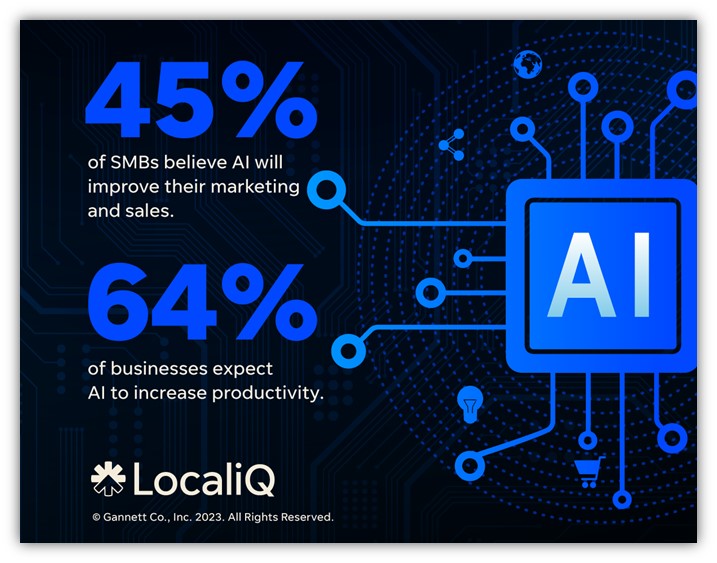 Get the full version of this AI statistics infographic here.
Stats that show how effective chatbots are for your business
Here's how businesses are approaching chatbots in marketing:
11. Businesses that provide more engaging, high-quality chatbot experiences see 70% more customers interacting and responding to them.
If you're thinking of adding live chat to your business's website, or already have a chatbot you're looking to improve, be sure to prioritize high-quality, personalized scripts to engage your customers.

12. 36% of businesses use chatbots to improve their lead generation strategies.
Similar to how businesses use chatbots to improve sales, chatbots have been proven to be effective at generating more leads for your business.
13. 64% of businesses believe that chatbots allow them to provide a more customized support experience for their customers.
Personalization is a proven way for your business to provide a better customer experience. Chatbots can do just that by providing tailored responses to varying customer needs.
14. Businesses handled 75-90% of customer queries using chatbots in 2023.
If your business is dealing with a lot of customer questions popping up, chatbots can answer the majority of them for you. This chatbot statistic can be especially encouraging for businesses struggling to keep phone lines and email inboxes clear.
15. About 3 in 4 companies were satisfied with the results of implementing chatbots.
When businesses prioritize the quality of the chatbot they're implementing, they'll likely see better results. Try to look at a few different chatbot options to see which one might work best for your unique business needs.

16. Upselling chatbots are the most common type of chatbot, with 20% of businesses currently implementing them.
The most popular type of chatbot amongst businesses is an upselling chatbot, followed by:
Discount chatbots: 14%
Abandoned cart chatbots: 11%
Chatbots for ordering phone calls: 11%
Lead generation chatbots: 10%
Customer satisfaction survey chatbots: 6%
🌱 Consider all the ways you can grow your business using chat with our complete list of 30+ ways to promote your business.
17. 39% of all chats between businesses and consumers involve a chatbot.
When a customer is looking to speak with a business, odds are, a chatbot will be involved!
18. By 2027, chatbots will be the primary customer support channel for a quarter of all businesses.
While there may be some businesses that are still considering live chat for their site currently, eventually a vast majority of businesses will be primarily using chatbots to solve customer pain points.
19. Businesses that use chatbots save an average of $300,000 per year.
If your business is working with a small marketing budget, that's okay! Live chat still may be worth the investment now as it's been proven to save your business money in the long run.
Statistics that show how customers are using chatbots
Get into the mind of your target market with these consumer-related chatbot statistics:
20. 96% of consumers have heard about chatbots and know what they are.
If you're worried your customers may feel unfamiliar with your site's chatbot experience, that's likely not the case. In fact, almost all customers have experience with chatbots.
21. 35% of people use chatbots to resolve a complaint or problem, or for getting detailed answers.
Interestingly enough, customers are looking for more detail in their chatbot answers than they'd typically get from a live representative.

22. 40% of consumers have no preference when it comes to engaging with a chatbot or a human for help, as long as they receive the support they need.
A common concern with live chat is whether it's a lower quality experience for customers compared to a real employee. However, this chatbot statistic disproves that, since nearly half of all consumers don't have a preference and would be happy to work with a chatbot if it gave them the support they needed.
23. Only 1% of customers rated their last interaction with a chatbot as negative.
While all chatbots might not always be able to answer every question a customer could have, nearly 100% of chatbots are still helpful enough to yield positive customers interactions.
24. Once the customer service line wait time exceeds 15 minutes, over two-thirds of customers would rather talk to a chatbot over a human agent.
With this chatbot statistic, you can infer that 15 minutes is the customer service wait-time threshold for most customers. If you find your business typically exceeding this amount of time to resolve customer issues, you may want to consider a chatbot.
25. 90% of customer questions get answered by chatbots in 10 messages or fewer.
With businesses seeing on average 14% more customer support requests year over year, every chatbot message counts!
26. Consumers who chat with a chatbot are 2.8 times more likely to convert.
Try to include a few prompts in your chatbot for customers who may have spent a certain amount of time on your site or abandoned an item. This chatbot best practice can help you convince on-the-fence customers to convert.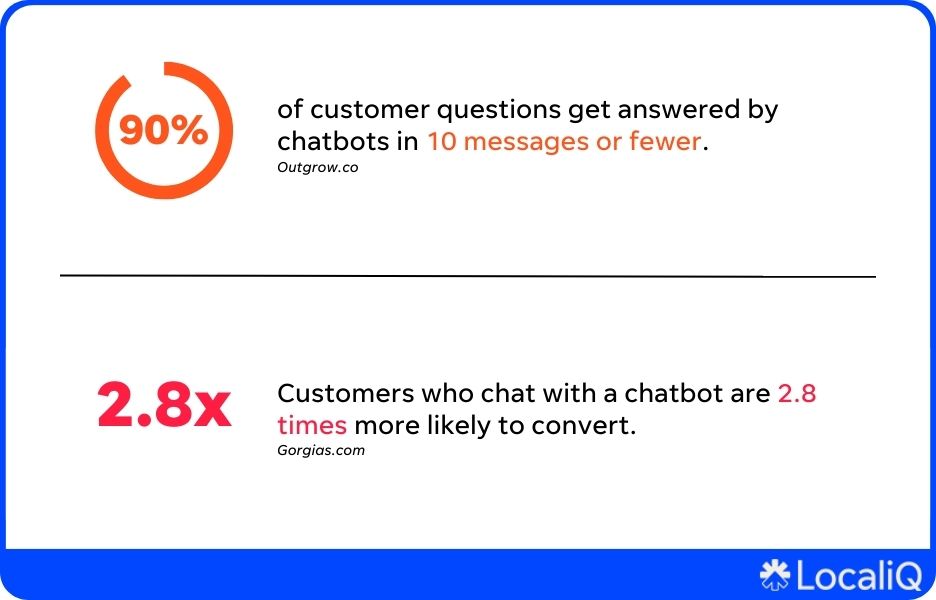 27. Most problems on live chat are resolved in 42 seconds.
Chatbots being able to resolve most problems in well under a minute is beneficial to both busy businesses and busy consumers.
28. When customers want to contact a business, 42% prefer to use live chat.
Most people can agree they'd rather send a quick text, email, or social media direct message than make a phone call. According to the above live chat statistic, the same concept applies to customers interacting with your business! As for other forms of communication with your business, only 23% of customers prefer using email and 16% prefer social media.
Even more chatbot statistics
Looking for even more chatbot statistics? We've got you covered:
31. The average length of a chatbot conversation is five or six messages.
Although nearly all customer queries get solved by a chatbot in 10 messages or less, the typical chatbot conversion length is usually shorter than that.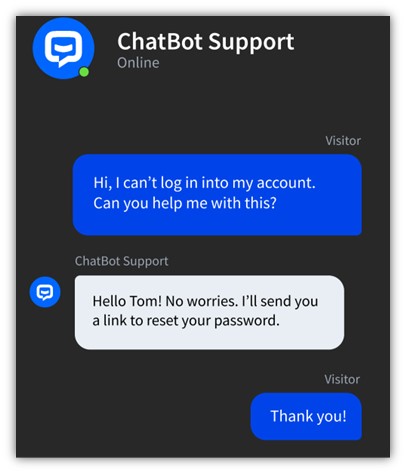 An example of a quick chatbot conversation. 
32. 1.4 billion people use messaging apps and are willing to talk to chatbots.
Odds are, your customers would be open to using your business's chat feature, and they're likely already using similar apps.
33. 40% of millennials claim to engage with chatbots on a daily basis.
If your target market is millennials, they're one of the demographics that interacts with chatbots the most!
34. Ecommerce stores adopting Facebook Messenger along with an abandoned cart chatbot have started to boost revenue by 7-25%.
The Meta business suite allows businesses to automate their Facebook and Instagram message replies—similar to live chat on a business's website. You can try this in tandem with your site's chatbot to stay on top of cross-channel sales.
35. 58% of businesses that use chatbots are B2B.
Chatbots are often thought to primarily benefit businesses selling directly to consumers, but B2B businesses can also connect with key decision-makers via chatbots.
36. The industry that implements chatbots the most is real estate with 28% of real estate businesses using live chat on their site.
Real estate was followed by:
Education: 14%
Travel: 16%
Healthcare: 10%
Finance: 5%
What these chatbot statistics mean for your business
Ultimately, it's up to you to decide if live chat is the right marketing tactic for your business. However, these chatbot statistics show that the benefits of live chat likely outweigh the costs. Just be sure to monitor and test your chat regularly to ensure the highest-quality conversations possible. If you want help making the most out of live chat for your business, see how our solutions can help!
For more marketing statistics and data, check out these resources: