Pumpkin-spiced lattes, apple cider donuts, fuzzy wool sweaters, and copious amounts of plaid—there's a lot to love about the fall season. And if you're a business owner, you can add another fall benefit to your list: It's the perfect time to develop seasonal marketing messaging for your brand!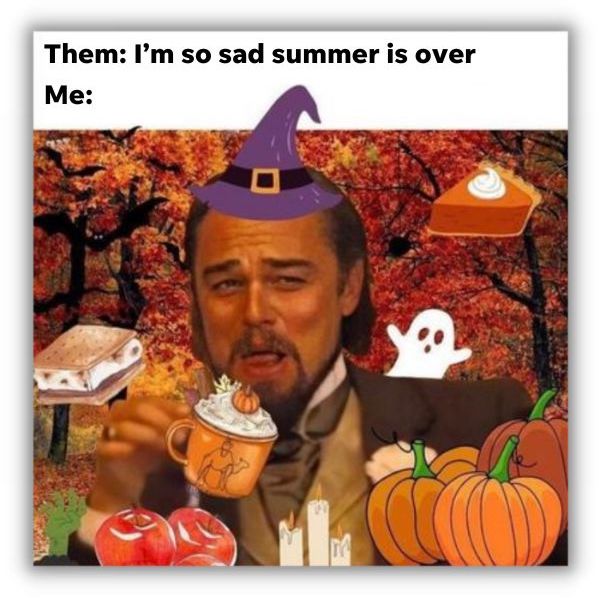 Really, any time of year comes with the opportunity to craft seasonal messages, but the fall is an especially fruitful time to create slogans that speak to the season. Not only can you lean into the fun and festivity of fall, but you can also lay the groundwork for your holiday messaging to ensure you end your year on a high note!
Ready to write some fall slogans for marketing and advertising your business? Let's dive into it. We'll explore the benefits of seasonal marketing, what themes and holidays you can leverage during the autumn months, and how to apply them to your business.
Why should your business use fall slogans?
The short answer to this question is, "Because they work!"
Seasonal marketing is a way to add some (pumpkin) spice to your usual communications. Variety in your messaging can help you catch a reader's eye. While someone on your email list might skim right past a more generic subject line, if you say something clever or different, they just might stop and click.
Gaining more attention and a higher click-through rate is especially crucial leading into the holiday season—a time when recapturing attention can lead to big revenue gains. Last year, Americans spent $9.12 billion online on Black Friday alone. Getting in front of consumers during the fall can position your business to benefit from the holiday shopping frenzy.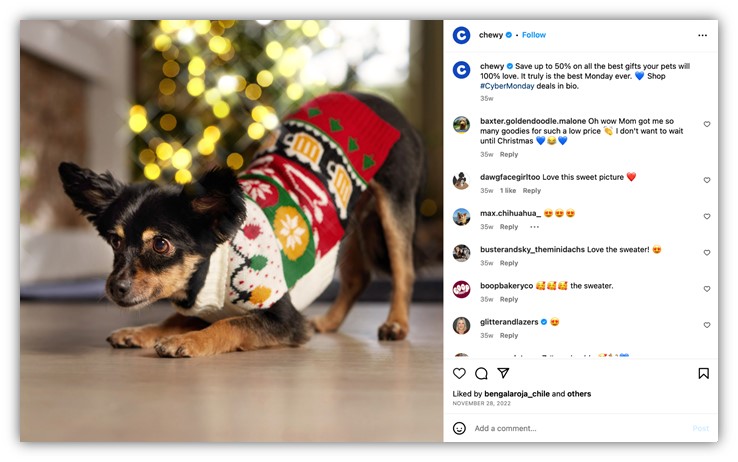 You don't need to be a seasonal business to employ seasonal marketing slogans. Of course, if you sell pumpkin spice anything or manage an apple orchard, incorporating fall slogans into your marketing and advertising should be a no-brainer! But the tactic can work for businesses across industries. Creating playful fall messaging can help any company show off its personality and generate positive feelings toward the brand.
Fall slogans for marketing and advertising
Without further ado, let's fall into this list of slogans! (See what we did there?) Here are some fall slogan ideas to help get you started with your seasonal marketing this autumn.
General fall slogans for any business
These autumnal slogans are multi-purpose. You can use them to promote a sale, celebrate a fall holiday, or tell your audience what they'll see from your brand this season.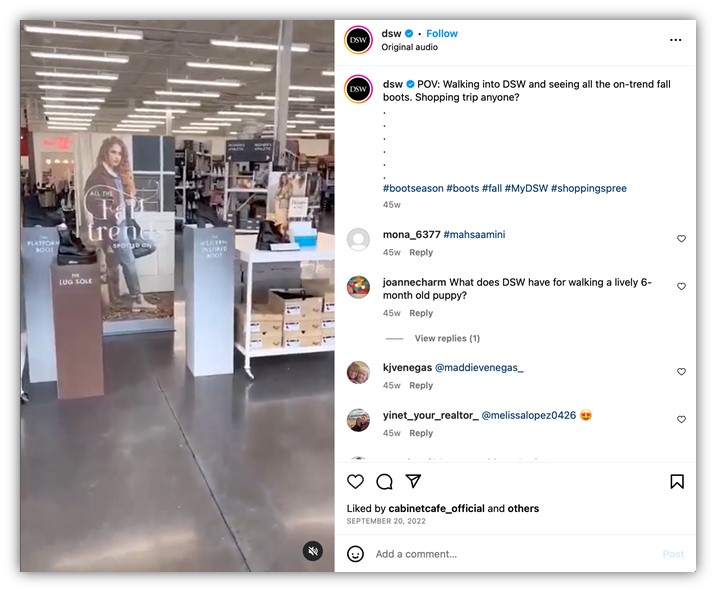 Happy fall, y'all!
Fall is in the air
Gourd-geous
You're the apple of my eye
It's pumpkin spice season 🎃
Pumpkin spice and everything nice
Spice up your life
Sweater weather is here
Fall back with us
Warm up with us
Winter is coming
Fall slogans for sales and deals
If you're offering a fall deal or promotion, these marketing slogans can help you spread the word! Remember to advertise your offer in advance and continue your messaging through the end of the sale to get the most mileage out of your autumnal deals.
Cozy up to these deals
Fall into 15% off
A cornucopia of deals
It's chilly outside, but our sale is heating up! 🔥
Leaves are falling, just like our prices
Shorter days, bigger deals
Touchdown! Score big deals in-store Sunday
Preview our Black Friday deals
Shop Small with us this Saturday
Fall slogans for holidays and observances
Whether you're looking to celebrate an official fall holiday or want to lean into messaging for one of the many national days celebrated in autumn, these slogans can help you do just that.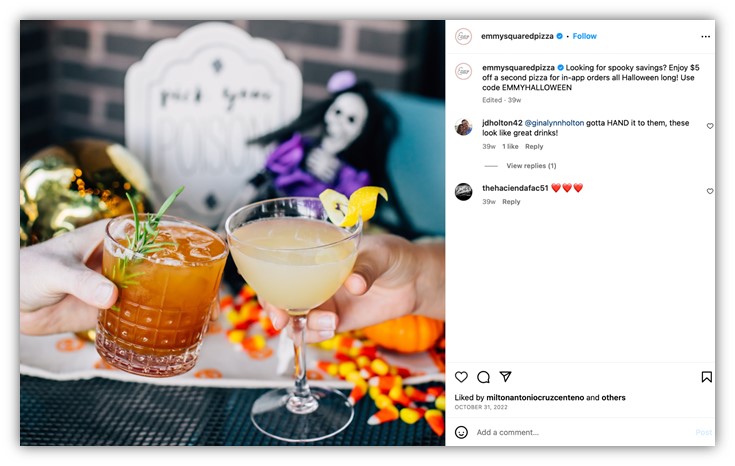 Celebrate the first day of fall with us!
Spooktacular savings 👻
Boo! Scary-good sale happening now
We're honoring veterans this November
Gobble, gobble! We've got Thanksgiving specials
We're grateful for you ❤
Carve a pumpkin with us this National Pumpkin Day
How to create your own fall slogans
Lucky for you, the fall season provides dozens of sources of inspiration for creative marketing and advertising slogans. With so many options, there is certainly one that will align with your business. Aside from our fall slogan ideas above, you may also want to brainstorm your own unique sayings for the season.
Here are some universal sources of inspiration for autumnally-appropriate messaging, but don't hesitate to think about fall puns or jokes that are specific to your industry, region, or audience.
Frame your fall slogans around themes and sayings
Autumn is a season that comes with its own slogans and themes built right in! These fall expressions can be a source of inspiration for your brand's seasonal marketing messaging.
Consider incorporating these ideas into your copy—there may even be a clever twist on a theme that suits your specific business or industry.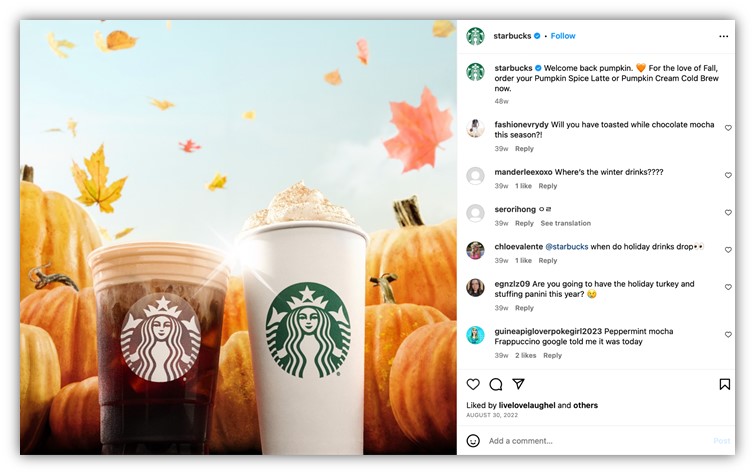 Starbucks is the undisputed champ of pumpkin spice-related fall marketing. Source
Some themes that can inform your fall slogans for marketing and advertising include:
Sweater weather
Pumpkin spice season
Spooky season
Leaf peeping
Cuffing season
Football season
Back-to-school
End of daylight savings time/"falling back"
Pre-holiday, nearing the end of the year
Incorporate fall holidays into your slogans
While the real holiday season kicks off with Thanksgiving, autumn has plenty of its own holidays that your business can shout out and celebrate.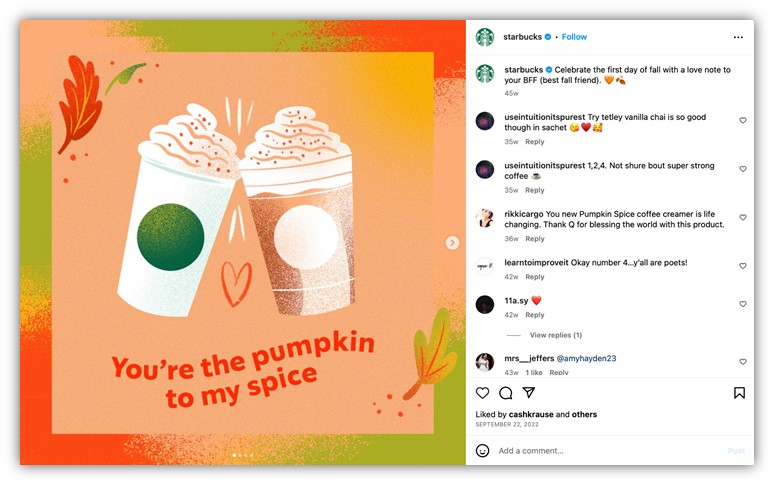 Starbucks created some cute fall-themed messages, encouraging followers to celebrate the first day of fall with their BFF. Source
Here are some days to circle on your calendar:
Labor Day (first Monday in September)
Hispanic Heritage Month (starts September 15)
Autumnal Equinox (September 22 or 23, depending on the year)
Halloween (October 31)
American Indian Heritage Month (starts November 1)
Veteran's Day (November 11)
Thanksgiving (fourth Thursday in November)
Black Friday/Small Business Saturday/Cyber Monday (immediately following Thanksgiving)
Use fall observances and national days for slogan inspiration
The list of days you can shout out in your fall slogans for marketing and advertising doesn't end with holidays. Dozens of observances and national days fall within the autumn months.
Many of these national days were developed with marketing in mind, so why not take advantage of them in your business's messaging?
Look through the national day calendar to find ones that align with what you do. Again, there's likely a national day out there for you, and with so many falling during the autumnal months, there's probably one you can tap into this season.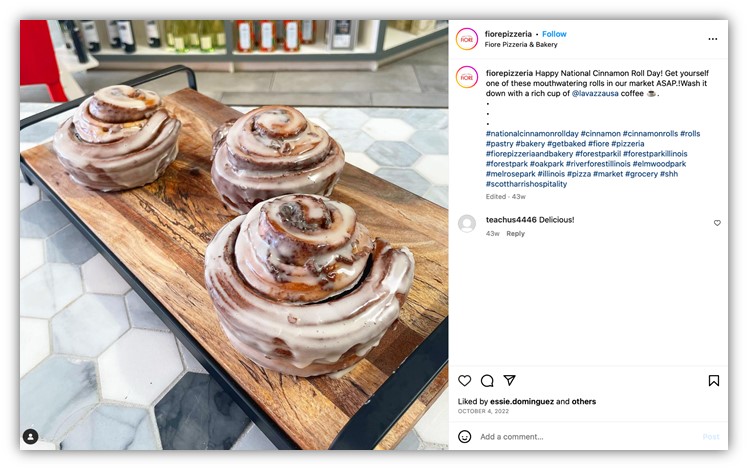 Who can resist an invitation to celebrate National Cinnamon Roll Day?! Source
Here are a few examples to help get you started:
National Cheese Pizza Day (September 5)
National Teddy Bear Day (September 9)
Talk Like a Pirate Day (September 19)
National Coffee Day (October 1)
National Taco Day (October 4)
National Pumpkin Day (October 26)
National Stress Awareness Day (November 1)
World Kindness Day (November 13)
Find out what other holidays and observances you can take advantage of this year using our free
marketing calendar
.
5 ways to use your fall marketing and advertising slogans
Creating fun fall slogans for your marketing and advertising is great, but you want to do so purposefully. Where and how do you plan to use these marketing slogans?
Once you've established which slogans you might want to use, here are some fall promotional ideas to help you gain attention for your business.
1. Announce a seasonal deal or sale
There's never really a wrong time to run a sale for your business. Still, between holidays and observances, fall provides plenty of natural opportunities for you to offer a deal or promotion.
If you wish to tie your fall deal into an observance, find one that suits your business. A pizza parlor, for example, might offer a discount on National Cheese Pizza Day. A barbershop might run a promotional deal on beard trims the week before No-Shave November officially begins.
You can also tie your fall sale into an actual holiday. Black Friday deals are an obvious opportunity for retailers, but any holiday is a chance for a business to offer a discount.
2. Host a fall contest or giveaway
Contests and giveaways are a way to build awareness for your business. An online contest can help you increase your follower count, while an in-person giveaway can drive foot traffic to your location.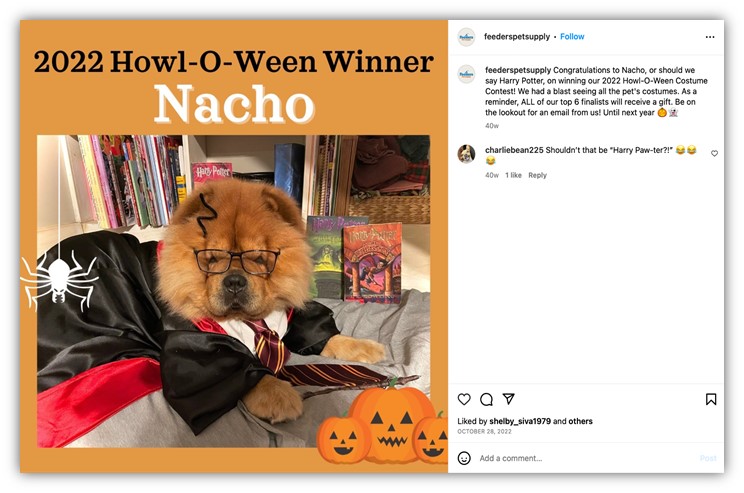 A Halloween costume contest is a great way to encourage engagement with your social media. Source
Fall provides plenty of opportunities for businesses to run a contest or giveaway. Designing a Halloween costume contest is a strong option for any business. A veterinary clinic might invite customers to post pictures of their pets in costume, with social media followers voting for their favorites. A coffee shop might offer a free Halloween donut to anyone who arrives dressed up on October 31.
3. Throw an autumnal in-person event
Fall is an excellent season for running in-person events. There's a lull between summer vacation travel and holiday trips to visit loved ones, meaning people are around and looking for things to do!
Consider hosting an autumnal-themed event at your location to get people through the door. A craft shop might host a knitting event where people can learn to make a beanie or mittens. A toy store might invite families to stop by for a Halloween party with games and trick-or-treating.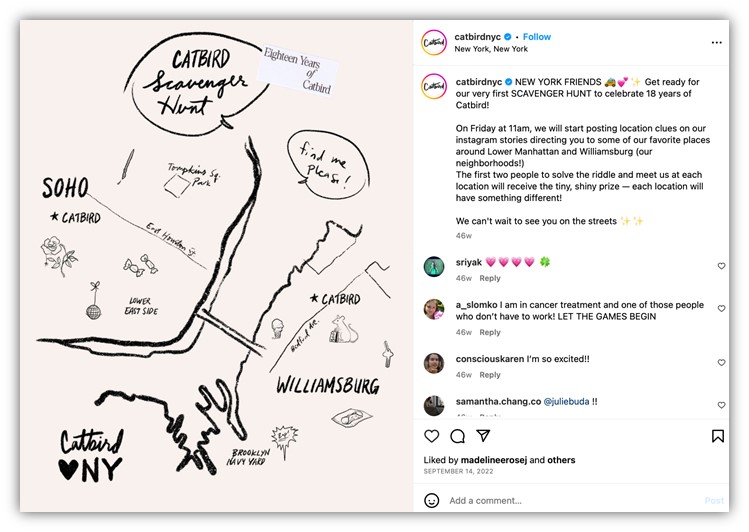 Jewelry brand Catbird hosted a scavenger hunt to celebrate its 18th anniversary – a creative idea perfectly suited to NYC fall weather! Source
You might also consider participating in local fall events. If your town is hosting a fall festival or downtown businesses are uniting to offer trick-or-treating for local kids, be sure to tell your audience that you're taking part in the event! Send them an email in advance (with your clever fall marketing slogan), and invite them to stop by and say hello.
4. Send some fall marketing emails
Email marketing remains a perennially effective marketing tactic, and you don't need a fall offering or promotion to send fall-themed emails.
Of course, if you are selling an autumnal product, there's an obvious opportunity to tie that in with your messaging—the clothing retailer might call out Sweater Weather-worthy new tops; the bath and beauty store might tout its pumpkin spice-scented body spray.
However, any business can use more generic fall messaging to capture readers' attention and drive email clicks. "Fall for our new products" works for any business, regardless of their ties to the season.
5. Create fall social media posts
Social media is very trend-driven, so seasonal messaging is a natural fit for the medium.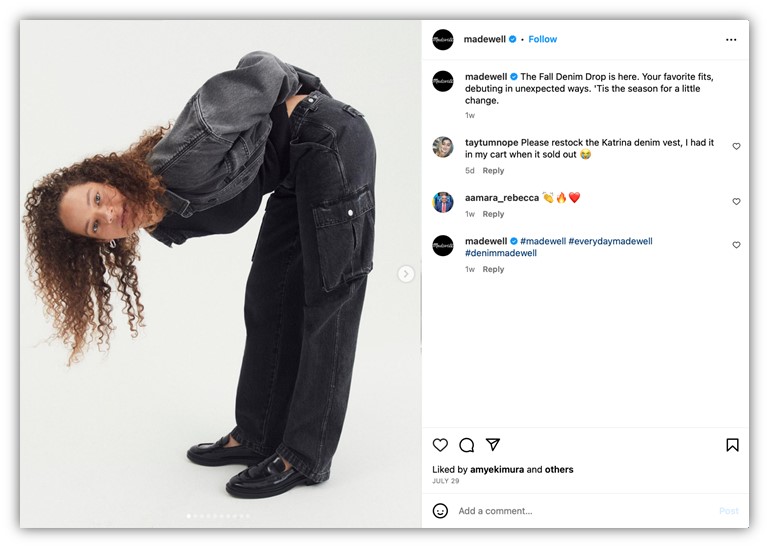 You can have fun with your autumnal messaging on social media. Don't think that fall slogans must be limited to the written words on your social media posts. Think outside the box and create gifs, memes, and even short videos that tap into the season's vibes.
If you're looking for specific ideas to flesh out your posting calendar for the fall, check out this month-by-month breakdown of social media ideas for September, October, and November.
Fire up your fall slogan-fueled marketing and advertising campaigns
Now is the ideal time to get hyped about creating fall slogans for marketing and advertising your business. Make the most of the cornucopia of autumnal themes, sayings, and holidays to craft messages that get attention and drum up interest in your brand leading into the holiday season.
Looking for more seasonal slogans and marketing ideas? Check out the following: