February is my least favorite month. To all February Aquarius or Pisces folks out there, I'm sorry. But between recovering from the holidays, unpredictable weather, and fewer days than every other month, why would I like February?
However, if I were a small business owner, I might change my opinion. February is the perfect month to fire up your marketing after you've settled in for the new year. The trick is to be strategic with your approach to make the most out of this short month.
And email marketing is just the thing your business needs this February as it's vital to small business success throughout the year. In fact, studies have shown that emails sent during winter drive the most traffic to your website. Plus, with about 347.3 billion emails being sent per day in 2023 and 64% of small businesses already leveraging email marketing, you won't want to miss out on this February marketing channel. Yet, those numbers also indicate that competition is high, so you'll want to give your email copywriting some extra TLC this month to help your business stand out.
We'll explain how you can make it happen by exploring questions like:
Why are your business's February email subject lines important?
Are there any February email subject line tips you should keep in mind?
What are some February email subject line ideas fit for your business?
By the end of this post, you'll be lobbying to make February the official favorite month of small businesses that use email marketing.
Related: Looking for a broader marketing plan fit for the whole year? Download our free 2023 marketing calendar jam-packed with ideas.
3 quick February email subject line tips
Here are few ways you can maximize the success of your February email subject lines:
1. Include a clear call to action (CTA)
A solid CTA can make the difference between a good subject line and an amazing subject line. Make sure your audience knows the action you'd like them to take upon opening your email. This can heighten your chances of converting recipients into customers.

2. Match your subject line to your landing pages
Whatever you promote in your February email subject line should be consistent with content you're promoting elsewhere. For example, if you're looking to increase traffic to your business's website with your February emails, you'll want both your email and website copywriting to align.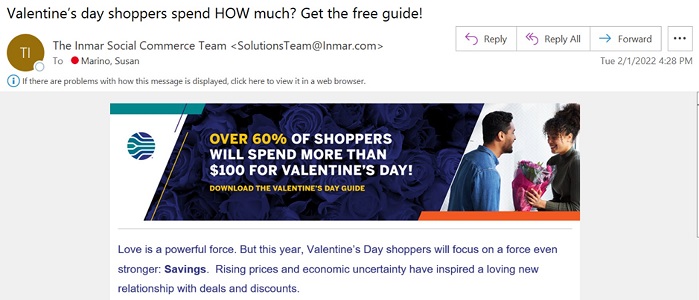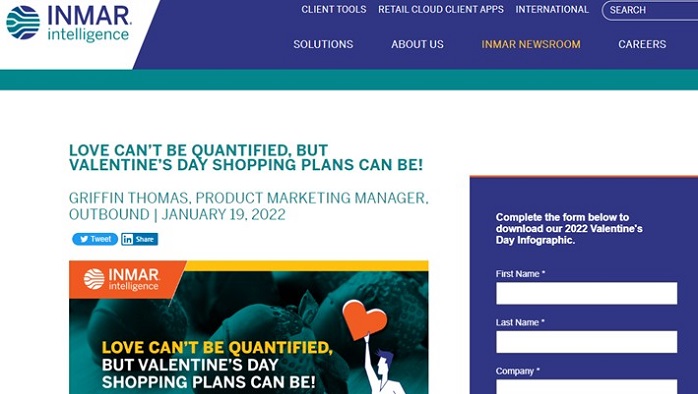 This brand's seasonal email and coinciding landing page are tightly aligned.
3. Be creative
47% of recipients decide to open an email based on the subject line alone. Plus, 33% will open an email simply because they think the subject line is catchy.
Try to tailor your February subject lines around what would appeal to your target market. This might mean using clever language, like rhymes, puns, or other attention-grabbing tactics. Use our ideas below to source inspiration for unique February subject lines that will help your email marketing campaigns take off!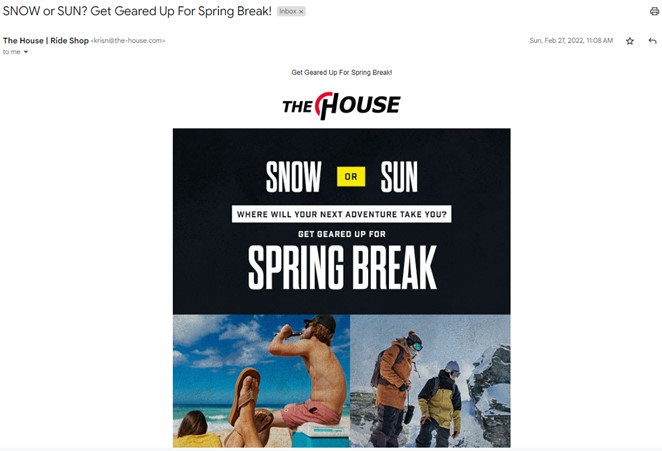 February email subject line ideas for any business
Whether you're a multi-location franchise, an at-home start-up, a local shop, or in any niche market in between, these February email subject lines are sure to catch your recipients' attention:
Freeze! February Offers Incoming
Abel, Join in on Our February Fun!
🤓find February deals here
Lori, Look No Further This February!
February Flurry of Excitement at Rand's Local
Why February is Our Favorite Month…
We're Putting on Our February Best. Check Us Out!
.. It's Already February?
February: both the shortest and longest month of the year
R-YES-V-P to our fabulous February events
Meri, Here's to Still Processing Last Year…
Dwight, How Are Your New Year's Resolutions Going?
Spring is Coming, Are You Ready?
Winter is in Full Effect: How to Deal
Find Us in February for a Special Surprise
Follow Our Page in February & Get 10% Off!
Plant ahead for spring in February🌱

February email subject lines to boost your sales
Email subject lines for sales can often be a challenge for small businesses since they must strike a balance between encouraging purchases without being too pushy. Try these sales email subject line ideas to help:
February Flash Sale! 20% Off
We've Got Sales to Make You Melt
Fresh Year = Fresh Products! Buy Now
Fresh Year = Fresh Deals! Shop Now
Larry, February Finds to Buy ASAP!
Shop now, pay later all February long
We're defrosting our prices!
Frozen February Prices to Warm Up Your Wallet
Snowbird Sales All February Long
Judy, 25% Off February 1-28 Only
February Flies By, Don't Miss This Sale!
Feel Cold Yet? Sales to Warm Up Your February
We ❤ February sales
Fall in love with our February sale items😍

February email subject lines to book services
Many service-based businesses can be in-between busy or slow seasons during February. Here are a few email subject line ideas to make sure you're still bringing in quality results:
Fine Pastry February | Order Now at Fiona's Bakery
.. Chilly? Call C&C HVAC
Frozen February = Frozen Pipes. Need a Plumber?
February Filling Fast! Book Now
Book Your February Fill at Forever Nail Salon
February Fun! Event Planning Flurry Sessions Available Now
Book Ahead in February & Save 15%
February Flurries? You Need Kyle's Snow Removal
Book Ahead in February & Save All Spring!
Fill Up February! A&A Auto Oil Change Specials
Mind If We Help? Not Too Late for a Year-Long Strategy
Sandra, our February books are almost full!
Book now in February to save later🤑
Getting through February is hard, but booking with us is easy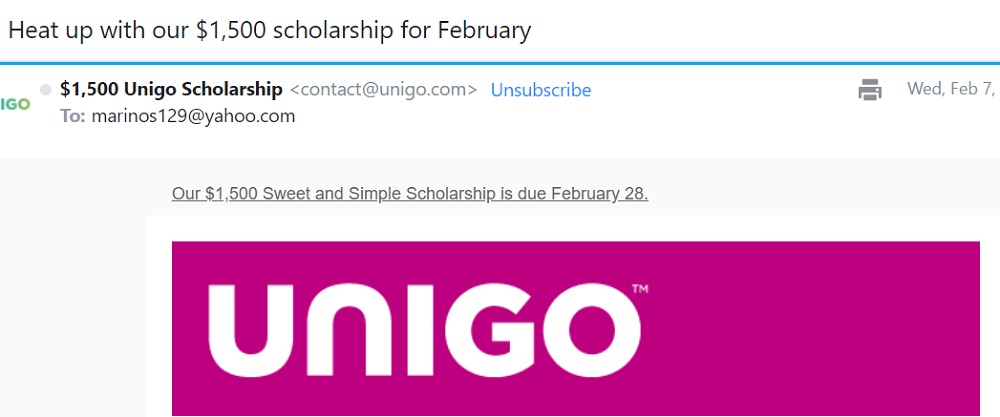 Even more fun February email subject line ideas
Still looking for more February email subject line ideas? We've got you covered:
Super Bowl Sunday email subject lines
Some may argue Super Bowl Sunday is an even bigger holiday than Valentine's Day. Capitalize on this February happening with these email subject lines:
Kick-Off Your Super Bowl Weekend with Us!
Let Us Kick Off Your Super Bowl Prep
Wings, pizza, and…
Billy, Who Are You Rooting For?
Live Super Bowl Sunday Watch Party!
Super Bowl = Super Deals. Shop Now
Want to Make a Bet?
3, 2, 1… Game On!
It's Kickoff Time! Are You Ready?
Our Top 5 Game Day Essentials
Walter, Are You Ready for the Big Game?
The Easy Guide to Game Day Prep
Big Game = Big Deals! Buy Now
Watching the Super Bowl? Shop Our Super Deals
Watch the Big Game While Winning Super Savings
#Winning! Shop Super Bowl Sunday Wins
Super Savings for the Super Bowl
Play to Win! Game Day Giveaway
Super Bowl Squares Here
… A Super Bowl Surprise is Inside…
Beer, Cheer, & Super Bowl Sunday Gear
Sunday Funday: Game Day Edition
.. Touchdown! Score Savings Here
A Game to Watch & Savings to Score: Shop Here
Let's Face It: The Best Part of Super Bowl Sunday Is…
Get your game face on😎
The best part game day? The food!
How We're Playing to Win this Month🏈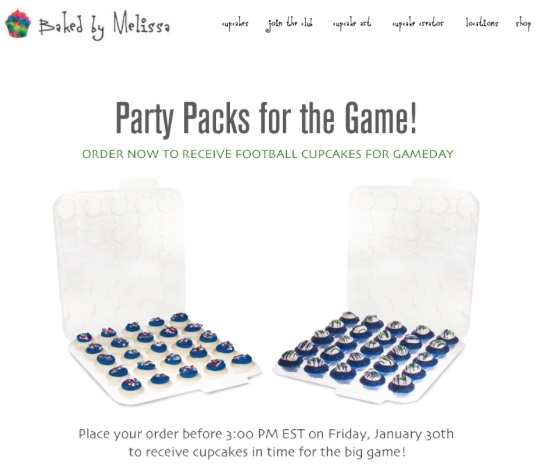 Valentine's Day email subject lines
Of course, no February email marketing plan is complete without Valentine's Day email subject lines to add a dose of sweetness to your revenue results:
Spread the Self-Love, Book Your Massage Now!
Calling All Couples! Valentine's Day Specials at Fiore Ristorante
Something Sweet for Your Sweetie Inside
Mally, We Heart You!
4 Items We're Loving This Valentine's Day
What We're Falling in Love With this Valentine's Day
… You Forgot About Valentine's Day😱
Navah, Last Day to Ship Valentine's Day Gifts!
One for You, One for Your Valentine
Two is Better Than One! Valentine's Day Bundles
Shelby, Will You Be Our Valentine?
Your Partner is Perfect, So Are These Valentine's Gifts
Valentine's Day Gifts You'll Love
Deals as Sweet as Your Sweetheart
Need a Valentine? We're Here For You…
Cupid's Last Call: 10% Off Through Valentine's Day
Coupons You'll Love! Valid on Valentine's Day Only
Better Than Roses: 30% Off
Happy Valentine's Day from Us, to You
Sending Virtual Valentine's Day Hugs!
Gifts they'll swoon over
Roses are red, violets are blue, here's a gift for you 😊
Get inspiration for all your V-Day emails with our Valentine's Day marketing ideas and Valentine's Day marketing slogans lists.
Other February holiday email subject lines
Aside from Super Bowl Sunday and Valentine's Day, there are tons of other February holidays that your business can use to promote sales, services, and more all via email.
Our Favorite Quotes Celebrating Black History (February is Black History Month)
Our top tips for ❤ health month (February is Heart Health Month)
Don't Hog These Deals! Share For a Reward, Groundhog Day Only (Groundhog Day, February 2)
Groundhog Day Hooray! How We're Celebrating (Groundhog Day, February 2)
What Would Life Be Without Mail? (National Thank a Mail Carrier Day, February 4)
Christine, It's Raining Savings! (National Weatherperson's Day, February 5)
We're Popping the Question… (Propose Day, February 8)
Pizza Party! (National Pizza Day, February 9)
What Makes Us Different (National Inventors' Day, February 11)

Exclusive update: tune into our custom playlist

(National Guitar Day, February 11)
A Quick Act of Kindness Just for You (Random Act of Kindness Day, February 17)
What We're Whining About (National Drink Wine Day, February 18)
Meet the Pets of True's Hardware (National Love Your Pets Day, February 20)
Presidents Day Mega-Sale! Up to 50% Off (President's Day, February 21)
A Sale So Good It Should Be Nationally Recognized! (President's Day, February 20)
Think About It… Think About It… (World Thinking Day, February 22)
BRB, Thinking… (World Thinking Day, February 22)
Cheers! We'll Drink to That… (World Bartender Day, February 24)
Spring is near, your flowers are here! (Floral Design Day, February 28)
Related: Looking for other fun holidays to amp up your marketing game? Look no further than our big list of 480 social media holidays for every month of the year. 

February newsletter subject line ideas
For many businesses, their February email newsletters are one of the first big send-outs of the year. Make yours count with these February newsletter subject line ideas:
How We're Keeping Our New Year's Resolutions
4 Tips to Make the Most Out of This Short Month
February Flies By, Here's How We're Dealing
February News Flash
6 Quick February Hacks to Use in a Flash
Flashy February: What We're Showing Off
10 Trends We're Love This Month
You're Invited! Our Top February Local Events
Quotes to Inspire Your February Woes
How we're getting ahead of our 2023 goals
🚨February flash news: quick updates🚨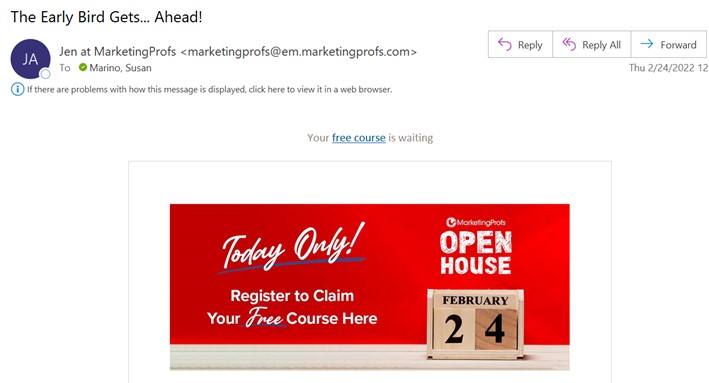 Fire up your February email subject lines
Incorporating email into your February marketing ideas is vital to fostering a holistic online presence. With so many email subject line ideas to choose from, it's easy to create a February plan that pops.
Try these email subject lines now, or if you're pressed for time this month, look into having a marketing partner do the heavy lifting for you. However you decide to implement your February email marketing plan, you're sure to see excellent results.