First impressions are everything. Treat January as your business's first impression of the new year. In order to start things off on the right foot, you'll need your marketing in tip-top shape—including your email subject lines.
This kid certainly knows that first impressions matter!
Email subject lines act as the first impression your brand makes in your recipients' inboxes. Reengage your readers this year using our answers to questions like:
Which January email subject line best practices should you remember this month?
What are some January email subject line ideas your small business could use?
What should you put as the subject line for your New Year's emails?
Today's post is worth a toast! Here are plenty of email subject lines to elevate your business well into the New Year.
Quick January email subject line tips
Our recommended subject line best practices are not only important in January, but best to keep in mind all year long. Let's first refresh on a few key email subject line tips:
Keep it short and sweet
Concise email subject lines are a must for your email marketing strategy this year. In fact, 47% of people check their emails via mobile apps, and 82% of businesses are already keeping their subject lines under 60 characters. This year's trend of short subject lines is one you won't want to miss out on!
Fresh year means fresh subject lines
Give your recipients something new and fun to look at by getting a bit more creative with your subject lines this January. For example, you could include emojis—which typically bring in higher open rates. If emojis aren't your thing, try rhyming or wordplay, as 33% of people will open an email simply because it has a catchy subject line.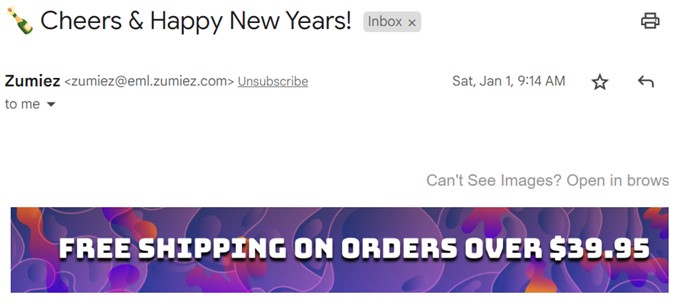 An example of an email subject line using an emoji.
Add personalization when you can
A personalized marketing experience should be a part of your email copywriting strategy, as subject lines that include the recipient's first name have higher click-through rates than those that don't. If you want to skyrocket your email engagement, always be thinking about your target audience when writing your email subject lines.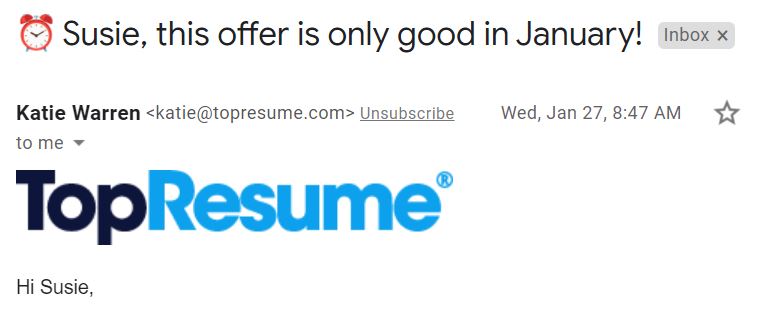 Related: Download our free quick guide on targeted email marketing.
Always remember to offer value
Adding value to each of your subject lines is vital to your email marketing success. Whether your email offers a coupon, a giveaway or contest, a percentage discount, or just helpful information, be sure to get that across to your readers.
January email subject line ideas for small businesses
Small businesses get to treat January as a fresh start. Regardless of your industry, use these email subject line ideas for any type of email you send to watch your business grow this year.
Email subject lines for services
Service-based businesses can use this time to nurture leads, get ahead on booking, grow their customer base, and more with the help of these subject line ideas:
Tips to Get Your Home Project Done in the New Year
Leroy, Book Now & Save Later!
Quick! New Year Appointments Booking Fast!
Wilson, Get 10% Off Your Next Service.
Don't Fix It Alone! We Can Help
January Only! $20 Off Select Services
Charlotte, Book Now & Pay Later!
Save Yourself from Worries Later, Tune Up Now!
New Year = New You! Only at Kiki's Salon
Winter Woes to Avoid When Renovating
Exclusive January Services—Book Now!
How Snowmelt Can Cause Damage❄
Prep for Winter Temps—Trulio & Sons HVAC
Fresh Year, Fresh Set 💅 Call Tip Top Nails
Are Your Finances Prepped for the Upcoming Year?
Margie, Crush Your Resolutions at S&M Fit
How to train in January
Study With Us Now, Avoid Stress Later!
Our Exclusive January Prep Checklist
R-YES-V-P to our January events
Get Ahead! Custom Valentine Florals Selling Fast
Newly Engaged for the New Year? Call Events by Kelsey
New Year Budgeting: Our Complete Guide
Start Your Finances Off on the Right Foot
New Years Are Unpredictable. Get a Free Insurance Quote!
Let Us Make 2023 Your Best Year Yet
Jump into the new year with our fitness classes
Click to learn how we can help you this year
Email subject lines for sales
No time is better than January to get ahead of your sales goals for the year. January emails can also help you to catch up on any holiday sales quotas you may have missed. These sales email subject lines are sure to do the trick:
Don't Let These January Deals Freeze Over!
Post-Holiday Giveaway! Limited Stock
Sierra, January Savings at Craig's Hardware Shop
New Year, New January Looks to Keep You Cozy
Just In! January Trends to Last You All Year
Bradley, Get Discounted Second Semester Supplies Now
Steep Discounts for January, Dana! Don't Miss Out
Post-holiday blues? Time for retail therapy!
Trina, Get 10% Off All January Long.
Lily, Exclusive Coupon for You Valid Through 1/31
Hot January Sales Sure to Warm You Up
🤑Everything on sale 20-23% off for the new year
Fresh sales to match the fresh year
Shop steep discounts all January long🏔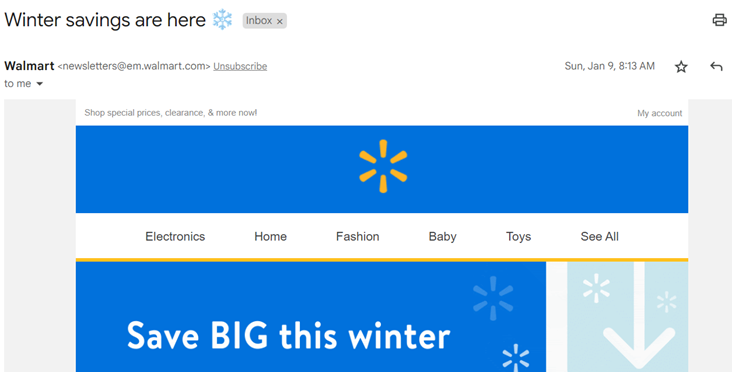 New Year's email subject line ideas
Of course, a hot topic each January is the new year. Help your business stand out with these unique New Year's email subject lines:
3,2,1…Savings Unlocked!
3,2,1…Happy New Year!
Happy New Year from Us to You
A New Year's Surprise Inside
Cheers to New Year's Deals!
Counting down to the biggest sale of the new year
This New Year We're Saying Cheers to You!
New Year Means New Savings!
New Year = New Deals. Shop Now!
Bringing you cheer for the new year
Our New Year's Moto? Click to Find Out…
Aly, Can't Wait to Celebrate the New Year With You!
Happy Brew Year! Click for a Beer On Us
Keep These Deals Near This New Year
Out With the Old, In with the New!
Countdown to the Best Sale of the Season
A Toast to You!
A Toast to the New Year!
Nice New Year's Novelties You Won't Want to Miss
Hailee, have a happy new year!
TTYL, 2022 👋 Hello, 2023
We ❤ 2023
New Year's Day means time to start fresh, here's how 🤓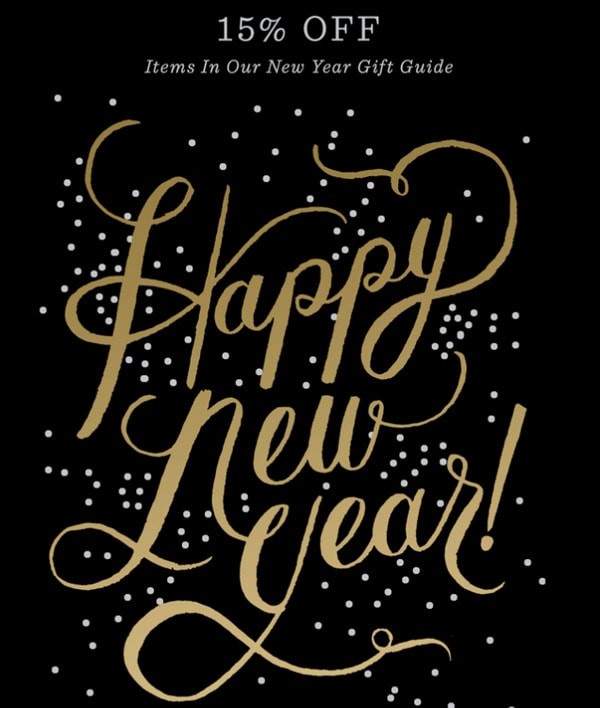 Email subject lines for other January holidays
Don't forget that New Year's Day isn't the only holiday in January! There are tons of other January holiday email subject lines that can give your business a creative edge:
Eggs, Bacon, And… Bloody Marys? (National Bloody Mary Day, January 1)
The Best Decision You've Made All Year (National Hangover Day, January 1)
Shh… Great Minds at Work (World Introvert Day, January 2)
Greetings these deals come in peace (National Science Fiction Day, January 2)
Have you scheduled your free workout yet? (National Personal Trainer Day, January 2)
Our Secret to the Best Spaghetti… (National Spaghetti Day, January 4)
Our Savings Are Soaring (National Bird Day, January 5)
Gwen, we've got some bittersweet news… (National Bittersweet Chocolate Day, January 10)
Liandra, We're Spilling the Tea! (National Hot Tea Day, January 12)
How We're Giving Back in Honor of Martin Luther King, Jr. (Martin Luther King, Jr. Day, January 16)
What's Another Word For…? (Thesaurus Day, January 18)
Sending Virtual Hugs (National Hugging Day, January 21)
We'll Make Your Next Job Easy as Pie (National Pie Day, January 23)
Hey, You're Great💛  (Compliment Day, January 24)
Mac or PC? (Macintosh Day, January 24)
Definitely don't open this email! (Opposite Day, January 25)
What Data Privacy Means to Us (Data Privacy Day, January 28)
☕The Best Hot Chocolate Recipe for Winter Warmth (National Hot Chocolate Day, January 31)
Related: Download our free 2023 Marketing Calendar to get even more NEW tips, trends, and ideas for the new year!
January newsletter subject line ideas
January is the perfect time to reengage your newsletter readers. Use these January newsletter subject line ideas to get your audience hooked:
Our 2023 survival guide✅
Our Top Tips for a Tiptop Year
Looking Back: Our Year in Review
How to Learn from Last Year
5 Ways to Make This Year Your Best Yet
Our resolution planning guide
Secrets Revealed: What We Have in Store This Year
Get in the Know: What to Expect This Year
What We're Excited for This Year
Why January is So Important for the Year Ahead
Stop Planning & Start Doing! January Action Items
3 Things We're Doing for a Refreshing January
How we're kicking off 2023
Reflecting on 2022: wins, losses, and what's ahead
How we're starting fresh this year😌
Kick your year into gear with these January email subject lines
Whether you're celebrating the new year, leveraging a fun holiday, or simply promoting your business's value, use the month of January as an opportunity to take your email subject line game to the next level. Email copywriting can be a challenge, but using our ideas to brainstorm ahead of time can make improving open rates easier than counting down to the new year!