70 January Social Media Holidays & Post Ideas to Start 2023 off Right (with Free Calendar!)
As Dr. Seuss wrote: "Don't cry because it's over. Smile because it happened." And while you may feel that way as you look back on 2022, I say let's bring on a new year!
Me as we (cautiously, yet optimistically) enter a new year.
The time is (almost) January 2023, and if the last few years have taught us anything, it's to expect the unexpected. Almost anything can change—fast.
Luckily, some things are set in stone. Like the fact that people still use (and love) social media. And that holidays will always fall on certain days. And that holidays provide the perfect opportunity for your business to post on social media. All is right with the world again!
So to help with your social media planning, we're sharing
Tips to start January off on the right foot on social media
January social media holidays to post about this month
Even more social media post ideas you can use in January
Let's get planning!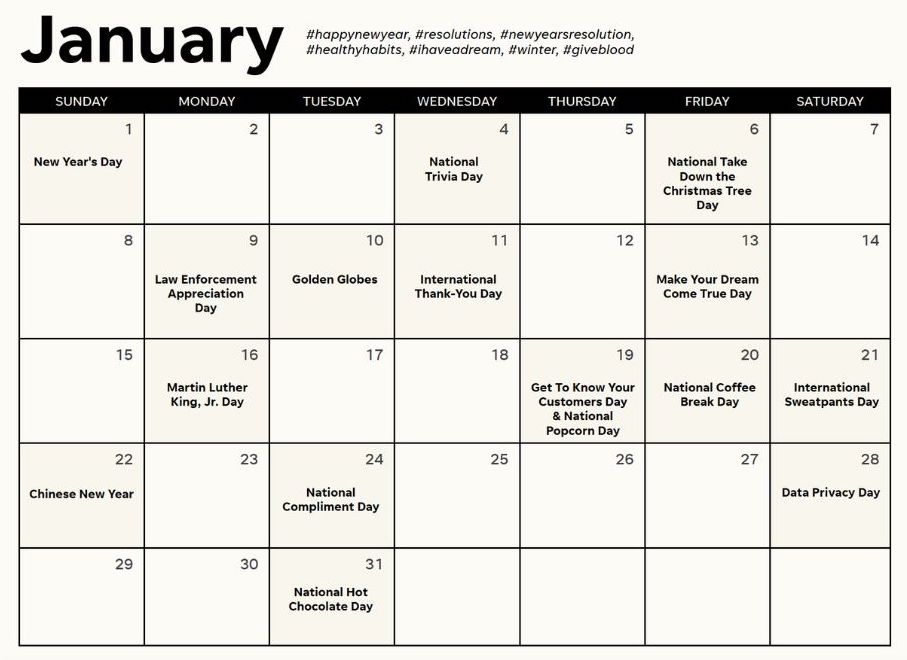 Download our NEW 2023 marketing planning calendar to get a full list of tips and ideas for every month of the year!
Tips for planning your January 2023 social media strategy
Before we hop into January social media holidays and post ideas, here are some general tips to keep in mind for the first month of the year.
Create a baseline report for your social media marketing
The new year is a great time to take stock of the current landscape of your marketing efforts and create a baseline you can measure against throughout the year. Take some time to create a report—either in a Word doc or a spreadsheet—that notes some basic metrics for each of your social media sites, including:
How many social media followers you have on each profile.
Audience demographics (you can find this in your Insights reports—it includes information on the breakdown of your social media audience).
Top posts from the last month or year.
General engagement metrics (use our guide to check social media engagement here).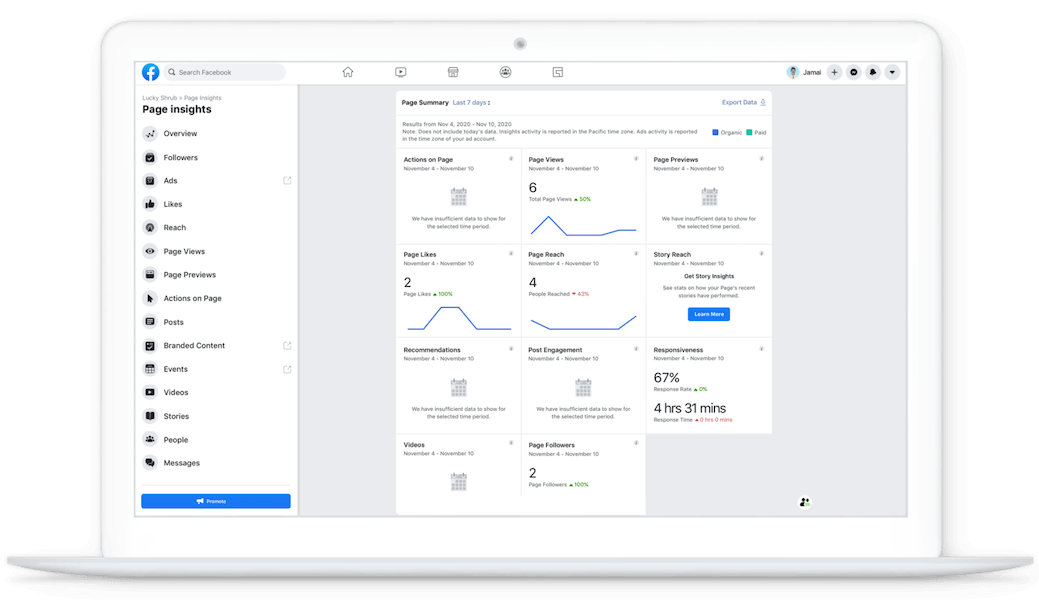 Taking a quick look at this information will give you valuable data that can inform your strategy and planning throughout the year. And, it will give you something to look back on so you can see how you've grown!
Update your social media business descriptions
The new year is also an ideal time to look at your social media profiles and update your business descriptions. Your social media business descriptions give visitors a quick idea of who your business is, what you do, and who you serve, so it's important that it's updated and aligned with your brand identity.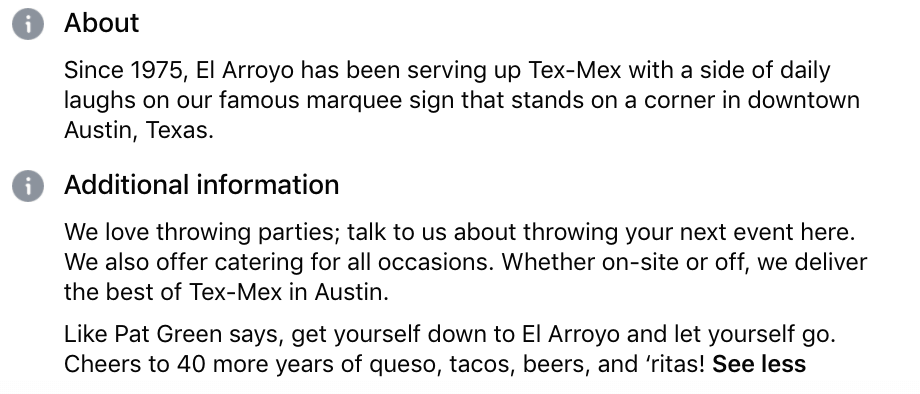 Use our tips to write the perfect business description here.
Use January hashtags
Hashtags can help you take your social media posts to the next level by expanding your reach, grouping your posts in with related or trending posts, and getting you seen by users outside of your direct audience. Here are some January hashtags to incorporate:
#happynewyear
#happy2023
#resolutions
#newyearsresolution
#healthyhabits
#ihaveadream
#winter
#goldenglobes
#giveblood
#healthyhabits
#winter
#snow
#january
#january2023
#2023
#2023events
Related: Get even more January hashtags + winter Instagram captions to use all season.
January social media holidays (with ideas and examples)
You might think that the holidays are over come January, but this month is still packed with some social media holidays and observances you can use to engage your audience for the next 31 days.
International New Year's Resolution Month for Business
Talk about an observance tailor-made for businesses! January is International New Year's Resolution Month for Business—not only is that a mouthful, but it's a great opportunity for reflection and planning. Then, once you have your resolutions put together for your business, you can share them using these social post ideas:
Write a blog post outlining your business's New Year's resolutions, then share a link to your blog post on your social media sites.
Share your top New Year's resolution on social media and ask your audience to share theirs.
Run a New Year's resolution social media contest. Have your audience comment on your post with their resolution and tag a friend to keep them accountable. Choose a winner at random to win a prize related to resolutions—like a fitness package, a gift card to a local health food store, or a planner bundle.
If your business offers products or services that tie into popular resolutions (such as gyms, professional organizers, cleaning services, etc.), offer a New Year's resolution special and promote it on social media.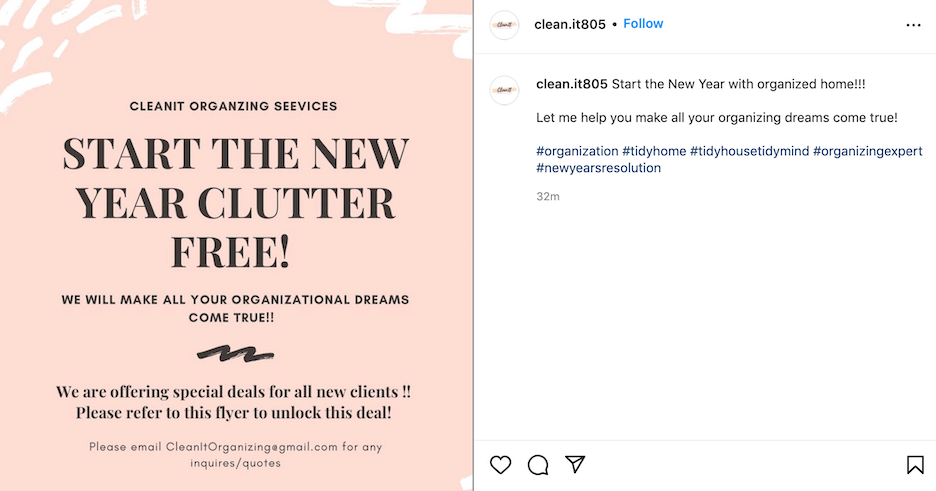 National Blood Donor Month
January is also National Blood Donor Month. According to the Association for the Advancement of Blood & Biotherapies (AABB), "January is usually a period of critical blood shortages." Because of this, National Blood Donor Month presents a great way for your business to get involved and give back. Here are some social post ideas around this January observance:
Share some fast facts about the importance of becoming a blood donor. You can find information from the Red Cross or the AABB.
Apply to host a blood drive at your location. Post about your event on social media and create a Facebook event to get the word out.
Can't host a blood drive? Find out where blood drives are happening in your community and share the information on your social media sites.
Run a promotion where customers who bring in proof of blood donation receive a special discount—post about it on social media. Don't forget to snap some pictures with your customers when they come in to spread the word!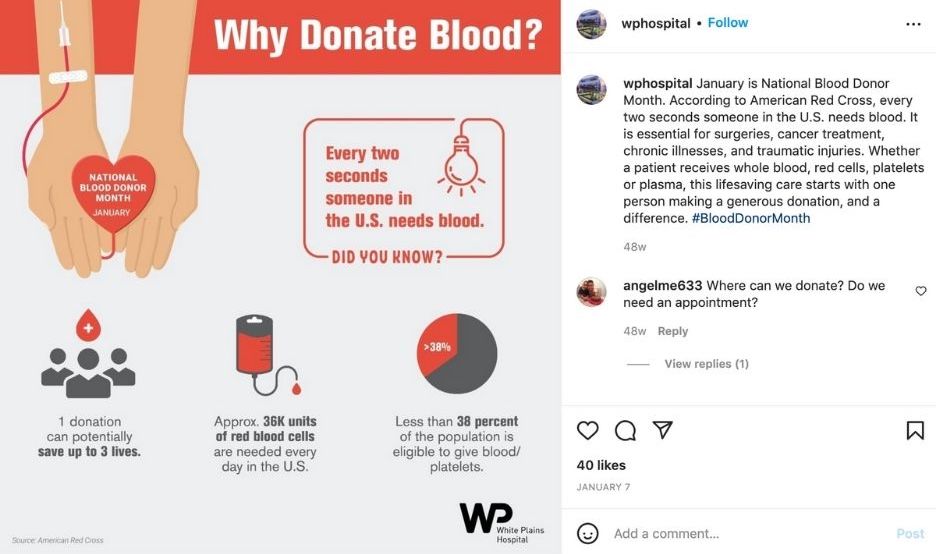 Jan 4: National Trivia Day
How many folds does a chef's hat have? If you guessed 100, you're probably a trivia master, and this day is for you! (Fun fact: The chef's hat, also known as a toque, has 100 folds to represent the 100 ways to cook an egg. Who knew?). January 4th is National Trivia Day. It's more than just a day to show off your knowledge or participate in a trivia night at your local watering hole, it's also a great way to engage your audience on social media. Try these ideas:
Invite your audience to a National Trivia Day and go live on Facebook or Instagram to ask people some fun trivia questions. Winner gets a prize! (Stumped about what to ask? Check out the 250 best trivia questions.)
Post your favorite trivia question and ask your audience to guess the answer. You can also give the first person who answers it correctly a prize.
Ask your audience to share their favorite trivia tidbit or a surprisingly true fact.
Post two truths and a lie: Two true facts and one that you made up. Ask your audience to guess the fake.
Post some trivia about your business so your audience can get to know you and your business history better.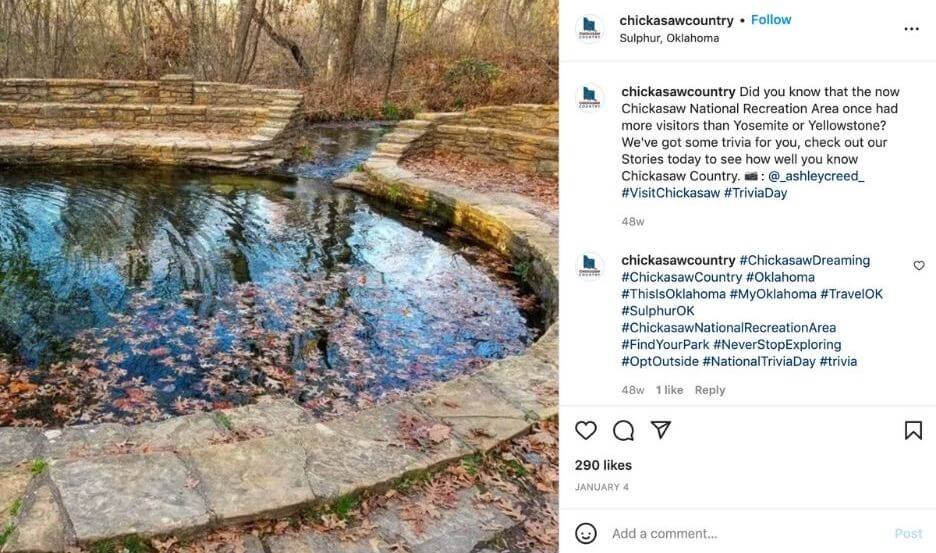 Jan 8: Bubble Bath Day
Did you know there was a whole day dedicated to bubble baths? It falls on January 8th and is a great opportunity for businesses to encourage their audience to indulge in some self-care. Here are some social post ideas to try:
If your business offers products like bubble bath, candles, or bath soak, post a picture of a luxurious bubble bath with your products displayed.
You can also put together a bubble bath bundle featuring your products and promote it on social media.
Post a quote about self-care and encourage your audience to take some time for themselves.
Spas and salons can run special promotions in honor of Bubble Bath Day and post about it on social media.
Pet groomers can post a cute picture of a pup covered in bubbles–don't forget to mention your services!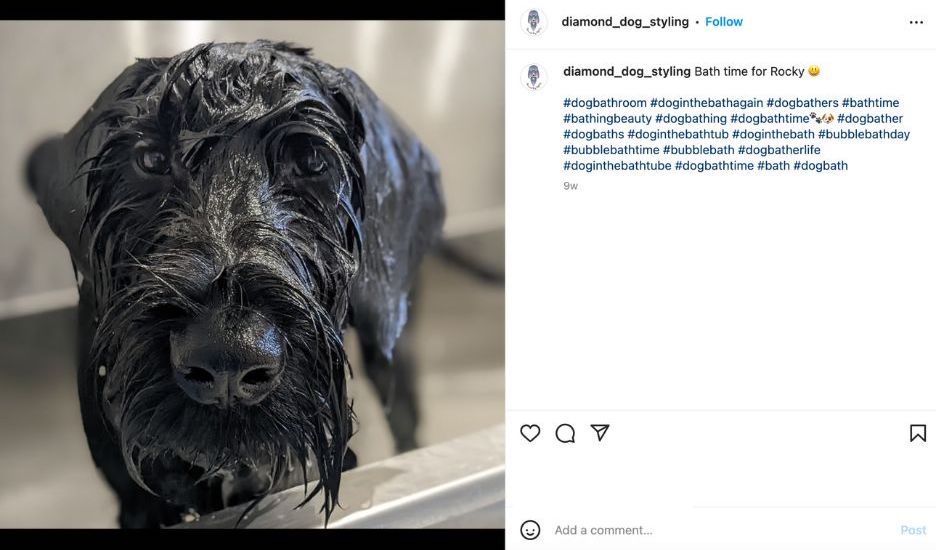 Jan 14: Dress Up Your Pet Day
There's nothing I find cuter than pets in clothes. I love to stuff my plump little dog into a sweater—he looks like a pig in a blanket. People get very excited about sharing pictures of their pets, too. I once worked with a lawyer that would post a "dog of the week" submitted from their audience, and they received at least 5-10 submissions every week!
On Dress Up Your Pet Day, you can have a lot of fun with these social media ideas:
Run a Dress Up Your Pet Day contest. Ask your audience to share a picture of their pet dressed up to their social media profiles and tag you or use a custom hashtag. Choose a winner at random for a prize.
Share a picture of your pet dressed up on your business's social media pages. Ask your employees to share theirs, too!
If your business allows pets, have your customers bring in their pets dressed up to receive a discount. Don't forget to take pictures to post on social media!
Post a TikTok of your employees' pets dressed up in different outfits. Don't forget to cross-promote your TikTok masterpiece on Instagram and Facebook, too!
Jan 16: Martin Luther King Jr. Day
Martin Luther King, Jr. Day is a federal holiday that was signed into law in 1983 to honor the Civil Rights leader. While his birthday is January 15, Martin Luther King Jr Day is observed on the third Monday of the month. Use these social media post ideas on Martin Luther King Jr. Day:
Post your favorite quote from Dr. King to your social media pages. (Here are some you can choose from.)
If your business is closed in observance of the federal holiday, make sure to post about the change in operations to let your customers know.
Ask your audience to share their favorite Martin Luther King Jr. quote.
Share an article from a reputable source (like your local paper) about Martin Luther King Jr.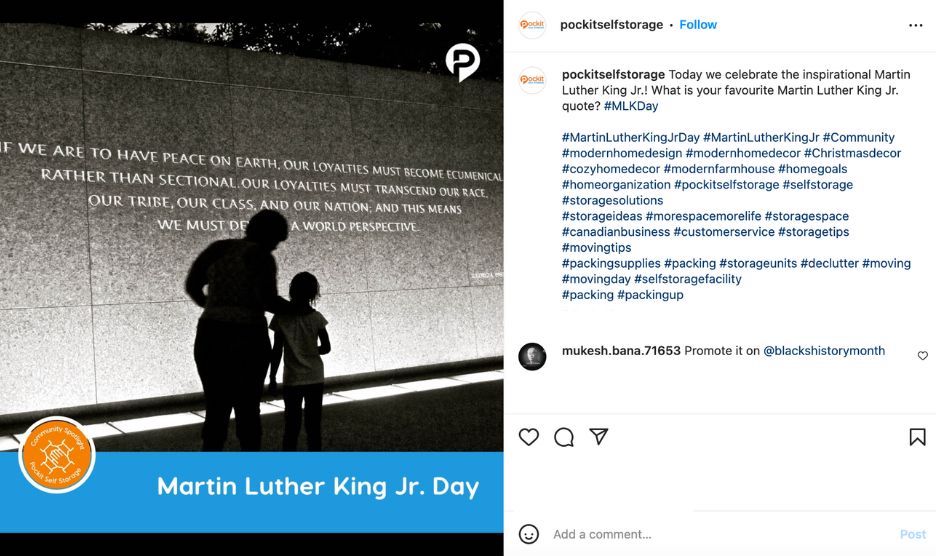 Jan 19: Get to Know Your Customers Day
Without your customers, your business wouldn't be here. So this day is dedicated to them! Get to Know Your Customers Day falls on the third Thursday of each quarter, so you can also use these ideas again in April, July, and October:
Create a short survey to gain a better understanding of who your customers are, what they would like to see from you on social media, and how your business can improve. Share the link on social media and ask for feedback. (You can use these customer feedback questions to get started!)
Use the Facebook Polls feature to ask what type of posts your audience wants to see from you (educational, fun, community-building, promotional, etc.).
Try the Facebook post test feature to see what type of post resonates with your audience on Facebook.
Ask your customers to introduce themselves in a comment and share a fun fact!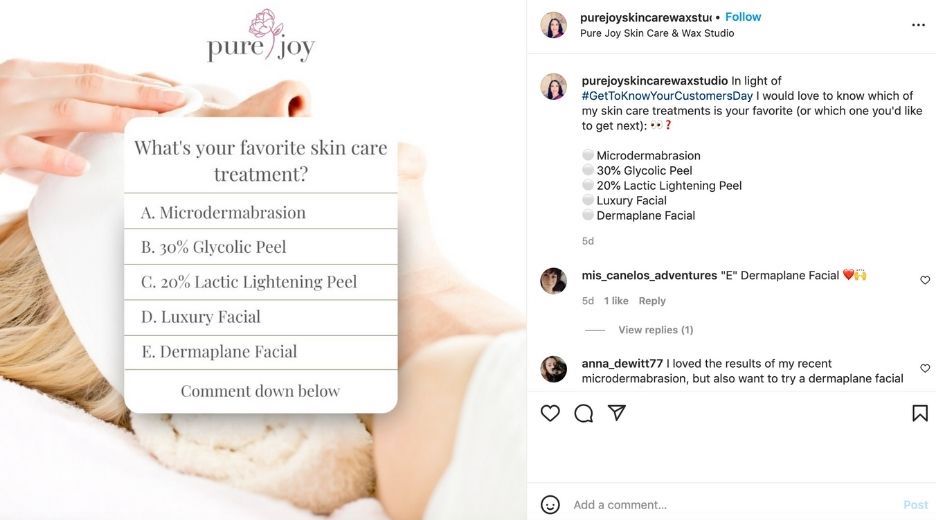 Jan 24: National Compliment Day
National Compliment Day falls on January 24th and is all about sharing kind words with your friends, neighbors, and coworkers. You can use this as part of your January social media calendar with these ideas:
Share a cute graphic to your Instagram Story that your followers can use to give a compliment. Start it off by complimenting a local business. We created a template you can customize and use here!
Post a comment on another local business's Instagram or Facebook page giving them a compliment.
Post a picture of your employees (with their permission) along with a nice compliment.
Your fans and followers have probably given you some compliments online! Use this opportunity to share user-generated content that highlights customer favorites or what customers love most about your business.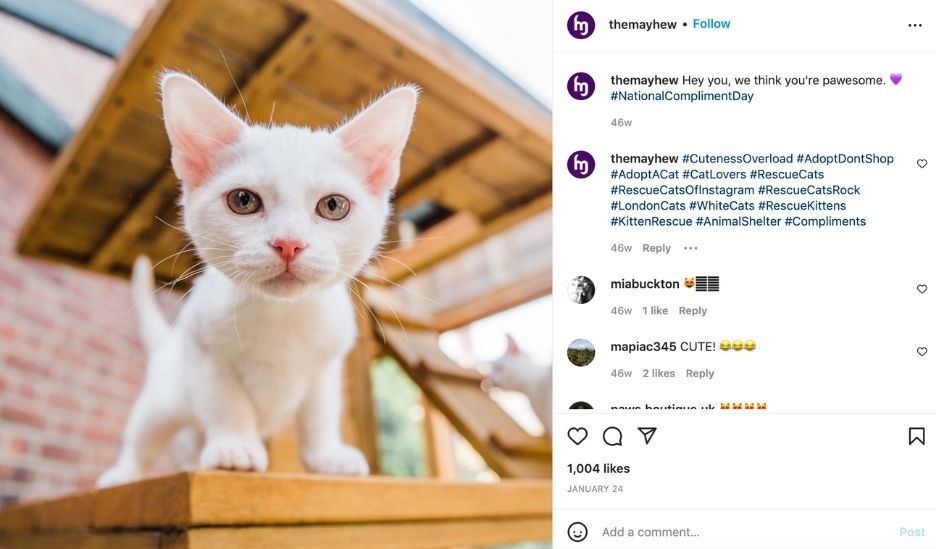 More January social media holidays
There are plenty more holidays and observances where that came from! Here are even more to fill your January social media calendar.
Monthly observances
Brain Teaser Month
Be Kind to Food Servers Month
Cervical Cancer Screening Month
Eye Care Month
Family Fit Lifestyle Month
National Braille Literacy Month
National Candy Month
National Glaucoma Awareness Month
National Hobby Month
National Hot Tea Month
National Mentoring Month
National Oatmeal Month
National Personal Self-Defense Awareness Month
National Staying Healthy Month
National Thank You Month
National Train Your Dog Month
January holidays and observances
Jan 1: New Year's Day (Get New Year's social post ideas here!)
Jan 3: J.R.R. Tolkien Day
Jan 4: World Braille Day
Jan 6: National Take Down the Christmas Tree Day
Jan 6: Cuddle Up Day
Jan 10: Golden Globes
Jan 9: Law Enforcement Appreciation Day
Jan 11: International Thank-You Day
Jan 13: Make Your Dream Come True Day
Jan 19: National Popcorn Day
Jan 21: International Sweatpants Day
Jan 21: National Hug Day
Jan 22: Chinese New Year
Jan 25: Opposite Day
Jan 28: Data Privacy Day
Jan 29: National Puzzle Day
Jan 30: National Croissant Day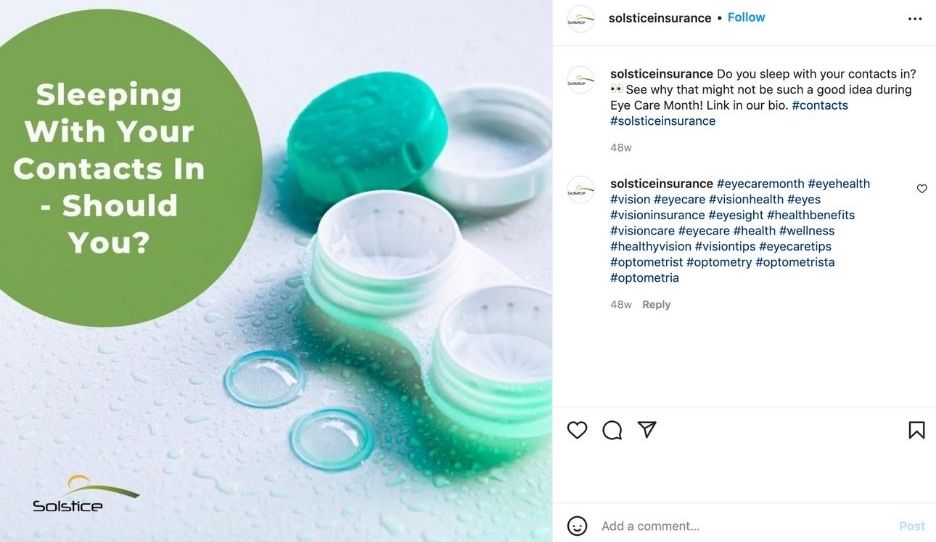 January social post ideas (not about holidays!)
Want to spice up your January social media calendar with some posts that aren't all about holidays? Here are some ideas to try.
Create and post a 2022 wrap up
You made it through 2022, and that's something to celebrate! You can create a short wrap-up video or post outlining exciting milestones you hit for your business over the last year, any big wins you want to share, and a thank you to your customers for being there with you through it all. People love to read about themselves—and they love to feel appreciated—so this is a win-win for you and for them!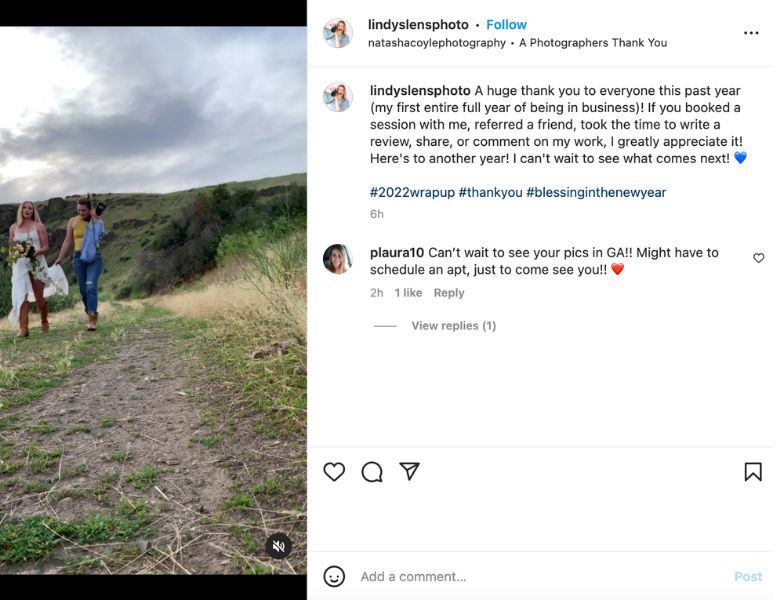 Related: Get examples of the best year-end emails plus tips to write your own. Then use these January email subject line ideas to increase opens!
Post about your 2023 plans
Got cool plans in the works like a new product or service you're launching? Excited to be adding new people to your team? Or are you still knee-deep in planning? Your social media audience is interested in what's going on behind the scenes, so take some time to let them know!
Related: Get our marketing planning template to get your 2023 strategy in gear!
Start a social media series
A social media series is a great way to build engagement with your audience and become known for something while also creating an easy way to fill your social media calendar. Determine a cadence (monthly, bi-weekly, or weekly), and launch a social media series your fans and followers can look forward to. This can be something as simple as a #TriviaTuesday where you share a piece of trivia related to your business or your industry or something a little more involved like a monthly Facebook live where you cover a specific topic that your audience might be interested in.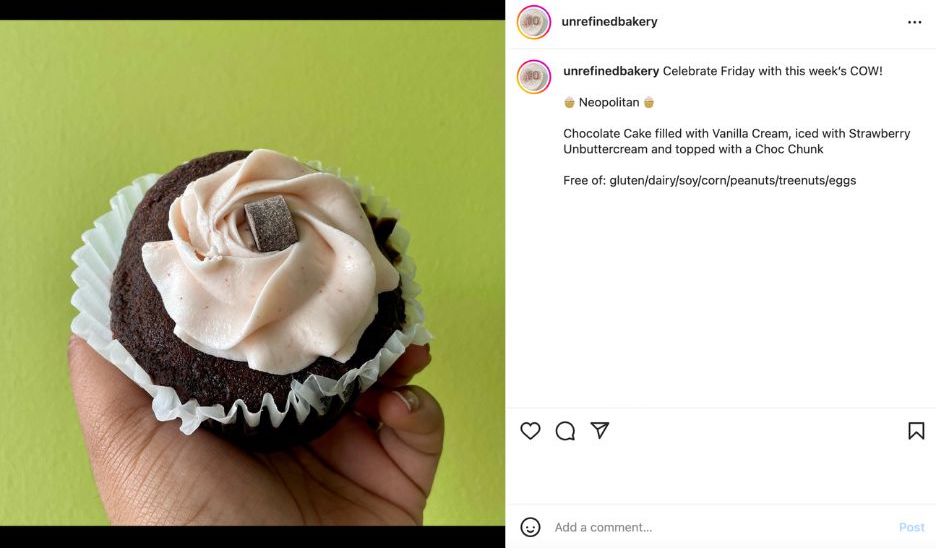 This bakery shares a cupcake of the week on its social media pages.
Play around with what might work for your business and give it a try in 2023!
Related: Get more January marketing ideas to try this month.
Start the year off right with these January 2023 social media ideas
Social media isn't going away any time soon, so it's important for your business to regularly post on social media so you can engage your audience, promote loyalty, and get more customers. With these January social media holidays and ideas, we hope it can be a breeze!
Want more ideas for January (and every month of the year)? Download our 2023 marketing calendar guide packed with ideas, promotions, and holidays!